German Pancakes are an easy-to-make breakfast that's great for serving the whole family! Mix the batter, pour into a hot buttered dish, and let it bake. That's it!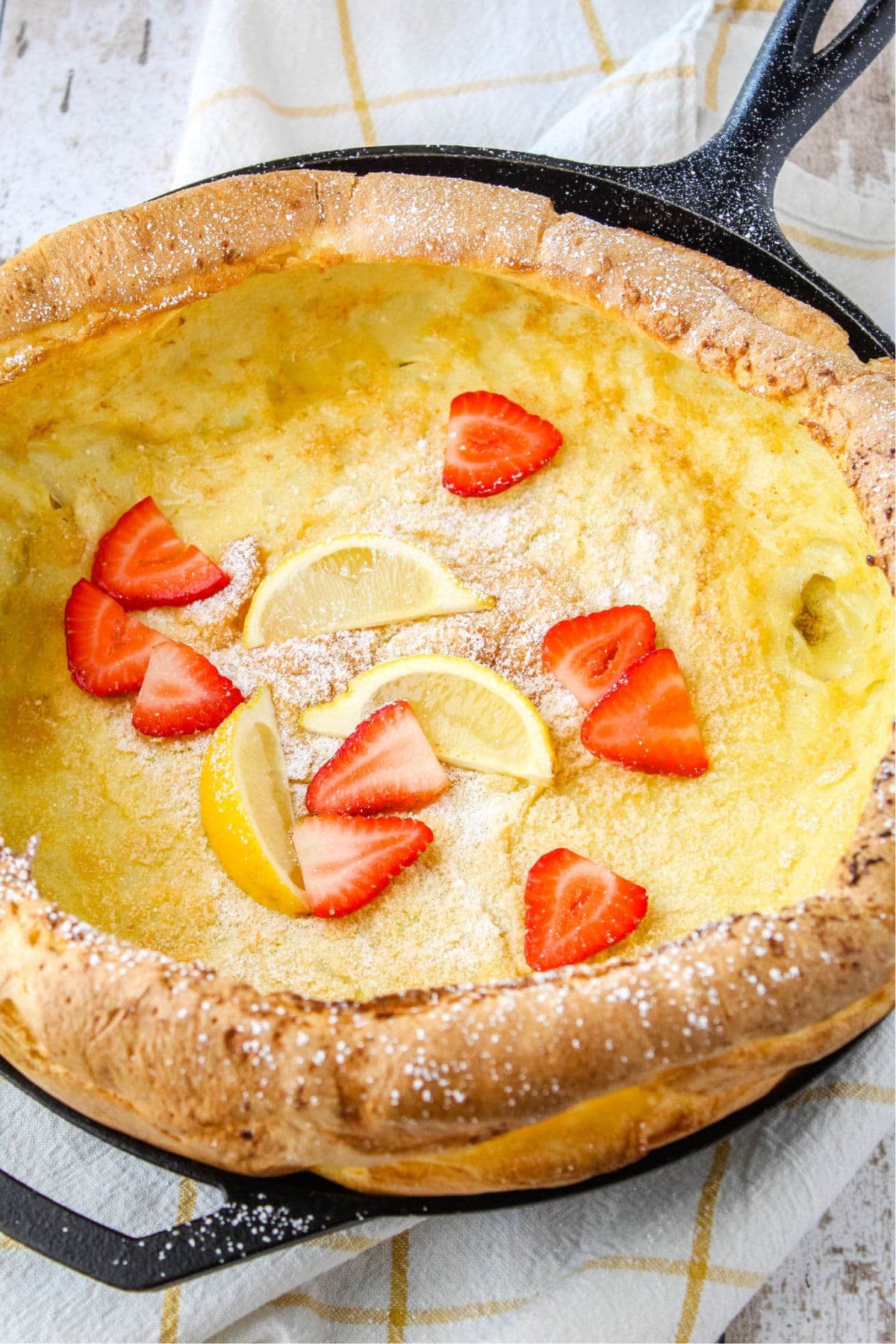 Serving a hot breakfast on the weekend is one of my favorite things to do. We love all kinds of delicious breakfast foods, but especially love German Pancakes with a side of Baked Egg Muffins, Crispy Air Fryer Bacon, and fruit.
German Pancakes Ingredients
To make German pancakes you're going to need:
Butter – For the bottom of the pan. Helps the pancake not stick and also to crisp up the edges and add flavor.
Eggs – Lots of them. Six eggs to be exact. They make the pancake moist and also add to the density of the center.
Milk – Any kind; I use whole milk but skim works too.
Flour – All-purpose flour is what the recipe calls for. I have not tried this recipe with whole wheat or gluten-free flour.
Sugar – Just a little white, granulated sugar for sweetness.
Salt – A pinch of salt just heightens the flavor.
Vanilla – A dash of vanilla to balance the flavor.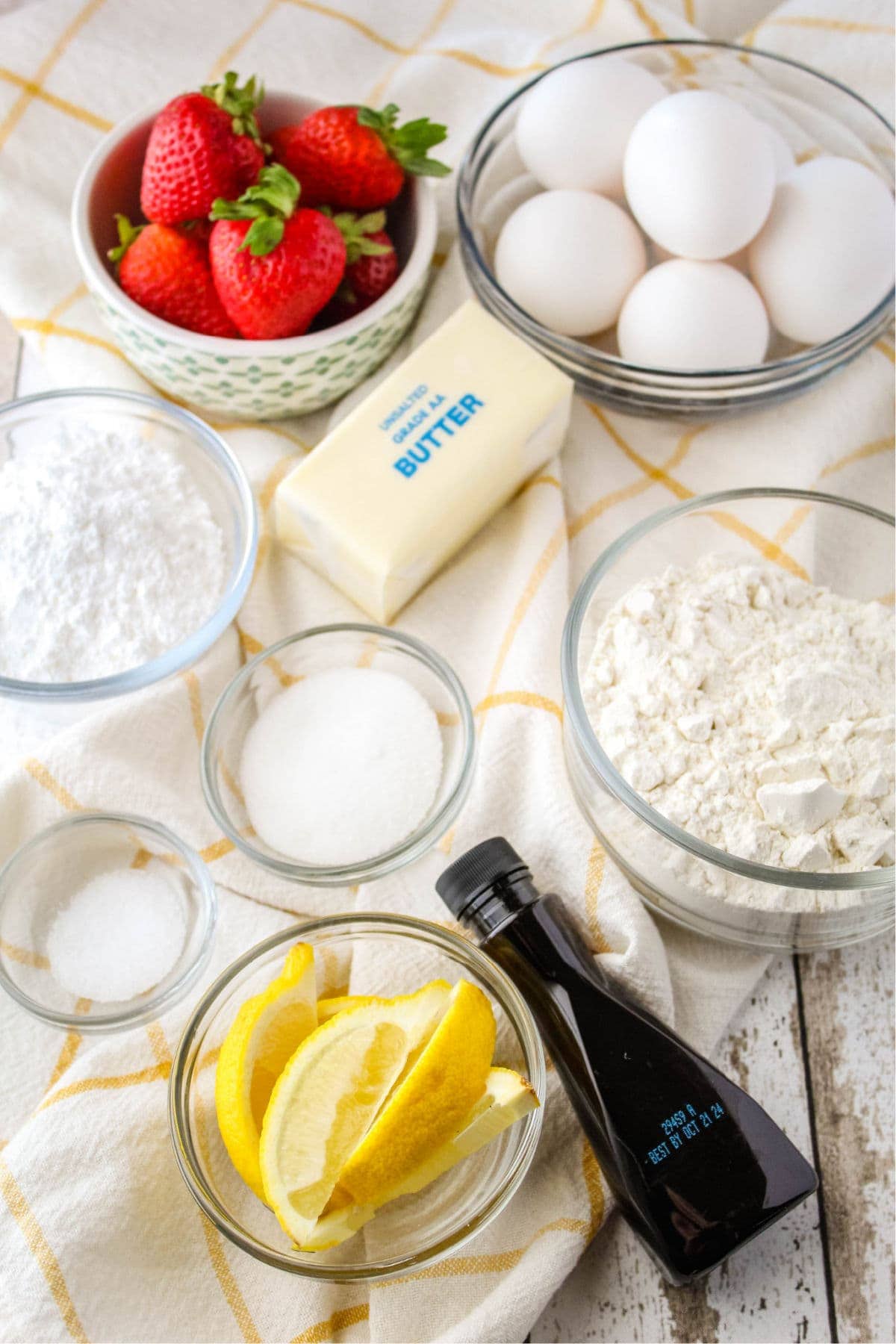 How to Make German Pancakes
Get a detailed list of ingredients & instructions in the recipe card below.
Prep: Preheat your oven to 400 degrees and melt the butter in a big cast iron skillet in the preheating oven. You could also use a baking dish, but the cast iron skillets are great for getting those delicious crispy bits on the outside. Plus it holds the heat much better and you really want to have a nice hot skillet for this german pancakes recipe.
Mix: While all that's going on, make the pancake batter. You're going to add the eggs, milk, sugar, vanilla, and salt to a mixing bowl and whisk it until everything is combined. The batter is going to be really thin, but that's what you want.
Pour the batter: Once the oven is heated, butter is melted, and the skillet is hot – pull the skillet out of the oven (on the rack is fine). Then pour your batter into the skillet.
Bake: Put the skillet back into your oven and bake for about 20 minutes. It's not much to look at but it's going to magically puff up in the oven. You'll know the pancake is done when the sides are tall (way above the skillet edge) and the center is golden brown and fluffy pancake.
Let it sit: Let it sit for a couple of minutes while everything settles. The sides will stay up, but the center will become flat.
Serve: When everything is ready, cut the pancake into 8 slices and serve warm with optional toppings.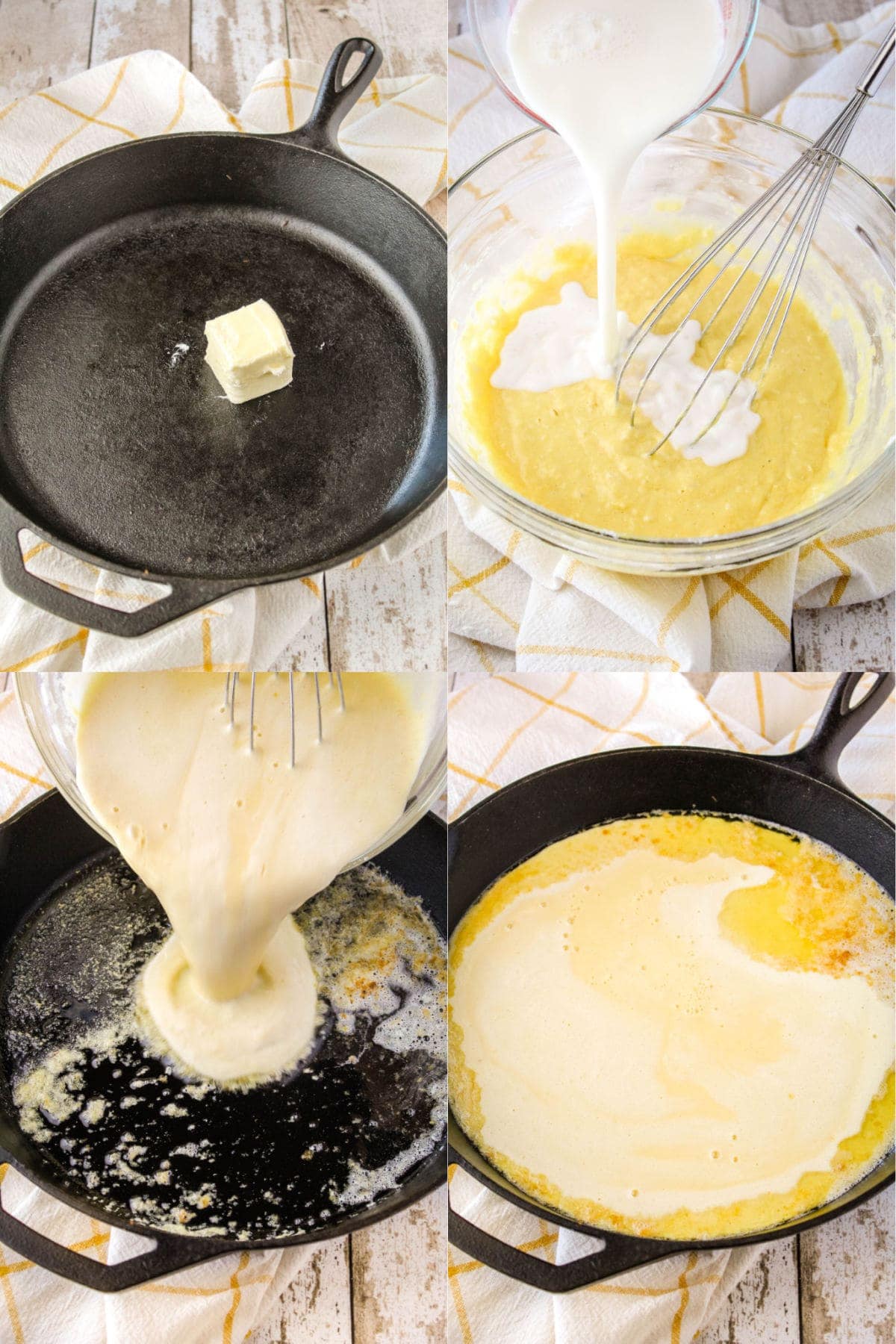 German Pancakes Toppings
You have some options for topping your pancake. I like powdered sugar (aka confectioner sugar) and lemon. You squeeze the lemon wedges all over the top and mix it in with the sugar. YUM! My husband likes butter and syrup, and our youngest likes butter, powdered sugar, and strawberries. Use whatever your family prefers. You can even add fruit to the pancake as it bakes, like I did with this Apple Oven Pancake.
Here are some more delicious options:
Fruit Toppings: Blueberries, blackberries, or raspberries.
Whipped Cream: Great on it's own or really good with the fruit.
Maple Syrup
Cinnamon-Sugar
Storing Leftovers
Storage: Allow leftovers to cool completely, then store in an airtight container in the fridge for up to 2-3 days.
Freezing: To freeze, wrap individual pancakes or pieces in plastic wrap, then place in a plastic freezer bag.
Why Didn't My German Pancakes Rise?
The idea behind this recipe is a cross between popovers and Yorkshire pudding. It's basically an American popover.
Tips to help your german pancake rise:
The eggs are a big part of what helps this recipe do its thing, along with gluten from the flour. Egg substitutes or egg whites alone will not do the job. Whole eggs are necessary to make the perfect german pancake recipe.
Use room temperature ingredients. The batter won't have to work as hard to start baking if your ingredients aren't cold.
Make sure your skillet is hot! If you pour melted butter into the skillet, then the batter, and then put it in the oven your pancake will not come out correctly. A hot pan with hot melted butter matters!
FAQs
What is the difference between a Dutch Baby and a German pancake?
German pancakes and Dutch babies are essentially the same thing! It's been said that the dish originated in Germany, rather the Netherlands. The term "Dutch Baby" was actually coined by an American chef who couldn't pronounce "Deutsch" when is actually German for "German."
Why are German pancakes called German pancakes?
Traditional German pancakes are actually a thin pancake called Pfannkuchen that is served with, or often rolled up with, a fruit jam or jelly. This puffy pancake we know today is an American version that puffs up as it bakes.
What are German pancakes made of?
The simple batter consists of butter, flour, sugar, milk, eggs, and a splash of vanilla.
What is the difference between German pancakes and regular pancakes?
The biggest difference is the cooking method. Regular pancakes are made in a skillet on the stovetop and are flipped while cooking. German pancakes are baked in a hot skillet with melted butter. This fries the batter as it bakes – leaving crispy edges and a caramelized bottom to swoon for.

The batter is different too. German pancakes use a lot more eggs and do not use any kind of leavening agent, like baking powder or baking soda, to puff up the pancake. Regular pancakes have a thick batter that's fluffier when cooking if done. German pancakes are more dense in the shallow center and like a popover on the edges.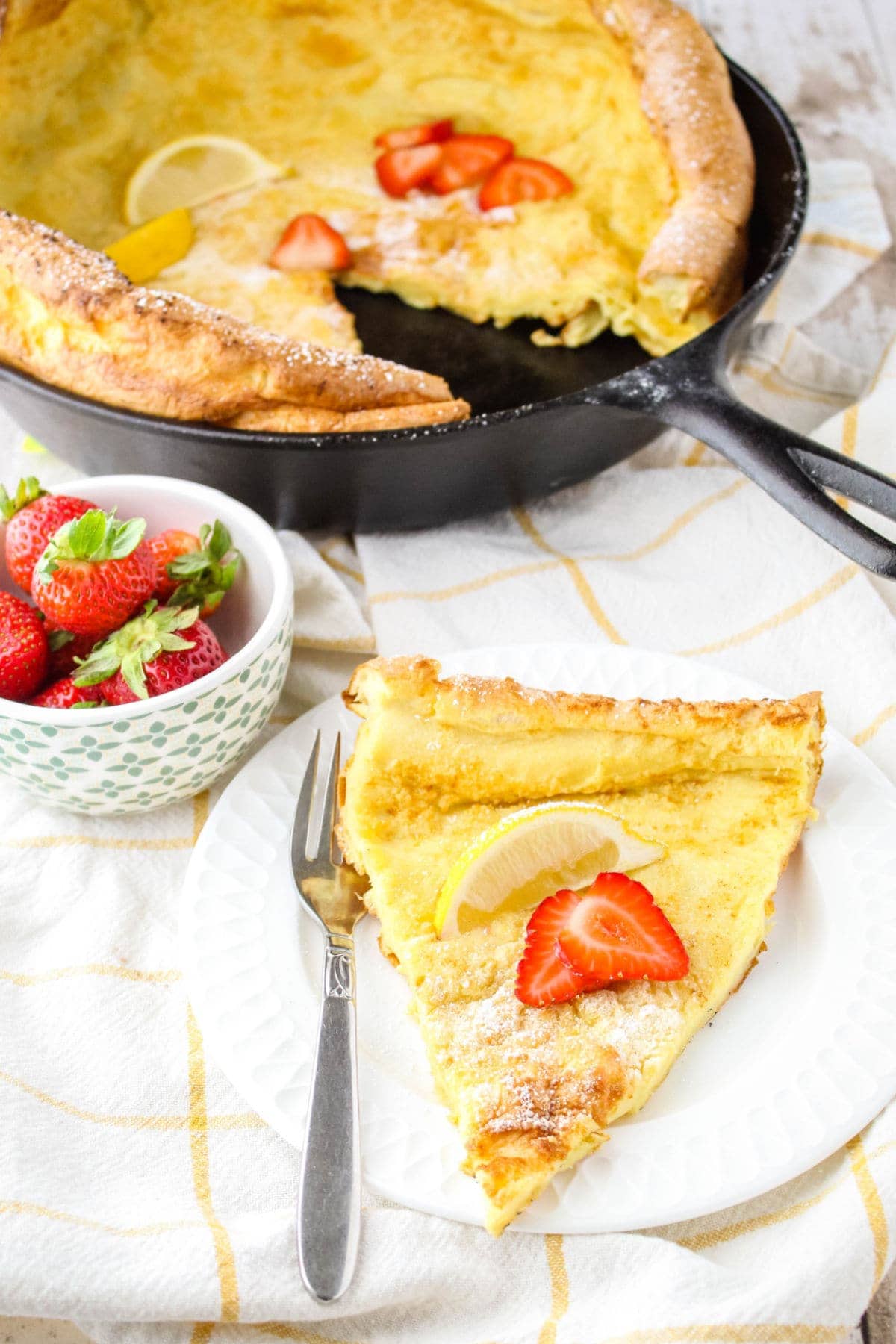 More Breakfast Ideas
While I could eat just a german pancake for breakfast, I usually fill out our table for the whole family. I make some breakfast potatoes, crispy oven bacon, and mimosas if it's the weekend (Just orange juice for the kids).
Yes. I'm obsessed with this pancake, but I'm just as fixated on these other delicious brunch recipes! Baked French Toast Casserole is a staple at our house and my dad's Coffee Cake takes me back to my childhood. It's the best! Try either one and you'll be in breakfast heaven!
Recipe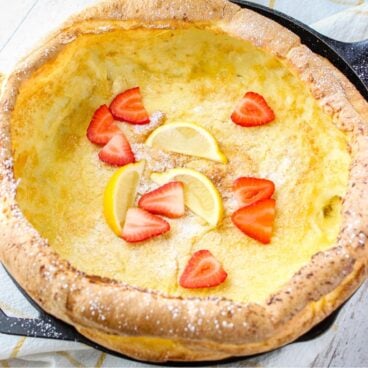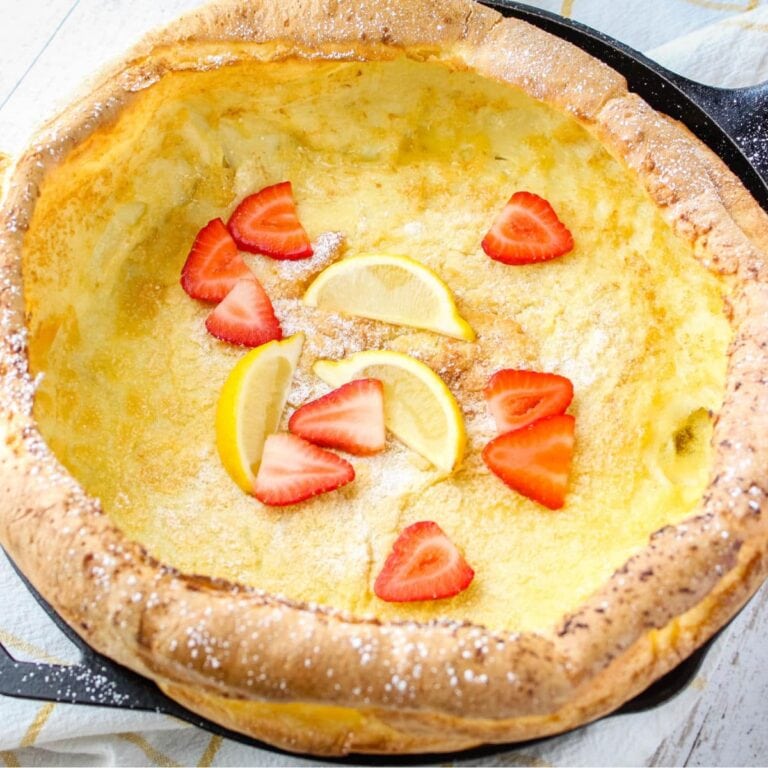 German Pancakes
German Pancakes are made from a simple batter, and baked in a hot buttered cast iron skillet. You'll love to watch it puff up in the oven!
Ingredients
1/4

cup

unsalted butter

6

eggs

1

cup

milk

1

cup

all-purpose flour

1

tablespoon

sugar

1

teaspoon

vanilla extract

1/4

teaspoon

salt

Powdered sugar

for garnish

Lemon wedges

for garnish
Instructions
Preheat your oven to 400 degrees F.

Place butter into a 12-inch cast iron skillet. Put the skillet in your oven while it's preheating. The butter will melt and the skillet will get hot.

In a medium mixing bowl, whisk together the eggs, milk, flour, sugar, vanilla, and salt until smooth. The batter will be pretty liquidy.

Once the oven is preheated, carefully pull out the oven rack your skillet is on. Pour the batter into the hot skillet.

Push the rack back in, close the oven, and bake for 20 to 25 minutes. The edges will puff up above the skillet and the center will be puffed and golden.

Remove from the oven and let sit for 2-3 minutes so the pancake can settle.

Cut the pancake into slices. Sprinkle generously with powdered sugar and serve with lemon slices for squeezing, or top with butter and syrup.
Notes
Storage: Allow leftovers to cool completely, then store in an airtight container in the fridge for up to 2-3 days.
Freezing: To freeze, wrap individual pancakes or pieces in plastic wrap, then place in a plastic freezer bag.
Nutrition
Serving:
2
slices
Calories:
362
kcal
Carbohydrates:
30
g
Protein:
14
g
Fat:
20
g
Saturated Fat:
11
g
Cholesterol:
282
mg
Sodium:
268
mg
Potassium:
205
mg
Fiber:
1
g
Sugar:
7
g
Vitamin A:
810
IU
Calcium:
114
mg
Iron:
3
mg