This Pineapple Strawberry Mimosa is crisp and refreshing and perfect for brunch! It's a stand-by classic with a sweet, fun twist.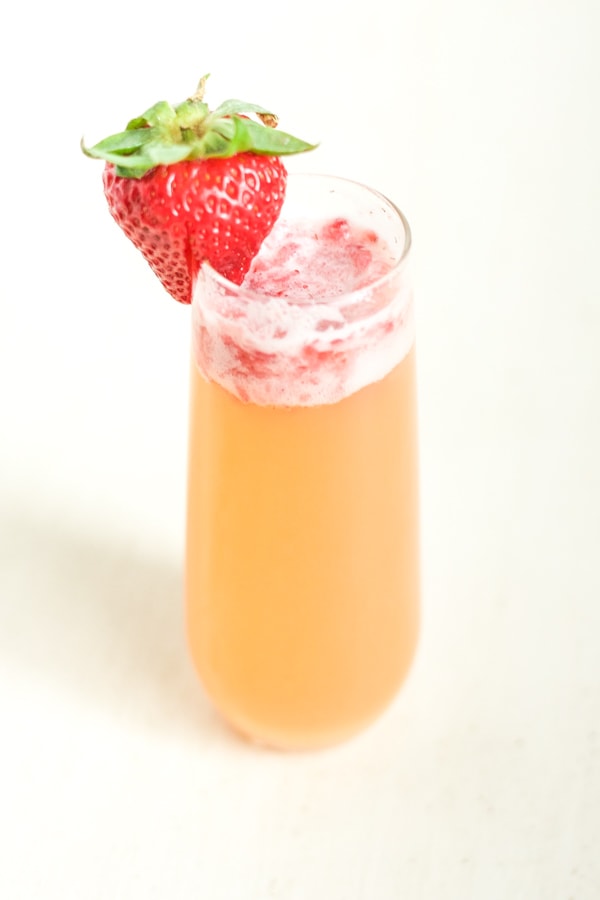 We are not huge drinkers, but I love a delicious Mimosa at brunch! It's the perfect drink to serve for brunch alongside a Baked Cinnamon French Toast Casserole and some Egg & Cheese Hash Brown Waffles.
Pineapple Strawberry Mimosa Recipe
Its acceptable to order an alcoholic beverage in the morning as long as it's got juice in it right?! At least that's what I tell myself. There's nothing like having brunch and sipping on a delicious champagne cocktail. Brunch and mimosas just seem to go together so well!
I absolutely love a perfect orange juice and champagne combo but there's definitely something to be said for twisting it up a bit. Like this Pineapple and Strawberry Mimosa! All the best flavors with your favorite bubbly, now that's perfection!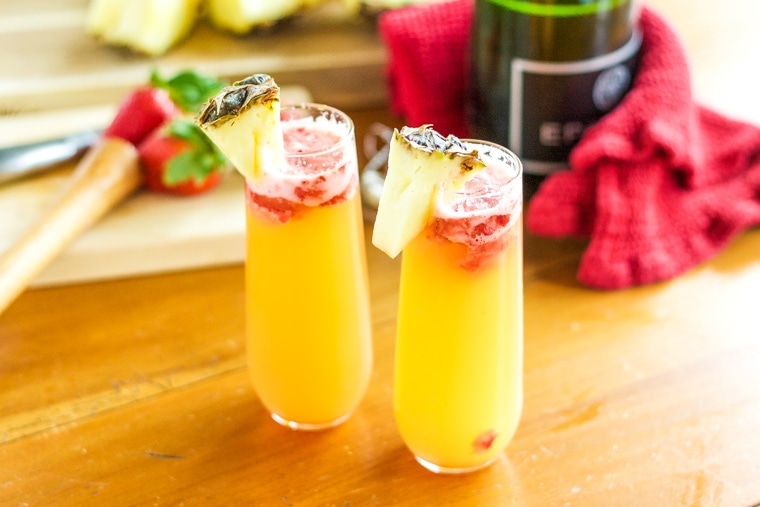 How to make a Pineapple Strawberry Mimosa
The strength of your mimosa is completely personal. Some like half and half, others like more juice than champagne and then some like just a small amount of juice. I'm more of the last option kinda gal. I like to taste the champagne and not over power and cover it up with juice. So In my recipe I did not put measurements so you can make each drink specifically for the person drinking it.
Muddle the strawberries: Drop a couple of small strawberries in the champagne flute (remove the stems first). Press the fruit against the side of the glass using a muddler or just the back of a spoon.  If you don't like chunks in your drink then I suggest pureeing the strawberries in a blender or food processor and straining out the seeds. It'll take a bit longer but it would be worth it for the fresh strawberry taste.
Add champagne: Next add your desired amount of champagne to the glass, as little or as much as you like.
Top off your Mimosa with pineapple juice and garnish with a small slice of pineapple or a fresh strawberry.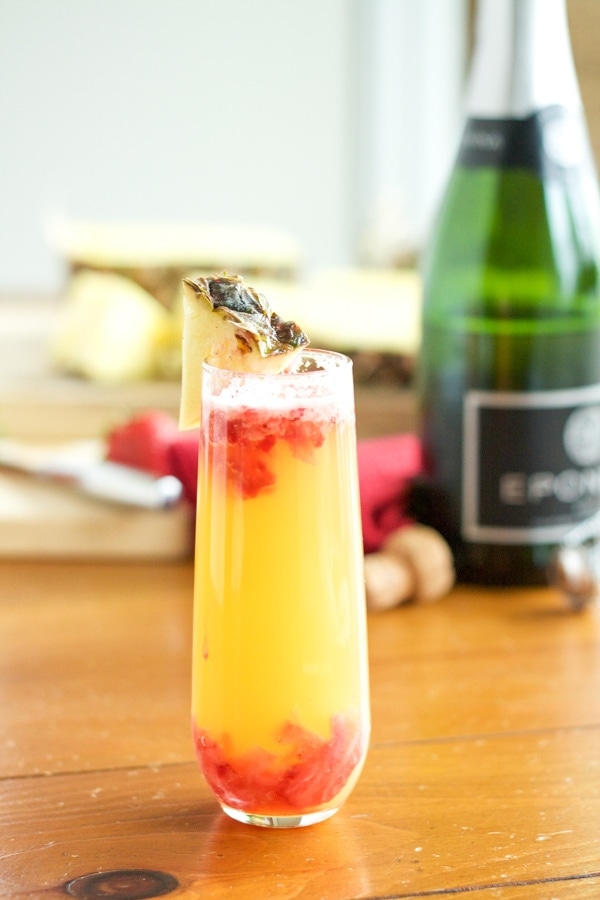 What champagne is best for a Mimosa?
Choosing your champagne is up to you as well and there are so many different kinds to choose from. You can go the sparkling wine route such as Prosecco or stick with a Dry Brut Champagne even a sweet Spumanti would be great. Pick whichever you would prefer to drink by itself. No wrong choices here!
Can you make mimosas ahead of time?
You can, but I recommend not making them more than an hour ahead of you will lose some of the carbonation from the champagne.
Hope this hits the spot at your next brunch or even when its a "just because you wanted a mimosa" kind of day! Cheers!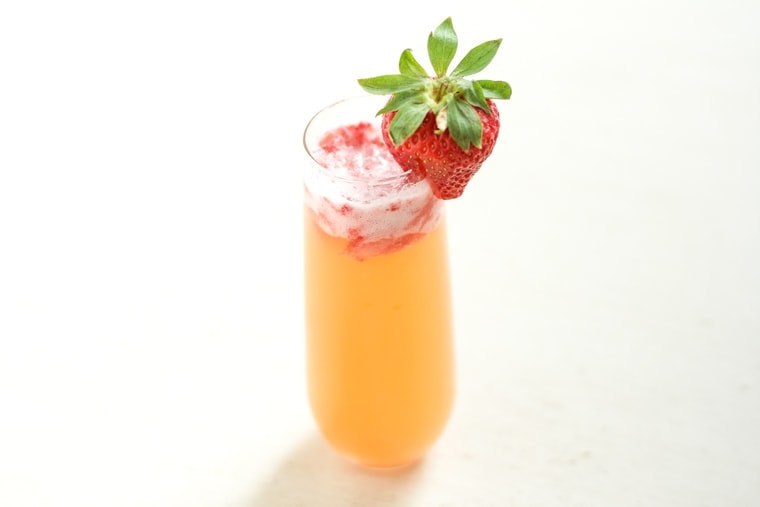 For more delicious drink ideas, try these: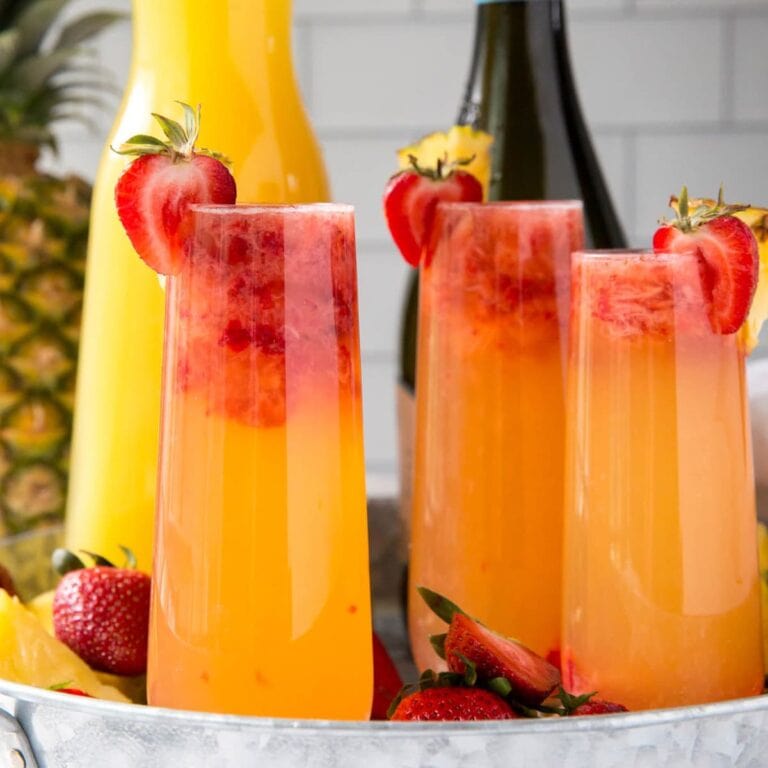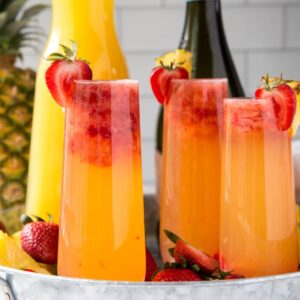 Pineapple Strawberry Mimosas
This Pineapple Strawberry Mimosa is crisp and refreshing and perfect for brunch! It's a stand-by classic with a sweet, fun twist.
Ingredients
12 Fresh strawberries medium in size
2-3 cups Pineapple juice
750 mL Bottle of champagne or prosecco chilled
Fresh pineapple or strawberry for garnish optional
Instructions
Wash the strawberries and remove stems. Add 2 fresh strawberries to the bottom of a champagne flute and "muddle" (gently smash into the bottom of the glass).

Pour in Champagne or Prosecco until the glass is about 2/3 full. Top with desired amount of pineapple juice.

Garnish with a fresh slice of pineapple or strawberry.
Notes
Amounts as listed are only estimates. Feel free to adjust as desired. 
Nutrition
Serving: 1glassCalories: 111kcalCarbohydrates: 13gProtein: 1gFat: 1gSaturated Fat: 1gSodium: 11mgPotassium: 249mgFiber: 1gSugar: 10gVitamin C: 22mgCalcium: 25mgIron: 1mg