A classic Aperol spritz is the perfect cocktail for summer. Refreshing, not too sweet, brightly colored, and perfect for backyard sipping. I love that there's just a little fizz from the prosecco, and with only 3 main ingredients, they're surprisingly easy to make.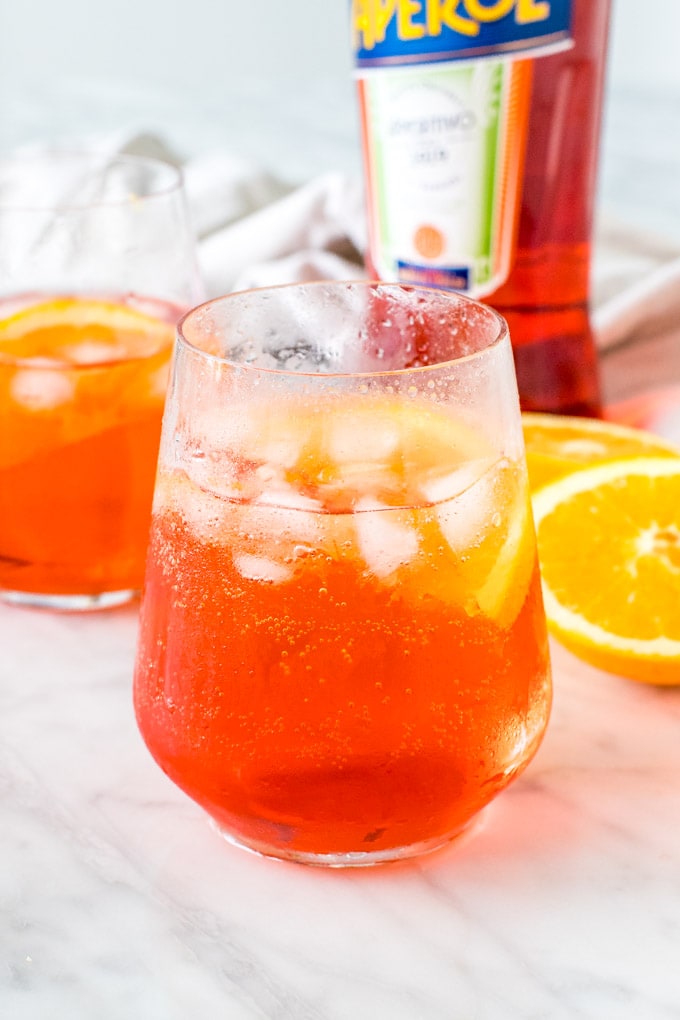 In the past few years, I feel like Aperol spritzes have become the go-to summer drink. They popped up on just about every seasonal menu as the featured cocktail, and even sparked a debate in the New York Times about if the drink really deserved all the hype. I personally love a spritz, but if you've never tried one before, I recommend seeing for yourself what all the fuss is about.
The Perfect Summer Cocktail
An Aperol spritz is a summer cocktail originating in Italy. According to the bottle of Aperol, a traditional spritz is made with:
1 part prosecco
1 part Aperol
and a dash of soda water (club soda).
I actually prefer an Aperol spritz with a little more prosecco than Aperol, because I love the extra fizz and it's not quite as bitter. It's served in a large wine glass over ice, typically with a slice of orange or orange rind. It has a bright orange color – like a beautiful Italian sunset – and a delicious fizziness thanks to the prosecco.
Aperol is an aperitif, meaning that it's meant to be a before-dinner drink. I like to imagine I'm enjoying one on an Italian piazza at sunset, or on the Amalfi coast after a day at the beach.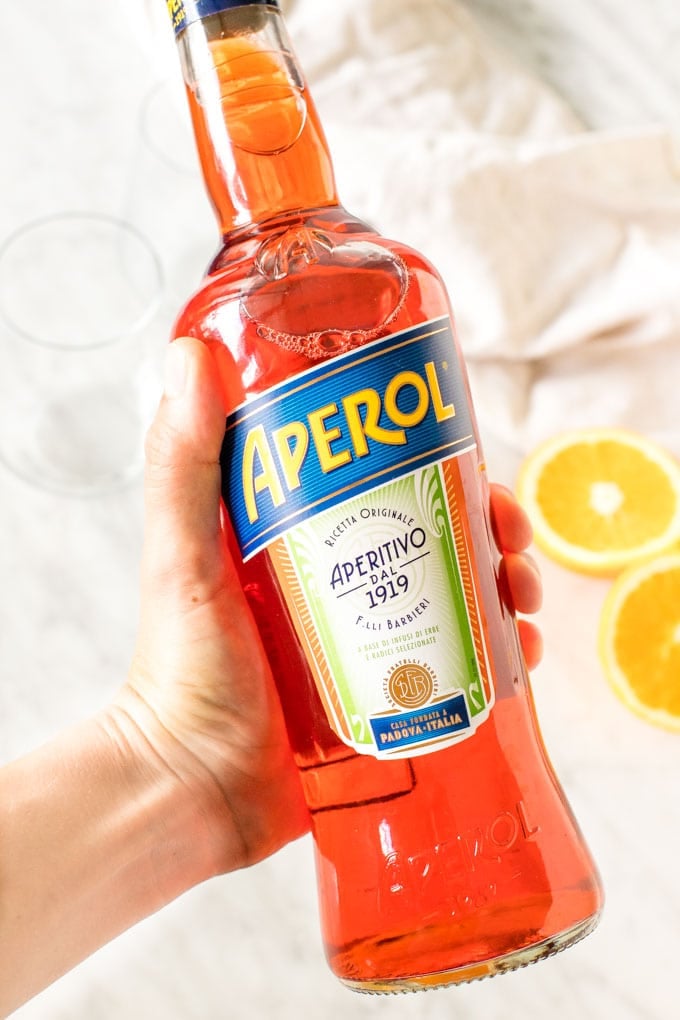 What Does Aperol Spritz Taste Like?
Aperol is a dry, bitter liqueur with hints of orange and rhubarb. So the sweetness in a spritz comes from the prosecco. Aperol is 11% alcohol – so it isn't as strong as other Italian aperitifs, such as Campari. You can adjust how sweet or how bitter your Aperol spritz is by adjusting the amount of prosecco, or by choosing a more sweet or a more dry prosecco.
Tips and Variations for an Aperol Spritz
Play around with the ratio of prosecco, Aperol, and soda water to make your cocktail more or less alcoholic. If you want your drink to be not quite as strong, use less alcohol (Aperol and prosecco) and more soda water.
For a less sweet drink, choose a more dry prosecco.
For an extra special cocktail – skip the ice and add in a scoop of orange sorbet.
Some people will substitute prosecco for white wine. I personally prefer prosecco, but it's worth a try!
Champagne works instead of prosecco. However, because Aperol is an Italian drink, and prosecco is Italian (as opposed to champagne which is French), I like to use prosecco.
Can I Make Aperol Spritz Ahead of Time?
I do not recommend making your spritz ahead of time and storing it in the fridge, like you would a jug of rum punch or sangria. You want there to be bubbles from the prosecco and soda water. If you make it ahead of time, it will go flat.
Pro Tip: Since you don't want prosecco to go flat – it's not advisable to re-cork a bottle if it's half-finished. If you don't think you'll finish the whole bottle of bubbly, I recommend buying mini bottles. That way your prosecco is always fizzy, and you won't waste half a bottle. Aperol is fine to store in the bottle at room temperature.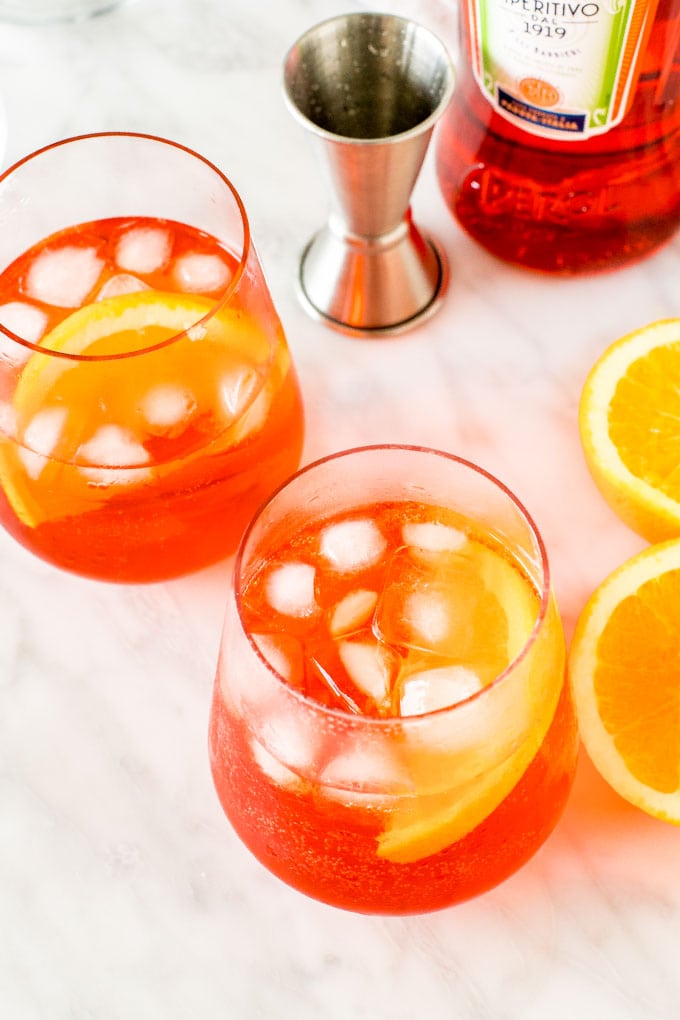 Cocktails and Appetizers
Of course you need to add this Aperol Spritz to your must try cocktails this summer. It's perfect for sipping with friends, even at a safe distance of 6 feet apart! You can also add some of our favorite cocktails to your menu like a Blue Lagoon Cocktail, Pineapple Strawberry Mimosa, Classic Margaritas and Peach Sangria.
And what sophisticated cocktail party is complete without some savory appetizers? Try adding a few of these to your menu:
Recipe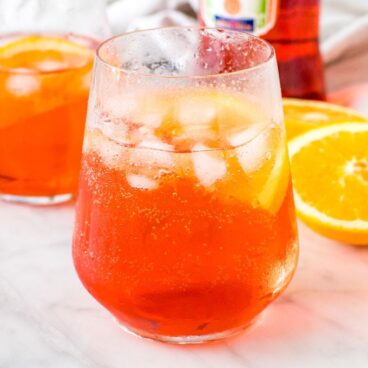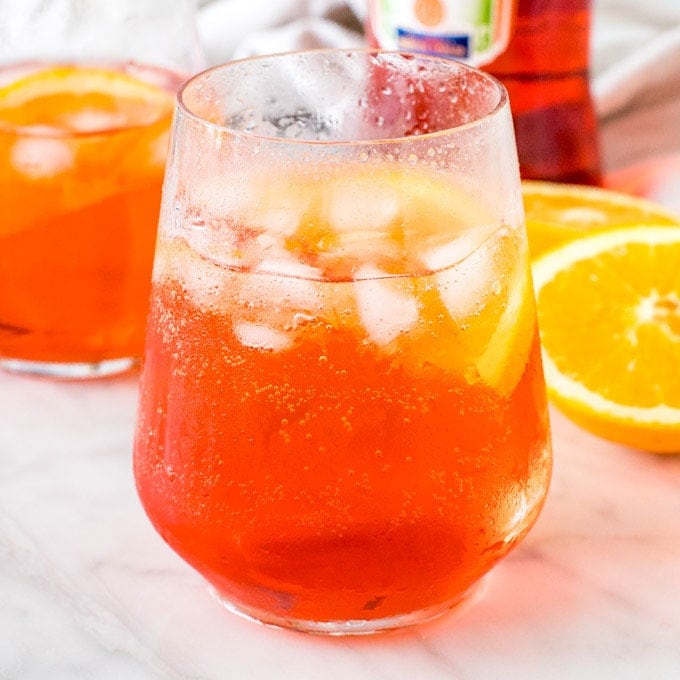 Aperol Spritz
A classic Aperol spritz is the perfect cocktail for summer. Refreshing, not too sweet, brightly colored, and perfect for backyard sipping.
Ingredients
ice

2

ounces

Aperol

(1 part)

3

ounces

prosecco

(1 part)

1-3

ounces

soda water/club soda

to taste

Optional garnish: orange slices
Instructions
Place ice cubes in a large wine glass.

Add in the Aperol, prosecco and soda water.

Place an orange slice in the glass, and serve immediately.
Notes
Feel free to adjust the amounts of each ingredient to your liking.
Nutrition
Calories:
193
kcal
Carbohydrates:
16
g
Protein:
1
g
Sodium:
12
mg
Potassium:
75
mg
Sugar:
1
g
Iron:
1
mg