This Olive Cheese Ball with Parmesan Toasted Walnuts is fun and festive appetizer for the holidays. With loads of cheeses and salty olives, it's a sure crowd pleaser!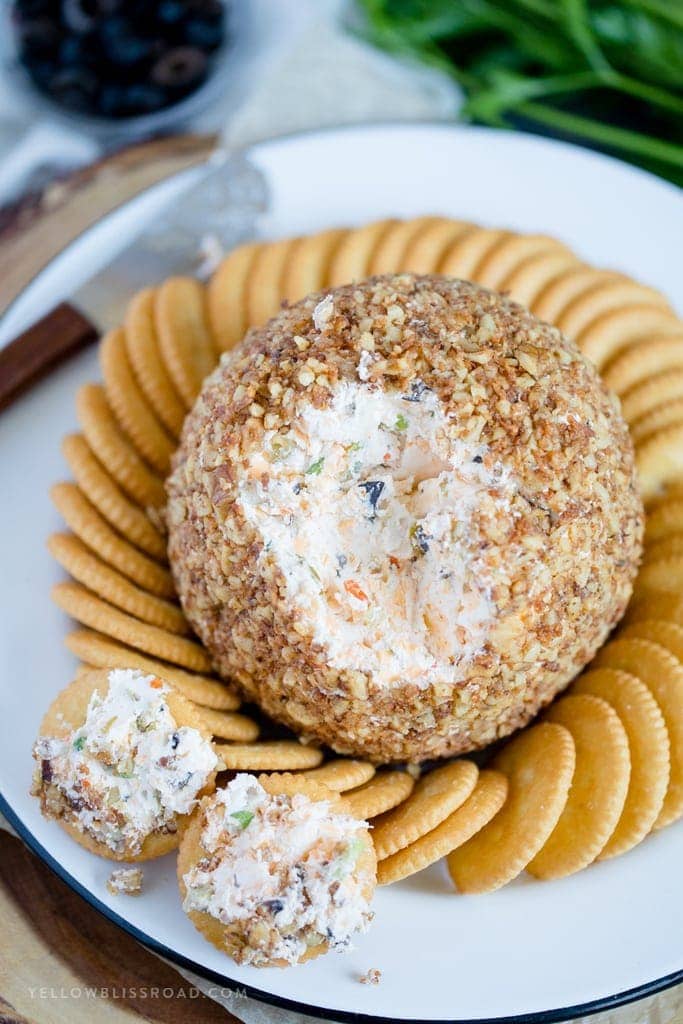 For the most part, the recipes you'll find here on the site are my unique spin on classics or something I dreamed up while starring into the abyss that is my kitchen pantry. Then sometimes my mom comes to me and says "I used to make this cheese ball thing all the time, can I make it for your site?" I'm not one to turn down free help so I quickly agreed! I'm so glad I did because I had never had this delicious creation before and now I'm not sure I'll ever eat another cheese ball again.
When someone pulls out a recipe that's 40-50 years old, one of two things might go through your head – it's either a classic that has stood the test of time, or a total bomb that should stay in the past. This is definitely the first one!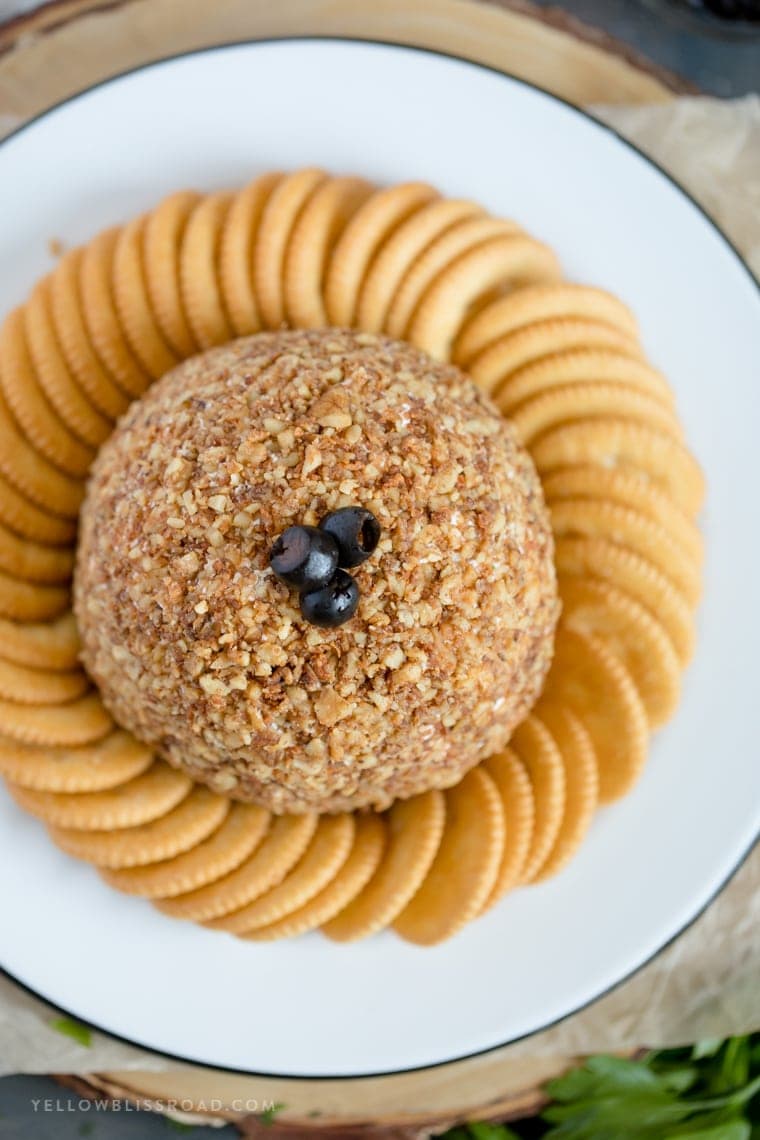 Of course I'm not typically one to take a recice at face value and just share it straight out of a cookbook. Nope. And this recipe is no different. It's a basic cheeseball, filled with two kids of chopped olives, but that's where I decided to take this cheese ball on a little twisty turny ride. I had a huge bag of walnuts in my pantry just begging to be used for this recipe. And why not bake them with some sharp, nutty Parmesan cheese for extra added flavor? And why stop there when you can add a little garlicky flavor too?
How to Make an Olive Cheese Ball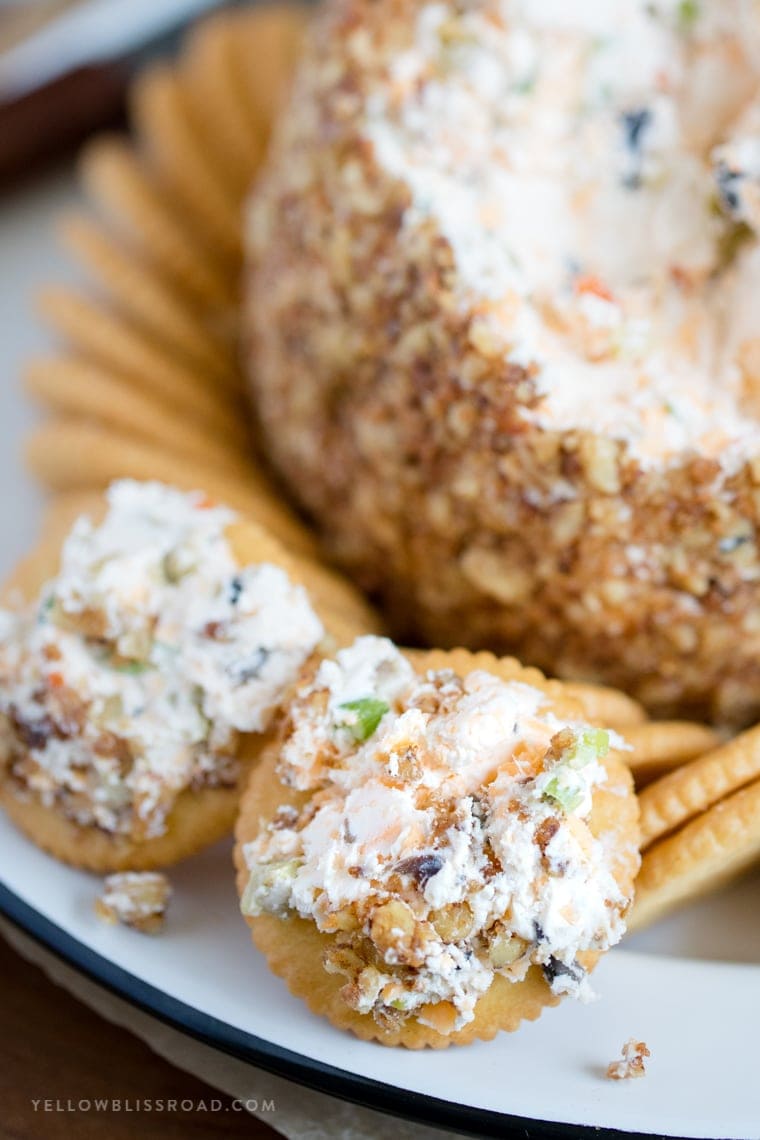 The first step in this recipe is to chop up a bunch of walnuts and try to keep from eating them right there off the cutting board. Coat the walnut pieces in a little melted butter, garlic powder and a lot of Parmesan cheese, then bake it all in the oven. The result is a super crispy, crunchy toasty coating for your Olive Cheese Ball!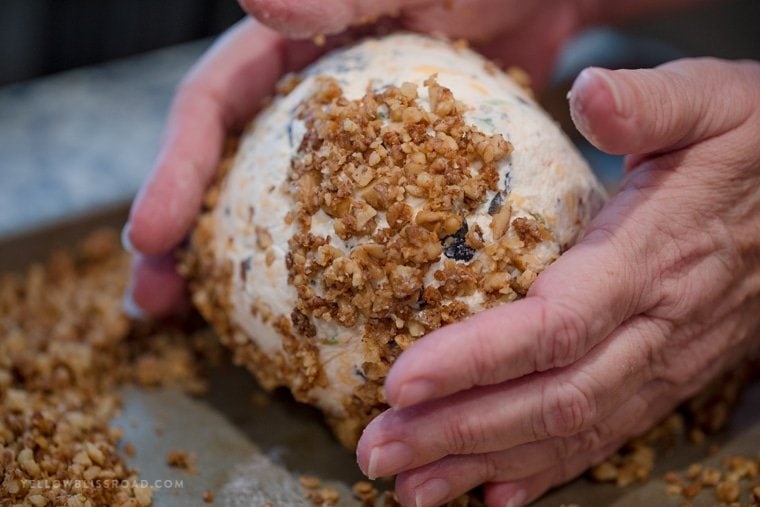 The cream cheese in the cheese ball should be softened; best to do this at room temperature, but you can place it in the microwave for about 15 seconds to help speed up the process. That is combined lots of cheddar cheese, green onions and of course chopped black olives. If you're a fan of mixing olives you could throw some green in there as well for some extra briny flavor.
Once all the cheeses and olives are mixed together really well, shape it all into a nice ball with your hands, then wrap that baby up in plastic wrap and stick it in the fridge. The plastic wrap will help it hold it's shape as it chills. When you're ready to serve, remove the cheese ball from the fridge and roll in the toasted walnuts, shaping the ball as you go. Place it on a serving platter with some crackers or crostini and you're good to go!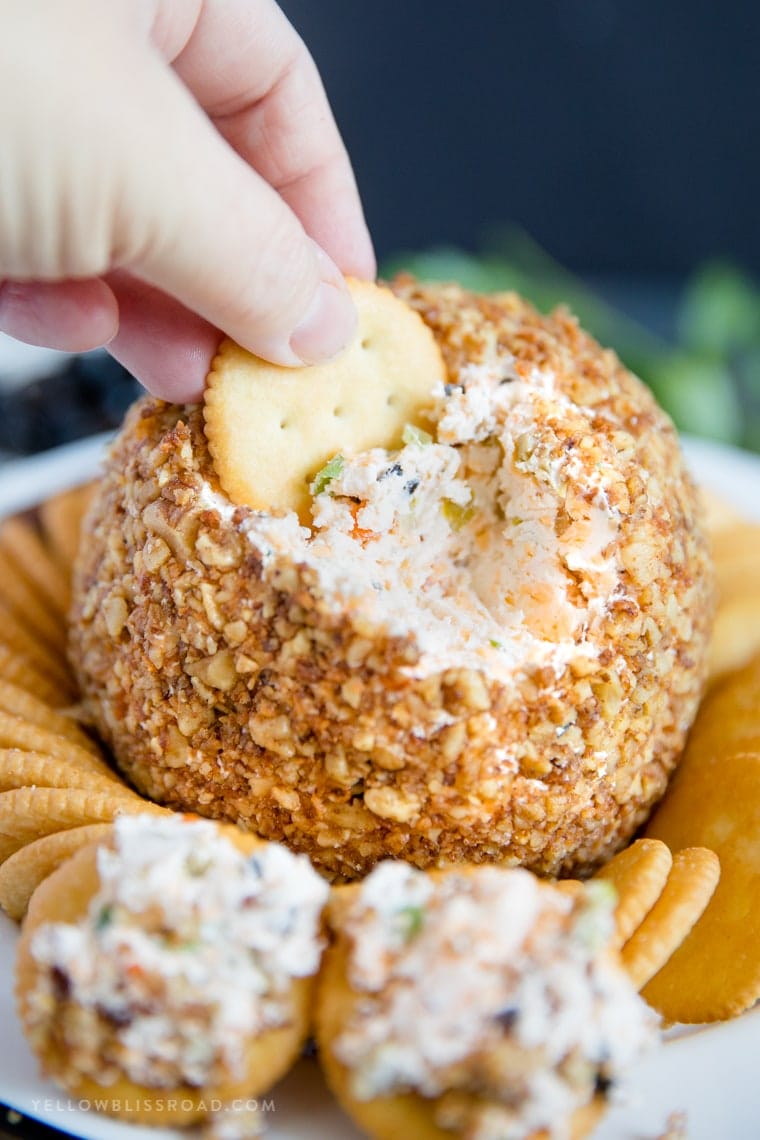 Recipe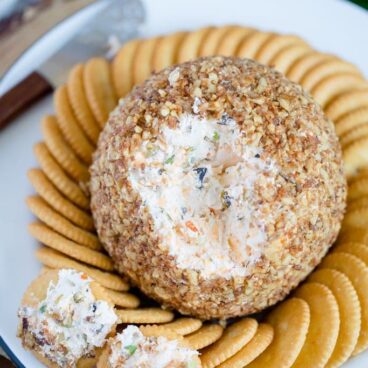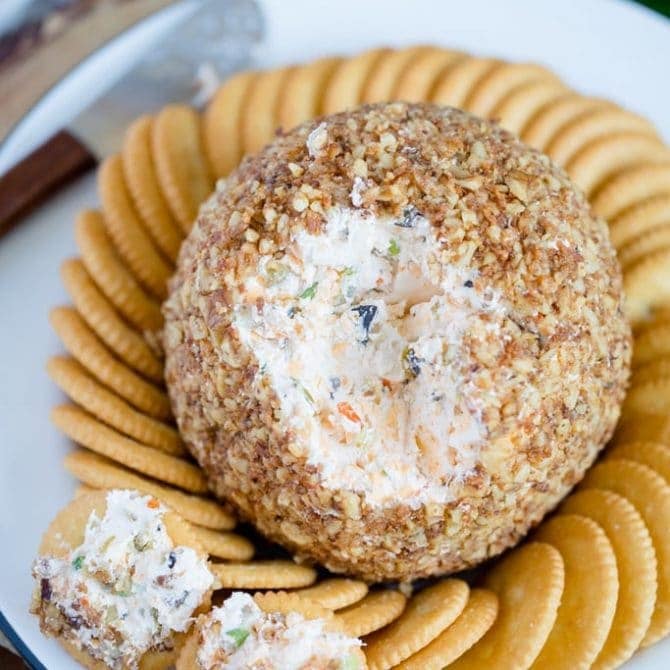 Olive Cheese Ball with Parmesan Toasted Walnuts
This Olive Cheese Ball with Parmesan Toasted Walnuts is fun and festive appetizer for the holidays. With loads of cheeses and salty olives, it's a sure crowd-pleaser!
Total Time
1

hour
30

minutes
Ingredients
Cheese ball:
2 8-

ounce

packages cream cheese

softened

2

cups

freshly shredded cheddar cheese

2

green onions

finely chopped

1

tablespoon

Worcestershire sauce

1 2.25-

ounce

can sliced black olives

chopped

1/2

cup

pimento stuffed green olives

chopped

Salt & pepper to taste
Coating:
2

cups

finely chopped walnuts

1/4

cup

butter

melted

1/2

cup

grated Parmesan cheese

1/2

teaspoon

garlic salt
Instructions
Toasted Walnut Coating:
Preheat oven to 350 degrees F.

Combine ingredients for the coating (walnuts, melted butter, grated Parmesan and garlic salt) and spread evenly onto a parchment or foil-lined rimmed baking sheet.

Bake for about 15 minutes or until golden, stirring every 5 minutes. Cool Completely.
Cheese ball:
In a large bowl, stir together softened cream cheese, cheddar cheese, green onions and Worcestershire sauce until well combined. Stir in olives.

Cover and chill for at least one hour.

Remove from the refrigerator and form cheese mixture into a ball shape. Roll in toasted Parmesan walnuts, coating completely. Wrap in plastic wrap and chill until ready to serve
Notes
Serve chilled with crackers, toasted crostini or raw vegetables.
Nutrition
Calories:
818
kcal
Carbohydrates:
13
g
Protein:
22
g
Fat:
78
g
Saturated Fat:
32
g
Polyunsaturated Fat:
21
g
Monounsaturated Fat:
19
g
Trans Fat:
1
g
Cholesterol:
142
mg
Sodium:
1337
mg
Potassium:
363
mg
Fiber:
4
g
Sugar:
5
g
Vitamin A:
1856
IU
Vitamin C:
2
mg
Calcium:
474
mg
Iron:
2
mg
Here's another cream cheese appetizer that we love:
Cranberry Rosemary Cheese Spread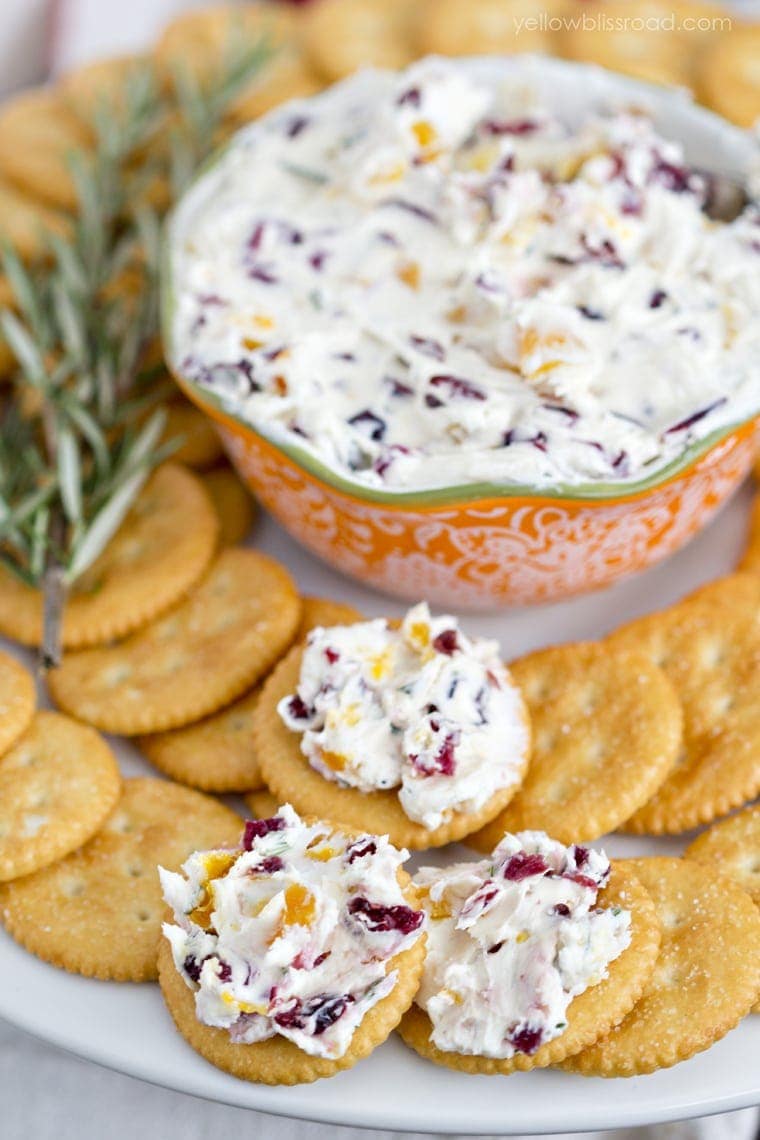 Here are a few more cream cheese dips that we love: