This Strawberry & Feta Salad with Citrus Vinaigrette is the perfect summer meal. It's fresh and light with tangy feta and citrus flavors, sweet strawberries and crunchy toasted walnuts.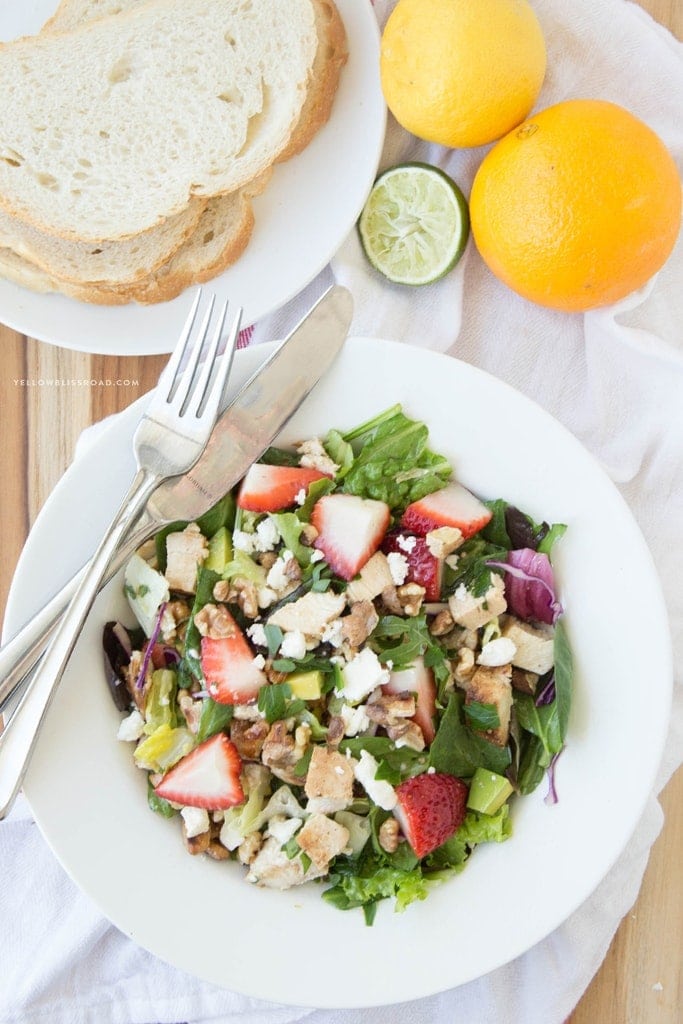 If you aren't a salad eater, this Strawberry & Feta Salad will change your mind. It seems like it was maybe 10 or 12 years ago when salads got a makeover. Where there used to be few options, like Caesar, Ranch or Italian, there are now so many salad options, you could eat a different way every day for a month and not get bored.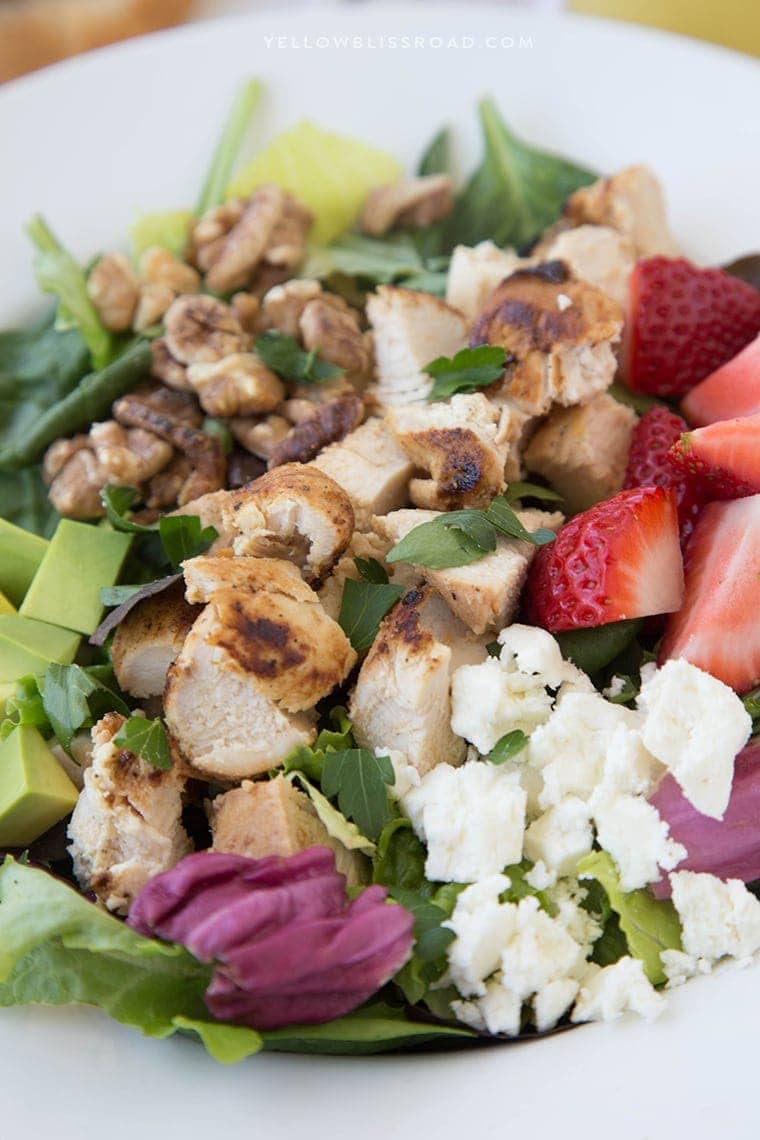 This salad fits all of my requirements for the best salad. It's got sweet strawberries, crunchy walnuts, tangy Feta, creamy avocado and a  slightly sweet Citrus & Herb Vinaigrette. Plus it's topped with this ultra flavorful and juicy Citrus Chicken that I shared yesterday.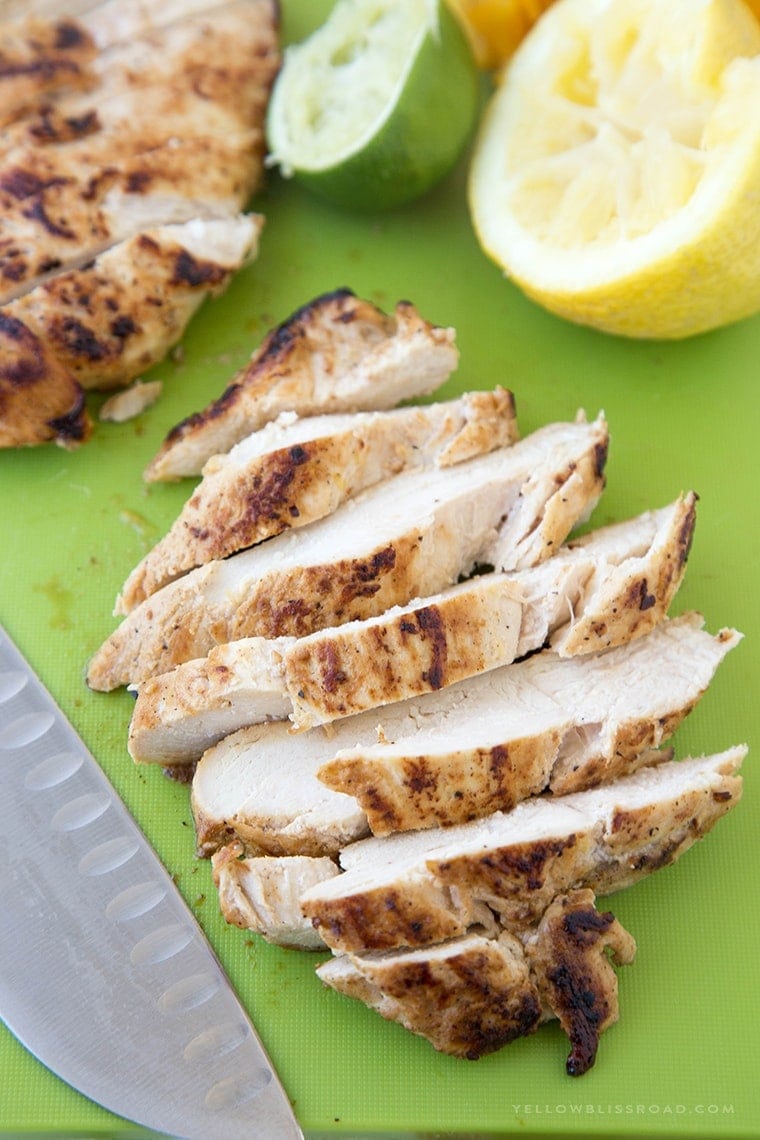 But the Citrus Vinaigrette might be my very favorite part of this salad. It's similar to the marinade for the chicken, with a few extras added in. Three types of citrus – lemon, orange and lime – plus olive oil, a little honey, and herbs like basil or parsley.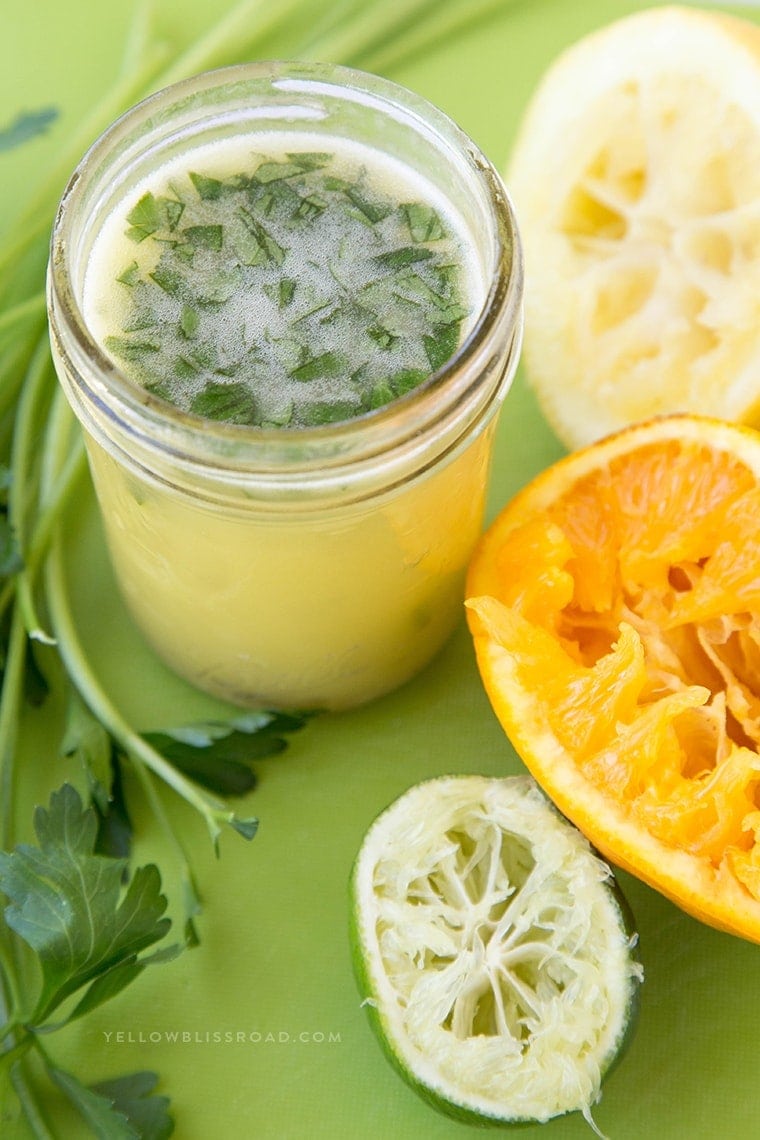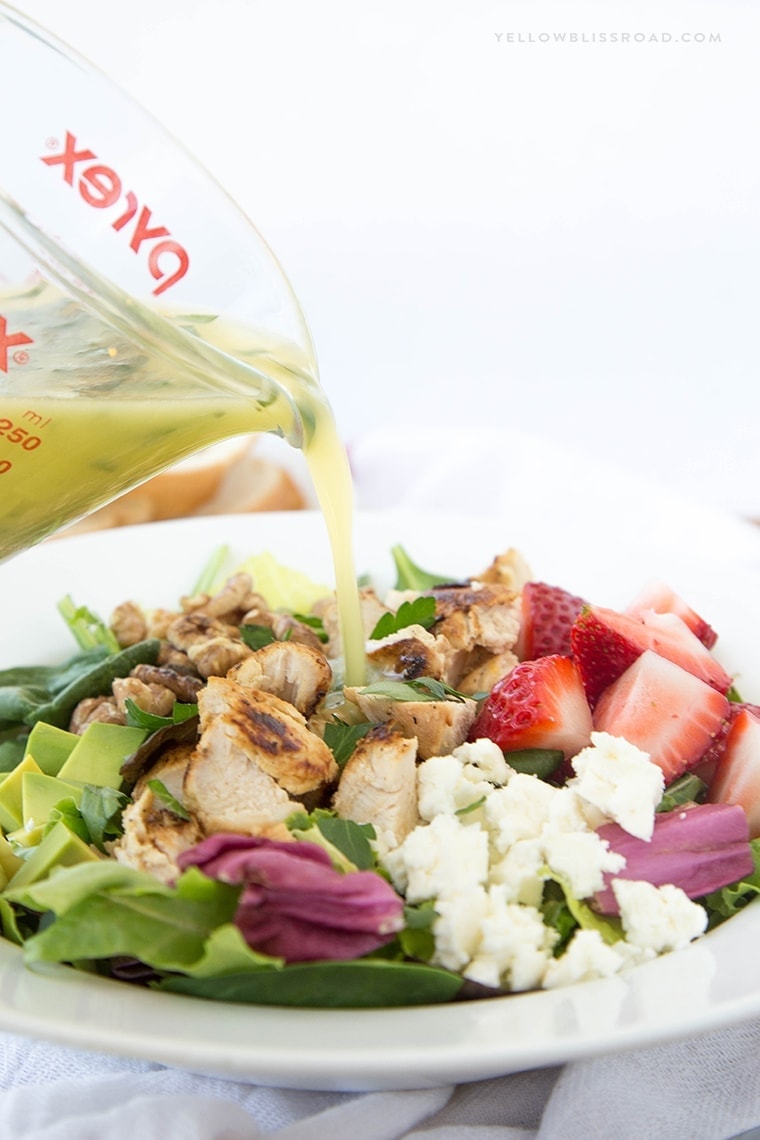 Then toss all of that deliciousness together and enjoy!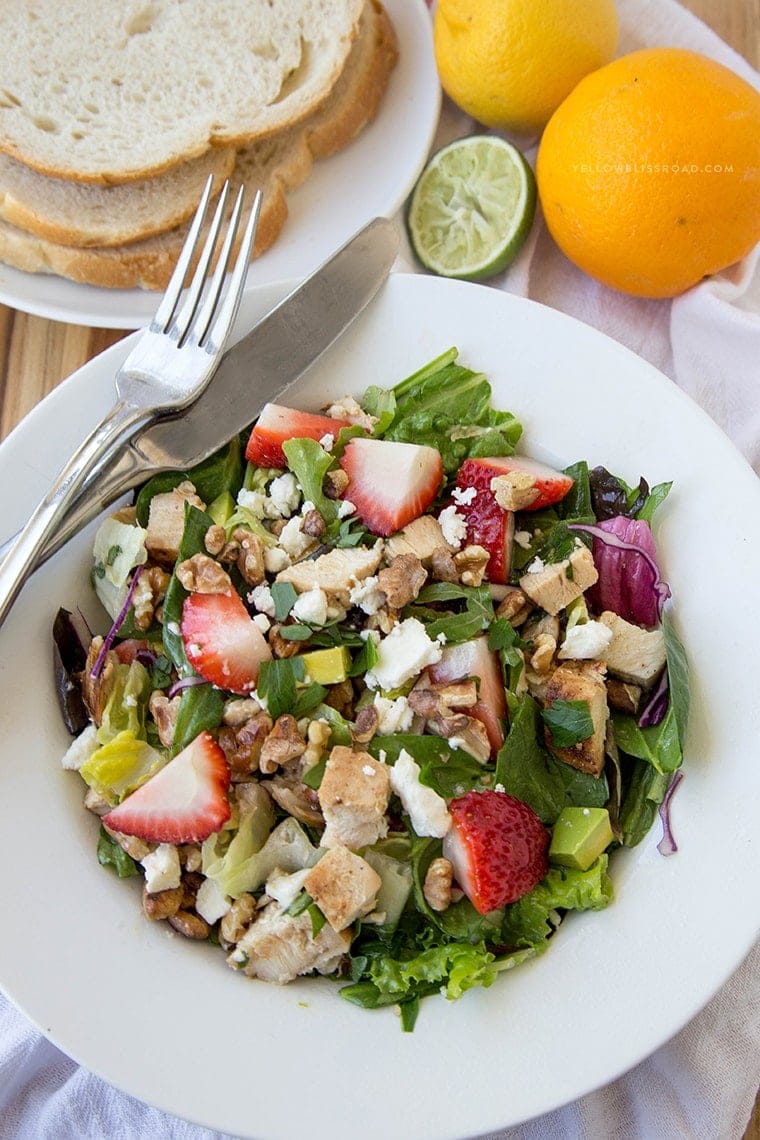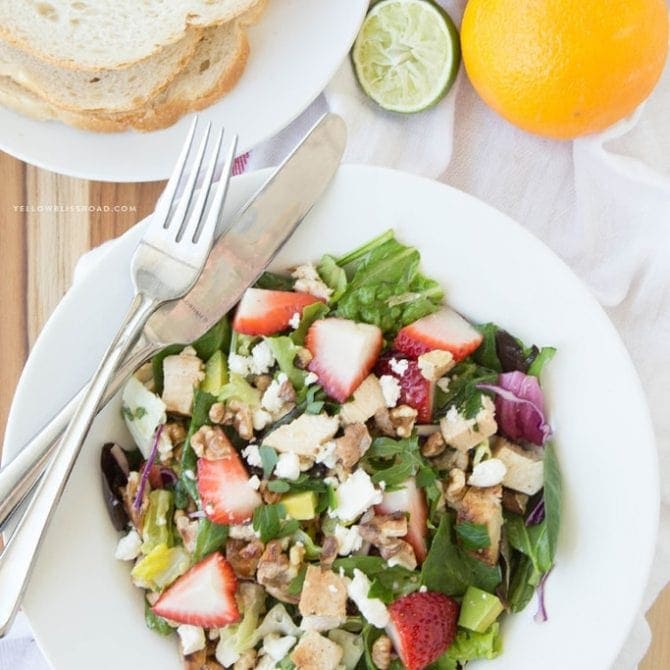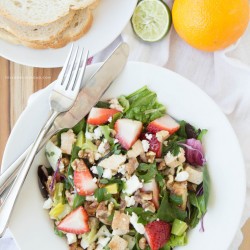 Strawberry & Feta Chicken Salad with Citrus Vinaigrette
Ingredients
Citrus Vinaigrette
1 lemon juiced
1 orange juiced
2 limes juiced
1-2 tablespoons honey
1/4 cup olive oil
1 tablespoon chopped fresh herbs like basil or parsley
Salt to taste
Salad
6 cups Romaine & Spring Mix lettuces
1 cup strawberries chopped
1/2 cup walnuts toasted
1/4 cup crumbled Feta cheese
1 avocado diced
1 Citrus Grilled Chicken Breast recipe here
Instructions
Citrus Vinaigrette
Combine ingredients in a small bowl or seal-able jar and whisk or shake together until emulsified. Taste and add more salt and honey if desired.
Salad
Combine lettuces with half of the vinaigrette in a large bowl and toss until coated. Add more dressing if desired. Divide into two bowls and top with strawberries, walnuts, Feta and avocado.

Serve immediately.
 Creamy Apple & Grape Chicken Salad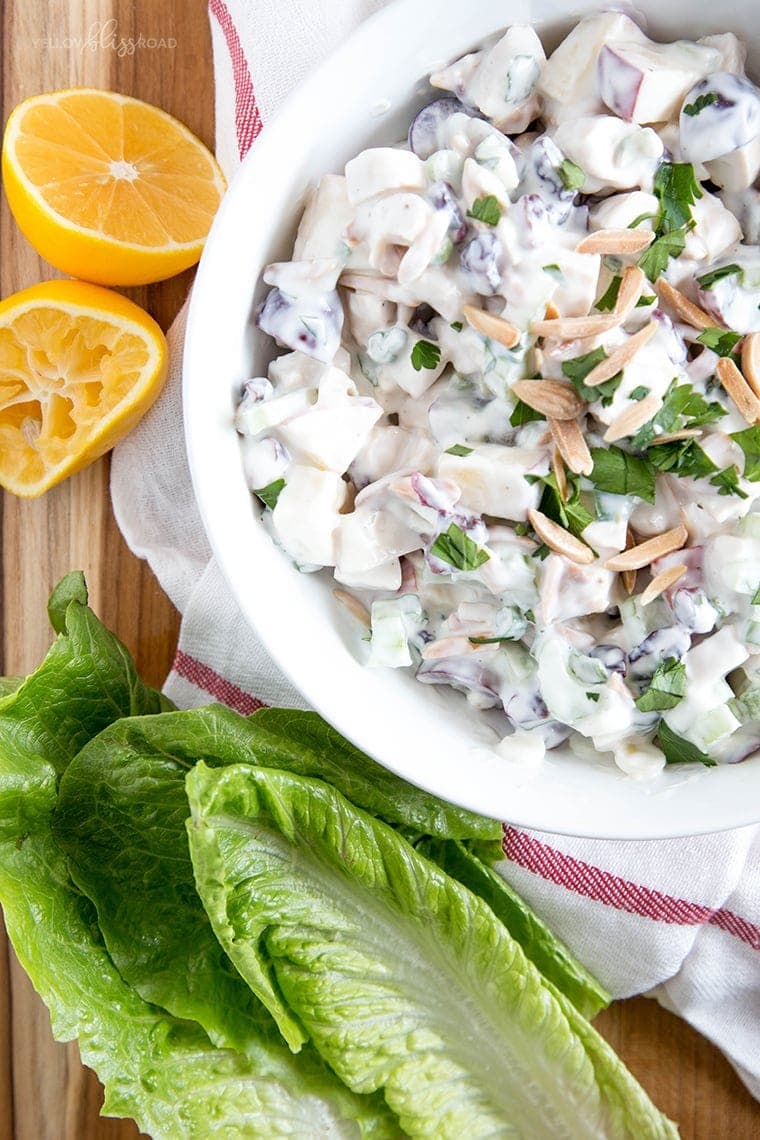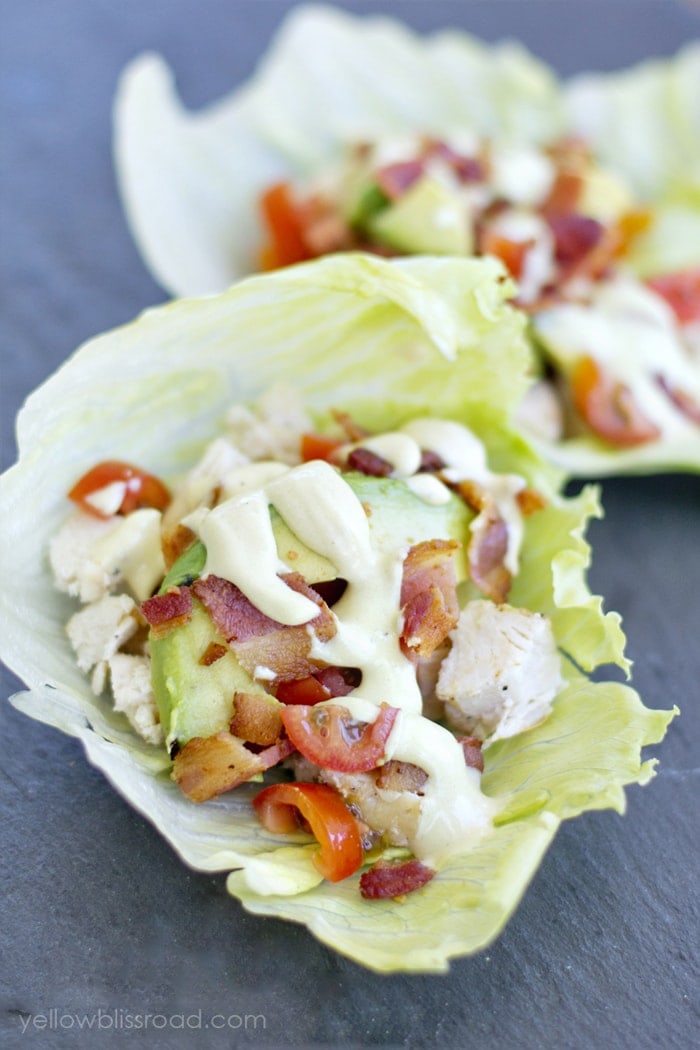 Homemade Garlic & Herb Croutons