This taco salad recipe is another one of those that I've been making for years. It's based off of my three ingredient chili recipe and is absolutely delicious. My kids will just eat the meat part by the spoonful – they'd prefer I not add the salad!
I've recently stopped buying red meat for the most part. I really love ground beef, but it's just so much better for us to eat ground turkey instead. I put it in spaghetti, chili, tacos. And in this taco salad. It's so good I can't stand it! I guarantee your family will love it just as much as mine does.
I've got a really fun variation of this salad that I'm sharing over at I Heart Nap Time today too ~
It's super easy to make. Start with cooking the ground turkey in a large skillet with a little garlic. I always salt the turkey first, but depending on your tastes, this step is optional.
*A note about the turkey – make sure you buy the LEAN ground turkey. Otherwise it's usually made from dark meat which isn't going to save you that much on the fat.
Next add a can of chili beans and a 16 oz container of your favorite salsa. I really love this Rojo's Fire Roasted Salsa I get at my local grocery store (Ralphs/Kroger), but any jar salsa, about two cups worth, will work.
Stir it up, bring it to a boil and lower the heat to simmer for about ten minutes. Add salt and pepper to taste and stir in a small can of corn.
Let the mixture rest for a bit while you chop up the ingredients for your salad. You don't want that meat piping hot, but warm.
I love a little crunch on my salad, so sometimes while the meat is cooking, I'll chop up some tortillas and drizzle them with olive oil and salt before tossing them in the oven. 
Layer up your salad, top with your favorite toppings – I use fresh shredded cheddar and jack cheeses, tomatoes and fat free sour cream. You could also add a dressing of your choice.
Doesn't that look amazing?? It's a pretty good for you meal too!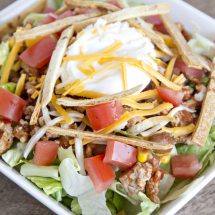 Ingredients
1 pound ground turkey
1 15 oz can chili beans undrained
2 cups salsa
1 tablespoon minced garlic
salt to taste
1-10 oz can corn drained
3 corn or flour tortillas or crushed tortilla chips
For the salad:
1 large head of lettuce chopped
3 whole Roma tomatoes diced
1/2 cup shredded cheese
1/4 cup salsa
1/2 cup fat free sour cream
For the tortilla strips:
2 small flour tortillas
1 tablespoon olive oil
salt
Instructions
Season ground turkey with salt. In a large skillet over medium high heat, cook turkey with a tablespoon of garlic until no longer pink, break up meat into small crumbles as you go.

Add chili beans (do not drain) and 2 cups of salsa. Stir and bring to a boil, then reduce heat to low, cover and simmer for 10-15 minutes. Uncover and let sit for a few minutes to thicken and cool slightly.

Meanwhile preheat the oven to 350 degrees for the tortillas. Stack three tortillas and slice in half, then cross-wise into thin strips. Scatter in a single layer on a foil lined cookie sheet and drizzle with a tablespoon (or less) of olive oil. Sprinkle with salt and place in the oven for 7-8 minutes or until nice and crispy.

Layer salad ingredients - lettuce, then meat, and then toppings of your choice. Toss and enjoy!
For more great recipe, try these: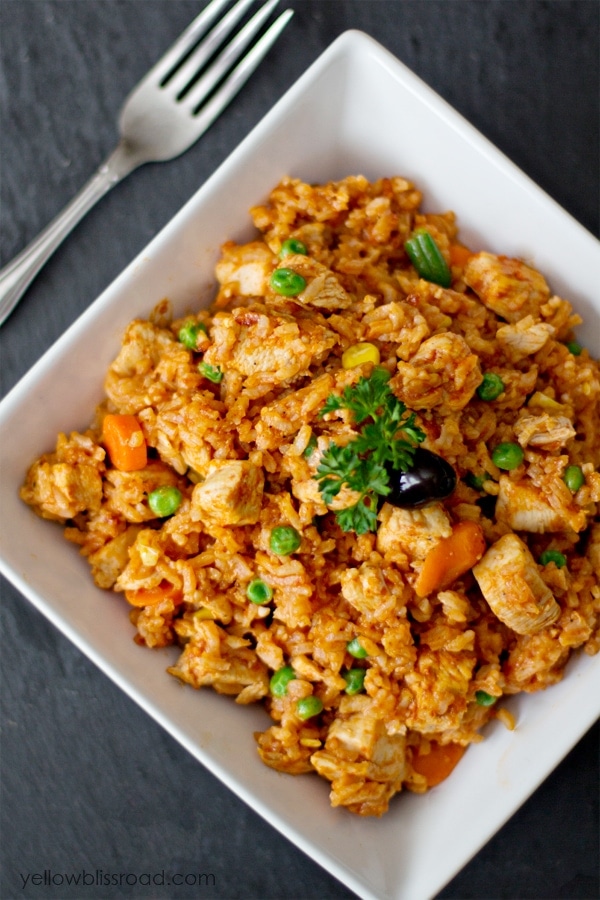 One Pan Mexican Chicken and Rice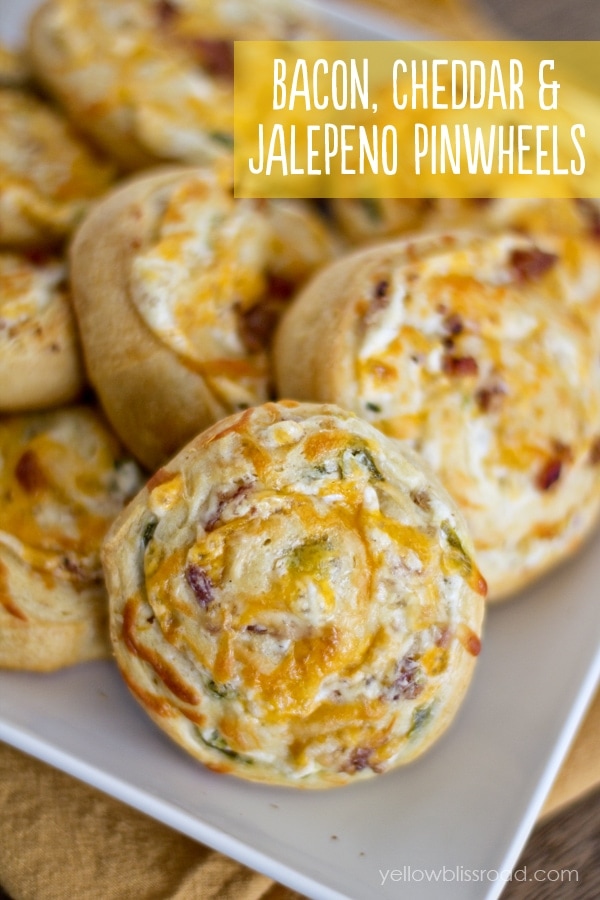 Hi! I'm Kristin, the creative mind behind Yellow Bliss Road where you will be inspired by tons of easy to follow recipes, lots of free printables, and a little sprinkling of life thrown in for good measure.