These turkey burgers are so easy to prepare and are just perfect for a workweek meal. They cook up in minutes and can be loaded with any toppings you like – lettuce, tomato, onion on top technically counts as a salad, right? And the best thing about them – they are so juicy! Ground turkey is definitely healthier than ground beef, but flavor and juiciness are key, and these have both in abundance!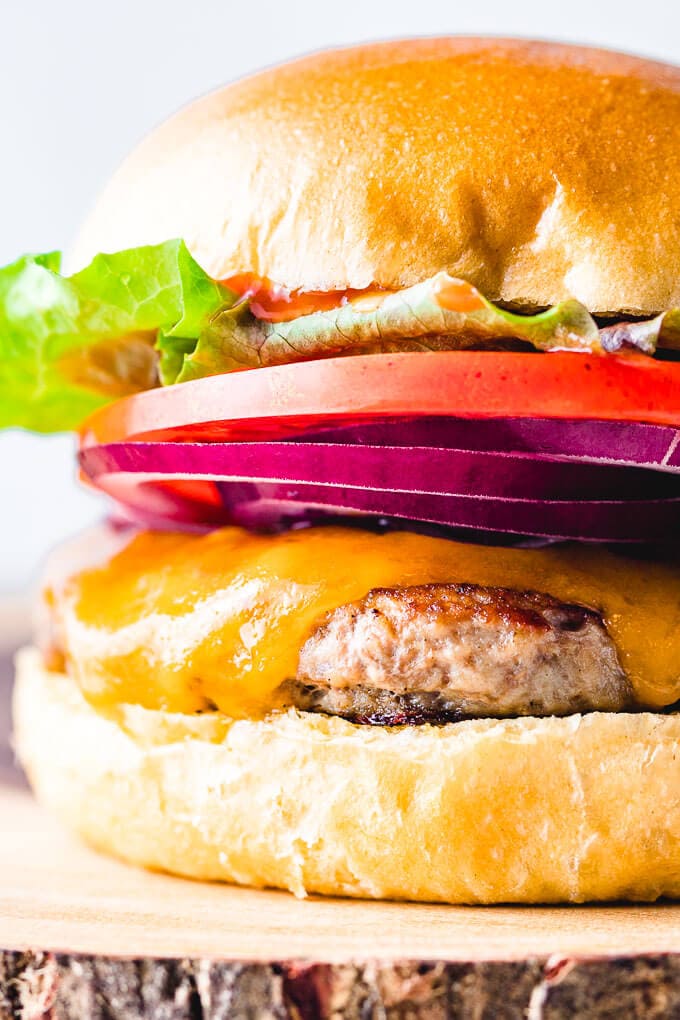 Turkey Burger Recipe
Turkey burgers are one of my favorite things to make. When we are looking for a simple, quick, and healthy meal, these are a go-to. In the photos, they're loaded with tomatoes, cheddar cheese, red onion, and red leaf lettuce. Classic and delicious. But, turkey burgers are so versatile – essentially, a blank canvas to which you can add your favorite ingredients. Like things a bit spicy? Add barbecue sauce and blistered shishito peppers just like we did in this awesome Blackened Chicken Sandwich Recipe. Or for those of you Mediterranean lovers, try topping with cucumbers and Tzatziki sauce.
Why You Need To Make Them
They take 20 minutes total, from seasoning and forming the patties, to grilling and plating.
The kids will love them!
You can add any toppings you like making them an easily customizable meal to suit all sorts of palates!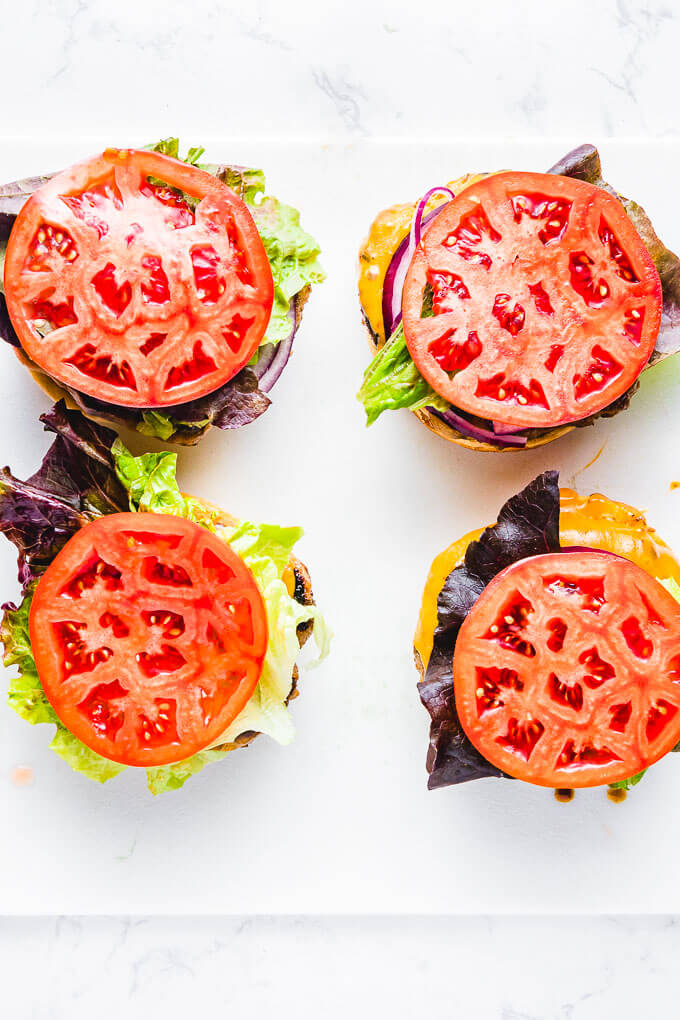 How To Make The Best Turkey Burgers
Begin by adding 1 pound of ground turkey (recipe makes four ¼ pound burgers) to a large mixing bowl and season with kosher salt, black pepper, onion powder and olive oil.
Mix it all together gently (overmixing will make the turkey burgers tough) to incorporate the seasonings.
Form four 1/2″ thick patties, that are roughly 4-5″ round. Make a depression with your thumb in the center of the patties to prevent the burgers from becoming overly thick in the middle.
At this point, the patties can be refrigerated or frozen for later or just grilled or pan-seared right away. Cook the turkey burgers for 4 minutes per side on medium-high heat in a cast iron griddle or pan until the center reads 160F. Note – Turkey is fully cooked at 165F. When the burgers reach 160F, place on a plate and lightly tent them with foil for 5 minutes. The internal temperature will climb to 165F during the resting process and the burgers will be tender and juicy.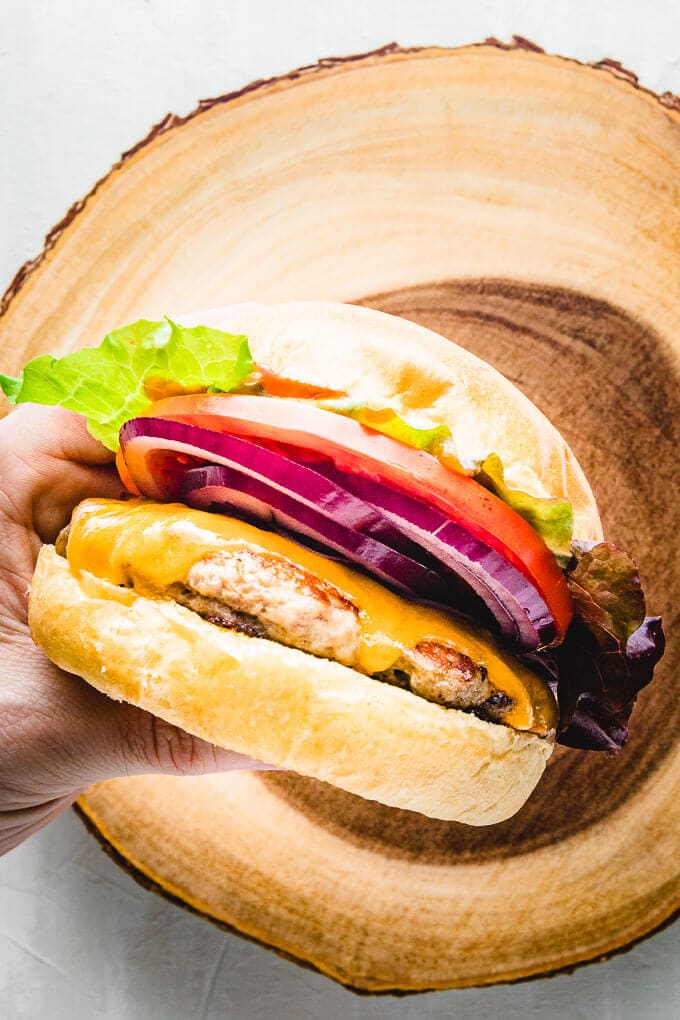 Serving Suggestions
These burgers pair especially well with soup or salad. A light and fresh Spinach Salad or a fall soup like this Butternut Squash Soup With Maple Syrup would complement the turkey flavor perfectly!
How To Keep Turkey Burgers Moist
The key to keeping a turkey burger moist is the addition of olive oil. It adds needed fat to the lean ground turkey, creating a much juicier, more flavorful burger. Tenting the cooked patties with foil for 5 minutes will retain all the juice, and is an important step to not skip.
Ways To Cook
Grilled – Liberally oil the grill grates before cooking and definitely place a nice size divot in the center of each patty. Cook the burgers uncovered on a medium-high flame or about a 450-500f grill temp.
Pan-Seared – A large cast-iron griddle or pan works amazing well. A light coating of olive oil and medium-high heat is all that's needed.
Tips
Freezing the patties (for as little as 30 minutes) firms them up, and makes them easier to handle.
Use an instant-read thermometer to check the internal temperature of the burgers. Place the probe end into the center of the patty and when they reach 160f remove them and lightly tent with foil.
If adding cheese to the burger, get it on 1 minute before the burgers are finished to avoid overcooked turkey burgers.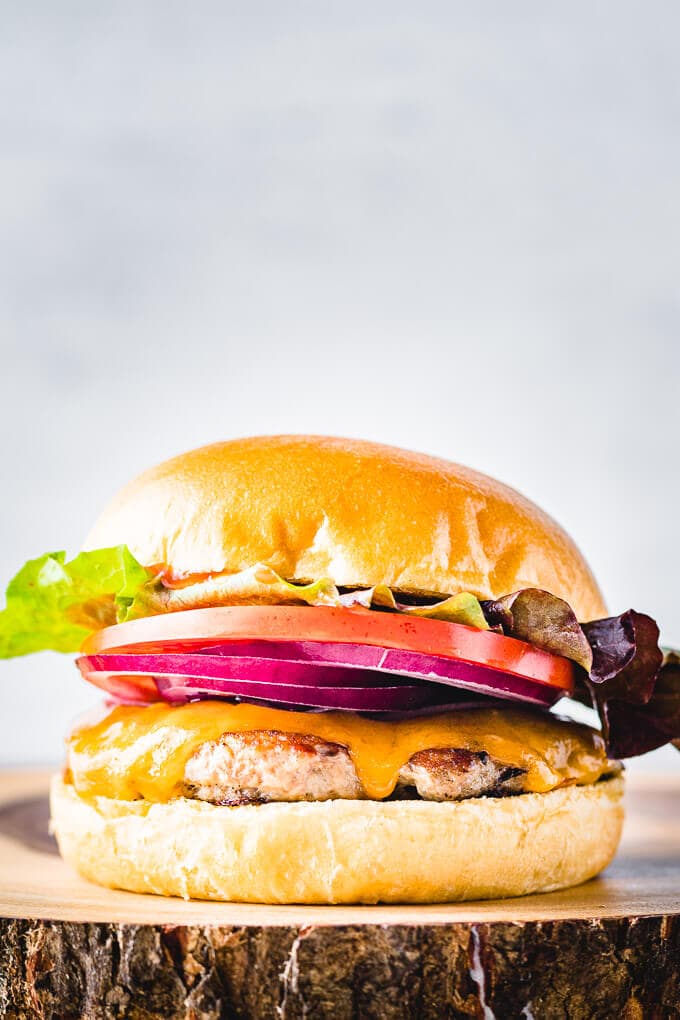 Here Are Some More Great Ground Turkey Recipes
Recipe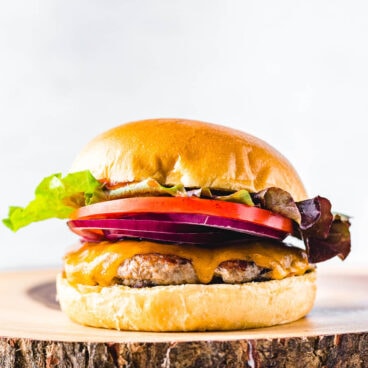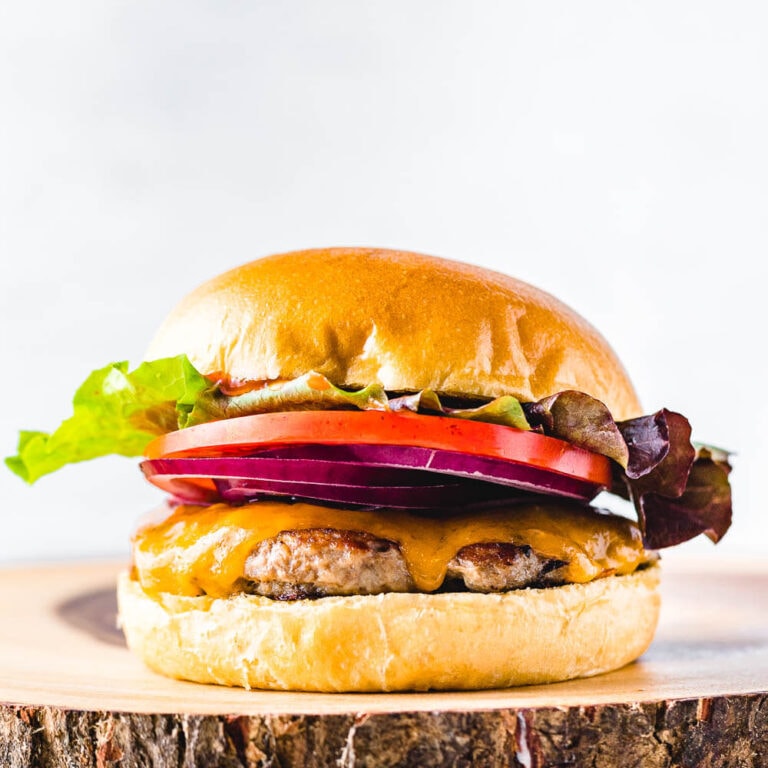 Turkey Burger
Easy turkey burgers that are so juicy and flavorful. Made with ground turkey and seasoned to perfection, these burgers cook up in only 10 minutes!
Ingredients
1

pound

ground turkey

1 1/2

tablespoons

olive oil

1

teaspoon

kosher salt

1/2

teaspoon

onion powder

1/4

teaspoon

black pepper
Instructions
Gently mix 1 pound ground turkey with olive oil, salt, pepper, and onion powder.

Form four 1/2" thick patties. Press a divot into the center of each pattie.

Heat a large cast-iron griddle or pan on medium-high heat. Add a touch of olive oil to the pan and grill for 4 minutes per side or until the patties reach an internal temperature of 160f.

Let the patties rest for 5 minutes while tented with foil.

Serve with any toppings you like. Enjoy!
Notes
The calorie info does not include buns and toppings.
Olive oil is very important to keep the burgers moist.
Pressing a divot into the middle prevents the burger from becoming football-shaped, keeping them nice and flat.
For grilling, cook on medium-high heat (approximately 450-500f temp) uncovered grill.
For stovetop, a cast iron pan or griddle works well on medium to medium-high heat.
Nutrition
Calories:
175
kcal
Carbohydrates:
1
g
Protein:
27
g
Fat:
7
g
Saturated Fat:
1
g
Cholesterol:
62
mg
Sodium:
640
mg
Potassium:
335
mg
Sugar:
1
g
Vitamin A:
28
IU
Calcium:
3
mg
Iron:
1
mg