This Turkey, Kale and Rice Soup is a hearty soup that's full of flavor, and it's good for you too!
The only time I've ever eaten Kale is in that creamy, not so good for you soup from Olive Garden. And I loved it. However, something about it being considered a "super food" must have scared me away. I mean, there's such a thing as too healthy, right? Ok, maybe not, but either way, I wasn't willing to try it in anything else. Well that's not true. I tried it raw in a salad and thought I was going to die.
Anyway…there was a sale on ground turkey a couple of weeks ago, so I stocked up. I knew that I wanted to make soup with it, but I couldn't decide on a recipe. I came across this recipe from Giada De Laurentiis and thought it sounded pretty tasty. Tasty enough to give kale a try again.
My recipe is an adapted version, based on our preferences and what I hand on hand. This Turkey, Kale and Rice Soup is super simple to make, and starts with a basic soup base of onions, carrots and celery. Next the ground turkey is browned, seasonings are added, and finally chicken broth, white rice and canned tomatoes. The final touch is of course the kale.
This delicious soup is rich and hearty, and is the perfect comfort food for when you're trying to eat more on the healthy side, and it's a great way to get my kids to eat their vegetables. My son slurped up every drop of the two bowlfuls he ate. That spells success in my book!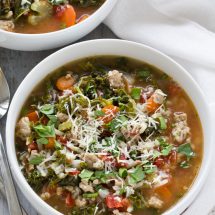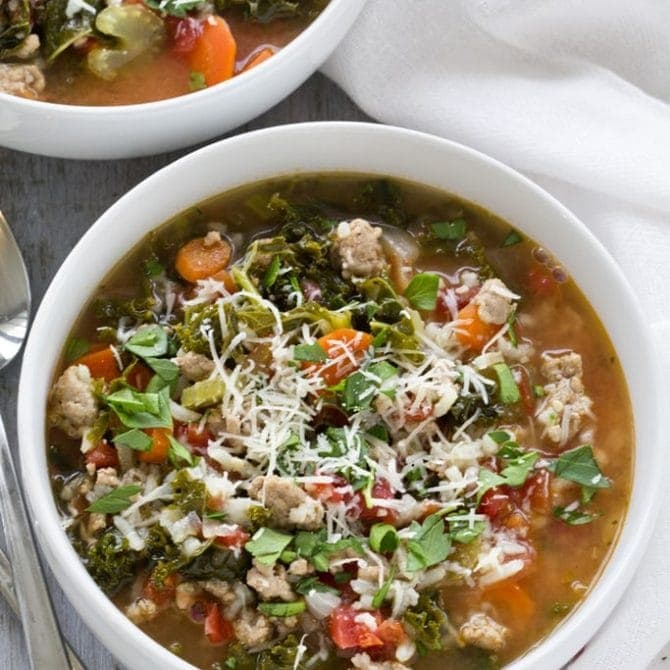 Turkey, Kale and Rice Soup
Print
Pin
Rate
Prep Time: 10 minutes
Cook Time: 30 minutes
Total Time: 40 minutes
Servings: 4 -6 servings
Ingredients
1 tablespoon olive oil
3 medium carrots sliced into 1/4 inch rounds
1/2 medium onion diced (about 1 cup)
3 celery stalks sliced into 1/4 inch pieces
1 pound lean ground turkey
1 teaspoon oregano
1 tablespoon minced garlic about 3 cloves
1-14 ounce can diced tomatoes drained
4 cups low sodium chicken broth
1 cup cooked white or brown rice
4 cups kale packed, coarsely chopped
1/4 cup chopped fresh flat-leaf parsley
Shredded Parmesan cheese if desired
Salt & pepper
Instructions
In a 5 quart soup pot, heat olive oil over medium-high heat. Add onions, carrots and celery and cook, stirring often, for about 8-10 minutes or until vegetables begin to brown and soften.

Add ground turkey, breaking into small chunks. Season with a pinch of kosher salt. Continue to stir frequently until meat is completely cooked; about 5-7 minutes. Drain any fat from the pot.

Add oregano and garlic and stir for about a minute.

Pour in chicken broth, tomatoes and rice. Bring to a boil.

Stir in kale and season with salt and pepper. Cover and simmer for 15 minutes, or until vegetables are tender.

Taste and adjust seasonings as needed.

Divide into bowls and serve hot. Garnish individual bowls with parsley and Parmesan, if desired.
Fore more delicious soup recipes, try these: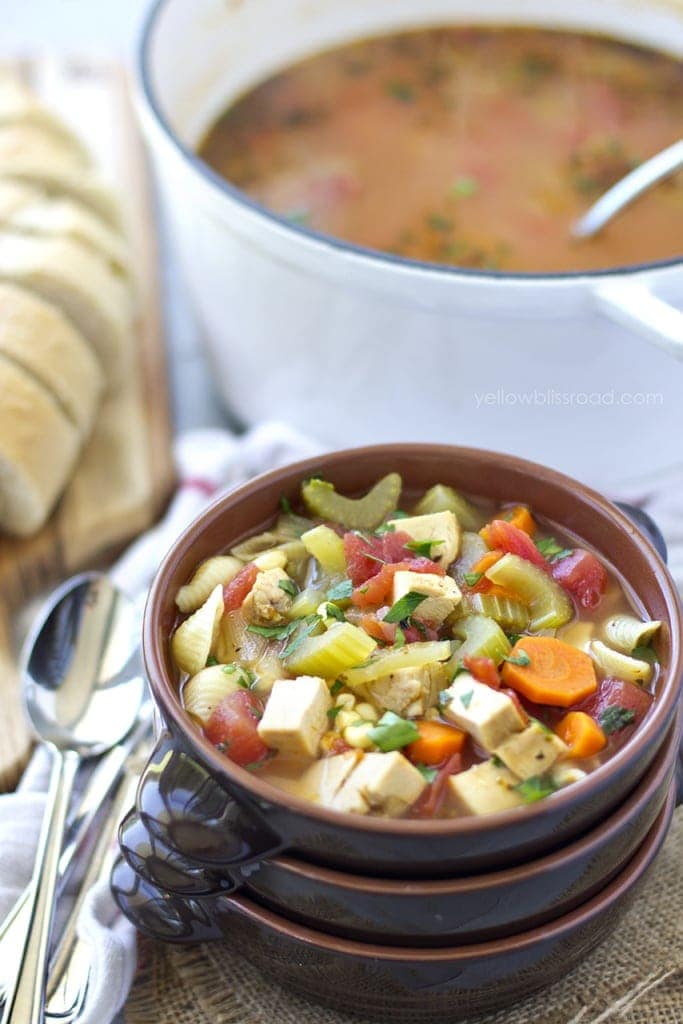 Hearty Chicken & Vegetable Soup
Tortellini & Sausage Tomato Soup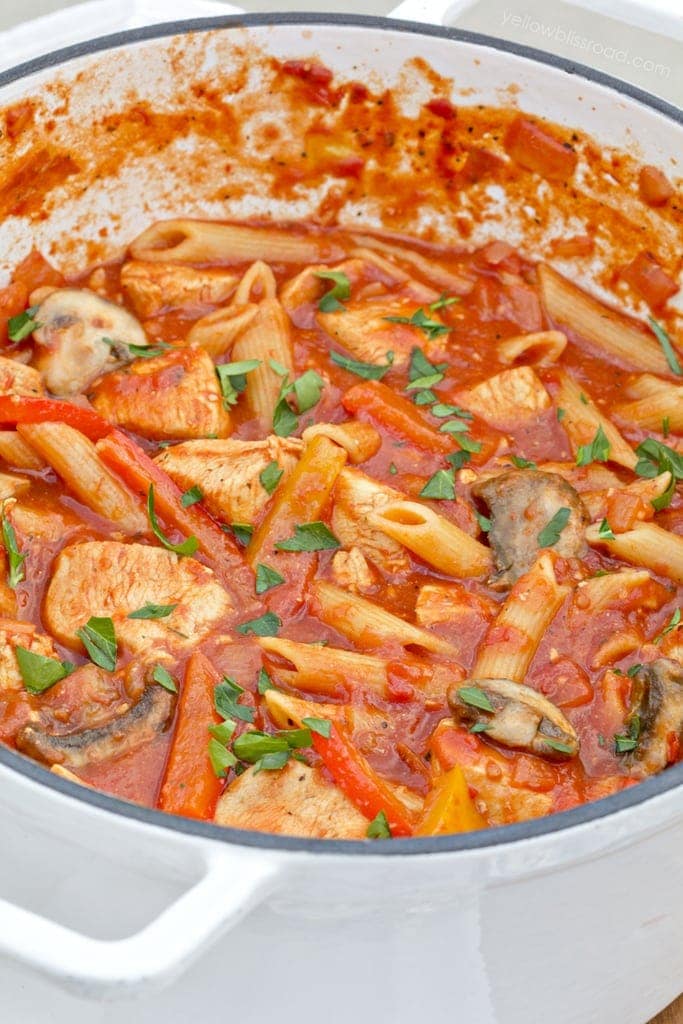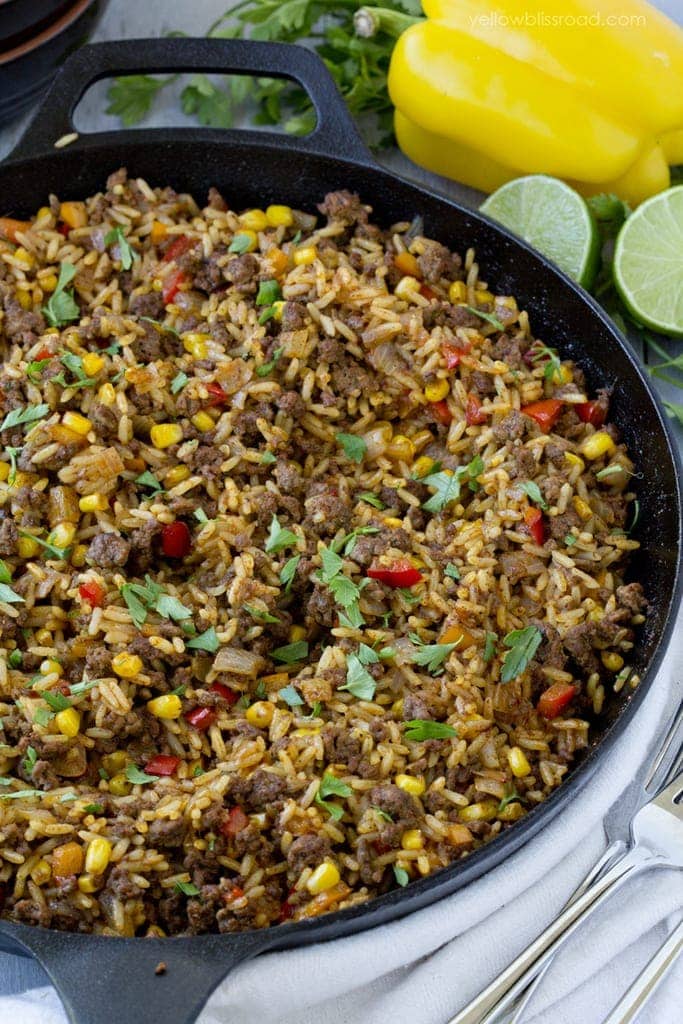 For all soup recipes go HERE, for all dinner recipes go HERE and for all recipes go HERE.
Hi! I'm Kristin, the creative mind behind Yellow Bliss Road where you will be inspired by tons of easy to follow recipes, lots of free printables, and a little sprinkling of life thrown in for good measure.