Ground Turkey and Rice Soup with Kale is a hearty soup that's full of flavor, and it's good for you too! At just 230 calories per serving, this meal is just as healthy and delicious.
We love soups all year round! If your family is like mine, you should try some of our other favorites, like Bacon and Bean Soup, Chicken Tortilla Soup and Homemade Chicken Soup.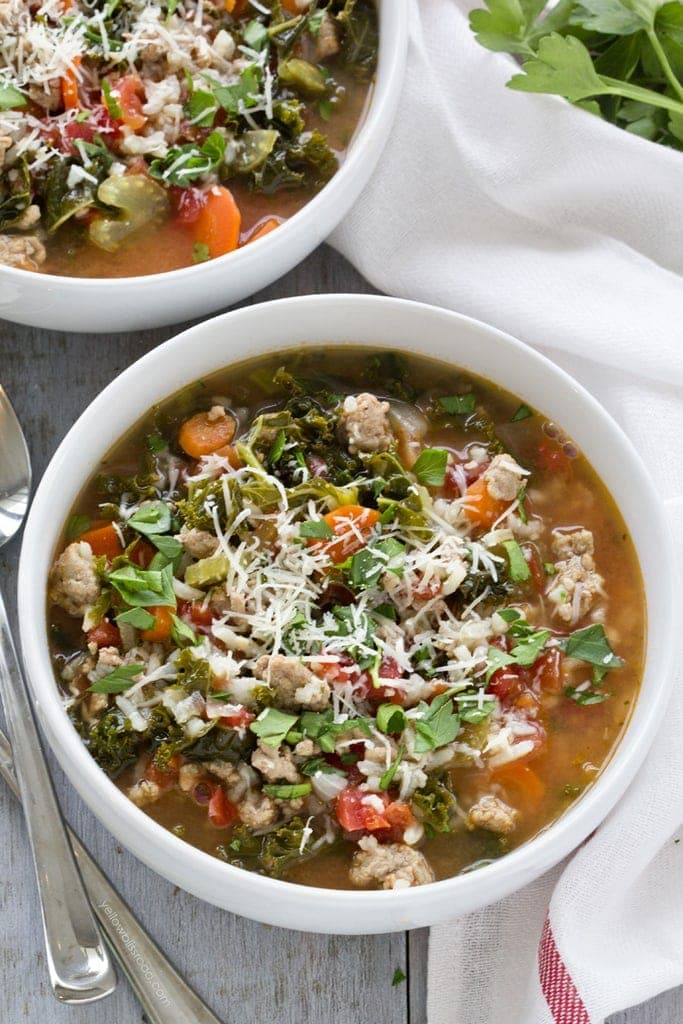 Ground Turkey Rice Soup with Kale
The only time I've ever eaten Kale is in that creamy, not so good for you soup from Olive Garden. And I loved it. However, something about it being considered a "super food" must have scared me away. I mean, there's such a thing as too healthy, right? Ok, maybe not, but either way, I wasn't willing to try it in anything else. Well that's not true. I tried it raw in a salad and thought I was going to die. But I digress…
There had been a sale on ground turkey, so I stocked up. I knew that I wanted to make soup with it, but I couldn't decide on a recipe. I came across this recipe from Giada De Laurentiis and thought it sounded pretty tasty. Tasty enough to give kale a try again.
So I made this soup. It was glorious! The broth is rich in flavor, the turkey juicy and the kale added just a little crunch. My kids scarfed it down and to this day they proclaim this to be their very favorite soup of all time.
Why we love this turkey soup
At just 230 calories a serving, you can feel really good about serving this to your family.
It's got an amazing broth that's really rich in flavor.
It's versatile – feel free to swap out the meat or the veggies for something you like better.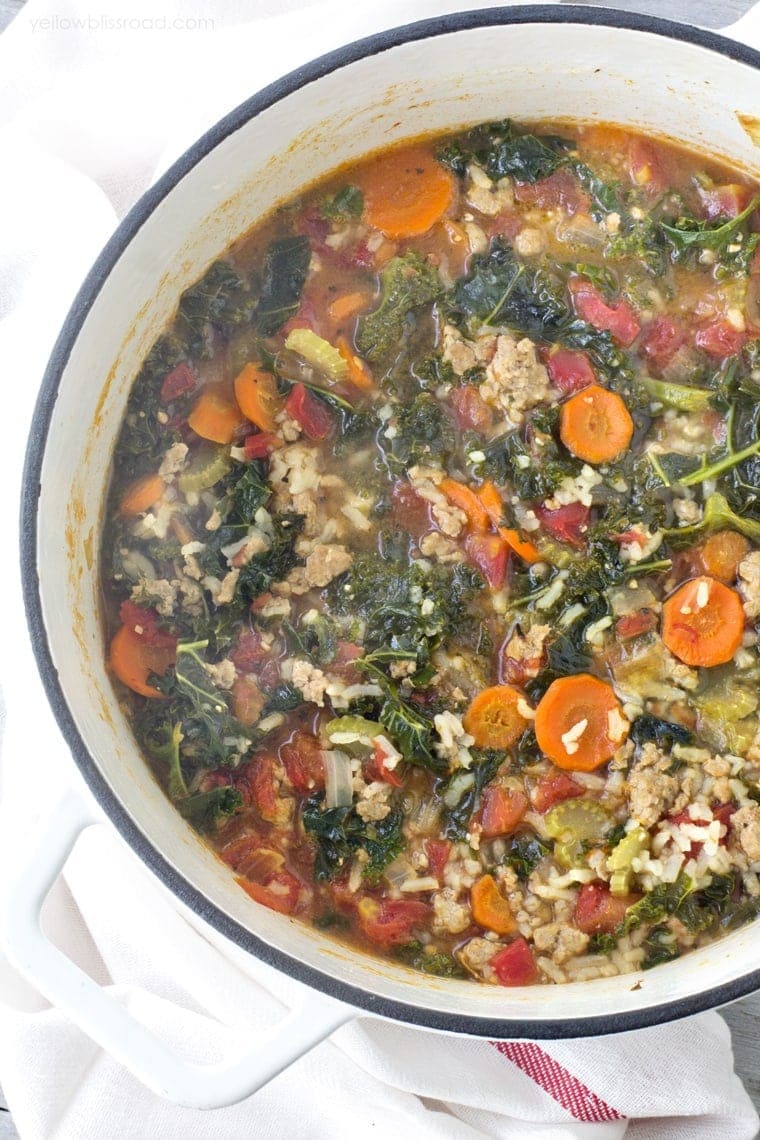 How to Make Ground Turkey Rice and Kale Soup
This delicious soup is rich and hearty, and is the perfect comfort food for when you're trying to eat more on the healthy side, and it's a great way to get my kids to eat their vegetables. My son slurped up every drop of the two bowlfuls he ate. That spells success in my book!
Saute onions, carrots and celery in a little bit of olive oil in a large soup pot. Stir them often to avoid burning.
Stir in minced garlic and add the ground turkey. Break up the meat with a spatula as it cooks. Season with salt and pepper. Make sure you cook until the turkey is no longer pink. If you want, discard any grease, but I like that it adds a little extra flavor and there's really not that much.
Add seasonings and cook for a few minutes before pouring in canned tomatoes (yup, juice and all!) and chicken broth. You could also use turkey stock if you have that available.
Bring the soup to a boil, then place the lid on the pot and turn the heat down to low and simmer until the veggies are soft. If you are using uncooked rice, add that when the soup boils. Otherwise you'll add the cooked rice during the last 5 minutes.
Just before you're ready to serve, stir in lots of chopped kale. The kale does wilt down quite a bit and very quickly, so serve it right away. I don't like it when the kale site too long as it tends to get a little slimy.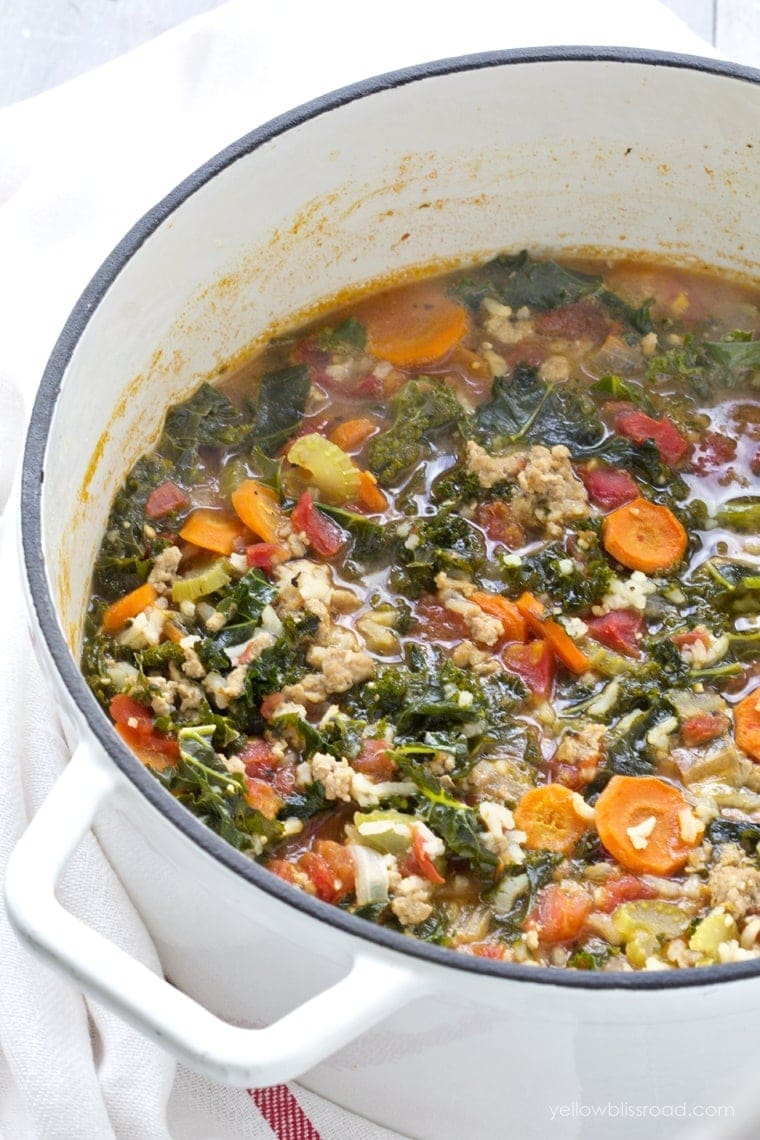 Serving Suggestions
This Ground Turkey Rice Soup with Kale is a hearty meal on it's own, but if you want to stretch it a little further you can serve it with a big green salad and some homemade garlic bread. I like to top each bowl with some freshly shredded Parmesan cheese and fresh minced parsley.
What to do with leftovers
If you are expecting to have leftovers, I recommend adding warming the rice and adding a little to each bowl instead of dumping it all in the pot. Otherwise the starches release into the soup and continue thickening it as it sits. It will last in the fridge for 2-3 days if properly store in an airtight container.
If freezing, same rule applies for the rice. Freeze without the rice and add fresh when reheating.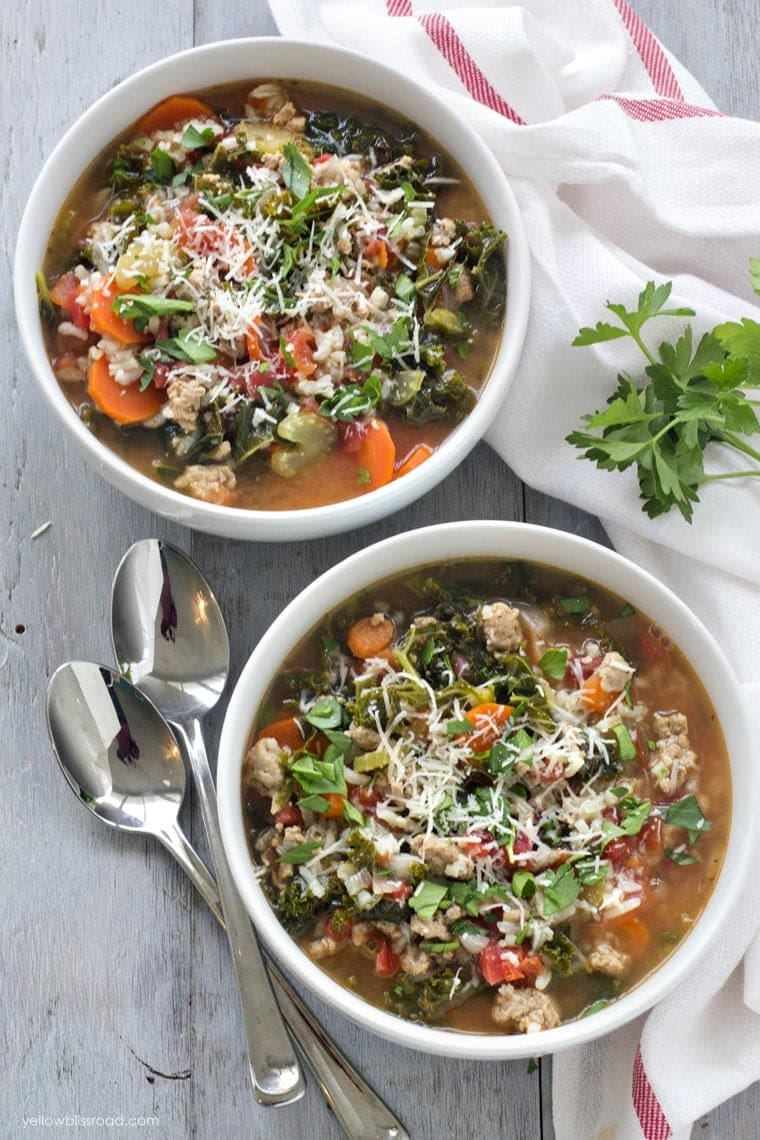 Fore more delicious soup recipes, try these:
For more ground turkey recipes, try these: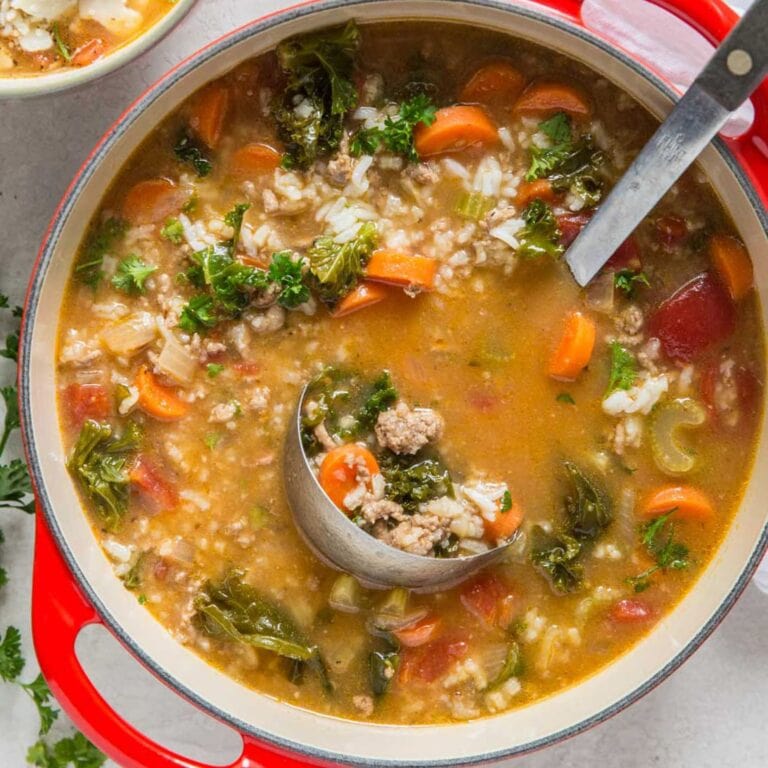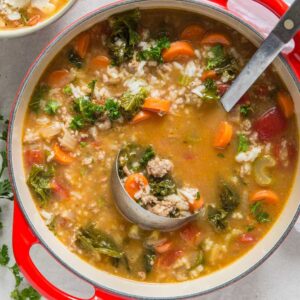 Turkey, Kale and Rice Soup
Ground Turkey Soup is hearty, comforting and ready in less than 30 minutes. It's filled with kale, rice, herbs and a flavorful broth.
Ingredients
1 tablespoon olive oil
3 medium carrots sliced into 1/4 inch rounds
1/2 medium onion diced (about 1 cup)
3 celery stalks sliced into 1/4 inch pieces
1 pound lean ground turkey
1 teaspoon oregano
1 tablespoon minced garlic about 3 cloves
14 ounce can diced tomatoes drained
6 cups low sodium chicken broth
1 cup hot cooked white or brown rice
4 cups kale packed, coarsely chopped
1/4 cup chopped fresh flat-leaf parsley
Optional garnish: shredded Parmesan cheese if desired
Salt & pepper
Instructions
In a 5-quart soup pot, heat olive oil over medium-high heat. Add onions, carrots and celery and cook, stirring often, for about 5 minutes or until vegetables begin to brown and soften. If veggies begin to brown too quickly, turn down the heat.

Add ground turkey, breaking into small chunks. Season with a pinch of kosher salt and pepper. Continue to stir frequently until meat is completely cooked; about 5 minutes.

Add oregano and garlic and stir for about a minute. Pour in chicken broth and tomatoes. Bring to a boil, then cover and simmer for 10 minutes.

Stir in kale and season with salt and pepper. Remove from heat and let sit long enough the kale to kale wilt; 1-2 minutes or longer, if desired. Taste and adjust seasonings as needed. Stir in fresh parsley.

Place a small scoop of hot, cooked rice into the bottom of each serving bowl. Ladle soup over the rice and garnish with grated Parmesan, if desired.
Notes
If you are expecting to have leftovers, I recommend storing the rice separately from the soup. Otherwise the starches release into the soup and continue thickening it as it sits. Storage: Transfer cooled soup to an airtight container and store in the fridge for 3-4 days. Reheat in a pot on the stove or in the microwave. Freezing: If freezing, the same rule applies for the rice.
Nutrition
Calories: 230kcalCarbohydrates: 21gProtein: 26gFat: 6gSaturated Fat: 1gCholesterol: 42mgSodium: 245mgPotassium: 890mgFiber: 2gSugar: 4gVitamin A: 9663IUVitamin C: 63mgCalcium: 122mgIron: 3mg