Ham and Navy Bean Soup is a simple, hearty soup that's full of rich flavor. Made with leftover ham and dried navy beans plus loads of chopped up veggies, this ham and bean soup is perfect for a lunch or dinner meal and can easily be doubled to feed a crowd.
Make a meal out of navy bean and ham soup by serving with a copycat Olive Garden Salad or wedge salad and a loaf of homemade garlic bread.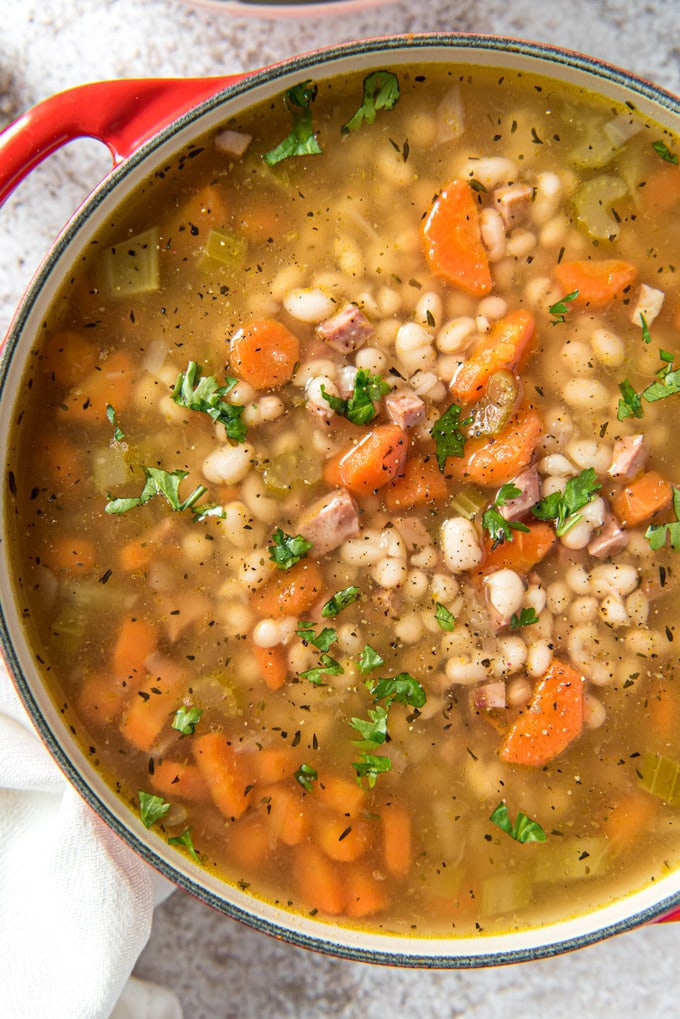 Pin this recipe for later!
Ham and Bean Soup
During the cooler fall and winter months, soup night is at least a weekly thing at our house. We love soup for a meal like Tortellini Soup, Greek Lemon Chicken Soup and Loaded Baked Potato Soup grace our table often.
Navy Bean Soup is not only quite tasty, it's a great way to use up leftover ham from your holiday feast. If you have a ham bone you could throw that in there as well. When a craving hits and I don't happen to have any leftover a ham, I'll pick up a ham steak from the meat department or use bacon or polish sausage instead.
What's in Navy Bean Soup?
This Ham Bean Soup has a few easy to find ingredients that you likely have in your pantry already or can easily find at the local grocery store.
Navy beans – you can also use great Northern beans, cannellini beans or pinto beans. I like to make this soup using the dried beans, but if you want to use canned this recipe comes together in about 30 minutes. Just be sure to drain and rinse the beans first.
Vegetables – Chopped onion, celery and carrots, also known as mirepoix. This combination is considered the holy trinity and is commonly used as the flavor base for soups and other dishes.
Ham – use up leftovers from a big meal or pick up a ham steak or even chopped ham at the grocery store. Feel free to throw a ham bone in with the cooking liquid if you have one. Bacon, polish sausage or even chicken can be used as a substitute. If you have a hambone of ham hock, add that in with the beans as they cook for a really great blavor.
Seasonings – I used dried thyme, which I often use in soups, garlic and a bay leaf. Salt should only be added at the end and if needed since the ham can be quite salty on it's own.
Water – Water seems like an obvious ingredient, right? You'll add about 8 cups but more can be added to thin out a thicker soup.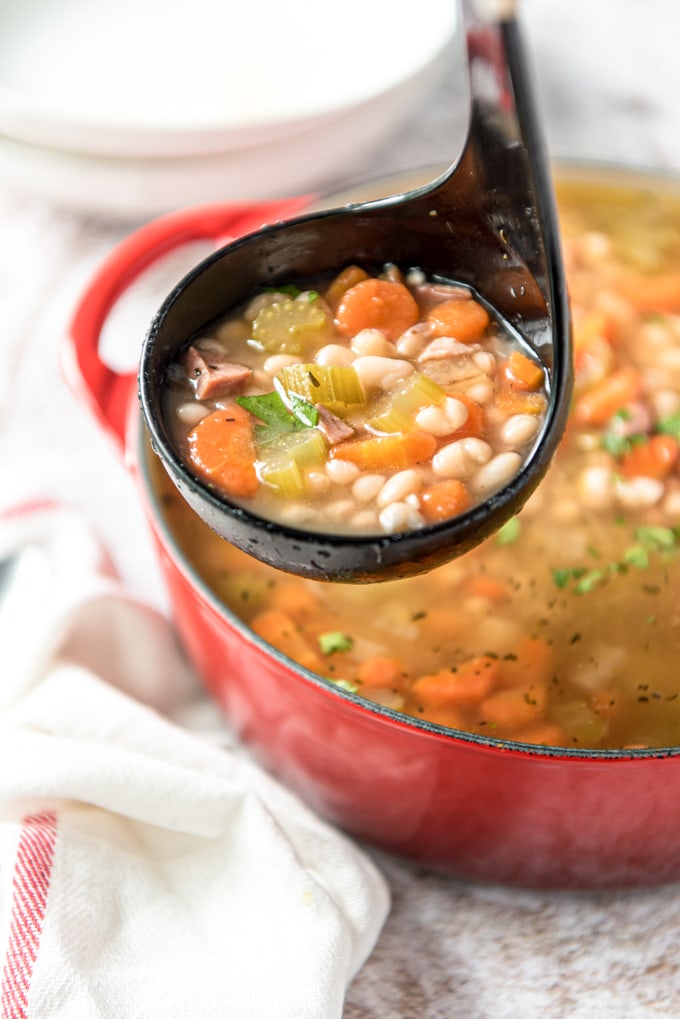 3 Methods for Making Ham and Navy Bean Soup
There are a few different methods that you can use to make Navy Bean Soup, depending on how much time you have.
If I have the time to spare, I definitely prefer to use dried beans and the overnight soaking method because the texture is just simply better.
You can use a slow cooker overnight.
If you're short on time and just want your soup right now, canned beans can be used.
Do You Have to Soak Navy Beans For Soup?
The short answer is no, you do not have to soak the beans overnight. Soaking them does drastically reduce the cooking time, but it's not necessary to make this soup. I covered a few different cooking methods above.
However, soaking the beans overnight softens them so they cook faster and makes them easier to digest. That's why it's the method that I use and highly recommend.
How to Soak Navy Beans for Soup
This is my mom's original recipe that we've always used.
Pick through the beans looking for dirt and debris. Beans are grown in the ground so it's common to find a few small rocks and dirt mixed in. Rinse the beans and place them in a large pot or dutch oven, then cover with water and let sit overnight. The overnight soak softens the beans so they will cook faster.
When you're ready to cook, strain the beans through a large colander. Use the same soup pot to saute the mirepoix, or onions, carrots, and celery. Add the seasoning and saute them as well.
Add navy beans, ham, and water to the pot and bring to a boil. Let it simmer, covered and on low heat for about an hour or until the beans are nice and soft before adding any salt. Taste the soup first, then add salt as needed.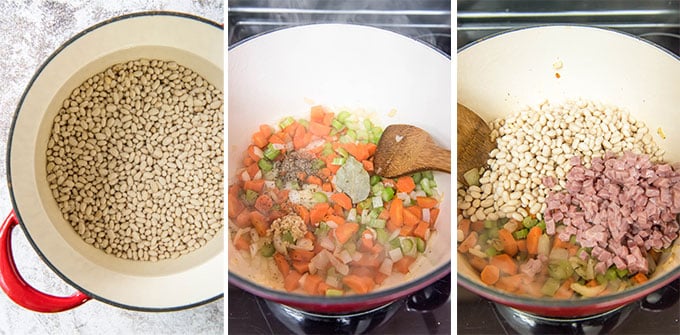 Slow Cooker Navy Bean Soup
Place all of the ingredients in your slow cooker and cook on low heat, covered, for 12 hours. If you want to impart a little deeper flavor, saute the veggies and garlic first.
30-Minute Navy Bean Soup
This is a quick and easy way to make your ham and bean soup. I prefer the texture of the dried beans, but this method works in a pinch.
Saute the veggies and seasonings.
Add 3 cans of rinsed and drained white beans.
Add ham and water.
Simmer for about 20-30 minutes or until beans are soft.
FAQs
How do you thicken navy bean and ham soup?
The broth in this soup is water based, and not thick. If you'd like a thicker base, you have a couple of options:
Puree (preferred) – Use an immersion blender to puree the soup in the pot. You don't have to make it completely smooth, just a few pulses will help to puree some of the ingredients and will make your soup thicker. It will look similar to my Bacon and Bean Soup.
Cornstarch slurry – Whisk equal parts cornstarch and soup liquid in a small dish, then stir into the soup. Simmer for a few minutes to thicken.
Are Great Northern Beans the same as Navy Beans?
While they are similar, these are two different kinds of white beans. Great Northern Beans are a little larger and more versatile because they hold their shape well, will navy beans tend to be softer and great for soups and purees.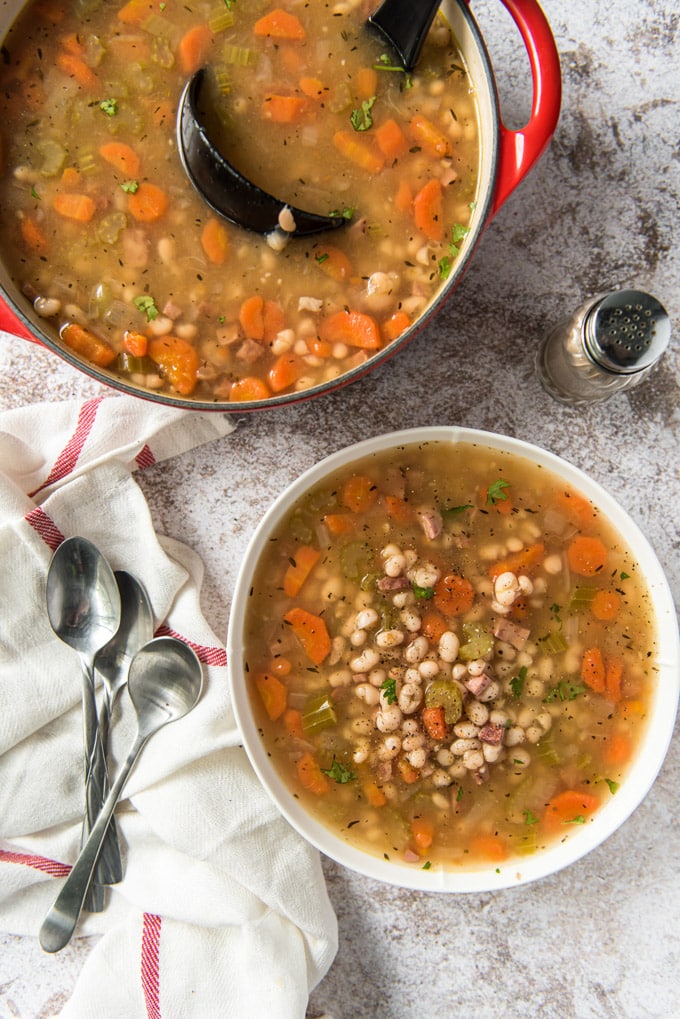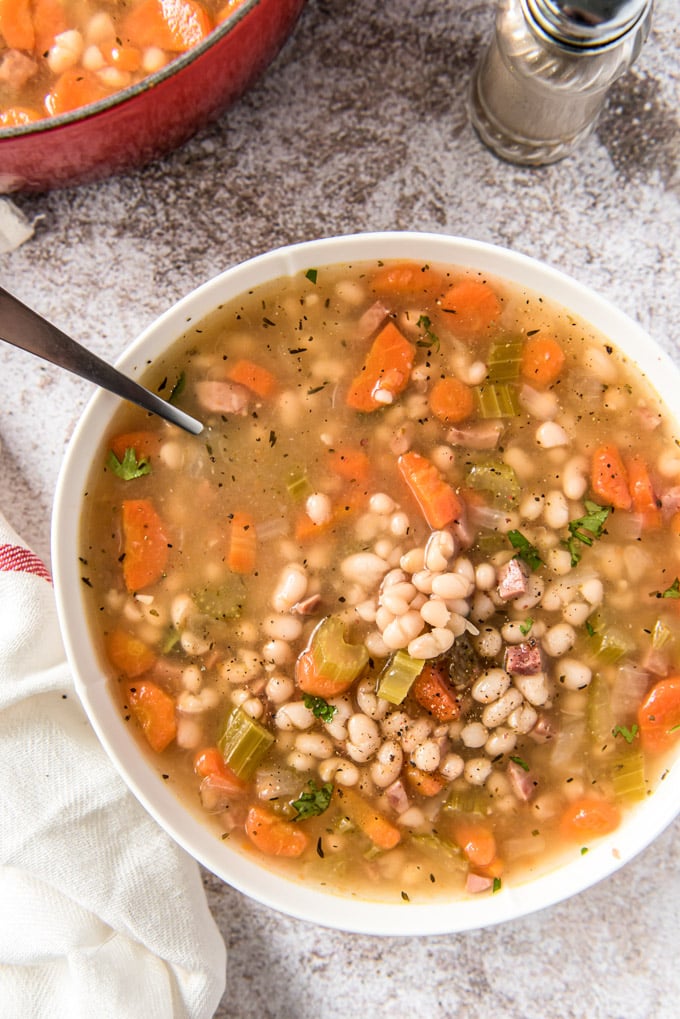 What to do with Leftovers
Soup is makes for some really fantastic leftovers because the longer it sits, the more the flavors intensify.
Fridge: Refrigerate for up to 4 days in an airtight container
Freezer: Freeze leftover navy bean soup for up to 6 months. Let cool and pour into a resealable freezer bag, then into the freezer.
Reheat: Thaw first, then heat on the stove or in the microwave.
More Soup Recipes
Recipe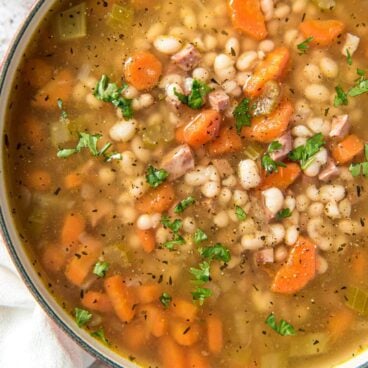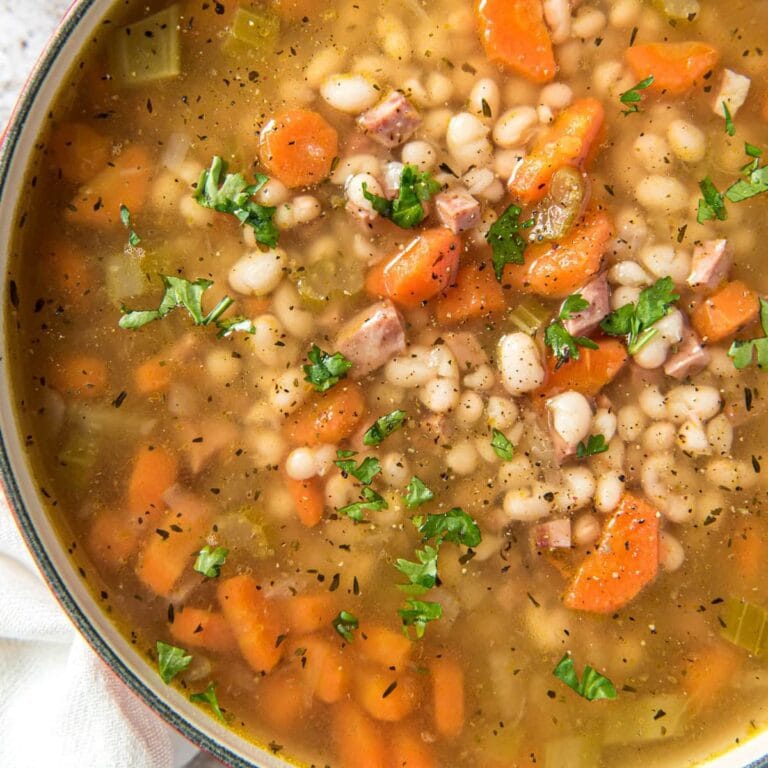 Ham and Navy Bean Soup
Simple, hearty Ham and Bean Soup with veggies and tons of flavor.
Prep Time
12

hours
15

minutes
Cook Time
1

hour
30

minutes
Total Time
13

hours
45

minutes
Ingredients
1

pound

dried Navy beans or great Northern beans

rinsed well

8

cups

water

1

small onion

chopped

2

stalks of celery

chopped

3

large carrots

peeled and chopped

1 1/2

cups

diced ham

bacon or smoked sausage

1

teaspoon

dried thyme or 1 tablespoon fresh thyme leaves

2

garlic cloves

minced

1

bay leaf

Salt

to taste
Instructions
The night before: Pick through the beans and discard any broken pieces. Place beans in a large pot and cover with 3 inches of water. Cover and let sit overnight.

Strain the beans through a large colander. Rinse and dry the soup pot and place on the stove over medium heat. Add a tablespoon of olive oil and heat for 1 minute. Add diced onion, carrots and celery, and cook until softened; about 4-5 minutes. Add minced garlic, thyme and bay leaf and cook for another minute.

Add beans, water and ham and bring to a boil. Stir in a ½ teaspoon of salt, cover and reduce heat to low. Simmer for about 1 to 1 ½ hours or until beans are very soft, stirring every 15 minutes or so to ensure that the soup doesn't scorch on the bottom.

Taste and add more salt and pepper as desired. Serve immediately, garnished with fresh cracked black pepper and fresh minced parsley.
Notes
NOTES
Slow Cooker method – combine all ingredients in a large slow cooker and cook overnight on low for about 12 hours or until beans are very soft.
No soaking method – cook as directed but simmer for at least 3 hours.
Use ham for the soup. Like a ham steak (not lunch meat lol)
Nutrition
Calories:
307
kcal
Carbohydrates:
52
g
Protein:
23
g
Fat:
2
g
Saturated Fat:
1
g
Cholesterol:
15
mg
Sodium:
415
mg
Potassium:
1020
mg
Fiber:
20
g
Sugar:
6
g
Vitamin A:
5095
IU
Vitamin C:
3
mg
Calcium:
140
mg
Iron:
5
mg