A Wedge Salad is a crisp, refreshing and fun start to any meal. Iceberg lettuce wedges topped with homemade thousand island dressing, crisp bacon, chives, tomatoes and pepper jack cheese.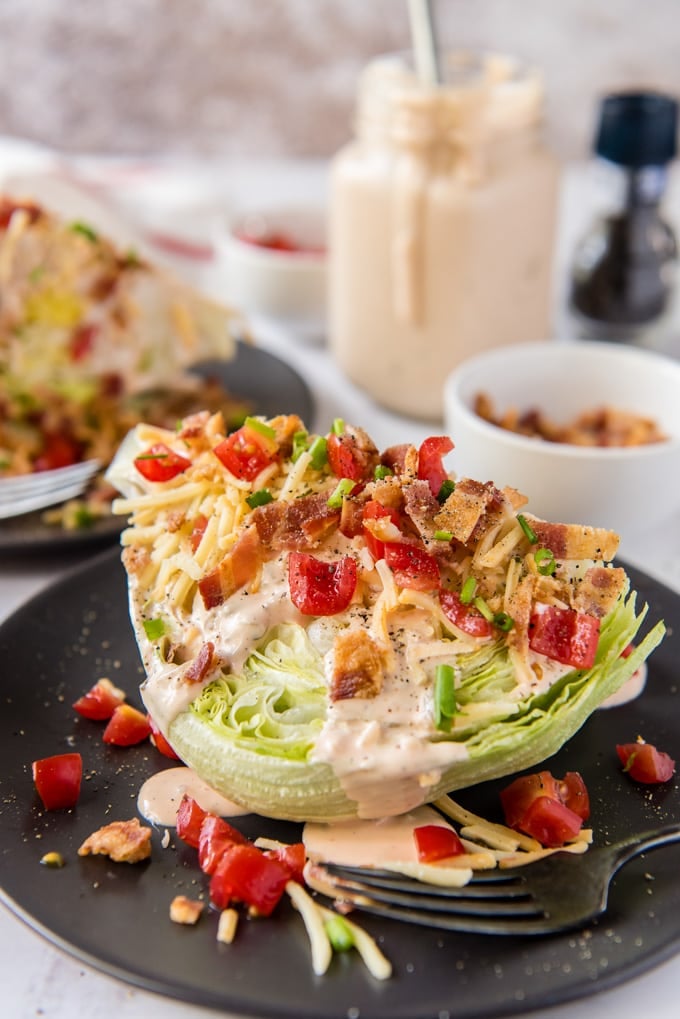 WEDGE SALAD
If you've never had a wedge salad, you are in for a treat! They are a beautiful way to start a meal, plus they're really fun to eat! Traditionally made with iceberg lettuce, this salad can also be made with Romaine.
It's no secret we are a cruising family. We love our Disney Cruises and I have several recipes that have been inspired by some of the wonderful meals we've enjoyed on board. Like Creamy Lemon Artichoke Tortellini Skillet, Goat Cheese and Marinara Stuffed Zucchini Boats and my favorite breakfast Asparagus and Tomato Frittata.
This Wedge Salad with Thousand Island Dressing is one of the salad course options during each cruise. It's made with iceberg lettuce wedges, bacon, tomatoes and pepper jack cheese and a rich and creamy thousand island dressing.
Traditionally a classic wedge is made with blue cheese or ranch dressing, but we absolutely love the tangy thousand island, so much that eating it any other way feels so wrong!
PREPARATION
Wash and dry the lettuce. Peel off the outer layers, and cut the head of iceberg lettuce into 4 quarters, keeping the core in tact. Gently rinse the leaves, then pat them dry with paper towels. Carefully cut out the core and place cut side up on serving pl
ates.
Chop the toppings. To make this salad easier to eat, and prettier, you'll want to dice all of the ingredients into small, bite sized pieces. Anything that is jarred and stored in a liquid should be well drained.
Assemble. Lay the wedge of iceberg lettuce a each plate, pointing up. Drizzle with dressing (this helps the toppings to stick, then sprinkle on toppings. Finish with a couple turns of fresh cracked pepper.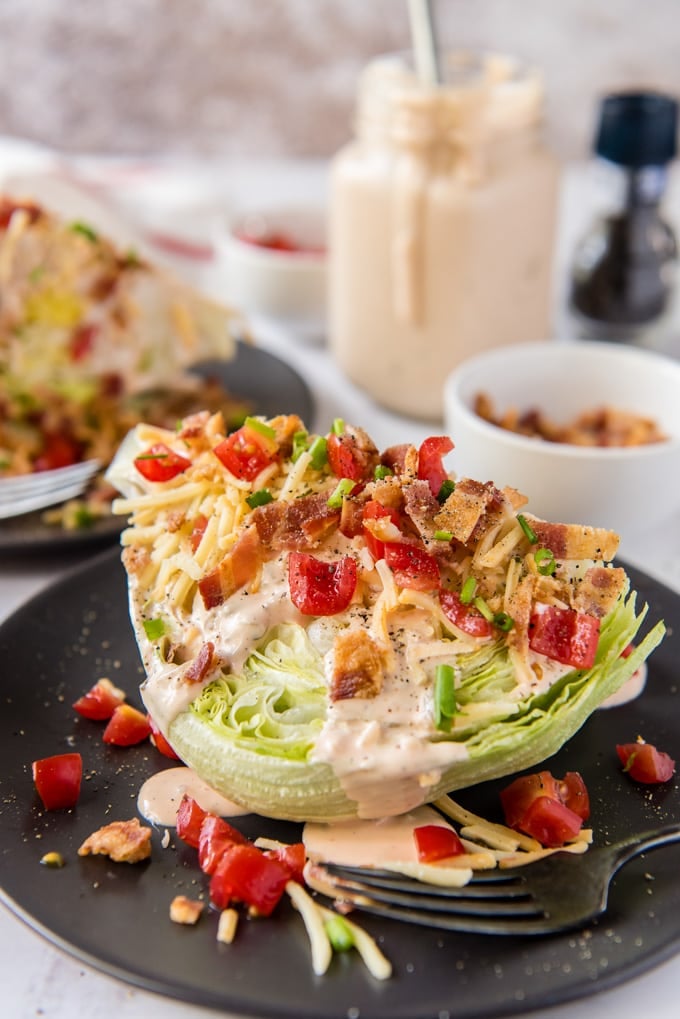 HOW TO EAT A WEDGE SALAD
It happens to everyone. That wedge sounds delicious with all those yummy toppings so you order it not really knowing what to expect. Then it arrives and it's a big hunk of lettuce. How are you supposed to eat that?!
You've basically got two options, and I've done both.
Proper etiquette suggests you should eat the wedge with a fork and knife, and only one bite at a time.
Chop that baby up and eat it as you please.
Don't be afraid to go against the grain and cut that wedge into bite sized chunks. This way you can get a little bit of everything in each bite. But if you're in a famcy restaurant, you might want to stick to option number one.
VARIATIONS
I love the wedge salad just the way we make it, but there are several different variations I've come up with that are just as delicious. If you're looking to try something a little different for your salad course, try these wedge salad variations:
Classic – Diced bacon, tomatoes, onions, blue cheese crumbles and ranch or blue cheese dressing.
Southwest – Black beans, corn, diced tomatoes, zesty Ranch dressing (add taco seasoning) and tortilla strips.
Mexican – Diced avocado, tomatoes, cilantro, pepitas, pepper jack cheese, lime juice, ranch dressing.
Italian – Sundried tomatoes, pepperoncinis, olives, salami, mozzarella cheese, zesty Italian dressing.
Greek – Kalamata olives, red onions, cucumbers, tomatoes, feta cheese, lemon vinaigrette.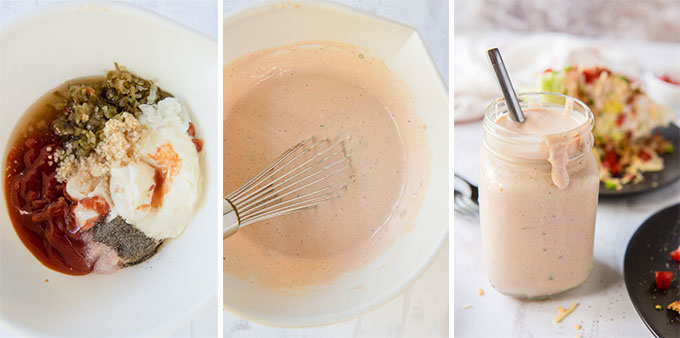 HOMEMADE THOUSAND ISLAND DRESSING
My dad's favorite salad dressings were always of the sweeter variety. Catalina, Thousand Island, French, those were his favorites. So making a homemade thousand island dressing was kind of a no brainer. It's creamy, tangy and a little sweet and pairs so well with the bacon and pepper jack on our wedge salad.
Homemade dressings are really easy to make and usually just involve a few ingredients in a blender. Because we're using pickle relish, this recipe doesn't even need an appliance. Just a bowl, a whisk and a little elbow grease!
The taste and texture is a little like McDonald's secret sauce, but homemade is way better. The Big Mac sauce includes mustard and paprika, which aren't found in my thousand island dressing.
WHAT'S IN IT?
Here are the ingredients needed for Thousand Island Dressing:
Mayonnaise – this provides the creamy base for our dressing.

Ketchup – adds sweetness and a little bit of tangy flavor.

Sweet pickle relish – I love the slight texture it adds.

Onion – just a little and grated finely.

Garlic – because everything needs a little garlic. Also minced finely. 

Apple cider vinegar – adds an acidic element and brightness in contrast to the creamy mayo and ketchup.

Salt and pepper – add as desired until you're happy with the flavor
Whisk the ingredients together in a bowl and store in the fridge until you're ready to serve. If not serving right away or if you have some dressing leftover after serving the wedge salads, store the dressing in a mason jar or another type of container with a tightly fitted lid.
TIPS AND TRICKS
Prepare all of the ingredients for the salad, including the lettuce wedges, in advance up to 24 hours. Don't assemble until ready to serve. Or better yet, set up an assembly station and let guests make their own.
Prepare thousand island dressing in advance. It will last up to two weeks if properly stored.
Be sure to get sweet pickle relish and not regular dill. There is a definite flavor difference.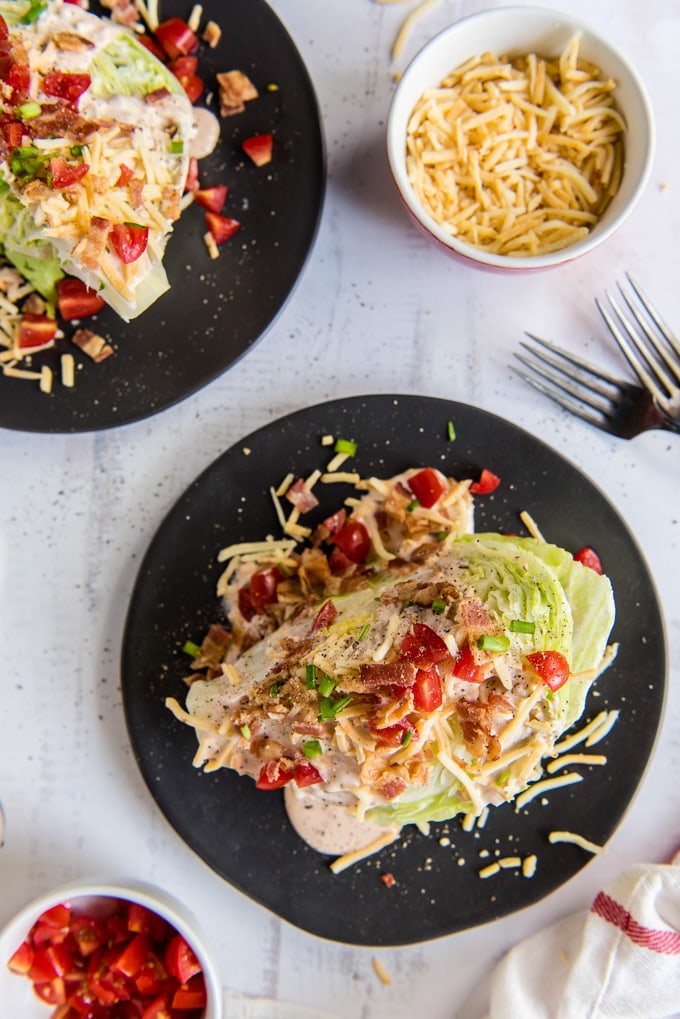 More salads and dressings:
Recipe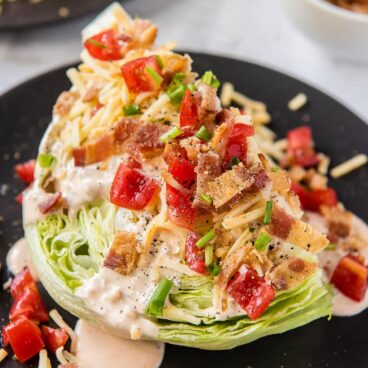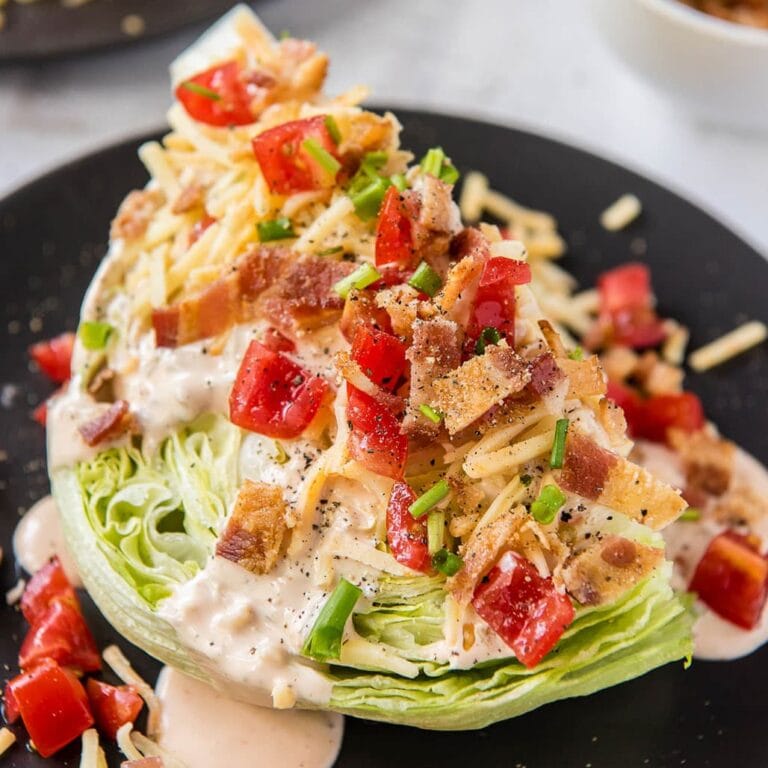 Wedge Salad with Homemade Thousand Island Dressing
A Wedge Salad is a crisp and refreshing. Iceberg lettuce wedges topped with homemade thousand island dressing, bacon, tomatoes and pepper jack cheese.
Ingredients
1000 Island Dressing:
3/4

cup

mayonnaise

1/4

cup

ketchup

2

tablespoons

sweet pickle relish

1/2

tablespoon

finely diced or grated onion

1

teaspoon

finely minced garlic

1-2 cloves

1/2

tablespoon

apple cider vinegar

1/4

teaspoon

kosher salt

or more to taste

pinch of black pepper

or more to taste

couple dashes hot sauce

like Tabasco, if desired
Wedge Salad:
2

heads of iceberg lettuce

1/4

pound

slices of bacon

cooked crisp and crumbled

2

tablespoons

Fresh minced chives

4

ounces

Pepper jack cheese

shredded or cut into chunks

1

pint

Grape or cherry tomatoes

diced

Fresh cracked black pepper
Instructions
Dressing:
Whisk together ingredients in a medium sized bowl until well combined. Taste and add salt and pepper as desired. Store in a tightly covered container or jar in the refrigerator.
Salad Assembly:
Remove the outer layers of the head of iceberg lettuce, and cut it in half, then those pieces in half again, creating wedges. Cut the end to remove the stem.

Place wedges onto 4 separate plates. Top with homemade 1000 island dressing, bacon crumbles, shredded pepper jack cheese and diced tomatoes. Garnish with fresh minced chives and fresh cracked black pepper.
Notes
Dressing recipe makes a little over 1 cup which is roughly 8 servings. Serving size is dependant on desired amount per person. I usually at least double the recipe so I have plenty and just store the leftovers in the fridge.
Nutrition
Calories:
306
kcal
Carbohydrates:
10
g
Protein:
10
g
Fat:
25
g
Saturated Fat:
7
g
Cholesterol:
35
mg
Sodium:
640
mg
Potassium:
437
mg
Fiber:
2
g
Sugar:
7
g
Vitamin A:
1409
IU
Vitamin C:
13
mg
Calcium:
139
mg
Iron:
1
mg