Everyone loves this Bacon Avocado Chicken Salad with Lemon Vinaigrette! Loads of veggies, crispy bacon and creamy avocado make the perfect base for the healthy salad dressing.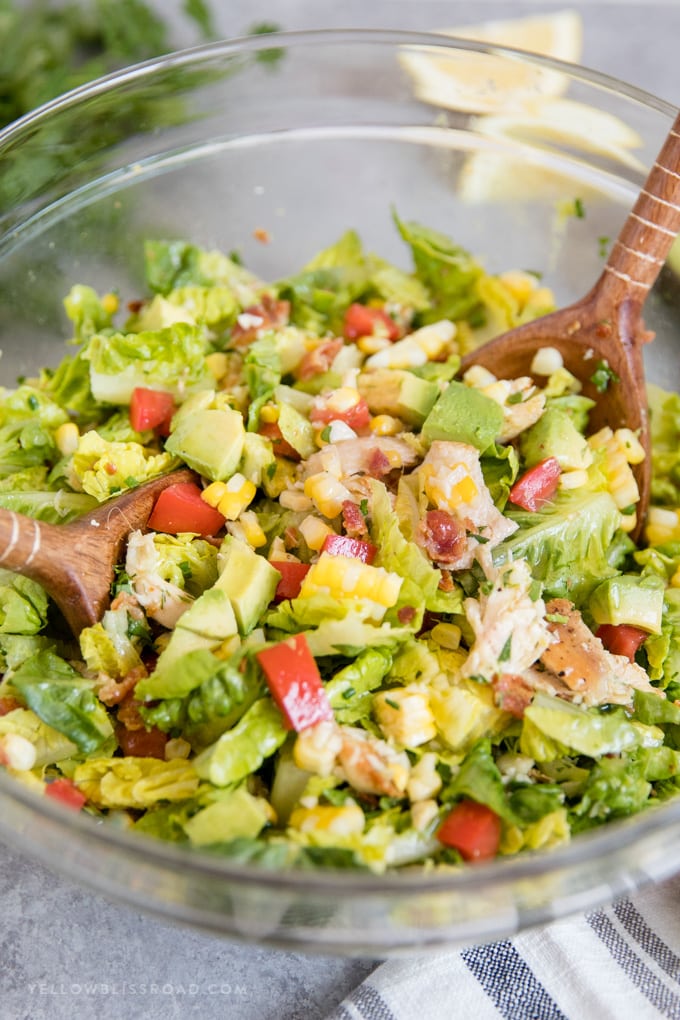 Salads are an easy way to eat healthy for lunch or dinner. But they can quickly get out of control when you start adding tons of unhealthy ingredients and creamy salad dressings. Restaurant meal salads can easily top out at well over 1200 calories. That's no bueno.
This Bacon Avocado Chicken Chopped Salad recipe makes a lot, and it's great for meal planning and lunching on all week (just be sure not to dress the whole salad if you're not using it all at once). You'll get about 4-6 servings (lunch portions are usually smaller) which will equal 300-470 calories per serving, including the dressing. Not bad for a complete meal!
Made with fresh ingredients, a delicious healthy salad dressing, tons of protein and low in carbs this is a refreshing salad that you won't feel guilty about.
How to Make Bacon Avocado Chicken Salad
Chopped salads are simple and quick depending on how many ingredients you're using.
This Bacon Avocado Chicken Salad also has:
All of these ingredients are chopped into bite sized pieces and tossed together with my irresistible lemon vinaigrette. You could go crazy and add even more veggies if you like; things like shredded carrots, cabbage, bell peppers and sunflower seeds would be great additions.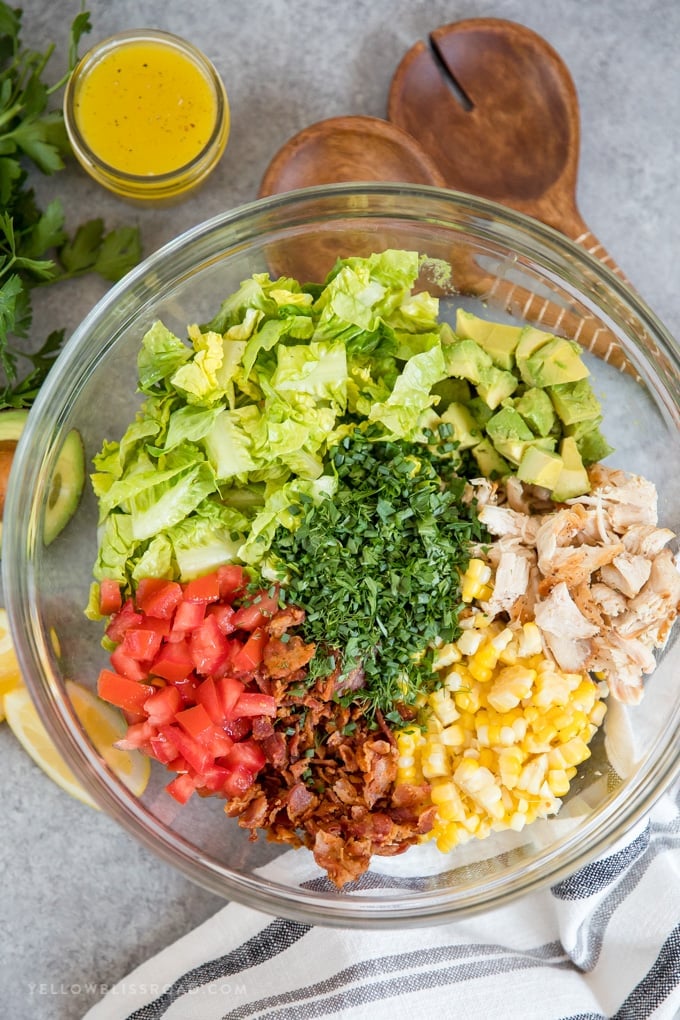 How to Make Lemon Vinaigrette Dressing
Every salad needs a good dressing and this Bacon Avocado Chicken Salad is no different. It deserves better than some mayo based dressing that's going to overpower the flavors of bacon, avocado, corn and herbs.
Enter my tangy, refreshing and slightly sweet Lemon Vinaigrette. Here's what you'll need for this healthy salad dressing:
1 lemon
1 lime
Olive oil
2 cloves garlic
Honey
Salt & pepper
If you are staying away from sugar, you could omit the honey altogether, it just adds a balance to the acidic citrus.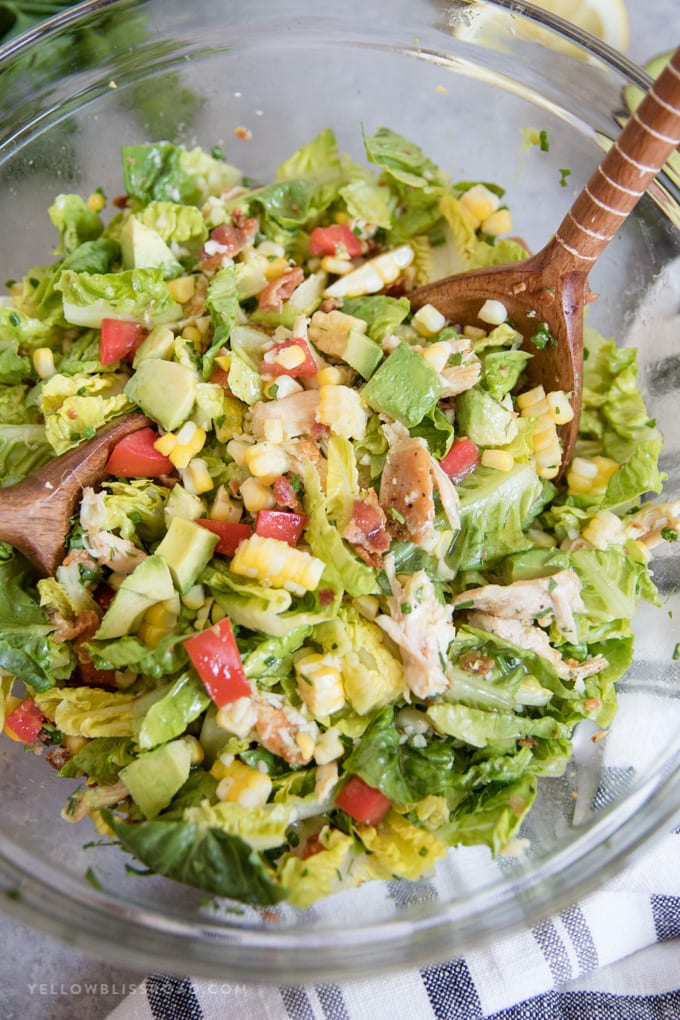 The ingredients are whisked together until emulsified. You can store any remaining dressing in a sealed container in the refrigerator; just be sure to let it sit out for half an hour before using. Another way to combine the ingredients would be shake them together in a sealed mason jar. This is a great way to combine your dressing and store it in the same container. You could even make a double or triple batch and use it on all of your appetizer salads. At less than 80 calories per serving you'll want to keep this healthy salad dressing in your purse and pour it on everything!
This Lemon Vinaigrette Dressing is easily customizable as well. Add some herbs like parsley or basil for even more flavor. It would be a delicious marinade for chicken or fish or even pork.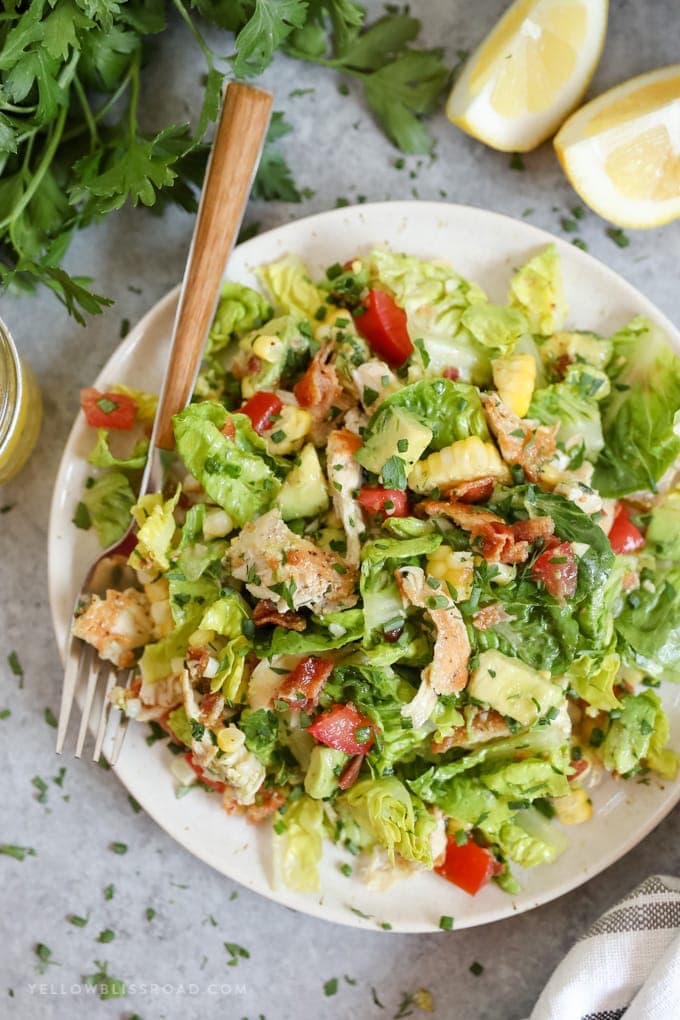 Looking for more delicious healthy salads and salad dressing recipes? Try these: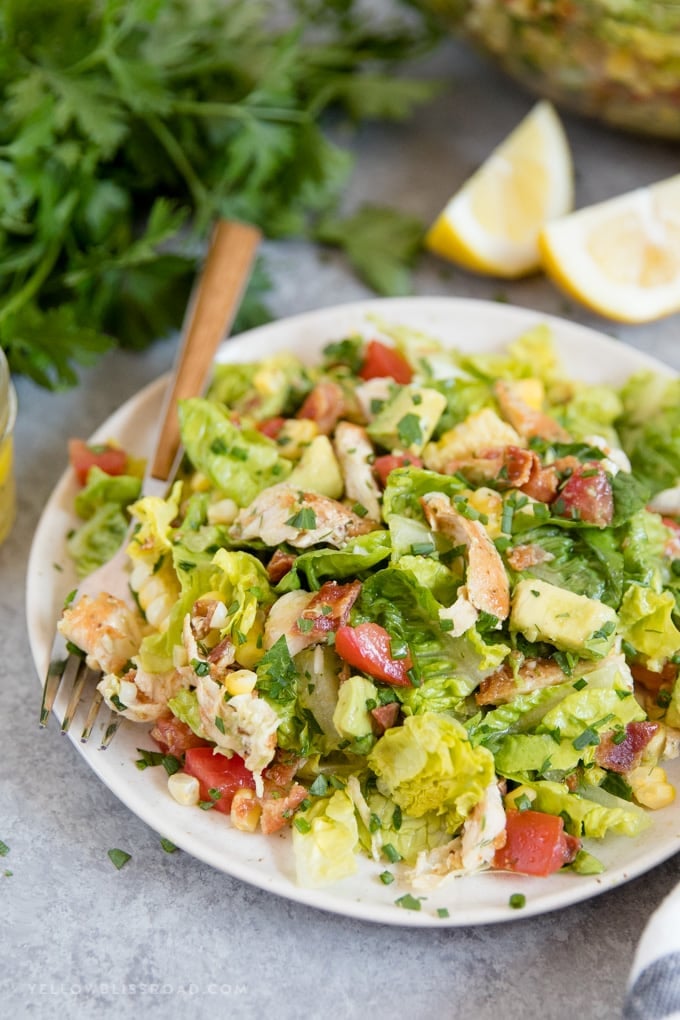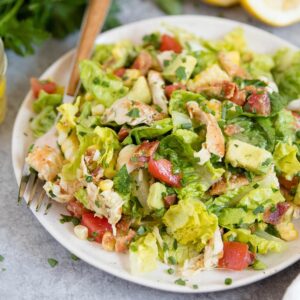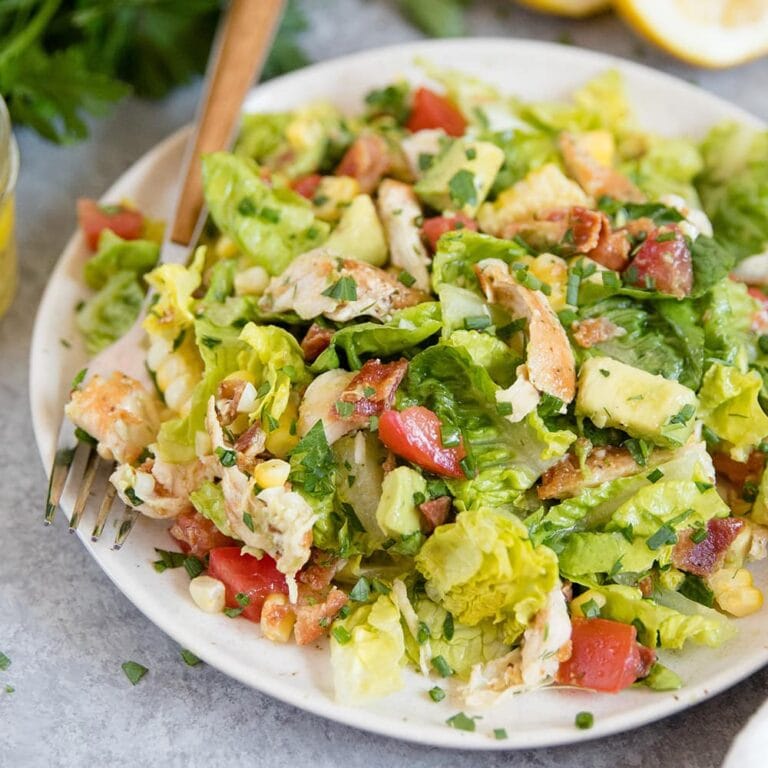 Chicken Bacon Avocado Chopped Salad with Lemon Vinaigrette
Everyone loves this Bacon Avocado Chicken Salad with Lemon Vinaigrette! Loads of veggies, crispy bacon and creamy avocado make the perfect base for the healthy salad dressing.
Ingredients
Salad:
2 chicken breasts cooked and shredded
2 avocados diced
1 cup of corn kernels 1 ear of corn
6 slices bacon cooked crisp and chopped
4 cups chopped lettuce
2 Roma tomatoes seeded and diced
2 tablespoons fresh minced parsley
2 tablespoons fresh chopped chives
Lemon Vinaigrette Dressing:
1 lemon juiced
1 lime juiced
¼ cup olive oil
2 cloves minced garlic
1 tablespoon honey
salt & pepper to taste
Instructions
Lemon Vinaigrette
Whisk dressing ingredients together in a small bowl, or place ingredients in a mason jar, seal and shake well.

Season with salt and pepper to taste. 
Salad:
Toss salad ingredients together in a large bowl. Pieces should be as evenly sized as possible. 

Toss with half of the salad dressing. Add more dressing as desired.

Enjoy immediately.
Notes
Do not add salad dressing until you are ready to serve. If you do not plan on eating the whole salad, reserve without dressing.
Nutrition
Serving: 2cupsCalories: 462kcal