Carne Asada is an incredibly flavorful grilled marinated steak with lots of citrus and spices. This classic Mexican recipe is perfect as a simple steak dinner served with rice and beans or sliced and stuffed into tacos and burritos.
For an authentic Mexican meal, serve carne asada with Refried Beans, Authentic Mexican Rice and Homemade Flour Tortillas. Don't forget the lime!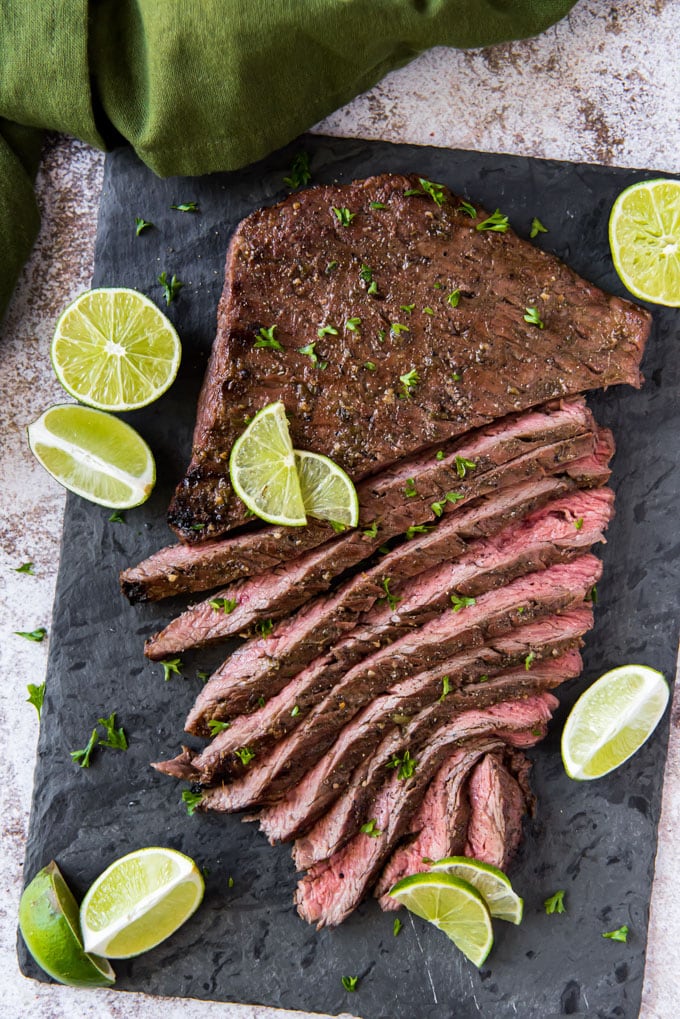 Carne Asada Recipe
Head to any Mexican barbecue and you know there will be Carne Asada on the grill. It's a staple at parties and get-togethers, right next to the beans and Pico de Gallo! We serve our steak sliced thin with flour tortillas, salsa and guacamole. But I could just eat the steak on its own by the forkful!
Search around and you will find all kinds of recipes for carne asada, which means that there really isn't just one "authentic" recipe. While the grilling is imparts important flavor, carne asada is all about that marinade. My spicy citrus marinade marinade is simple, but oh so flavorful and the result is an incredibly juicy, tender flank steak that you'll want to grill up every weekend.
What Kind of Beef is Best for Carne Asada?
The cut of meat used for carne asada should be flavorful, but doesn't need to be tender since the marinade does a lot of work to break it down. I used flank steak in my recipe below, but skirt steak or sirloin flap meat are also great alternatives. Meat should  1-inch be less than an inch thick.
Whatever type of meat you choose, it should be cooked rare or medium rare; any more done than that and you'll end up with a tough, chewy piece of meat that isn't very pleasant.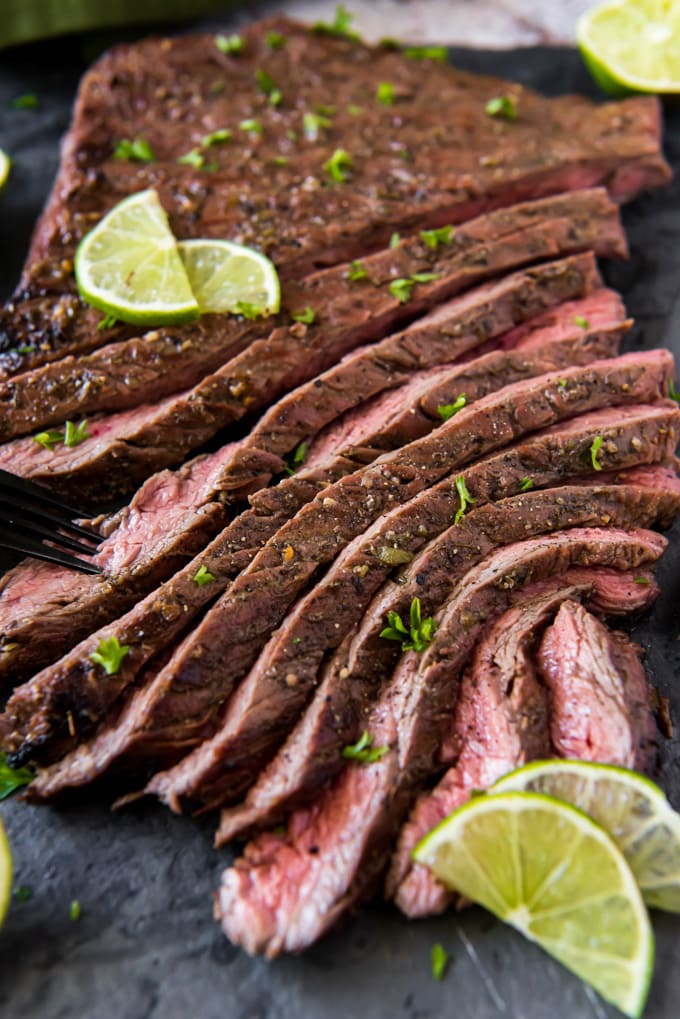 How Do You Make Carne Asada Tender?
The citrus helps to break down the tough fibers in the meat, making it more tender while also adding flavor. The canola oil in the marinade helps to keep it juicy and also holds the marinade to the meat.
The way you slice the meat also plays a part. Slicing against the grain (across the long fibers of the meat) will make the carne asada much easier to chew. This goes for any cut of meat, but especially tougher cuts.
The Marinade
A nice long soak in the marinade is vital to a tender and juicy carne asada. Here's what you'll need:
Acid – The juice from 2 limes and an orange. You could also use a lemon if you don't have any limes, but the flavor will be a little more acidic.
Flavor – Garlic, and lots of it, will impart a ton of umami flavor.
Oil – Oils are essentially to a marinade because it helps the flavor coat the meat and stay in place. I use canola oil because it's flavorless, but vegetable oil works as well.
Heat – A chopped jalapeno brings the heat and adds flavor. You can leave the seeds in for a more intense heat or remove them for something a little more mild.
Spice – chili powder, oregano and cumin make up the spice blend for carne asada.
Don't forget to also season your meat with salt and pepper.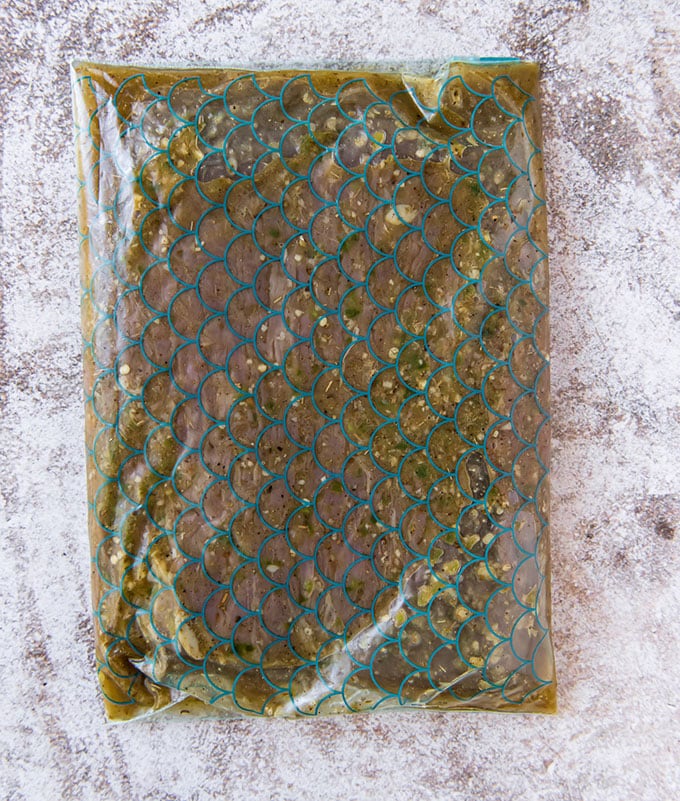 How to Grill Carne Asada
Marinate. You'll want to soak the meat in the marinade for at least 2 hours, or overnight if you can. You can easy stick the meat in the marinade and freeze it (as long as it wasn't previously frozen). When you're ready to cook it, thaw the meat in the fridge overnight and it will marinate as it defrosts.
Preheat your grill. Turn on your gas grill and let it heat up the grates so you'll get that perfect char on the meat right away. You want the grill to be set at medium-high, which is about 400 degrees F. Let the meat sit out to come to room temperature while the grill heats up.
Grill. Transfer the meat to a plate and discard any leftover marinade. Place the meat directly over the heat for about 6-8 minutes, then flip and grill the other side. For more on steak temperatures and testing, check out our handy printable grilled steak chart.
Rest. This is a crucial step to cooking any meat, but especially with steak. When steak cooks, the juices all rush to the center and if you cut into it right away, they will spill all out onto your cutting board instead of redistributing back into the meat.
Serving Suggestions
Carne Asada is so juicy and flavorful that it can easily be enjoyed all on it's own. Or you can make Carne Asada Street Tacos, stuff it into burritos, put it on nachos or even make some delicious Carne Asada Fries.
Make a huge party spread with sliced carne asada, tortillas, Mexican Black Beans, rice, Mexican Street Corn Salad, pineapple salsa and guac. Add a cocktail table with some classic Margaritas or Palomas!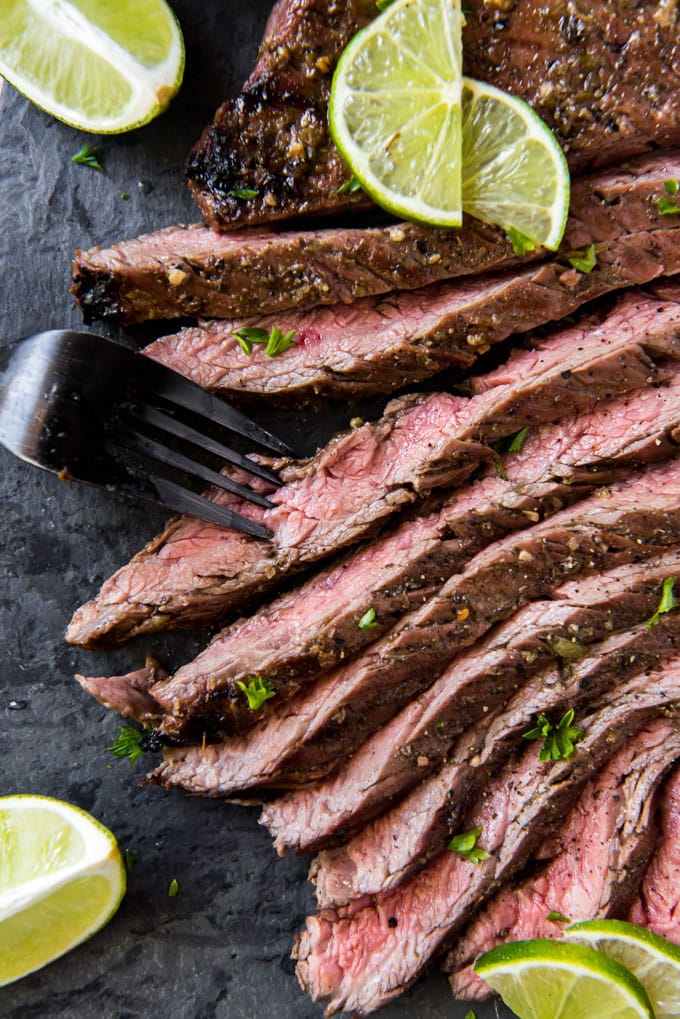 Recipe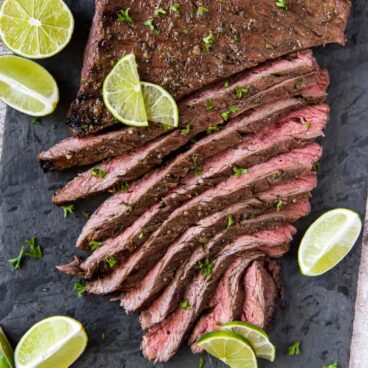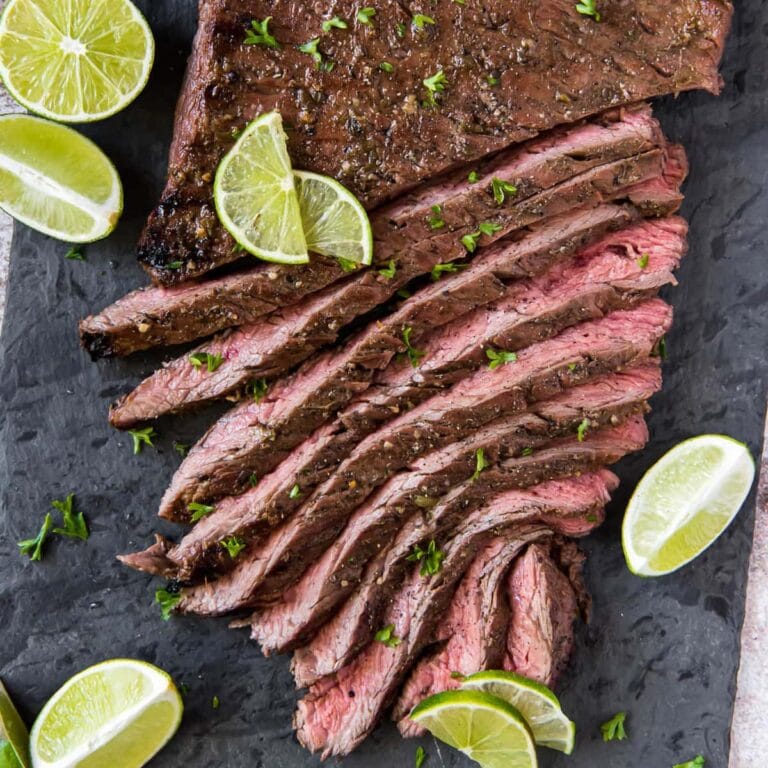 Carne Asada
Marinated and grilled flank steak, sliced and served with rice and beans or stuffed into tacos or burritos.
Ingredients
4

garlic cloves

minced

4

tablespoons

lime juice

about 2 limes

4

tablespoons

fresh squeezed orange juice

from 1 orange, not sweetened juice

1

jalapeno

minced, seeds removed if desired

½

cup

canola oil

1

teaspoon

chili powder

1

teaspoon

oregano

½

teaspoon

cumin

2

pounds

flank steak

Salt and black pepper

to taste
Instructions
To a gallon size resealable bag, add all ingredients except the steak. Seal the bag and shake to combine.

Add the steak to the bag and seal it. Shake to coat, massaging the marinade into the meat so it is completely coated. Refrigerate 2-24 hours.

Preheat an outdoor grill to medium-high heat (about 400-450 degrees F).

Remove flank steak from the marinade and transfer to a plate. Discard the marinade. Season both sides of the flank steak with salt and pepper.

Cook marinated flank steak on the hot grill for 6-8 minutes per side for medium rare. Rest on a cutting board for 5 minutes. Thinly slice steak against the grain. Serve immediately.
Notes
The longer you are able to marinate the steak, the better. Up to 24 hours. 
Use a meat thermometer to determine the right temperature for medium rare (140-145 degrees F). 
Nutrition
Calories:
454
kcal
Carbohydrates:
5
g
Protein:
49
g
Fat:
26
g
Saturated Fat:
6
g
Cholesterol:
136
mg
Sodium:
130
mg
Potassium:
839
mg
Fiber:
1
g
Sugar:
2
g
Vitamin A:
219
IU
Vitamin C:
17
mg
Calcium:
67
mg
Iron:
4
mg