Carne Asada Fries are a classic late night snack. French fries are loaded with marinated grilled steak and cheese, baked in the oven, then topped with all your favorite fixings.
You can Carne Asada Fries on the menu at taquerias and Mexican drive thru joints all over Southern California. Late nights just scream for comfort food snacks like this! Skip the take out and make this totally craveable snack at home!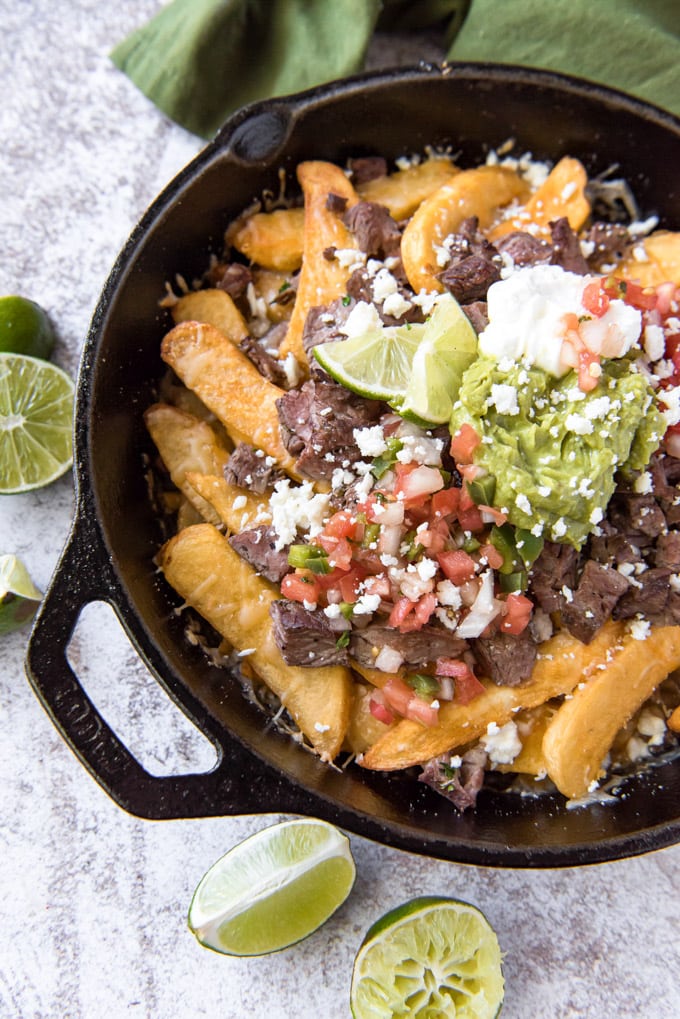 Late Night Cravings
The first time I tried Carne Asada Fries was a late night drive thru run. I was satisfying some late night cravings for Mexican food (taquitos, street tacos and nachos and whatever else sounded good at the time). My cousin texted me while I was in line with the words "CARNE ASADA FRIES!!!" I had never heard of such a thing, so I went ahead and ordered them.
What was presented to me in that steaming hot take-out box was nothing short of magical.
Ok, so that might be a little dramatic, but honestly, they were so good that we went back for them the next night. And maybe even the night after that.
The fries were crispy and salt on the outside and fluffy on the inside, the steak was perfectly marinated and so tender and the cheddar cheese was sharp and so melty. Once my cousin went back home and I was alone with kids again, I couldn't just run out to the taqueria when the cravings struck so I had to learn how to make this fantastic concoction at home.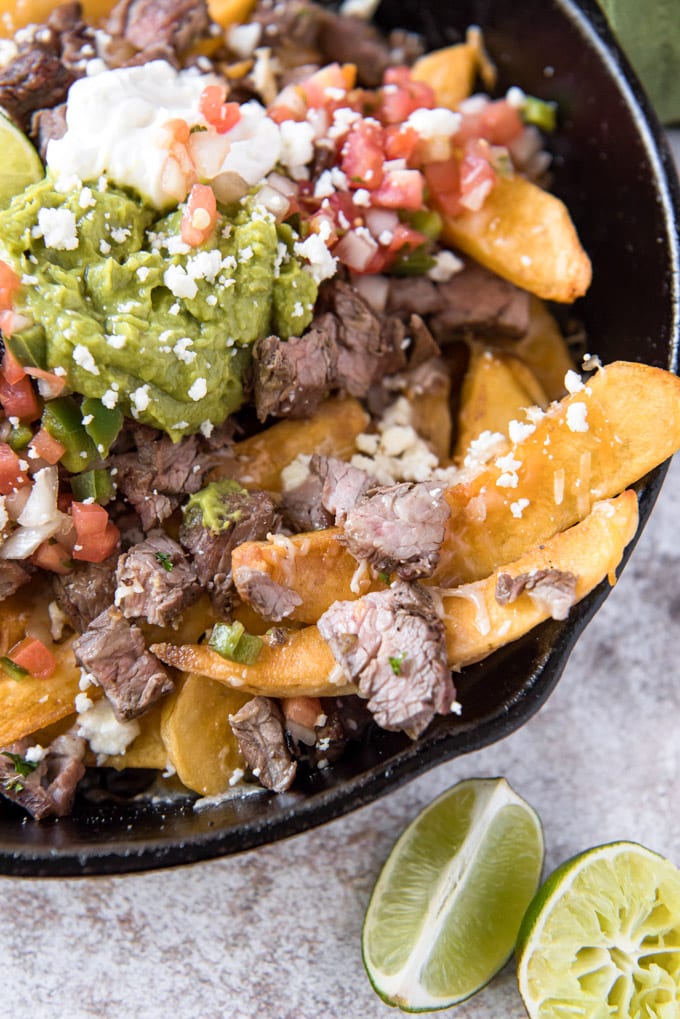 Homemade Carne Asada Fries
The Fries. I chose some frozen fries that I knew my family already loved, but you could also whip up some homemade baked french fries. Either way you can choose to bake them or fry them. Just be sure to cook the fries first, before assembling the layers.
Carne Asada. I marinate my carne asada in citrus, jalapeno, garlic and other seasonings, then cook it on my outdoor grill. I always make sure I'm going to have some leftover so I can make a big batch of carne asada fries, but sometimes I cook the steak just for the sole purpose of making and eating these fries. If you don't want to go through the hassle of cooking the meat yourself, you can find pre-cooked packages or even just already marinated meat at your grocery store.
Layer and Bake. Carne Asada Fries are layered like nachos, just with fries instead of tortilla chips. Using a rimmed baking sheet or large cast iron skillet, layer the meat on top of the fries, then add a whole bunch of freshly shredded cheese. I love sharp cheddar mixed with a little shredded jack, but any melty cheese will work as long as you shred it yourself. Just bake until hot and bubbly.
Serving Suggestions
We top our carne asada fries with lots of sour cream, guacamole and pico de gallo. Sometimes we'll add chopped onion and cilantro, too, or even refried beans. The key is to serve them hot, right out of the oven for the best flavor and texture. These won't last long, so eat them right away.
Another way to serve carne asada fries is with nacho cheese sauce instead of shredded. Just a couple extra steps and you can enjoy hot fries with steak in a gooey cheese sauce.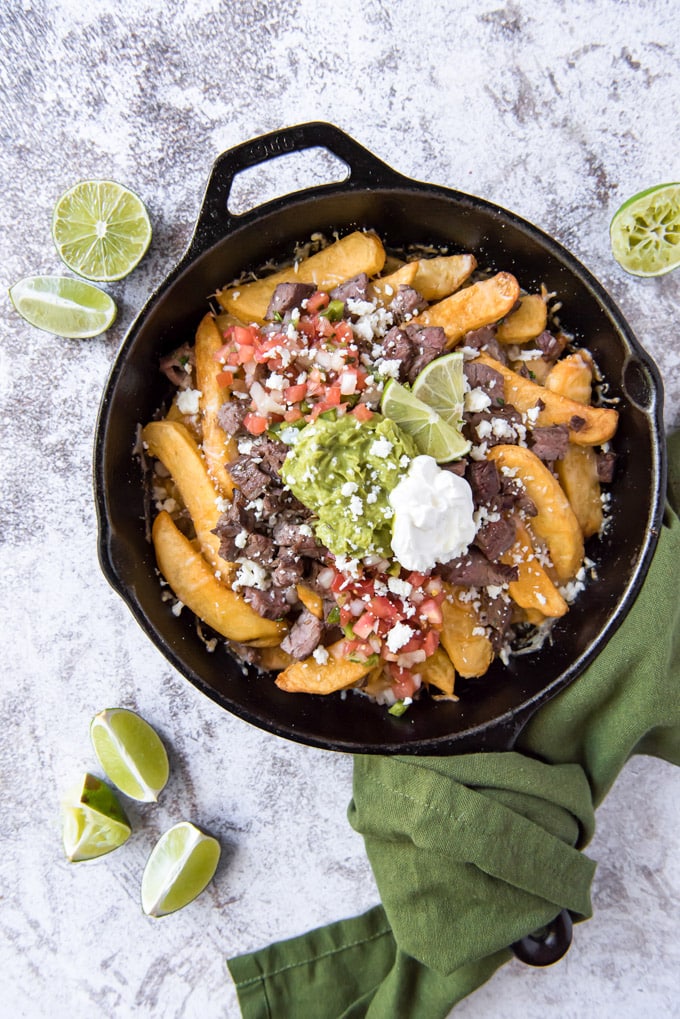 Recipe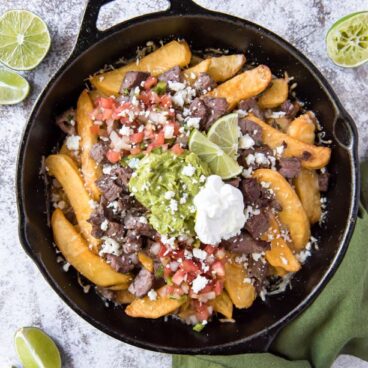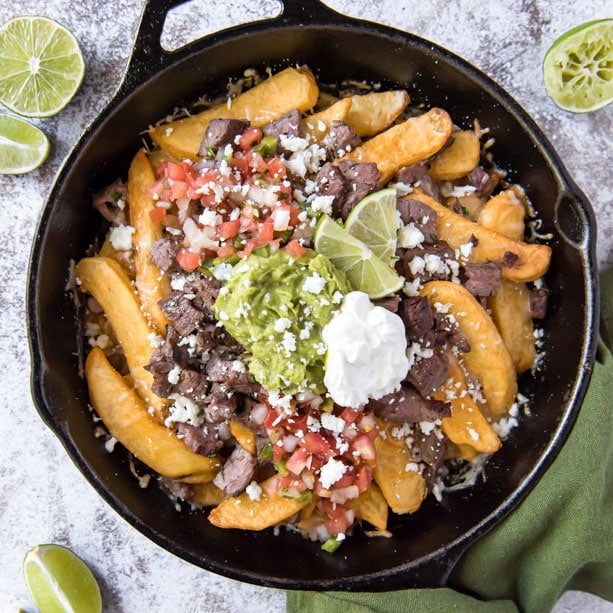 Carne Asada Fries
Fries loaded with carne asada steak, cheese, sour cream and guac.
Ingredients
Fries:
1

recipe

carne asada

diced

32

ounce

package frozen french fries

2

cups

freshly grated cheddar jack cheese
Instructions
Make the carne asada as directed in the recipe. Chop into bite sized pieces. *Note - you can also purchase pre-cooked carne asada at the grocery store.

Bake fries according to package instructions.

Preheat oven to 450 degrees F.

To a large, oven safe skillet or sheet pan, layer fries, cheese and meat. Bake in preheated oven for 10 minutes or until cheese is melted.

Top carne asada fries with sour cream, guacamole, pico de gallo, cotija cheese and a squeeze of fresh lime juice. Other garnishes included diced tomatoes, sliced green onions, cilantro, and sliced jalapeno.
Notes
This recipe is very customizable. Feel free to add more or less cheese, and any toppings you like. Have fun with it!
Please note, nutritional information provided does not include optional toppings.
Nutrition
Calories:
636
kcal
Carbohydrates:
37
g
Protein:
13
g
Fat:
39
g
Saturated Fat:
11
g
Cholesterol:
98
mg
Sodium:
796
mg
Potassium:
515
mg
Fiber:
5
g
Sugar:
1
g
Vitamin A:
283
IU
Vitamin C:
7
mg
Calcium:
214
mg
Iron:
2
mg