These Loaded Chicken Nachos are surprisingly easy, super cheesy, and crazy delicious. Loaded with layers of seasoned chicken, veggies, and of course tons of cheese, this easy nachos recipe will satisfy all your favorite people.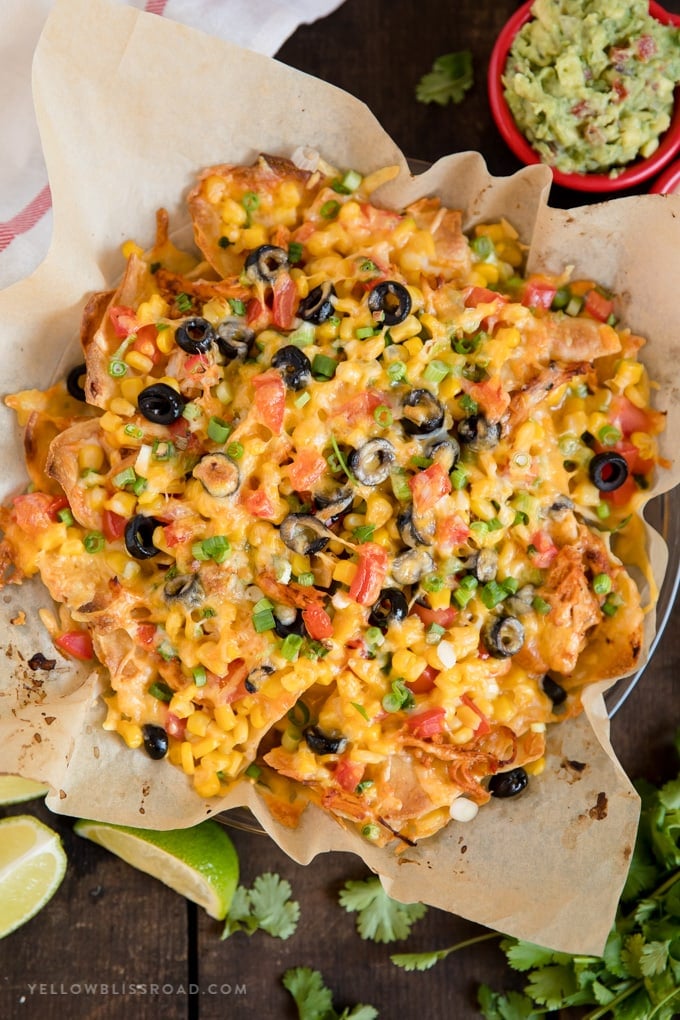 Super simple, super delicious, and guaranteed to be devoured in minutes, these Loaded Chicken Nachos are sure to be a hit! Serve them up as a hearty game day appetizer or an easy weeknight dinner. Just be sure to have lots of guacamole, salsa, and sour cream for topping!
Loaded Chicken Nachos Recipe
Nachos are the perfect go-to when you are at a loss for what to cook for dinner. They are super easy to throw together and a perfect way to use up leftovers. There is no "right" or "wrong" way to make a good batch of nachos.
My kids get super excited when I say we're having nachos for dinner. They especially love these Loaded Chicken Nachos, and it's a great way to get them to eat some veggies without them even realizing it.
You can totally customize this easy chicken nachos recipe by adding more sauteed veggies, different types of cheese, or even just using rotisserie chicken. I like to use the same chicken recipe that I use to make my Chicken Tacos because it's delicious.
Ingredients for Homemade Chicken Nachos
Tortilla Chips: Ok so first the chips. Use good quality, thick chips to make this nachos recipe. You don't want some wimpy thin chip that's going to break under the weight of all those toppings. My local Albertsons actually makes homemade tortilla chips in their deli and sells them in big bags. These are perfect because they are nice and thick and hold up well.
Chicken: You can use plain shredded chicken, crockpot chicken, or even a rotisserie chicken. As long as you like the flavor, it will work. Shred the chicken into big chunks, not tiny shreds.
Cheese: There are a variety of different kinds of cheese that you can use but my favorites are classic cheddar and colby jack. Both melt nicely and taste delicious. Feel free to use what you have on hand – just please no processed cheese!
Veggies: You can see in the photos that I used green onions, tomatoes, olives and corn. I was out of black beans or I would have added those too. You could add jalapenos, peppers or just about any other veggie you like!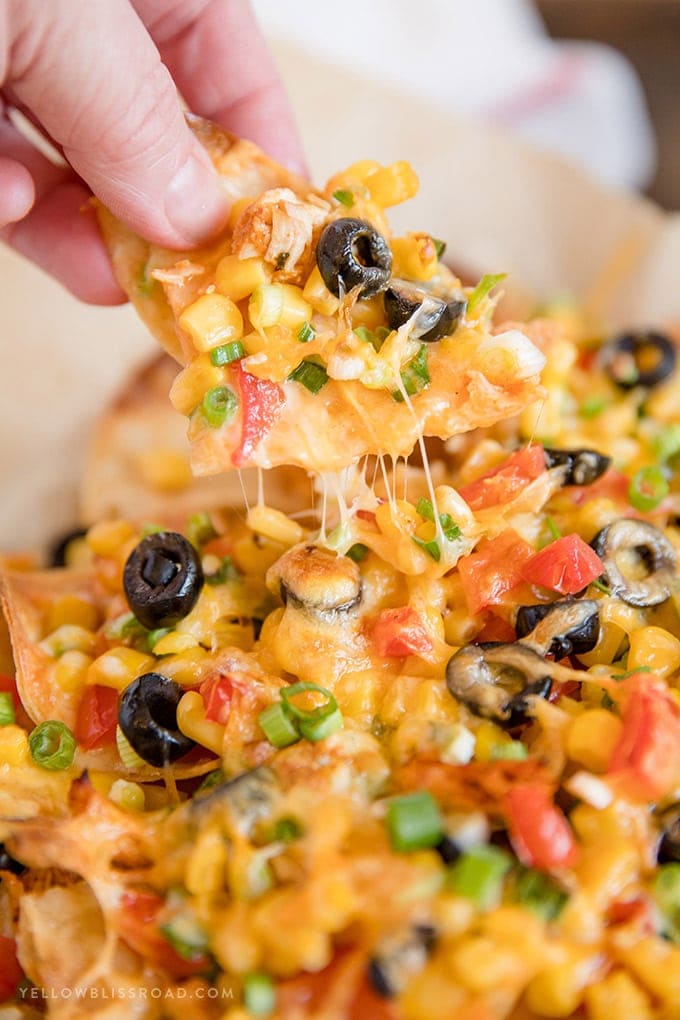 How to Make Shredded Chicken Nachos
There are three different ways you can make nachos.
Microwave Nachos – You could take the super easy route and layer them on a plate and microwave for a minute or two just to heat through and melt the cheese. This is my least preferred method, but quickest method.
Sheet Pan Nachos – Spread the tortilla chips out on a sheet pan (I recommend covering it with foil or parchment paper first) then top with cheese, meat, and veggies. This is best for feeding a crowd. Bake for about 10 minutes. They will take a little less time than the stacked version.
Layered Loaded Nachos – Layer chips, cheese, chicken, then more chips, cheese, veggies…until you have a beautiful stack of nachos a mile high. These are absolutely the most fun to eat! Bake them in the oven for about 10-15 minutes or until the cheese is melted.
Storage and Reheating
While nachos are best eaten fresh and it's not ideal to reheat them, it can be done.
Store leftovers in an airtight container in the refrigerator for 1-2 days. Reheat in the microwave. If you can, throw some shredded cheese on top to freshen them up.
Use a rotisserie chicken to save time. Simmer the meat for 10-15 minutes in a skillet with some taco seasoning and a little bit of chicken broth or water.
I prefer to use just the chicken breast because it's less greasier than dark meat.
Use thick, sturdy tortilla chips and serve with lime wedges.
Go with a blend of cheeses. All cheddar is too oily, so mix in some Monterey Jack and Pepper Jack cheese or another Mexican cheese you love.
Customize the toppings. Feel free to add any topping you love on nachos, like olives, tomatoes, green onions, jalapeno, cilantro, corn or beans.
Pour some Queso Blanco Dip or Nacho Cheese Sauce over the chips instead of shredded cheese.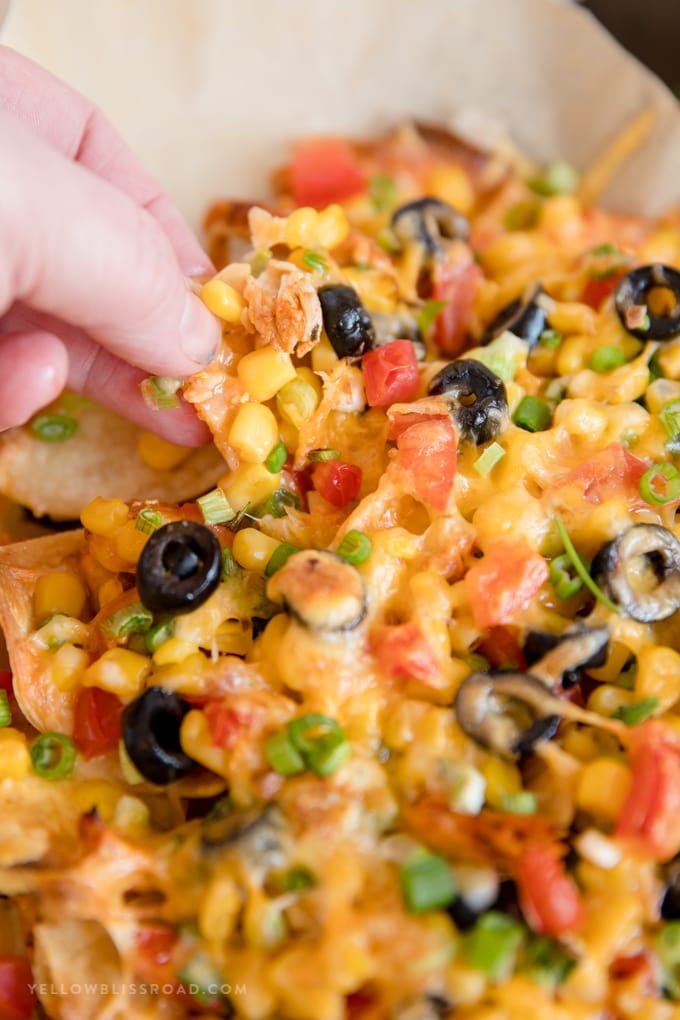 More Easy Nachos Recipes
Recipe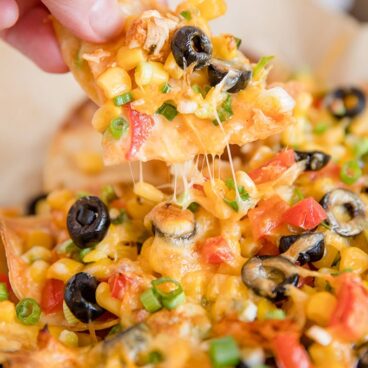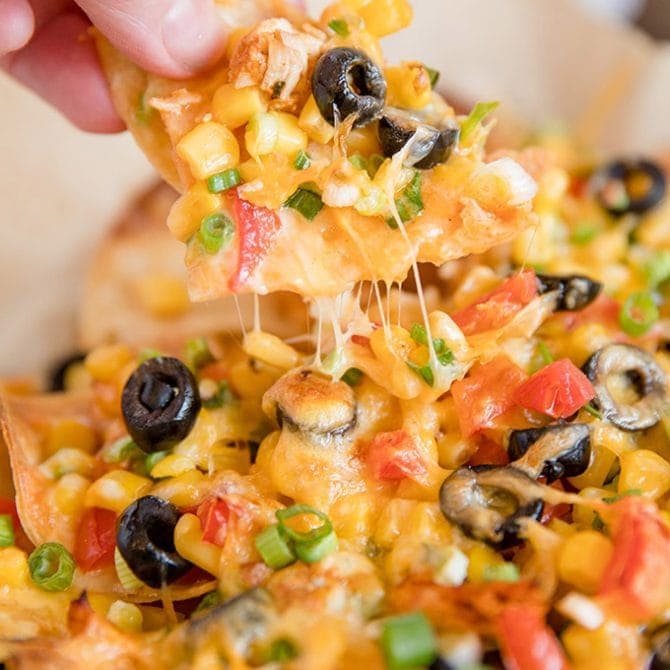 Loaded Chicken Nachos
Chicken Nachos are easy, cheesy, and loaded with layers of chicken, veggies and cheese. This easy nachos recipe is perfect for one or a crowd.
Ingredients
10

ounce

large bag tortilla chips

(10-13 ounce)

2

cups

shredded chicken breast

or any shredded chicken, divided

1

cup

freshly grated sharp cheddar cheese

1/2

cup

freshly grated monterey jack cheese

1/2

cup

freshly grated pepper jack cheese

1

cup

canned corn

drained

1

cup

diced roma tomatoes

seeds and core removed

2

ounce

can sliced olives

drained

1/2

cup

thinly sliced green onions

Extra garnishes: salsa, guacamole, sour cream, cilantro, jalapenos
Instructions
Preheat oven to 350 degrees F. Spray an oven safe skillet or pan with nonstick cooking spray.

Layer tortilla chips in a single layer but overlapping, then layer the rest of the ingredients however you like. Be sure to use at least 2 layers of chips. and finish with some cheese.

Slide the pan or skillet into the oven and bake for about 10-15 minutes, or until cheese is melted and nachos are heated through.

Serve immediately with guacamole, sour cream and salsa, and garnishes of your choice.
Notes
While nachos are best eaten fresh and it's not ideal to reheat them, it can be done.
Store leftovers in an airtight container in the refrigerator for 1-2 days. Reheat in the microwave. If you can, throw some shredded cheese on top to freshen them up.
Nutrition
Calories:
746
kcal
Carbohydrates:
56
g
Protein:
39
g
Fat:
42
g
Saturated Fat:
15
g
Polyunsaturated Fat:
10
g
Monounsaturated Fat:
13
g
Trans Fat:
1
g
Cholesterol:
107
mg
Sodium:
964
mg
Potassium:
587
mg
Fiber:
5
g
Sugar:
3
g
Vitamin A:
1204
IU
Vitamin C:
11
mg
Calcium:
569
mg
Iron:
3
mg