My fresh and easy Pineapple Salsa is sweet and spicy and so full of flavor that is delicious with chips or as a topping on chicken, tacos and more!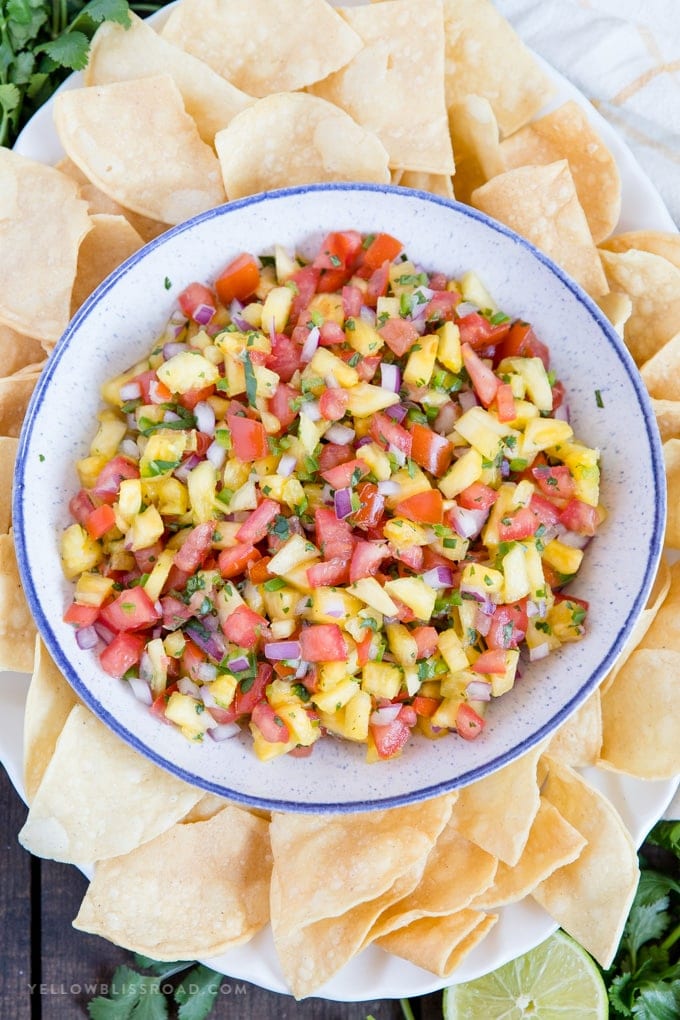 Sweet and salsa aren't words that I necessarily thought went well together, until I tried a seriously delicious Pineapple Salsa that we picked up at the grocery store. Now I love a good jarred salsa as much as the next girl, but there's just something about a fresh, homemade salsa with some crispy tortilla chips that really gets my mouth salivating.
That pineapple salsa has lived in the back of my mind for years now, and I finally decided that I was ready to recreate it at home. It far surpassed my expectations and now lives as one of the best salsas I've ever tasted. It's a little bit sweet, a little bit spicy and has so much flavor with each bite you won't be able to stop eating it!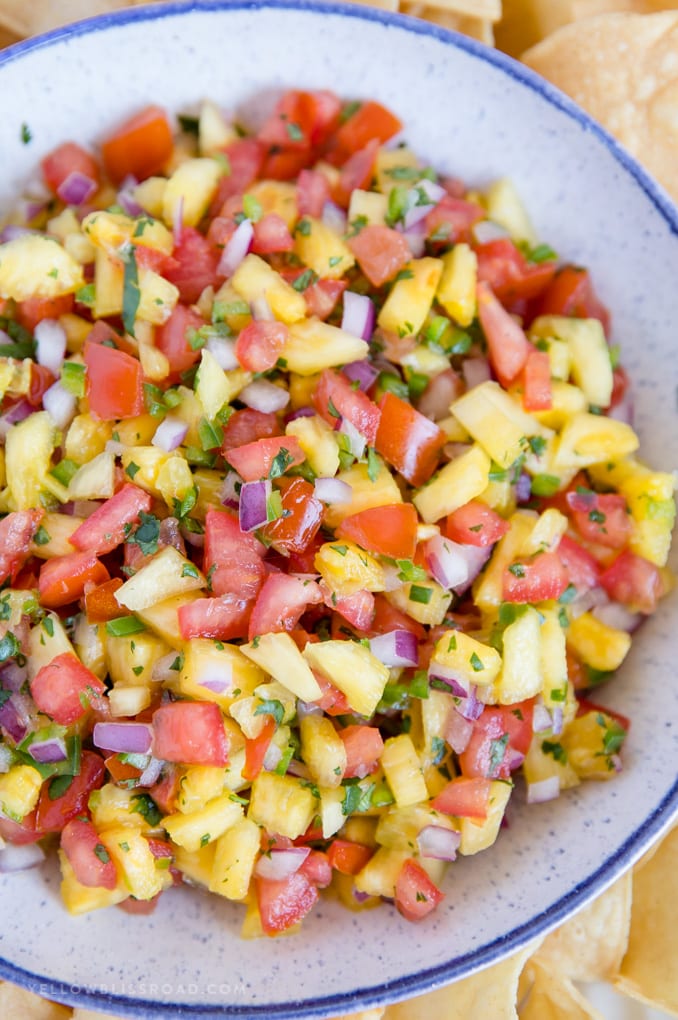 How to Make Pineapple Salsa
Pineapple salsa is similar to other homemade salsas in terms of ingredients:
Pineapple
Tomatoes
Onion
Jalapeno
Cilantro
Lime juice
Salt
The ratios are going to be a little different, for example you won't need as much lime juice because the pineapple is super acidic, and the tomato-pineapple ratio is about even. Otherwise it's right in line with what you put into a basic homemade salsa recipe.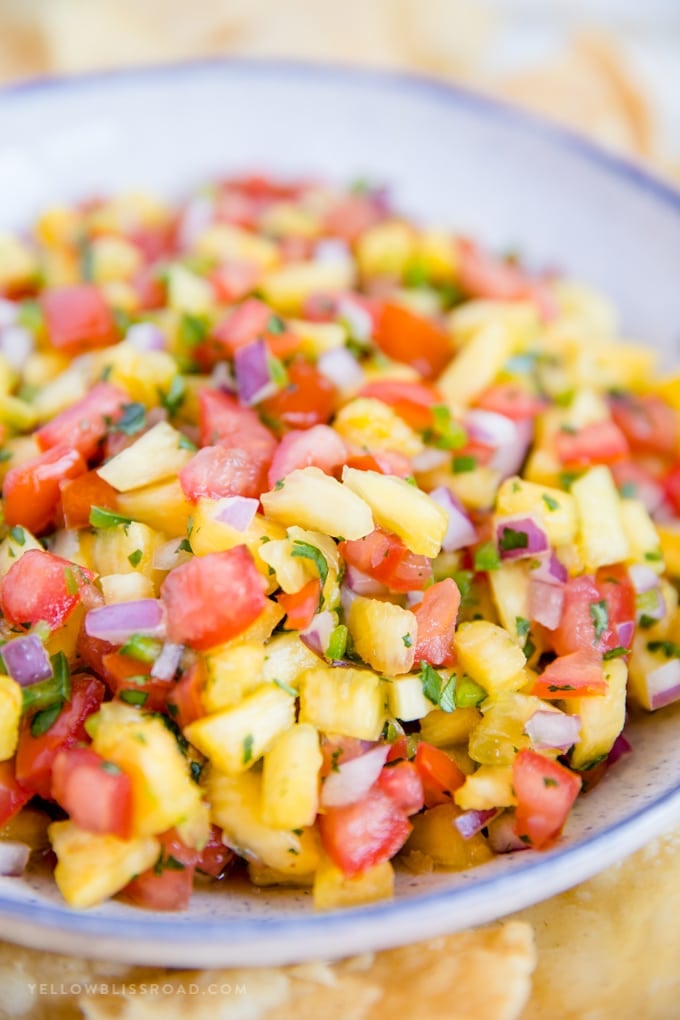 Salsa Making Tips:
Find the best tomatoes. Roma Tomatoes are the best for salsas, sauces and salads because of their firm flesh and low water content. Just scoop out the watery pulp from the inside and dice 'em up.
Use a fresh pineapple.  Canned pineapple is going to end up mushy in your salsa, so you'll need to know how to choose a pineapple, and get a good one. Some grocery stores cut out the work for you and sell pineapple pre-sliced. See my tips for choosing a ripe pineapple below.
Cut everything into similar sized pieces. The main ingredients of your pineapple salsa and pineapple and tomatoes, so they should be diced into small, easily dippable, bite-sized pieces. Secondary ingredients like jalapeno and onion and cilantro should likewise be finely chopped, but generally small than the tomatoes and pineapple. No one wants to bit into a huge chunk of jalapeno! or maybe they do…no judgement here.
Season well. A good salsa needs a generous amount of salt to help blend the flavors together. Make sure to add it in batches though. Sdd about a half of a teaspoon, stir it up, then do a taste test and go from their. Feel free to do as many taste tests as you need!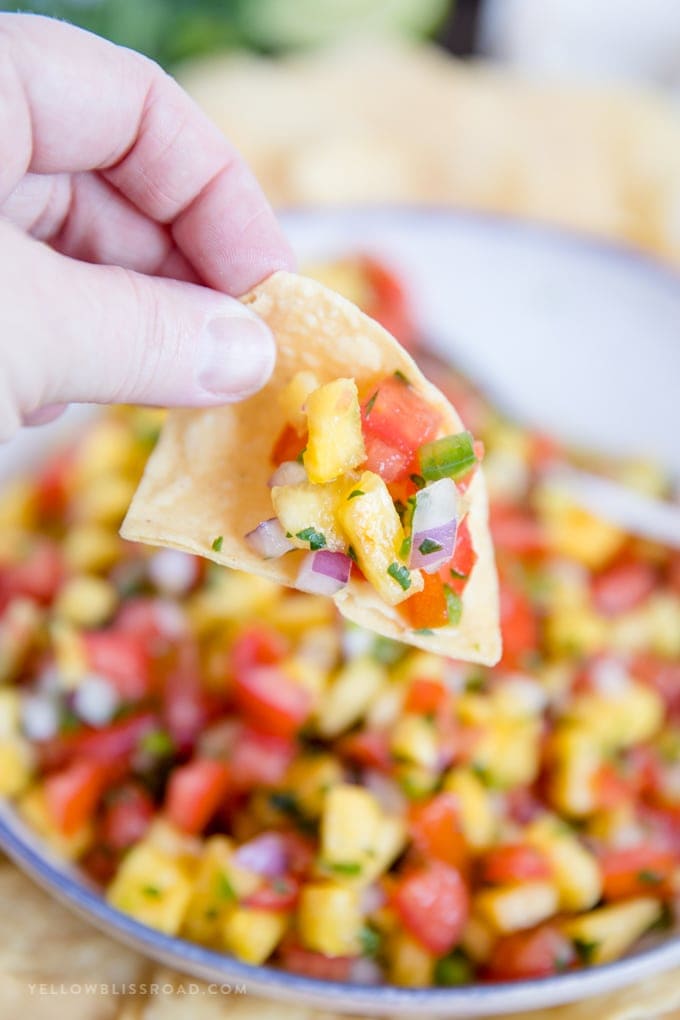 How to Choose a Ripe Pineapple:
Smell – The pineapple should smell pineappley (yup, that's a word). You should be able to smell the sweet pineapple scent by sniffing the bottom of the pineapple.
Touch – A ripe pineapple will have a slight give when you squeeze it gently.
Weight – Does the pineapple feel heavier than you expected? A heavier pineapple (but not necessarily larger) will generally contain more juice which equals a sweeter, more ripe pineapple.
Appearance – A ripe pineapple will be more yellow in color than green or brown, although all of those colors may be noticeable. More yellow at the base of the fruit equates a more ripe pineapple. The leaves should also be green and healthy.
The "eyes" have it – Did you know the round markings around the pineapple are called the "eyes?" The more even in size and shape that the eyes are, the more sweet and ripe the pineapple is!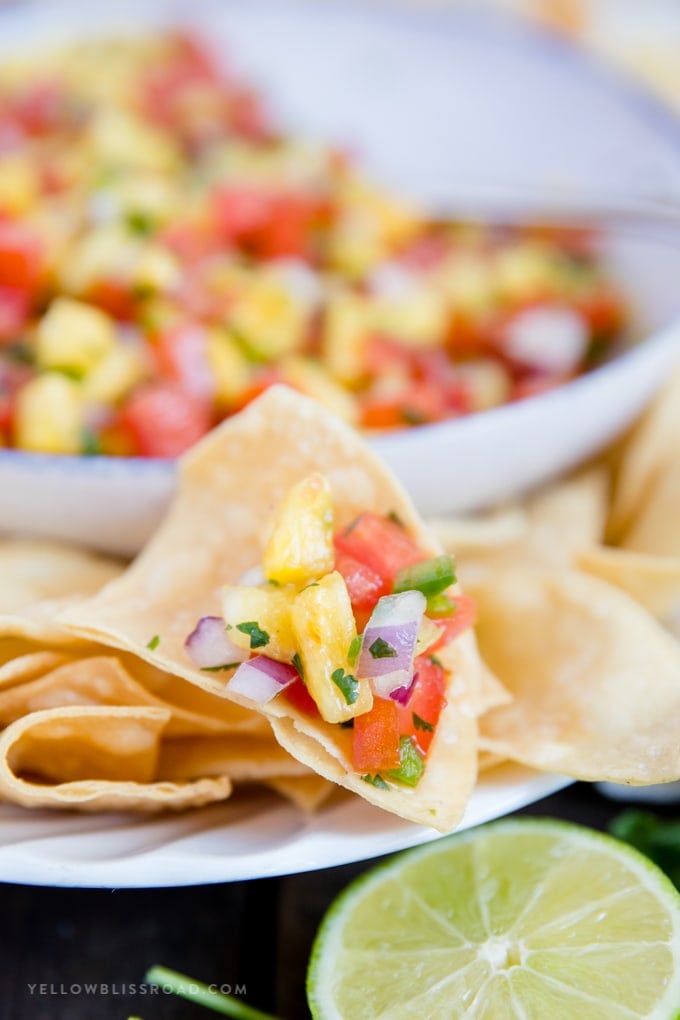 Craving more salsa recipes? Check these out:
We love this Pineapple Salsa on top of my Baked Chicken Breast or our favorite Ground Turkey Tacos!

If you've made this recipe, please come back and leave us a star rating or a comment below. Or, tag us on social media @yellowblissroad or #yellowblissroad for a chance to be featured.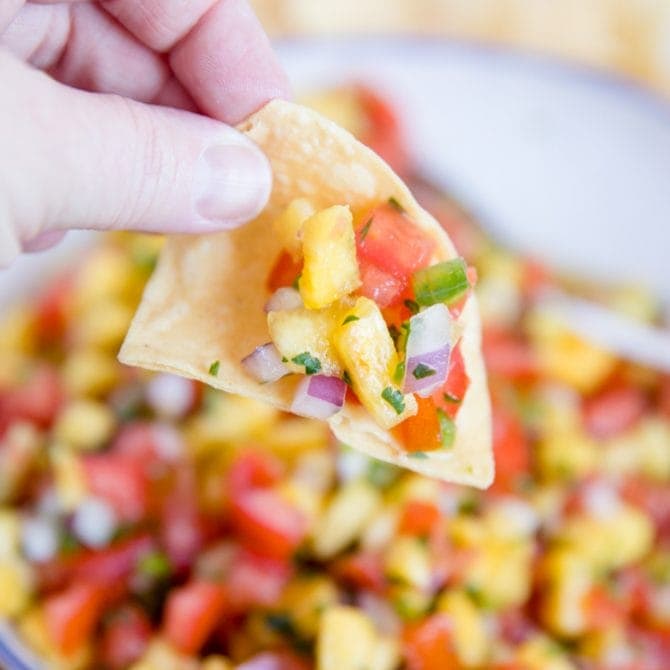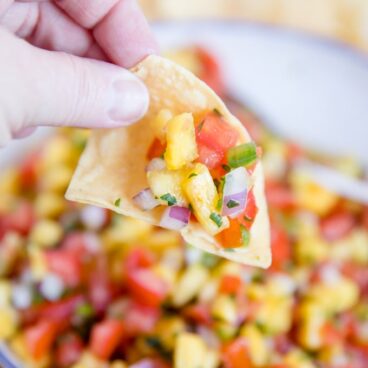 Fresh Pineapple Salsa
My fresh and easy Pineapple Salsa is sweet and spicy and so full of flavor that is delicious with chips or as a topping on chicken, tacos and more!
Ingredients
2

cups

fresh pineapple

finely diced

5

Roma tomatoes

seeded and finely diced

1/2

cup

diced red onion

minced

2

jalapenos

seeded and minced

2

tablespoons

fresh minced cilantro

1

lime

Kosher salt to taste
Instructions
Combine pineapple, red onion, tomatoes, jalapenos and cilantro in a large bowl.

Toss with lime juice.

Taste and add salt as desired.

Serve with tortilla chips for dipping. Pineapple salsa also makes a delicious topping for chicken, pork, tacos and more!
Nutrition
Serving:
1
/2 cup
Calories:
46
kcal