A bed of rice covered in fajita seasoned chicken, peppers and onions, served with beans and corn. These Healthy Chicken Fajita Bowls are a healthy and delicious dinner that your whole family will love! We've got lots of healthy chicken recipes on the site, but these Chicken Fajita Rice Bowls are by far the favorite!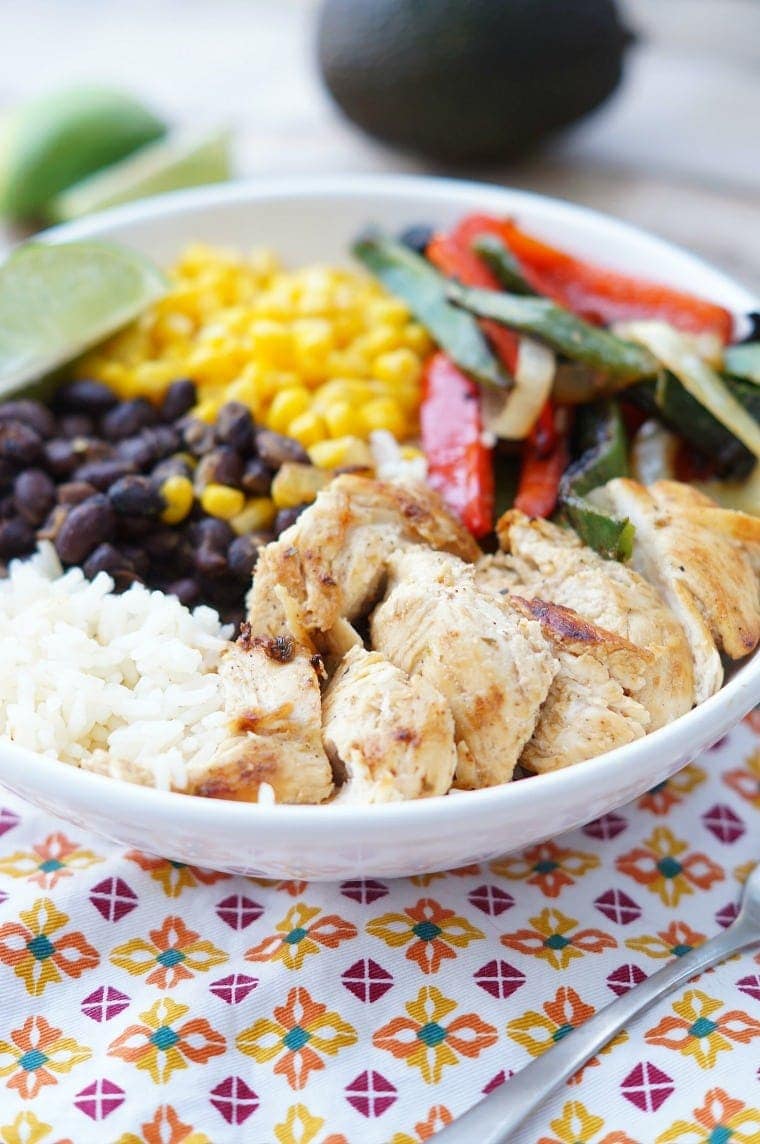 Hi everyone! I am thrilled to be joining the team here at Yellow Bliss Road! My name is Amanda and I blog at Old House to New Home, where I share how I cook, create, and decorate, all while raising two young girls! I hope you stop by and see what I am up to! Today I'm cooking one of my favorite delicious and healthy chicken recipes – Chicken Fajita Rice Bowls!
Today I am sharing a recipe for Healthy Chicken Fajita Bowls. These bowls are hearty, flavorful, and healthy, all while being delicious and family friendly! These are so easy and customizable too, so if you have kids with certain tastes, you can swap out any of the ingredients. I used poblano peppers in our bowls and they are my absolute favorite pepper to cook with. They aren't spicy, but have a wonderful smoky flavor. You can find them at just about any grocery store too!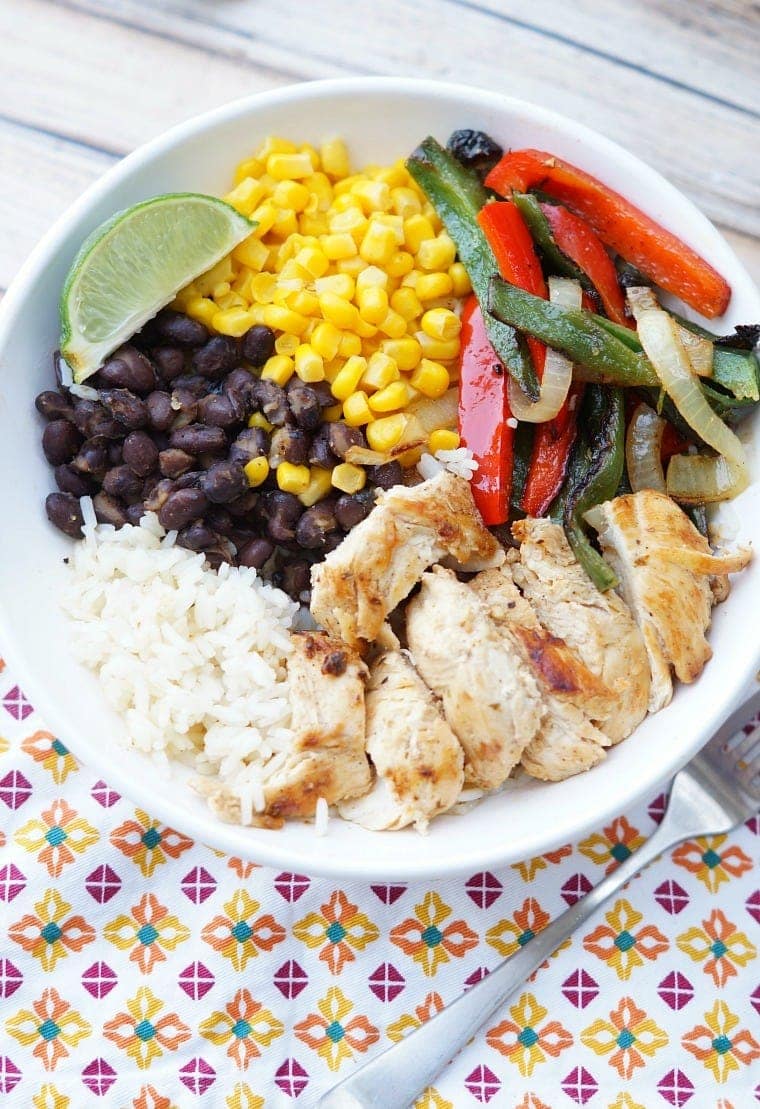 We love Mexican and Tex Mex flavors in our house and I am pretty confident that you can shove just about anything in a taco and get my daughter to eat it! You can only be so creative with tacos though, so I am always trying to find other ways to get the same taco flavors in our dinner but in different forms. I called these naked tacos and she was sold, once she stopped giggling about dinner being naked, of course!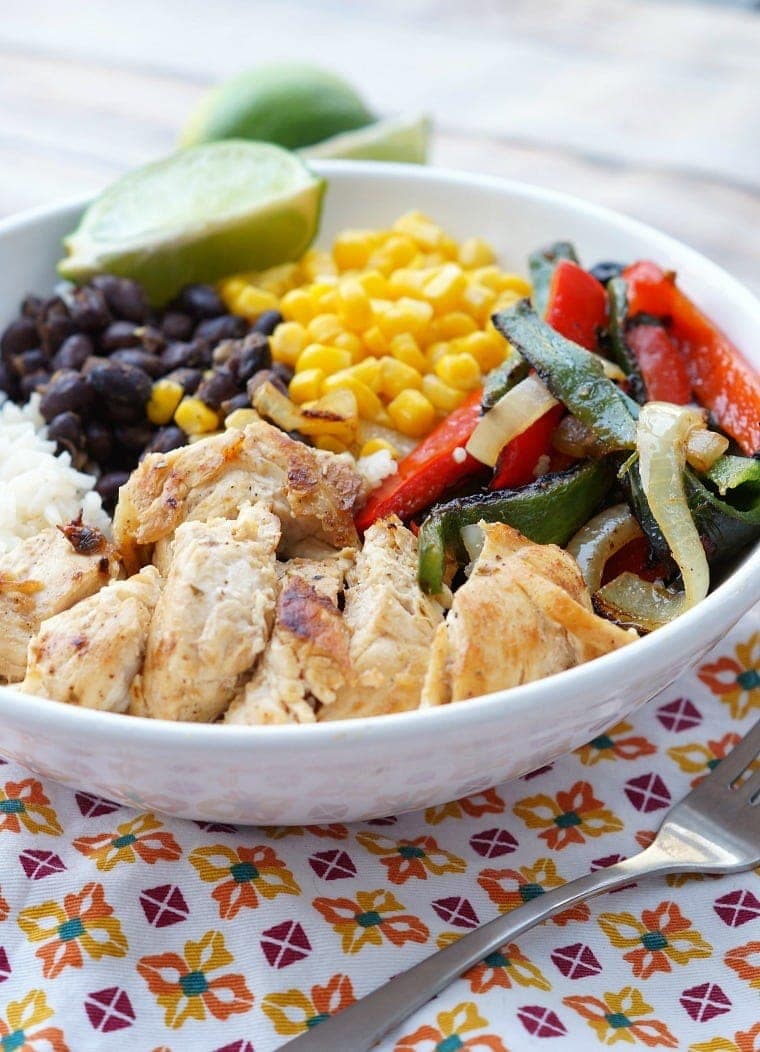 You can really keep the prep time to a minimum here by using those easy steam in bag rice packets! Make sure to get the plain white or brown varieties though or else you are adding a lot of unnecessary sodium to your dinner. By using those rice packets, you'll only dirty one pan, and everyone loves an easy clean up dinner!
January is such a great time for eating healthy, but I love food too much to sacrifice and eat dinners that I don't love. These healthy Chicken Fajita Bowls are the best of both worlds – an easy, delicious and healthy chicken dinner. Win Win!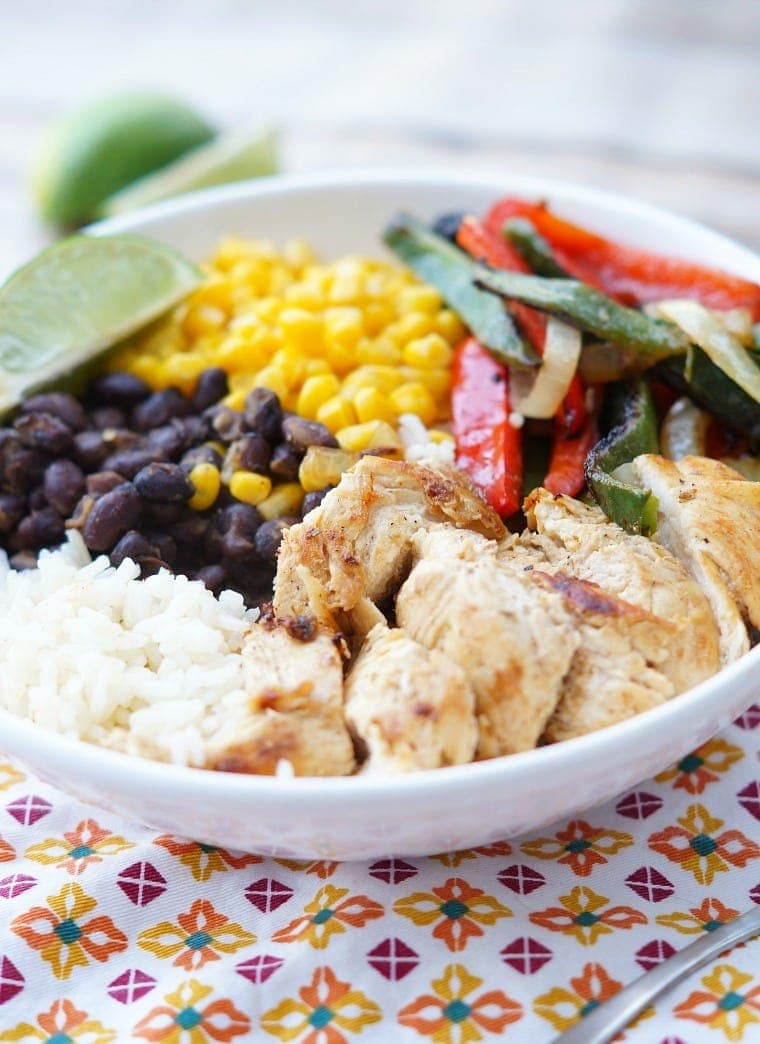 Looking for more healthy chicken recipes?
And for more Mexican recipes, try these: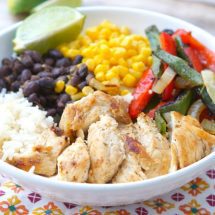 Ingredients
4 chicken breast tenderloins
2 cups of cooked white or brown rice
1 poblano pepper sliced thin
1 red pepper sliced thin
1 small onion sliced thin
1 can of black beans drained and rinsed
1 can of corn drained
1 tbsp. fajita seasoning
1 tbsp. oil
Additional optional ingredients: shredded cheese sour cream, avocado, salsa
Instructions
Preheat a skillet to medium high heat and add oil. Sprinkle chicken, onions, and peppers with half the fajita seasoning.

When skillet is hot, add the chicken, peppers, and onions. Cook until 6-8 minutes, flipping halfway through, or until chicken is cooked through. Remove all ingredients from the pan and set aside.

In the same skillet, add corn and black beans. Add the remaining fajita seasoning. Cook for about 4 minutes, or until the beans and corn are warmed through.

To assemble your bowl, fill with rice and then top with chicken, onions, peppers, corn, and black beans. Add additional toppings as desired.
Looking for more easy chicken dinner ideas?
One Pan Chicken Tortilla Skillet Casserole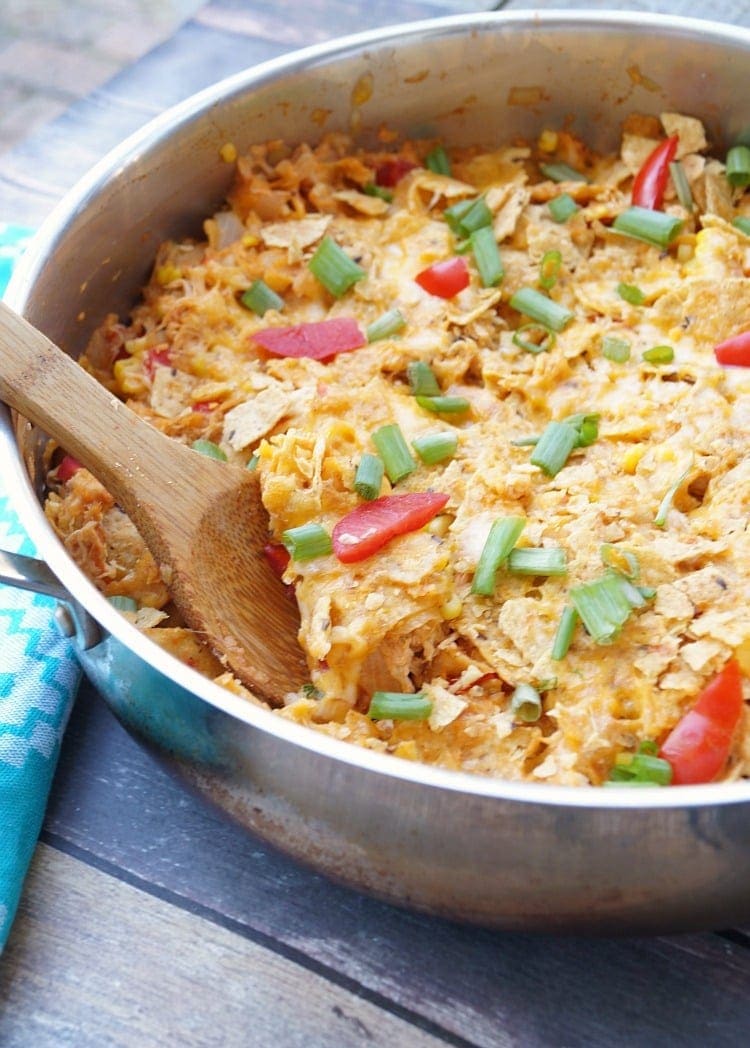 Slow Cooker Sweet and Sour Garlic Chicken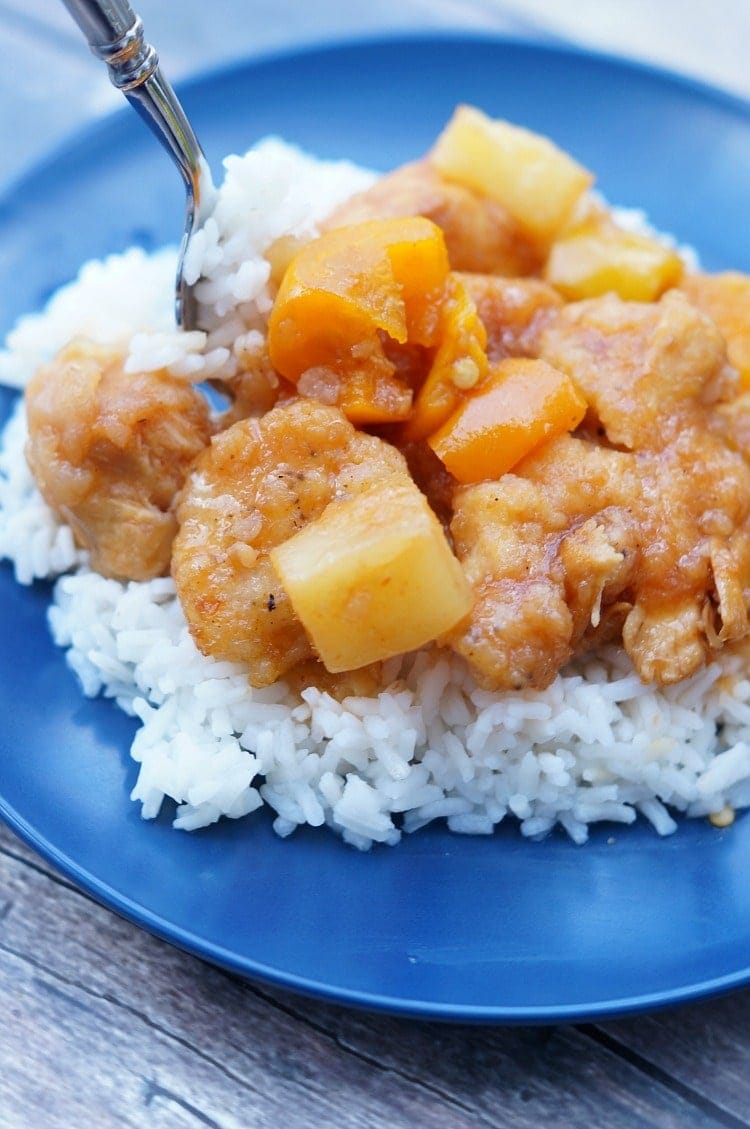 Slow Cooker Salsa Chicken Burrito Bowls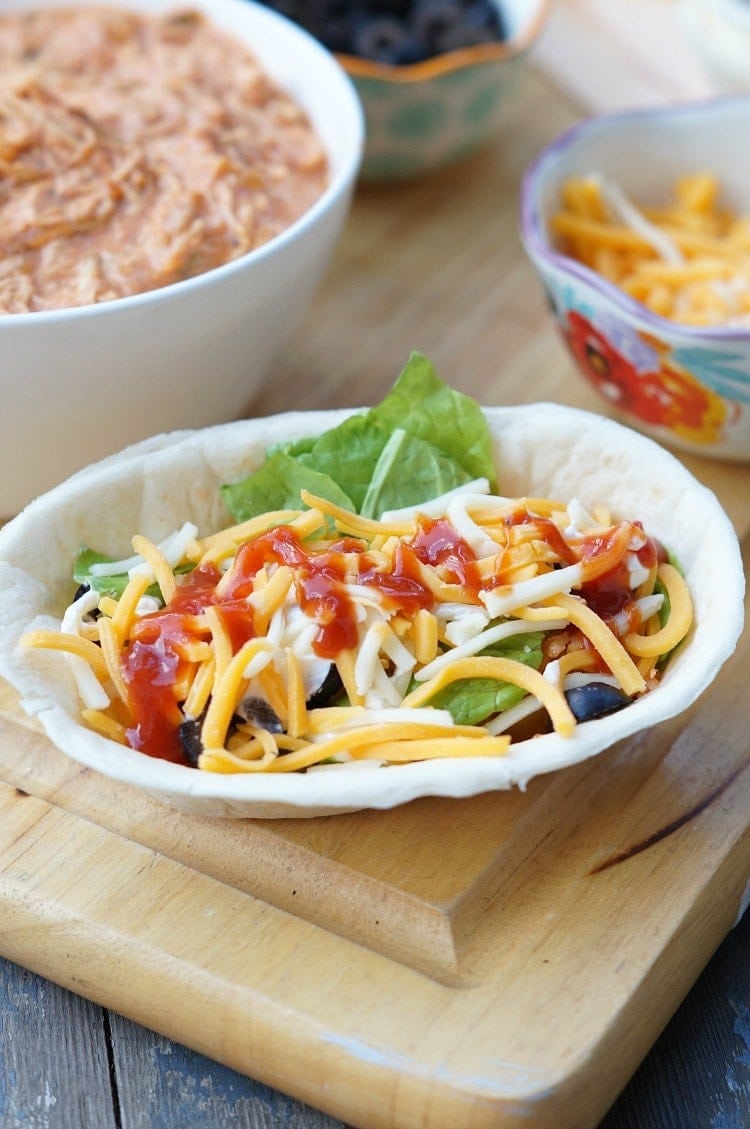 For more easy weeknight meals, try these:
For all dinners go HERE and for all recipes go HERE.