Chicken Minestrone Soup, with it's rich broth and tons of veggies, is a delicious way to warm up with some hearty comfort food.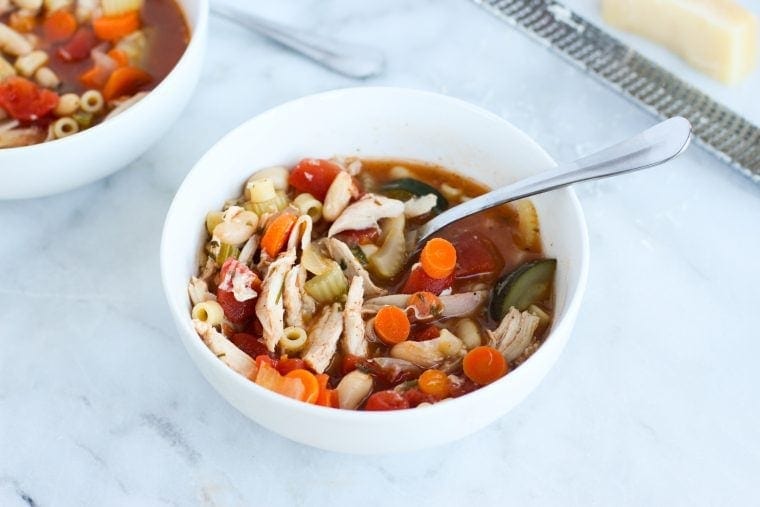 Hey all! Sam back from The Culinary Compass. I don't know about you, but this winter feels like it's been colder than usual especially here in Maryland where I live. There's only one way to combat the cold and that's with soup.
I made this Chicken Minestrone Soup with little effort and it resulted in a lot of great warming flavors! Lots of layers of veggies, herbs, pasta, and chicken resulting in a great hearty dinner.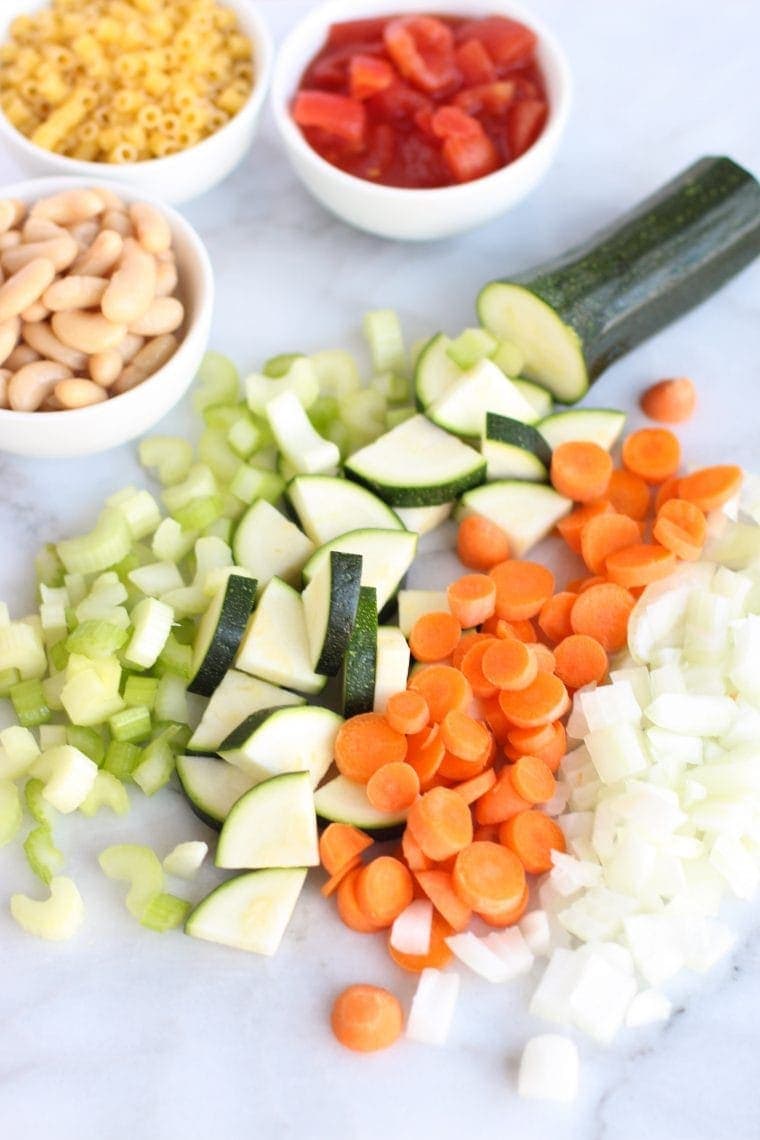 The great part of this meal is that you can easily prep all the veggies ahead of time in order to just dump them into the pot the day that you want to make it! Even better is that this soup is great for using up veggies that you have in your refrigerator.
You could always add in extra green beans, peppers, or potatoes if you want to use those too! Just add a little extra water if you add in more veggies, the pasta and veggies tend to soak up a lot of broth.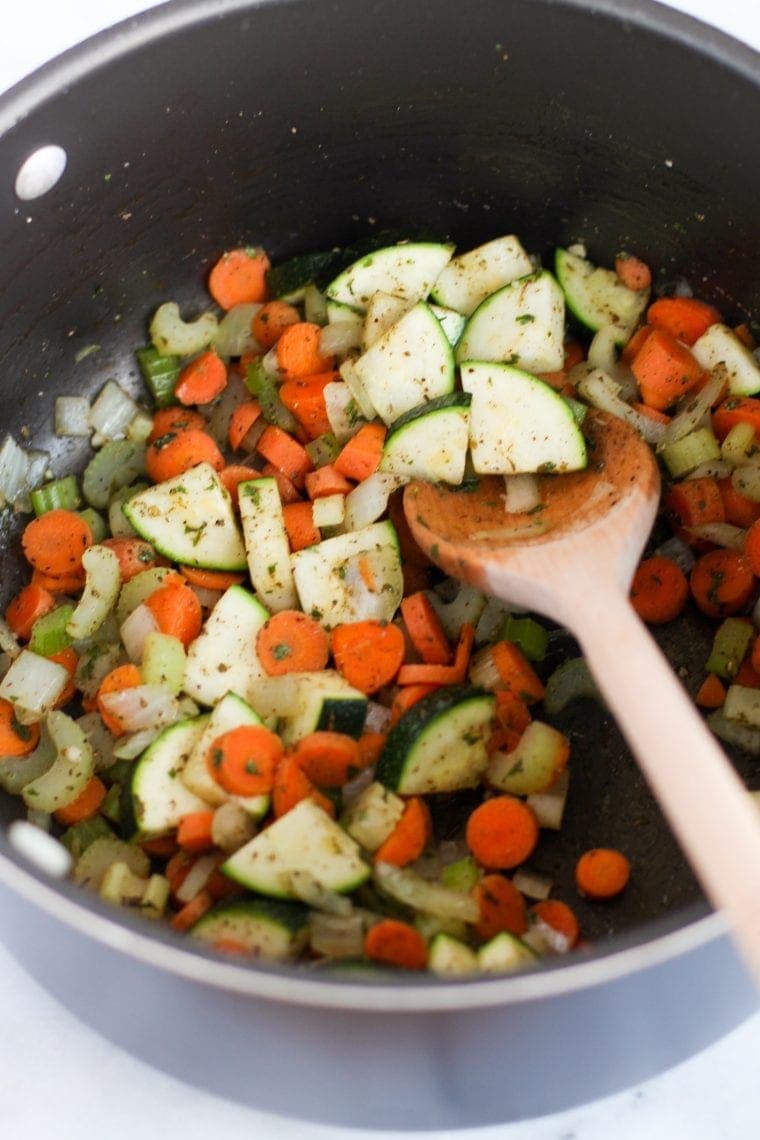 To make this meal even easier, I used a rotisserie chicken and just picked the meat off of that! It took probably 5-10 minutes which you can do while the beginning of the soup is cooking!
It makes for easier clean up and less time spent prepping which for these long winter nights I am all about.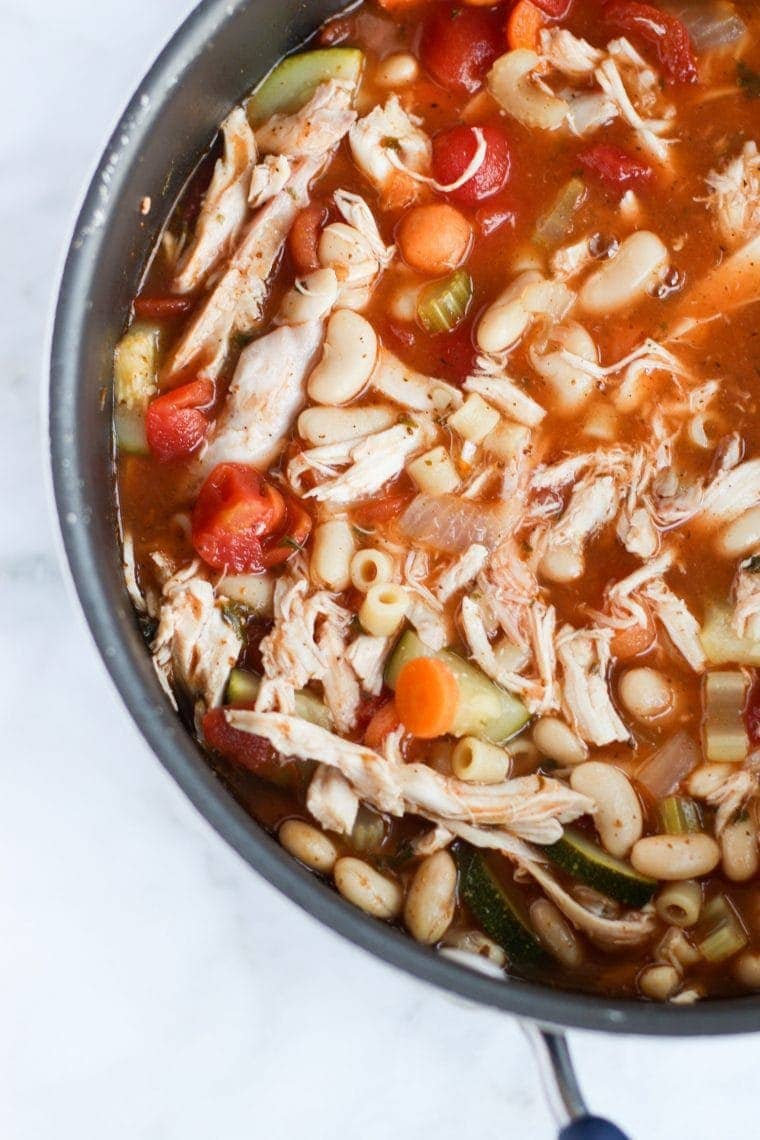 Since this recipe makes a lot of servings, I would either recommend cutting it in half for a family of four or make the entire batch for extras! I ended up putting about half of what I made into a gallon freezer bag once it cooled and threw it in the freezer for a meal at a later time!
If you're looking for more great winter dinner options, check out this Easy Seafood Pasta with White Wine Butter Sauce or this Steak and Udon Noodle Salad with Chimichurri Sauce.
Chicken Minestrone Soup
Yield 8 -10 servings
This Chicken Minestrone Soup is easy to throw together and full of warming flavors!
Ingredients
1 tbsp olive oil
1 clove garlic, minced
1 cup carrots, diced, about 20 baby carrots
1/4 onion, diced
3 stalks celery, diced
1 cup zucchini, quartered, about 1/2 zucchini
1 tsp sage
1 tsp oregano
1/2 tbsp parsley
1 tsp salt
1/2 tsp pepper
1 quart veggie broth
28 oz diced tomatoes
2 cups water
1 cup dry ditalini pasta
15.5 oz can canellini beans, drained
4 cups chicken, shredded
Instructions
In a large pot, heat olive oil and garlic over medium heat for 1-2 minutes. Add in garlic, carrots, onion, celery, zucchini, sage, oregano, parsley, salt and pepper and heat until onions are translucent and aromatic, about 5 minutes.
Add veggie broth, diced tomatoes, water, and ditalini. Turn heat to medium high to bring to a boil and cook until pasta is cooked through, about 10 minutes.
Turn heat to low. Add canellini beans and shredded chicken and let simmer another 5 minutes. Serve warm and enjoy!
For more delicious soups, try these:
Creamy Chicken Tortellini Soup
For all Soups go HERE, for all Dinner ideas go HERE and for the Recipe Index go HERE.