Learn how to bake chicken in the oven in three easy steps with my Easy, Crispy Oven Baked Chicken Drumsticks! Simple to whip up and so much healthier than frying, this will be your new go-to for dinner.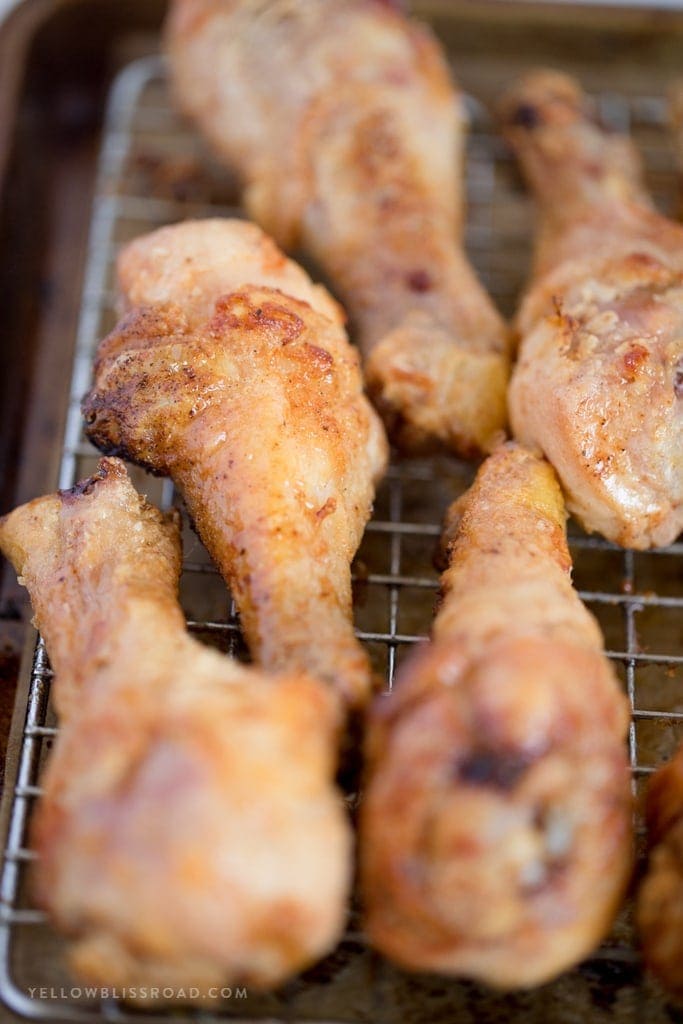 Growing up fried chicken was always a staple for dinner. I remember how much my grandma loved her fried chicken and mashed potatoes. She'd make it for dinner at least once a month, and the family would come running. What's not to love? Crispy, crunchy, juicy and flavorful fried chicken is pretty much the bomb diggity of chicken.
Unfortunately, fried chicken isn't exactly the healthiest, though not too bad in moderation. But if you're like us and want to enjoy that crispy, juicy chicken more often, my Easy Crispy Oven Baked Chicken Drumsticks recipe is the way to go.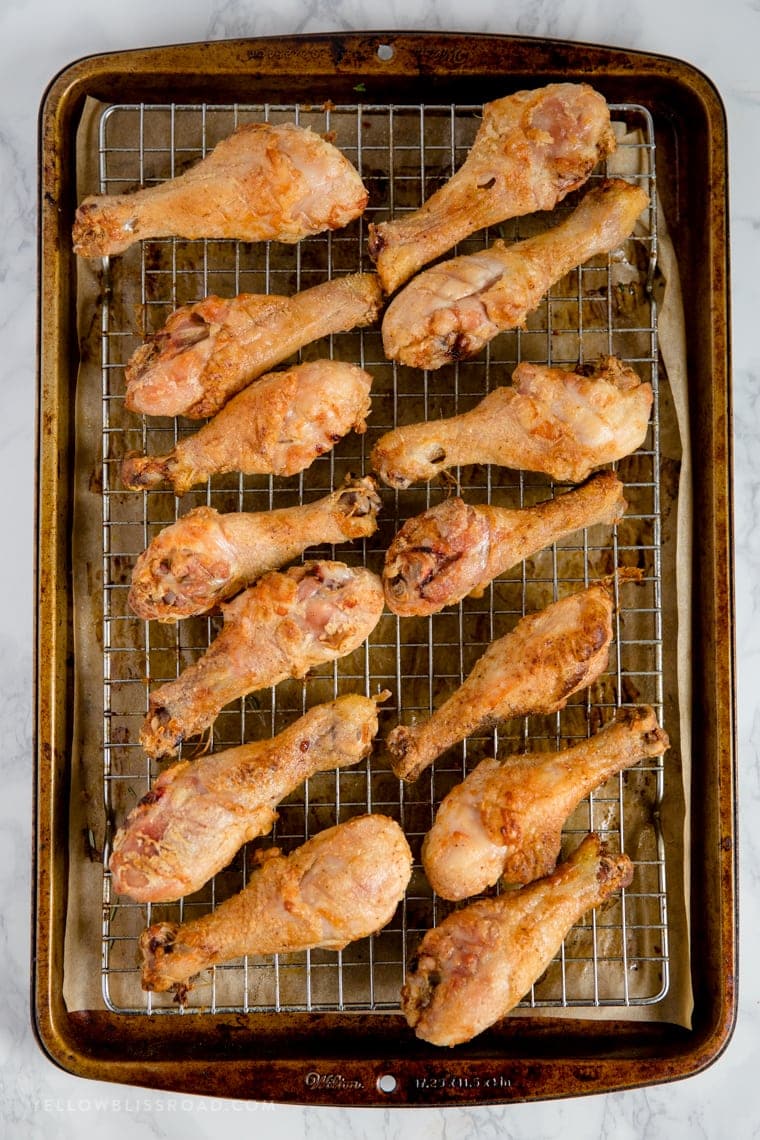 Tons of people who love my Crispy Baked Chicken Wings have asked how the recipe would translate to larger pieces, like drumsticks. Well I'm here to tell you it works and it is delicious! I didn't change the recipe much other than increasing the ingredients to account for the larger pieces of chicken. I also swapped out the paprika for chili powder because it's what I had available.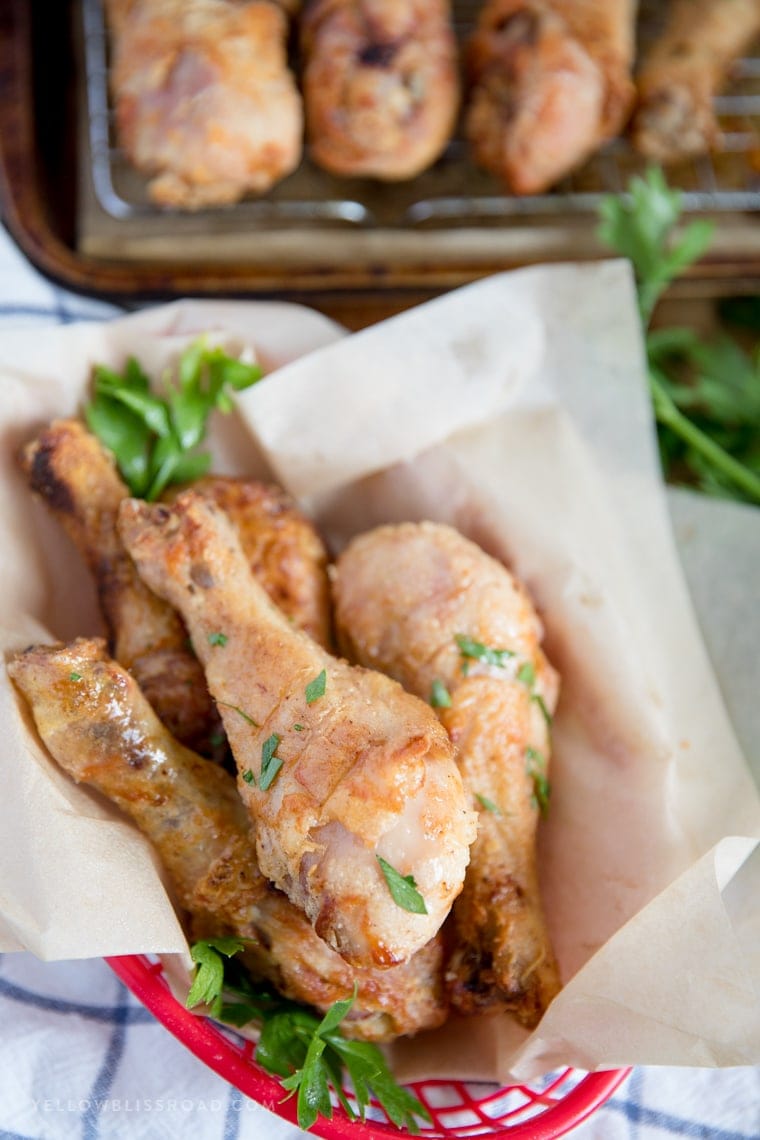 How to make Crispy Oven Baked Chicken in three easy steps:
Coat chicken in flour/baking powder/seasonings.
Use a wire baking rack oven a cookie sheet to ensure even crisping.
Spray with butter flavor cooking spray before baking for that golden skin.
The coating is a simple mix of basic seasonings, flour and baking powder. You could easily swap out the seasonings I used for anything you like. If you have poultry seasoning on hand that would certainly taste (and small) amazing. I like to keep my recipes simple, not requiring a ton of steps, but for even juicier chicken you could soak the drumsticks for a couple of hours in buttermilk.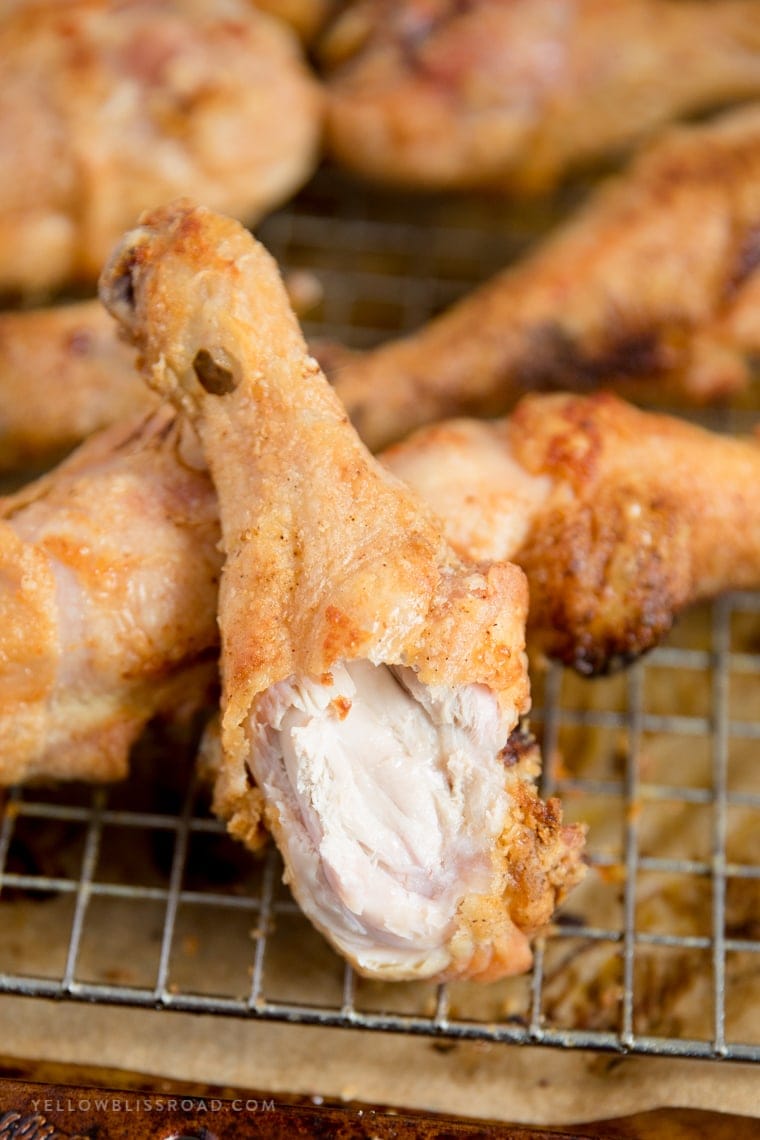 HOW LONG DOES IT TAKE FOR DRUMSTICKS TO COOK IN THE OVEN?
While the coating will help the chicken retain some crispiness, I sprayed my drumsticks with a butter based cooking spray to help them get nice and golden and crispy and laid them on a baking rack over a cookie sheet. Spraying them instead of coating them in butter helps to keep the calories and fat down which is always a plus, especially when you're talking about fried chicken!
Preheat the oven to 425 degrees and bake the chicken drumsticks for about 40-45 minutes, turning them over after about 30 minutes. You'll know they are done when the meat is no longer pink at the bone and the juices are clear. A meat thermometer inserted near the bone should register 165 degrees.
WHAT IS THE DIFFERENCE BETWEEN CHICKEN LEGS AND DRUMSTICKS?
A chicken leg refers to the entire upper leg portion of the chicken, which is the drumstick and thigh. A drumstick is strictly the lower leg.
WHAT TO SERVE WITH BAKED CHICKEN DRUMSTICKS
We love to serve our crispy baked chicken drumsticks with classic comfort food recipes: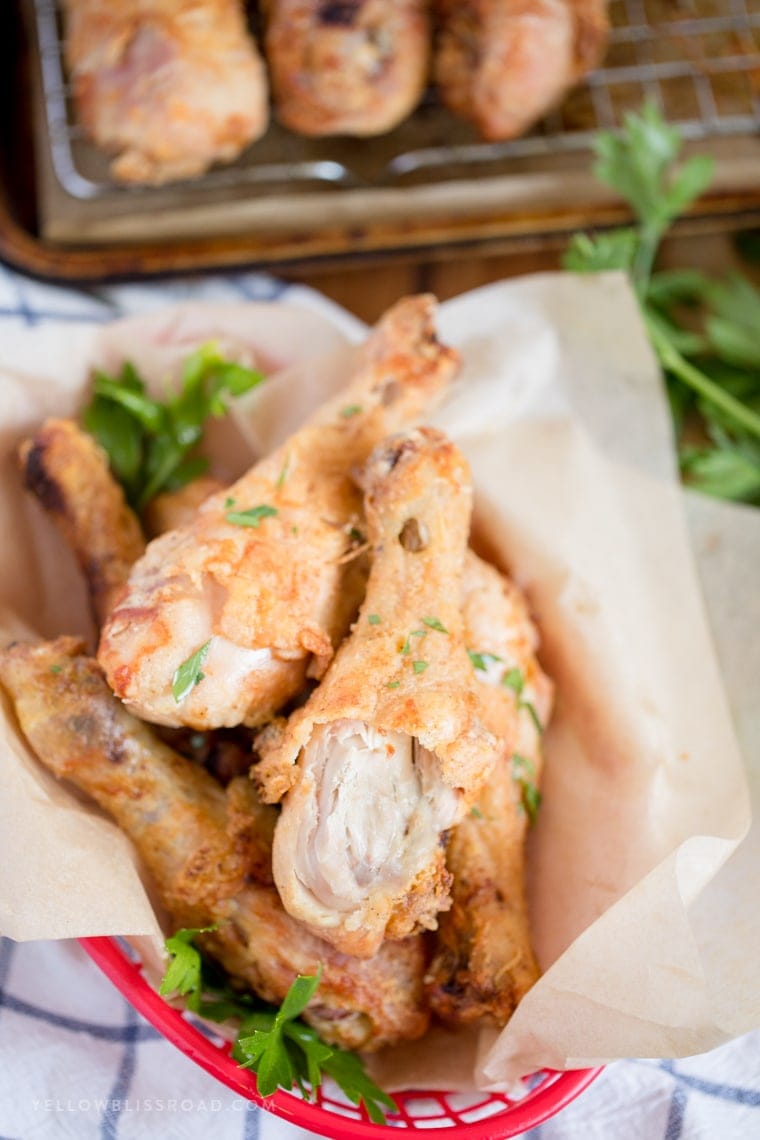 For more easy and delicious baked chicken recipes, try this one:
Eat More Chicken!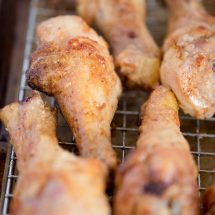 Ingredients
4 pounds of bone in skin on chicken
2/3 cup flour
2 teaspoon salt
3 teaspoons paprika
2 teaspoons garlic powder
3/4 teaspoon pepper
3 tablespoons baking powder
butter flavor non-stick cooking spray affiliate
kosher salt
Instructions
Preheat oven to 425 degrees F. Line a large baking sheet with foil and set a baking rack on top if you have one. If you don't have a baking rack just spray the foil with nonstick cooking spray.

Pat chicken dry, leaving skin in tact, and set aside.

In a large zip-top bag, combine flour, baking powder, salt, garlic powder, paprika and black pepper. Place the chicken in the bag a few pieces at a time and shake to coat. Set chicken pieces skin side down on the baking rack that has been placed on top of the baking sheet (or on the foil lined baking sheet that's been sprayed with nonstick cooking spray). Place larger pieces toward the outside; pieces can be close together but should not touch. Spray pieces generously and evenly with butter flavored non-stick cooking spray.

Bake in the preheated 425 degree oven for 45-50 minutes, turning over after 30 minutes. Spray again with the cooking spray after turning. Juices should be clear and temperature should register 165 degrees. If you are not happy with the color you can turn on the broiler for a few minutes, just watch closely to ensure the chicken doesn't burn.

Cool slightly before serving.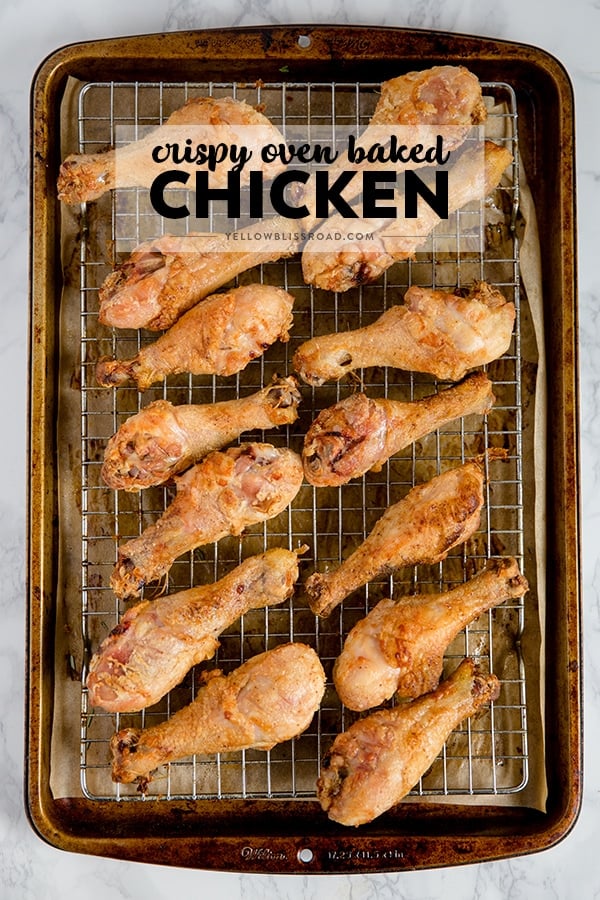 Hi! I'm Kristin, the creative mind behind Yellow Bliss Road where you will be inspired by tons of easy to follow recipes, lots of free printables, and a little sprinkling of life thrown in for good measure.