Crispy Cheesy Baked Chicken Tenders Recipe
These Crispy Cheesy Baked Chicken Tenders are a kid friendly dinner option that will satisfy the whole family!
Kids are notoriously picky eaters, which is why we make this chicken tenders recipe makes it into our menu rotation on a regular basis. Serve them with some Mashed Potatoes and Parmesan Ranch Broccoli for meal that will make even the pickiest princess beg for seconds.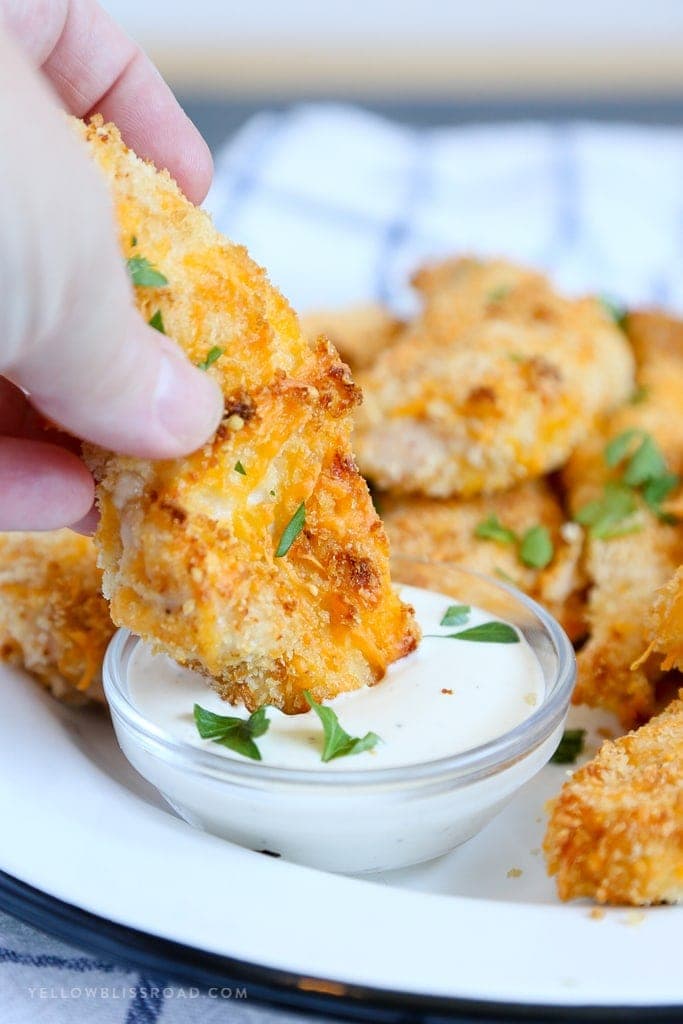 Crispy Cheesy Baked Chicken Tenders Recipe
If your kids are anything like mine, the answer to "What do you want to eat?" whether at home or at a restaurant is often greeted with shouts of "chicken fingers!" which is inevitably met by my own cackle of "Chickens don't have fingers!" (fans of the daytime soap "All My Children" might remember that classic line from the show).
That's probably why they are now called chicken tenders instead of chicken fingers!
These Crispy Cheesy Baked Chicken Tenders are crunchy and flavorful and juicy. Kids will love them, and grown-ups will too!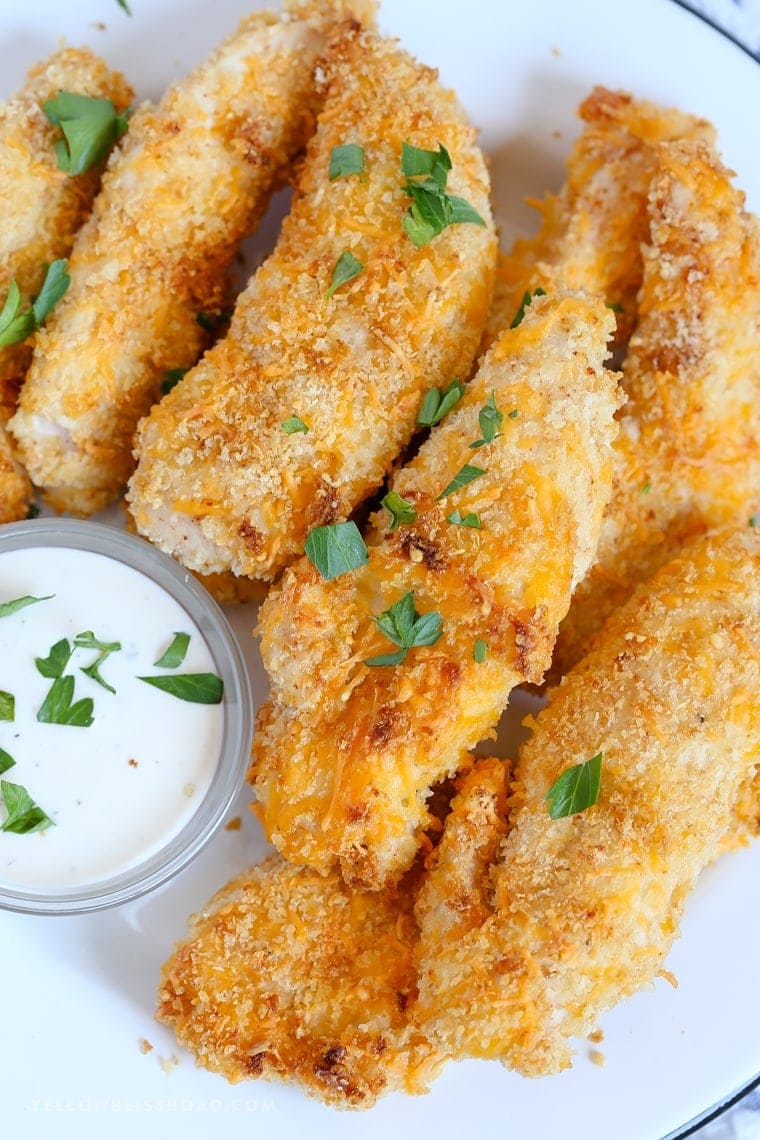 How to make Baked Chicken Tenders
Anyway, moving on to these delectable, cheesy bites. Chicken tenders are dipped in seasoned flour, then egg and finally a combination of cheddar cheese, Parmesan cheese and panko breadcrumbs, then baked to crispy, golden perfection.
You have a few options when it comes to the baking. Both ways will work, one just works a little better than the other.
The first method is just to lay the breaded chicken out on a foil lined baking sheet sprayed with cooking spray.
The second (and preferred) method adds a wire rack on top of the baking sheet to lift the chicken up so it's able to brown on all sides without having to be flipped over.
Either way you'll want to be sure and spray generously with nonstick cooking spray.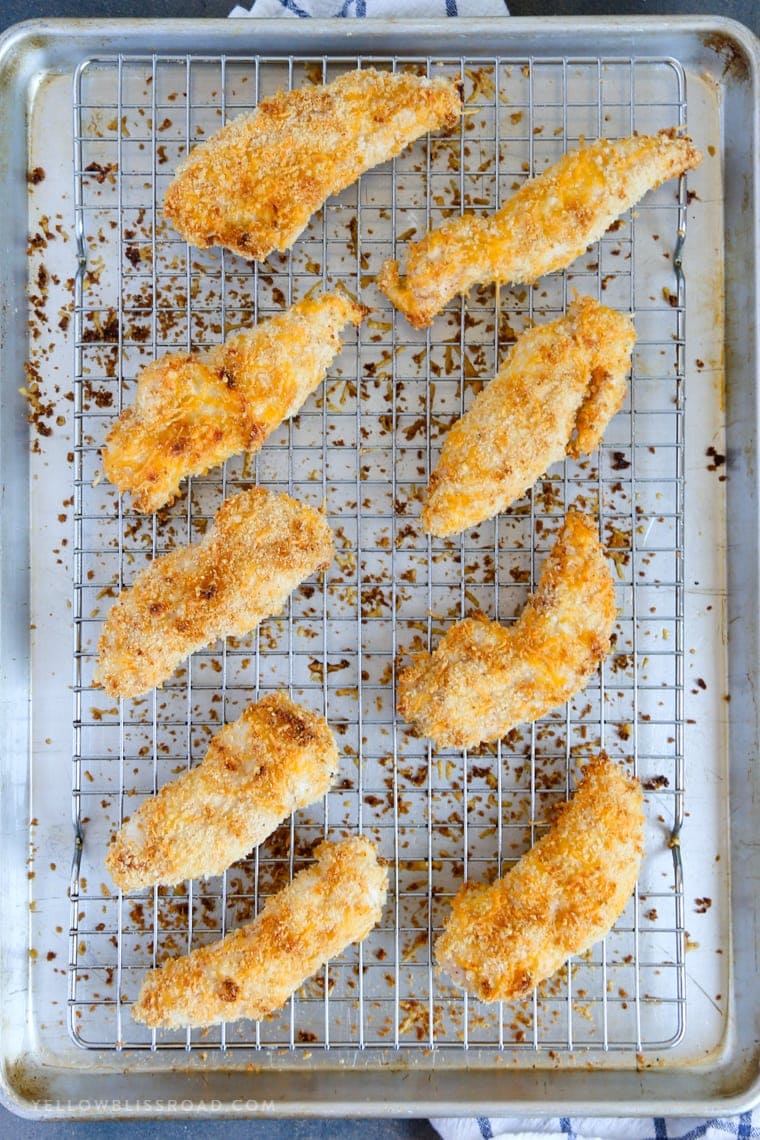 How long to bake chicken tenders in the oven
Preheat your oven to 400 degrees F. Choose your baking method (lined baking sheet or rack) and prep the chicken. Bake at 400 degrees for 15-20 minutes or until the chicken tenders are golden brown and crispy. If not using a wire rack, you'll need to turn the chicken pieces over after about 10 minutes.
What should I serve with Chicken Tenders?
Crispy baked chicken tenders go well with a variety of sides. Here are a few of our favorite dishes to serve with this recipe:
What is the difference between chicken breast and chicken tenderloin?
A chicken breast is attached to the ribs of the chicken. A tenderloin is attached to the breast but is a separate piece so it can easily be separated.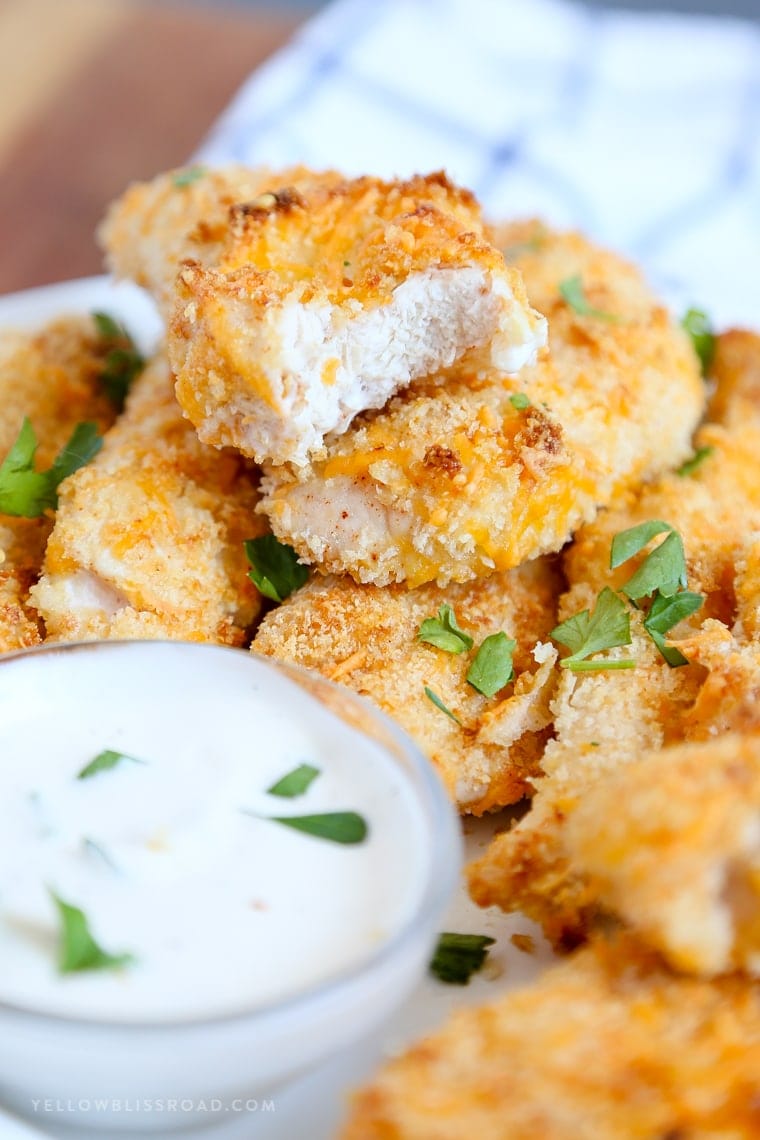 If you've made this recipe, please come back and leave us a star rating or a comment below. Or, tag us on social media @yellowblissroad or #yellowblissroad for a chance to be featured.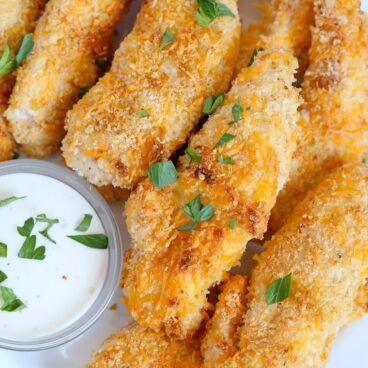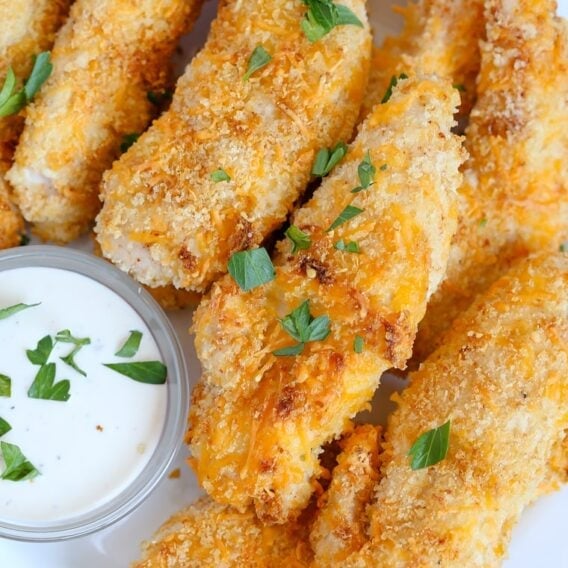 Crispy Cheesy Baked Chicken Tenders
Ingredients
2

pounds

chicken tenders 

Kosher salt

⅔

cup

all-purpose flour

1 ½

teaspoons

paprika

1 ½

teaspoons

garlic powder

1

teaspoon

kosher salt

½

teaspoon

black pepper

3

eggs + 2 tablespoons milk

1

cup

Panko breadcrumbs

1

cup

fresh

finely shredded sharp Cheddar Cheese, packed

½

cup

fresh grated Parmesan Cheese
Instructions
Preheat oven to 400 degrees F. Line a baking sheet with foil and top with a baking rack and spray with cooking spray. (if no baking rack, just spray the foil with cooking spray). Set aside.

Combine the coating ingredients in three shallow containers (like pie tins): 1 - sift together all-purpose flour, paprika, garlic powder, salt and pepper; 2 - whisk together eggs and milk; combine panko breadcrumbs, sharp cheddar and Parmesan cheese.

Season chicken on both sides with kosher salt.

Set up an assembly line to coat the chicken as follows: flour mixture, then egg mixture, and finally cheese mixture. Set pieces in a single layer on the prepared baking rack or baking sheet. Chicken can be close together but should not touch. *Pro-tip - use one hand for wet and one hand for dry coating.

Bake chicken at 400 degrees for 15-20 minutes.or until golden. If you are not using a baking rack, turn the chicken tenders over after about 10 minutes. *For additional browning, turn on the broiler for a few minutes until golden.

Serve immediately with choice of dipping sauce.
Here's another Chicken Tenders recipe that we love:
And for more easy chicken recipes, give these a try: