It doesn't get much easier than these savory Lemon Garlic Roasted Chicken Drumsticks. They are full of lemon and herb flavor and practically fall off the bone tender and juicy.
Most of my life I've been a boneless, skinless white meat kind of girl. I think it's because meat on the bone freaks me out. But in the past couple of years I have learned to appreciate the flavor packed bone-in dark meat of the thigh and drumstick. That's probably because my son is pretty much obsessed with chicken on the bone.
Upon hearing that dinner is "chicken again??" his next question is, "Wait. Is it on the bone?" A "yes" is met with a cheer while a "nope, sorry" is met with a rather impressive groan. So I've been trying to constantly come up with new ways to serve this favorite meat. Our latest favorite is this Roasted Lemon Chicken.
An overnight marinade makes this chicken practically fall off the bone tender, however if you don't have overnight, you could go 30 minutes. Just remember that the longer it marinates, the more tender it will be. I have a lemon tree, so lemons are readily available all year round for us so I love to use them in my chicken recipes. The lemon flavor is so subtle and doesn't overpower the rest of the marinade, which, in case you were wondering, is olive oil, salt and pepper, oregano and paprika. I am also a little obsessed with chopped parsley, partly for the fresh herbiness (yup, totally a word) and partly because it just looks so darn pretty.
Roasted Lemon Garlic Chicken Drumsticks Recipe: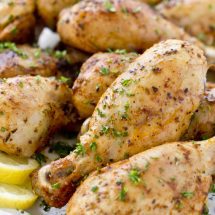 Roasted Lemon Garlic Chicken
It doesn't get much easier than these savory Roasted Lemon Chicken Drumsticks. They are full of lemon and herb flavor and practically fall off the bone tender and juicy.
Print
Pin
Rate
Prep Time: 10 minutes
Cook Time: 45 minutes
Total Time: 2 hours 55 minutes
Ingredients
10 Chicken Drumsticks skin removed
1 large lemon juiced and zested
1/4 cup olive oil
2 teaspoons garlic powder
2 teaspoons salt
1/2 teaspoon pepper
1 teaspoon paprika
1 teaspoon dried oregano
Instructions
Pat chicken dry and place into a 1-gallon Ziploc bag.

In a small bowl, whisk together remaining ingredients. Pour over chicken and seal the bag, squeezing out as much air as possible. Massage marinade into the chicken. Refrigerate for at least 2 hours, or preferably overnight. (If all you have is 30 minutes, that's fine - just remember the longer the marinade time, the more tender and juicy the chicken).

When ready to cook, let chicken come to room temperature (about 20 minutes). Preheat oven to 425 degrees. Arrange chicken on a foil lined baking sheet. Bake, uncovered, for about 20-25 minutes. Flip chicken pieces and cook another 10 minutes, or until chicken reaches an internal temp of 165 F and is no longer pink.

Serve immediately.
Here's another family favorite easy baked chicken recipe: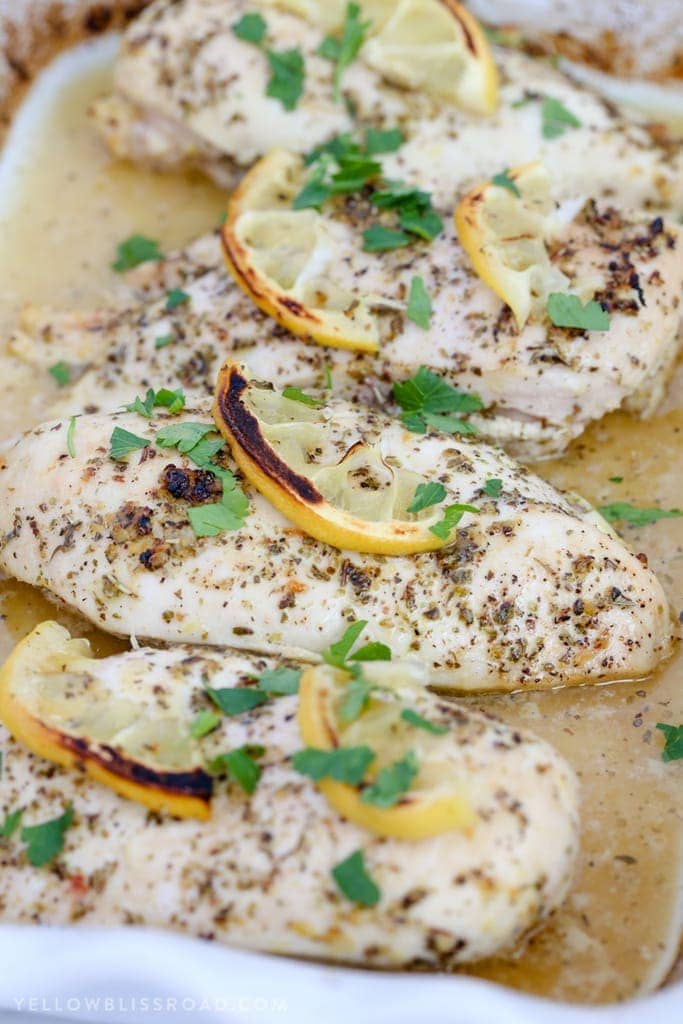 For more delicious chicken recipes, try these:
Honey Lemon Chicken and Green Beans
Savory Broiled Garlic Chicken

Hi! I'm Kristin, the creative mind behind Yellow Bliss Road where you will be inspired by tons of easy to follow recipes, lots of free printables, and a little sprinkling of life thrown in for good measure.