Lemon Garlic Roasted Chicken Drumsticks
It doesn't get much easier than this savory Lemon Garlic Roasted Chicken Drumsticks recipe. The marinade is full of flavor and the meat is practically fall off the bone tender and juicy.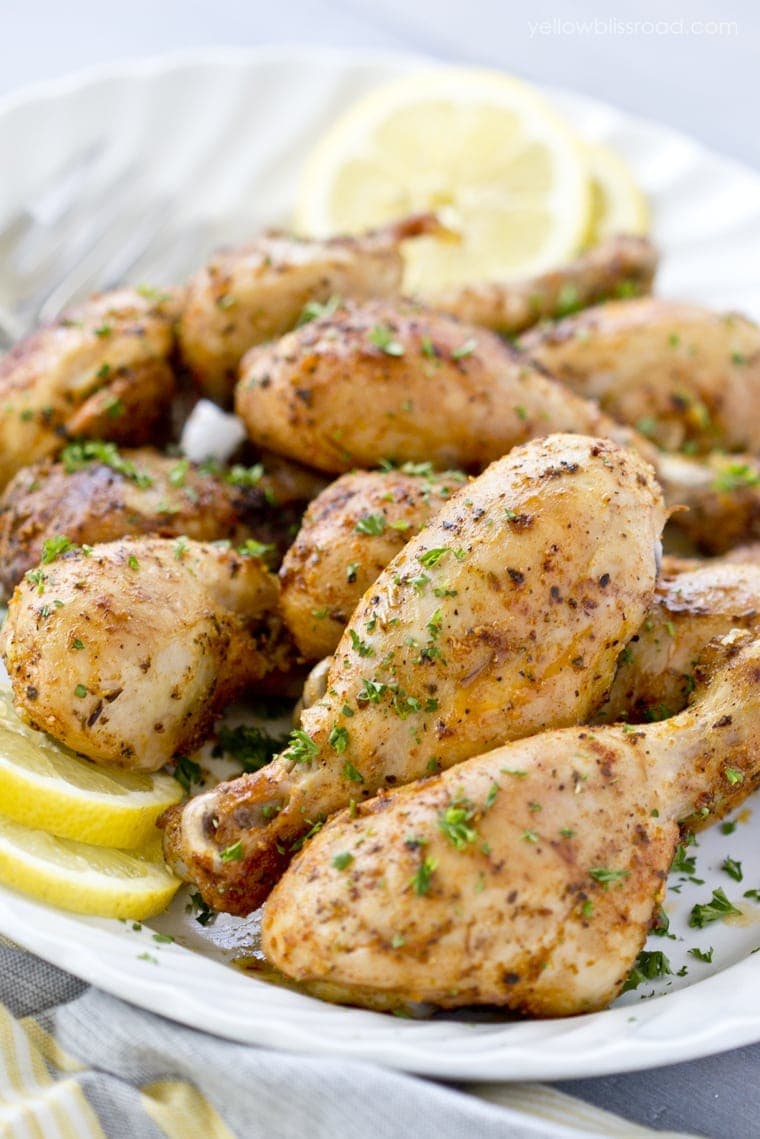 My whole family is obsessed with these baked chicken drumsticks. They will eat the leftovers, cold, straight out of the fridge! But for dinner, we like to have them with a whole handheld meal with things like Air Fryer Tater Tots, Homemade Baked French Fries, and Corn on the Cob.
Most of my life I've been a boneless, skinless white meat kind of girl. I think it's because meat on the bone freaks me out. But in the past couple of years, I have learned to appreciate the flavor packed bone-in dark meat of the thigh and drumstick. That's probably because my son is pretty much obsessed with chicken on the bone.
Upon hearing that dinner is "chicken again??" his next question is, "Wait. Is it on the bone?" A "yes" is met with a cheer while a "nope, sorry" is met with a rather impressive groan. So I've been trying to constantly come up with new ways to serve this favorite meat. Our latest favorite is this Lemon Roasted Chicken Drumsticks recipe, and in case you're wondering, my picky son loved this recipe!
How to season chicken legs
An overnight marinade makes this chicken practically fall off the bone tender, however, if you don't have overnight, you could go as little as 30 minutes. Just remember that the longer it marinates, the more tender it will be.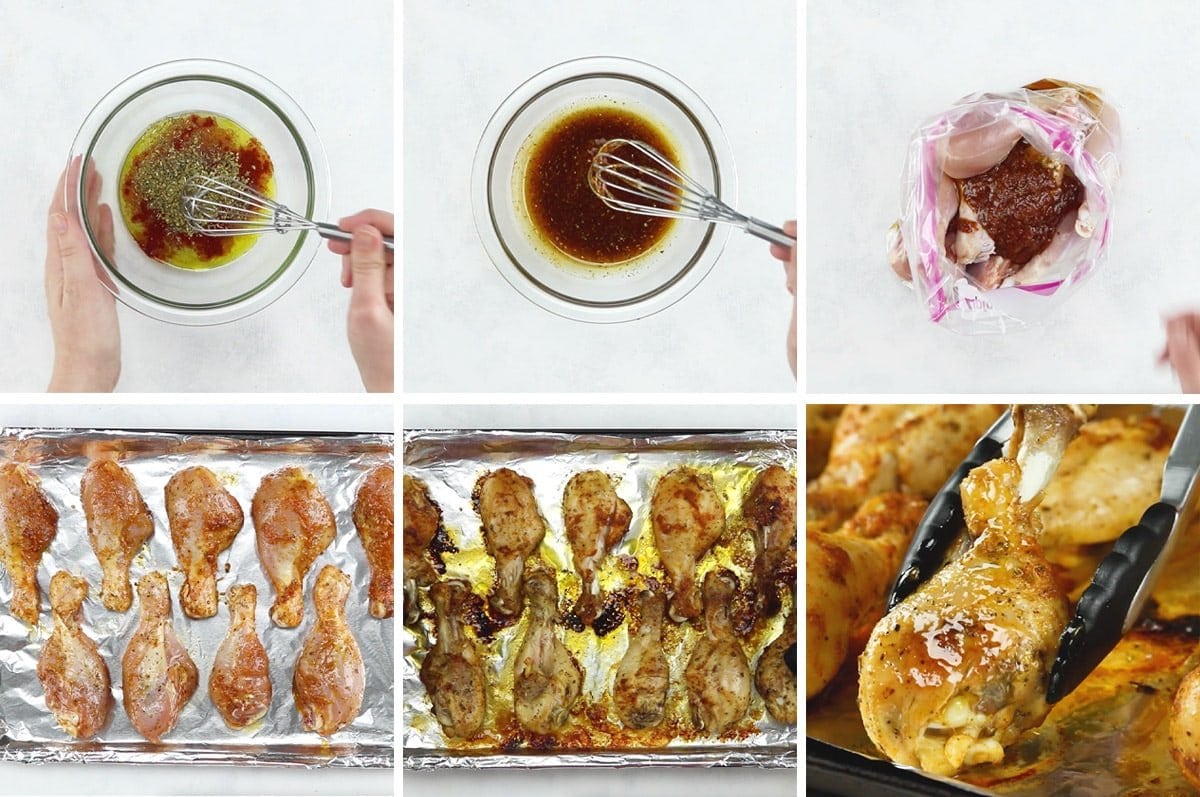 The lemon is subtle and doesn't overpower the rest of the marinade. You can of course add more lemon juice and even some lemon zest for a more intense punch of lemon. The seasoning is similar to what I use in my simple chicken seasoning, with some added herbs:
Garlic powder – I use the granulated garlic for simplicity, but for a more intense garlic flavor you can use 1-2 cloves of minced garlic.
Smoked paprika – for an added smoky flavor.
Dried oregano – or use fresh, just double the amount.
Kosher salt
Black pepper
The flavors blend so well together and are what makes this chicken recipe so irresistibly delicious. If you want to forgo the marinade and just season the chicken with this flavor profile, you could certainly do that as well.
How to Bake Chicken Drumsticks
Marinate – mix up the marinade and pour it into a resealable plastic bag. You could also use a plastic or glass container, but I like to use bags for marinades because you can squeeze out most of the air and really help the sauce permeate the meat. I try to give at least 2 hours for marinating, but if you only have 30 minutes you'll still get some good flavor.
Chicken – Obviously we are going with chicken legs here but you can use chicken thighs if that's what you like. My preference is to remove the skin, but if you're looking for skin-on crispy baked chicken legs, we do that too.
Bake – Preheat the oven to 425 degrees and arrange the marinated chicken on a baking sheet covered with foil. Roast at high heat for about 25 minutes, then flip over and continue to cook the chicken for about 10-20 minutes more or until the temperature reaches 165 degrees F on a meat thermometer.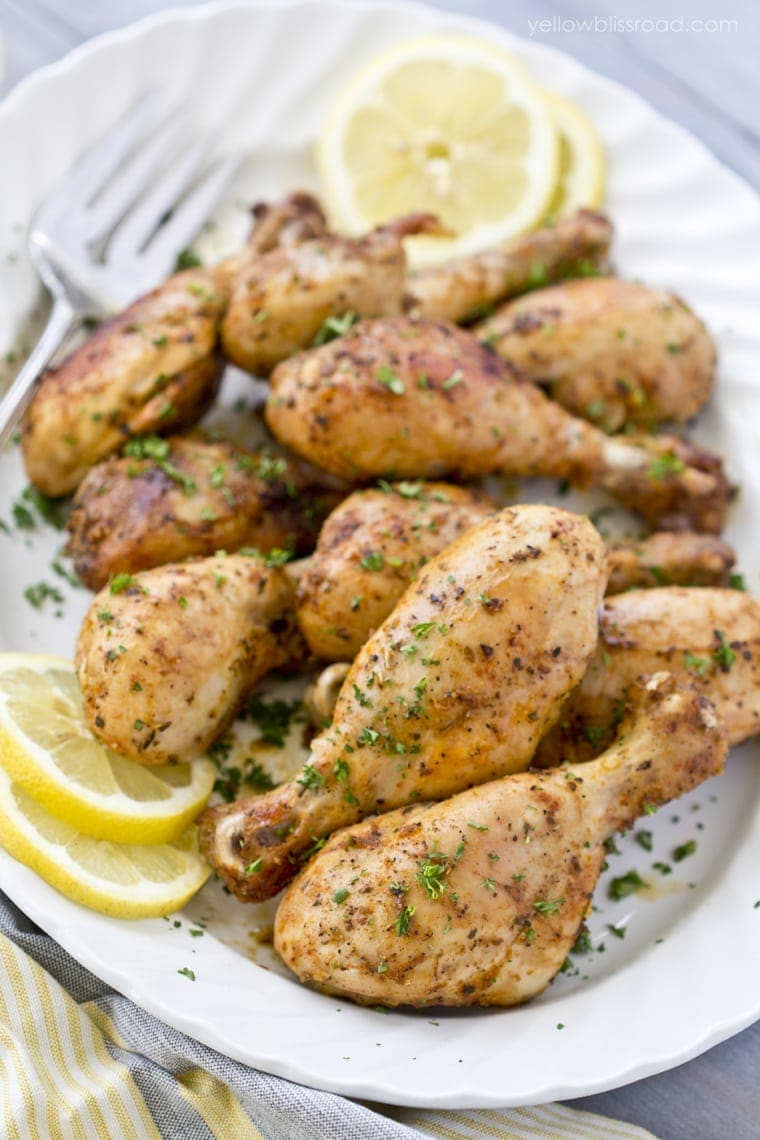 How long to cook chicken drumsticks in the oven
Chicken drumsticks take a little longer than boneless chicken. I recommend baking chicken legs at 425 degrees  for 35-45 minutes. The cook time will depend on your oven and the size of the drumsticks. I do flip the chicken about halfway through to ensure even cooking.
Always make sure that the meat is thoroughly cooked to 165 degrees. Use a digital meat thermometer close to but not touching the bone. When pierced, the juices should run clear. If they're pink, it's not done.
Here's a handy guide for baking chicken drumsticks at various temperatures:
350 degrees: 1 hour
375 degrees F: 45-55 minutes
400 degrees F: 40-50 minutes
425 degrees F: 35-45 minutes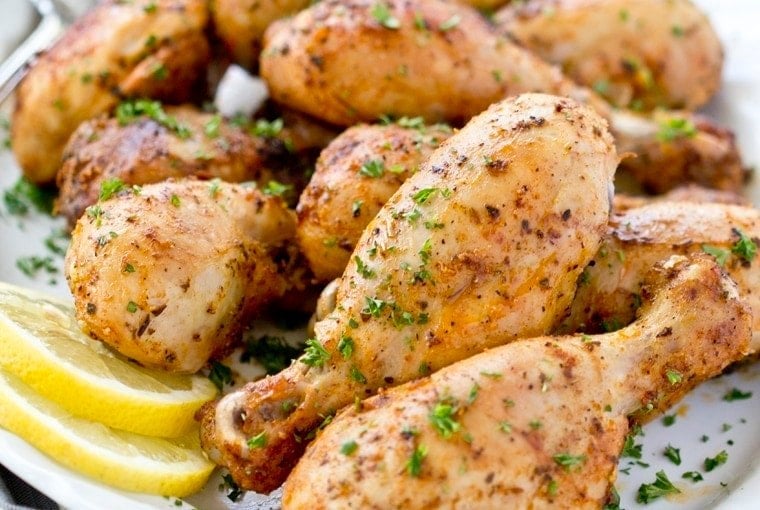 Do you cover drumsticks in the oven?
You cover something in the oven for one of two reasons.
You don't want it to brown too fast on top or burn.
You want to steam it, like my Chicken and Rice Bake.
We don't want any of those things, so you can bake chicken drumsticks uncovered.
What should I serve with chicken drumsticks?
With their bright lemon flavord, this baked chicken leg recipe lends itself to a lot of citrusy flavors. They will go great with Easy Roasted Veggies, Fresh Corn Salad, or Baked Potato Wedges to match the finger foods vibe.
They will also pair quite well with a simple side dish like Olive Garden Salad and Rice Pilaf.
Recipe Notes and Tips
The longer you can marinate, the better. At least 2 hours is best or up to 24 hours.
Discard any leftover marinade – do not brush onto cooked chicken or re-use.
Use nonstick foil or spray the foil with cooking spray. Don't be afraid to spray it even if you are using nonstick foil.
As much as I love chicken skin, I prefer to remove the skin from the chicken legs for this recipe. If using chicken thighs, you can decide whether to leave it on or remove it or use boneless chicken thighs.
Bonus tip: When you bring chicken home from the store, prep marinades and place the meat and marinade together in freezer bags. Keep in the freezer up to 3 months, and pull out to thaw in the fridge overnight. As the meat is thawing, it will be soaking up the flavors of the marinade!
Storage and Reheating
Storing leftovers: Keep leftovers in an airtight container in the refrigerator for 4-5 days or in the freezer for up to 4 months.
Reheating: Thaw completely if frozen, then reheat at 350 degrees in the oven or air fryer. In a pinch, you can reheat in the microwave. They are also pretty delicious cold, or shredded and added to a salad.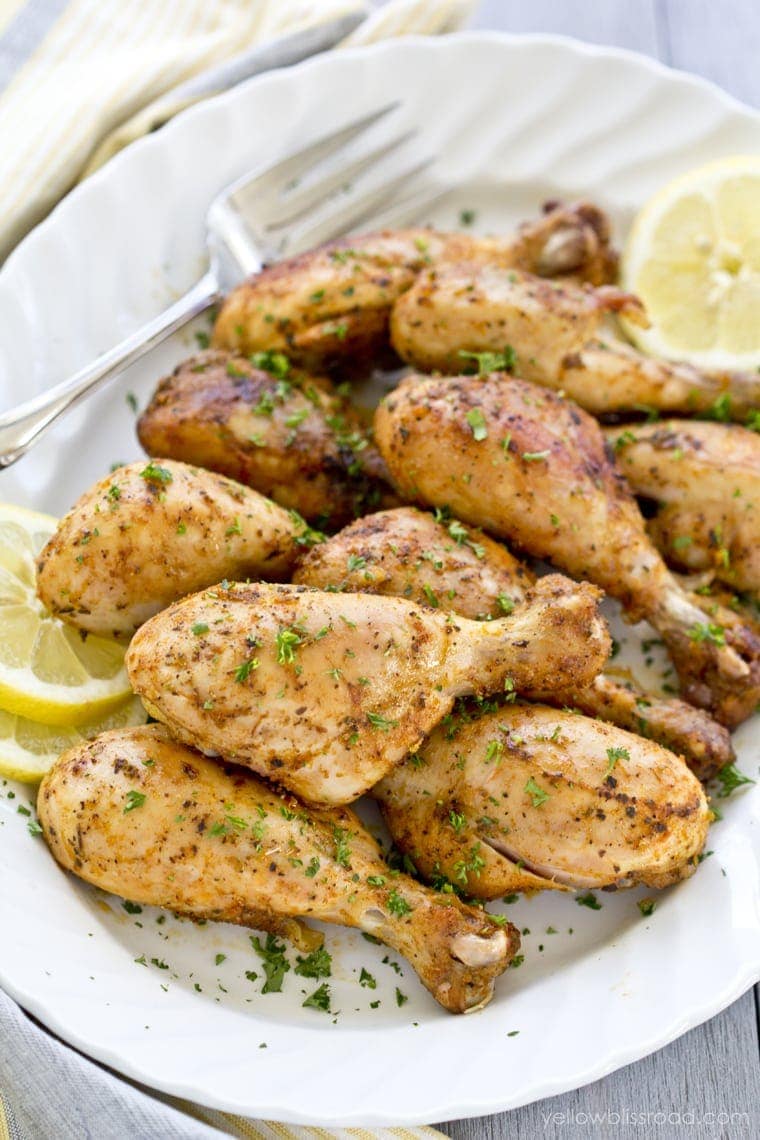 For more delicious chicken recipes, try these:
If you've made this recipe, please come back and leave us a star rating or a comment below. Or, tag us on social media @yellowblissroad or #yellowblissroad for a chance to be featured.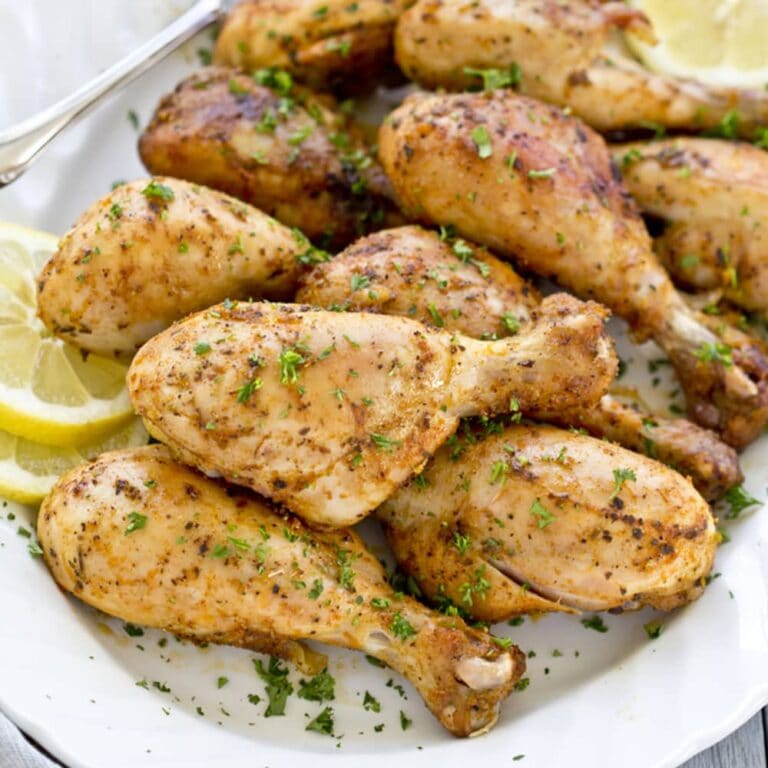 Roasted Lemon Garlic Chicken
It doesn't get much easier than these savory Roasted Lemon Chicken Drumsticks. They are full of lemon and herb flavor and practically fall off the bone tender and juicy.
Ingredients
10

Chicken Drumsticks

skin removed

1

large lemon

juiced and zested

1/4

cup

olive oil

2

teaspoons

garlic powder

2

teaspoons

salt

1/2

teaspoon

pepper

1

teaspoon

paprika

1

teaspoon

dried oregano
Instructions
Pat chicken dry and place into a 1-gallon Ziploc bag.

In a small bowl, whisk together remaining ingredients. Pour over chicken and seal the bag, squeezing out as much air as possible. Massage marinade into the chicken. Refrigerate for at least 2 hours, or preferably overnight. (If all you have is 30 minutes, that's fine - just remember the longer the marinade time, the more tender and juicy the chicken).

When ready to cook, let chicken come to room temperature (about 20 minutes). Preheat oven to 425 degrees. Arrange chicken on a foil lined baking sheet. Bake, uncovered, for about 20-25 minutes. Flip chicken pieces and cook another 10 minutes, or until chicken reaches an internal temp of 165 F and is no longer pink.

Serve immediately.