This Honey Lemon Chicken and Green Beans has a ton of flavor and can have dinner on the table in just 20 minutes!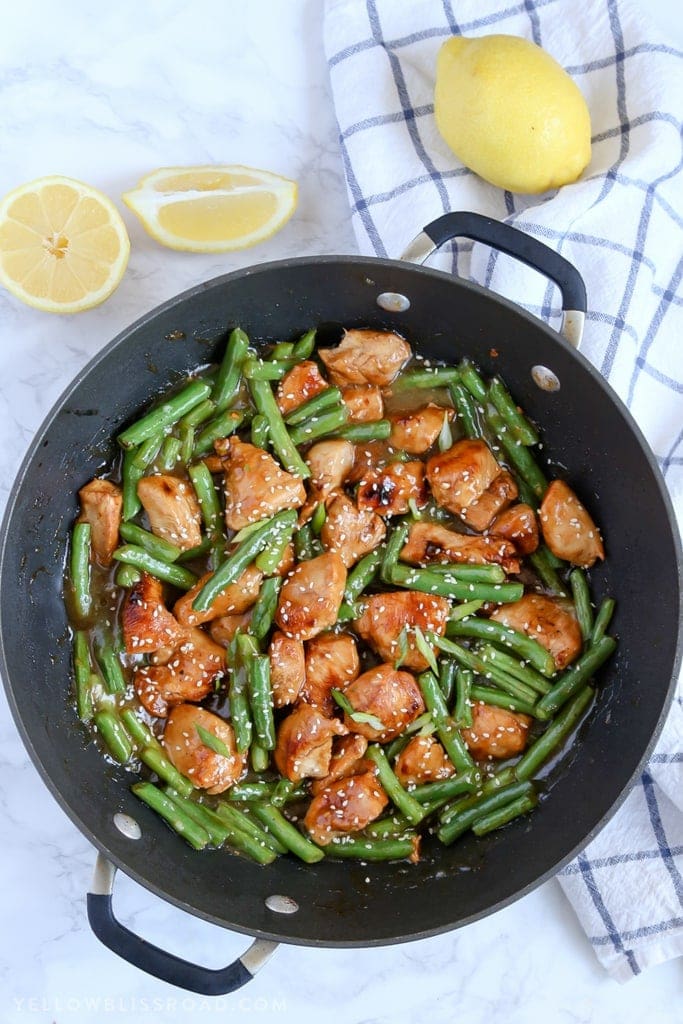 Lemon chicken is just one of those dinner recipes that just about everyone enjoys. It's always been a favorite of mine, although the same old thing can get boring. Introducing the opposite of boring – Honey Lemon Chicken and Green Beans. This dish has got it all! Crunchy green beans, tender, flavorful chicken, and a sweet and tart sauce that coats every bite.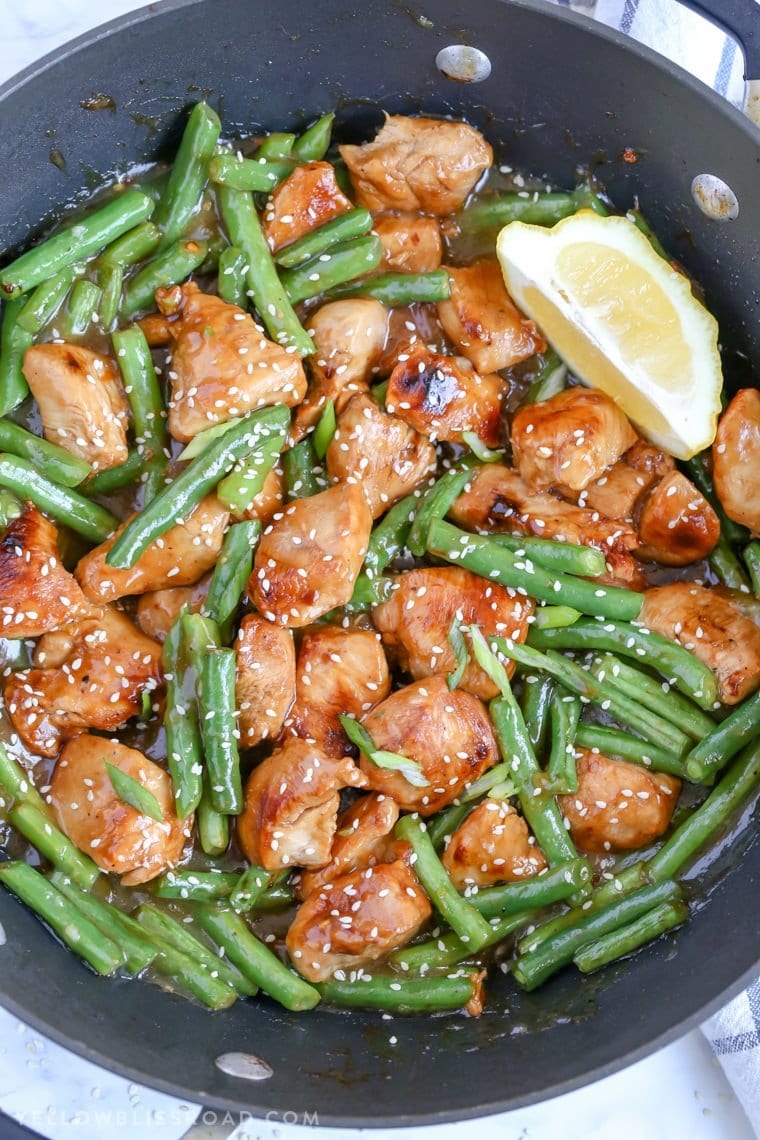 MY LATEST VIDEOS
The best part is it can be ready in 20 minutes, prep time and all. I did marinate my chicken in soy sauce and rice vinegar for about 30 minutes before cooking, but you could also just toss the chicken in that combo and and let it sit while you prep and start cooking. The chicken cooks in the marinade anyway. Either way it's delicious!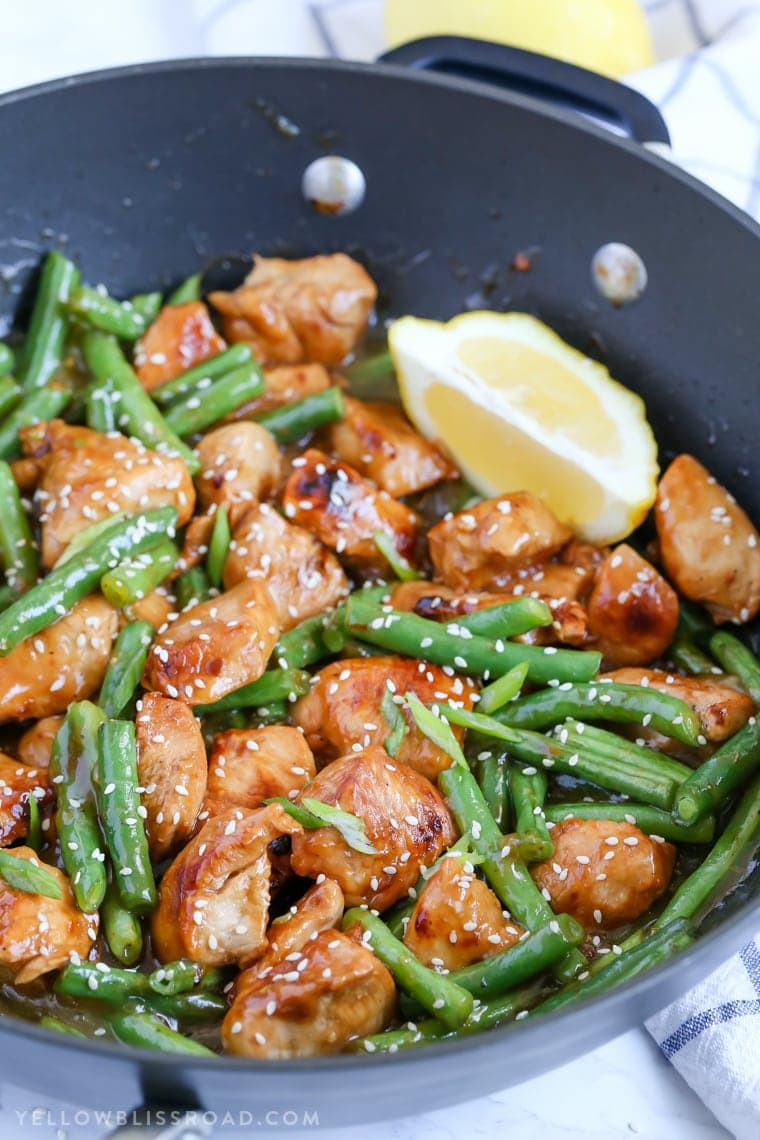 Start by cutting up the chicken and the green beans. Toss the chicken into the soy sauce and rice wine vinegar marinade and set aside while you cut up the green beans and mix up the honey lemon sauce. You'll need a nice big 12-inch skillet or wok (like this one). Cook the green beans until they are tender, but still crisp, then transfer them to a large bowl or plate. Add the chicken to the skillet, marinade and all, and cook for several minutes. Be sure to move the chicken around the skillet and turn each piece over at least one to get it brown and cooked through.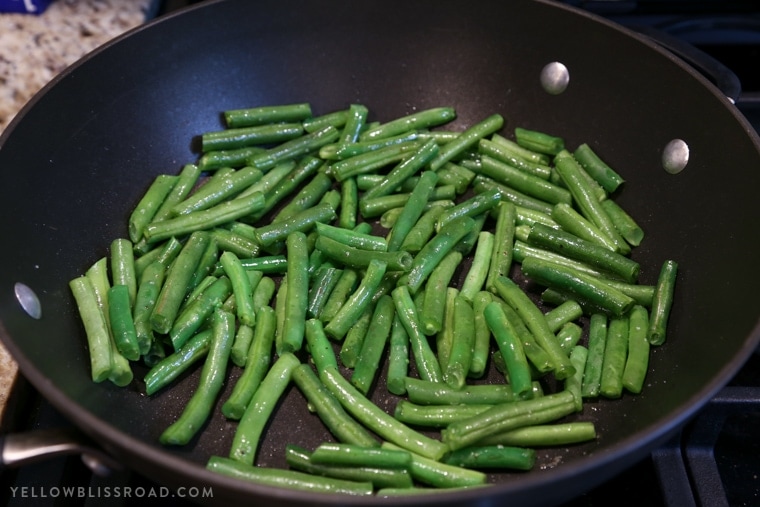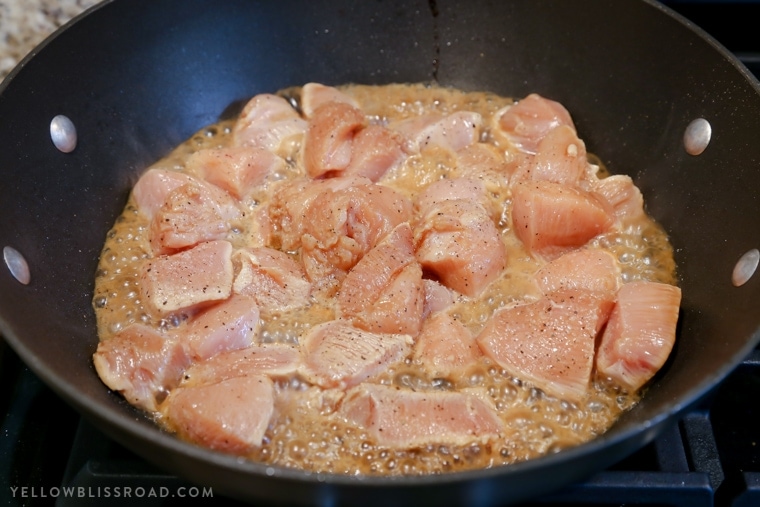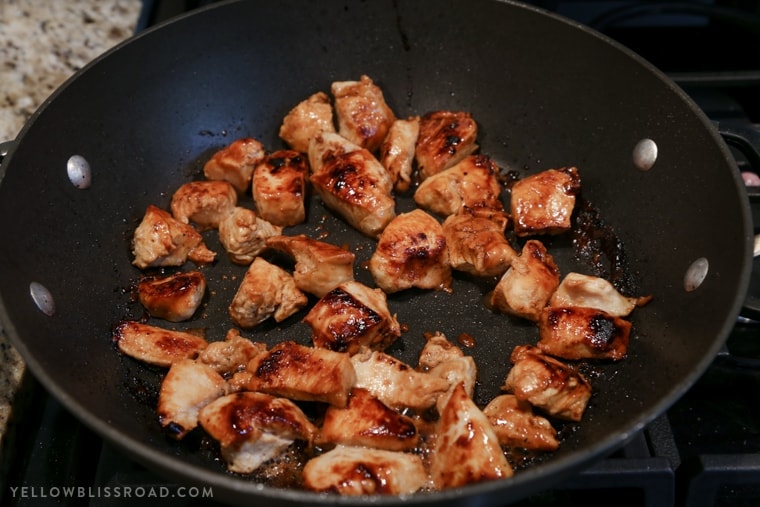 Add that chicken to the same bowl as the green beans. Finally, heat the sauce to a low boil – it will get nice and thick and yummy. You'll know it's done when you can slide your spoon or whisk through it and it doesn't fill in right away.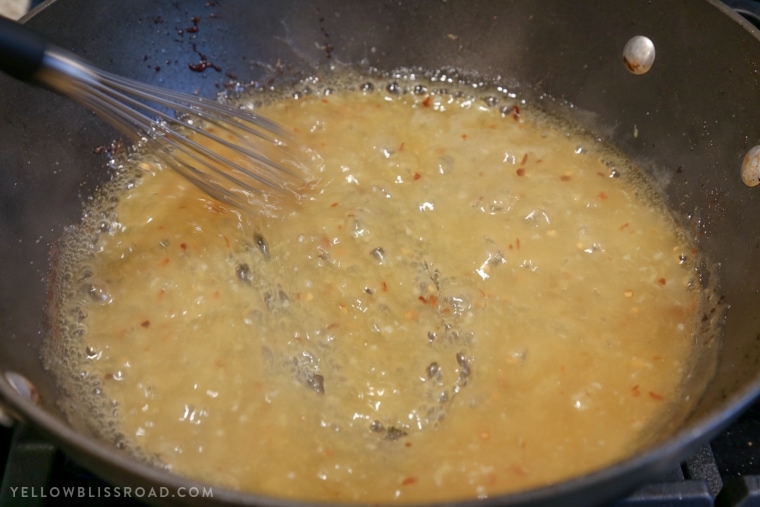 Once the sauce is thickened you can add the chicken and green beans back in and toss it all around to coat. I like topping this dish with some sesame seeds and slice green onions, but that is totally optional.
I am already dreaming of the next time I will make this Honey Lemon Chicken and Green Beans…tonight it is!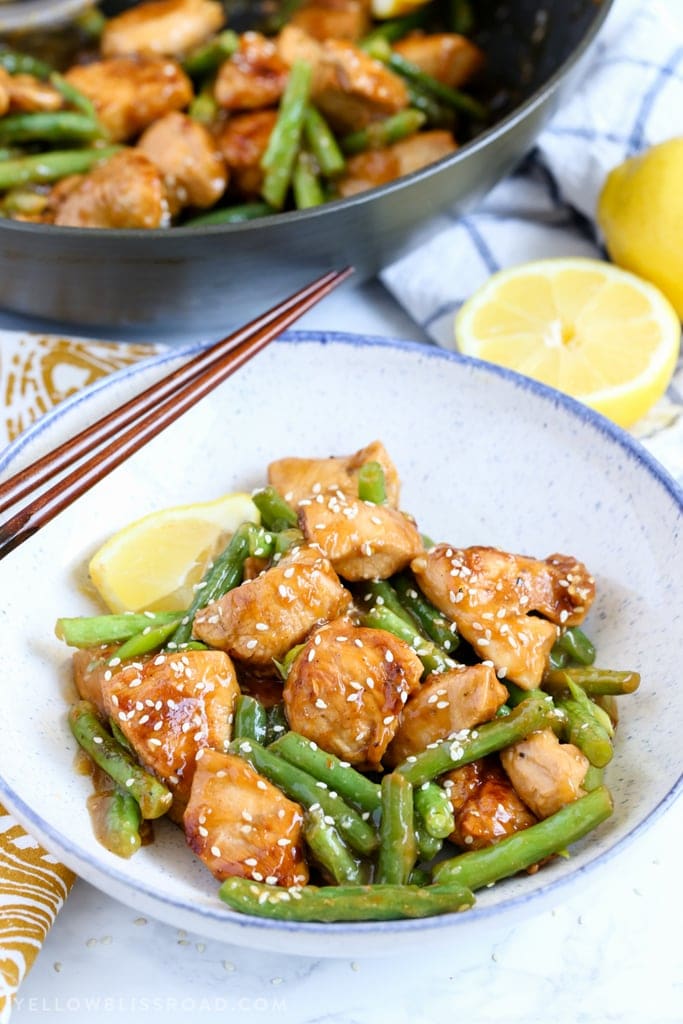 Honey Lemon Chicken and Green Beans
Prep
Cook
Total
Yield 3 -4 servings
Ingredients
Honey Lemon Chicken and Green Beans
1 1/2 pounds boneless, skinless chicken breasts, cut into bite-sized pieces (2 large chicken breasts)
3 tablespoons low sodium soy sauce
2 tablespoons rice wine vinegar
salt and pepper
Olive oil
12 ounces green beans, trimmed and cut into bite sized pieces (about 2 cups)
Honey Lemon Sauce (see below)
Honey Lemon Sauce:
3/4 cup low sodium chicken broth
Juice and zest from 1 large lemon
1/4 cup honey (or more/less to taste)
2 tablespoons cornstarch
1/4 teaspoon ground ginger
1/2 teaspoon red pepper flakes
1 garlic clove, minced
Instructions
Combine the chicken, soy sauce and rice wine vinegar in a large zip-top bag, and toss until the chicken is evenly coated. Refrigerate for at least 30 minutes, or up to 8 hours. (If no time to marinate, just toss the chicken, soy sauce and vinegar in a small bowl and let sit while you prep the rest of the recipe).
In a small bowl, whisk the sauce ingredients together until combined. Set aside.
Heat a tablespoon of oil in a large skillet over medium-high heat. Add green beans and season with a pinch of salt. Stir and cook for 3-4 minutes, until beans are bright green but still crisp. Transfer to a large plate or bowl and set aside.
Add another tablespoon of oil to the skillet over medium-high heat. Pour the chicken from the bag into the hot skillet. Season the chicken with a pinch of salt and pepper.
Add the chicken and saute for 5-7 minutes or until cooked through and no longer pink, stirring and turning the chicken occasionally for even browning. Using a slotted spoon, add the chicken to the plate with the green beans.
Pour the whisked honey lemon sauce into the empty saute pan. Cook over medium-high heat for 2-3 minutes, or until the sauce reaches a low boil and thickens. Taste and adjust seasonings to your liking (salt, pepper, honey, lemon).
Add the chicken and green beans back into the pan and toss until evenly coated with the sauce. Remove from heat and serve immediately, topped with green onions and sesame seeds, if desired. Can be served over steamed white or brown rice, or on it's own.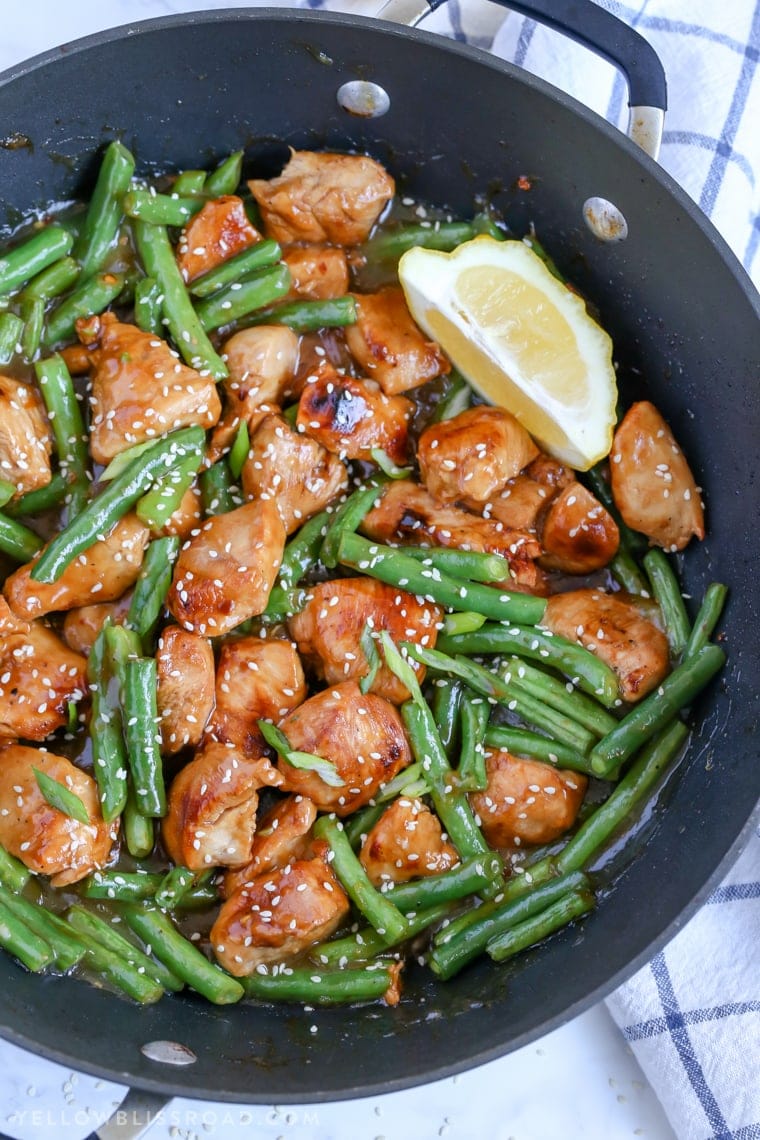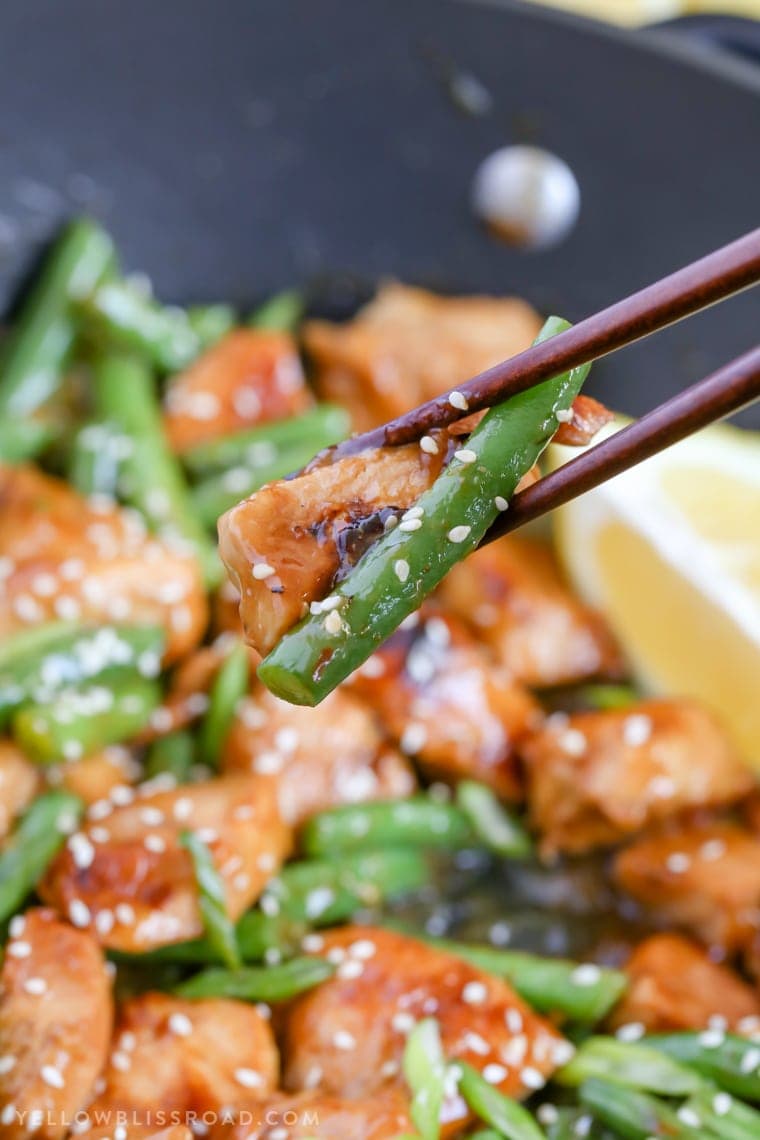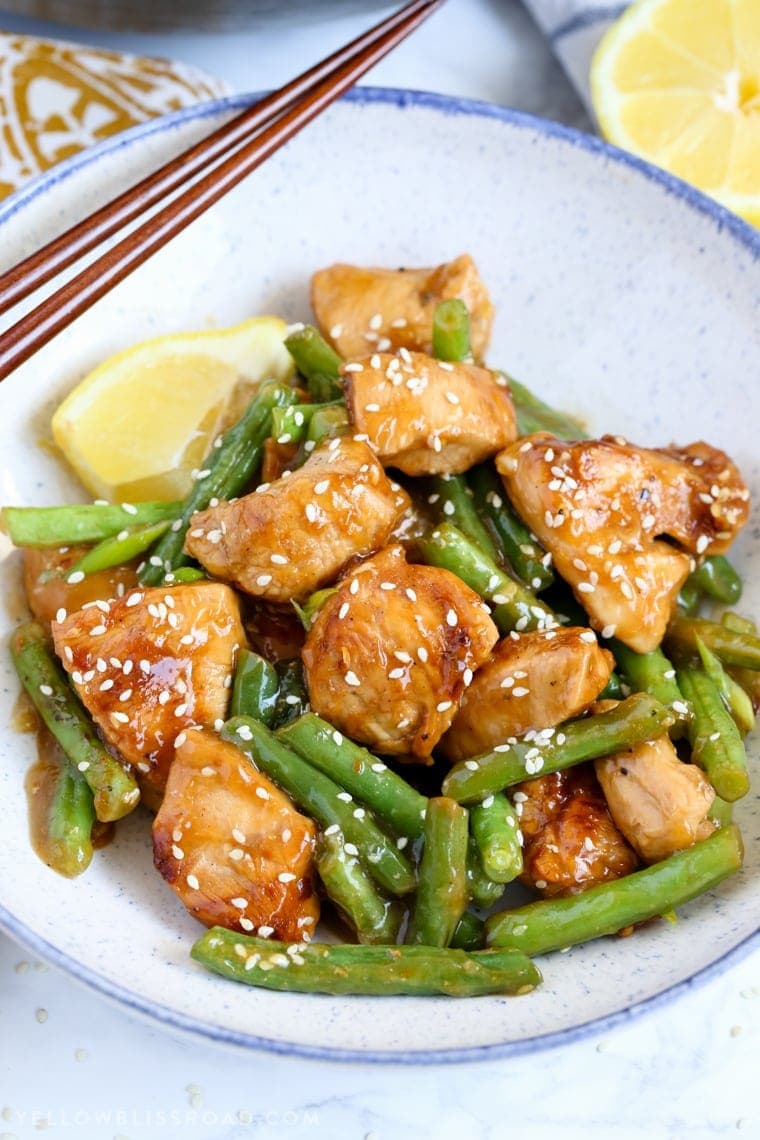 For more easy recipe like this try these:
Chicken and Asparagus Stir Fry
One Pan Lemon Chicken Picatta Pasta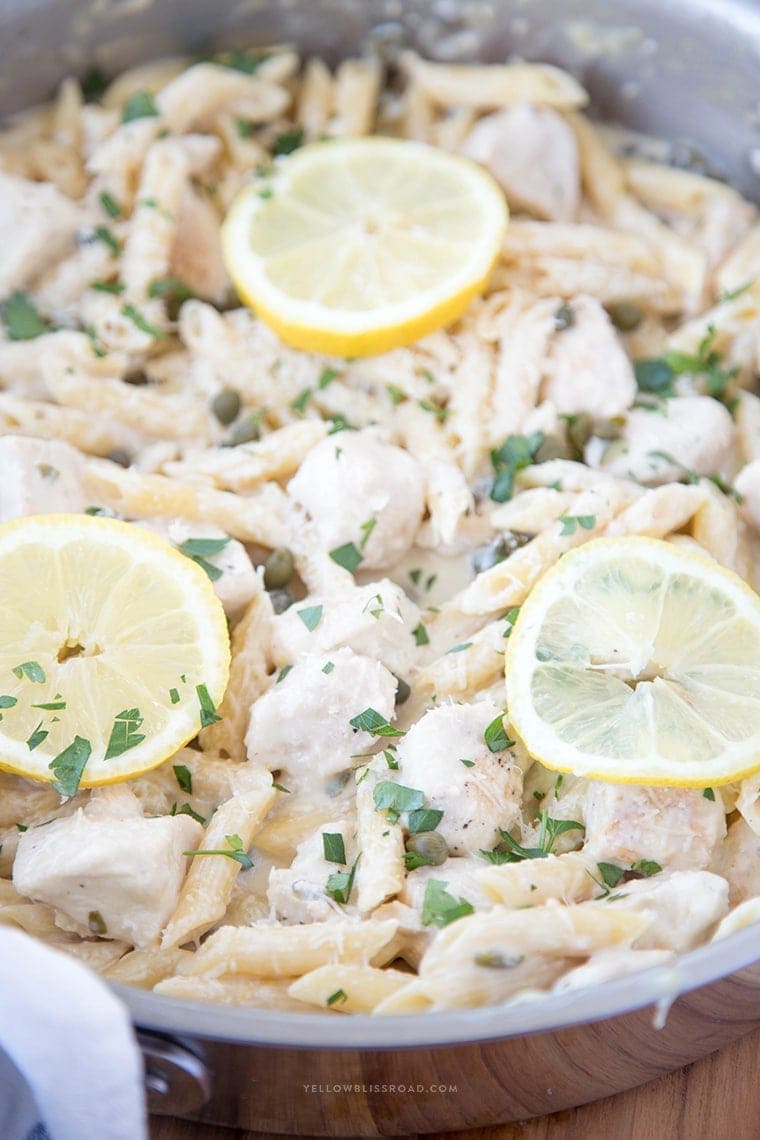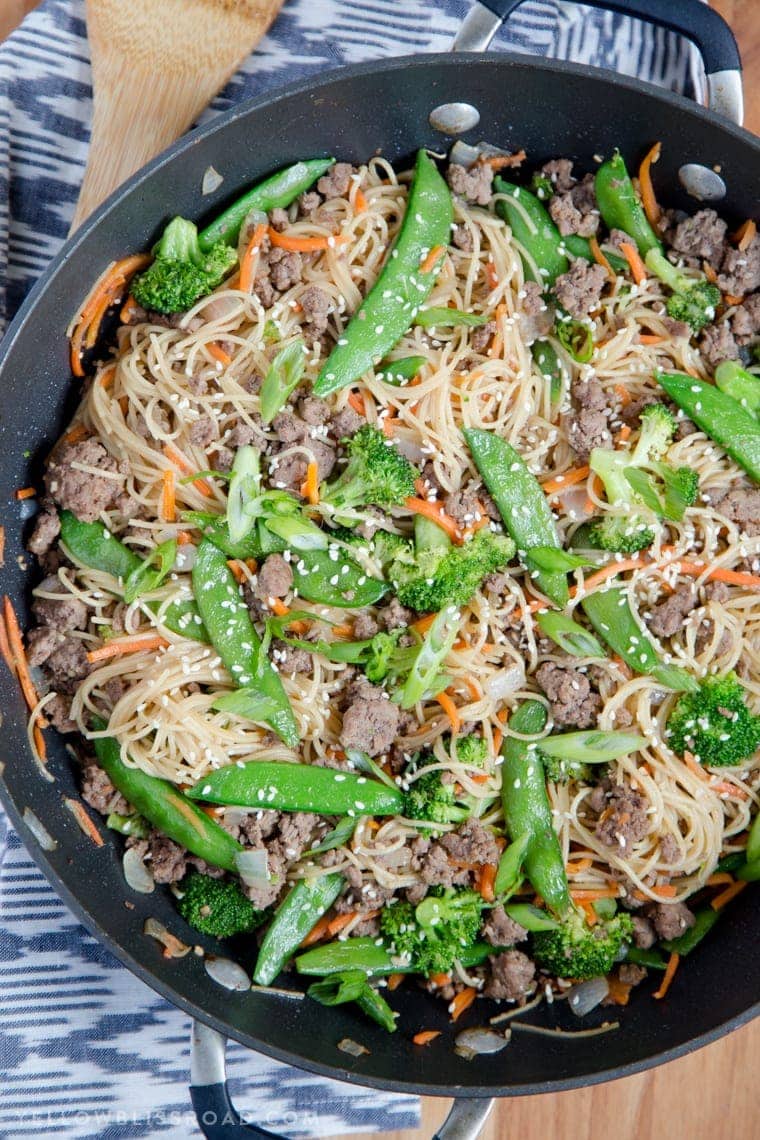 Italian Chicken and Veggie Sheet Pan Dinner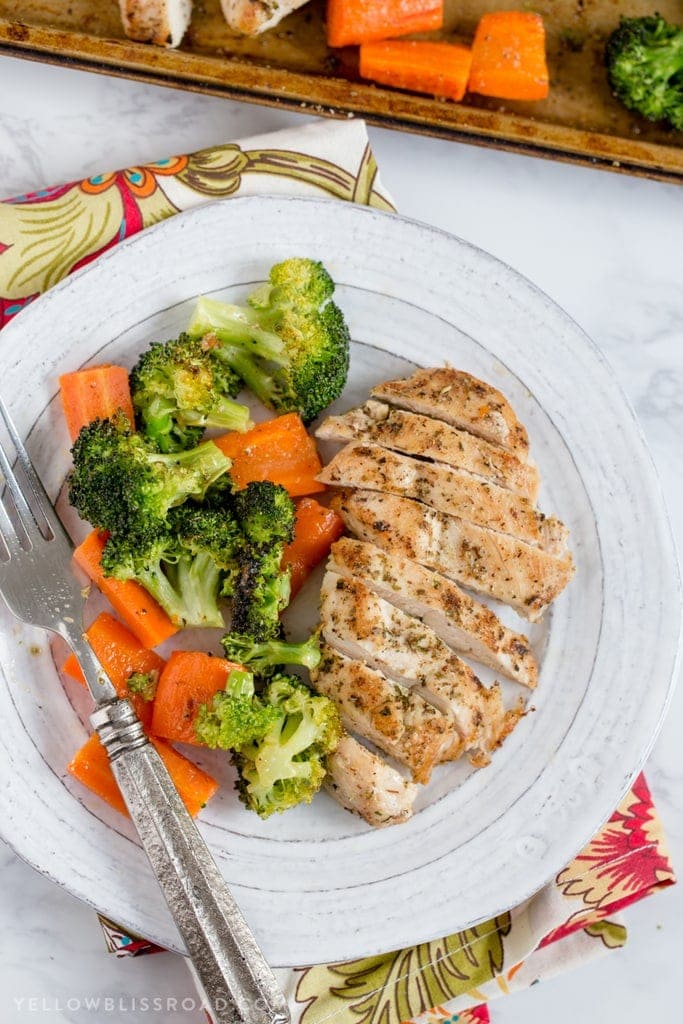 One Pan Tomato Basil Chicken Linguine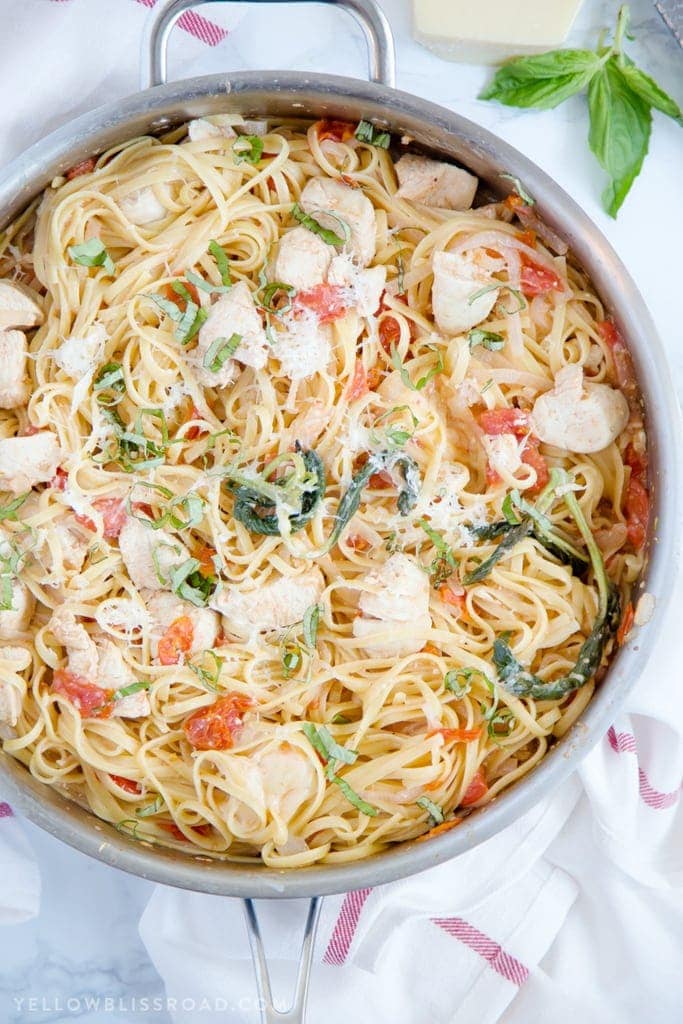 For all dinner recipes go HERE and for the Recipe Index go HERE.
Hi! I'm Kristin, the creative mind behind Yellow Bliss Road where you will be inspired by tons of easy to follow recipes, lots of free printables, and a little sprinkling of life thrown in for good measure.