Chicken Lo Mein is a take-out favorite that quick and easy to make at home! Lo mein noodles, chicken, and veggies topped with a flavorful sauce!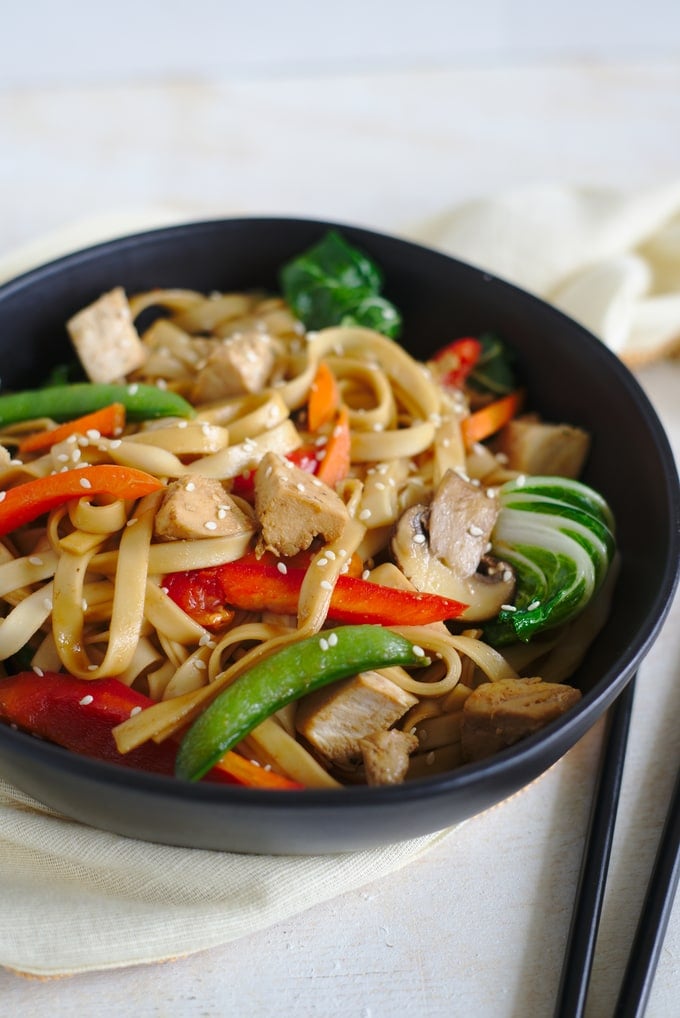 Noodles are one of my absolute favorite things to make! I love how versatile they are and easy.  On busy weeknights after working all day, I just want a meal that I can throw together in just 20-30 minutes with very little effort and this chicken lo mein recipe sure fits the bill! It's jam-packed with fresh vegetables and chicken so you get a fantastic variety of flavors, textures, and colors from everything mixed into the noodles and the sauce is fantastic! All you need are a few simple ingredients to make the sauce that you probably already have on hand!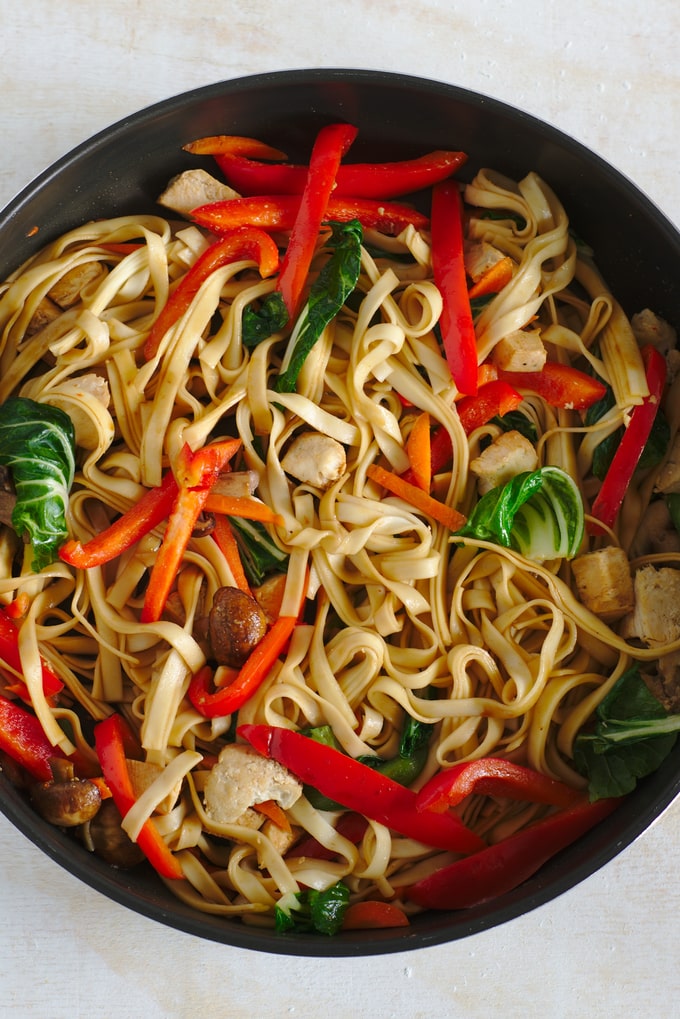 Another great thing about this lo mein recipe is that it is a great way to use up any random fresh vegetables sitting around in your fridge.  You can customize the vegetables in the recipe by just adding vegetable varieties you like or removing ones you aren't a fan of.  When I made this, I had a whole bunch of extra bok choy from a pork ramen recipe I had just made earlier that week but instead of using boy choy, you could just sub in spinach.  Feel free to experiment with different veggies!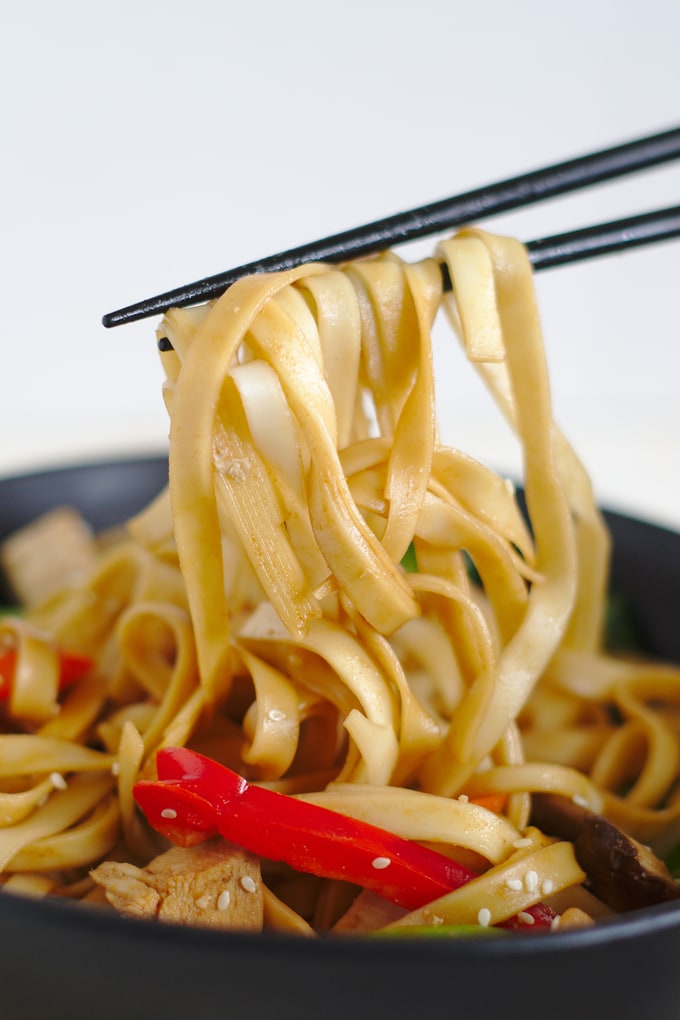 Additionally, I made the chicken ahead of time when I was doing some meal prep for the week.  It helped save time when it came to making this for dinner in the evening but if you do not have any made ahead of time, no worries! Just dice up two chicken breasts and cook them in the pan before you cook the veggies.  I suggest leaving the chicken in the pan with the veggies whether you just cooked it or you made it ahead of time so that it can stay warm and soak up some of the flavors of the veggies as they cook.
One last note on the recipe, if you do not have lo mein noodles on hand, it is okay! You can use ramen noodles, rice noodles, or any other kind of Asian noodle you might have on hand.  Even the noodles pictured are wide lo mein noodles since that is what my grocery store had available!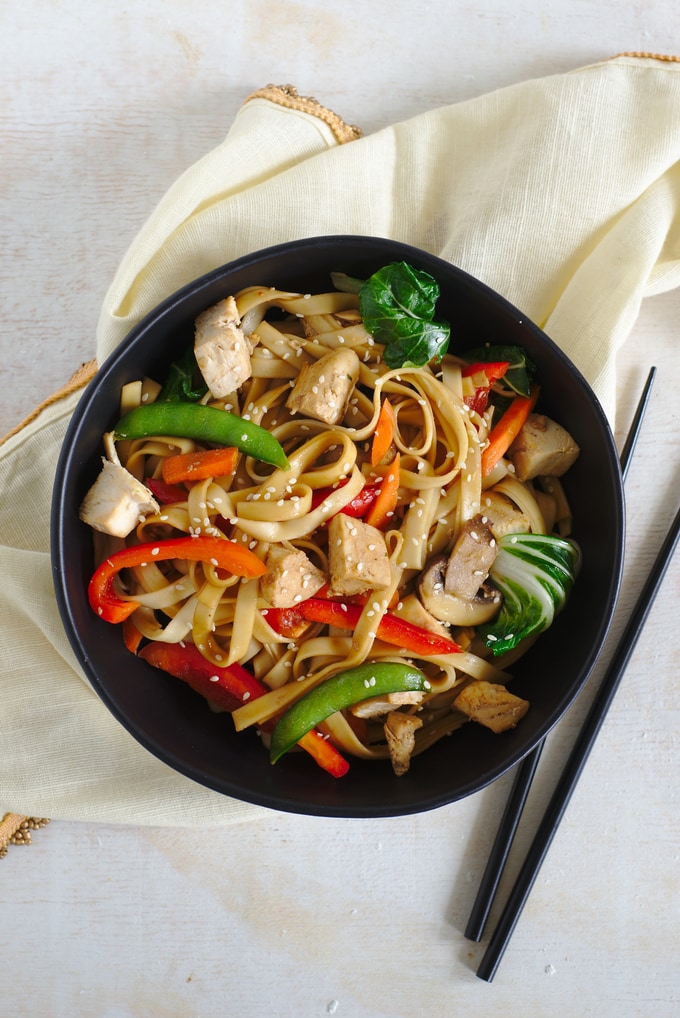 Want more Asian inspired recipes?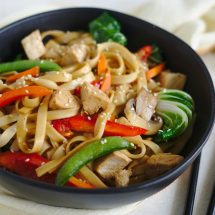 Chicken Lo Mein
Chicken Lo Mein is a take-out favorite that quick and easy to make at home! Lo mein noodles, chicken, and veggies topped with a flavorful sauce!
Print
Pin
Rate
Prep Time: 10 minutes
Cook Time: 10 minutes
Total Time: 20 minutes
Servings: 2 servings
Ingredients
8 ounces lo mein noodles
1 tablespoon olive oil
2 chicken breasts cooked and diced
1 bell pepper julienned
1 cup bok choy
1 cup pea pods
1 cup carrots chopped or shredded
1 cup mushrooms
3 tablespoons soy sauce
2 tablespoons sugar
2 cloves garlic minced
1 1/2 teaspoon sesame oil
1/2 teaspoon ground ginger
Sesame seeds for garnish
Instructions
In a small mixing bowl, combine soy sauce, sugar, sesame oil, and ground ginger.  Mix until well combined.

In a large pot, cook lo mein noodles according to the instructions on the packaging.

While noodles are cooking, place a large pan over medium-high heat.  Drizzle olive oil and cook bell pepper, peas, carrots, chicken, garlic, and mushrooms together for 4 minutes before adding in the bok choy and cooking 3-4 more minutes, stirring frequently.  The vegetables should be tender and the bok choy wilted.

Once noodles are done cooking, drain and then add them to the pan with the chicken and veggies.  Pour sauce over everything and mix together until well combined.

Top with sesame seeds and serve immediately.
Make sure to check out these amazing Asian-inspired recipes!