This easy recipe for Baked Salmon Teriyaki is sure to become a family favorite. Nestled in crisp lettuce cups, these Baked Teriyaki Salmon Lettuce Wraps are a protein-packed meal for lunch or dinner.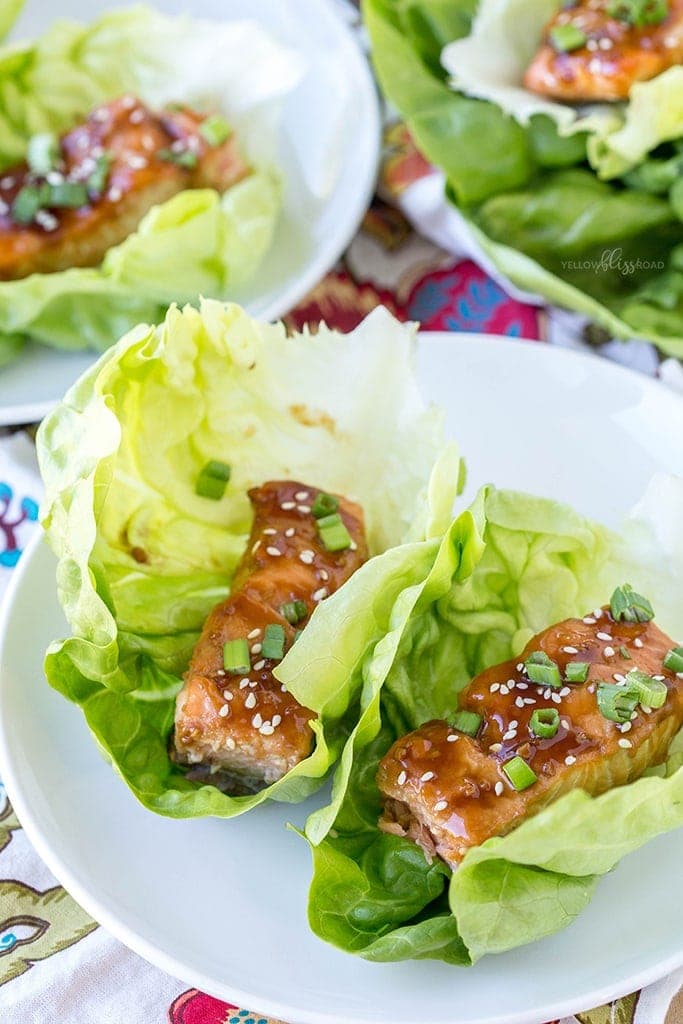 In my younger, pre-children days, some friends and I would frequent a local Japanese restaurant nearly every weekend. The food was phenomenal, and that's really where my love of sushi began. Along with sushi, we would order the barbecued salmon (which had a sweet teriyaki flavor) and the tiger shrimp lettuce wraps with this incredible, creamy sauce. They were seriously amazing, and we would gorge ourselves to the point you'd think we would have rolled out of there.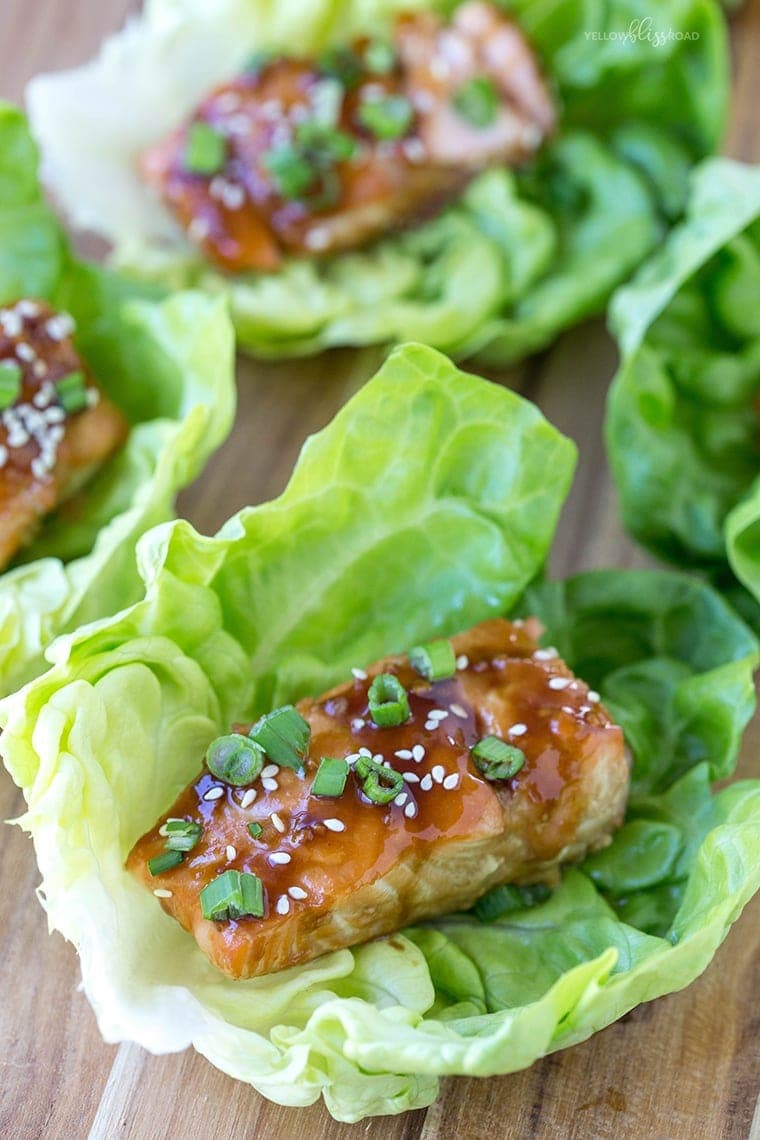 This particular recipe is a bit of a combination of the barbecued salmon and the shrimp lettuce wraps. Small portions of salmon are marinated in a sweet, homemade teriyaki sauce for a good 30 minutes, or longer if you have the time.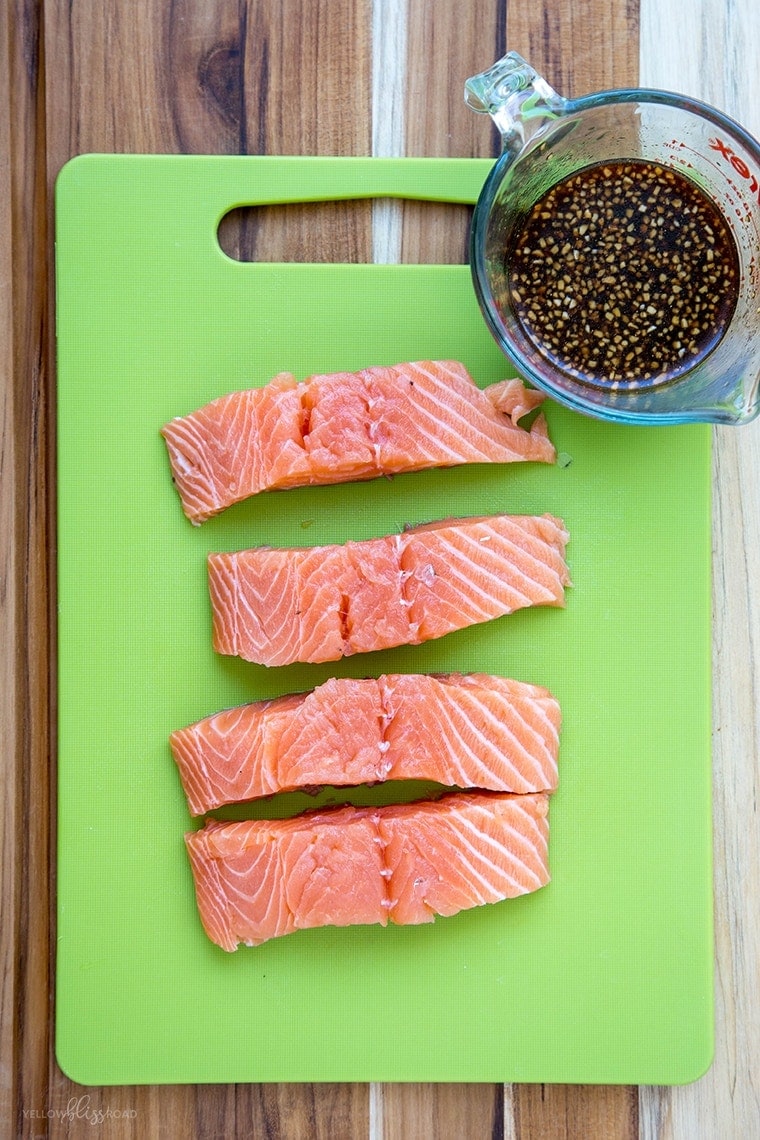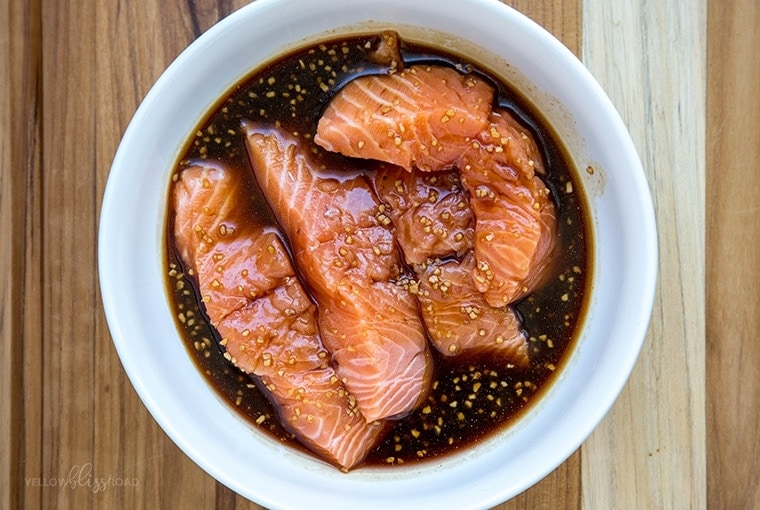 Then the marinated salmon is baked in the oven, while the remaining marinade is cooked on the stove-top to become a sweet glaze for the finished salmon. Toasted sesame seeds are completely optional, but really add a nice, slightly smokey flavor.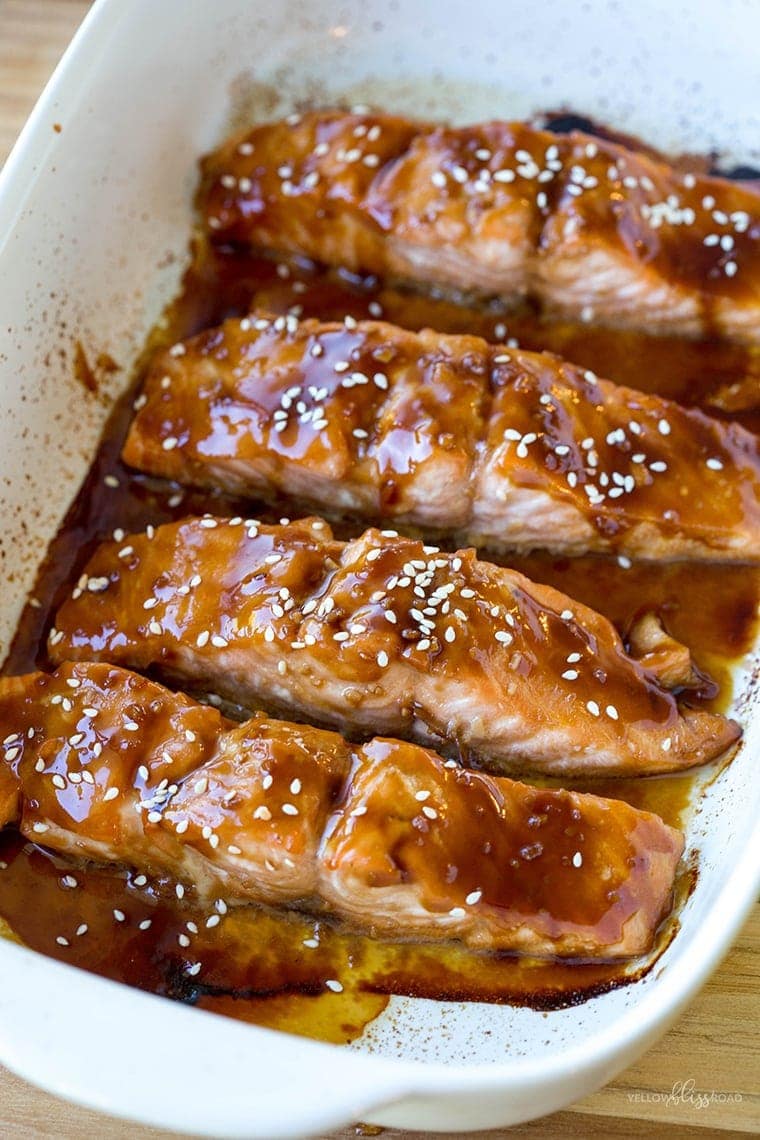 The salmon pieces are then cut in half (or not depending on the size of your lettuce cups), and placed on top of each lettuce cup. The finishing touch is that creamy sauce, which is really just a combination of mayo, soy sauce, ginger and honey.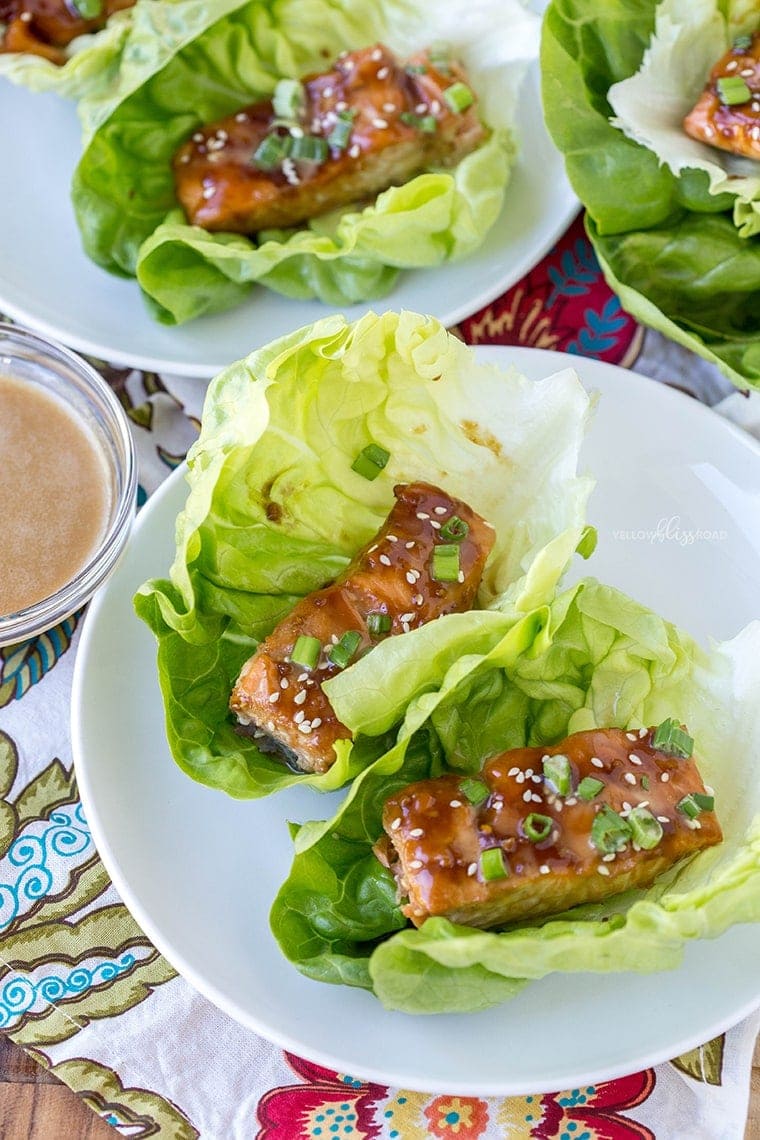 Teriyaki Salmon Lettuce Wraps
Ingredients
1 pound salmon, divided
2 tablespoons teriyaki sauce
2 tablespoons soy sauce
2 tablespoons brown sugar
2 teaspoons minced garlic
1 tablespoon rice vinegar
1 tablespoon sesame seeds (for garnish)
1 tablespoon olive oil
2 green onions (for garnish)
8 lettuce cups (butter, iceberg or romaine work best)
Creamy Ginger Soy Sauce
1/2 cup mayonnaise
2 tablespoons soy sauce
2 tablespoons honey
1/2 teaspoon ground ginger
Instructions
Divide salmon into 4 equal size pieces.
In a medium size bowl, whisk together teriyaki sauce, soy sauce, brown sugar, garlic, olive oil and rice vinegar until well combined.
Place salmon pieces in the teriyaki mixture and coat completely. Cover the boil with plastic wrap or foil and place in the refrigerator to marinate for 20-30 minutes.
While the salmon is marinating, divide lettuce leaves, keeping each leaf in tact to form "cups." Wash gently and set aside on paper towels to dry.
Preheat oven to 400 degrees F. Spray a medium size baking dish with cooking spray. Arrange salmon (not touching) in the dish and bake for 12-16 minutes, reserving the sauce. Cooking time will depend on size and thickness; it's done when the salmon is a light pink color and is tender and flaky.
While the salmon is baking, pour the sauce into a small saucepan and being to a boil over medium heat. Reduce heat to low and stir often, until sauce is reduced and thickened; about 4-5 minutes. You will know it's done when it coats the back of a spoon. Set aside.
Remove salmon from the oven. Pour thickened sauce over each piece and garnish with sesame seeds and green onion.
Arrange lettuce cups on a platter and place half of each piece of salmon in a cup. Drizzle with Creamy Ginger Soy Sauce (recipe below), if desired.
Fore more healthy dishes like this one, try these:
Orange & Balsamic Grilled Chicken Lettuce Wraps
For all salads go HERE, for all main dishes go HERE and for all recipes go HERE.