This Honey Chicken recipe is a homemade version of the favorite Chinese takeout dish! It combines crispy chicken tossed in a sweet and salty honey and soy sauce.
Serve the honey chicken over steamed rice for a takeout inspired dinner. To complete the meal, make crab rangoon or try these pan fried noodles instead of rice.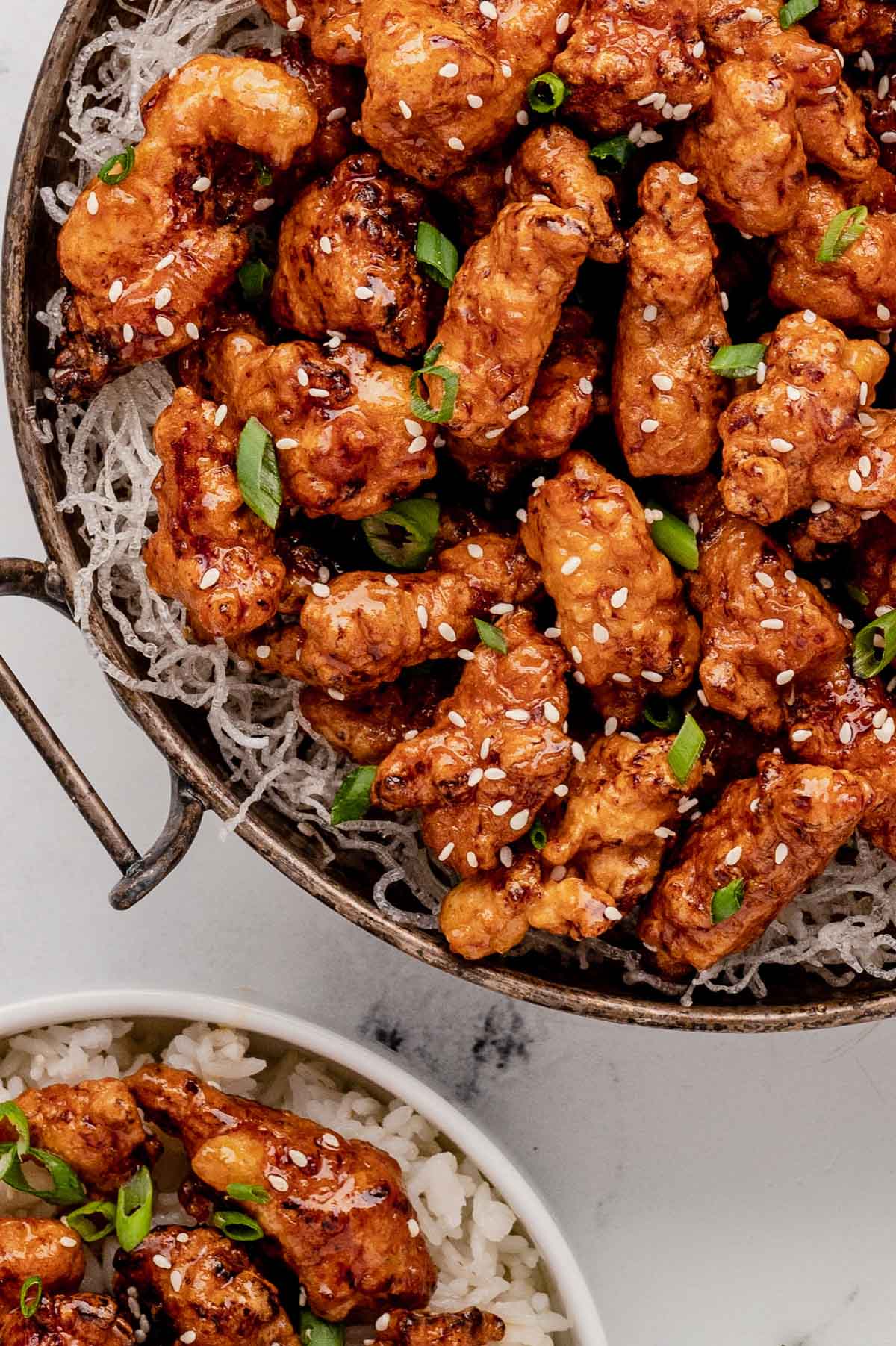 Pin this recipe for later!
Why We Love This Honey Chicken Recipe
Crispy Chicken – Dredging the chicken in the easy tempura batter before frying gives super crispy and golden brown results!
Sweet Sauce – The sweet honey sauce has only 5 ingredients (plus salt).
Chinese Takeout Copycat Recipe – I love recreating takeout favorites at home!
Easy to make – Even if you're new to frying, making this honey chicken is easier than you'd expect!
Ingredients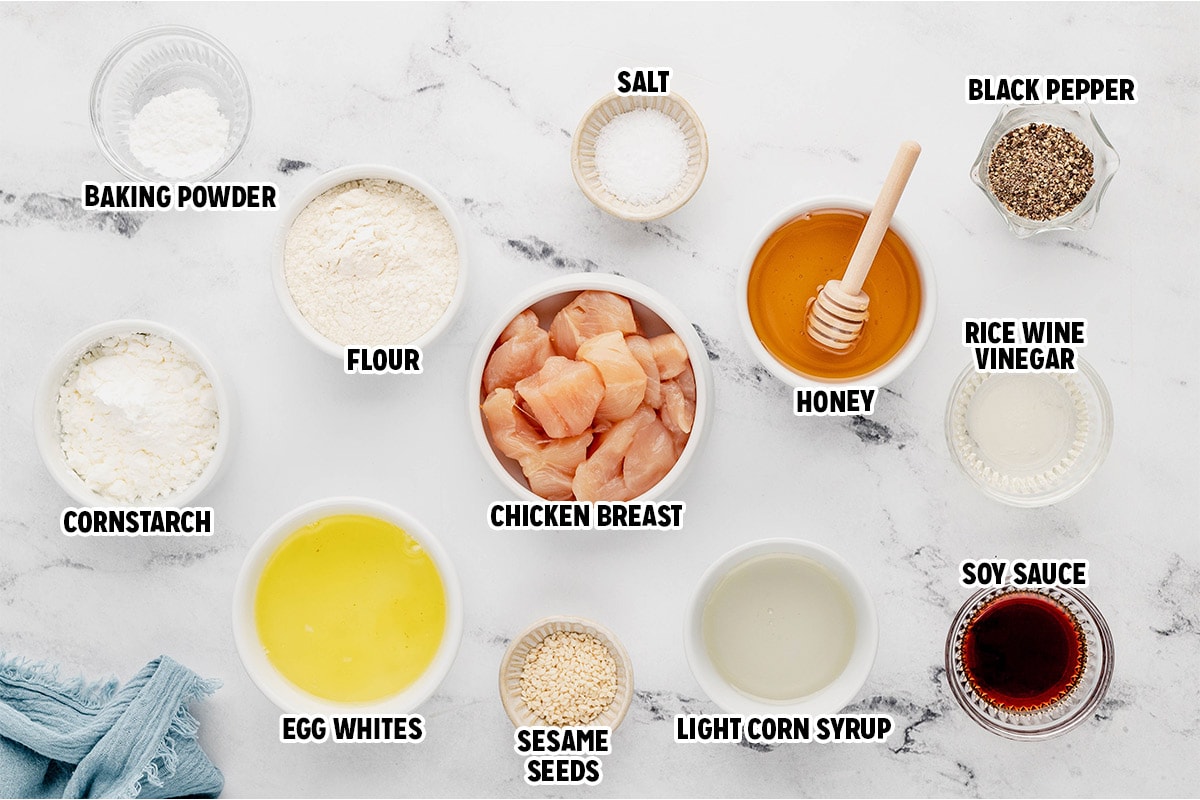 Boneless Skinless Chicken Breasts or Tenderloins
For the Marinade – Reduced Sodium Soy Sauce, Rice Wine Vinegar, Cornstarch, Salt, and Pepper
Cornstarch – For the dredge
Tempura Batter – Cornstarch, All-Purpose Flour, Baking Powder, Egg Whites, Salt and Pepper
Honey Sauce – Honey, Light Corn Syrup, Low Sodium Soy Sauce, Rice Wine Vinegar (or white wine vinegar), salt, sesame seeds
Oil for Frying – Use a neutral, high smoke point oil like canola oil, vegetable oil, or peanut oil.
Garnish – Fried Chinese Vermicelli, Green Onion, Sesame Seeds
How To Make Crispy Honey Chicken
Get a detailed list of ingredients & instructions in the recipe card below.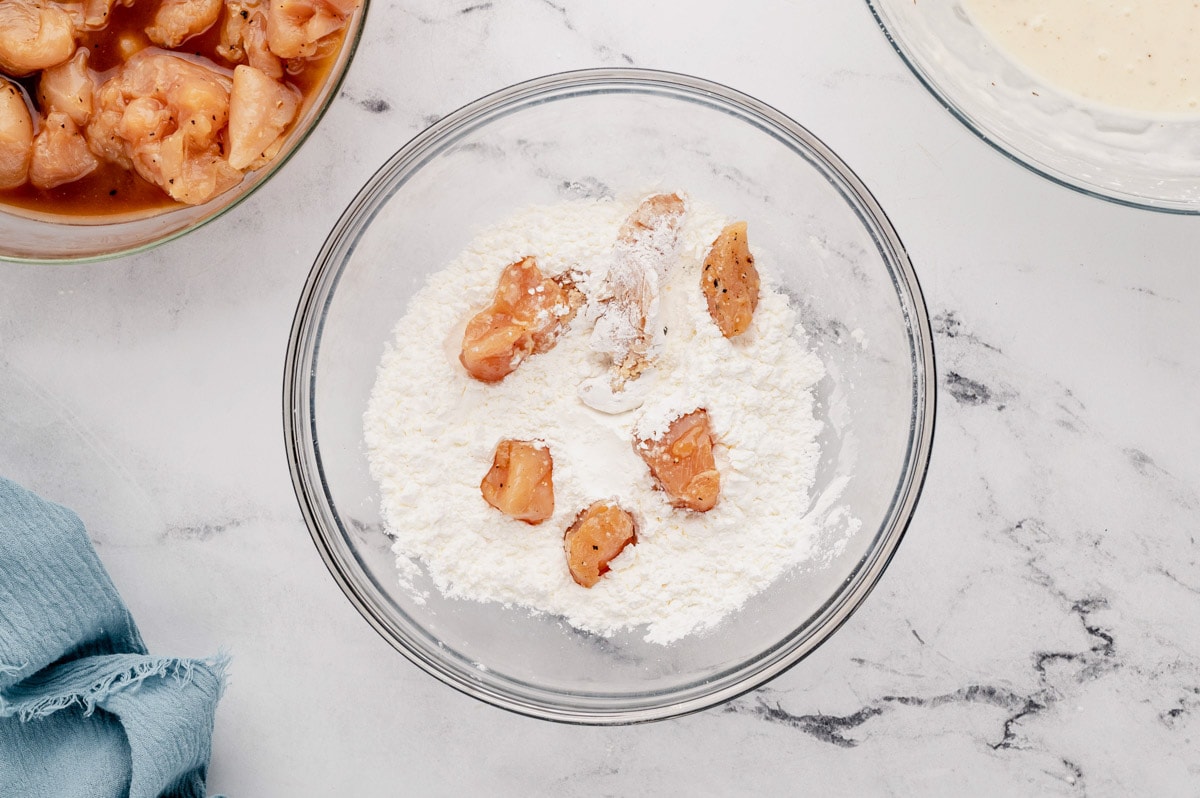 Prep Chicken and Batter – Prep the tempura batter and dredge the chicken in the cornstarch.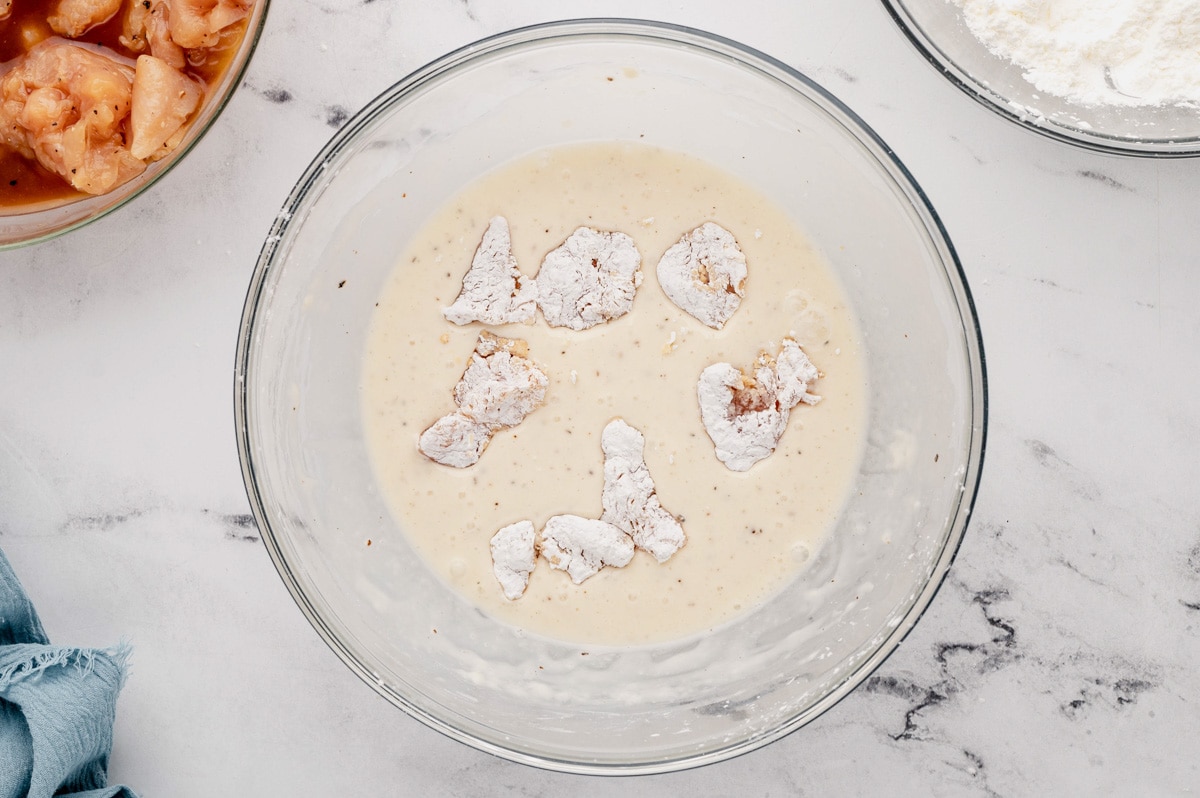 Coat in Tempura Batter – Dip the chicken pieces in the batter then immediately place into the oil to fry.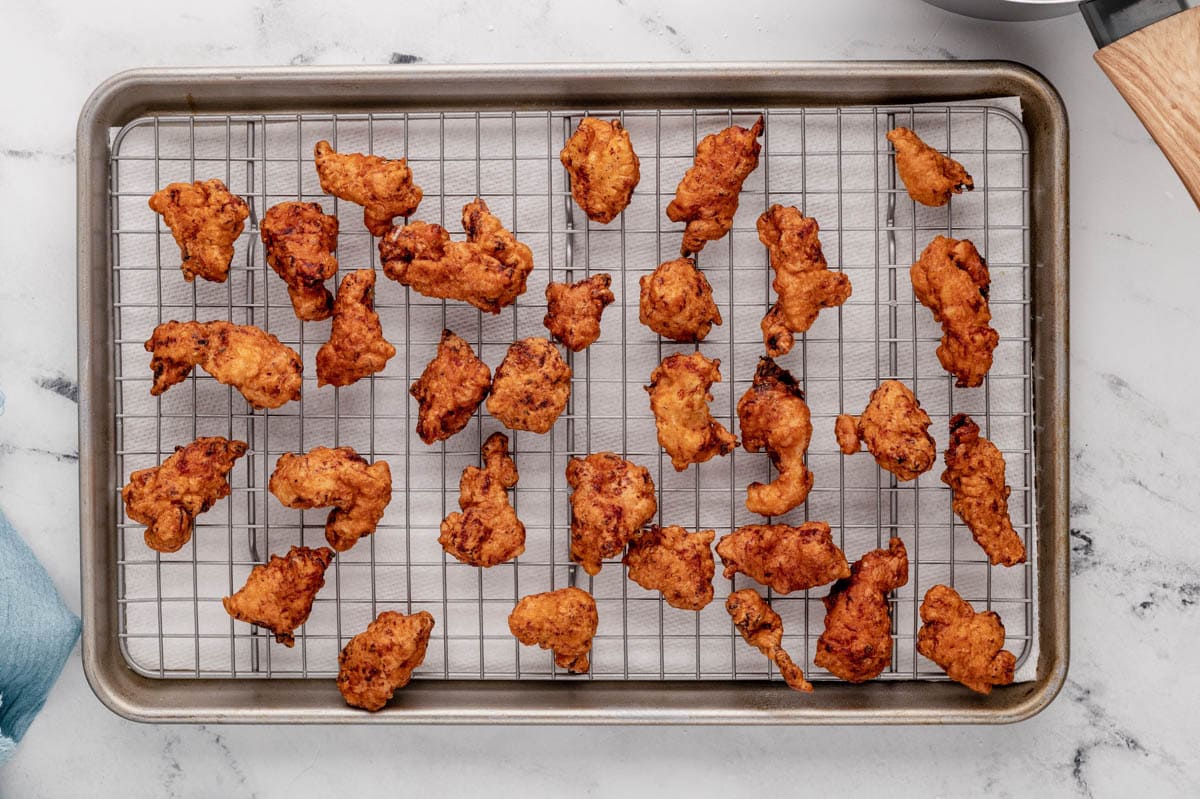 Fry Chicken – Line a sheet pan with a paper towel and wire rack. Heat up the oil in a large, heavy bottom pot to 350 degrees F. Carefully drop the battered into the hot oil – frying in batches until the chicken is golden brown. Drain the chicken on the prepared wire rack and prepare oil for a second fry.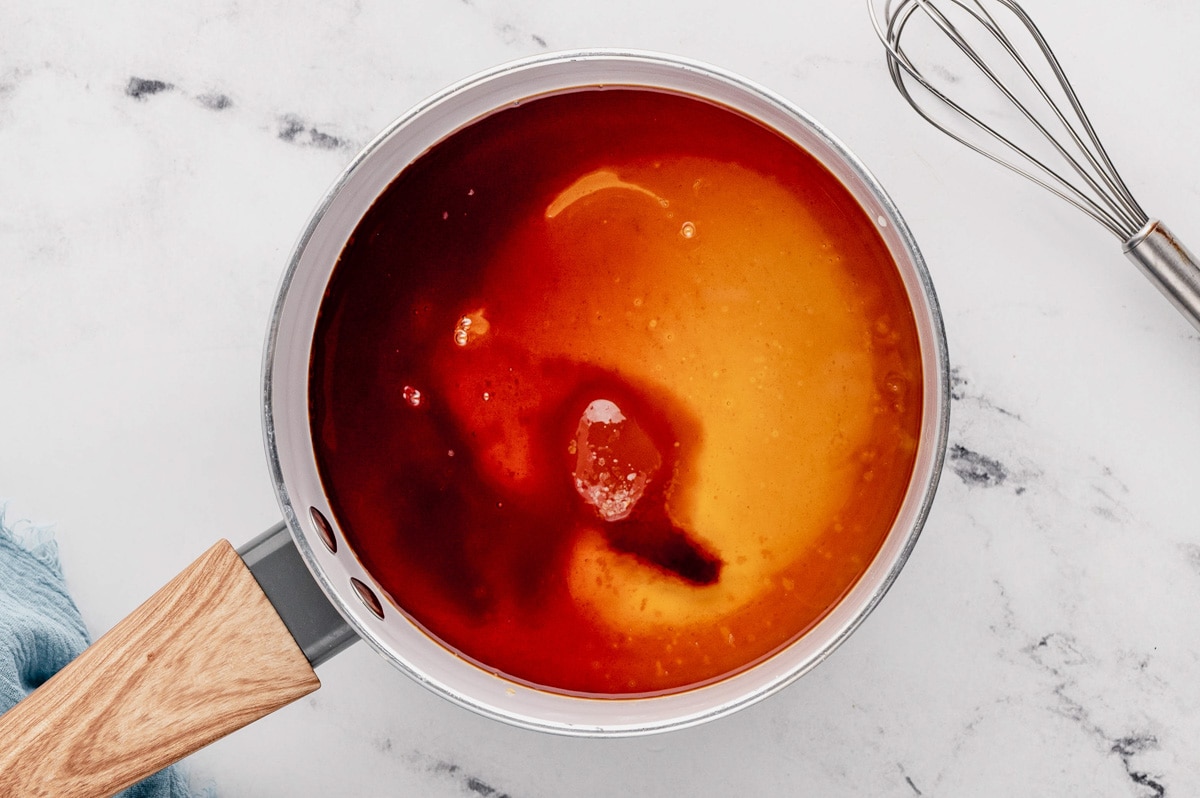 Make the Sauce – Mix up the sauce ingredients in a saucepan over the stove, bringing to a boil then simmer to reduce and thicken.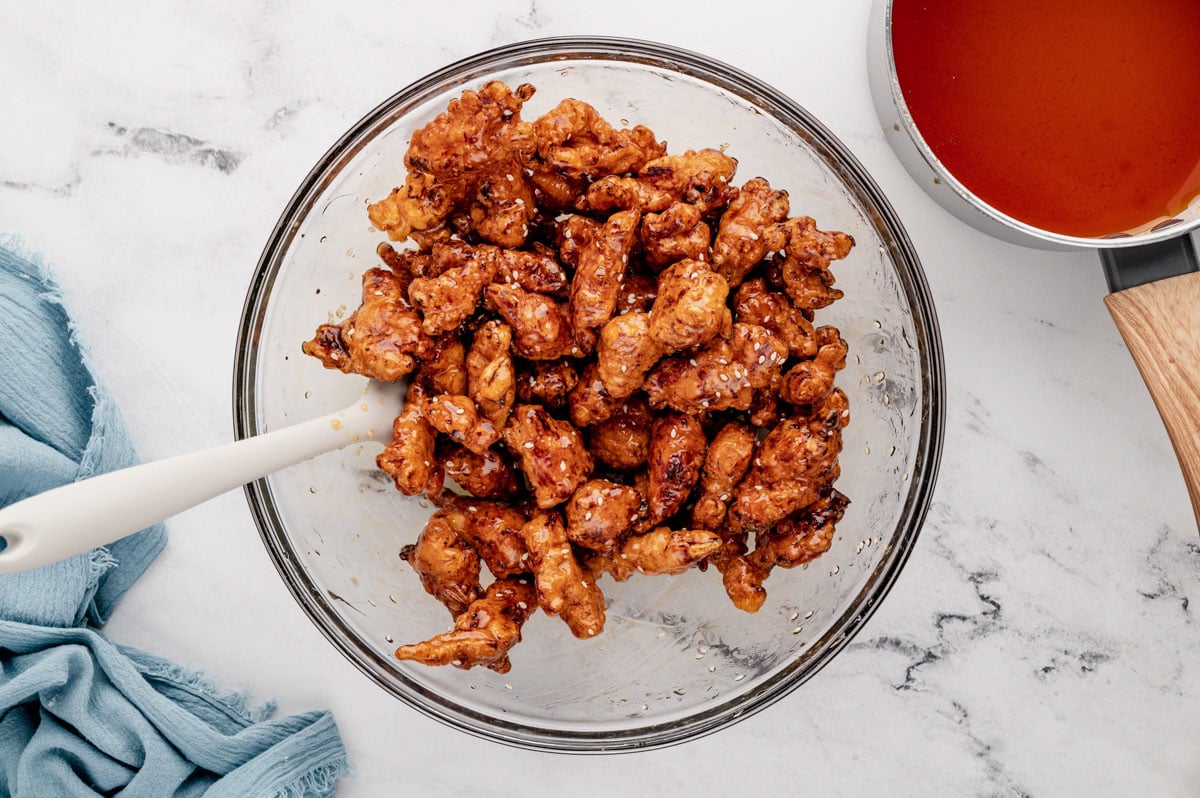 Second Fry and Coat – Fry the chicken for a second time in batches until a deep golden brown. Toss the fried chicken in half of the sauce (reserving the other half of the sauce for serving). Serve with Coconut Rice, Egg Fried Rice, Chow Mein, or simply steamed white rice.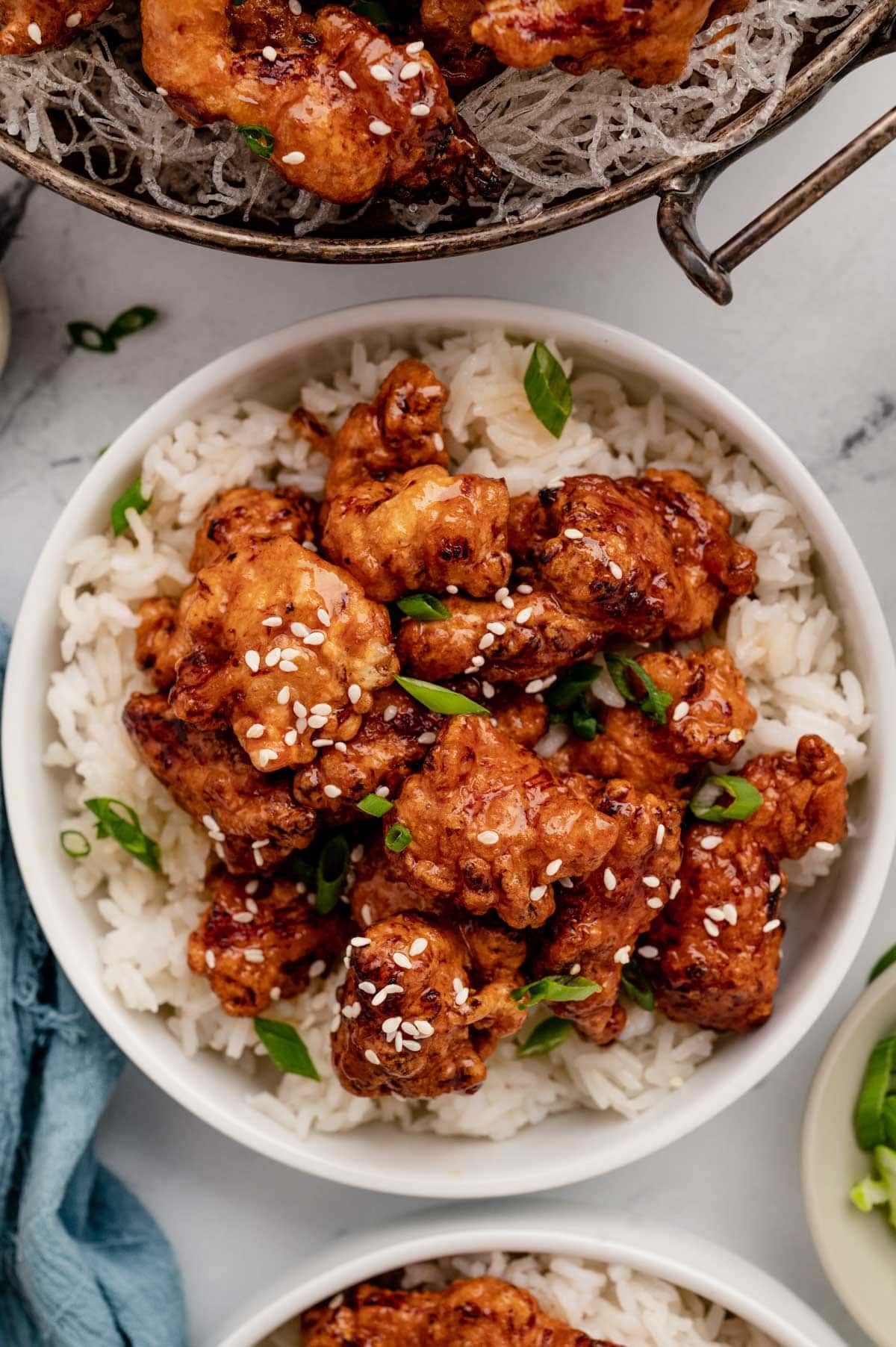 Recipe FAQs
What is honey chicken made of?
Honey chicken is made from chicken pieces that are breaded in a tempura batter before being fried then tossed in a sweet honey-based sauce.
What goes with honey chicken?
Honey chicken is typically served over cooked white rice, but it's also great with noodles or fried rice.
Is orange chicken the same as honey chicken?
Although orange chicken and honey chicken are similar – they're both fried and then tossed in a sweet sauce. The key difference is orange chicken has a notable citrus flavor from the added orange while honey chicken does not have added citrus.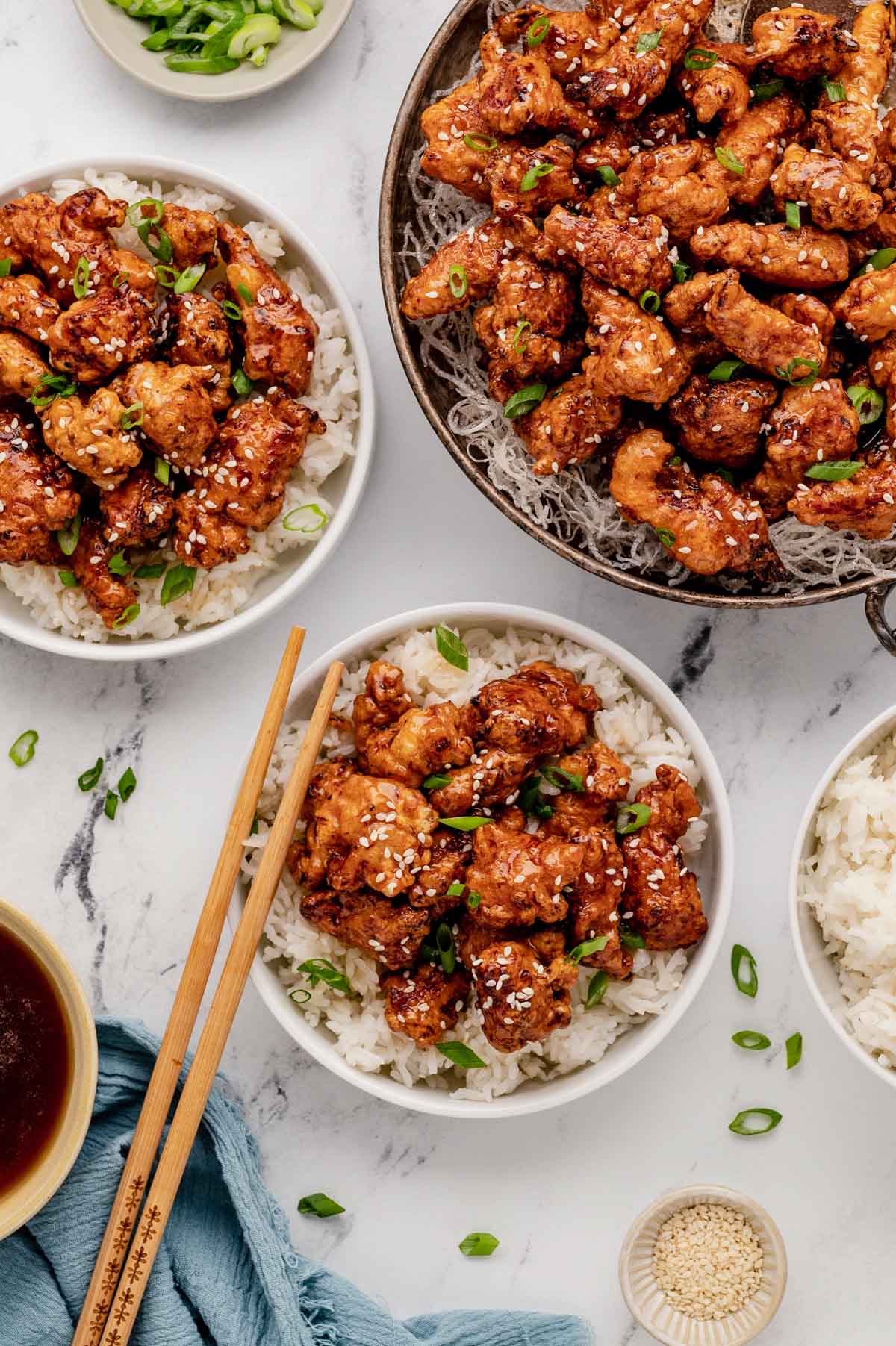 Helpful Tips
Crispy Rice Noodles – To make crispy rice noodles like at PF Chang's, add small handfuls of rice vermicelli noodles to the hot oil and immediately remove to the baking rack to drain. The rice noodles will puff up immediately and do not need to sit in the oil. Do this right after the second fry of the chicken and they will be fresh and ready to go for your garnish.
Fry Twice for Crispier Chicken – The chicken is fine to eat after one fry, but it won't be as crispy. Frying them twice will result in crispier chicken.
Use a Large Cast Iron Pot – A cast iron dutch oven is the best pot to deep fry in as it is deep and the cast iron retains heat very well. Make sure whatever pan you use is deep enough that the oil will not run over when you add the food. You need lots of space for the oil to bubble up.
Use a Deep Fryer Thermometer – Using a deep fryer thermometer clamped onto the side of the pot will help you to keep the oil at the correct temperature, which is important for frying. You may need to wait a few minutes between batches for the oil to get back up to the proper temperature.
Use a Metal Slotted Spoon – Using a metal slotted spoon or a metal tool called a spider or skimmer are the best tools to remove the food from the hot oil, as it allows the hot oil to drain from the food, saving you oil and time.
Shallow Fried vs Deep Fried – These can be shallow fried in a cast iron skillet and 1" of hot oil. You may need to add some oil in between batches, make sure it comes back up to temperature before adding the next batch.
Batter Texture – If the chicken makes a lot of popping sounds when it hits the oil, that means your batter is likely too dry and not coating the chicken thoroughly. Add another egg white to the mixture, or a tablespoon of seltzer water.
Variations
Add Vegetables: You can add cooked vegetables (like broccoli, chopped bell pepper, or carrots) to the chicken and sauce
Add Spice: You can make the sauce spicy by adding some sriracha or red pepper flakes.
Storage
Leftovers can be stored in the fridge in an airtight container for up to 4 days. Be aware that the chicken will lose some of its crunch. The best way to reheat the leftovers is in the air fryer at 375℉ for 4 minutes or in an oven on a wire rack lined sheet tray at 425℉ for 5 minutes.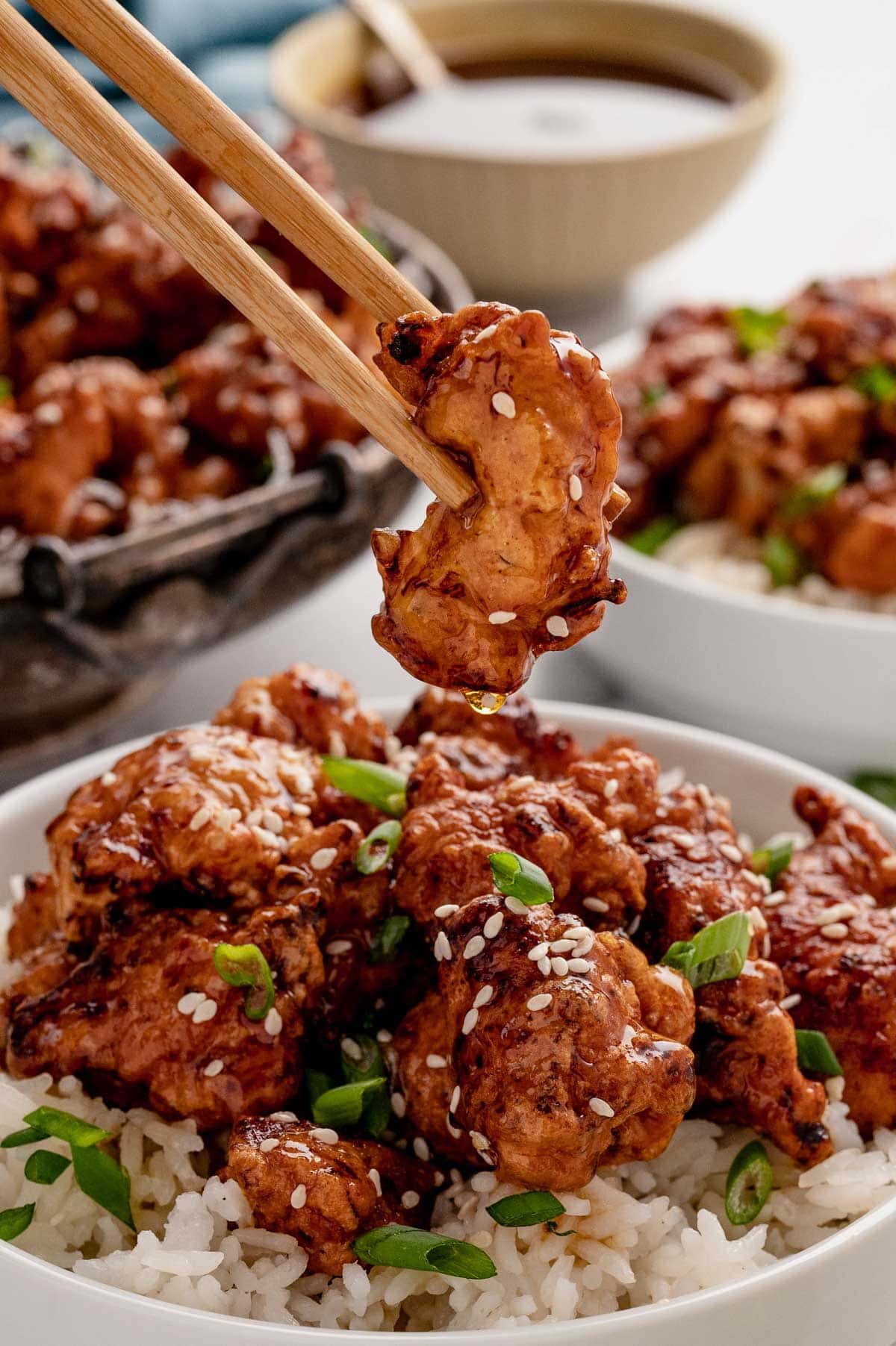 More Asian-Inspired Recipes
If you've made this recipe, please come back and leave us a star rating or a comment below. Or, tag us on social media @yellowblissroad or #yellowblissroad for a chance to be featured.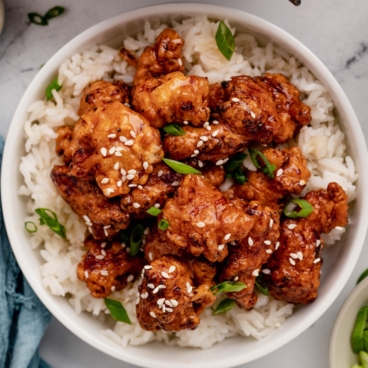 Crispy Honey Chicken
This Honey Chicken recipe combines crispy chicken tossed in a sweet and salty honey and soy sauce. It's a homemade version of a takeout fave!
Ingredients
Marinade
1

pound

chicken tenderloins or breast

1" cubed

1

tablespoon

reduced sodium soy sauce

2

teaspoon

rice wine vinegar

Salt and pepper to taste

1

teaspoon

cornstarch
Tempura
1/2

cup

cornstarch

3

tablespoons

flour

½

teaspoon

baking powder

4

egg whites

Salt and pepper to taste
Sauce
⅓

cup

honey

3

tablespoons

light corn syrup

1

tablespoons

low sodium soy sauce

1 ½

teaspoons

white wine

or rice wine vinegar

½

teaspoon

salt

1

teaspoon

sesame seeds

2-3

quarts

canola oil for frying

Garnish: Fried chinese vermicelli, green onion, sesame seeds
Instructions
Combine all marinade ingredients in a gallon zip top bag or large bowl, marinade chicken for 30 minutes in the fridge.

Whisk all of the dry ingredients for the tempura batter together in a medium bowl and keep chilled in the fridge.

Place cornstarch in a shallow dish or pie plate and dredge the chicken, until lightly and completely covered.

Using a whisk, combine the cold, dry tempura ingredients with the egg whites, it will be lumpy at first, but keep whisking and it will come together. Batter should be the consistency of pancake batter.

Line a large sheet pan with paper towel and place a wire baking rack on top, set next to the stove to create a frying station. In a large, heavy bottom dutch oven or deep fryer, heat the oil to 350℉, dip a small batch of the chicken in the tempura batter, drop into the hot oil and fry until golden brown, about 2-4 minutes. Do not crowd the pot. Drain the chicken on the prepared wire rack. Repeat this process until all of the chicken has been cooked.

Heat oil to 390℉ for a second fry. While oil is heating, combine all sauce ingredients in a saucepan, whisking to combine, bring to a boil and then reduce to a simmer for about 5 minutes or until the sauce is slightly thickened.

Working in two batches, drop chicken pieces into 390℉ oil until deep golden brown, about 2 minutes. Drain on the wire rack lined sheet pan. Repeat with second batch. Toss chicken in half of the sauce in a large mixing bowl. Serve immediately with rice and remaining sauce. Garnish with green onion and more sesame seeds.
Notes
If the chicken makes a lot of popping sounds when it hits the oil, that means your batter is likely too dry and not coating the chicken thoroughly. Add another egg white to the mixture, or a tablespoon of seltzer water.
Store in the fridge, reheat in an air fryer or in the oven.
Nutrition
Calories:
555
kcal
Carbohydrates:
71
g
Protein:
29
g
Fat:
17
g
Saturated Fat:
2
g
Polyunsaturated Fat:
5
g
Monounsaturated Fat:
10
g
Trans Fat:
0.1
g
Cholesterol:
73
mg
Sodium:
828
mg
Potassium:
522
mg
Fiber:
1
g
Sugar:
36
g
Vitamin A:
34
IU
Vitamin C:
2
mg
Calcium:
50
mg
Iron:
1
mg
Nutrition information provided is an estimate and will vary based on cooking methods and brands of ingredients used.