Back to school is on our minds, so why not skip dinner worries with these Asian style Crockpot Chicken Drumsticks in your slow cooker! Quick, simple, and easily broiled to perfection after a long day of work.
Slow Cooker recipes are the best for busy nights. I love their simple set it and forget it method. Some of our favorites include these Asian Style Chicken Drumsticks, Crockpot Orange Chicken and Slow Cooker Chicken Tacos.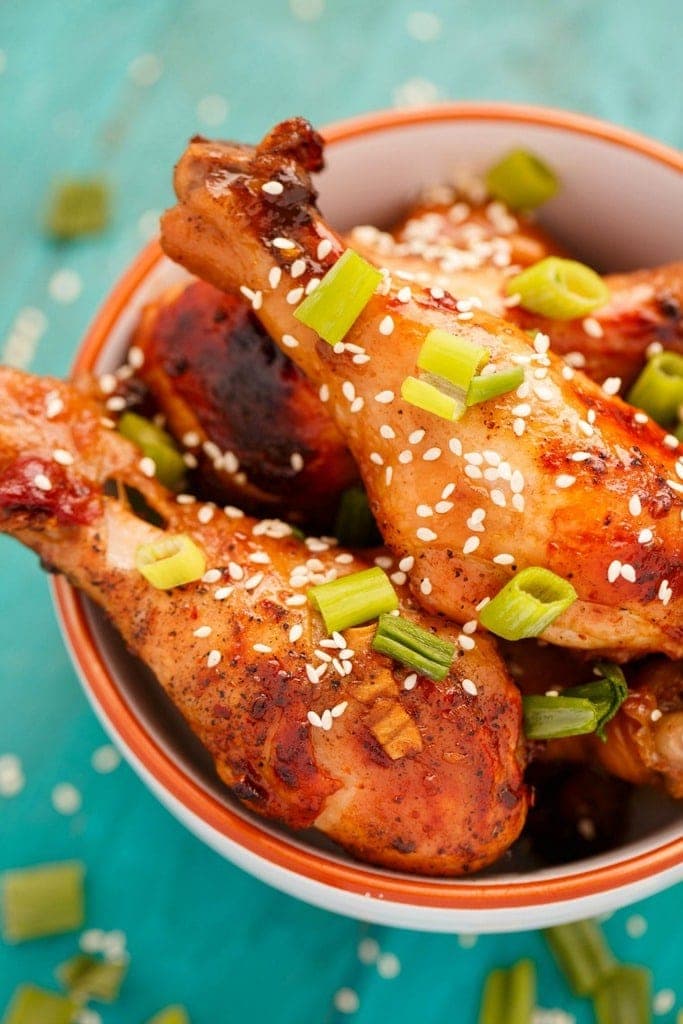 SLOW COOKER ASIAN STYLE CHICKEN DRUMSTICKS RECIPE
Hello! I am Kacey from The Cookie Writer here today to share with you a wonderful slow cooker recipe that will surely plant itself onto your regular dinner menu.
I can spend hours in the kitchen with no worries, but this is not the same for many. Slow cooker recipes are becoming more common in our household not only to beat the heat, but because they are just so simple! Asian chicken drumsticks in the slow cooker sounds like a standard dinner, but you can transform it into so much more!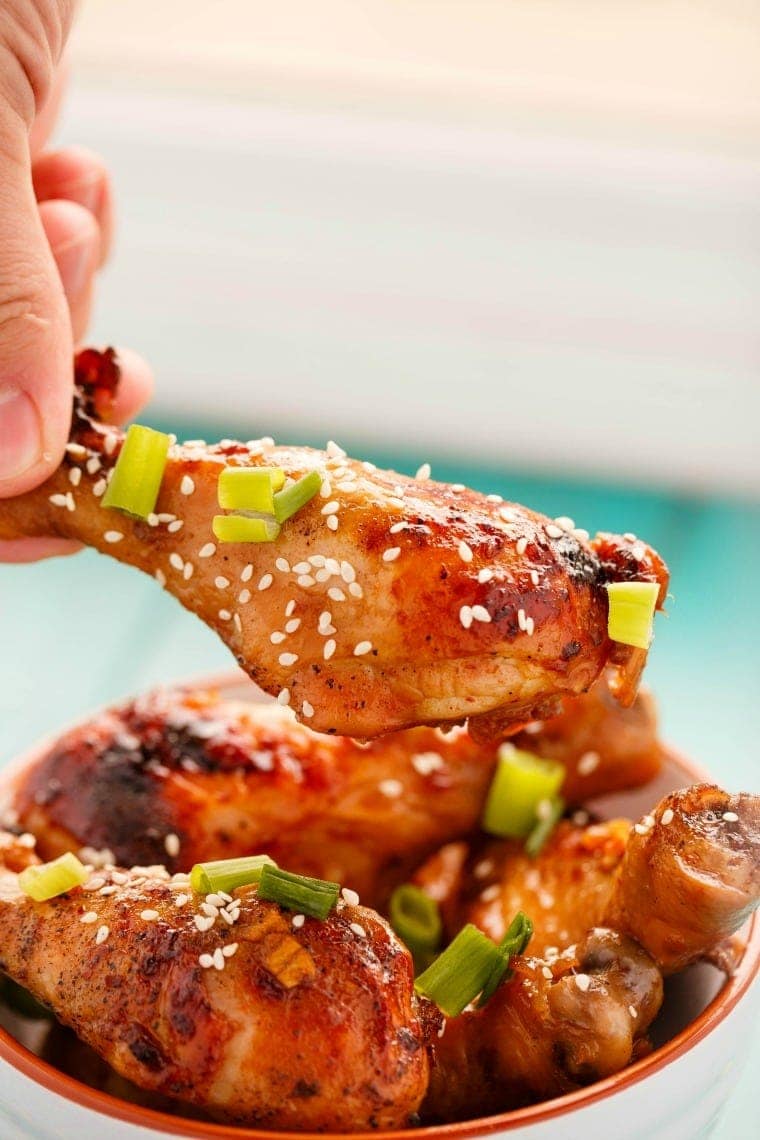 HOW TO SERVE ASIAN STYLE CHICKEN LEGS
We usually serve them over steamed of fried rice, but my husband has recently gotten into de-boning the chicken before storing, allowing us to take that chicken a step further. Wraps, pasta salads, pizza, you name it! More times than not we already have a dinner planned and I still throw these on because they can utilize us in the future.
CAN YOU USE FROZEN DRUMSTICKS IN THE SLOW COOKER?
While keeping chicken on hand in your freezer is a great idea, I recommend thawing bone-in chicken before cooking. Using frozen, you run the risk of the chicken not cooking all the way through to the center and drying out on the outside.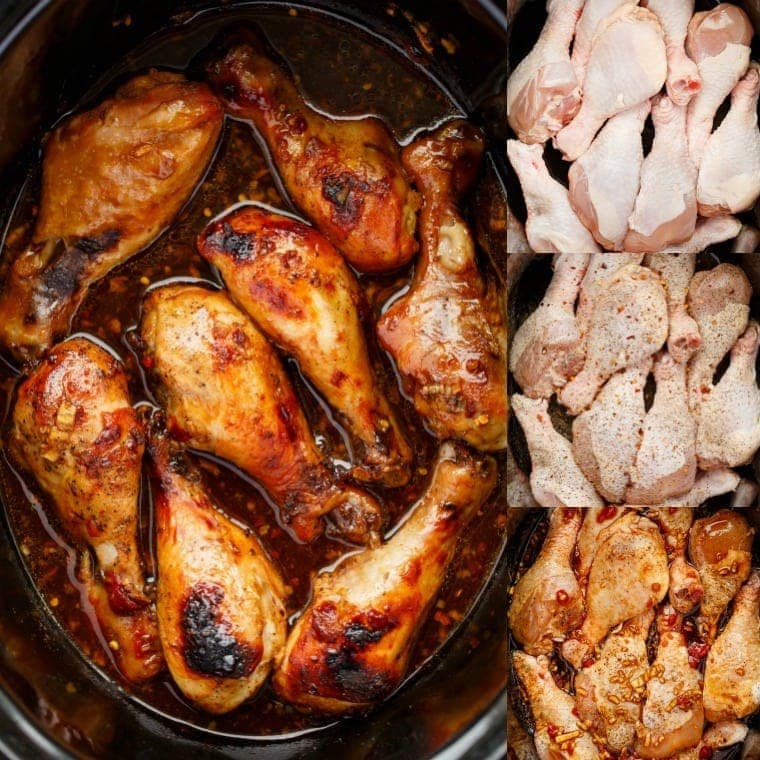 HOW TO MAKE ASIAN STYLE CROCKPOT CHICKEN DRUMSTICKS
So now you know I am all about leftovers, but something else I am big on is being frugal and seeing how far a dollar can take us. Yes, boneless skinless chicken breasts are awesome and convenient, but they are also quite expensive. These Asian chicken drumsticks use a cheap cut of meat and transform into a flavorful dinner for the entire family. Plus, meat on the bone has more flavor AND reduces the chances of dry meat (but don't let this fool you, you can still overcook any meat!).
Start by seasoning 2 and a half pounds of chicken drumsticks with salt and pepper and some red chile pepper flakes.
Arrange the chicken in a 6-quart slow cooker.
Combine sauce ingredients and pour oven the chicken.
Replace the slow cooker lid and cook on low heat for 4-5 hours, or until chicken is cooked through and reaches an internal temperature of 160-165 degrees.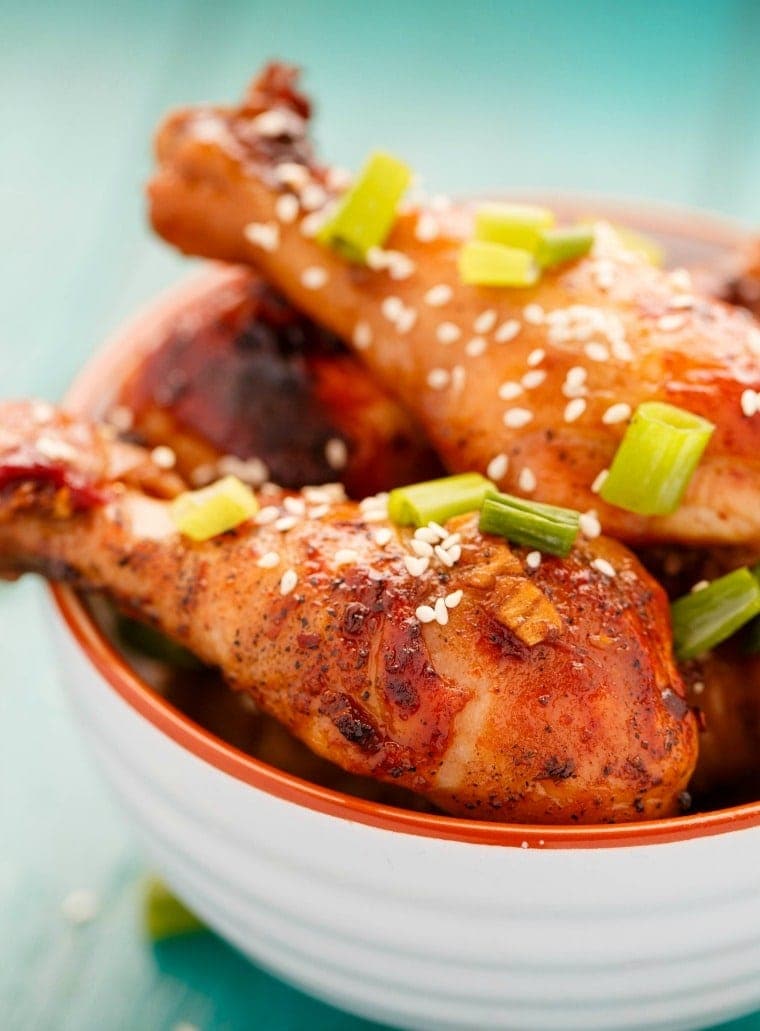 CROCKPOT CHICKEN DRUMSTICKS: TIPS & TRICKS
Obviously your slow cooker isn't going to get you that beautiful, crispy, toasty skin that oven-baked would, but I easily fix this issue by broiling the chicken for a few minutes in the oven. It takes little effort and really makes a difference. You can also broil or sear your chicken before adding to the slow cooker, but let's be honest, the whole point of the slow cooker is to get the meal in there as quick as possible and let it do its thing! So you can broil before or after, but whatever way you choose, you will surely love these Asian chicken drumsticks in the slow cooker!
Easily sub in your favorite cut of chicken here if drumsticks are not your thing. Cooking times will vary on size/cut of meat. For leaner, boneless cuts we recommend cooking on high for about 3 hours.
Enhance the flavor of these chicken legs by garnishing with sesame seeds and sliced green onions for color.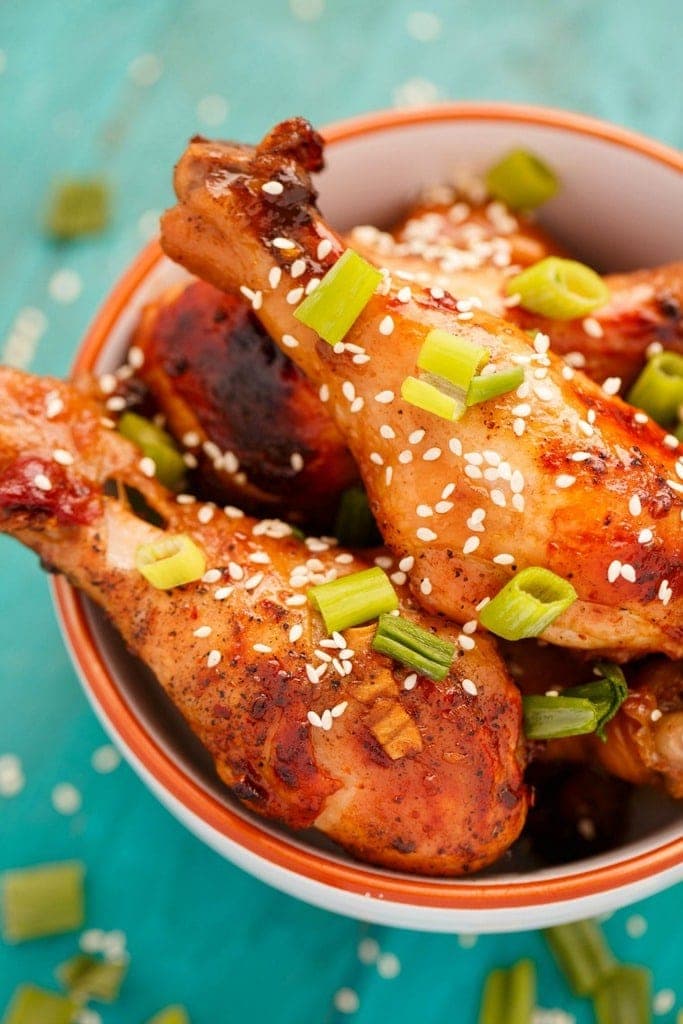 Love these Asian chicken drumsticks in the slow cooker?! Try some of these other slow cooker recipes:
For all Slow Cooker Recipes, go HERE and for all dinner recipes go HERE. For the Recipe Index, go HERE.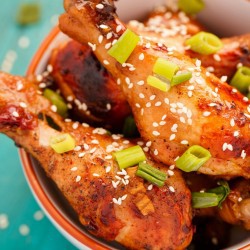 Asian Chicken Drumsticks in the Slow Cooker
You can broil your chicken before placing into the slow cooker for a crispy skin, but broiling afterwards works as well!
Ingredients
2 1/2 lbs chicken drumsticks
Salt and pepper
1/4 tsp. crushed red pepper flakes optional
Sauce
1/2 cup granulated sugar
1/2 cup soy sauce
1/8 cup rice wine vinegar
1 tbsp. tomato paste
3 garlic cloves minced
1 1/2 tsp. freshly chopped ginger
Instructions
Arrange chicken in 6-quart slow cooker. Season with salt, pepper, and pepper flakes.

Combine sauce ingredients and pour over chicken. Cover and cook on low heat for 4-5 hours, or until chicken is cooked through (160-165F.)

For crispy skin, broil your chicken until golden! You can also do this before placing into the slow cooker but I find the final broiling to yield great results!

Garnish with green onion and sesame seeds if desired. Serve over rice.

Note: My husband tends to remove all the meat after cooking and throw it into a big batch of rice!
Nutrition
Serving: 2drumsticksCalories: 339kcalCarbohydrates: 22gProtein: 29gFat: 14gSaturated Fat: 3gCholesterol: 139mgSodium: 1477mgPotassium: 425mgSugar: 20gVitamin A: 115IUVitamin C: 1.2mgCalcium: 23mgIron: 1.6mg