Get that barbecue flavor year-round with these Slow Cooker Barbecue Baby Back Ribs. They are rubbed with a smoky-sweet spice blend and cooked in the crockpot until they are fall off the bone tender and then smothered in your favorite barbecue sauce.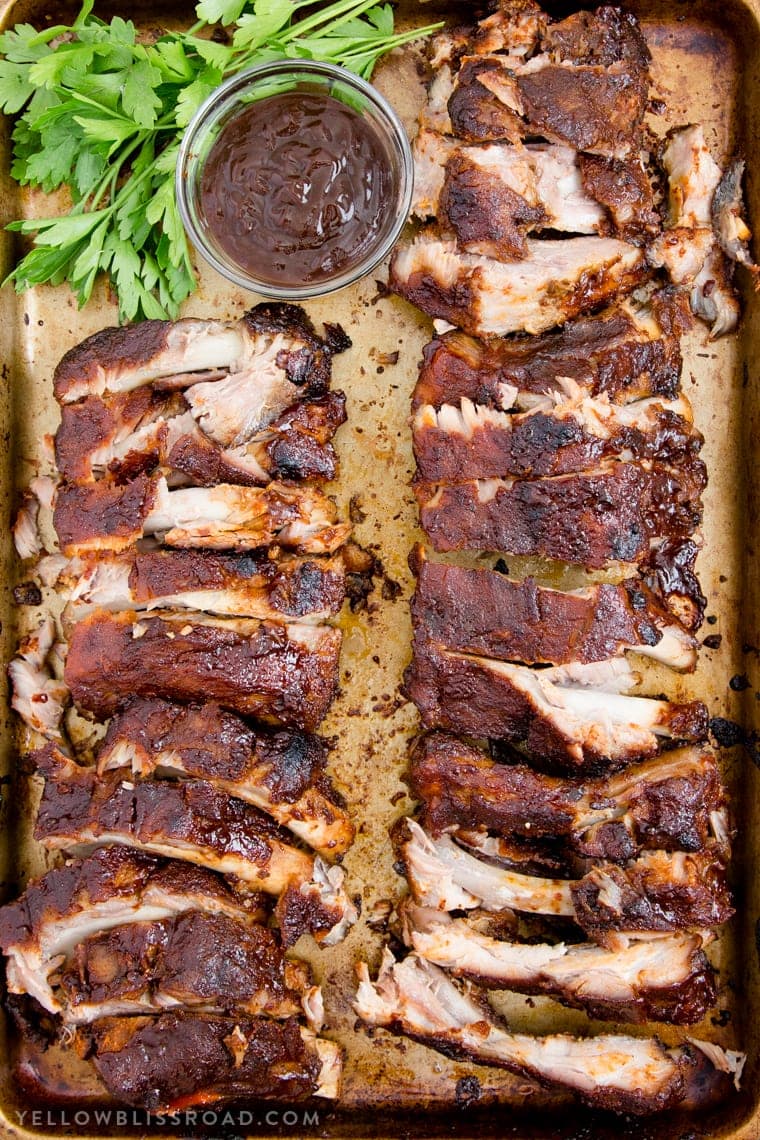 I have been making Barbecue Ribs in the slow cooker, probably ever since I had a slow cooker. I'm pretty sure it was one of the first things I learned to cook in my crockpot. Ribs are one of those meats that benefit greatly from the "low and slow" method of cooking, so this method is perfect because the ribs get all day to cook and your whole oven isn't taken up for hours.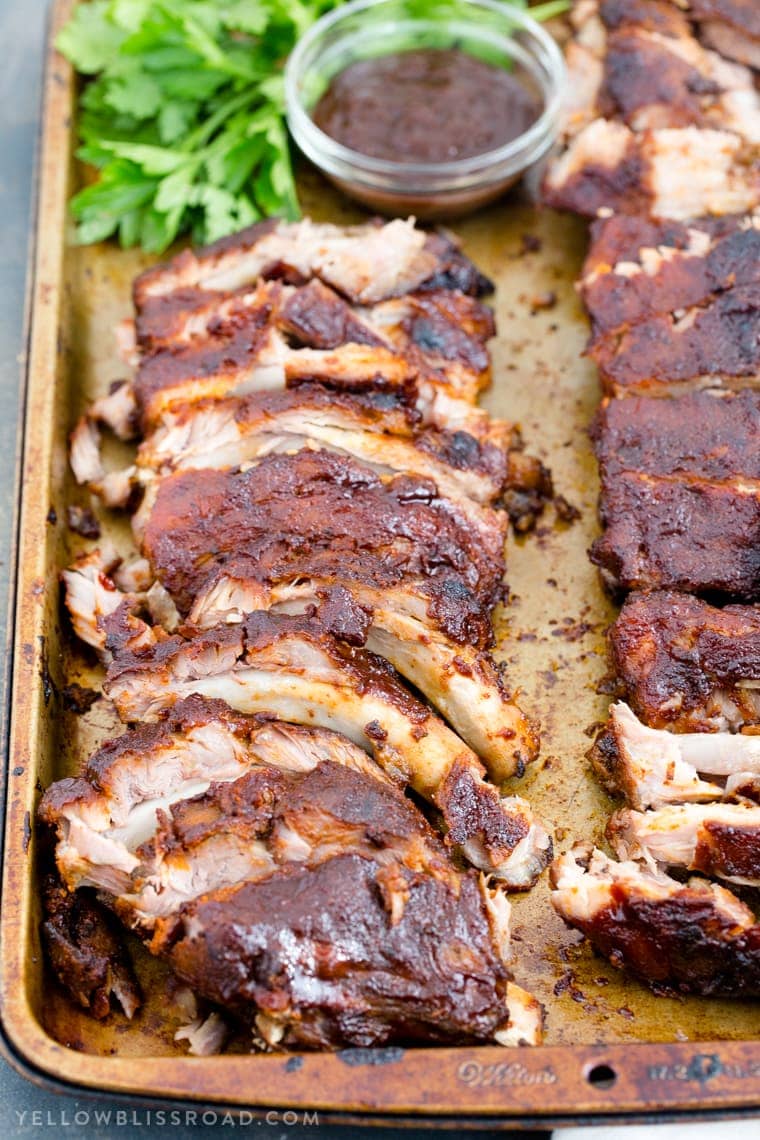 One of the issues I've always had when cooking ribs is the meat can fall off the bone in the slow cooker or whatever meat is sitting in the bottom of the crockpot sits in all the juice and drippings and ends up getting kind of mushy and not very tasty. Wanna know a secret? I now have a sure-fire trick to make sure that doesn't happen! It's called foil.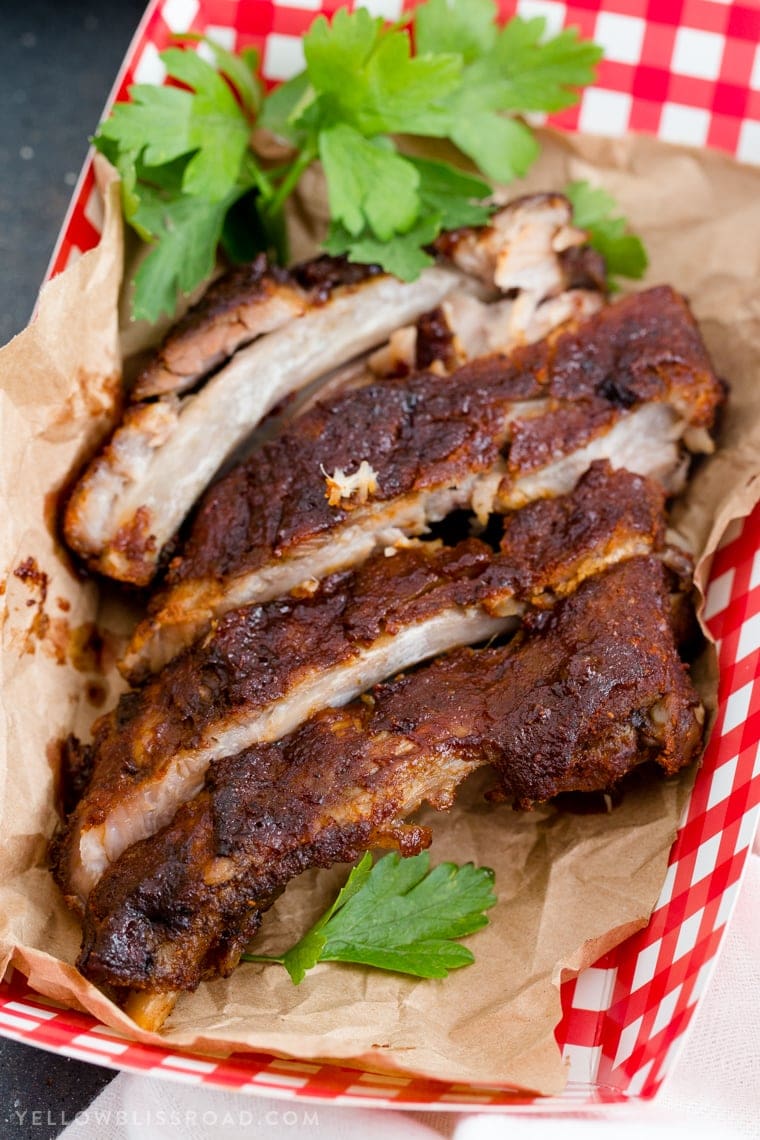 See down there in the bottom of the slow cooker underneath those gorgeous ribs? That's a bunch of wadded up foil. What the foil does is lift up the meat so it's not sitting in the juices and getting all icky. The result is perfectly tender, fall of the bone barbecue baby back ribs that are so finger licking good you won't be able to eat just one…or five…or ten.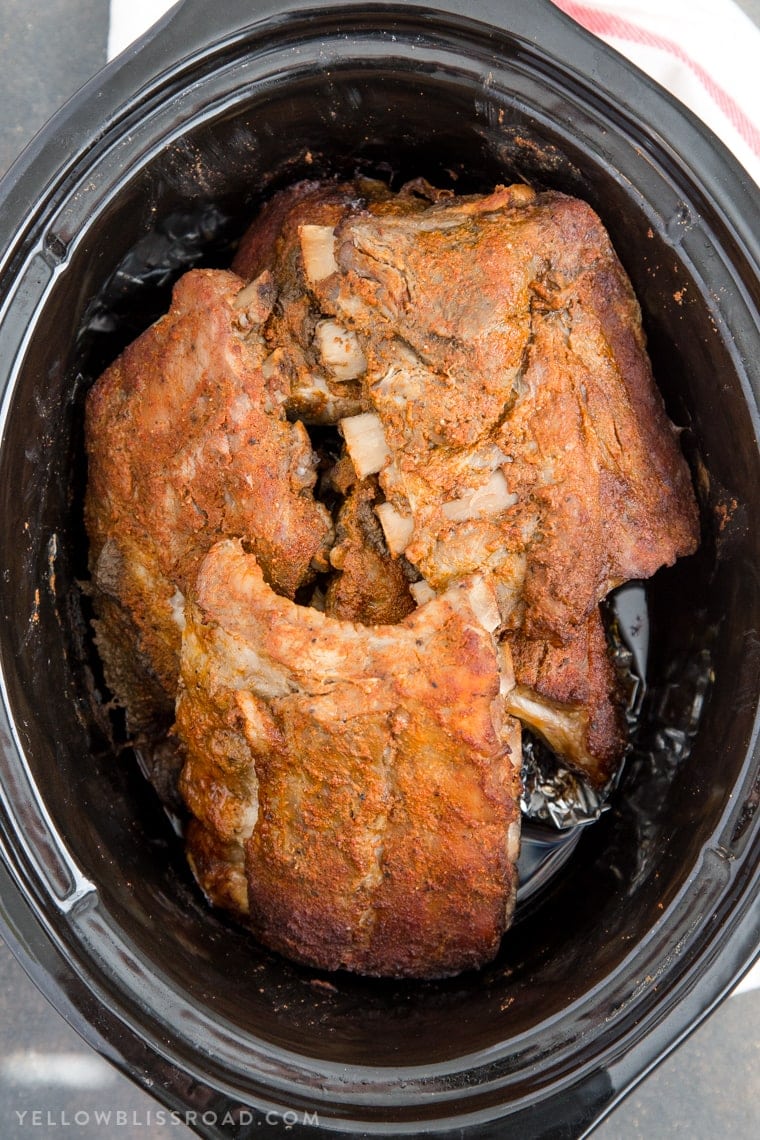 The spice rub is pretty epic too. It simply – brown sugar, smoky paprika, onion powder, garlic powder and salt and pepper. It really gives that sweet and smoky flavor that you expect. Then douse them in your favorite bottled barbecue sauce, or use my homemade Root Beer Barbecue Sauce.
Once the ribs are cooked, I like to go the extra step of brushing on the barbecue sauce and broiling them in the oven. This helps to caramelize the barbecue sauce, making them extra sticky and yummy, and ensuring that the sauce stays right where it belongs.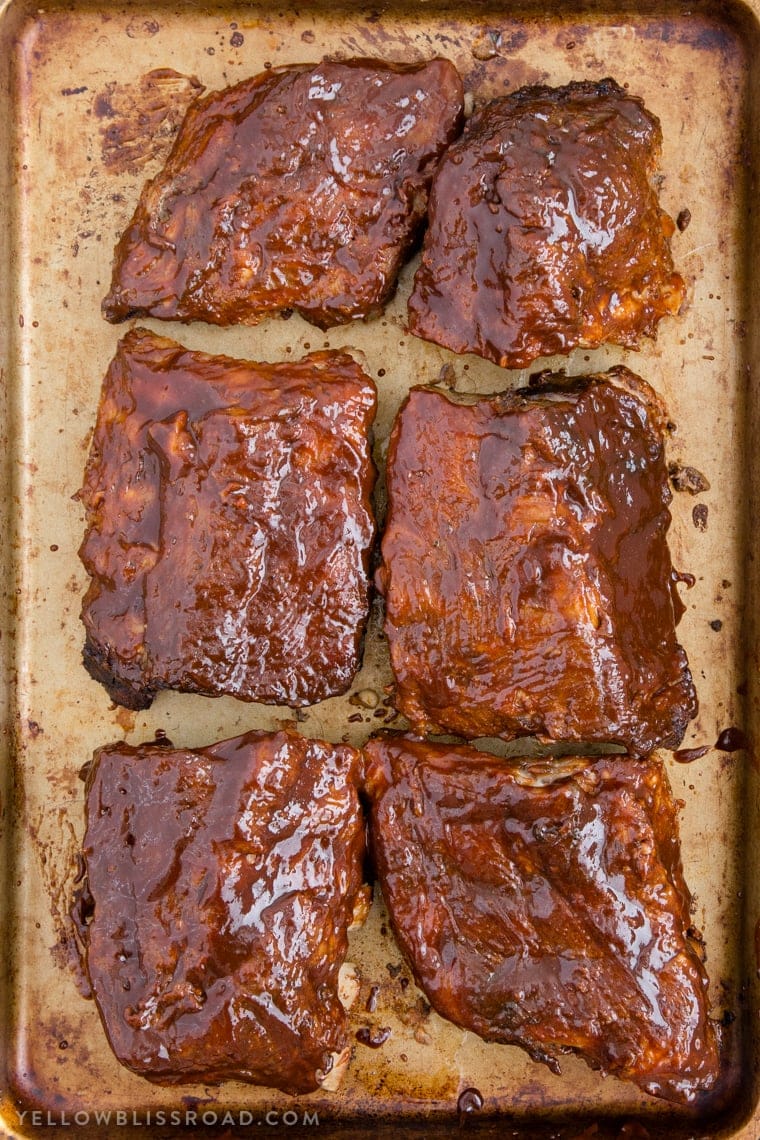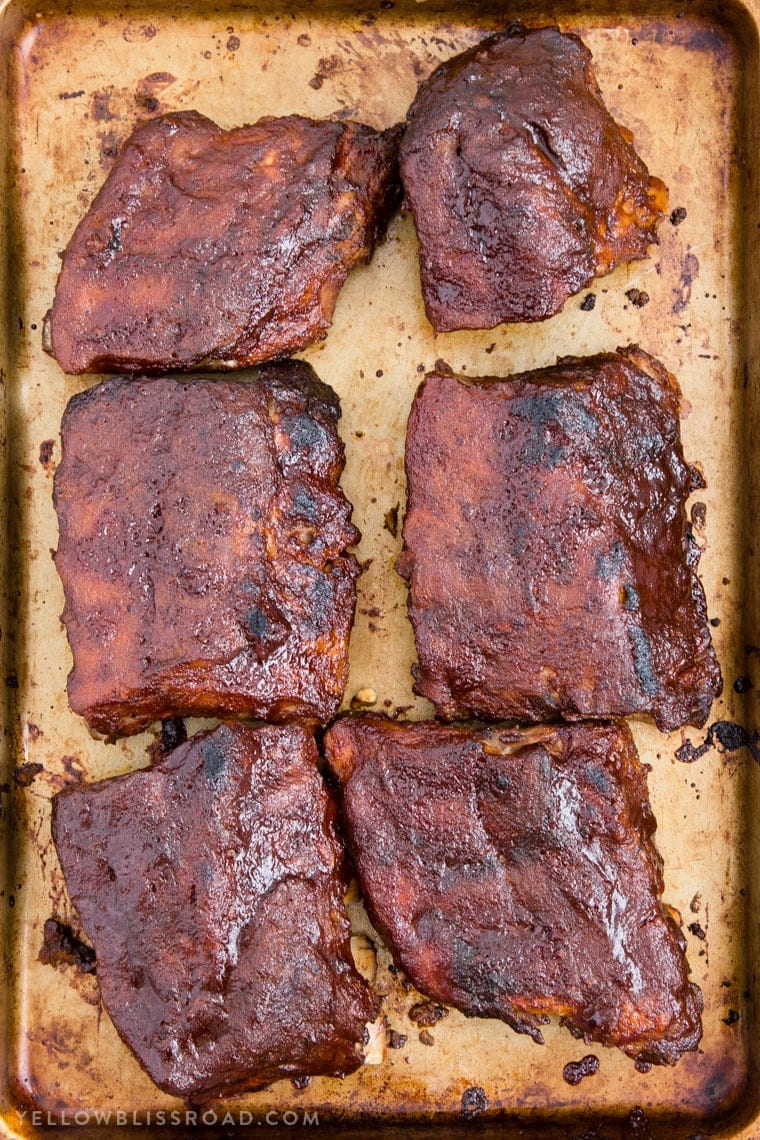 These really are the best ribs you'll ever taste. Just ask my little hand model who tried to sneak a bite when I wasn't looking.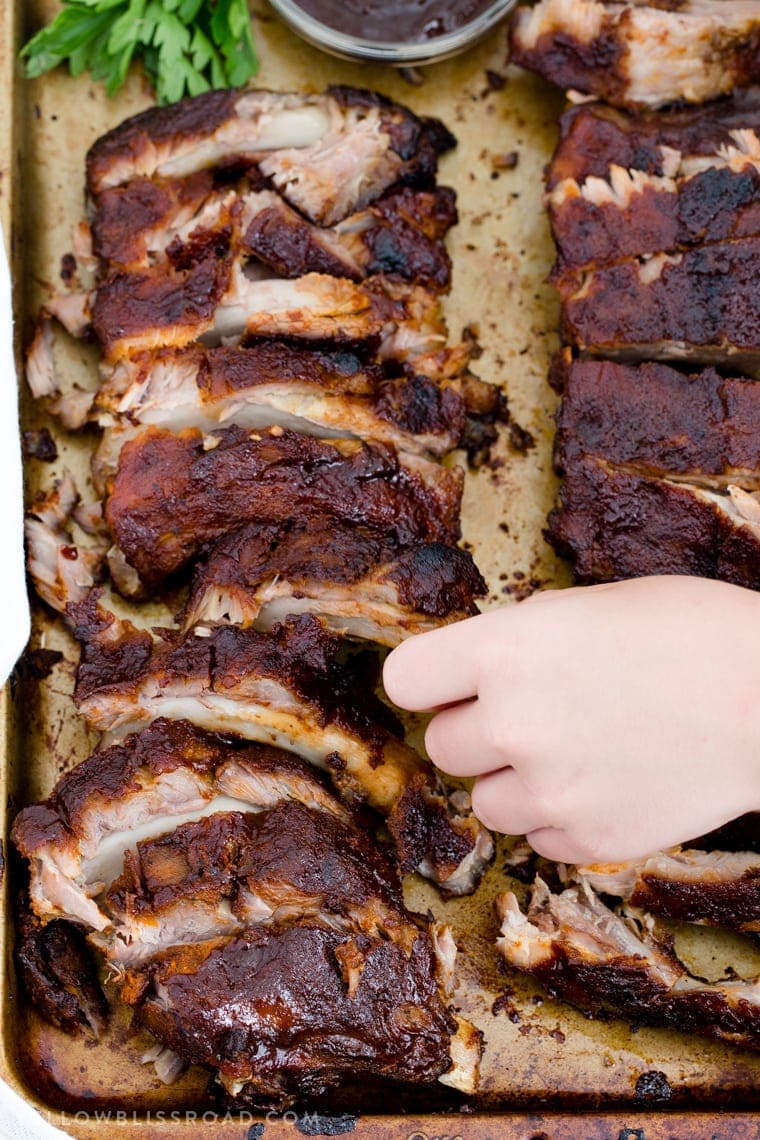 Slow Cooker Barbecue Baby Back Ribs (fall off the bone tender!)
Ingredients
2 racks baby back ribs, each cut into 3-4 sections
1/4 cup brown sugar
2 tablespoons Kosher salt
1 tablespoon onion powder
2 tablespoons garlic powder
2 tablespoons smoked paprika
1 teaspoon black pepper
2 cups of your favorite barbecue sauce
Instructions
In a small bowl, combine brown sugar, salt, onion powder, garlic powder, pepper and paprika. Set aside. 
Remove ribs from their packaging and pat dry. Rub the spice blend all over the meat on both sides. Cut racks into 3 sections each.
Crumple foil loosely into about 5 balls the size of your fist. Place these on the bottom of the slow cooker. Stack ribs on top of the foil. Make sure you able able to secure the lid all the way and they are not touching the lid. (In my 6.5-quart slow cooker, the sections of ribs fit tightly).
Cook ribs on low for 6-8 hours. (The longer the better).
When ribs are fork tender, place them on a foil or parchment paper lined sheet pan and brush with barbecue sauce. Serve immediately, or proceed to the next step if desired.
Turn your oven's broiler to high and place a rack near the top. Place ribs under the broiler for 3-4 minutes or until sauce is caramelized. Watch closely so they don't burn. 
Cut into individual pieces and serve immediately.
Here are some great sides to go with your barbecue baby back ribs:
Red, White & Blue Potato Salad
Love this Slow Cooker Barbecue Baby Back Ribs recipe? Here are some more delicious slow cooker recipes:
 Slow Cooker Blackberry Orange Barbecue Chicken
For all slow cooker recipes go HERE, for all entrees go HERE and for the Recipe Index go HERE.