Get that barbecue flavor year-round with this Slow Cooker Baby Back Ribs recipe. The pork ribs are rubbed with a smoky-sweet spice blend and cooked in the slow cooker until they are fall off the bone tender. Smother those crockpot ribs in your favorite barbecue sauce and enjoy!
Serve Crockpot Ribs for game day or a weeknight dinner with some Macaroni Salad, Homemade Baked French Fries, and Corn on the Cob.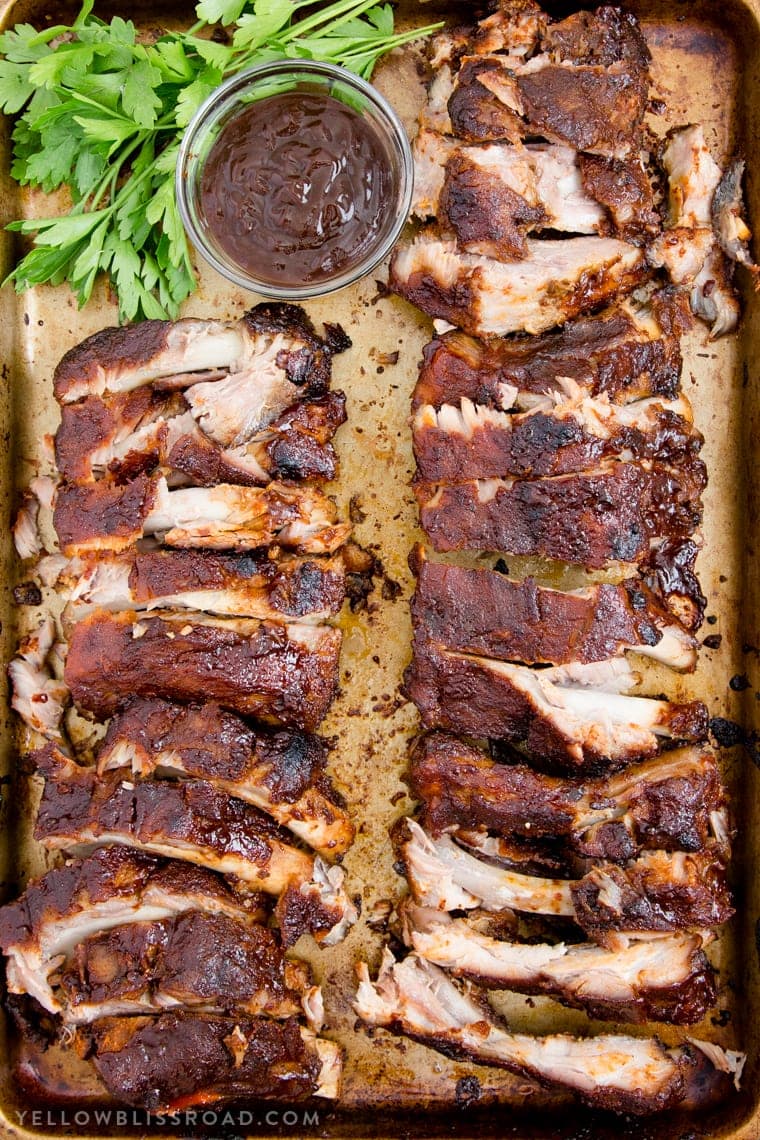 Pin this recipe for later!
The Best Crockpot Ribs Recipe
I'm pretty sure that Barbecue Ribs was one of the first things I learned to cook in my slow cooker. Baby Back Ribs benefit greatly from the "low and slow" method of cooking. Slow Cooker Ribs are perfect because the ribs get all day to cook and your whole oven isn't taken up for hours.
BBQ Baby Back Ribs are an absolute favorite for any occasion. This easy ribs recipe will surely become your new favorite. Nothing beats tender, juicy Slow Cooker Ribs!
Serving crock pot ribs for game day or family parties is perfect because they just cook in your slow cooker. They are hassle free and ready when you want them to be. Everybody loves these crockpot ribs.
Ingredients For The Best Baby Back Crockpot Ribs
The right spice rub can be pretty epic. I use my own special blend to get that tru smoky, spicy and sweet flavor. Here are all the ingredients you'll need t make this ribs recipe:
Baby Back Ribs – You could also use St. Louis style ribs.
Dry Rub – A good dry rub is imperative to the flavor of your ribs. I use a blend of brown sugar, smoked paprika, onion powder, garlic powder, salt, and pepper.
BBQ Sauce – Grab a bottle of your favorite BBQ sauce or try my Root Beer Barbecue Sauce or classic Homemade BBQ Sauce.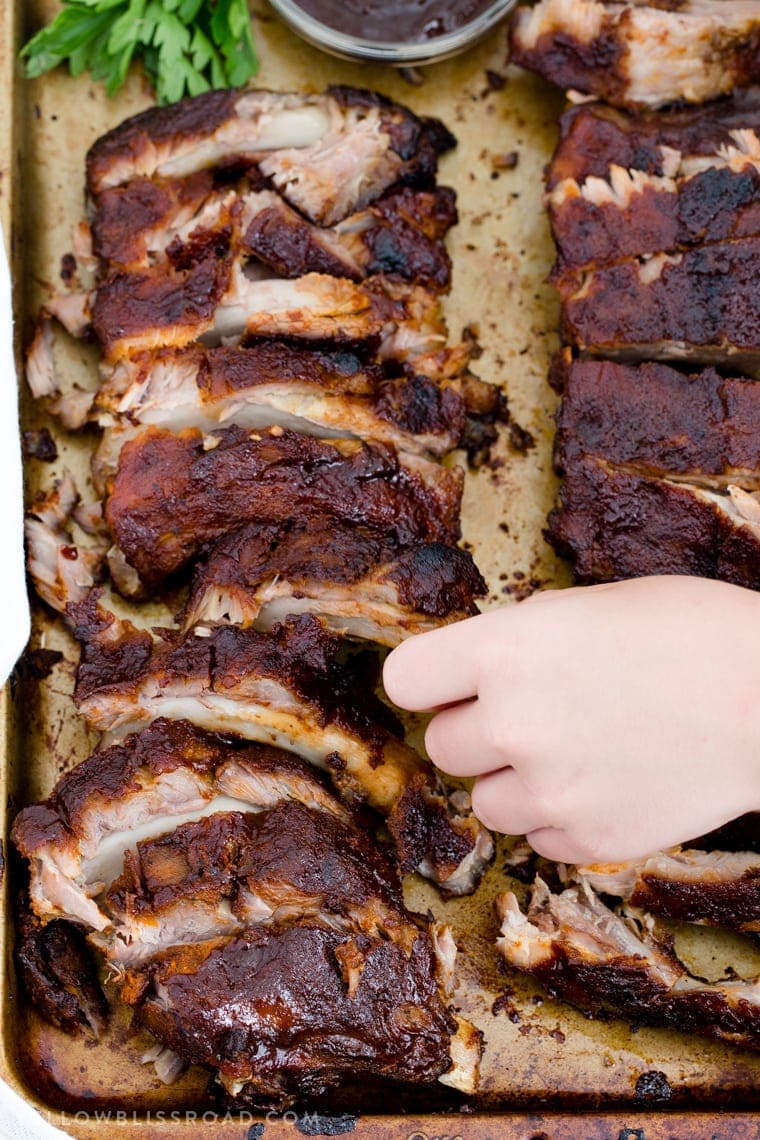 How To Prep Ribs Before Cooking
In my family, I am known for this amazingly fall off the bone tender crock pot ribs recipe. My kids ask for them almost daily. Along the way I've learned a thing or two about how to prepare them for cooking.
Remove the membrane. Remove your slab of ribs from the packaging and take a look at the backside. You'll see a thin layer of membrane that holds the ribs together. This is quite tough and should be removed. Slide a knife underneath one side to loosen it, then just peel it off. If you're lucky the butcher will have already done this for you, or you can ask them to at the meat counter of your grocery store.
Inspect. Take a look at the whole slab and check for shards or pieces of bone that may have been left behind when the butcher cut the ribs.
Cut. Lay the slab flat on a cutting board and cut into three equal pieces. This will help the ribs fit snugly into the slow cooker.
How To Cook BBQ Ribs in a Crock Pot
Mix dry rub ingredients together and set aside.
Pat ribs dry and remove membrane from the back.
Rub in the spice blend and cut ribs into 3 pieces.
Place crumpled foil in the bottom of the crock pot and stack the ribs on top.
Cook for 8-9 hours on LOW or 5-6 hours on HIGH. I recommend keeping it on the low setting.
Once cooked, arrange on a baking sheet and brush on bbq sauce and broil for a few minutes to caramelize.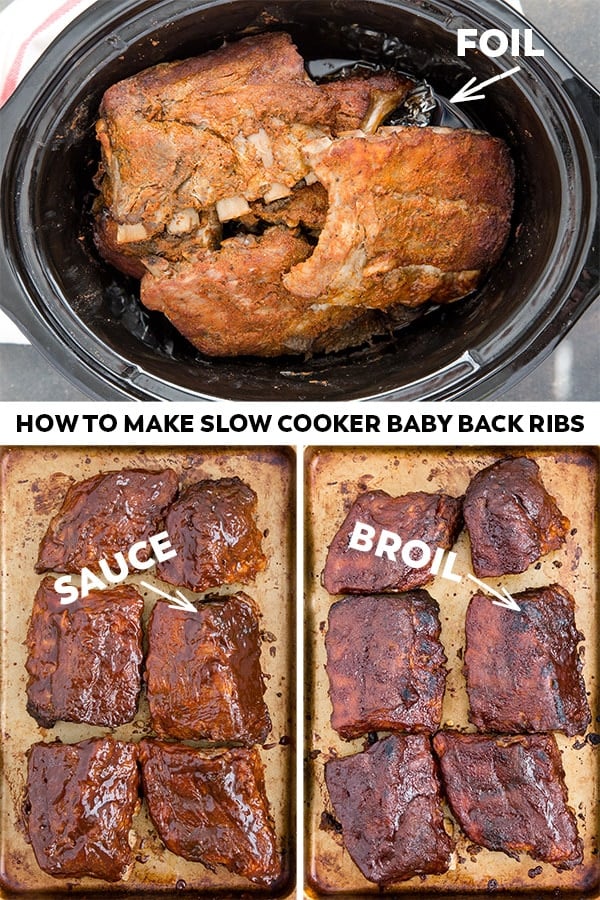 Tips For The Most Tender Slow Cooker Ribs
Foil – Add foil to the bottom of the crock pot so the meat isn't sitting in the juices.
BBQ Sauce –

Add the barbecue sauce

after

your ribs have finished cooking. Cooking ribs in the crockpot with barbecue sauce adds a little flavor, but while the ribs are cooking they release a ton of liquid that will just water down your barbecue sauce. You won't have that finger-licking stickiness that you expect from a good plate of bbq ribs. Let the ribs cook in the crockpot, then douse them in your favorite barbecue sauce.

Broil – Once the slow cooker ribs are cooked, I like to go the extra step of broiling them in the oven. This helps to caramelize the barbecue sauce, making them extra sticky and yummy, and ensuring that the sauce stays right where it belongs. They get all charred and crispy on top with just adds to the overall deliciousness.
Grill – You could also grill the cooked ribs on your outdoor grill for extra smokiness.
FAQs
How do you keep the meat from falling off the bone while it's cooking?
One issue people tend to have is the meat falling off the bone during cooking, and sitting in the juices and drippings below becoming overcooked and mushy. Luckily I have a sure-fire trick to make sure that doesn't happen – Crumple some foil balls and place them at the bottom of your slow cooker. This will keep the bbq ribs from sitting in the juices and becoming mushy.
Can you cook ribs in a slow cooker without liquid?
Absolutely! In fact, I highly recommend it. Most beef can be cooked without liquid because it produced a lot of juices as it cooks, which both flavors and tenderizes the meat.
How long do you cook Ribs in the Crockpot?
There are a lot of "secrets" to getting that fall off the bone texture when cooking ribs, but the most basic of those is cooking low and slow. Slow cooker ribs at a low temperature for a long period of time yields incredibly tender meat that just falls off the bone without any effort. Plan on 8-9 hours on LOW or 6-7 hours on HIGH.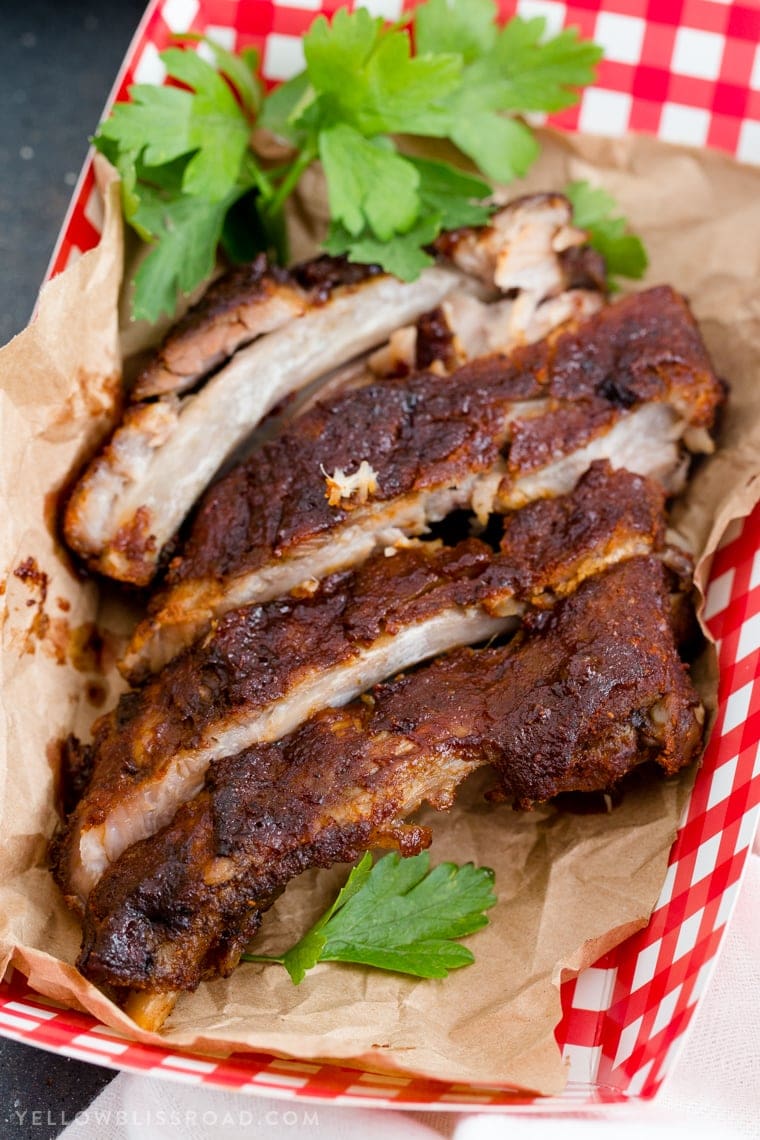 Serving Suggestions
Here are some great sides to go with your Crock Pot Ribs:
Storing Leftovers
If you have some ribs leftover, store them in the refrigerator in an airtight container for up to 3-4 days. You can reheat the in the microwave for 30 seconds or enjoy them cold.
Another way is to just pick the meat off the bones and use it for wraps and salads.
You can freeze cooked ribs in a freezer bag for up to 3-4 months. Thaw completely before reheating.
More Slow Cooker Recipes
Recipe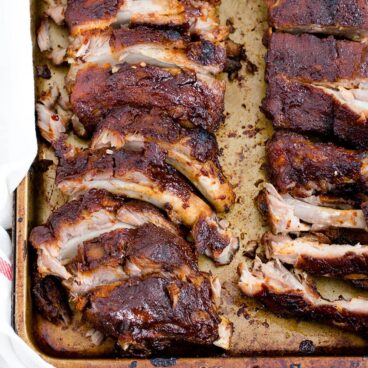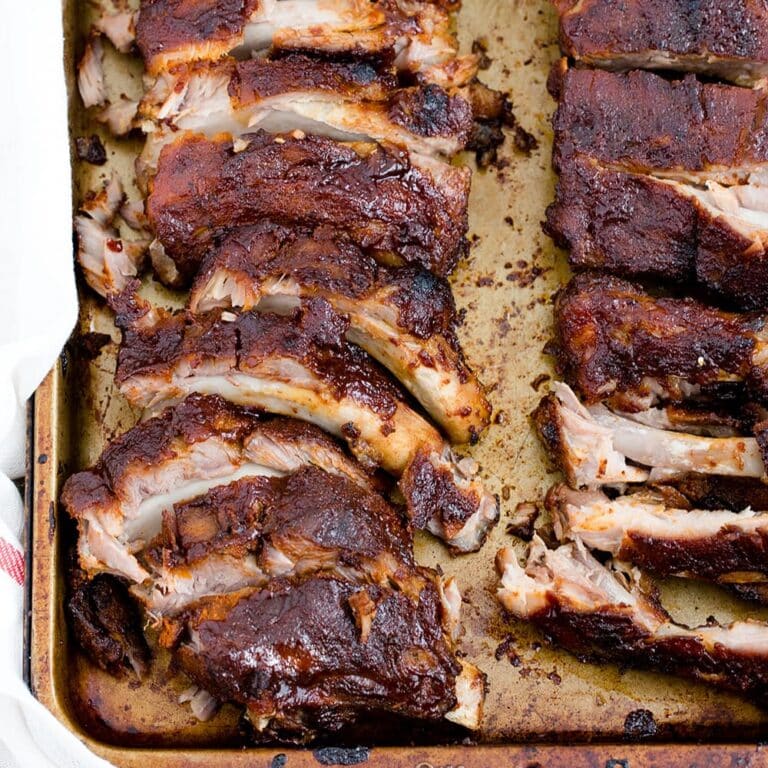 Crockpot Ribs (Slow Cooker Barbecue Ribs)
Learn the secrets to making the best Crockpot Ribs with this easy recipe. Get flavorful, tender and juicy bbq ribs while your slow cooker does all the work!
Total Time
8

hours
10

minutes
Ingredients
4

pounds

baby back ribs (2 racks)

1/4

cup

brown sugar

2

tablespoons

Kosher salt

1

tablespoon

onion powder

2

tablespoons

garlic powder

2

tablespoons

smoked paprika

1

teaspoon

black pepper

2

cups

of your favorite barbecue sauce
Instructions
In a small bowl, combine brown sugar, salt, onion powder, garlic powder, pepper and paprika. Set aside.

Remove ribs from their packaging and pat dry. Look at the back side of each rack of ribs. If the membrane is still in tact, remove it by sliding a dull knife or your fingers underneath to loosen and peel it off. Rub the spice blend all over the meat on both sides. Cut racks into 3 even sections each.

Crumple foil loosely into about 5 balls the size of your fist. Place these on the bottom of a 6 quart slow cooker. Stack ribs on top of the foil. Make sure you able able to secure the lid all the way and they are not touching the lid. (In my 6.5-quart slow cooker, the sections of ribs fit tightly).

Cook ribs on low for 8-9 hours on low or 5-6 hours on high. (TIP: low and slow is recommended).

When ribs are fork tender, place them on a foil or parchment paper lined sheet pan and brush with barbecue sauce. Serve immediately, or proceed to the next step if desired.

Turn your oven's broiler to high and place a rack near the top. Place ribs under the broiler for 3-4 minutes or until sauce is caramelized. Watch closely so they don't burn. You could also opt to grill them on an outdoor grill over high heat for several minutes.

Cut into individual pieces and serve immediately.
Notes
Serving size will vary depending on how many ribs are in each rack that you purchase.
Nutrition
Calories:
646
kcal
Carbohydrates:
52
g
Protein:
38
g
Fat:
32
g
Saturated Fat:
11
g
Cholesterol:
131
mg
Sodium:
3477
mg
Potassium:
800
mg
Fiber:
2
g
Sugar:
41
g
Vitamin A:
1405
IU
Vitamin C:
1
mg
Calcium:
110
mg
Iron:
3
mg