This Lighter Hawaiian Macaroni Salad is a super creamy pasta salad that skimps on calories, but not flavor. It's the perfect side dish for barbecues, picnics or just dinner with your family.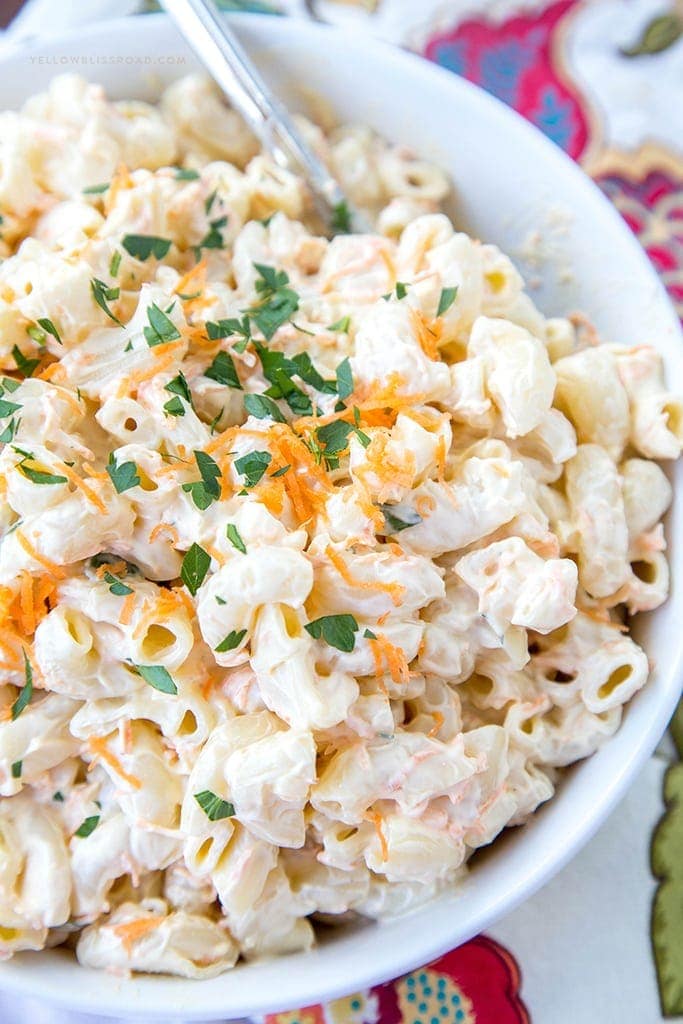 If you've ever visited the islands of Hawaii, then you're probably familiar with the term "plate lunch." It's a popular order for lunch or dinner or many food trucks and counter service restaurants all over the islands. The Two Scoop Plate Lunch consists of a meat entree, like Kalua Pork or Katsu Chicken, and two scoops of white rice and/or macaroni salad.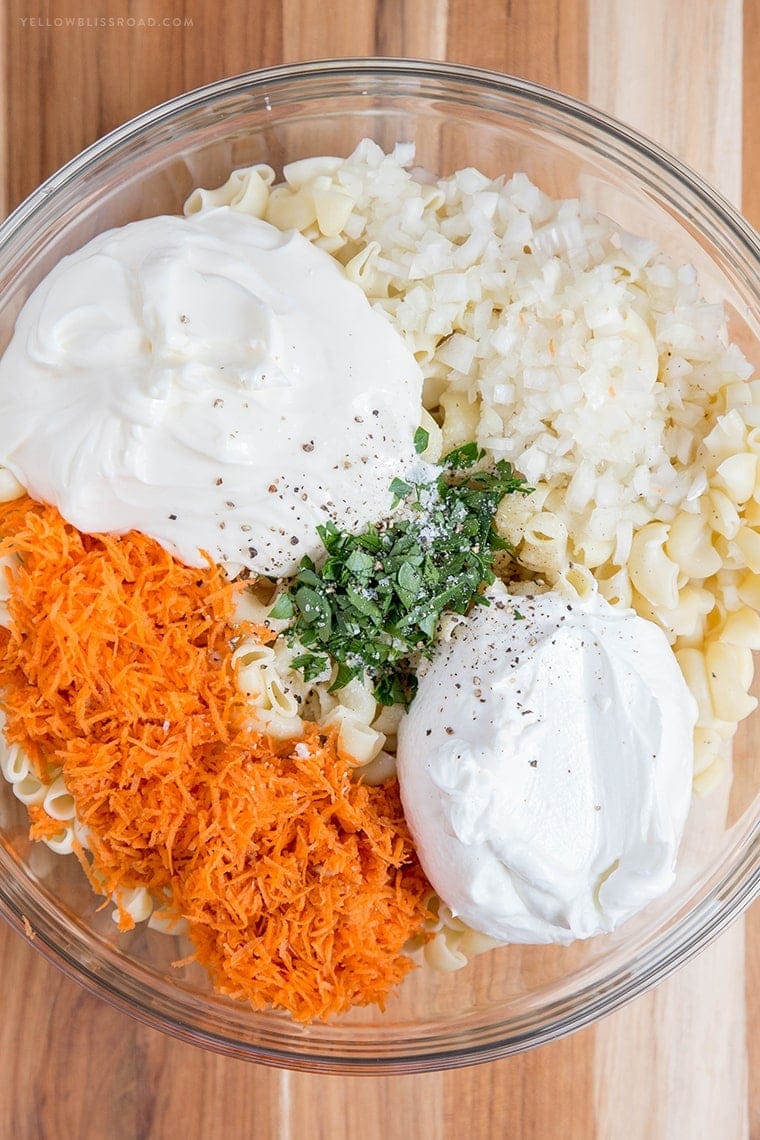 We had the Plate Lunch at a little counter service joint called Zippy's, which is really popular with the locals. It may have very well been the best meal I ate during our entire trip. The Macaroni Salad is not like the traditional Macaroni Salad we have stateside (like this one). It's sweeter, creamier and is absolutely divine. The other thing it is, is full of unhealthy (but still quite tasty) fat. So when I wanted to make this salad at home, I knew I needed to bring the fat and calories down a bit.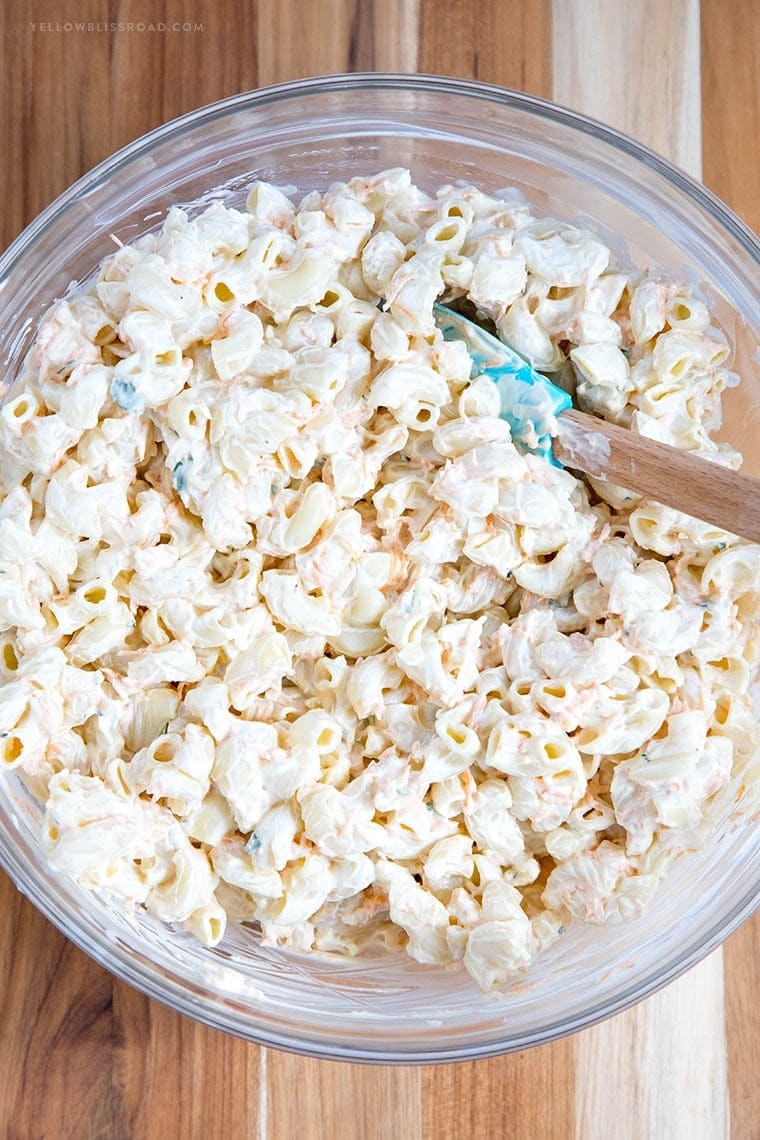 My recipe still uses good old traditional mayo, but instead of 2 1/2 cups of the stuff, I used half mayo and half Greek Yogurt. Hawaiian Macaroni Salad recipes usually also call for whole milk and a bit of white sugar, which I swapped out for nonfat milk and honey. Still super creamy and super delicious, but you can feel a little bit better about having that extra helping (or three)!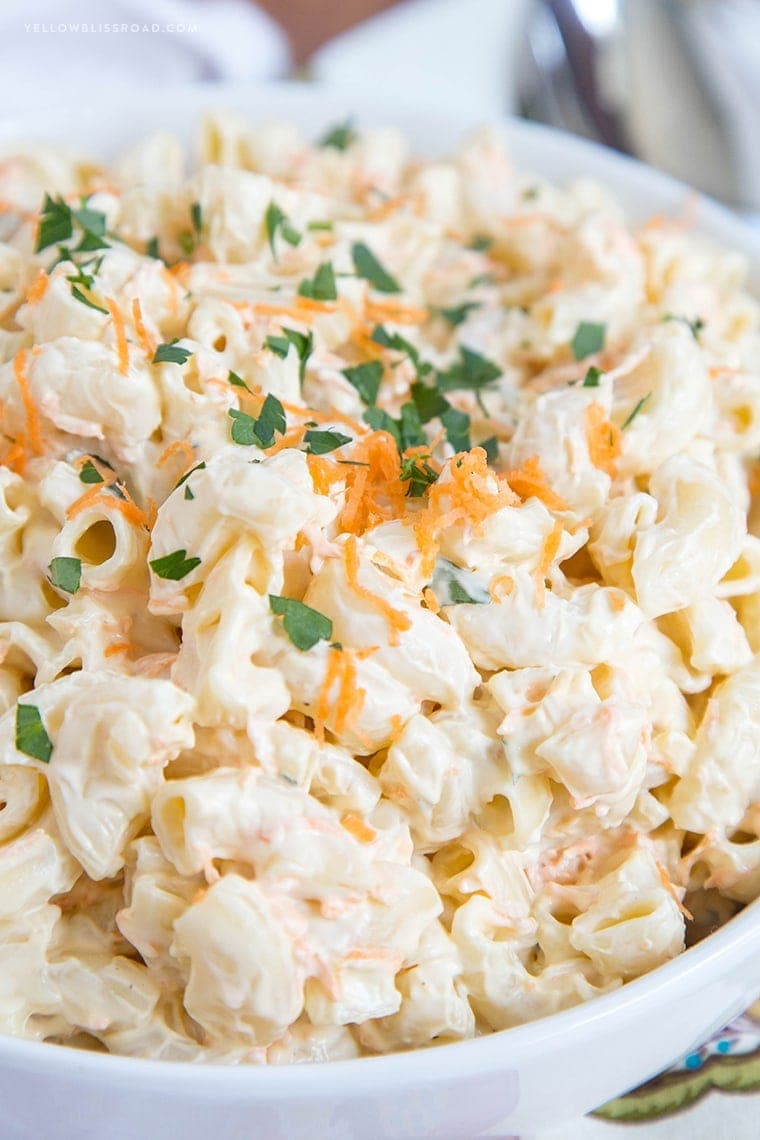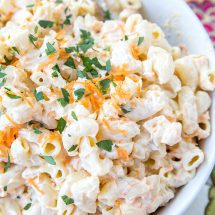 Lighter Hawaiian Macaroni Salad
Print
Pin
Rate
Prep Time: 10 minutes
Cook Time: 8 minutes
Total Time: 18 minutes
Servings: 8 -10 servings
Ingredients
1 pound Macaroni
3 tablespoons apple cider vinegar
2 smallish carrots shredded (about 1/2 cup)
1/2 small onion finely minced (about 1/4 cup)
1 1/4 cup Mayonnaise
1 1/4 cups Greek Yogurt
1/4 cup nonfat milk
1 tablespoon honey
Salt & pepper to taste
2 tablespoons fresh chopped parsley optional
Instructions
Cook macaroni according to package instructions (about 10 minutes). You want them a little softer than al dente. Rinse with cold water to stop the cooking process. Drain and cool to room temperature or chill in the refrigerator.

In a small bowl, combine mayonnaise, greek yogurt, milk, honey and apple cider vinegar. Pour over cooled macaroni and stir to coat completely. Stir in carrots and onion. Chill until ready to serve.
For more delicious side dishes, try these: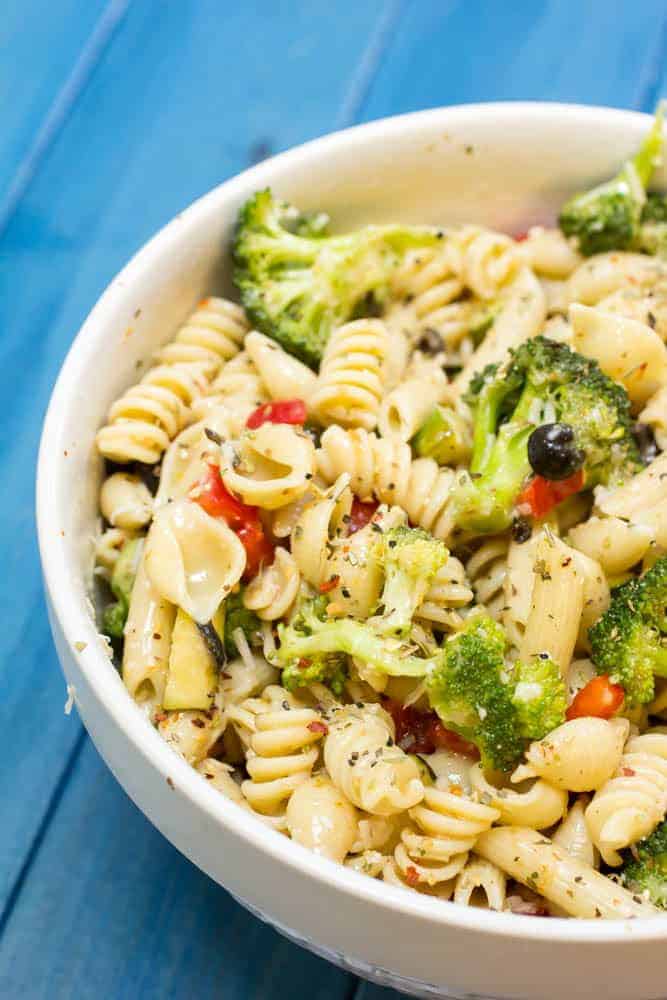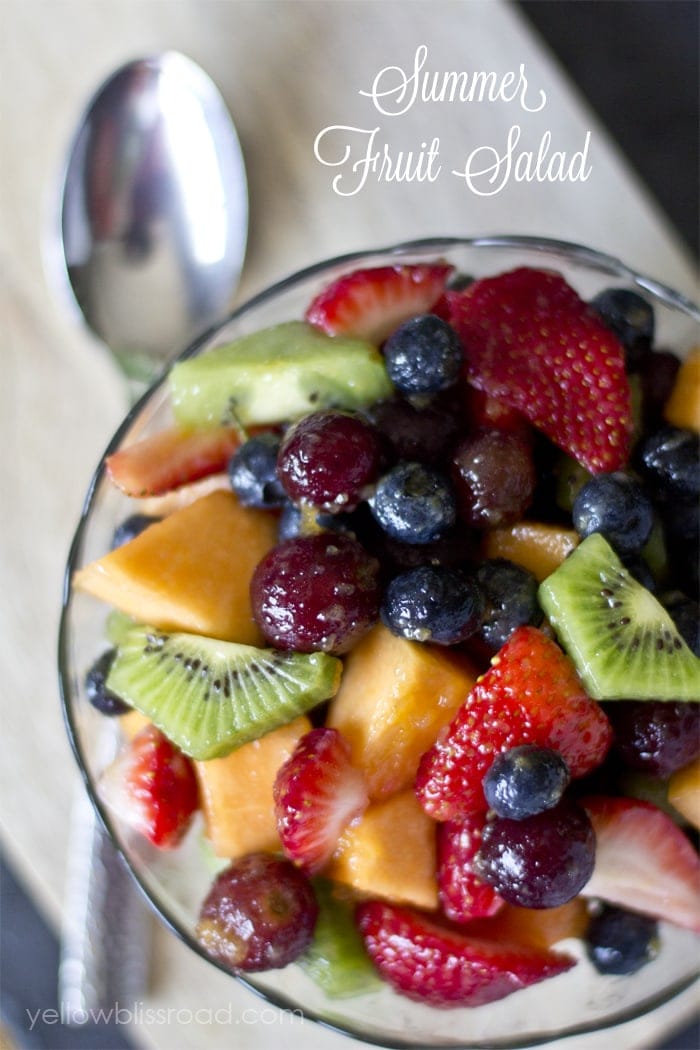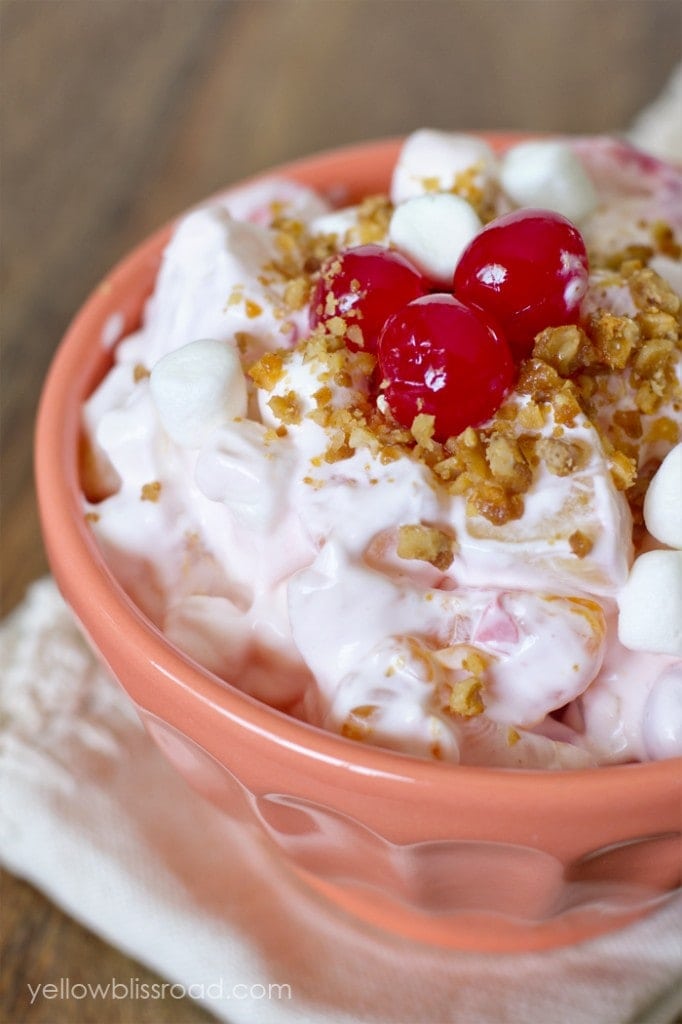 For all side dishes go HERE and for all recipes go HERE.
Hi! I'm Kristin, the creative mind behind Yellow Bliss Road where you will be inspired by tons of easy to follow recipes, lots of free printables, and a little sprinkling of life thrown in for good measure.