This Hawaiian Baked Chicken is a version of the popular Huli-Huli Chicken. It's sweet and savory and so delicious! Make it in the oven anytime, or grill it outdoors in the summer months.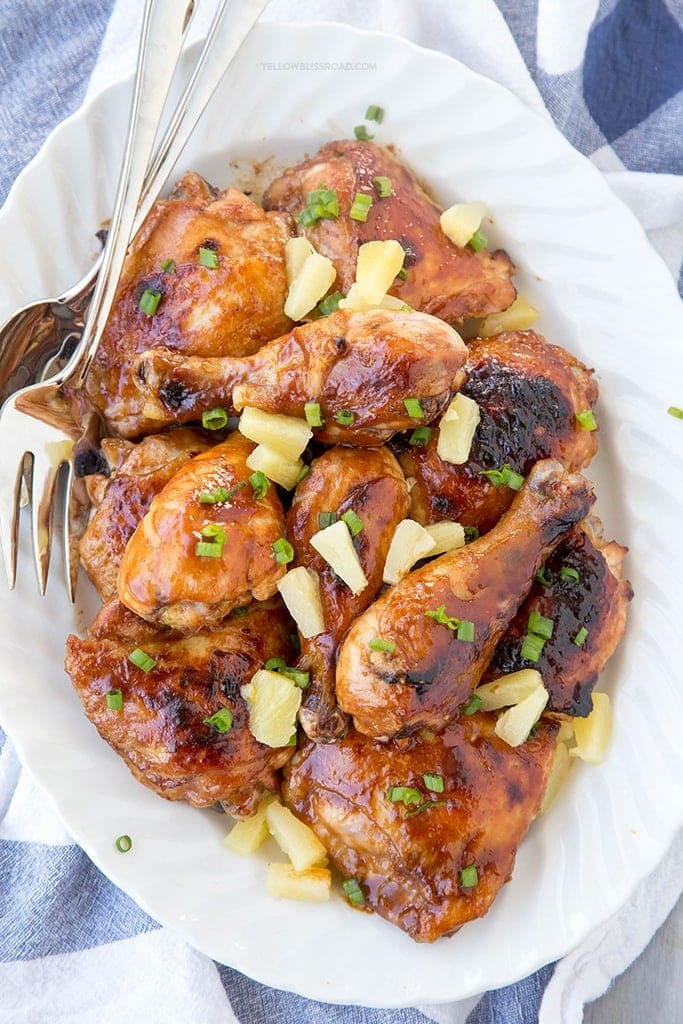 We were in Hawaii last week and I figured it would be the perfect time to start sharing some of my favorite Hawaiian-inspired recipes, like the Bacon & Pineapple Fried Rice I shared the other day.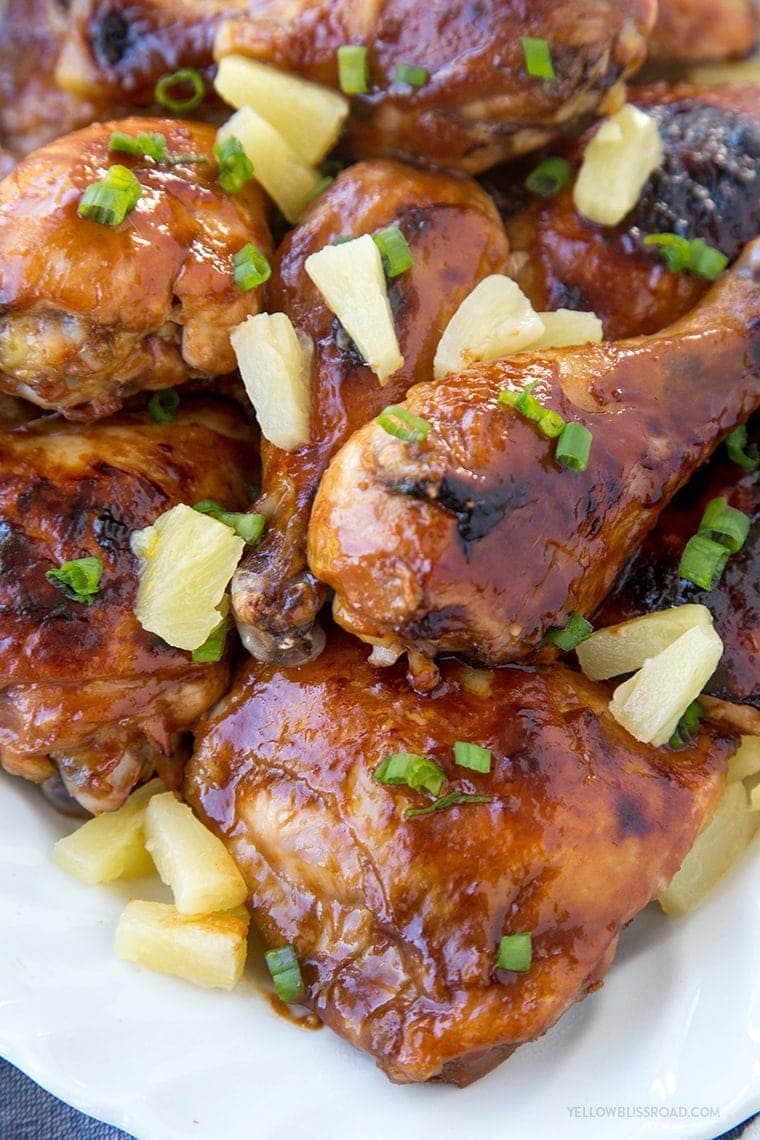 Chicken recipes have always been a huge hit around here, and I know this one will be no different. It's pretty versatile – you can make it with bone-in chicken thighs and drumsticks like I did, or use boneless, skinless chicken breasts to make it a little healthier.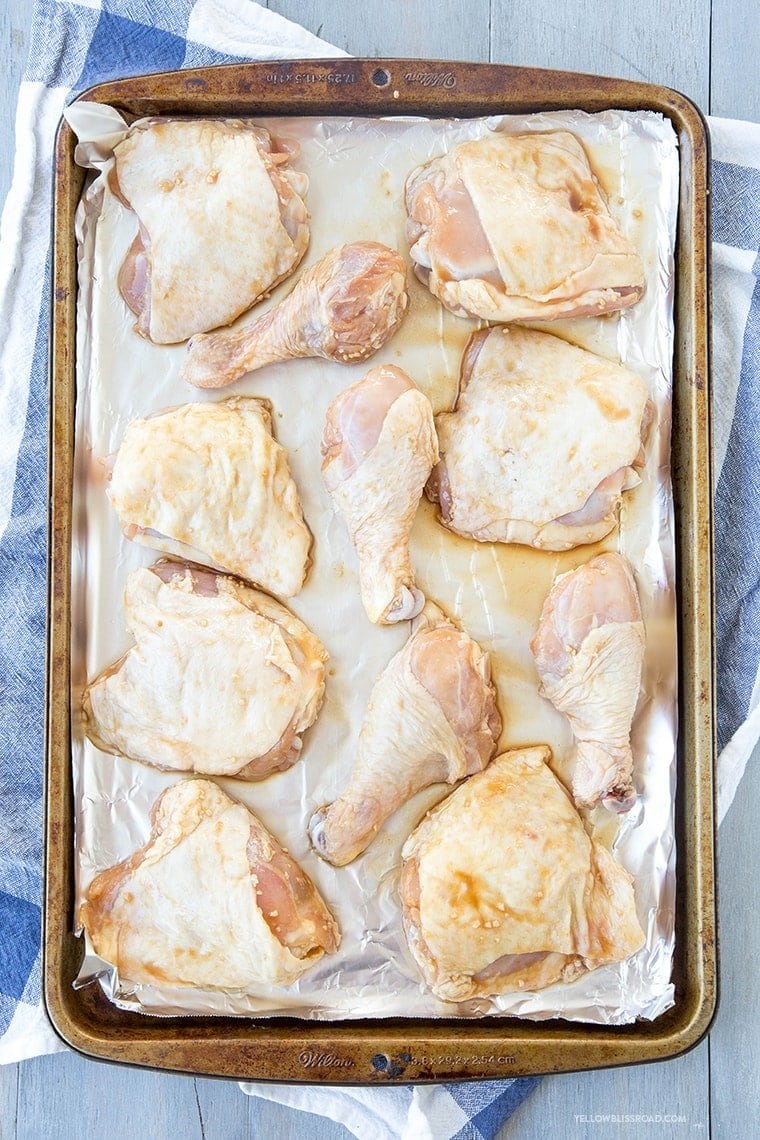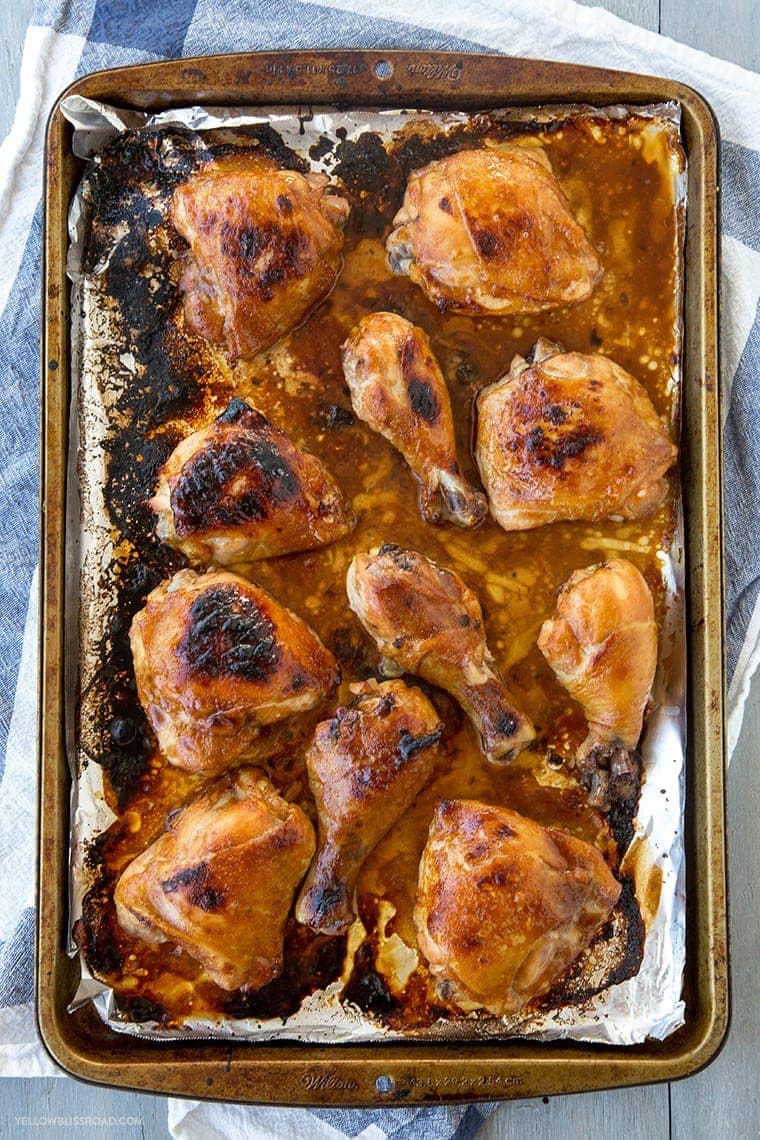 The marinade is a delicious combo of soy sauce, Worcestershire, honey, fresh ginger, pineapple juice, ketchup and garlic. Yum, right? The chicken is marinated for a couple of hours, or as long as overnight (the longer the better). The remaining marinade is cooked on the stove-top until it's reduced into a sticky glaze to finish off the chicken. Heating the marinade and boiling it for at least 5 minutes kills any potential bacteria, however if you're not comfortable with that, you could make a little extra and reserve it. I like reducing it to a thicker sauce on the stove.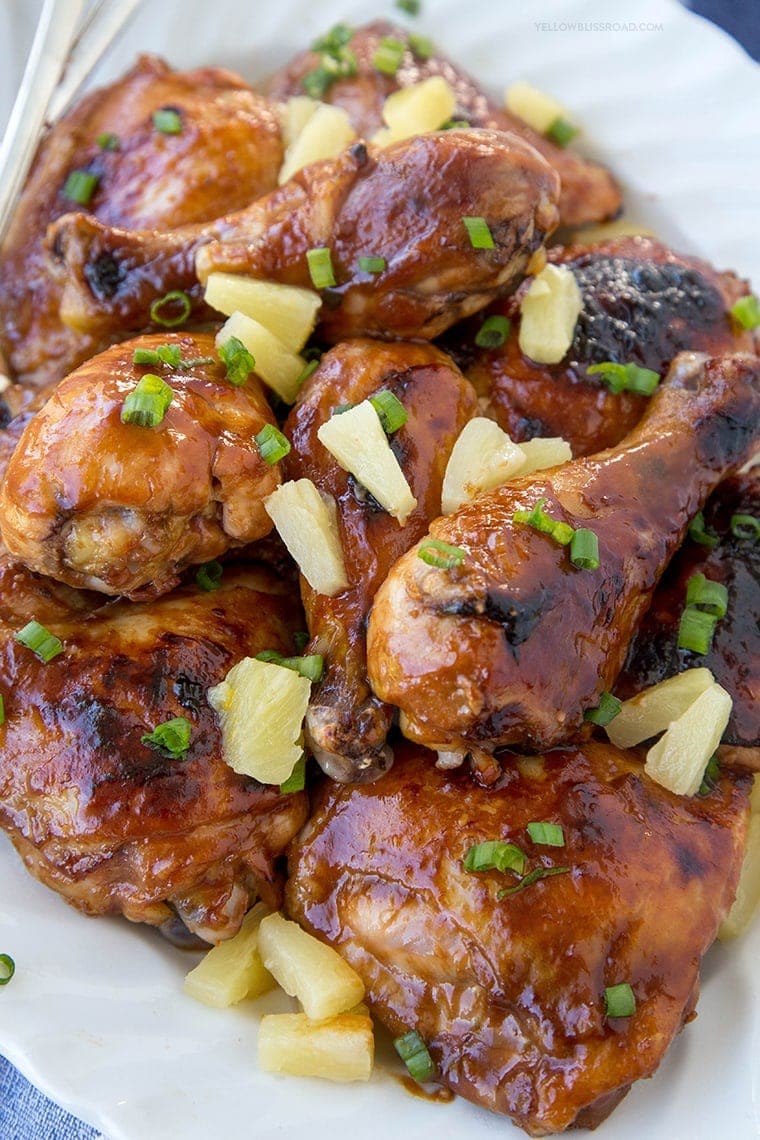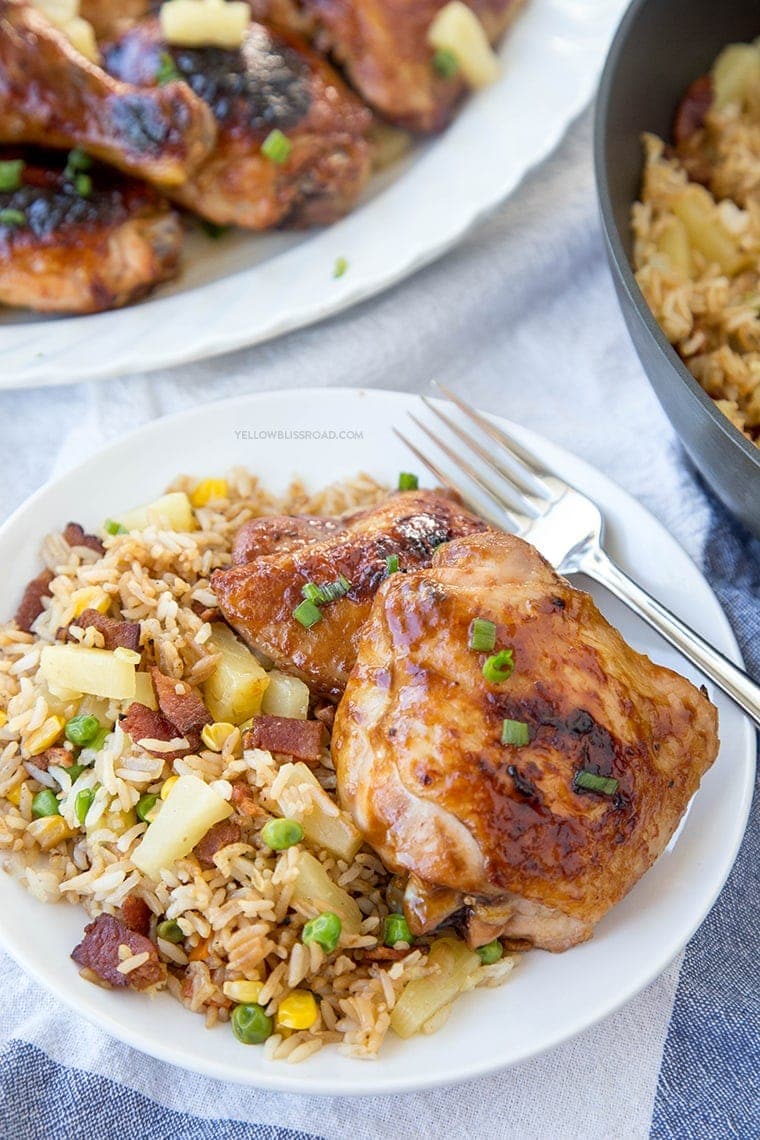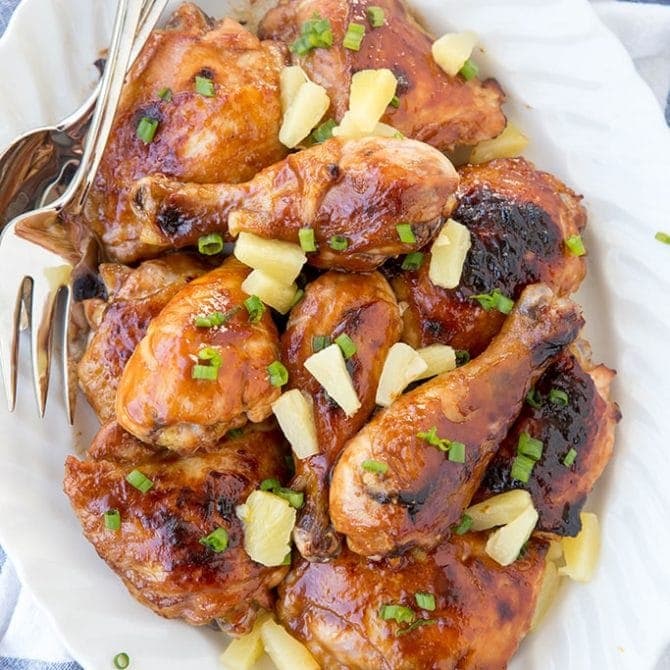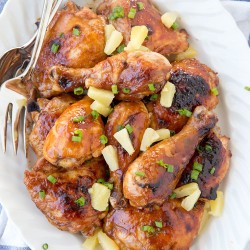 Hawaiian Barbecue Baked Chicken (Huli-Huli)
Ingredients
3 pounds skiin-on bone-in chicken thighs and/or drumsticks
1/4 cup low sodium soy sauce
2 tablespoon Worcestershire Sauce
1/4 cup rice wine vinegar
1 tablespoon granulated sugar
1 tablespoon honey
1 1/2 teaspoons fresh grated ginger
1/4 cup pineapple juice
1/4 cup ketchup
1/2 cup chicken broth
1 tablespoon minced garlic 3-4 cloves
Instructions
Whisk together all ingredients except chicken in a small bowl.

Place chicken in a large ziploc bag. Pour the remaining marinade over chicken and massage to make sure marinade is coating all of the chicken pieces. Place chicken in the refrigerator for at least 2 hours. Turn bag over at least once while marinating to ensure all pieces are coated evenly.

Preheat oven to 400 degrees. Arrange chicken on a foil-lined, rimmed baking sheet, skin side up. Pour the marinade through a strainer into a small saucepan and place on the stove at medium heat. While the chicken is cooking, bring the marinade to a low boil and cook for at least 5 minutes, whisking often. Turn heat down to medium-low and continue cooking; whisking occasionally until sauce is reduced and thickened. It will continue to thicken as it sits.

Bake chicken for 30-35 minutes, or until juices are clear and chicken is no longer pink near the bone.

Turn chicken pieces over and baste with the cooked sauce about halfway through cooking time.

Remove the pan from the oven and turn on the broiler. Flip chicken over so the skin side is up and baste liberally with the cooked marinade. Place under the broiler for 5-7 minutes until skin is browned. Watch closely so that it doesn't burn.

Remove from the oven and brush chicken pieces with the remaining sauce.

Garnish with sliced green onions and pineapple chunks, if desired.
For more easy chicken dinners, try these: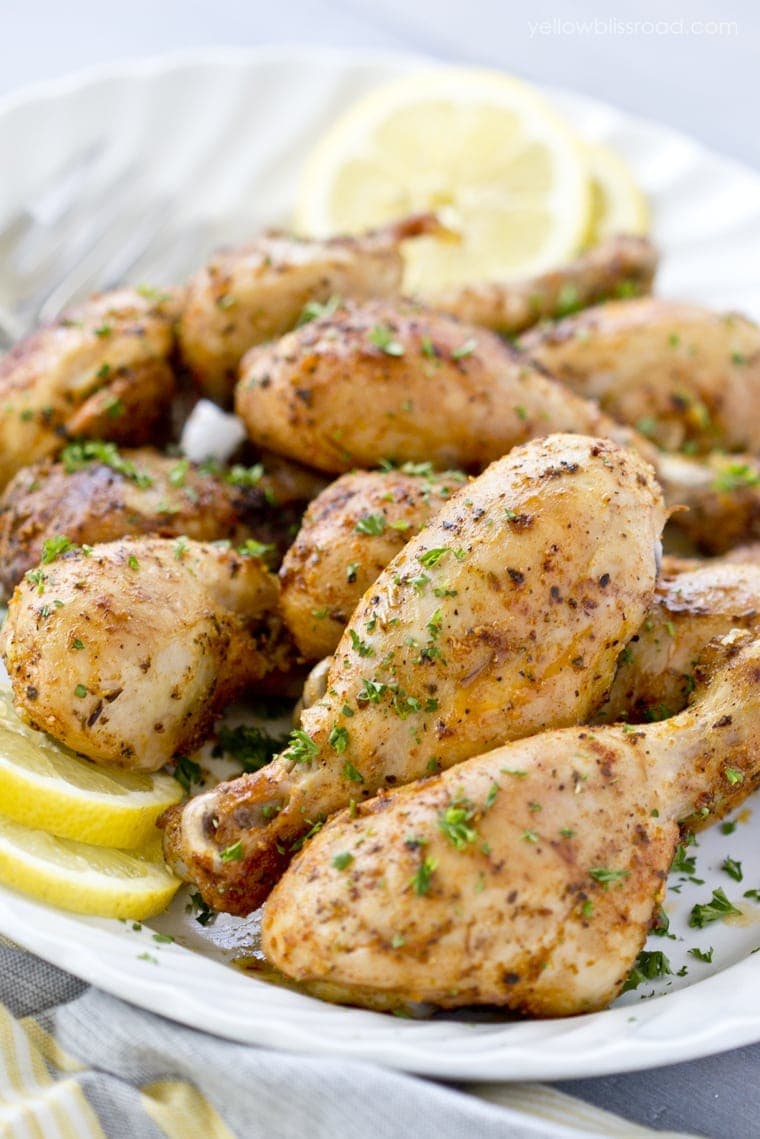 Barbecue Ranch Cheddar Chicken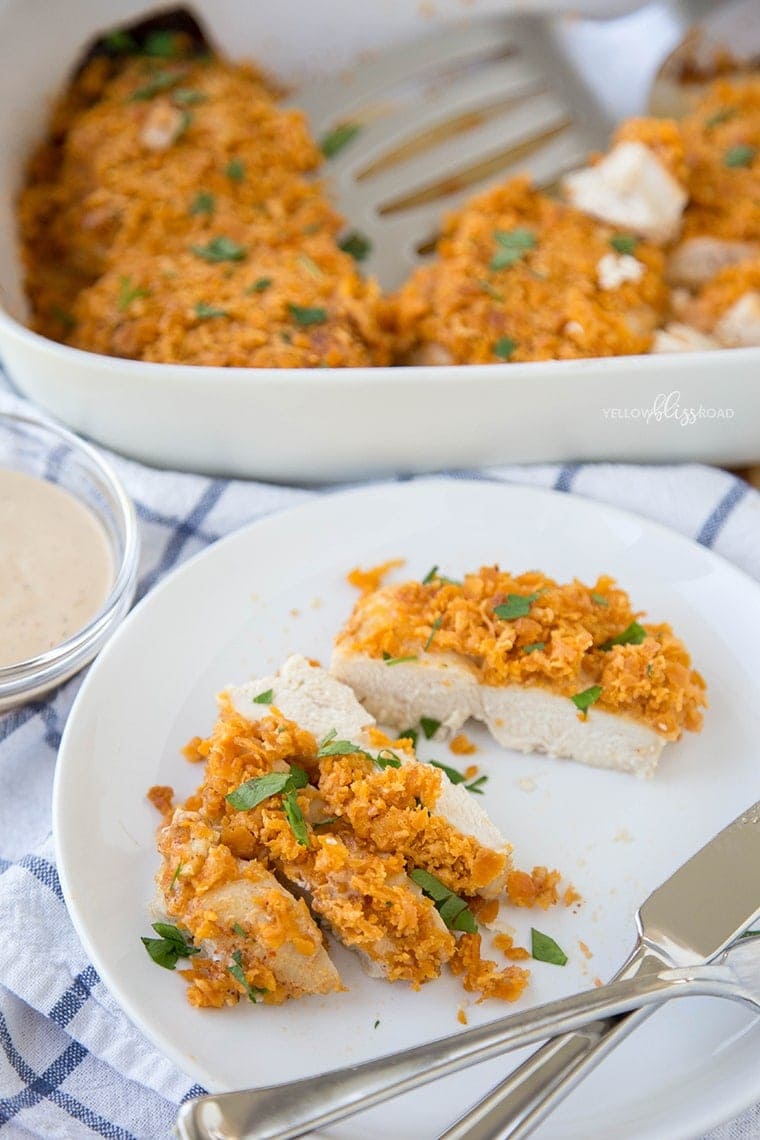 Honey Glazed Crispy Baked Chicken Wings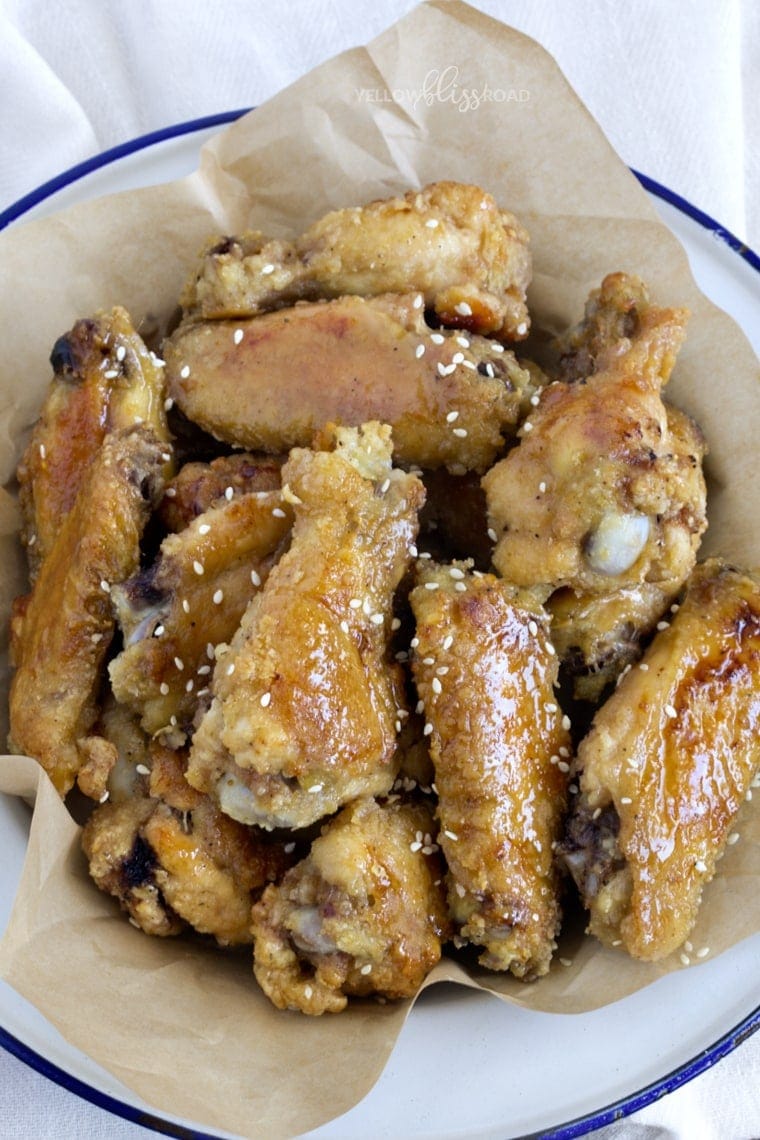 Oven Baked Barbecue Chicken Tacos