This Classic Macaroni Salad is a hit at parties, BBQs and with adults and kids alike. It comes together easily and is the perfect side dish for summer parties, making it perfect for Memorial Day and 4th of July!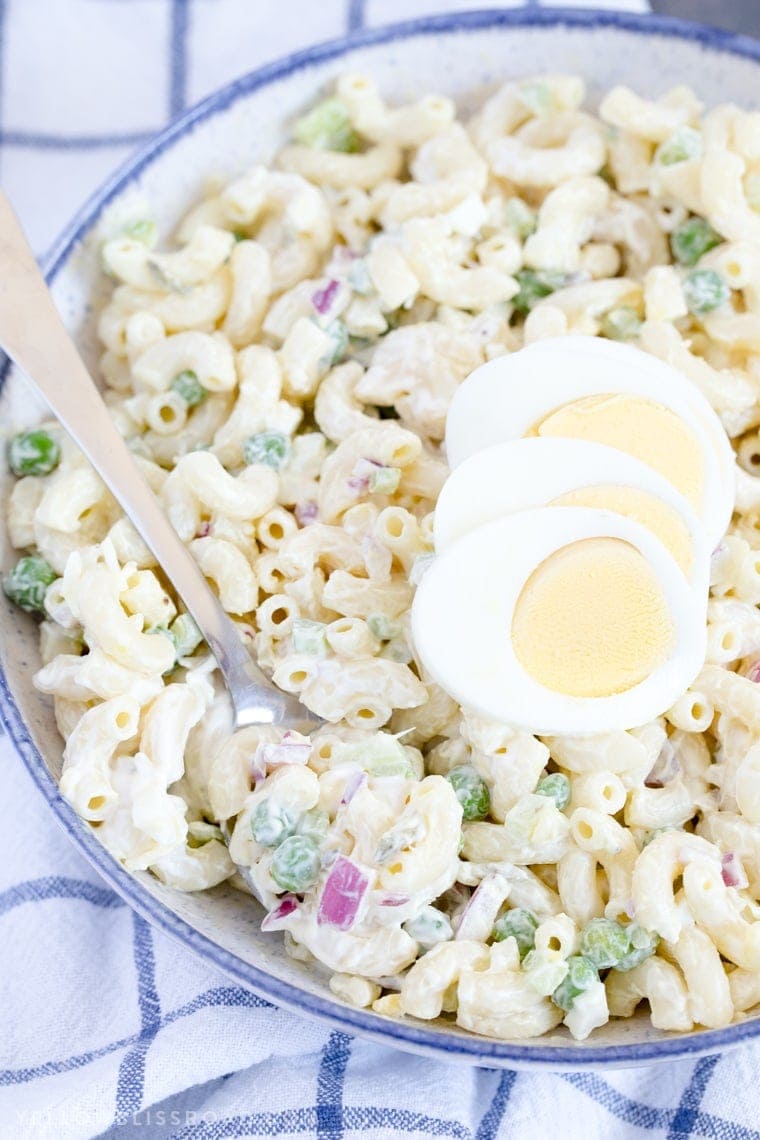 *This post has been updated from 2014.
See the peas in that macaroni salad? This is seriously the only thing I like peas in. And I hate peas. But there's something about the combination of flavors and textures that makes them fit in perfectly.
This is a favorite family recipe that my mom has been making since her home ec class in high school. It's loved by everyone – so much so that my cousin listed it specifically in our family reunion book as his favorite food.
It's that good.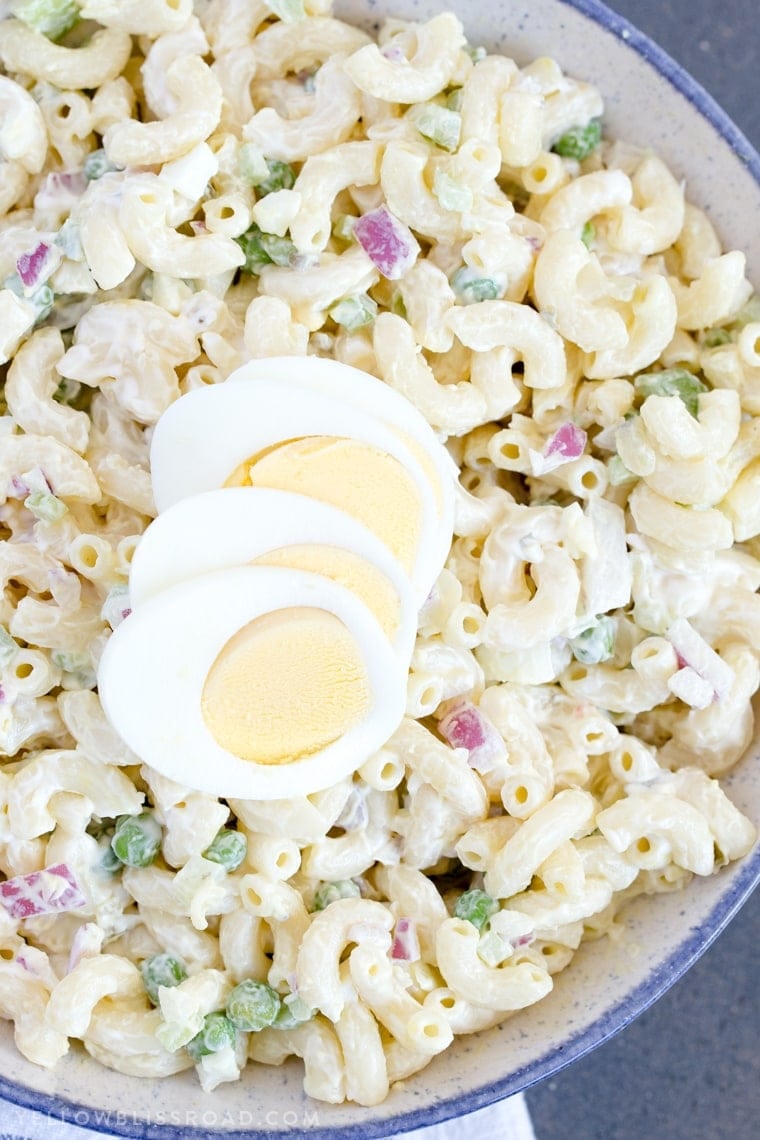 Crunchy celery and peas, tangy pickle relish and mustard, and tender hard boiled eggs and macaroni come together with the perfect amount of seasoning and just enough mayo to keep it from drying out. My kids love it too, even with the peas and onions! Now THAT is a special recipe!
Print out this recipe and make this classic macaroni salad for your next BBQ or summer party. You can thank me later.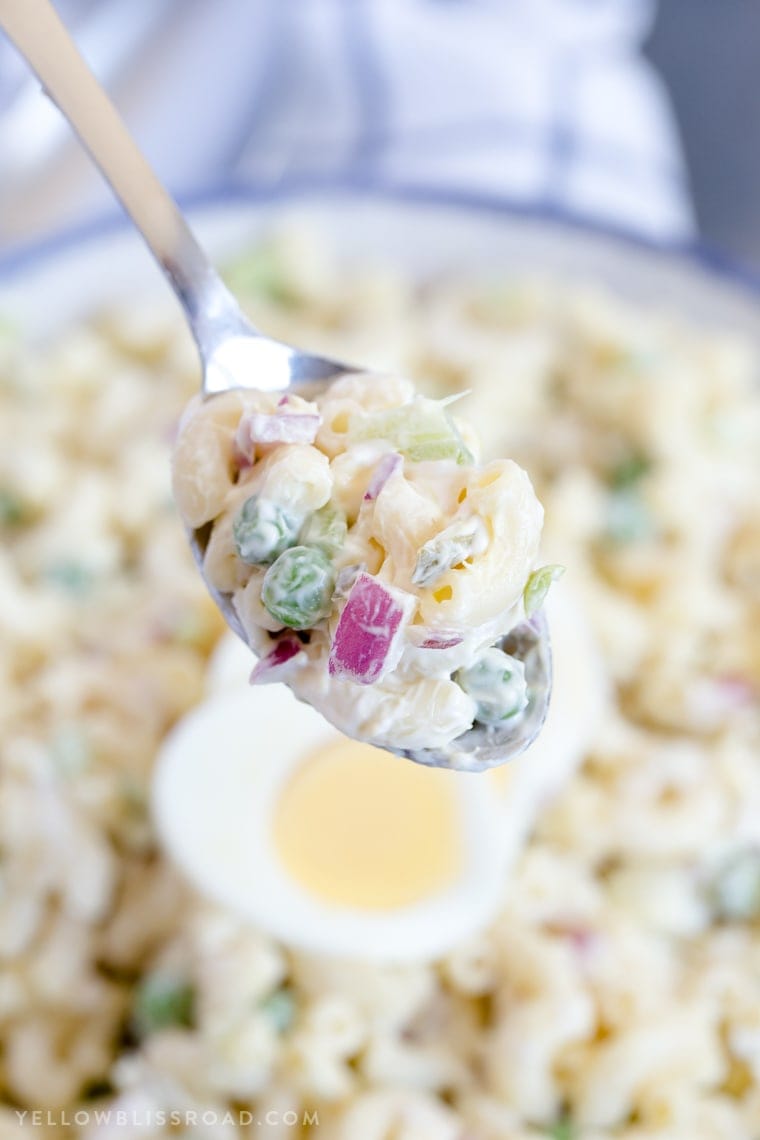 HOW TO MAKE MACARONI SALAD: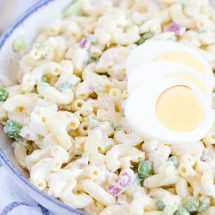 Classic Macaroni Salad
Print
Pin
Rate
Prep Time: 20 minutes
Total Time: 20 minutes
Servings: 8 servings
Ingredients
2 cups elbow macaroni 1/2 box
4 tablespoons  sweet pickle relish
1 cup chopped celery
2 tablespoons chopped onion
1 cup frozen peas cooked and cooled
4 hard cooked eggs chopped
2 teaspoons prepared mustard
1 cup mayonnaise
1 teaspoon salt to taste
Instructions
Cook macaroni following directions on the package. Drain and rinse in colander and drain well. Cool to at least room temperature, or in the fridge.

Meanwhile, in a large bowl combine celery, onion, relish, eggs, salt and peas.

Stir in cooked macaroni.

Stir in mustard and mayonnaise and blend thoroughly.

Store in a tightly sealed container for up to 5 days. If salad seems dry, add a couple of tablespoons of mayonnaise to moisten.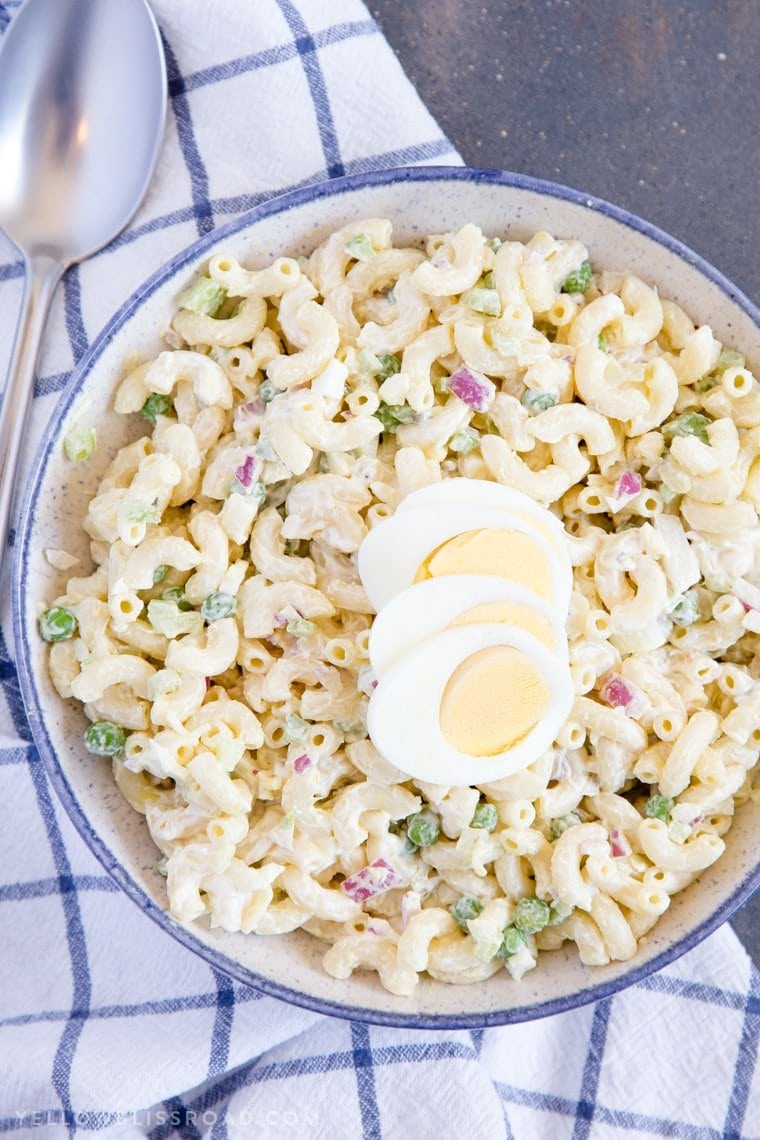 Love this Classic Macaroni Salad? For more delicious potluck friendly sides, be sure to check these out: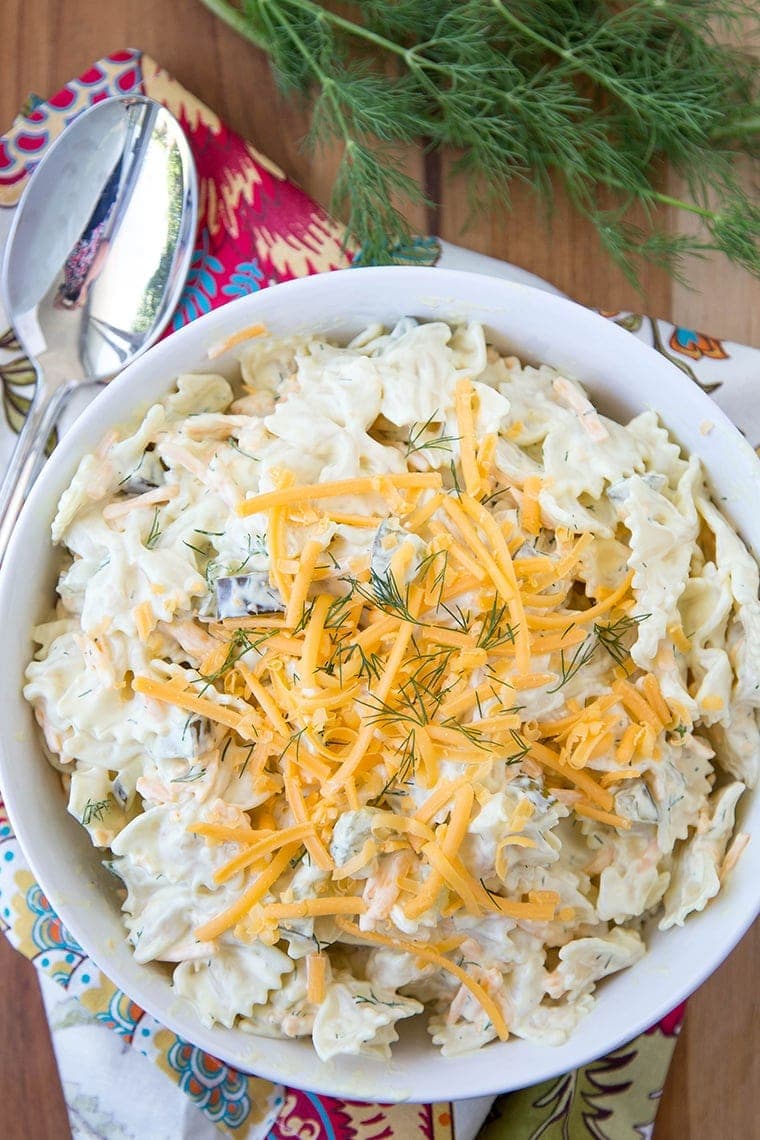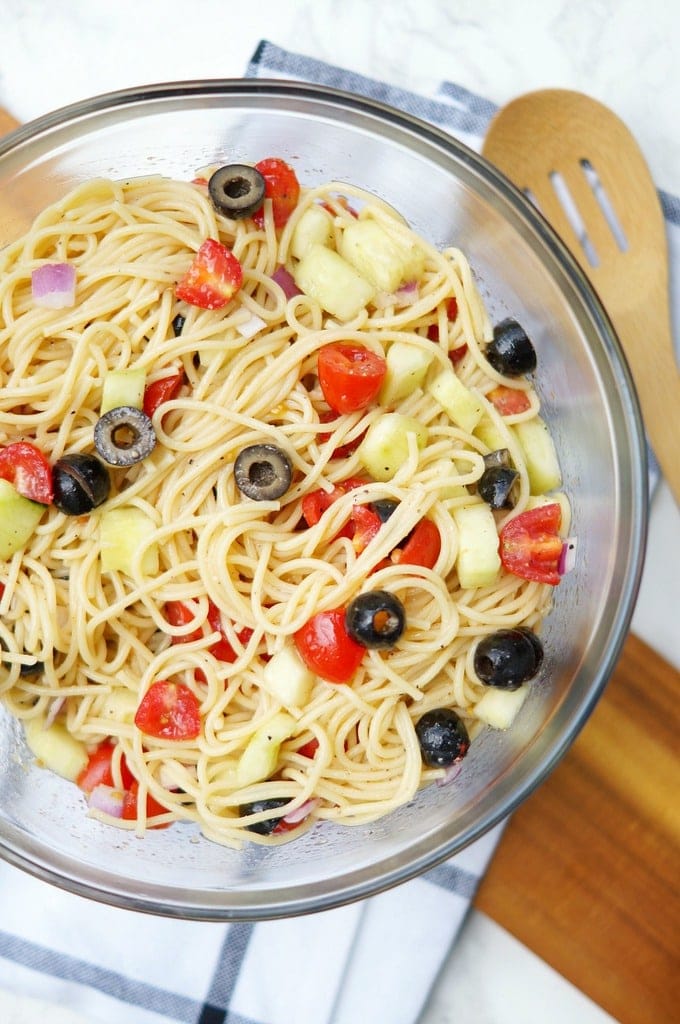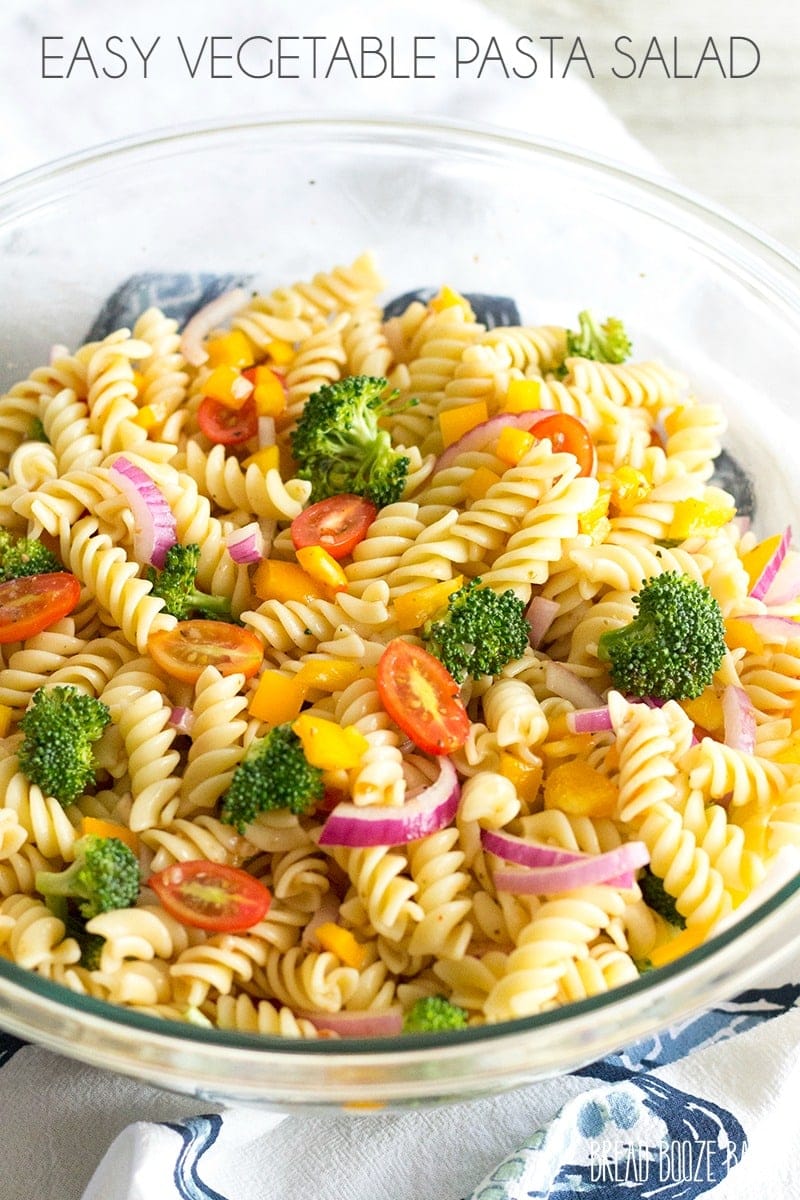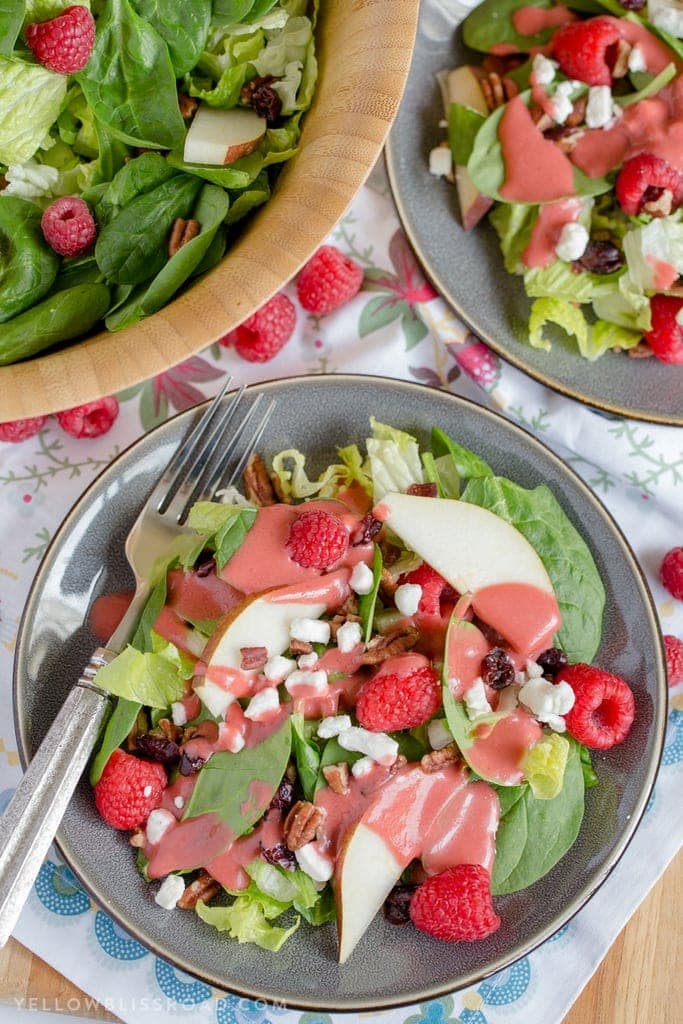 For all salads go HERE and for the Recipe Index go HERE.
Hi! I'm Kristin, the creative mind behind Yellow Bliss Road where you will be inspired by tons of easy to follow recipes, lots of free printables, and a little sprinkling of life thrown in for good measure.