Learn how to how to boil eggs and make perfect hard boiled eggs the easy way in just a few simple steps. Get those perfectly firm whites and creamy yellow centers every time you boil eggs!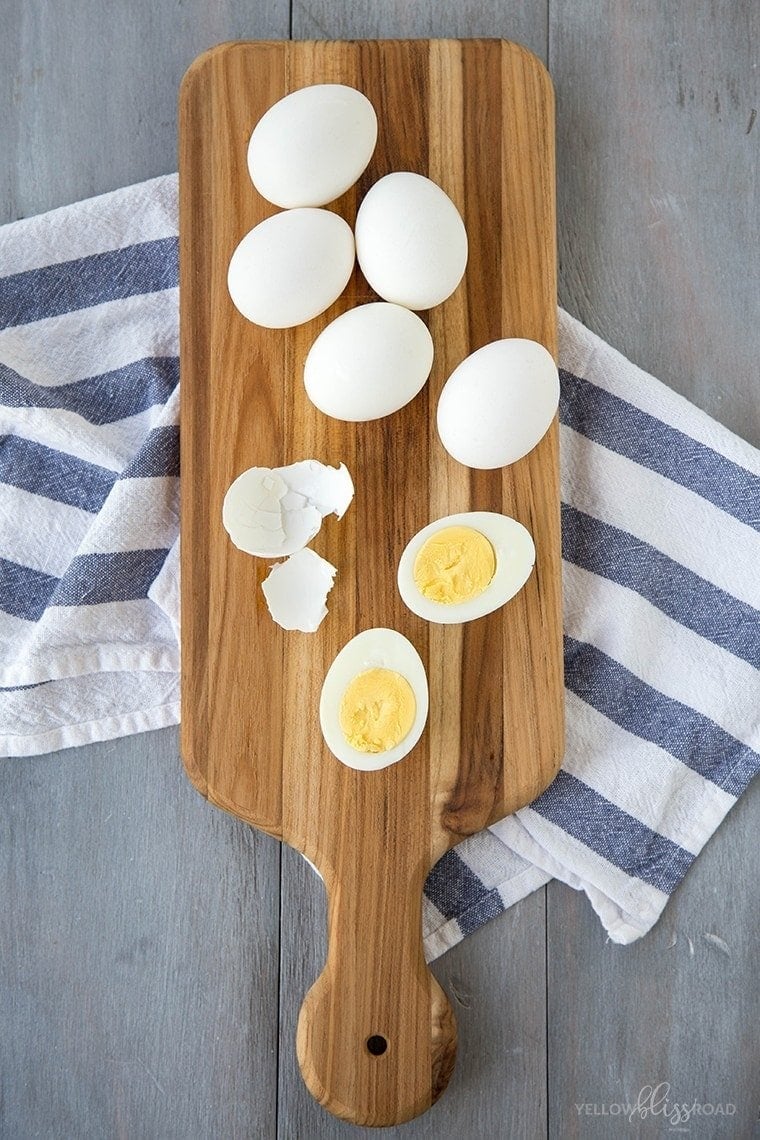 Perfect Hard Boiled Eggs
I learned how to make hard boiled eggs when I was about sixteen. I have used this method for over twenty years, in recipes like my mom's Best Ever Classic Macaroni Salad, and of course for making the best Egg Salad, and it has never failed me. Not once! I've seen several different methods that cooks swear by, but this is the one that has always worked for me.
The Learning Curve
When I was fifteen, I was entrusted with the job of making and coloring hard boiled eggs for my nieces and nephews to hunt on Easter morning. It was a pretty high honor as far as I was concerned and I was determined to make the best hard boiled eggs ever.
On Easter morning, I had my beautiful eggs all hidden and the kids loved finding them. Until one dropped on the ground and splattered half cooked egg all over the patio. Apparently I didn't know how to boil eggs after all.
Learning How to Boil Eggs the Right Way
The next year I knew I'd better step up my game. I was home from school on spring break and happened to catch the end of the 11 am news and Mr. Food was on. To be fair, I wasn't trying to watch the news, I just didn't want to miss the beginning of my favorite soap.
Anyway, Mr. Food had the perfect method for boiling eggs – YES! It was just what I needed. I began using his method and I had perfect eggs – every time! Except for the time I forgot to set the timer and ended up boiling them for half an hour…but that's another story for another time.
I wanted to share my foolproof method with you today and tricks I've picked up when learning how to boil eggs.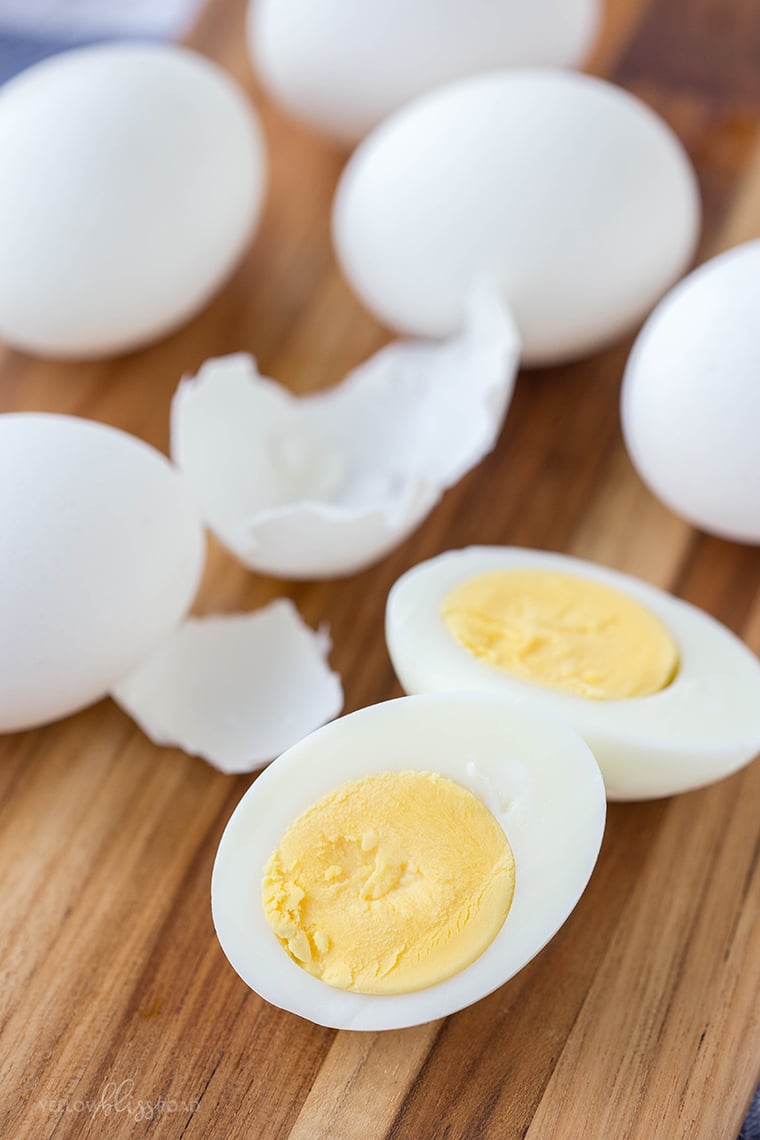 How to Boil Eggs
PREP: First, grab a 3 quart pot (or smaller if you are boiling fewer eggs). Gently add a dozen eggs to the pot in a single layer and cover completely with cold water. You want the water to be about an inch higher than the eggs.
BOIL: Bring the eggs to a boil, uncovered, over medium-high heat. Shut off the burner, cover the pot, and set the timer for 12 minutes. For softer yolks or a soft boiled egg, you can set anywhere from 4-10 minutes. While you're waiting, fill a large bowl with ice and water and set it aside.
ICE BATH: When that timer goes off, you have to move quickly. Gently remove the eggs from the pot with a slotted spoon or tongs. Transfer the eggs immediately into the ice water. Leave the eggs in the ice bath for several minutes to stop the cooking process. This also helps to separate the egg membrane from the shells, making them easier to peel.
REFRIGERATE: After about a minute, drain the water and store the eggs in the refrigerator. Store hard boiled eggs in a sealed container in the refrigerator for up to 5 days.
PEEL AND ENJOY! Gently tap the blunt end of the egg to crack, then peel away the shell.
That's all there is to it! Perfect eggs, with a nice creamy, bright yellow center.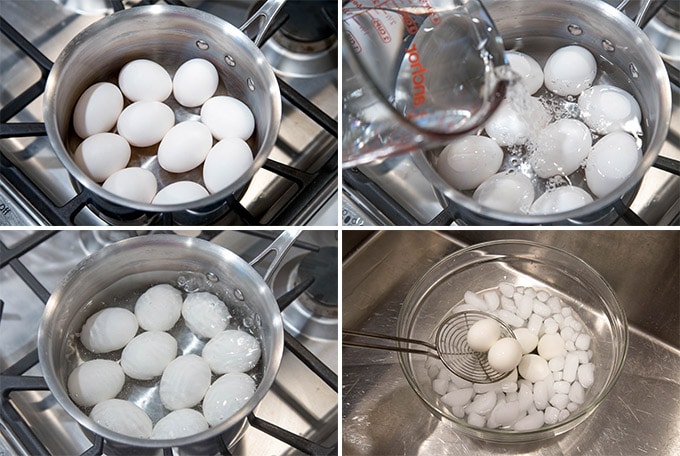 How Long Does it Take To Hard Boil an Egg?
Depending on how you prefer your eggs, you may want them to sit in the water a little more or a little less, anywhere from 8-14 minutes you should still get perfect hard boiled eggs. If you prefer the centers to be a little softer (I actually prefer mine pretty firm), remove the eggs from the water at 8-10 minutes. You may need to do a few test runs to find the timing that works best for you.
Soft boiled eggs: 4-6 minutes
Medium eggs: 6-8 minutes
Hard boiled eggs: 8-12 minutes
The timing also may differ based on the size of your pan, the heat from your burner, the size of the eggs, and how many you cook at a time. Find a time and pot that works for you and stick with it.
How do you know when eggs are done boiling?
The easiest answer here is to watch the clock. Soft boiled eggs will take 6-8 minutes, a medium soft egg will take 8-10 minutes, and a hard boiled egg with a creamy and light yellow center will take 12 minutes.
Make sure to set your timer. If you forgot the only tried and true way to know if your egg is cooked properly is to crack it open and test it.
How do you hard boil eggs so they peel easily?
Adding a tablespoon of salt to the water as it boils or a couple teaspoons of vinegar can help make your eggs easier to peel.
Another method I've recently heard about starts with boiling water instead of the cold water start described in my recipe. The shells usually come off pretty easily but I've often lost 2-3 eggs to cracks in the process.
Why do my eggs crack when I boil them?
As mentioned above, putting cold eggs into boiling water can cause them to crack immediately. Also placing too many eggs in the pot can cause the shells to crack. It's also possible that the crack pre-existed and just got bigger. Cracks in the eggs don't necessarily make them inedible as long as they are small.
How to Peel Eggs
Sometime the peel can be difficult to remove, result in a lumpy looking surface. This doesn't make the egg inedible, it's just not as pretty. Start by tapping the blunt end of the egg on the counter, then use one of these methods to help peel the eggs a little easier. Some people swear by these simple tricks:
Peel the eggs under cold, running water.
Use a spoon to gently lift the peel from the egg.
Fresh eggs tend to be more difficult to peel; older eggs are easier.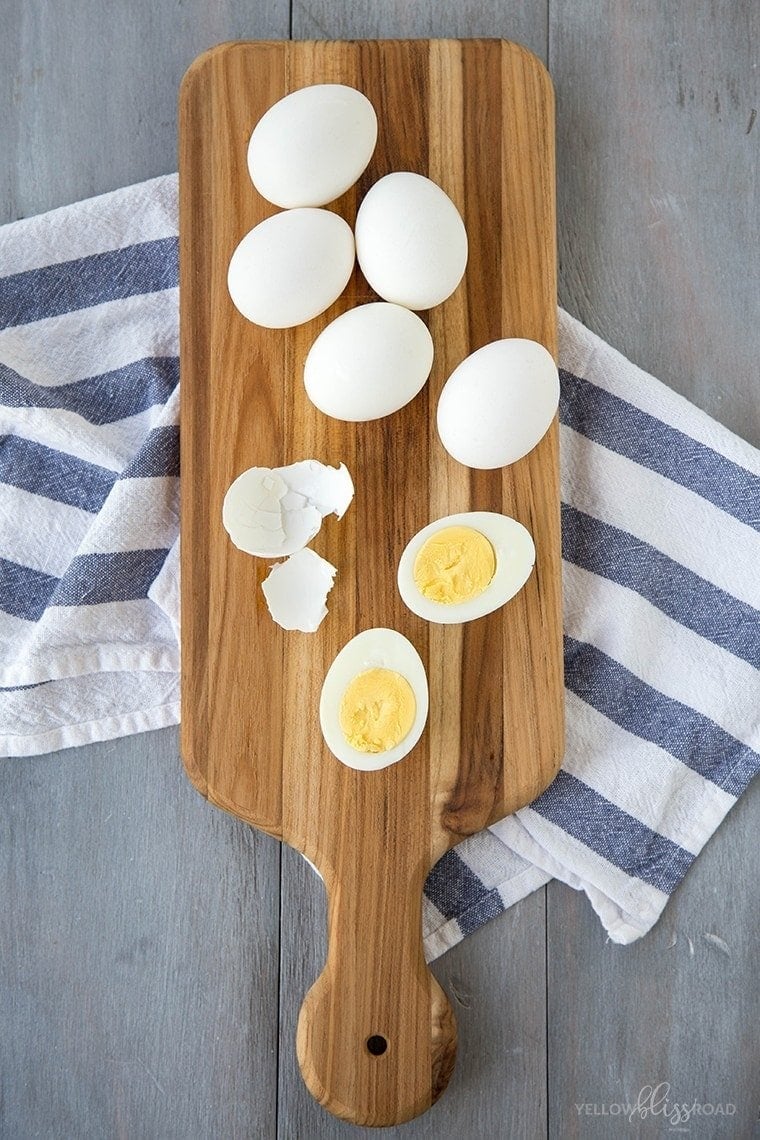 Here are some more great recipes to use up your hard cooked eggs:
If you've made this recipe, please come back and leave us a star rating or a comment below. Or, tag us on social media @yellowblissroad or #yellowblissroad for a chance to be featured.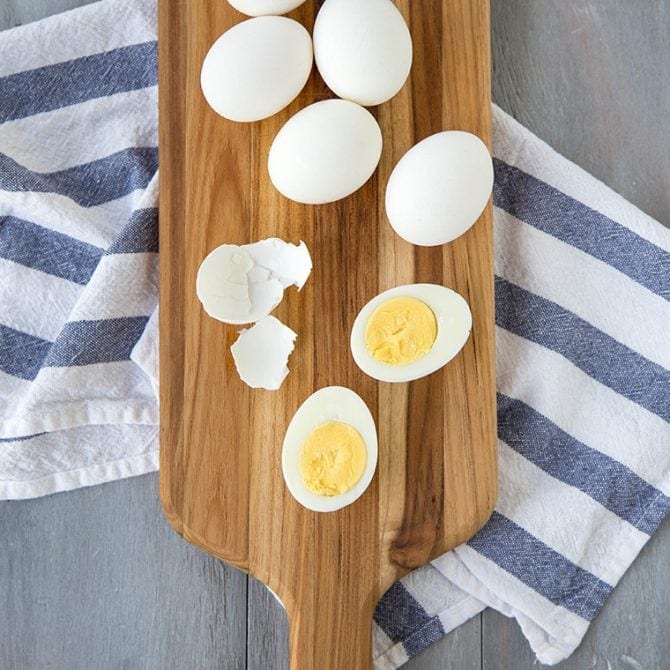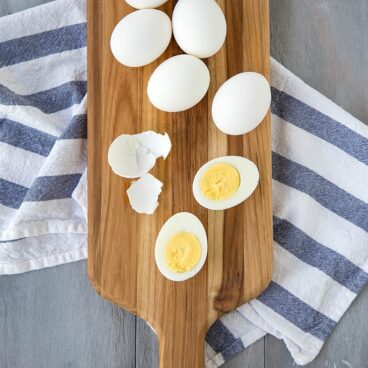 Hard Boiled Eggs (How to Boil Eggs)
Learn how to boil eggs the easy way in just a few simple steps. Get those perfectly firm whites and creamy yellow centers every time you boil eggs!
Instructions
Place 8-12 eggs in a 3-quart pot. For more eggs, use a larger pot. The eggs should lay in a single layer comfortably.

Add enough cold water to cover the eggs. Water should rise to about an inch over the eggs.

Turn heat to medium-high and bring water to boil, uncovered.

Immediately turn off heat, cover and move the pot from the heat. Set a timer for 12 minutes.

Meanwhile, place a good amount of ice in a large bowl and fill with water.

When the timer goes off, immediately remove eggs from the water with a slotted spoon and transfer them to the ice bath. Let them sit for several minutes in the water.

Peel and eat immediately (they will be slightly warm), or cool completely in the refrigerator.

Store cooked eggs in a sealed container in the refrigerator for up to 5 days.
Notes
Soft boiled eggs: 4-6 minutes
Medium eggs: 6-8 minutes
Hard boiled eggs: 8-12 minutes
Nutrition
Calories:
63
kcal
Carbohydrates:
1
g
Protein:
6
g
Fat:
4
g
Saturated Fat:
1
g
Cholesterol:
164
mg
Sodium:
62
mg
Potassium:
61
mg
Sugar:
1
g
Vitamin A:
238
IU
Calcium:
25
mg
Iron:
1
mg