A 7 Layer Salad is a classic potluck dish great for feeding a crowd. These layers of deliciousness can be made ahead of time for the easiest side dish ever!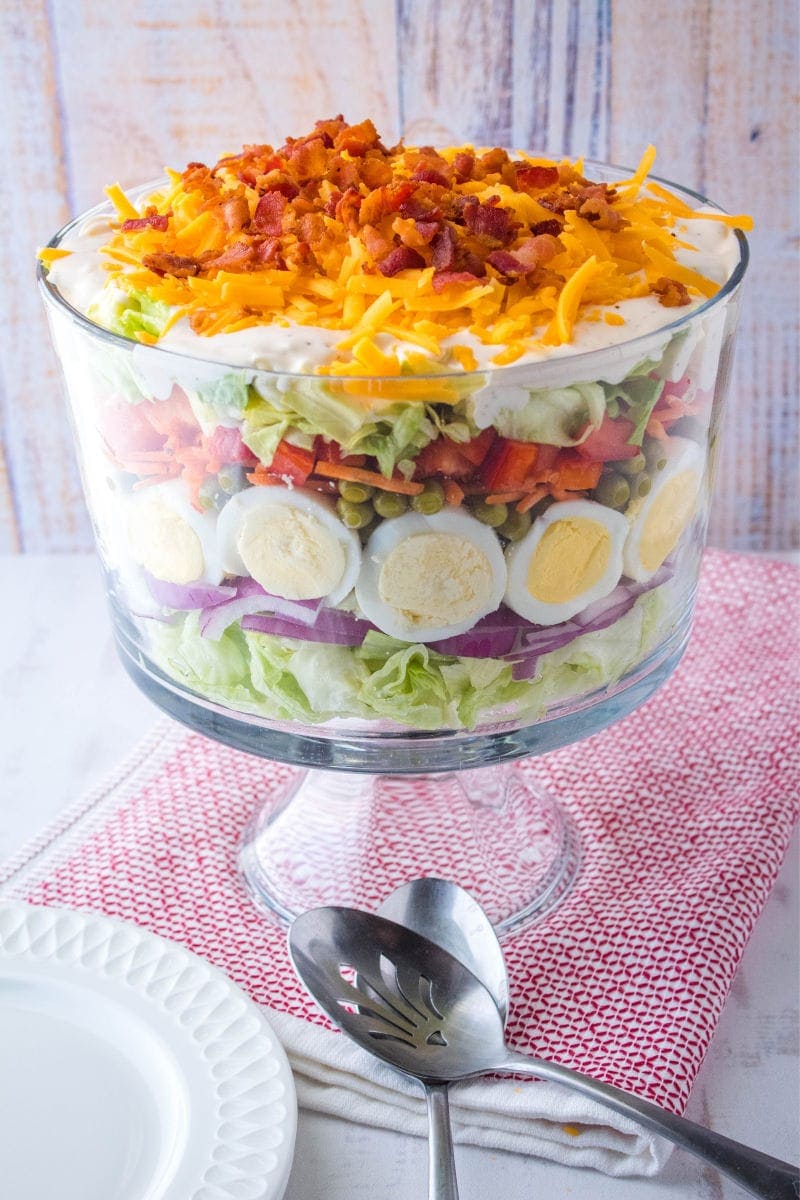 Simple and Easy Side Dish
When it comes to backyard BBQs, potlucks, or serving a big family, easy to make recipes are a must at my house. No need to drive myself crazy trying to make something super fancy that eats up a whole afternoon. That's why I love this 7 Layered Salad so much!
You do need to make it ahead of time. Okay, "need" might be a strong word, but it definitely gets better when you let it sit for at least 6 hours before serving. No rushing around last minute, and plenty of time to get myself ready for company.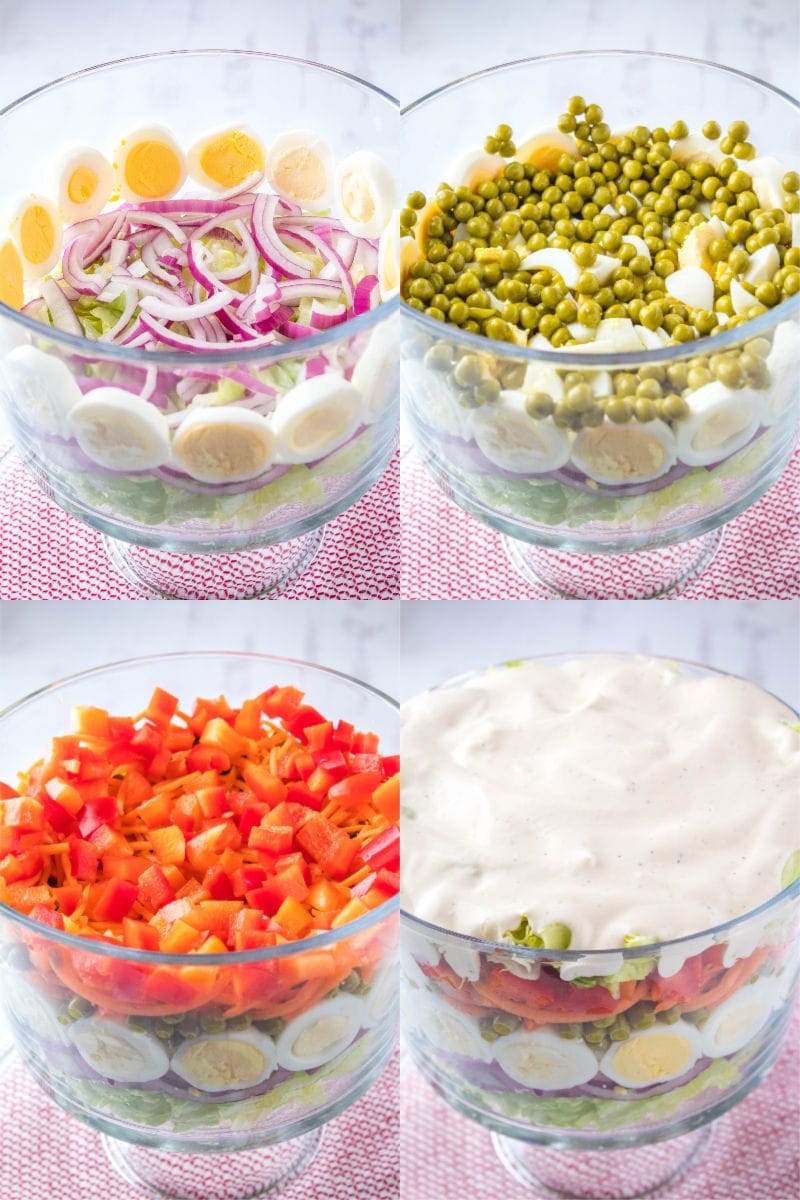 What goes in 7 Layer Salad?
Lettuce
Red Onion
Peas
Carrots
Bell Pepper
Homemade dressing
These ingredients are typical of the original 7 layer salad. Sometimes you'll see cucumbers instead of carrots, but it's all about the pretty layers of different colors to catch the eye and meld into a yummy salad on your plate.
It's perfectly fine to make substitutions in the layers to fit your tastes. When you plan out your salad ingredients just make sure to choose lots of different colors. We're going for more of a rainbow effect here that's going to be pleasing to the eye.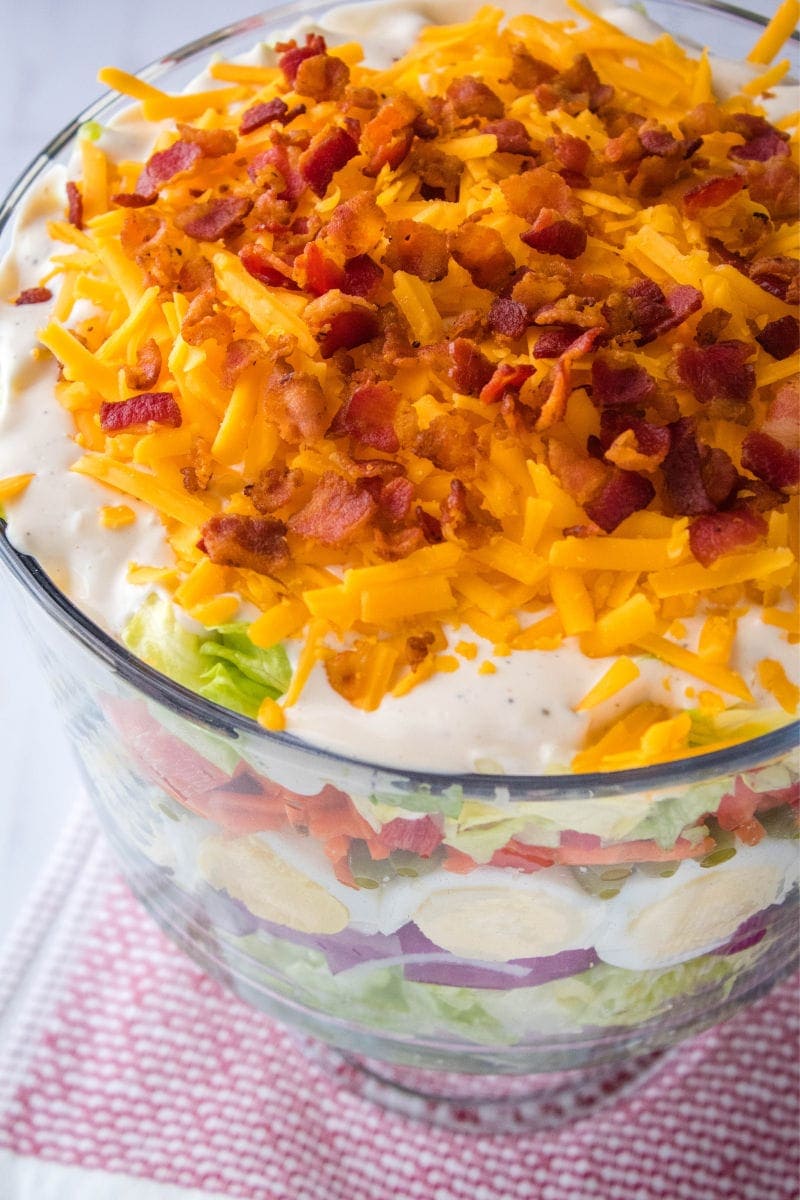 How to Make 7 Layer Salad
The real trick to this salad is making sure you can see all those layers! Be sure to start placing ingredients around the edge of the bowl and then filling in the center of the layer.
Lettuce: The bottom layer of the salad is lettuce. Iceberg or romaine are recommended since they hold up well and are nice and crunchy. Place half of the lettuce in the bottom of a trifle bowl, a large glass bowl or even a 9-inch x 13-inch baking dish will work. Sprinkle some salt over the lettuce.
Red Onions: slice some onion and sprinkle all around on top of the lettuce. Red cabbage will also work; you just want a bright and colorful second layer.
Eggs: Make sure to cook your hard boiled eggs in advance, or purchase some already cooked and peeled. Cut about 3-4 slices per egg and save the end pieces or later. You want the slices to be about the same size around and to see the white and the yellow. Place the slices around the edge of the bowl pressing slightly to stick them to the glass. Chop up any remaining eggs and sprinkle them over the onion.
Chopped Veggies: You can get a little creative here with the veggies if you like. I used green peas, orange carrots and red bell pepper. Layer them on top of the onion and egg.
More lettuce: Finish off the salad with the other half of the lettuce. Press down gently to make room for the dressing. Pour on the dressing, then cover salad with plastic wrap until ready to serve.
Dressing: Make the homemade salad dressing and pour over the 7 Layer Salad and spread it out over the lettuce. This seals the top of the salad.
Optional layers: Totally optional, but completely delicious, add shredded cheddar cheese and bacon for garnish. (Yes, you'll have a 9 layer salad now.)
Chill: Cover the bowl with plastic wrap and chill in the fridge for at least 6 hours. Unwrap and serve cold.
Can this salad be made a day ahead?
Yes! I usually make this salad the night before or the morning of the day it'll be served. Seven Layer Salad will keep in the fridge for up to 24 hours before serving, even with the dressing.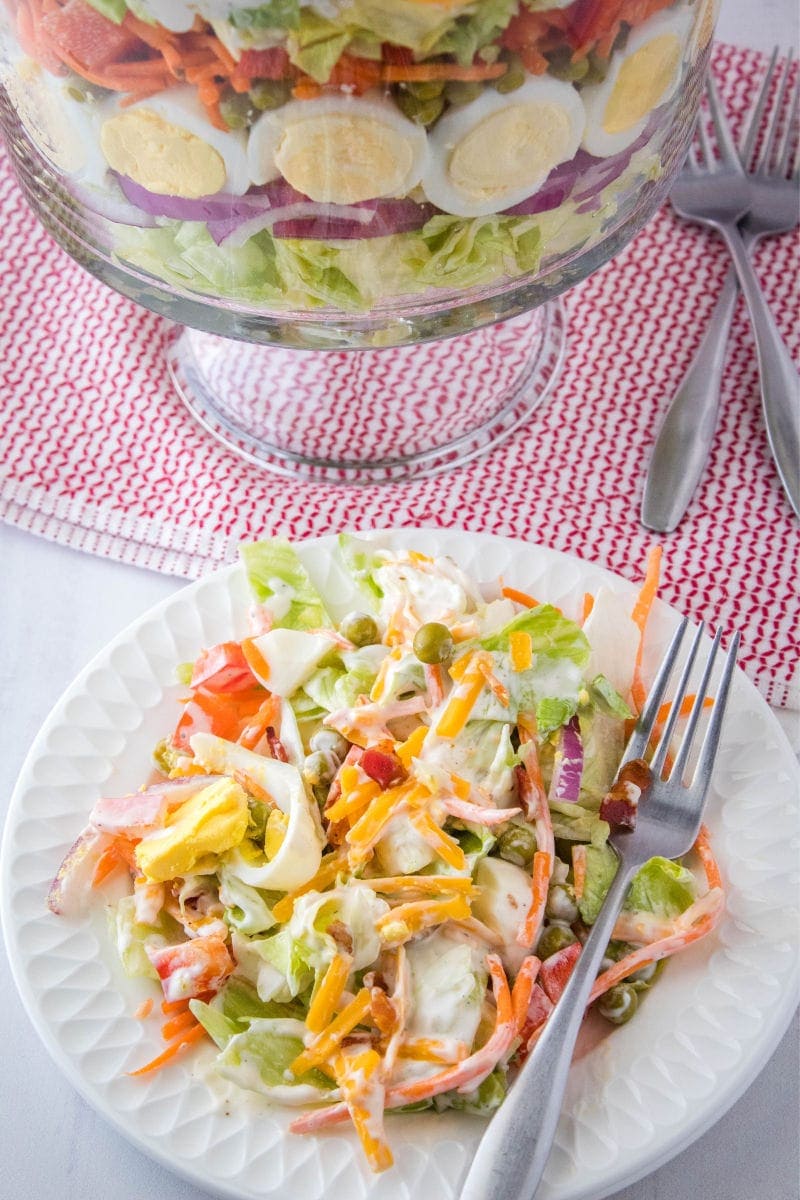 This is just one of our favorite potluck salads, so be sure to try our Broccoli Salad, Macaroni Salad, Chinese Chicken Pasta Salad, or Bacon Ranch Chicken Pasta Salad, too.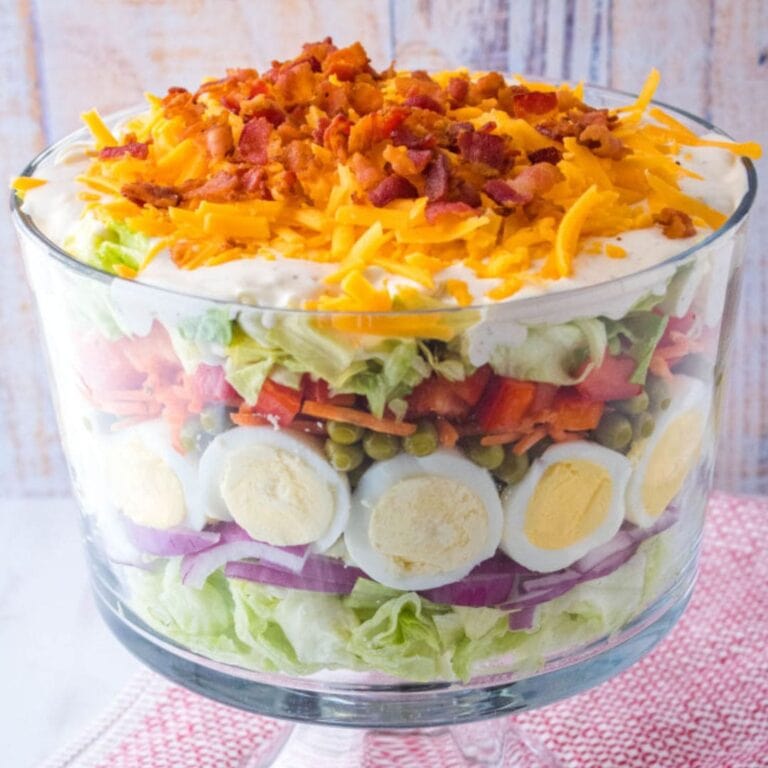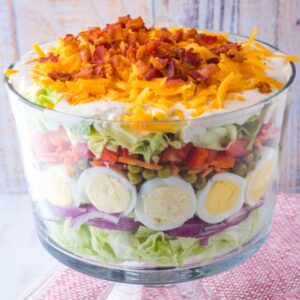 7 Layer Salad
7 Layer Salad is a classic potluck dish great for feeding a crowd. These layers of deliciousness can be made ahead of time for these easiest side dish ever!
Ingredients
1 head iceberg lettuce chopped
1 teaspoon salt
1/2 red onion thinly sliced
8 hard-boiled eggs
15 ounces peas (frozen & thawed or canned)
1 cup carrots shredded
1 red bell pepper chopped
1 cup cheddar cheese shredded
4 strips bacon cooked crispy and chopped
Dressing
1 cup mayonnaise
1/2 cup sour cream
1 1/2 tablespoons apple cider vinegar
1/2 tablespoon hot sauce (I used Cholula)
1/2 tablespoon sugar
1/4 teaspoon salt
1/4 teaspoon pepper
Instructions
Place half of the lettuce in the bottom of a trifle bowl. Sprinkle with salt. Top lettuce with red onion. (The trick for this salad is to see everything, so make sure your layers go all the way to the sides of your bowl.)

Slice the eggs, so both the white and yolk show. (Save the ends.) Place egg slices around the side of the bowl, pressing into the side a bit so it'll stick. Chopp any remaining eggs, slices, and ends. Sprinkle all over the salad.

Top eggs with peas, then carrots, and then bell pepper.

Add the remaining lettuce on top, being sure it spreads all the way to the side of the bowl. Use your hands to gently press down a little.

Make the dressing by whisking together the mayo, sour cream, vinegar, hot sauce, sugar, salt, and pepper in a mixing bowl until smooth. Pour the dressing over the salad and spread it into an even layer.

Top the dressing with cheese and then bacon, for garnish. (This is optional but delicious!)

Cover the salad in plastic wrap and chill in the fridge for at least 6 hours, and up to 24 hours.

Uncover and serve cold.
Notes
You can also use a large glass serving bowl, or glass 9-inch x 13-inch baking dish to make this salad.
Nutrition
Calories: 375kcalCarbohydrates: 12gProtein: 13gFat: 31gSaturated Fat: 9gCholesterol: 182mgSodium: 655mgPotassium: 353mgFiber: 4gSugar: 7gVitamin A: 3514IUVitamin C: 35mgCalcium: 142mgIron: 2mg