Crispy fried chicken tenders don't just come from a freezer or drive through window. They are easy to make, and a dinnertime favorite with kids and adults alike. Add in customizable seasoning that lets you crank up the heat as much as you want and you've got an instant hit!
Make it a classic, kid-friendly meal and serve with creamy Slow Cooker Mac and Cheese and Garlic Green Beans.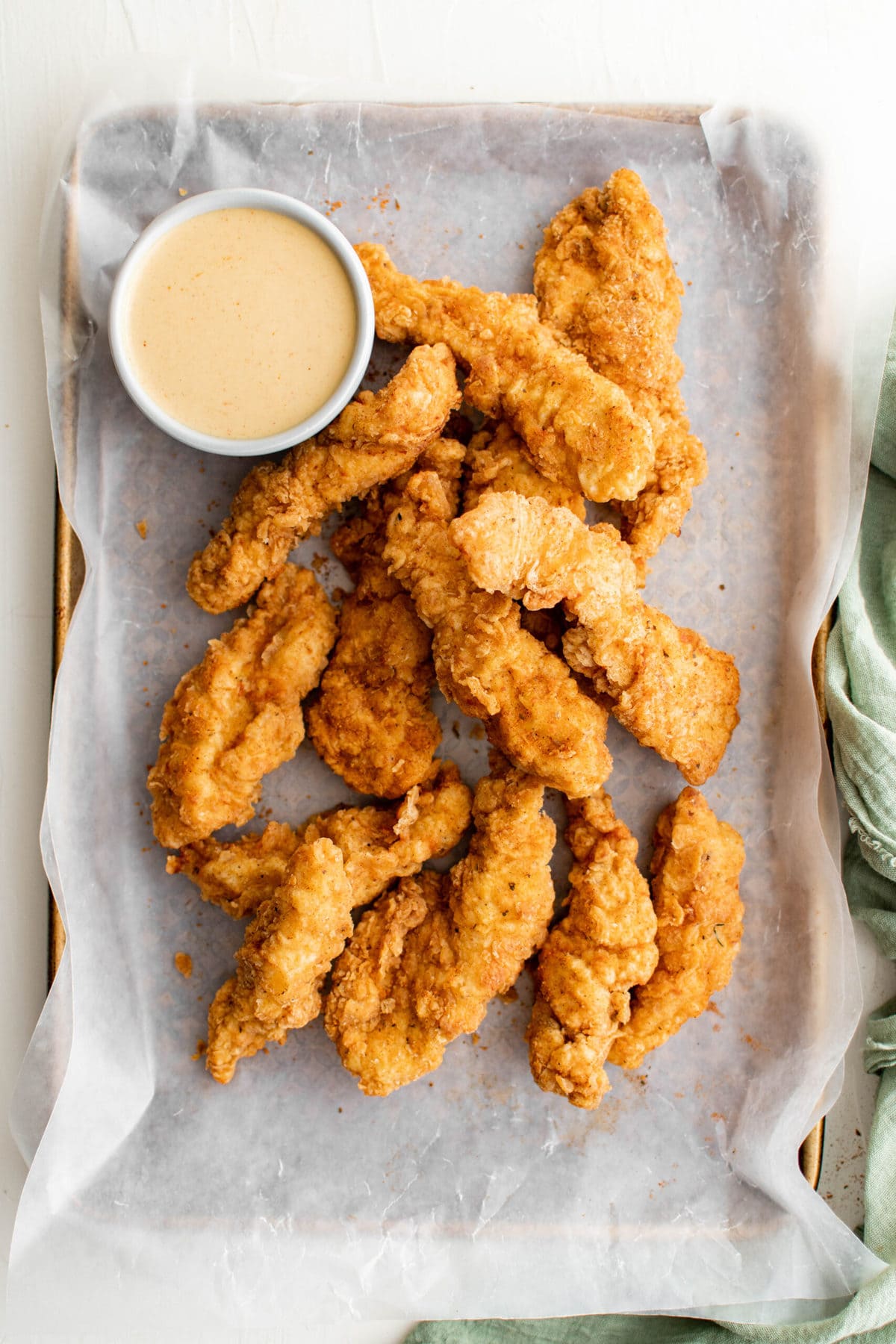 Pan fried chicken tenders are easier to make than you might think, super versatile and they are always a hit. You can make a big batch and freeze them to eat later, send them in school lunches, add them to salads or take them on a picnic. Since it's such a hands on recipe, I usually serve them with simple sides, like a Simple Cabbage Salad, Air Fryer Tater Tots and some Homemade Ranch Dressing.
Best Fried Chicken Tenders Recipe
I'm not afraid to feed my family a drive thru dinner once in a while, but I've noticed that my favorite chicken places often pass me out a box of heavily coated, way too crunchy and super salty chicken.
That's why these crispy fried chicken tenders are so perfect. I've been frying chicken for a long time and I've learned a few tricks to make it easier but this version is really fun because you can customize the seasoning however you want. It really is the best chicken tenders recipe – I've added some heat with my homemade cajun seasoning, but my all-purpose Chicken Seasoning is also a great fit.
Plus, who doesn't love a meal that's ready in 30 minutes or less?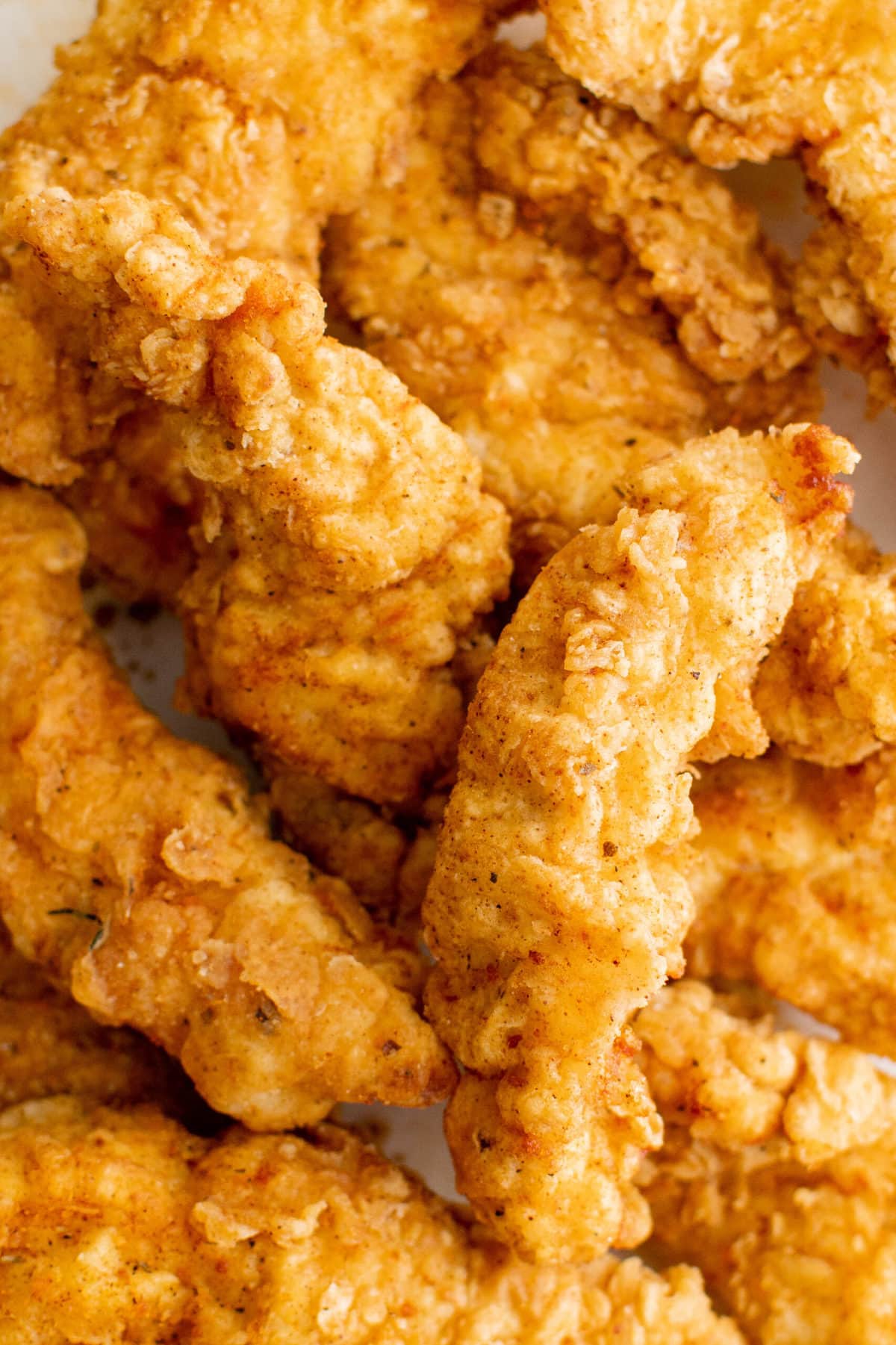 Ingredients and Substitutions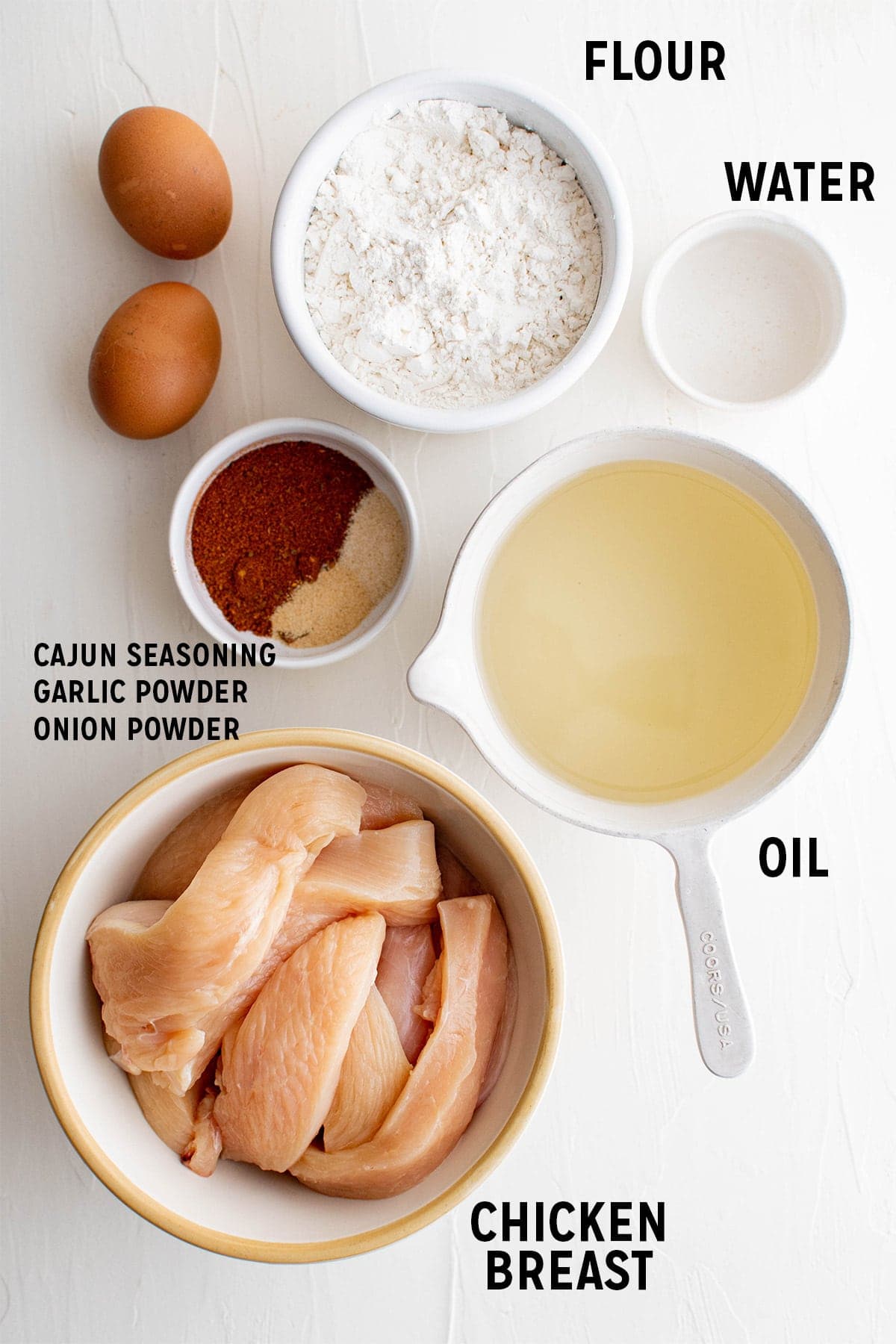 How to Fry Crispy Chicken Tenders
Start by coating the chicken. Mix together the flour and seasonings in one bowl and whisk eggs in another. Then dip the chicken pieces in the flour, then the egg, then dip in the flour again. As you work, place the coated chicken on a wire rack to rest while you continue the process.
Heat the oil. While you are coating the chicken, heat the oil in a dutch oven or large, deep cast iron skillet. The oil should be about 2 inches deep.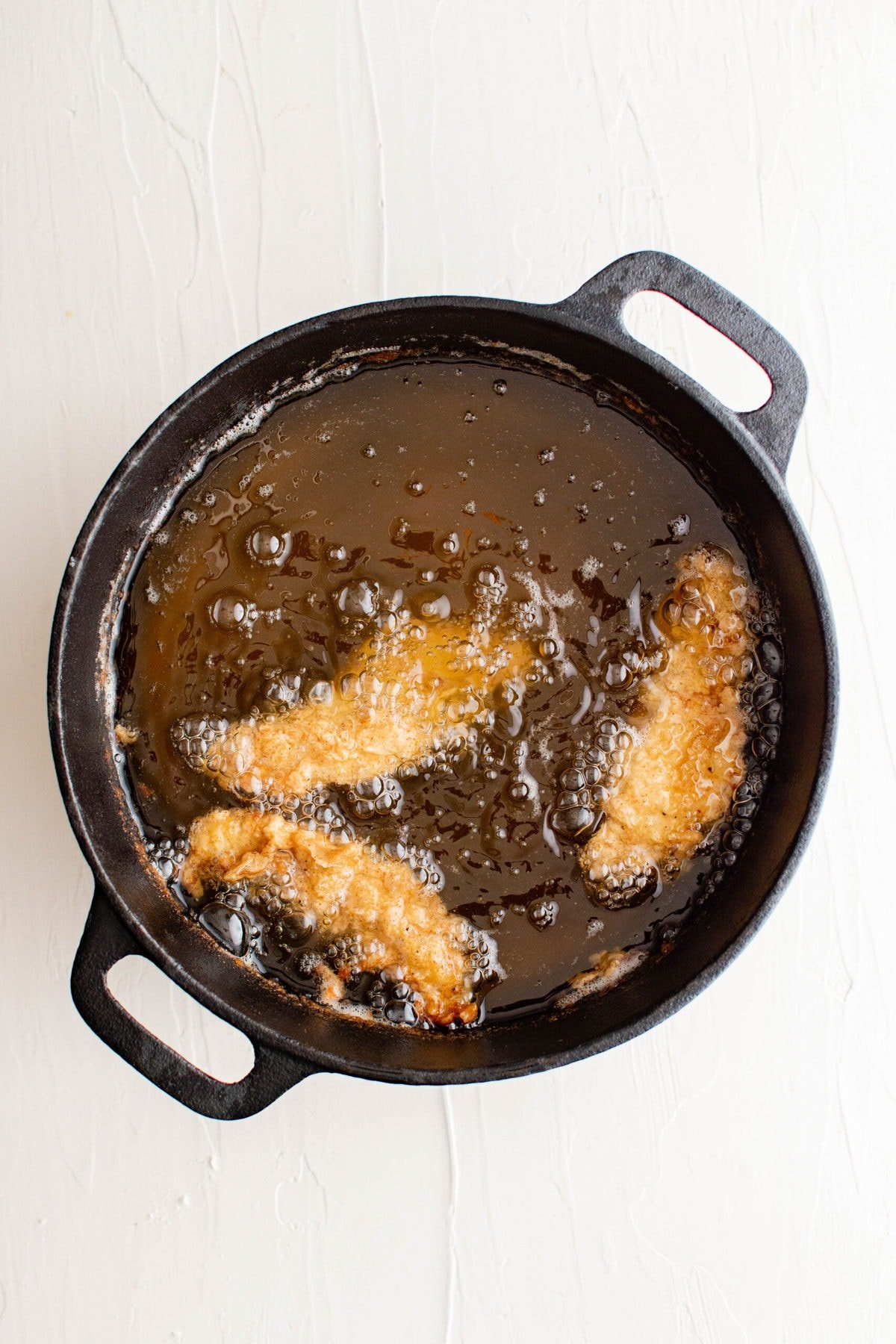 Fry. Once the oil is hot enough, add the chicken pieces one at a time. You should be able to fit 3 or four in there at a time; just make sure they have space between them. As you remove them from the oil, set them on a wire rack over a baking sheet to drain. Each batch should take about 10-12 minutes and you should end up frying 2-3 batches.
Serving Suggestions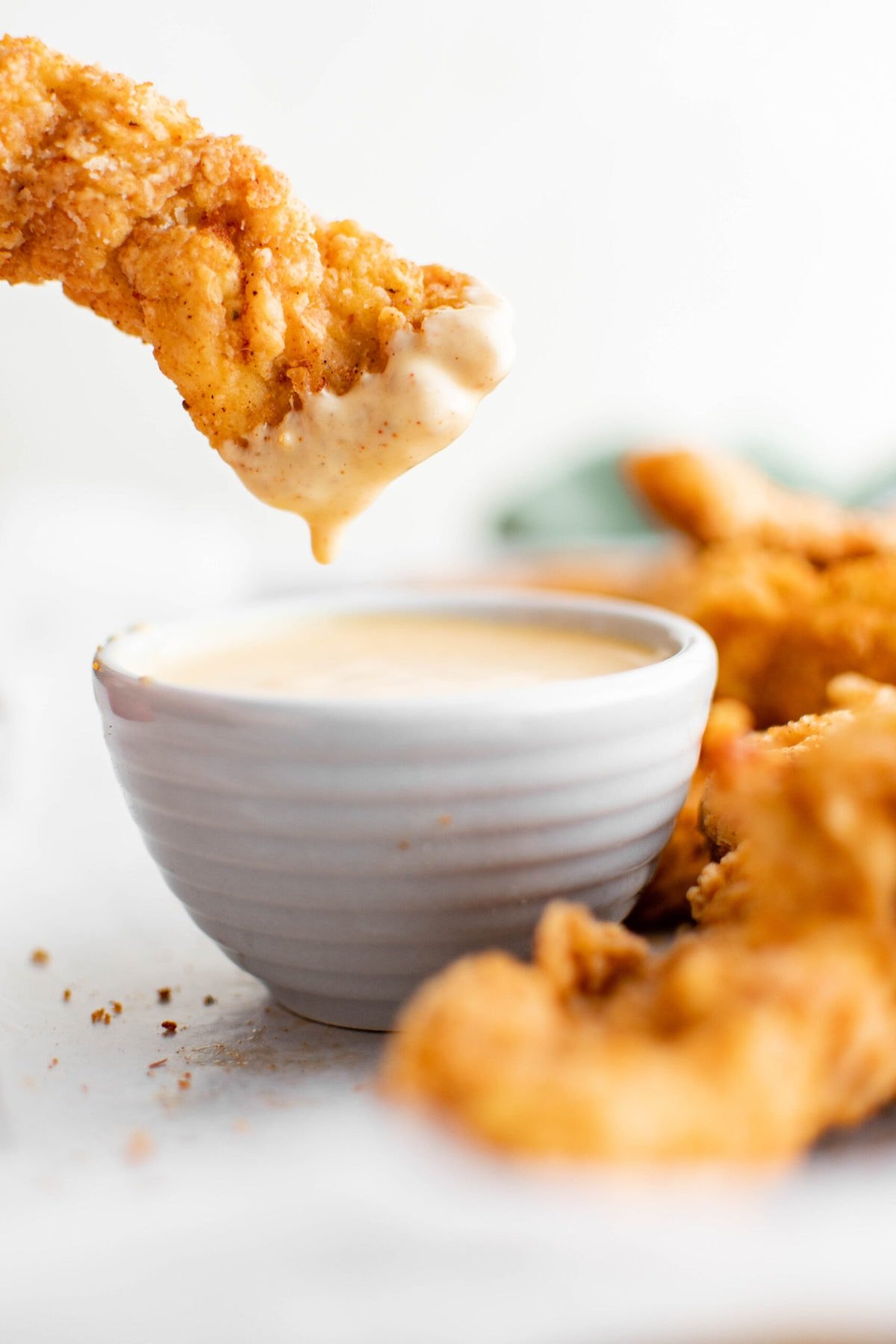 Tips for the best fried chicken tenders
Make Ahead, Storage and Reheating
Make Ahead: You can dredge the chicken in the flour, eggs and flour up to 24 hours in advance. Layer parchment paper between layers of breaded chicken and store in an airtight container in the fridge. Transfer to the counter for 15-20 minutes before cooking to bring the chicken to room temperature.
Storage: Store fried chicken tenders in an airtight container in the fridge after they are fully cooled. Use freezer safe bags or containers to freeze for up to 4 months.
Reheating: Leftovers never last long enough to reheat in my house – the kids (and my husband) always eat them cold straight out of the fridge. Reheat fully cooked and thawed tenders on a baking sheet in a 350 degree oven for about 10 minutes or until crispy and warmed through. The air fryer also works great for reheating chicken tenders. Air fry at 380 degrees for 5-10 minutes. From frozen, heat on a baking sheet in a 375 degree oven for 30 minutes.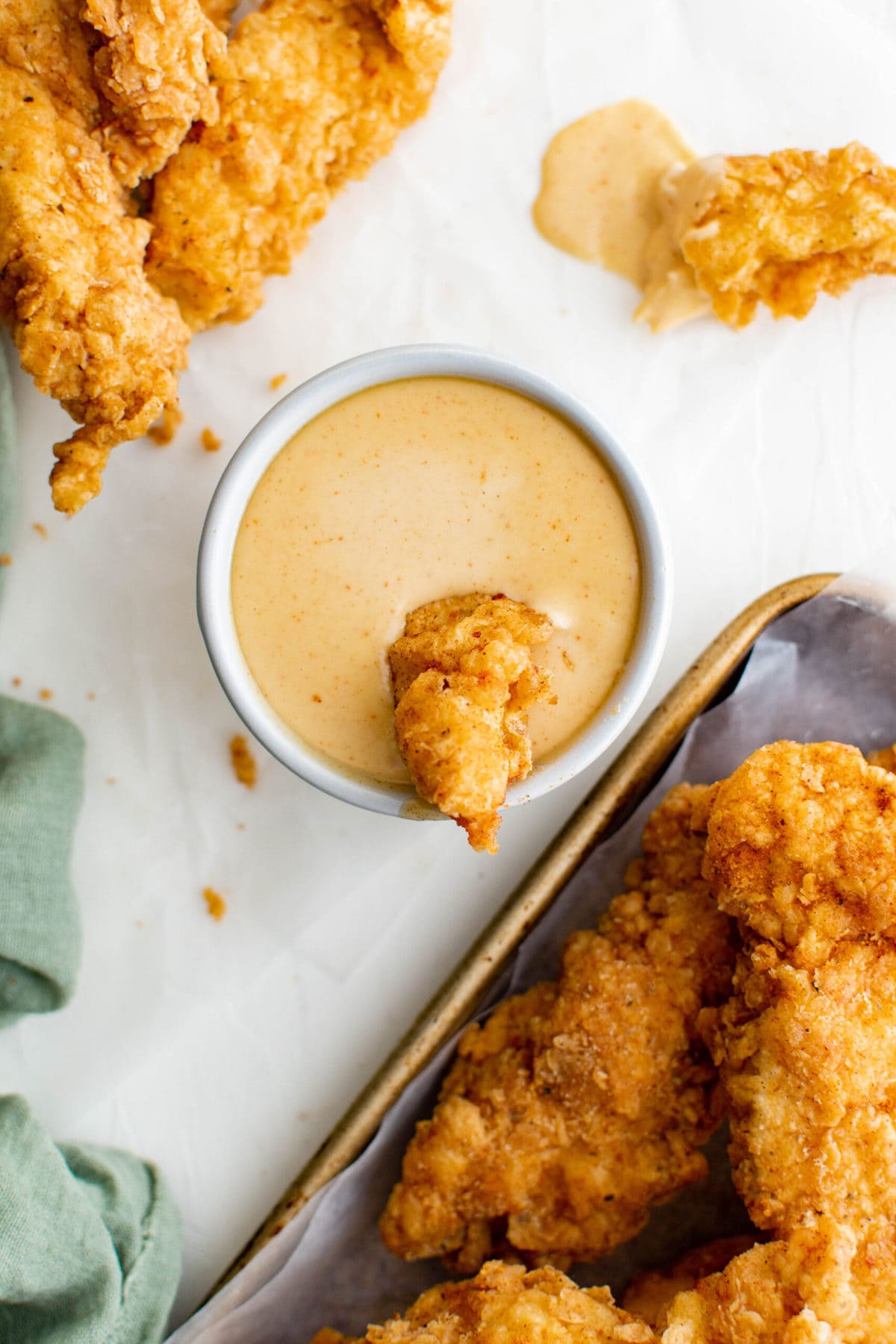 More Chicken Recipes
Recipe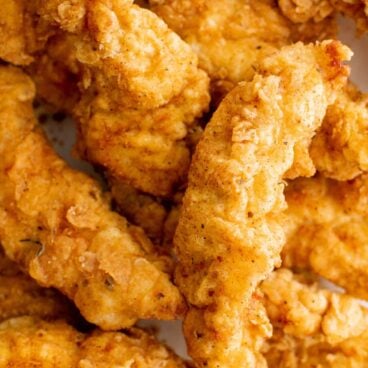 Cajun Chicken Tenders
Crispy fried chicken tenders don't just come from a freezer or drive through window. They're easy to make, and a family dinnertime favorite!
Ingredients
2

pounds

boneless skinless chicken breast

trimmed and cut lengthwise into 1″ thick strips

1 ½

cups

all purpose flour

2

tablespoons

cajun seasoning

can increase to up to 4 tablespoons if you want it really strong

½

teaspoon

onion powder

½

teaspoon

garlic powder

2

eggs

1

tablespoon

water

canola, vegetable, or peanut oil for frying

(amount depends on your frying vessel, but my 12" cast iron skillet holds about 24 ounces of oil) 
Instructions
In a large, shallow bowl or dish with sides, mix together the flour, cajun seasoning, onion and garlic powders. Set aside. 

In a second bowl, beat the eggs and water. Set aside. 

Dip one chicken tender at a time into the flour then the eggs, and then back into the flour, pressing to coat the chicken well. 

Repeat with the remaining tenders and set them aside while you heat the oil. 

Pour oil to a depth of 2 inches in a large cast iron skillet or deep pot. Heat on medium-high to 375 (you can use a thermometer to check if you aren't sure). 

Slowly add three to four pieces of coated chicken, reduce heat to medium high, and allow them to fry until just brown on one side–about 5 minutes–then turn and cook until golden on the second side–6 to 7 minutes more. Transfer to a wire rack over a baking sheet to drain and repeat with the other tenders. Make sure to stay by the stove! 

If your oil starts to smoke, turn the heat down or pull the skillet off the burner carefully for a minute or two. If your chicken is cooking too slow and the breading is soggy or falling off, turn the heat up. Chicken should register 165 degrees on a digital meat thermometer. If it's browned but not fully cooked. Heat oven to 400 degrees and cook until the chicken reaches a safe temperature.

Serve the tenders warm with your favorite dipping sauce. 
Nutrition
Serving:
1
chicken tender
Calories:
239
kcal
Carbohydrates:
15
g
Protein:
23
g
Fat:
9
g
Saturated Fat:
1
g
Trans Fat:
1
g
Cholesterol:
91
mg
Sodium:
119
mg
Potassium:
403
mg
Fiber:
1
g
Sugar:
1
g
Vitamin A:
764
IU
Vitamin C:
1
mg
Calcium:
16
mg
Iron:
2
mg