Cajun chicken tenders don't just come from a freezer or drive through window–easy to make, these dinnertime favorites let you crank up the spice as much as you want and will be an instant hit.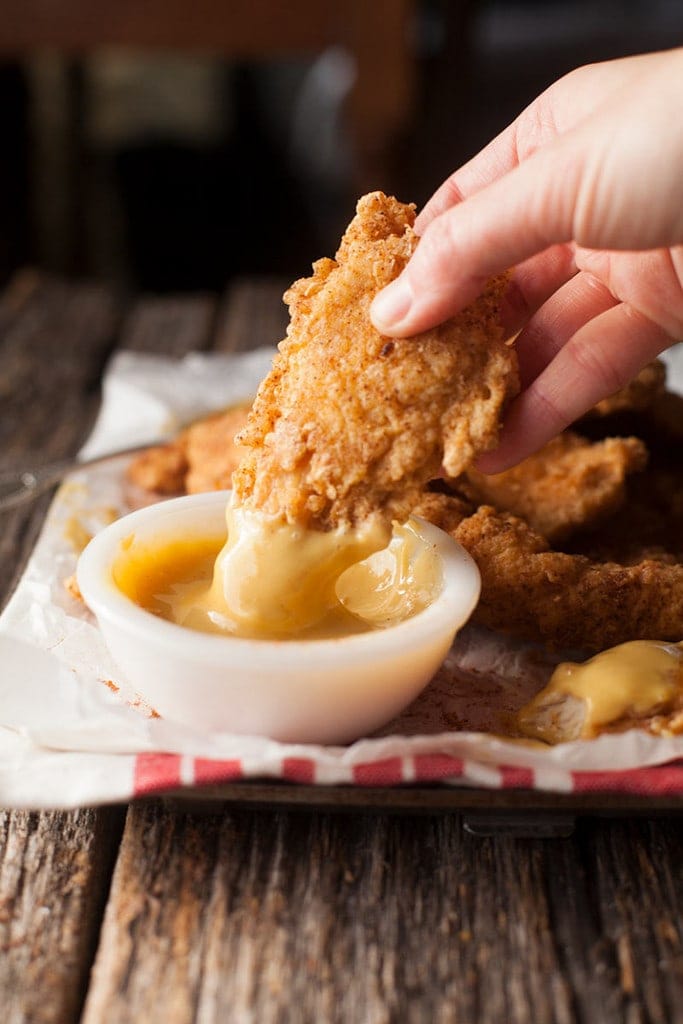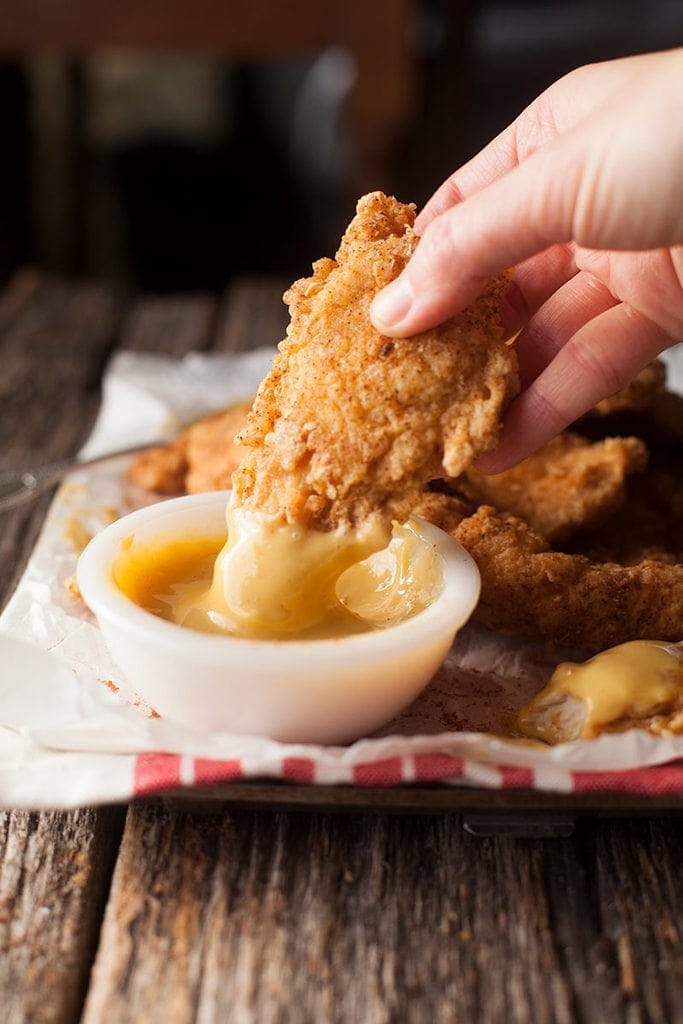 When your family wants chicken, what do you do? Hit the local drive through? I do it too sometimes–mostly because I want the potato wedges.
But I've noticed that my favorite chicken places often pass me out a box of heavily coated (sometimes the breading is so hard and so heavy you'd nearly break a tooth getting through it) and SUPER salty chicken. It's fine for a few bites, but then my kids want to eat exactly 12,000 pieces and I worry about what their bodies are taking in.
That's why these cajun chicken tenders made at home are perfect. I've been frying traditional chicken tenders for a long time and I'll be the first to tell you that there are a few tricks to make it easier (read on to the tips for those) but this version is really fun because you can take a family favorite and dress it up with the heat of cajun seasoning.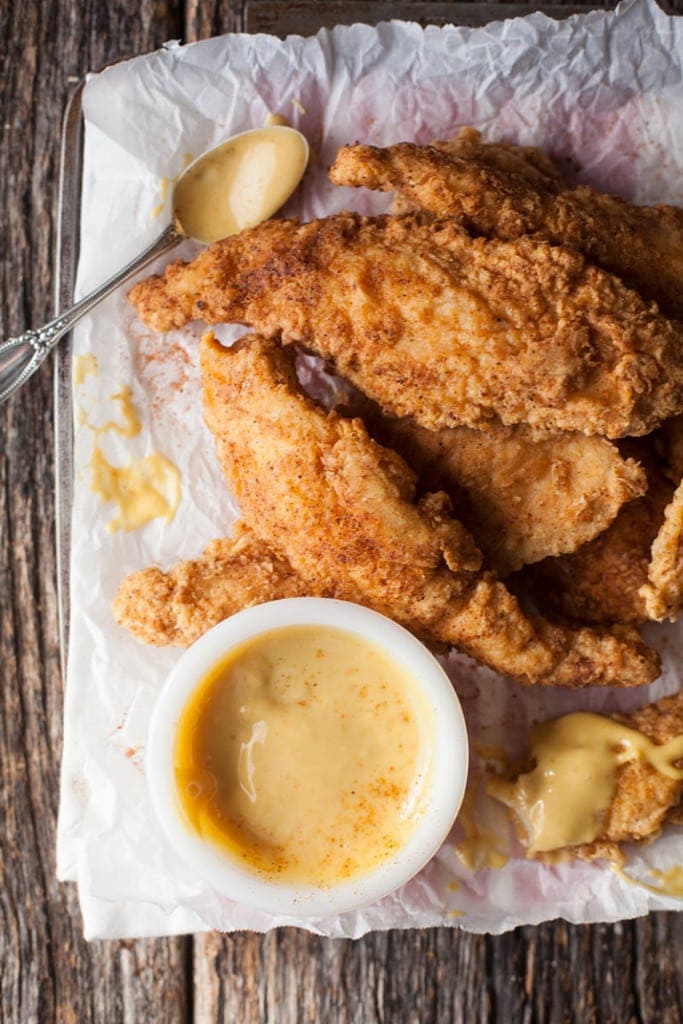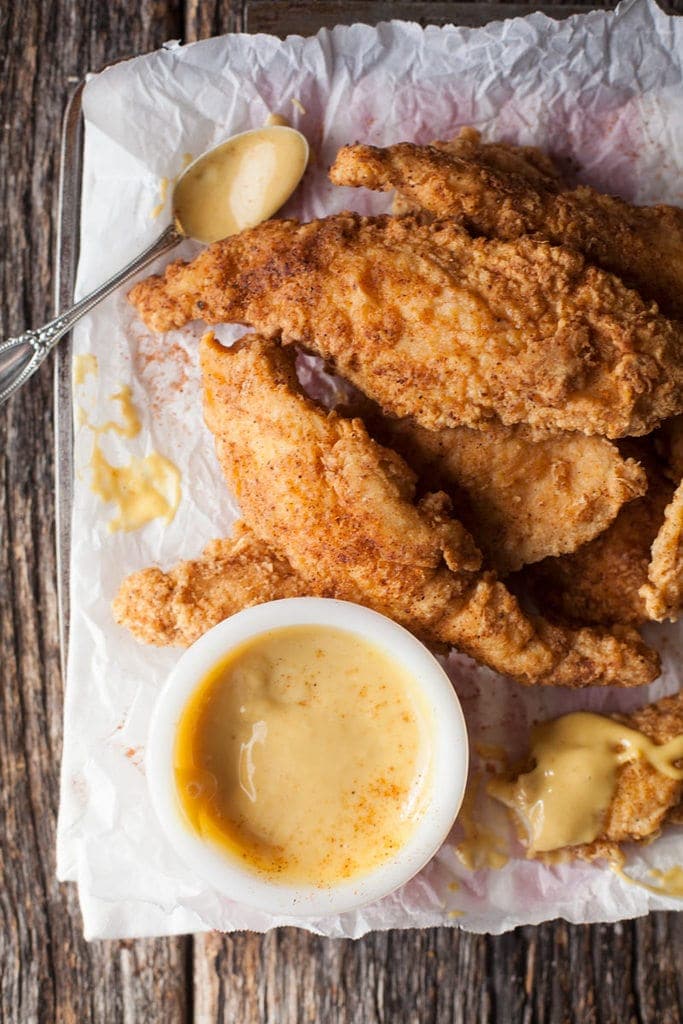 Dont' freak out when you see how much seasoning it takes to get the flavor to come through. You can dial it down or up as you like. I guarantee it's still less salt and additives than your favorite restaurant puts in theirs.
Tips for the best cajun chicken tenders
If you don't know how to fry, use a temperature regulated gadget like an electric skillet or a deep fryer. I cook in a cast iron skillet and prefer that, but I'd rather you have a good quality, crispy final product so use what you're comfortable with.
Do NOT fry this chicken to death. Just don't. Yes undercooked chicken has risks, but we aren't killing the Ebola virus here. I have a friend who fries her chicken tenders for over 40 minutes. HOW in the blessed world? It will be dry and miserable to eat. As long as your oil is hot enough and your chicken is the right size, you'll be fine following the recipe.
Skip the actual "chicken tenderloins" at the grocery store and slice chicken breasts instead. Chicken tenders blow my mind–they aren't even that good thanks to the giant tendon that runs right through the middle of them. So if you don't love gnawing on that, use a chicken breast or cut out the tendons.
Taste your cajun seasoning to see how salty it is before you add it to your flour. Mine was extremely salty–so I did 2 tablespoons. If you want more spice/heat feel free to add some hot sauce or tabasco to the eggs that are used during the breading process or toss more cajun seasoning to the flour. Just don't salt anything else.
And before you ask, no you can't use coconut oil to fry these in. Stick with an oil with a high smoke point like peanut or canola.
To balance things out, try cutting up your tenders and serving them over greens for a nice fried chicken salad.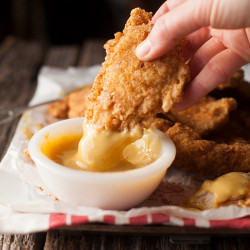 Cajun Chicken Tenders
This American classic gets a kick up with the spice of cajun seasoning and are fast to fry at home. 
Ingredients
2 pounds boneless skinless chicken tenders trimmed and cut lengthwise into 1" thick strips
1 1/2 cups all purpose flour
2 tablespoons cajun seasoning can increase to 4 tablespoons if you want it really strong
1/2 teaspoon onion powder
1/2 teaspoon garlic powder
2 eggs
1 tablespoon water
peanut vegetable, or canola oil for frying (amount depends on your frying vessel, but my 12" cast iron skillet holds about 24 ounces of oil) 
Instructions
First make the ingredients for breading the chicken:
In a large, shallow bowl or dish with sides, add the flour, cajun seasoning, onion and garlic powders. Stir to mix. Taste it to see if you want more spice. Add more if you do. Don't taste it once you've dipped any raw chicken in it. Set aside. 

In a second bowl, beat the eggs and water. Set aside. 

Dip one chicken tender at a time into the flour then the eggs, and then back into the flour, pressing to coat the chicken well. 

Repeat with the remaining tenders and set them aside while you heat the oil. 

If using a 12" skillet, pour oil to a depth of 2 inches and heat on high to 375 (you can use a thermometer to check if you aren't sure). 

Slowly add three to four pieces of chicken, reduce heat to medium high, and allow them to fry until just brown on one side--about 5 minutes--then turn and cook until golden on the second side--6 to 7 minutes more. Transfer to a paper towel lined plate to drain and repeat with the other tenders. Make sure to stay by the stove! 

If your oil starts to smoke, turn the heat down or pull the skillet off the burner carefully for a minute or two. If your chicken is cooking too slow and the breading is soggy or falling off, turn the heat up. 

Serve the tenders warm with your favorite dipping sauce. 
Here is another delicious chicken tenders recipe we love:
Crispy Cheesy Baked Chicken Tenders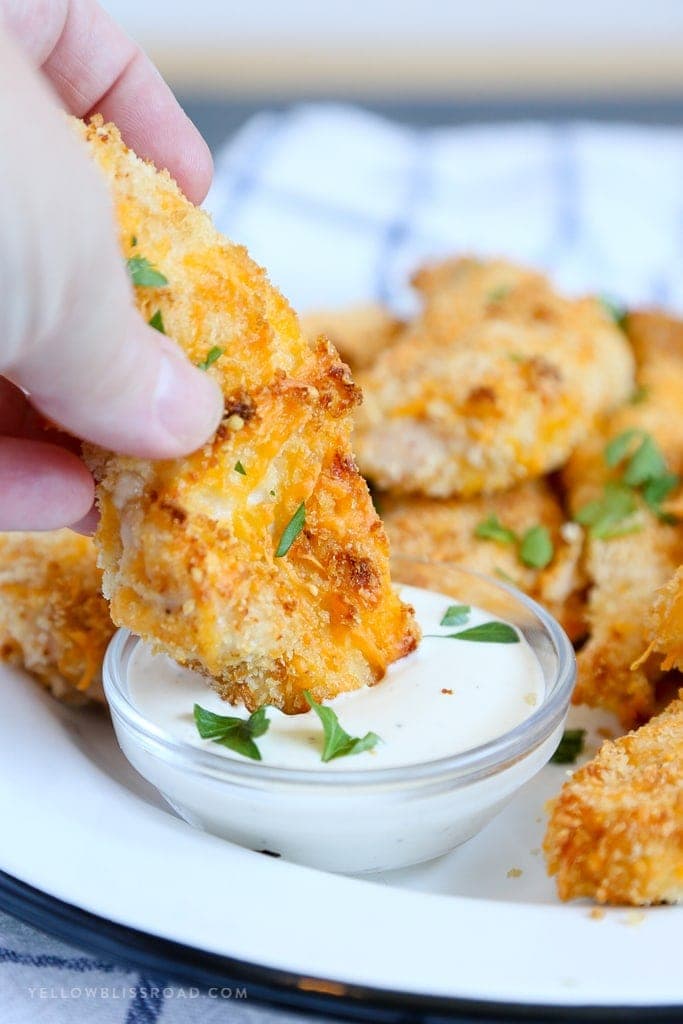 And here are a few more chicken recipes to try: