Learn how to make fluffy, buttery homemade biscuits! Delicious with a bowl of soup or slathered with jam – you only need 30 minutes and a few simple ingredients to make the perfect biscuits from scratch.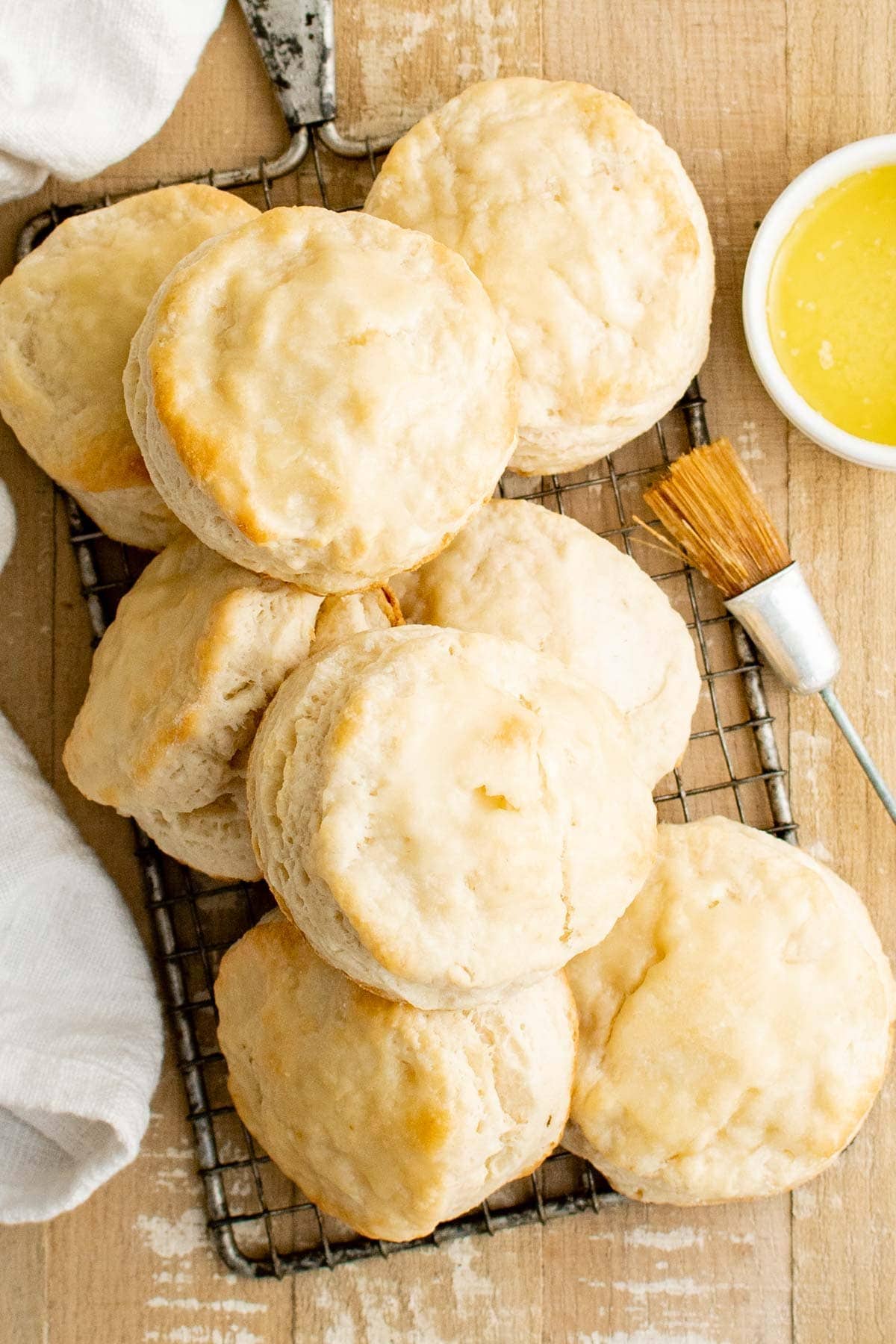 If you have always wanted to make homemade biscuits for breakfast, now it the time to learn! They go perfectly with some of our other breakfast favorites, like Sausage Gravy, Frittata and Baked Egg Muffins.
Easy Homemade Biscuits
If you've never made homemade biscuits – then today's the day. Because I'm going to show you how to make soft, buttery, flaky biscuits that rise beautifully. I feel like so many people opt for biscuits from the can or the freezer section of the grocery store – but they're actually super easy to make.
Flaky, buttery, extra soft, and so easy to make – after trying this easy biscuit recipe, you'll never buy the ones from the can again.
Ingredients for Fluffy Homemade Biscuits
You only need 6 ingredients for this recipe – but each one is super important for getting the perfect biscuit dough to get those coveted flaky layers.
2 cups all-purpose flour, plus a little more. Flour provides structure. If you add too much flour the biscuits can get dry – so measure carefully here.
2 tablespoons sugar. Sugar adds a little sweetness (although biscuits definitely aren't meant to be sweet) and helps the biscuits become golden brown on top. If you're making biscuits to go with soup – you could use 1 tablespoon instead.
1 tablespoon baking powder. No – that's not a typo, you'll need 1 full tablespoon of baking powder for your biscuits to rise beautifully.
½ teaspoon salt. It's 100% necessary here – so please don't leave it out.
½ cup cold, unsalted butter. Some biscuit recipes use shortening, some use butter. In all my recipe testing – the recipes using butter always came out on top because they had so much more flavor.
1 cup cold buttermilk. Buttermilk gives the biscuits that distinctive biscuit flavor that almost has a slight tanginess. In some recipes I'll offer substitutions for buttermilk. But in this recipe, I do not recommend using any buttermilk substitution.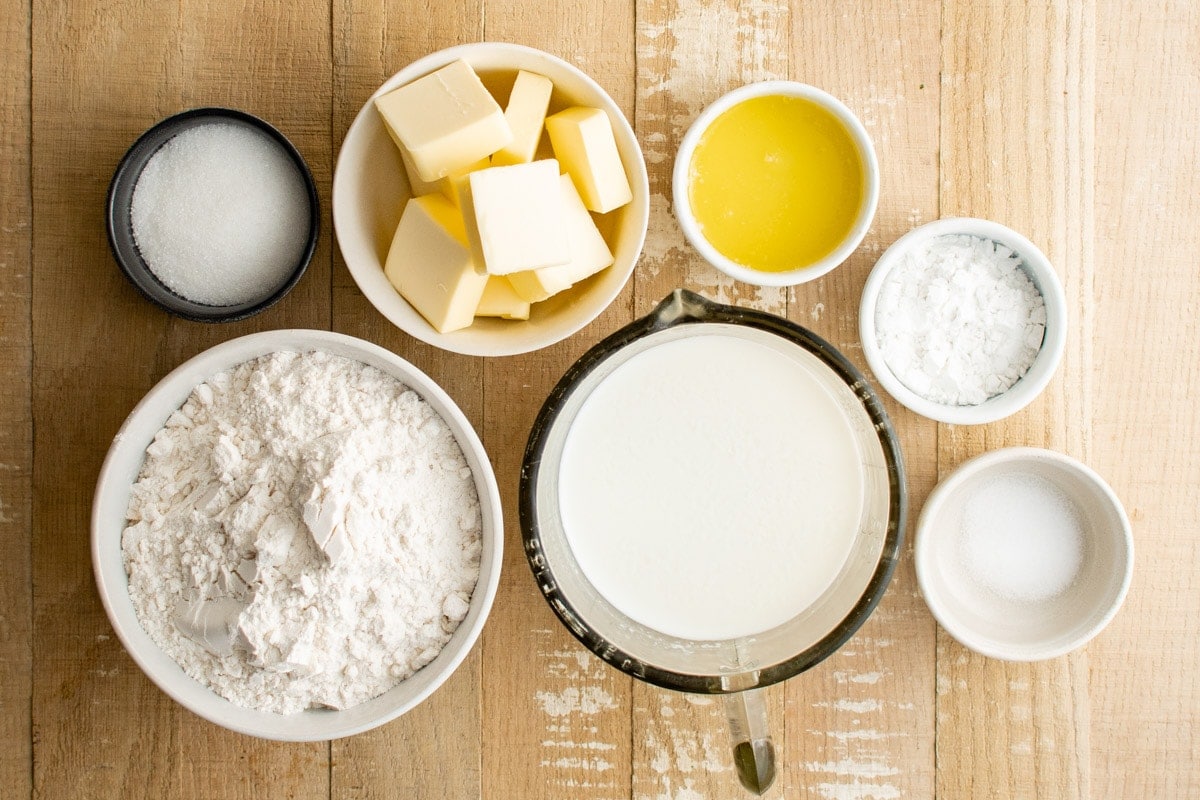 How to Make Perfect Buttermilk Biscuits from Scratch
Prep. It's important to use really cold butter, so first thing, cut the butter into small cubes and pop in the freezer. Preheat the oven to 450℉ degrees and line a baking sheet with parchment paper.
Dry ingredients and butter. Whisk together the dry ingredients, then cut the cubed butter into the flour mixture using a pastry cutter. The butter should be cut into small pieces, about the size of a pea.
Add buttermilk. Stir the buttermilk in with a rubber spatula. The dough should look sort of shaggy; it won't come together smooth like cookie dough.
Create layers. Working on a well floured surface, start folding the dough in half, and in half again, turning a quarter turn with each fold. This is what creates the flaky layers.
Cut the biscuits. Using a biscuit cutter, cut out as many biscuits as you can from the dough. My cutter was 2-inches, but you can use a smaller size if you like. Refold the dough and keep making biscuits until the dough is used up.
Bake. Arrange them on a baking sheet. They should all fit – you can place them about half an inch from each other. Bake for 10-15 minutes, or until the tops are golden. Brush the tops with butter and serve warm.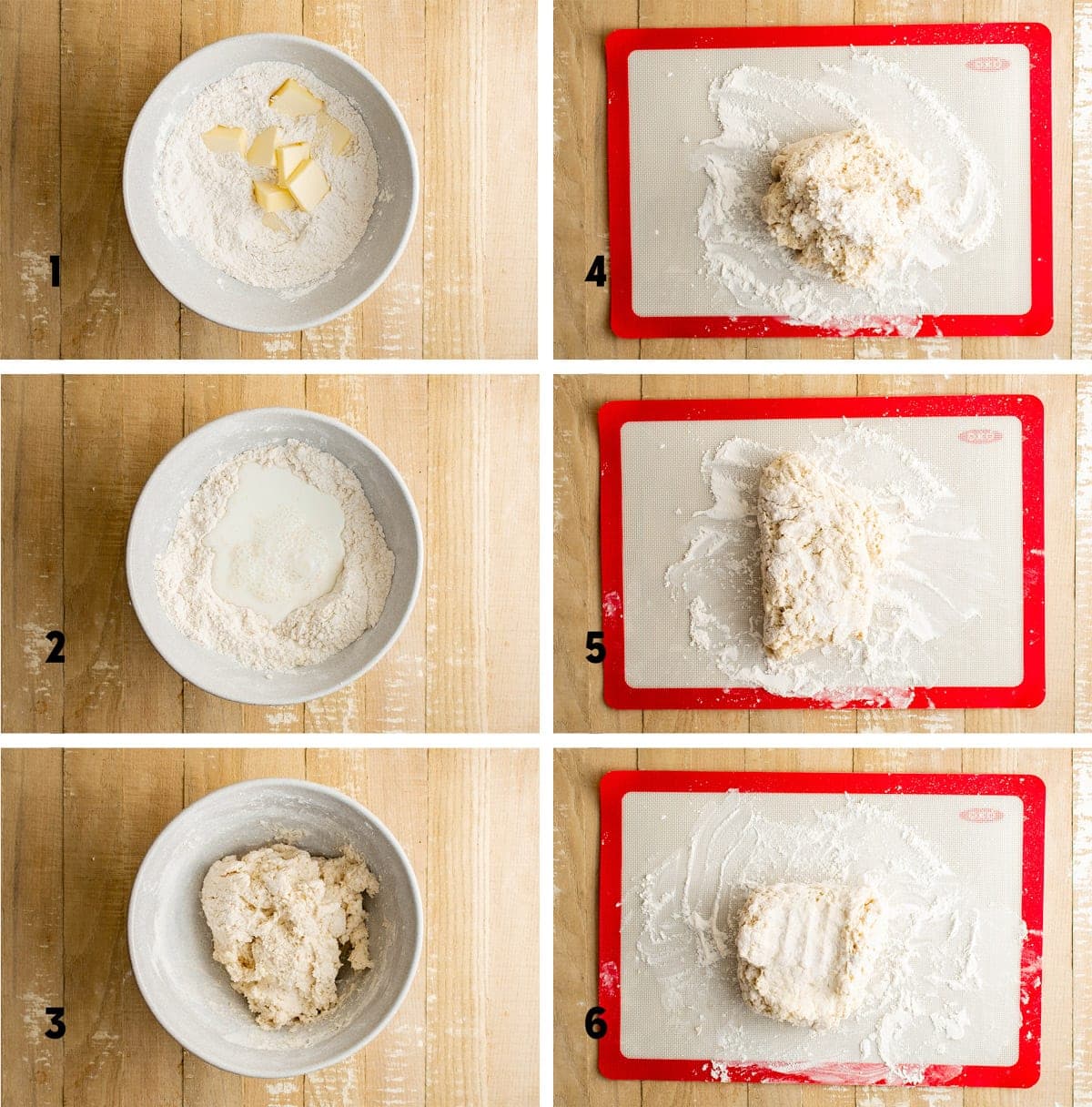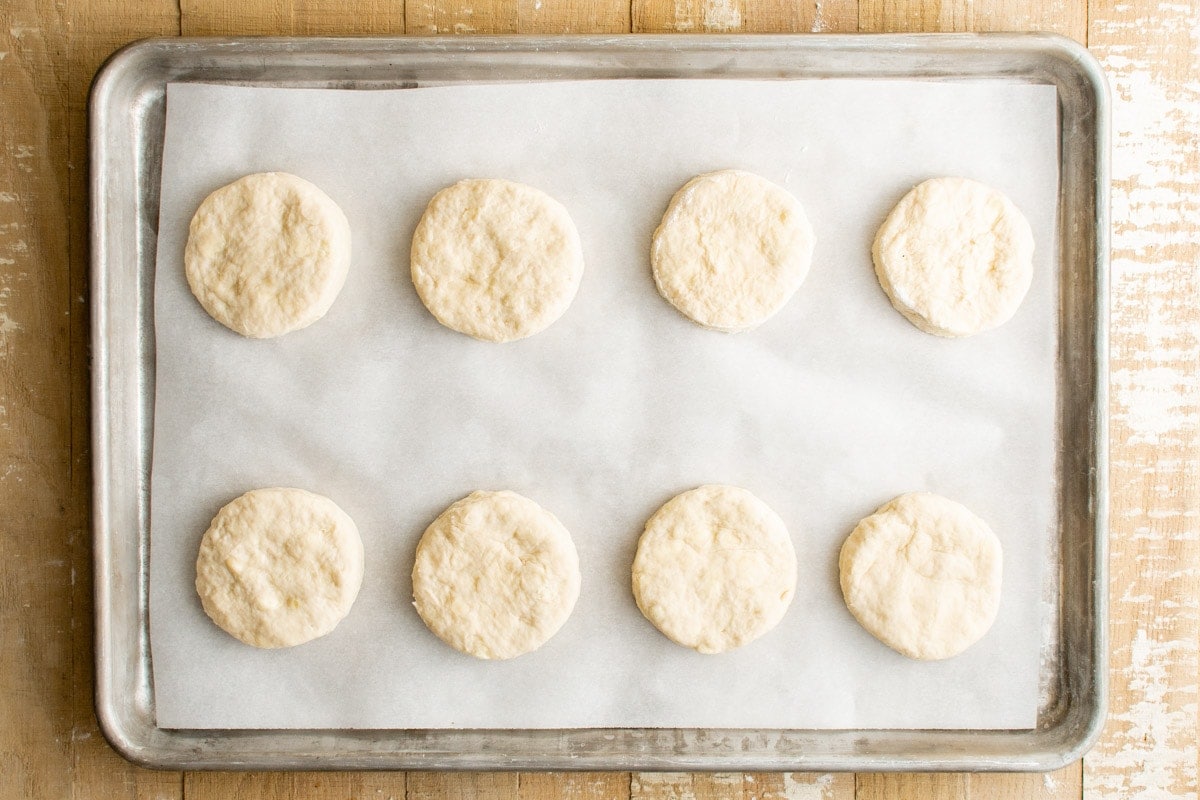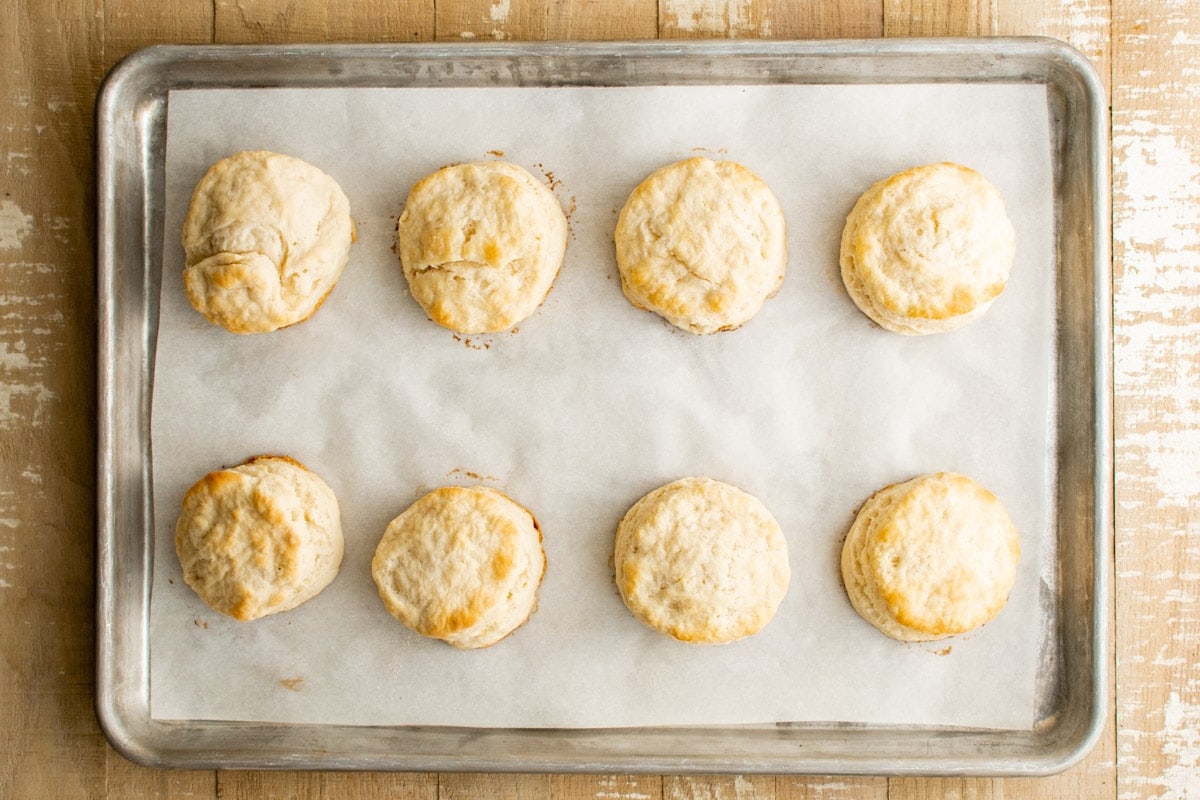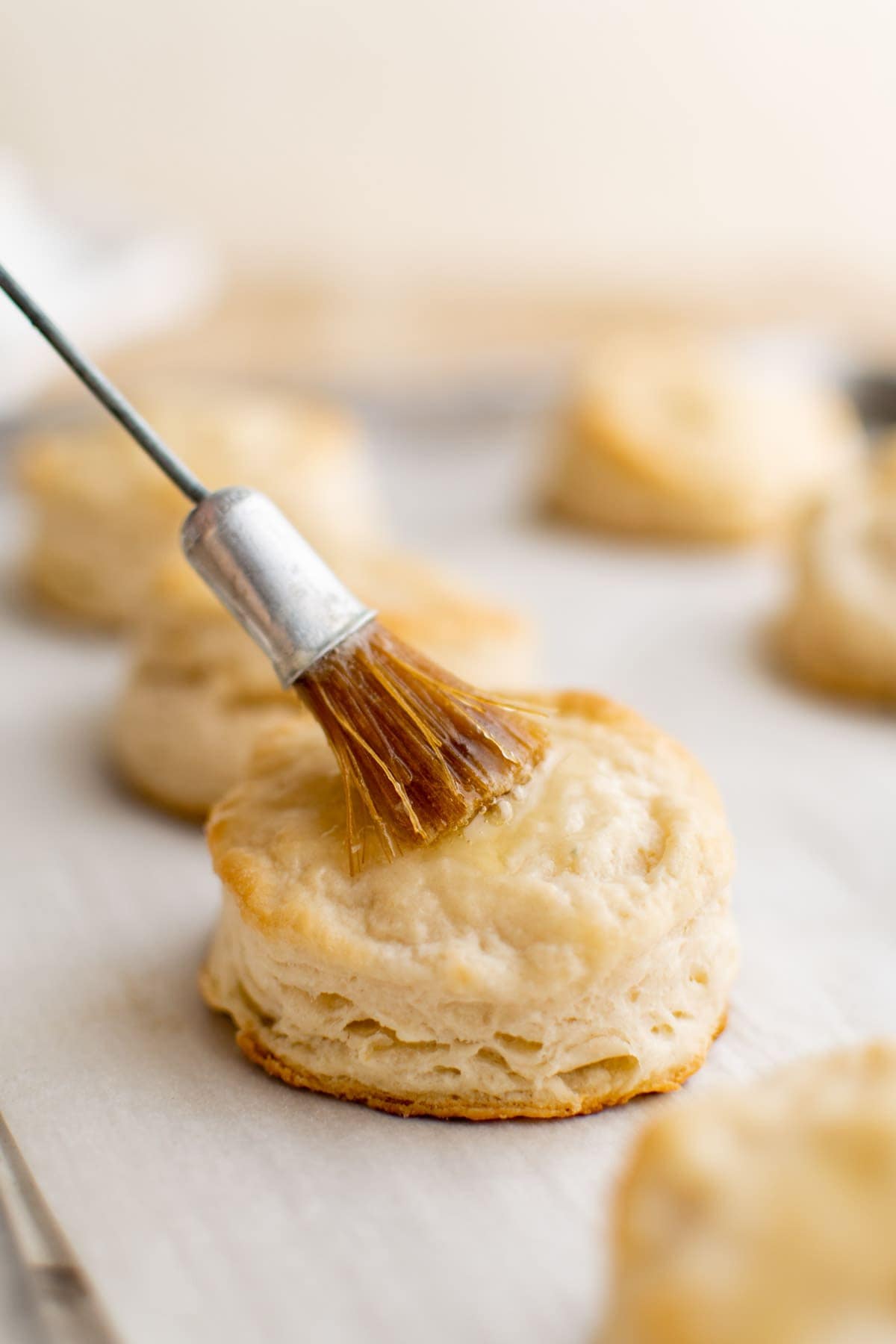 The butter must be cold. When the cold butter goes into the oven, it will melt and release steam. This makes your biscuits extra flaky.
Pop your butter into the fridge for about 20 minutes so that it's nice and cold.
Use a pastry cutter to cut the butter into the dry ingredients. You could use your fingers, but using your fingers runs the risk of warming up the butter too much. When you're done, there should be no pieces of butter that are larger than the size of a pea.
Do not overwork the dough. It should look shaggy, and you should still be able to see little pieces of butter in it. Overworking or stirring the dough too much can make the biscuits tough.
Don't use a rolling pin to roll out the dough. Instead – use your hands to gently press the dough into a piece that's about ¾ inches thick before cutting out your biscuits. I don't recommend using a rolling pin because it can overwork the dough.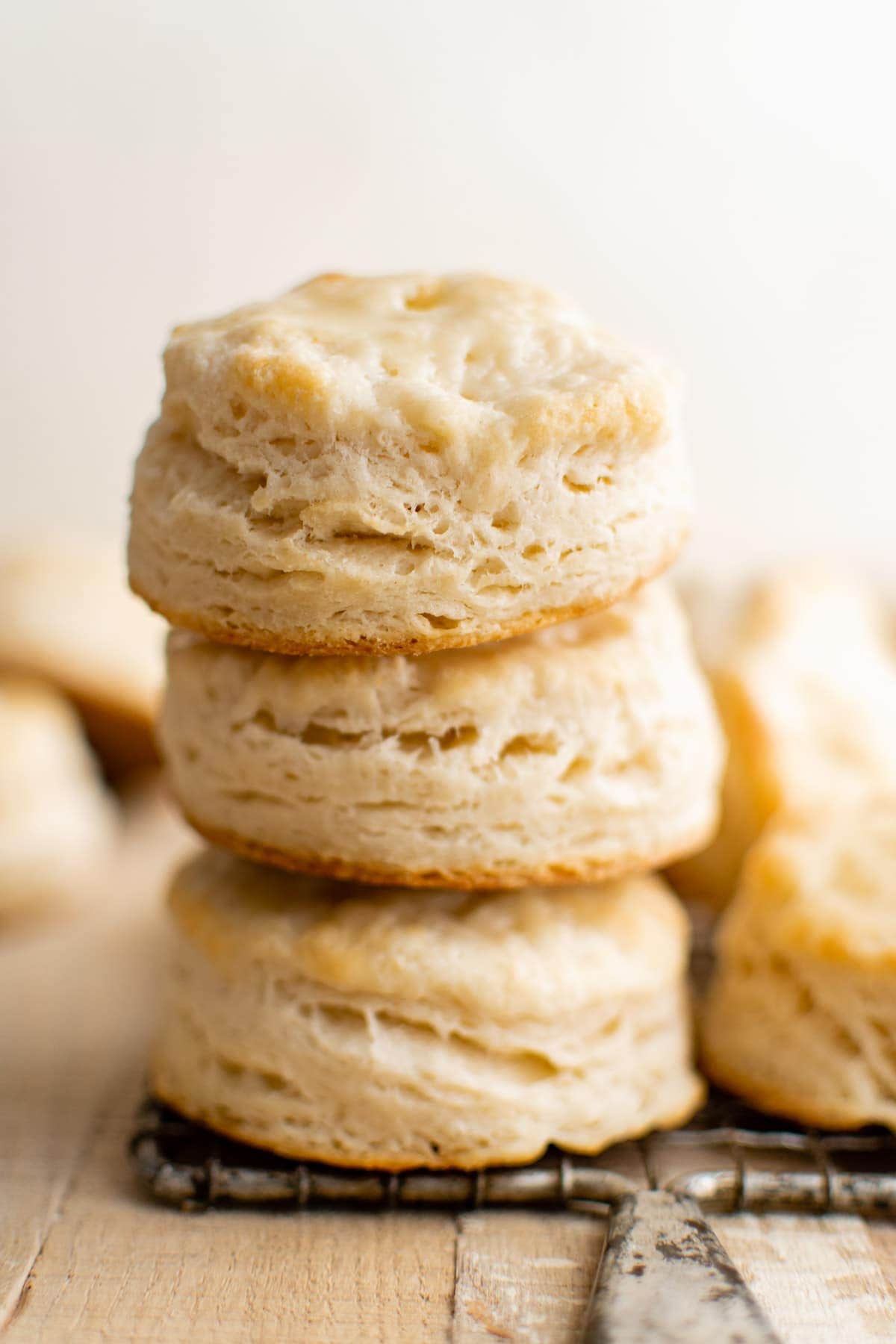 Baking Powder Substitute
If you are out of baking powder, or if it's expired, don't lose heart. You can still make biscuits using this simple baking powder substitute.
Baking powder is just baking soda mixed with cream of tartar. For 1 teaspoon of baking powder, mix together ¼ teaspoon of baking soda with a ½ teaspoon of cream of tartar and add that to your recipe.
How to Serve
These are the perfect accompaniment to go with your favorite soups and chilis. They are also great to go serve for breakfast or with afternoon tea.
How to Store
Freshly made biscuits should be stored in an airtight container at room temperature and eaten within a couple of days. They can be refrigerated, but it's not recommended as they do tend to get hard and dry out.
To freeze, place cooled biscuits in a freezer bag and pop them into the freezer for up to 6 months. Thaw in the fridge and reheat in the oven or microwave if desired.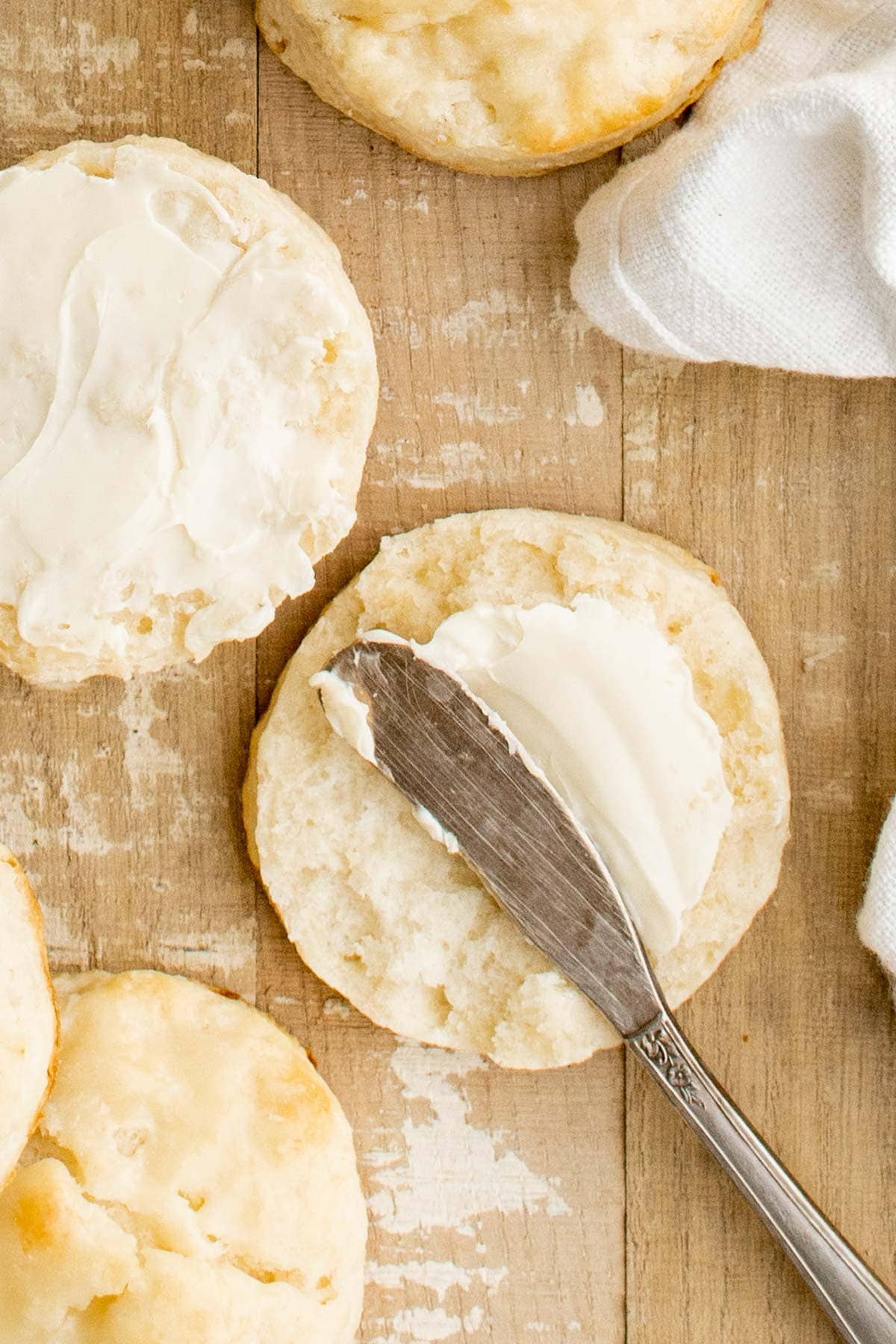 More Bread and Baked Goods
Recipe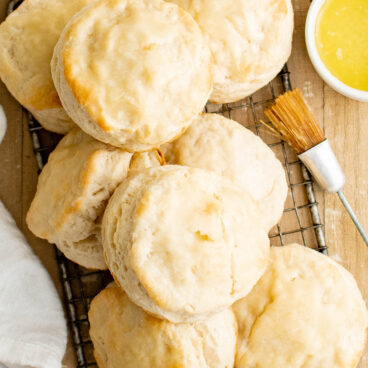 Homemade Biscuits
Fluffy, buttery, extra flaky homemade biscuits. Just 30 minutes and a few simple ingredients to make the perfect biscuits from scratch.
Ingredients
1/2

cup

unsalted butter

must be cold

2

cups

all-purpose flour

plus more for flouring your work surface

2

tablespoons

sugar

1

tablespoon

baking powder

1/2

teaspoons

salt

1

cup

buttermilk

cold

1

tablespoon

melted butter

for brushing on top of the baked biscuits
Instructions
Cut the butter (½ cup) into small pieces and pop in the freezer.

Preheat the oven to 450F degrees and line a baking sheet with parchment paper.

In a large bowl whisk together the flour, sugar, baking powder and salt.

Using a pastry cutter, cut the cold butter into the flour mixture until the butter is in small pieces with none that are larger than the size of a pea.

Make a well in the center of the bowl, then pour the cold buttermilk in.

Gently stir the mixture together using a rubber spatula until all the flour is incorporated. It will look shaggy.

Transfer the dough to a well-floured work surface and sprinkle the dough with flour.

Fold the dough in half, then turn it 90 degrees and fold it in half again. Repeat the process twice.

Re-flour your work surface as necessary, then use your hands to gently press the dough down so that it's about ¾ inch thick.

Use a well-floured biscuit cutter (mine was 2-inches in diameter), to cut out as many biscuits as you can from the dough.

Form the leftover dough into a ball and flatten out again, and cut the remaining dough into biscuits. I typically get 10-12 biscuits total.

Place the biscuits on the lined cookie sheets less than ½ inches apart.

Bake in the preheated oven for 10-15 minutes, or until the tops are golden.

When you take the biscuits out of the oven, brush the tops with the melted butter.
Notes
Biscuits are best eaten fresh from the oven. Store leftovers in an airtight container at room temperature. 
Nutrition
Calories:
173
kcal
Carbohydrates:
19
g
Protein:
3
g
Fat:
9
g
Saturated Fat:
6
g
Cholesterol:
25
mg
Sodium:
129
mg
Potassium:
150
mg
Fiber:
1
g
Sugar:
3
g
Vitamin A:
299
IU
Calcium:
72
mg
Iron:
1
mg