Biscuits and gravy is a weekend breakfast staple at my house. This easy Sausage Gravy recipe only takes 20 minutes to prepare and is as good as any breakfast joint! Add some homemade biscuits and you're set!
I love making a big breakfast on the weekends, and biscuits and gravy is almost always on the menu, along with some fluffy Baked Egg Muffins and a delicious Fruit Salad.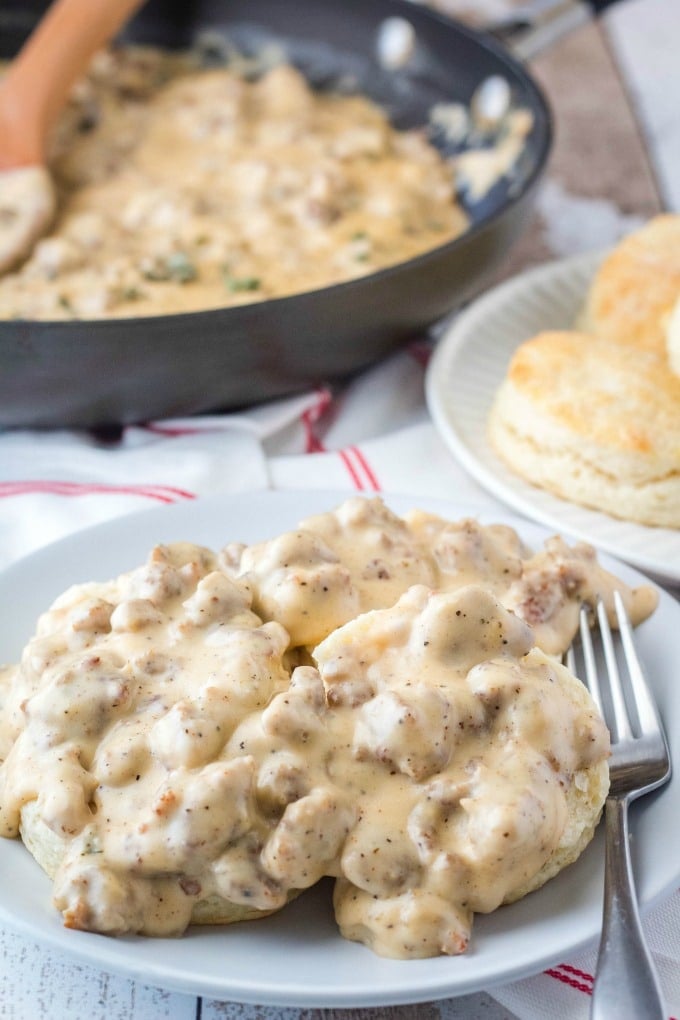 Best Sausage Gravy Recipe
Comfort food on a weekend morning is my favorite way to start the day. There's something wonderful about a lazy morning with food from the heart. This sausage gravy with biscuits is everything right about weekend brunch. This gravy comes together in about 20 minutes, just enough time for your biscuits to cook and cool a bit. Grab a fork and get ready to dig in. You do not want to miss this recipe!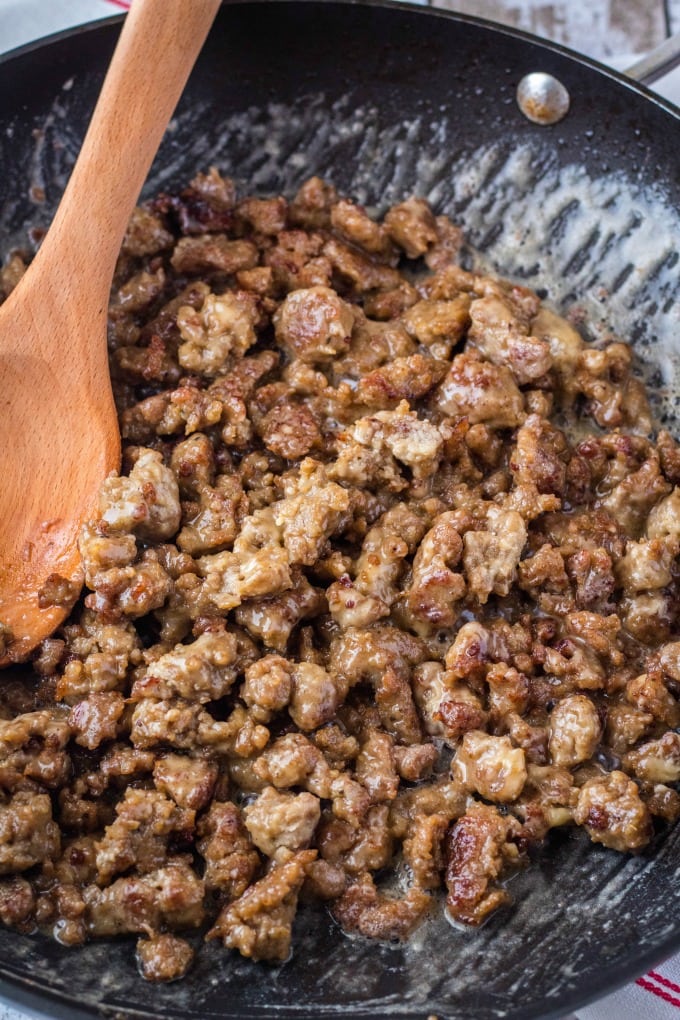 How to Make Sausage Gravy
Place a

large skillet

over medium heat and add some breakfast sausage (not links). Use a wooden spoon to break up the sausage and let it cook until it's golden browned with no pink.

Melt some butter in the skillet and sprinkle flour all over the sausage. Stir it around until no flour is visible and cook for a couple of minutes before pouring in some milk and stir it in until there are no lumps of flour. You can use any type of milk you keep on hand. The higher the fat content, the richer the gravy will be.

Pour in the rest of the milk and stir it together, bringing the mixture to a simmer. The gravy will begin to thicken, but be sure to stir often to prevent the bottom from milk from scalding.

Flavor the gravy with seasonings, including salt, black pepper, garlic powder, paprika and sage.
I used a few extra spices in this sausage gravy recipe to give it a flavor boost. The combination of salt, garlic powder, and paprika is kind of like making a quick seasoned salt. It adds a depth of flavor to the gravy that's really nice.
In the past, I didn't use the garlic powder and paprika just the salt and pepper, and this gravy was still delicious. That being said, even my husband commented on how good the gravy was this time. He didn't know why it was better, but he noticed. I'm keeping the upgrade.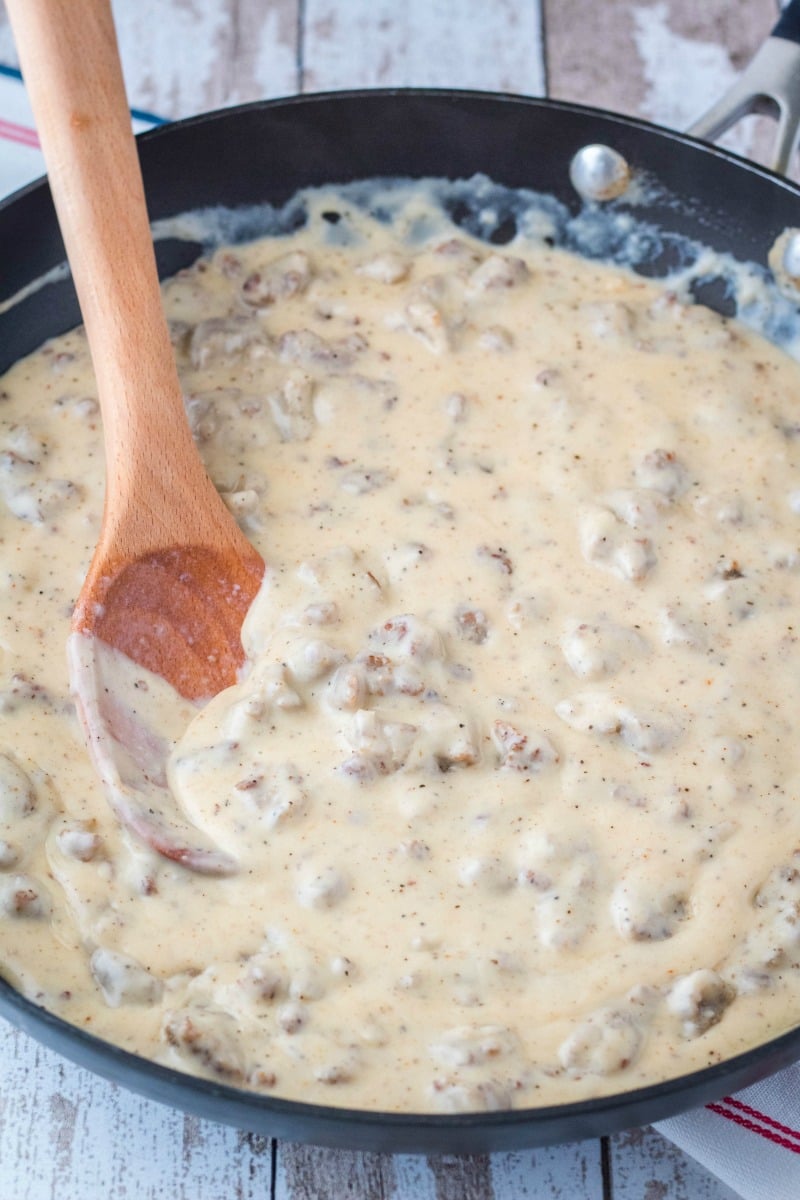 How to serve biscuits and gravy
While your sausage gravy is simmering, bake your biscuits. You can use the canned variety if you prefer, but making homemade biscuits is almost as easy! To serve, split biscuits in half and lay the halves on a plate. Some like to butter the biscuits so you can do that if you want. Spoon the sausage gravy over the biscuits, using a little or a lot. The biscuits soak up the gravy and soften and when eaten together are pure heaven.
What goes with biscuits and gravy?
Sausage gravy and biscuits can be served as a stand-alone meal. However, if you want to fill things out, some hash browns, sweet potato hash, or breakfast potatoes and fresh fruit are always great additions to your plate.
How long will sausage gravy last in the refrigerator?
Stored properly in an airtight container, sausage gravy will usually around 3 to 5 days. I reheat the gravy on stove or in the microwave separately from the biscuits, stirring halfway through heating.
This recipe is a classic that every home cook should have in their recipe box. It may also be why I can get my husband to hit up his "honey do" list even on a Sunday. I make him biscuits and gravy and he's on board with pretty much anything after that. Trust me, one bite and you'll be hooked!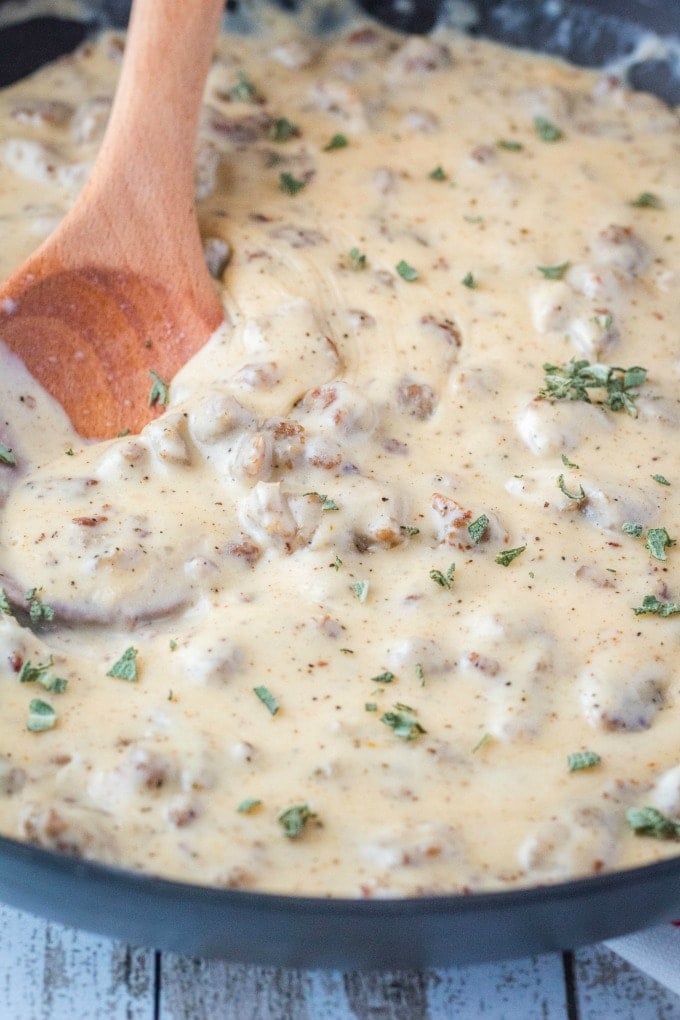 Try some of my other favorite breakfast recipes!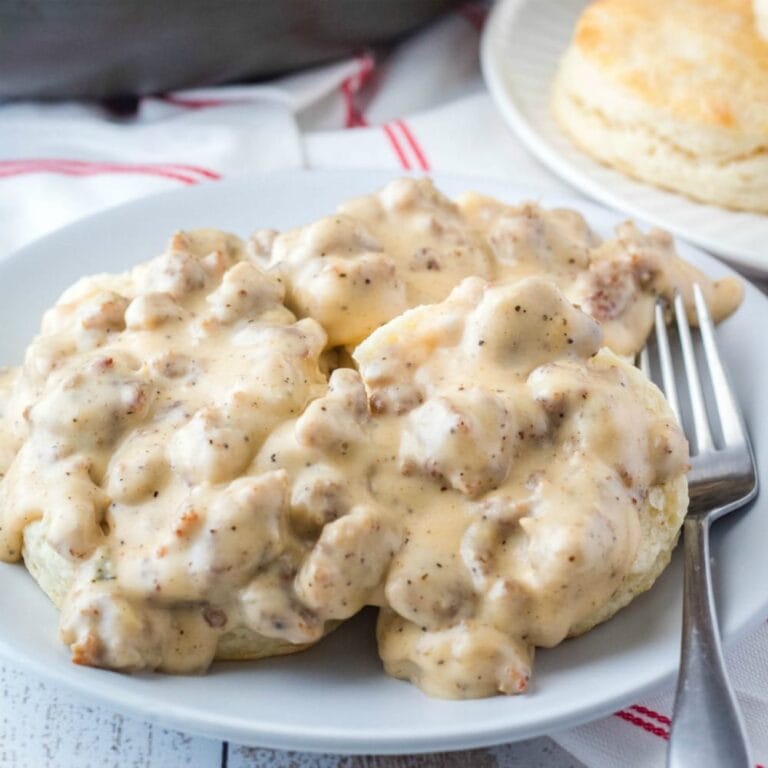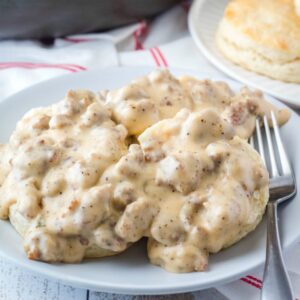 Sausage Gravy
Biscuits and gravy with a weekend staple at my house. The easy Sausage Gravy recipe only takes 20 minutes to prepare and is as good as any breakfast joint!
Ingredients
1 pound breakfast sausage
2 tablespoons unsalted butter
1/3 cup all-purpose flour
2 1/2 cups milk
1 teaspoon black pepper
1/2 teaspoon salt
1/4 teaspoon garlic powder
1/8 teaspoon paprika
Fresh sage finely chopped, for garnish
Instructions
Place a large skillet over medium heat. Once the pan is hot, add the sausage. Use a wooden spoon to break up the sausage. Cook for 8 to 10 minutes or until no longer pink and nicely browned.

Add butter to skillet and stir until melted. Sprinkle flour over sausage and stir to coat. Cook for 1 minute.

Pour in 1 cup of milk. Stir to incorporate the flour and prevent lumps. Pour in the rest of the milk and stir.

Bring to a simmer and cook until gravy thickens, about 8 to 10 minutes, stirring frequently to prevent the milk from scalding.

Remove gravy from heat. Stir in pepper, salt, garlic powder, and paprika. Sprinkle with sage before serving, if desired. Serve warm over biscuits.
Nutrition
Calories: 487kcalCarbohydrates: 16gProtein: 24gFat: 36gSaturated Fat: 14gCholesterol: 100mgSodium: 1077mgPotassium: 531mgFiber: 1gSugar: 8gVitamin A: 603IUVitamin C: 1mgCalcium: 197mgIron: 2mg