Homemade Hash Browns Recipe
Learn the tricks to making the best Homemade Hash Browns! This recipe is a super simple breakfast side dish that will leave you craving crispy hash brown potatoes all day long.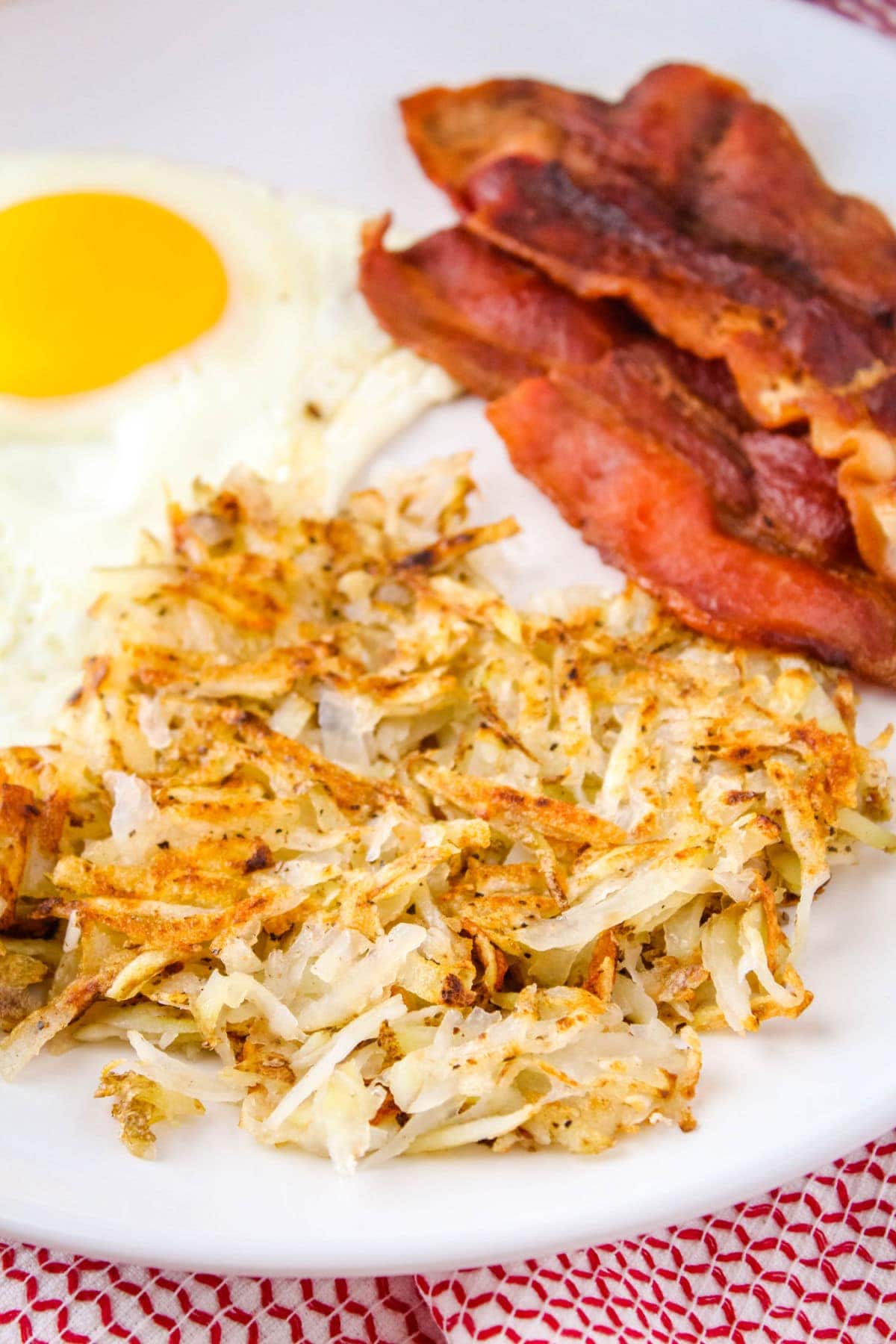 Okay, so I know they sell frozen bags of shredded potatoes to make hash browns with. I've done it and it was fine. Not great. Not "OMG I need some more!" Just okay. I had to use way more oil than I wanted to get a crispy crust on the outside and the insides were gummy. Hard pass.
However, these homemade hash browns are a thing of beauty! Crispy outside, tender inside, and the seasoning is just right. One bite and you'll never go back to frozen potatoes!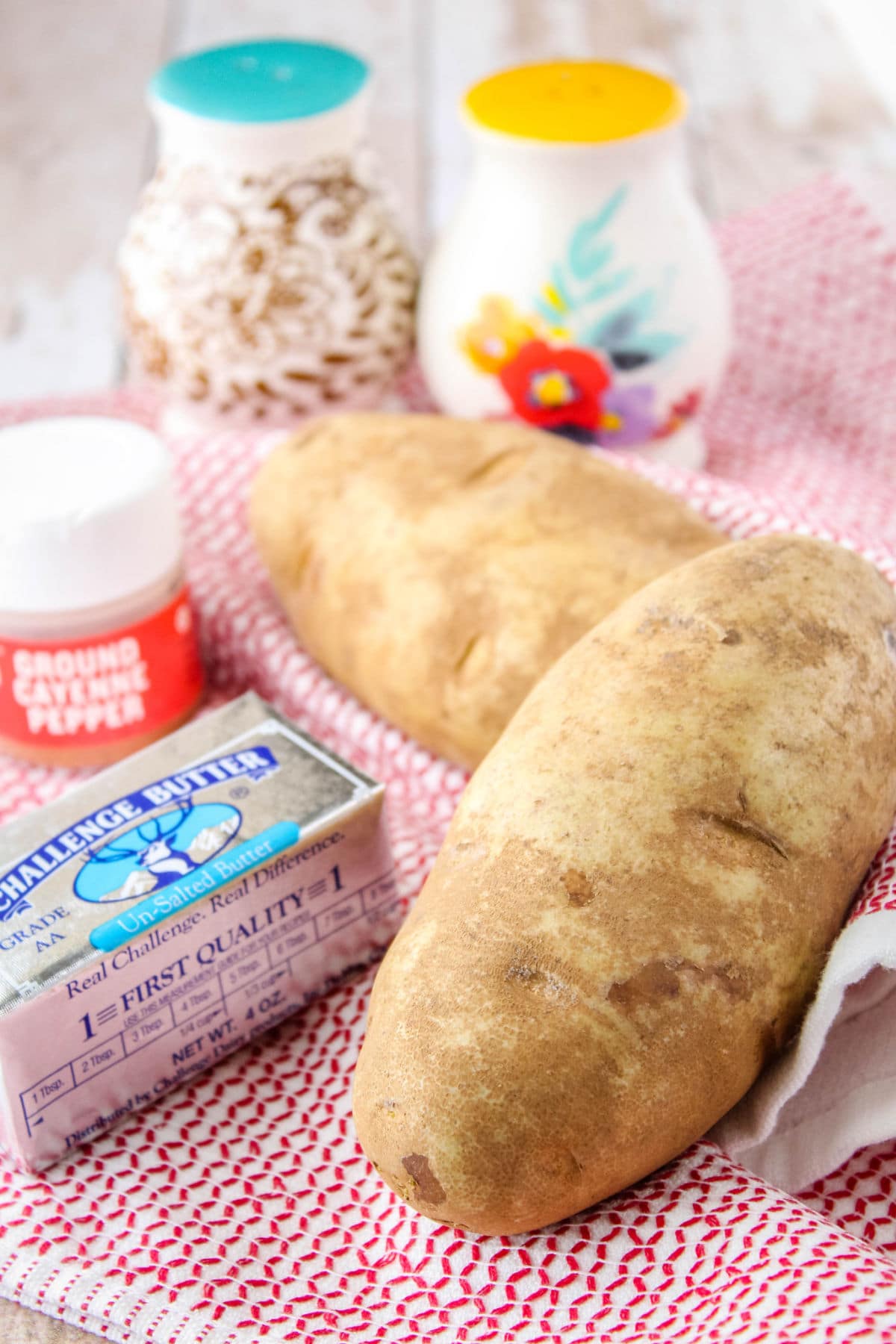 Yes, homemade hash browns take some time to prep, but they really do take less than 30 minutes from start to finish. You have to grate the potatoes, rinse, drain, rinse, and dry. But these are going to be the most crispy and delicious hash browns you've ever had, and no deep fryer needed!
While you making the potatoes, you could also be cooking your bacon in the oven. Then cook the eggs while your hash browns finish up. It's all about time management friends!
Plus that's time you didn't spend waiting in line at your favorite breakfast spot. More time eating, less time waiting!
Hash Browns Ingredients
Russet potatoes – Russet potatoes work best for this recipe. You can peel them first of leave the skins on like I did. Totally your call.
Butter – real butter is necessary for getting those crispy edges.
Salt & Pepper – season as much or as little as you like.
Cayenne pepper – for flavor, but totally optional.
Nothing fancy here friends. Just skillet fried potatoes seasoned right.
How Do You Shred Potatoes?
A heavy duty box grater will do the trick. If you have a food processor with a grater attachment, that will work too.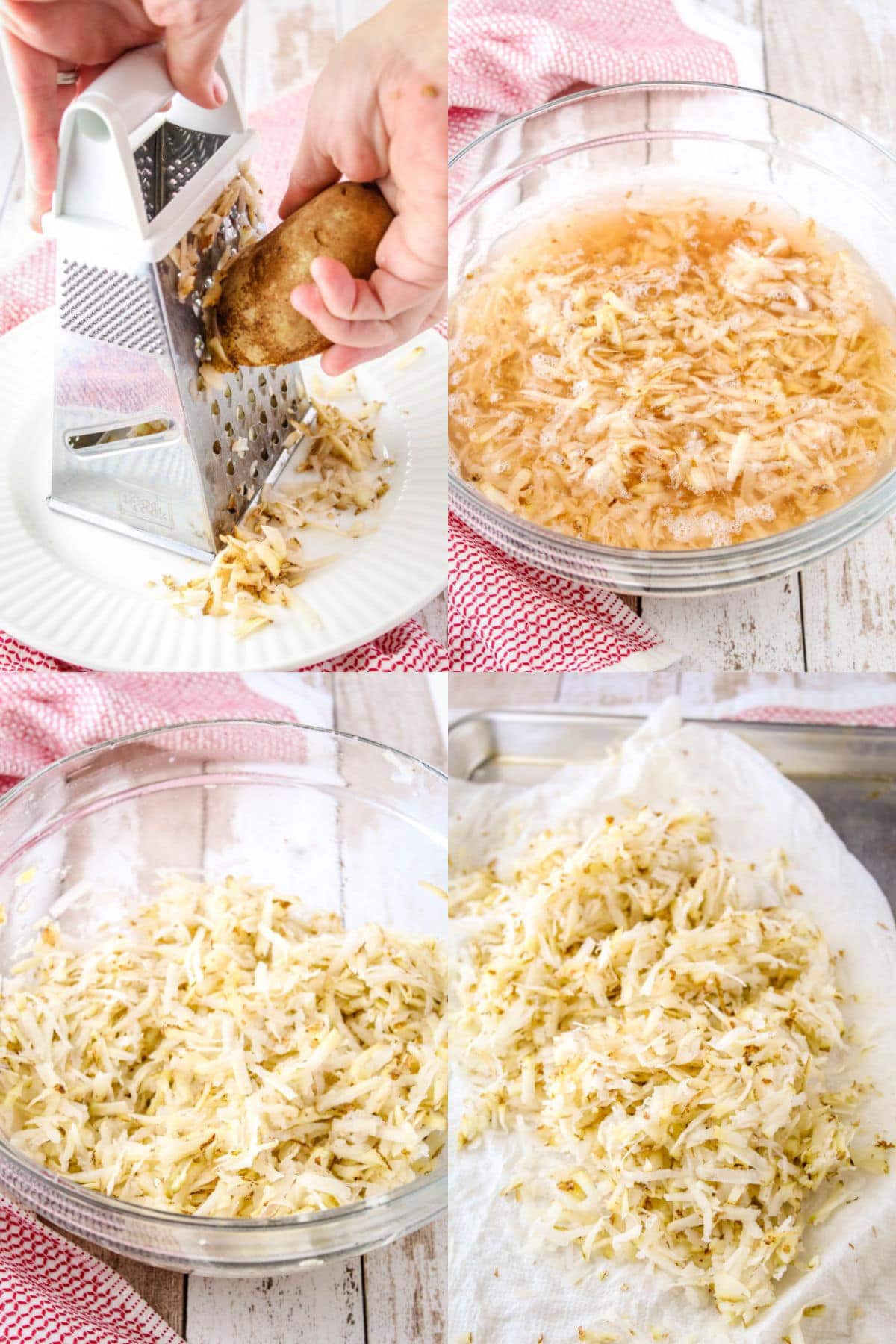 How to Make Hash Browns
Start by washing and drying your potatoes. If you're going to peel the potatoes, do that instead, but you can also leave the peels on.
Then either grab a box grater or your food processor fitted with the grating disc attachment. Shred the potatoes and then transfer them to a large bowl of cold water to keep them from turning brown. Use your hands to stir the potatoes around in the water until it becomes cloudy, then drain and repeat.
Dry the shredded potatoes on some paper towel lined baking sheets and squeeze out as much moisture as you can.
Melt butter in a large skillet and add the potatoes and form them into a single layer patty. Season as you like with salt, pepper and cayenne.
Cook for 5 minutes until a golden-brown crust forms on the bottom of the potatoes. No messing with them before 5 minutes is up! Then flip the potatoes. I work in sections so I'm not trying to flip the whole thing at once.
Add a little more butter and cook for 5 minutes until the potatoes for golden and crispy. Then serve them up ASAP!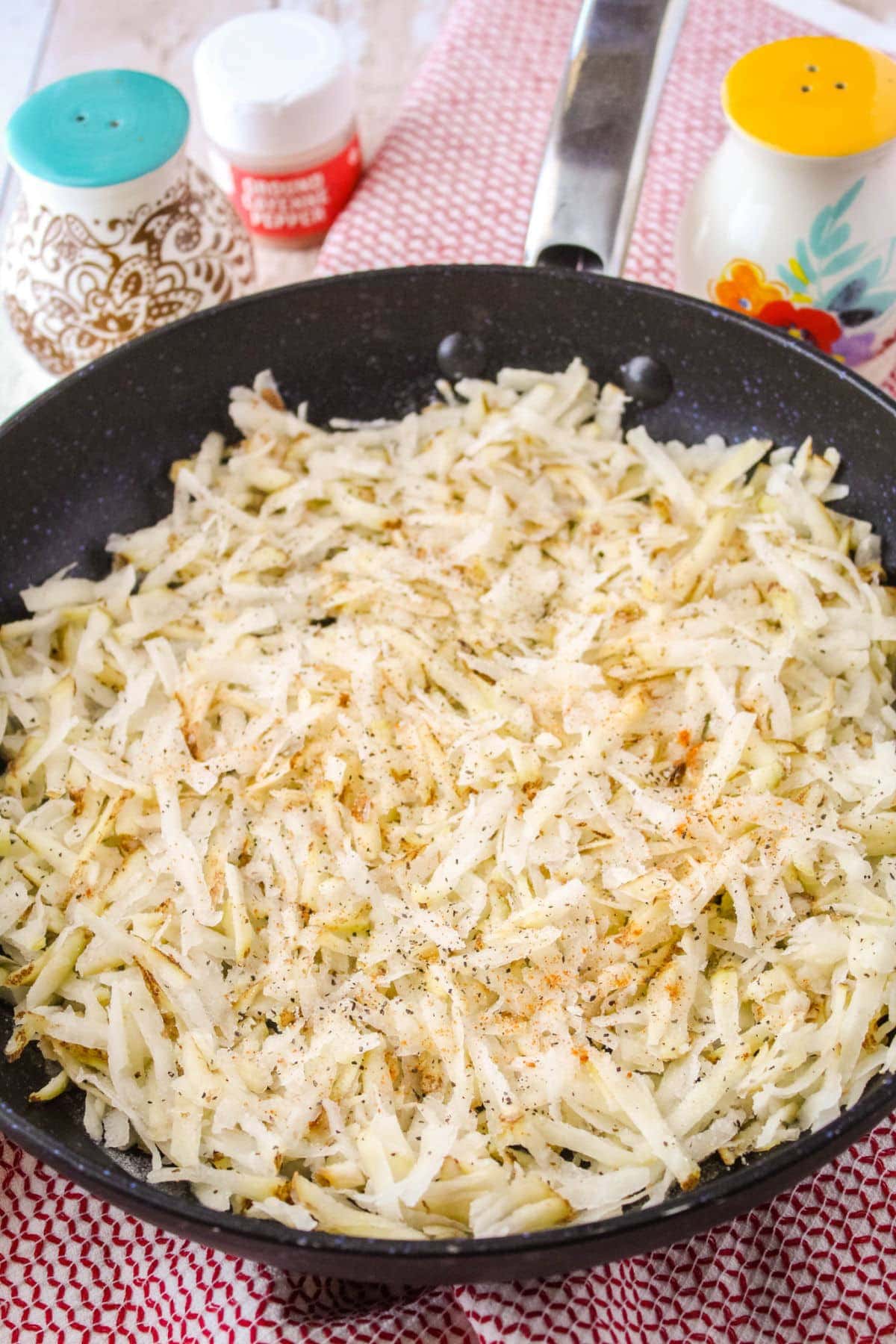 How Do Keep Hash Browns From Getting Soggy?
There are a few key steps to keep in mind for crispy (not soggy) hash browns.
Soaking the potatoes – Soaking and rinsing the potatoes removes the excess starches. You need to fully submerge the potatoes, not just run water over them. Removing these starches will help prevent raw sections inside your hash browns.
Drying the potatoes – Dry those bad boys out! Removing all possible excess moisture is the key to getting a nice crispy crust on your potatoes. Do not skip this step!
Non-stick skillet – So your potatoes won't stick to the pan while that crispy crust forms. A cast-iron skillet would be your next best option if you don't have a non-stick pan on hand.
No Touching – Don't mess with your potatoes while they're frying. This lets the crust form and get that nice color. If you finish cooking your hash browns and want them crispier, you can flip and cook each side once more for 3 minutes.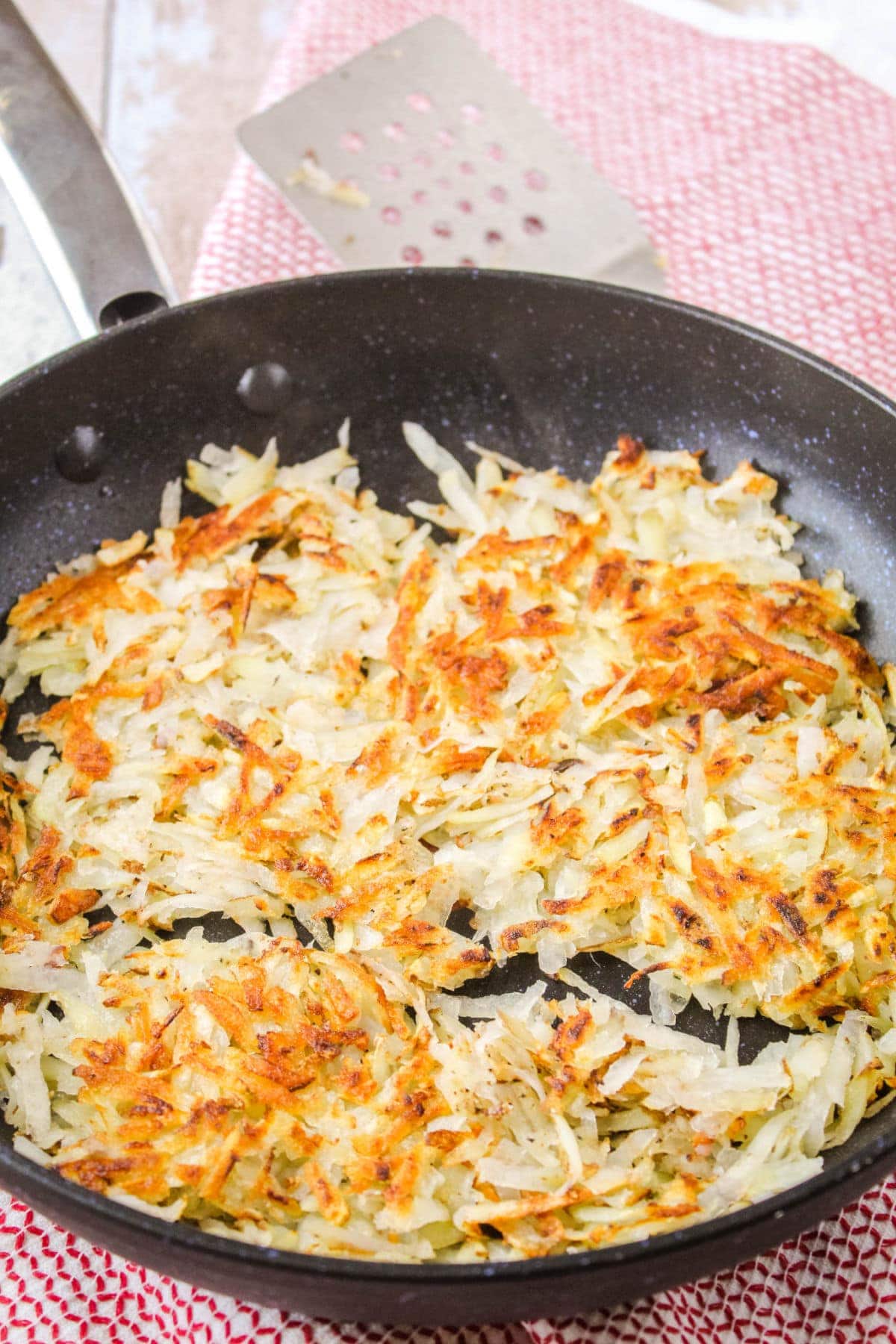 These hash browns have just the right amount of seasoning and the cayenne adds a hint of spice. Don't skip it, it's really really good! I love serving homemade hash browns up with pancakes, eggs and bacon, or biscuits and sausage gravy. So good!
You can even take any leftover hash browns (this recipe makes two skillets full) and put them on a breakfast burger. So many possibilities friends!
More Breakfast Recipes to Try
If you've made this recipe, please come back and leave us a star rating or a comment below. Or, tag us on social media @yellowblissroad or #yellowblissroad for a chance to be featured.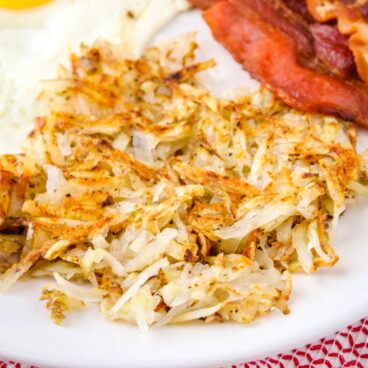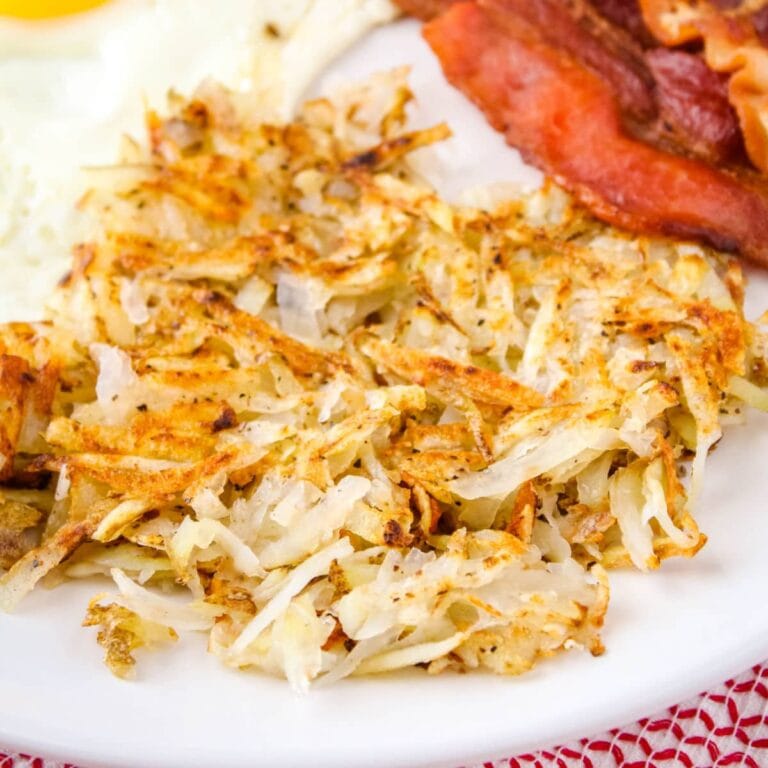 Homemade Hash Browns Recipe
Learn how to make crispy Hash Browns from scratch! This homemade hash browns recipe is an easy side dish for any breakfast.
Ingredients
2

large

Russet potatoes

1/4

cup

butter

divided

1

teaspoon

salt

divided

1/2

teaspoon

pepper

divided

1/4

teaspoon

cayenne pepper

divided
Instructions
Wash and scrub potatoes. Using a box grater or a food processor, shred the potatoes. (If you prefer, you can peel the potatoes before shredding them.)

Place shredded potatoes into a cold water bath. Stir the potatoes until the water becomes cloudy. Drain the water and repeat.

Spread the potatoes out into a single layer on a kitchen towel or layered paper towels. Pat the potatoes dry. Then wrap the towel around the potatoes and squeeze to remove any excess moisture. (Be careful if using paper towels, you don't want them to break open.)

Place a large skillet over medium heat. Melt half the butter in your skillet. Once butter is melted and the skillet is hot, add potatoes spreading them into a single layer. Season with half of the salt, pepper, and cayenne pepper.

Cook the potatoes for 5 minutes until a brown crust forms on the bottom. Flip the potatoes and cook for another 5 minutes. (I flip the potatoes in sections instead of trying to flip the whole thing at once.)

Once the potatoes are browned and crispy, portion hash browns on everyone's plates and serve immediately. Repeat with remaining ingredients.
Notes
If you like your potatoes extra crispy, you can cook each side once more for 3 minutes per side, or until they're cooked to your desired crispiness level.
Nutrition
Calories:
166
kcal
Carbohydrates:
22
g
Protein:
3
g
Fat:
8
g
Saturated Fat:
5
g
Cholesterol:
20
mg
Sodium:
461
mg
Potassium:
513
mg
Fiber:
2
g
Sugar:
1
g
Vitamin A:
268
IU
Vitamin C:
7
mg
Calcium:
18
mg
Iron:
1
mg