Authentic Indian Fry Bread Recipe
Authentic Indian Fry Bread Recipe is a classic Navajo recipe that is so easy to make and completely delicious! The dough is deep fried until golden brown and covered in savory or sweet toppings to enjoy!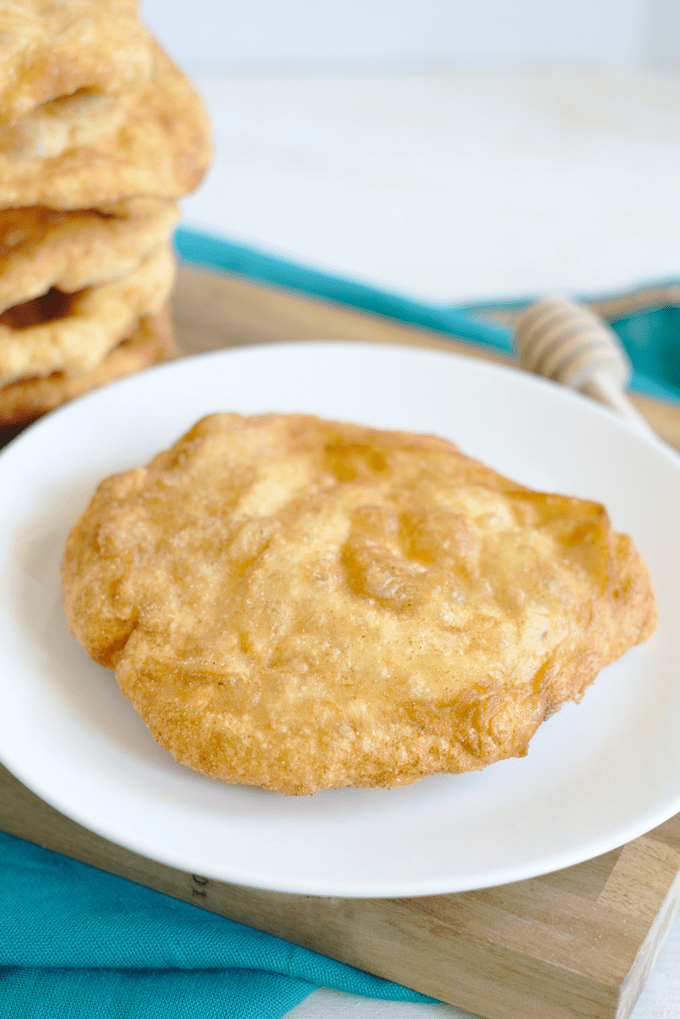 Fry bread is one of those things that is so amazing, but so few people know about it! I first discovered it last time I went out west when I ordered a Navajo taco, curious about what kind of spin on a classic Mexican meal it would be, and it came out flat on what looked like a deep-fried tortilla. Intrigued, I bit in and was amazed by the texture of the shell of this taco! It was light and crispy on the outside and a bit denser, more bread-like on the inside. It complemented the rest of the fixings on the taco perfectly!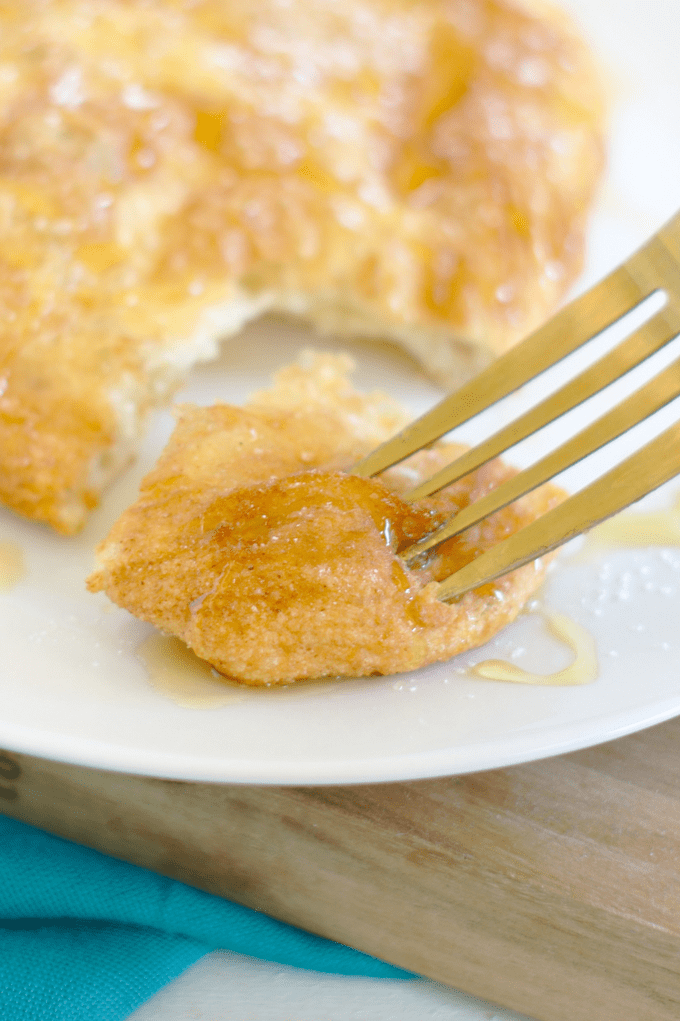 So it turned out, I had experienced fry bread. This is an authentic Navajo recipe is very common in the American southwest and it can be served up sweet or savory. If you are going for the sweeter approach, you can top it with powdered sugar and honey or jam but if you want to use fry bread in a savory recipe, there are so many options! The most popular way to use fry bread is in the previously mentioned Navajo tacos, which are fry bread topped with ground beef, cheese, lettuce, black olives, tomatoes, and sour cream. Exactly like a normal taco but just with a more fun shell! Other options for things to put on top includes shredded chicken, steak, pork carnitas, etc. Personally, I had one with a bit of pepper jack cheese on top and it was a great lunch! Now the sweeter version is a completely different ball game! This version is a wonderful dessert that really reminded me of Spanish sopapillas! The honey seeps into all of the nooks and crannies of the fry bread and it's wonderful!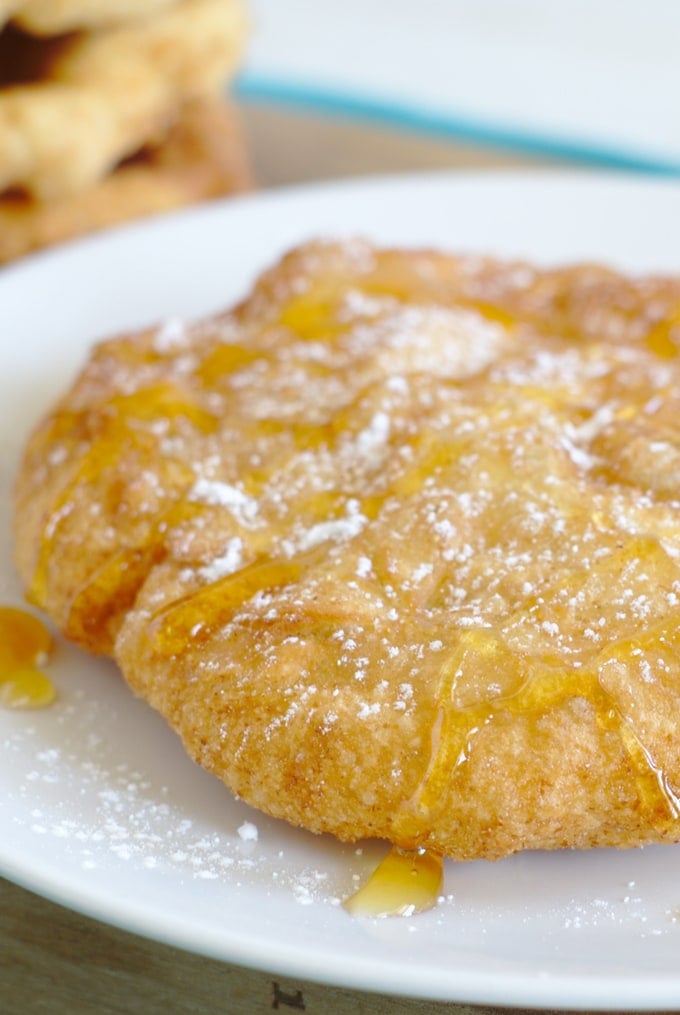 Make sure you plan ahead when you make fry bread and try to make the amount that you plan on eating. Fry bread doesn't save too well since it gets a bit soggy but the recipe is easy to cut in half or double, depending on how many people you are feeding.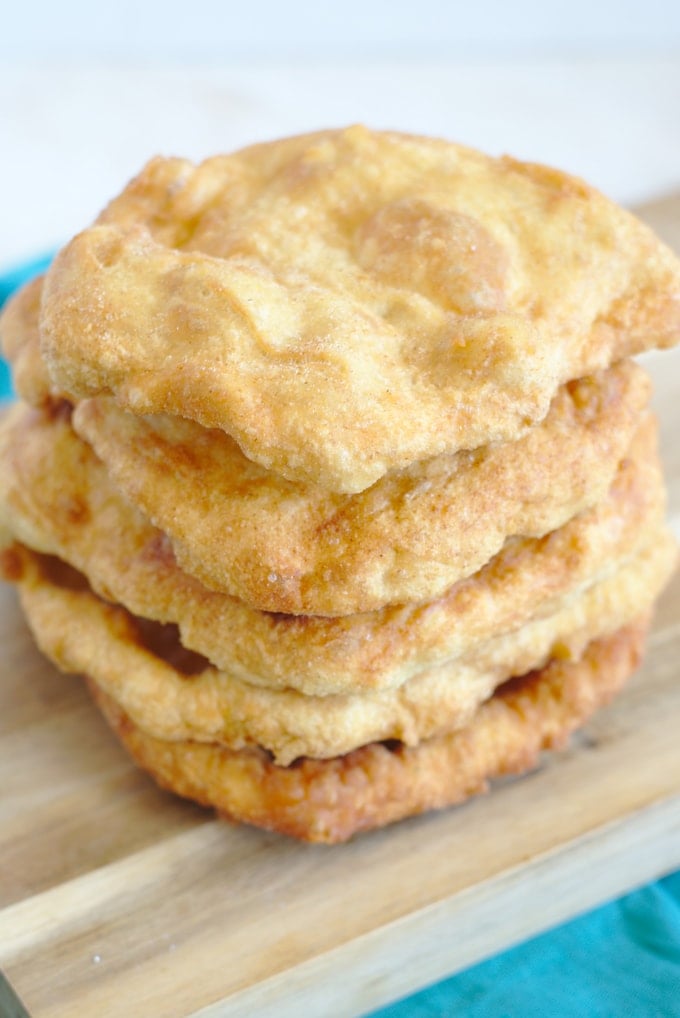 Want more crave-able bread recipes?
If you've made this recipe, please come back and leave us a star rating or a comment below. Or, tag us on social media @yellowblissroad or #yellowblissroad for a chance to be featured.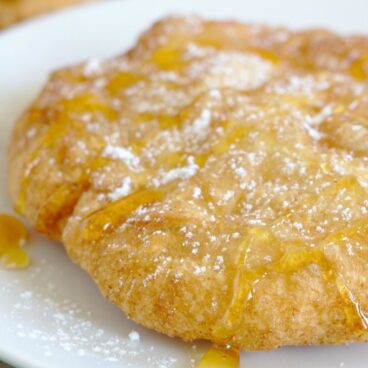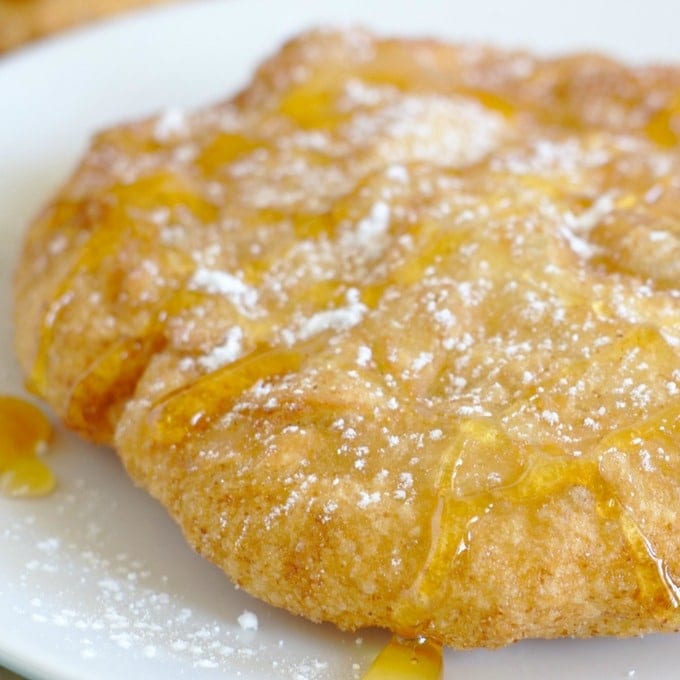 Authentic Fry Bread
Authentic Indian Fry Bread Recipe is a classic Navajo recipe of dough deep fried until golden brown and covered in savory or sweet toppings to enjoy!
Ingredients
3

cups

all-purpose flour

2

teaspoons

baking powder

1/2

teaspoon

salt

1 1/2

cups

hot water

Vegetable oil
Topping Ideas:
Honey & powdered sugar

Cinnamon & sugar

Bean & Cheese

Taco - beans

cheese, lettuce, tomato, olives & sour cream
Instructions
In a large mixing bowl, combine flour, salt, and baking powder.  Mix until combined.

Slowly add in hot water and continuously mix with a wooden spoon until the dough comes together.  It will be quite sticky.

Cover the dough and let it sit for 60 minutes.

Once dough is done sitting, divide it into 12 even pieces and stretch each out until it is very thin.  Make sure to avoid letting the dough rip.  It is okay if the dough isn't perfectly shaped.

Add enough oil to either a deep fryer or a large pot to be at least 3 inches deep.  Bring the oil up to medium-high heat.

Place one piece of the dough into the hot oil at a time and leave it until it is golden brown on the bottom before flipping.  Once both sides of the dough are completely cooked, drain off excess oil and then transfer to a plate lined with paper towel.  Repeat with each of the pieces of dough.
Make sure to check out these amazing bread recipes!