This Beer Bread recipe is slightly sweet, moist and so delicious! Made with just 6 ingredients, it's a simple quick bread that tastes like you slaved over it for hours.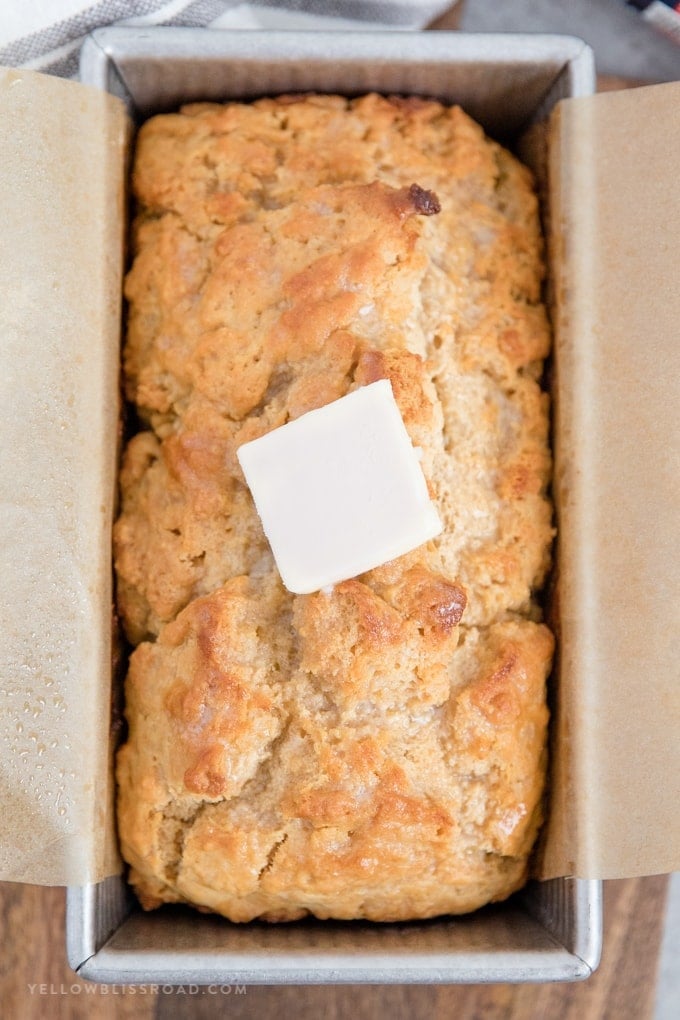 When you hear the words "Beer Bread," what goes through your mind? Because I do not personally drink beer, I always thought I wouldn't be able to handle something called Beer Bread. Then my cousin got a bread maker. She spent hours upon hours searching for new recipes to try and beer bread quickly became a household favorite. One bite and I was hooked.
HOW TO MAKE BEER BREAD
This beer bread recipe is super easy with just 6 ingredients!
flour
baking powder
granulated sugar
salt
beer
butter
The batter is made from the first 5 ingredients and the butter is melted and drizzled on top which creates a crunch crust. For a softer crust, you can mix the melted butter in with the batter. Personally I am a fan of the crunch!
It takes about 50 minutes or so to bake, but with variances in oven you want to check it at 45 minutes or bake up to an hour. You'll know it's done when the top is golden brown and the sides pull away from the pan. The toothpick test is always a give away – just insert one into the center of the loaf and if all you get are moist crumbs, it's ready!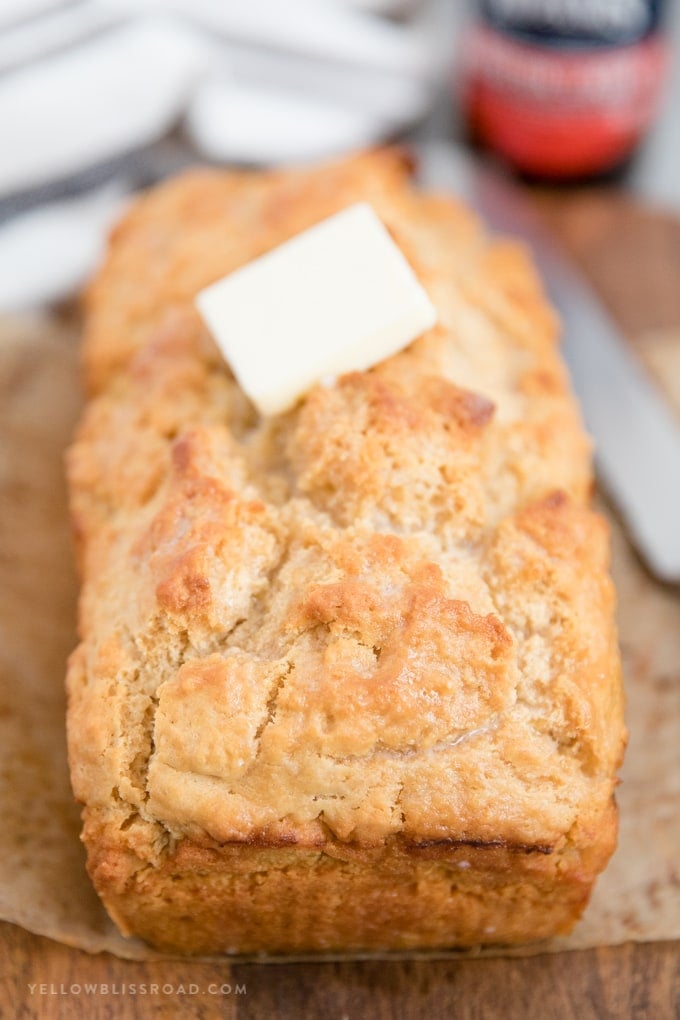 HOW DOES BEER BREAD WORK?
Beer Bread is a simple quick bread recipe that uses beer in place of yeast for the leavening. Both beer and bread are created when yeast is used to turn sugars into carbon dioxide and alcohol. In the case of bread a great percentage of the alcohol evaporates during the baking process, but it does add a mild flavor. (source) 
WHAT SHOULD I SERVE WITH BEER BREAD?
Beer Bread is perfect for serving with hearty soups, like Vegetable Beef Soup or Bacon and Bean Soup. It also makes a delicious snack on it's own or slathered with butter and honey.
For different variations of beer bread, you could add any of the following to customize it:
Replace the sugar with honey or agave.
Add 3/4 cup of shredded cheddar cheese.
Add a small can of diced green chiles or jalapenos with or without the cheese.
Use a cider instead of a lager for a slightly sweeter taste.
More Quick Bread recipes to try:
Tools used in this recipe:
9-inch Loaf Pans: These are great and affordable, and come in a set of two.
Parchment paper – I prefer parchment to foil; it's just easier to work with and is just as nonstick. Plus it just looks prettier!
Bread Knife – A sharp, serrated bread knife is a kitchen staple, for cutting bread (and tomatoes, too!).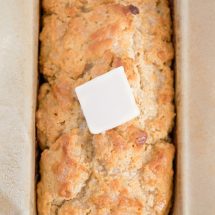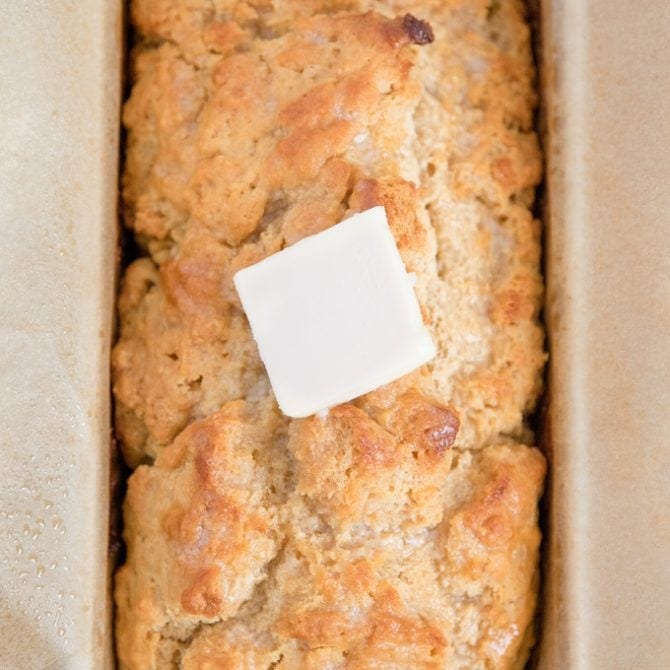 Beer Bread Recipe
Print
Pin
Rate
Prep Time: 10 minutes
Cook Time: 45 minutes
Total Time: 55 minutes
Servings: 1 Loaf
Ingredients
3 cups all-purpose flour
1 ½ tablespoons baking powder
½ teaspoon salt
2 tablespoons granulated sugar
12 ounces beer or lager of your choice
4 tablespoons butter melted and slightly cooled
Instructions
Preheat the oven to 375 degrees F. Grease an 8-inch loaf pan and line with parchment paper that folds over just two sides (optional, for easy removal).

In a large bowl, whisk together flour, baking powder, salt and sugar.

Pour in the beer and stir with a wooden spoon until just combined. Pour the batter into the prepared loaf pan and drizzle melted butter on top.

Bake the bread until golden brown and firm, about 45 minutes to an 1 hour. Cool in the pan for 10 minutes, then allow it to cool on a wire rack before slicing and serving.

Serve with butter and honey for drizzling. (optional)