This Zucchini Bread recipe is my grandmother's and a family favorite that we have been making for years. Tender and moist and a great way to use up your garden zucchini this season!
Whether it's zucchini season where you live or not, you'll want to pin this recipe and try it out. I promise it will become the only zucchini bread recipe you will ever need!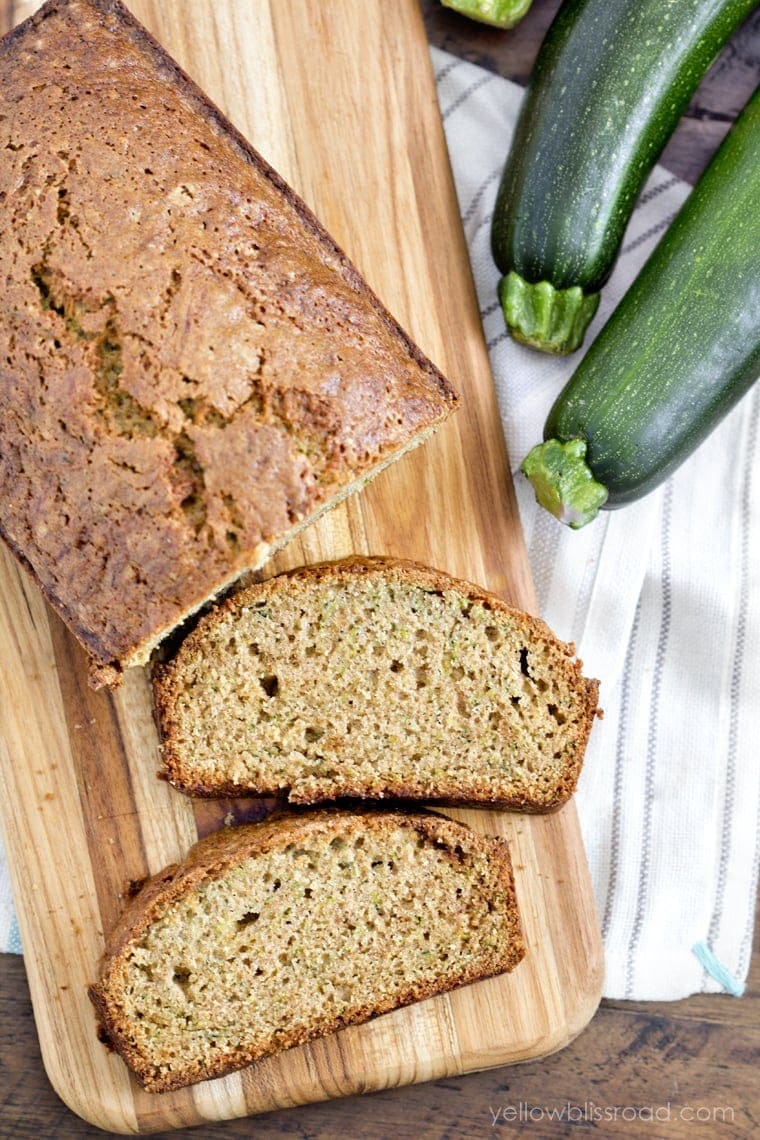 The Best Zucchini Bread Recipe
The women in my family have always enjoyed being in the kitchen, cooking and baking. I love making new recipes that I just discovered, but there's something to be said for tradition, too. My grandma loved to cook and bake for her family, and she had several beloved recipes. This Zucchini Bread recipe came from an old cookbook that I wish we could still find. It was one of those beloved books that had stained and dog-eared pages from years of well-loved use.
I remember the smell of cinnamon walking into my grandma's house and we knew that there was zucchini bread in the oven.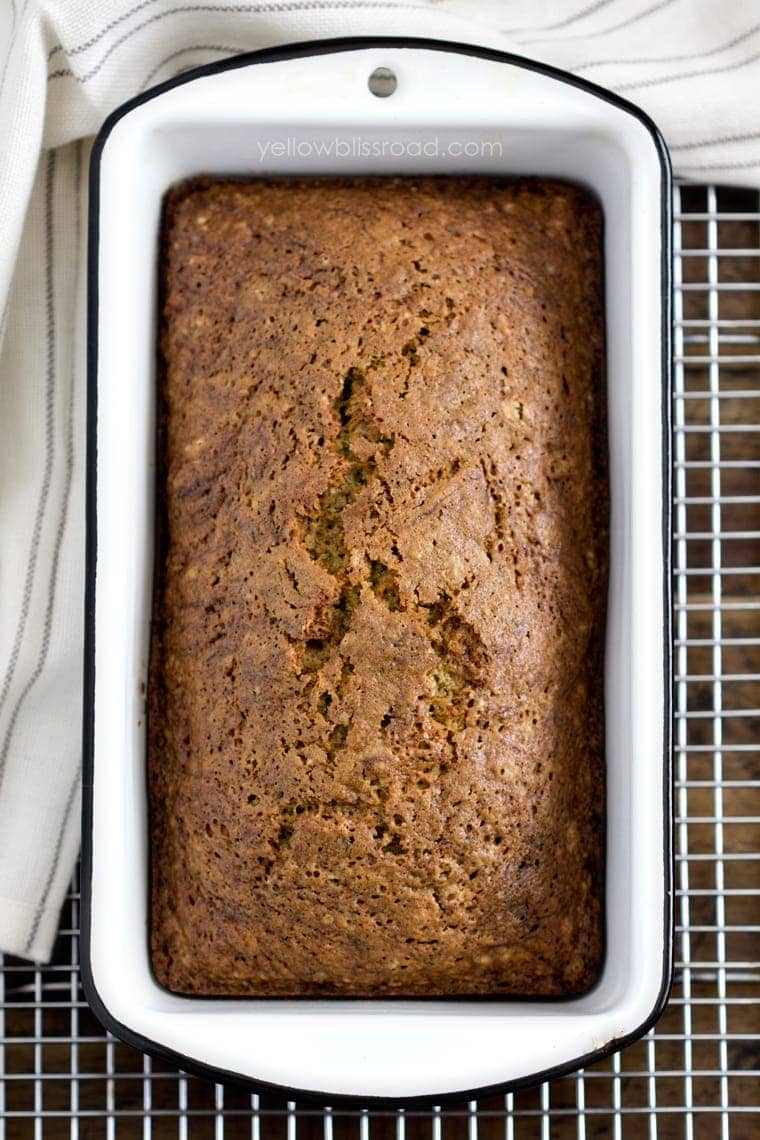 Thankfully we still have the recipe for her famous zucchini bread. Without that book, for all I know it could be an old Betty Crocker recipe, but to me, it will always be hers. It IS published in her church's cookbook after all! I hope you enjoy it as much as we do.
Some FAQs about making Zucchini Bread:
Is zucchini the same as squash? Zucchini IS a squash! It's a vegetable that grows on a vine, typically in the summer months. It has a high water content, which makes it perfect for making a moist delicious quick bread.
Do I have to peel the zucchini? Nope! The skin is quite soft, and softens as the bread bakes, so there is no need for peeling.
How many zucchini are needed for 2 cups? Three medium zucchini (approximately 2-inches around, 8-inches long) will yield about 2 cups of shredded, semi-packed zucchini. Choose zucchini that are darker in color, and don't reach for the largest you can find. Three medium zucchini should equal about 1 pound.
When baking zucchini bread, there are some key things to remember.
Don't overmix. Just stir the ingredients together long enough to incorporate everything – this means just until the flour is not long visible. If you mix too much you can wind up with a too dense bread that isn't as delicious.
Cool in the pan for about 10-15 minutes, then turn out onto a baking rack to finish cooling. This will keep the bread from continuing to cook in the pan which can result in darker (and burnt/bitter tasting) edges.
Cool completely. Quick breads can take an hour or two to cool completely. Let them! Slicing into the bread too soon can result in tearing or crumbling of that beautiful loaf. And for super easy slicing, use a serrated knife. (aff)
Make it your own
Feel free to add your own touches to this recipe. It's great with shredded coconut, lemon or orange zest, or especially with chopped walnuts – and I can say with confidence that Chocolate Chip Zucchini Bread is pretty amazing, too!
Can you freeze zucchini bread?
Quick breads are perfect for freezing! Wrap cooled loaves in plastic wrap or parchment paper and place into freezer bags. Store bread in the freezer for up to 6 months and thaw in the fridge when ready to eat.
Store fresh zucchini bread in an airtight container for up to 5 days.
For more delicious quick bread recipes, try these:
You'll love these other zucchini recipes:
Watch how to make zucchini bread: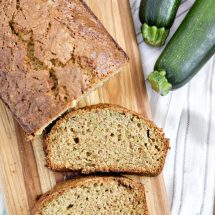 The BEST Zucchini Bread EVER
Print
Pin
Rate
Prep Time: 15 minutes
Cook Time: 1 hour
Total Time: 1 hour 10 minutes
Servings: 20 slices
Calories: 272kcal
Ingredients
3 eggs
3/4 cup oil
2 cups sugar
1 tablespoon vanilla
2 cups zucchini grated
3 cups all-purpose flour
1 teaspoon baking soda
1 teaspoon salt
1 tablespoon cinnamon
1/4 teaspoon baking powder
1 cup walnuts chopped (optional)
Instructions
Preheat oven to 350 degrees. Spray 2 loaf pans with cooking spray.

In a stand mixer with the paddle attachment, combine oil, sugar, eggs and vanilla at medium speed; about 30 seconds. Stir in zucchini.

In a separate medium sized bowl, sift together flour, baking soda, baking powder, salt and cinnamon. Stir into the wet mixture, just until combined. Stir in walnuts in desired.

Bake for 1 hour. Cool completely on wire racks.
Nutrition
Calories: 272kcal | Carbohydrates: 35g | Protein: 3g | Fat: 13g | Saturated Fat: 1g | Cholesterol: 24mg | Sodium: 182mg | Potassium: 92mg | Fiber: 1g | Sugar: 20g | Vitamin A: 60IU | Vitamin C: 2.3mg | Calcium: 20mg | Iron: 1.2mg
For all recipes, go HERE.