Zucchini Bread is the best thing you can make with summer's favorite vegetable. Our recipe is sweet and moist and so delicious; it's a family favorite that's been passed down for generations!
For more of our favorite zucchini recipes, try Lemon Zucchini Bread and Baked Parmesan Zucchini Crisps!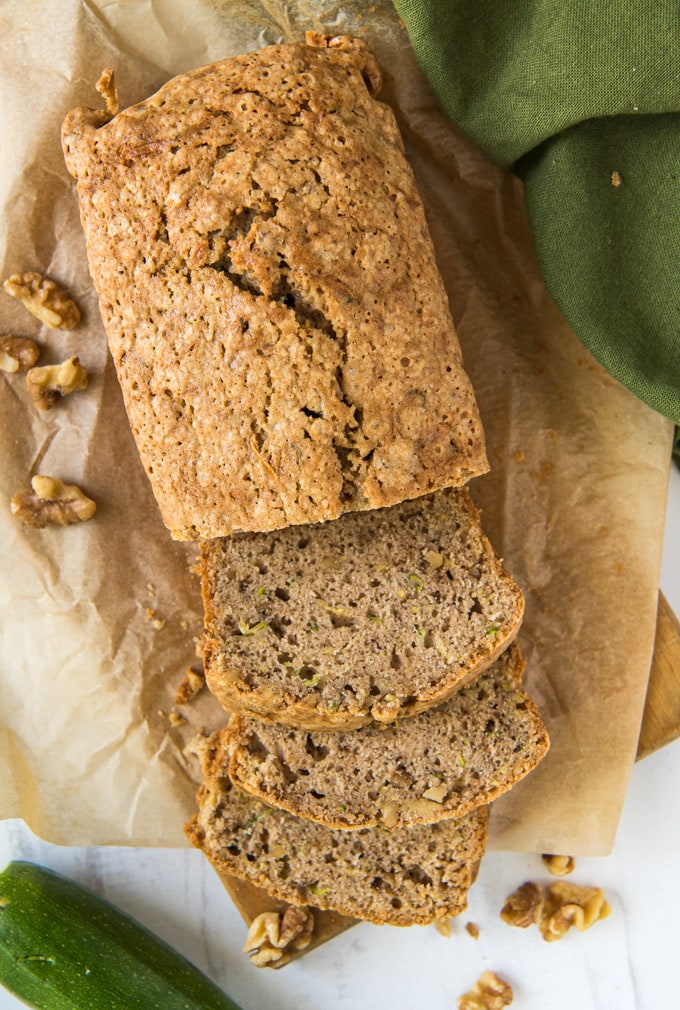 Pin this recipe for later!
The Best Zucchini Bread Recipe
My grandma's Zucchini Bread recipe is a family favorite that we have been making for years! It's tender and moist and a great way to use up your garden zucchini this season.
Whether it's zucchini season where you live or not, you'll want to pin this recipe and try it out. I promise it will become the only zucchini bread recipe you will ever need!
Why It Works
A tried and true recipe – This easy Zucchini Bread recipe has been passed down for generations and comes out perfect every time we make it.
One for now, one for later – This recipe for zucchini bread makes 2 loaves, so you can eat the first loaf right away, and freeze the second one for later because it freezes beautifully!
It's moist and tender – Zucchini has a high water content that helps keeps the bread so moist.
Sneaky vegetables – Adding shredded zucchini to recipes is a fantastic way to sneak in some extra veggies without altering flavor. I've been known to add an entire zucchini to my famous Homemade Spaghetti Sauce
How To Make Zucchini Bread
There are some key tips to remember when making any quick bread.
Mix Carefully – Mix oil, sugar, eggs and vanilla extract with a hand mixer or stand mixer. Then stir in the zucchini.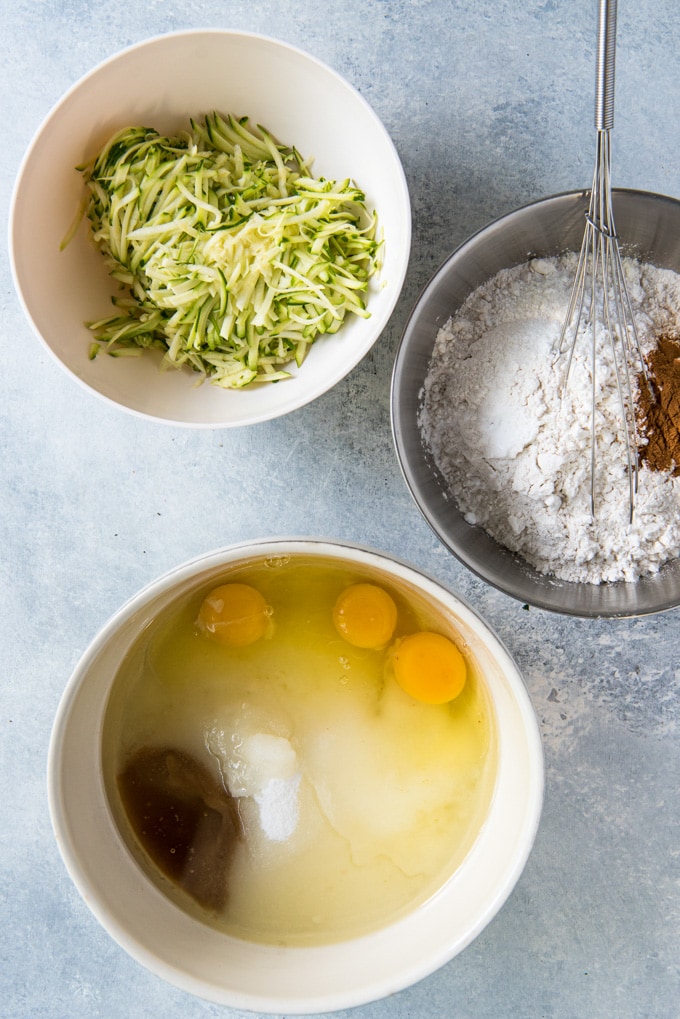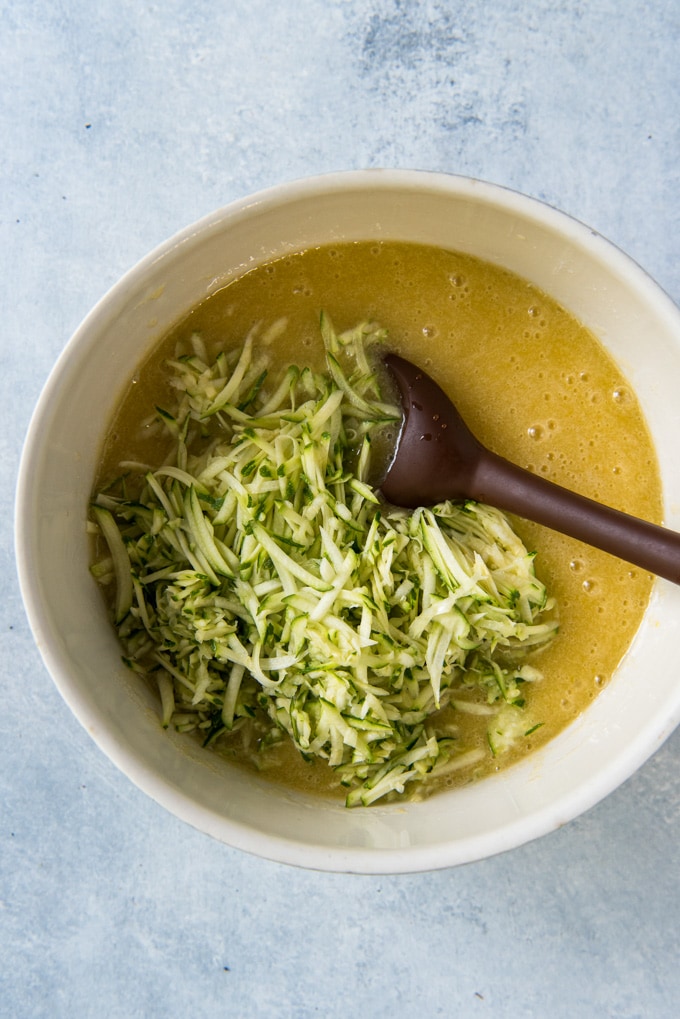 Add dry ingredients – In a separate bowl, sift together flour, baking soda, baking powder, salt and cinnamon then stir into the wet ingredients together long enough to incorporate everything.
Loaf Pans – Pour the batter into 9-inch loaf pans. Fill them about 2/3 of the way.
Bake – Place the pans side by side in a 350℉ oven for about an hour. Keep in mind that ovens do vary so it could take more or less time to fully cook. Use the toothpick test – a toothpick inserted into the center of the loaf should come out clean with a few moist crumbs.
Cool in the pan for about 10-15 minutes, then turn out onto a baking rack to finish cooling. This will keep the bread from continuing to cook in the pan which can result in darker (and burnt/bitter tasting) edges.
FAQs
Is zucchini the same as squash?
Zucchini IS a squash! It's a vegetable that grows on a vine, typically in the summer months. It has a high water content, which makes it perfect for making a moist delicious quick bread.
Can you use frozen zucchini?
During the summer when there is an abundance of zucchini, it's a great time to shred and freeze portions of zucchini to use in zucchini bread, Zucchini Fritters or Zucchini Carrot Oatmeal Muffins.Shred the zucchini and freeze in one cup portions. for up to 6 months. When you that it, be sure to wring out any excess moisture.
Can I substitute butter for the oil?
Yes, you can use melted butter in place of vegetable oil. Measure the solid butter, then melt in the microwave, cool it slightly, and add to the batter. Keep in mind that swapping ingredients may slightly alter the flavor and texture.
Why did my bread turn out dry?
This is usually due to improper measuring, or to over-baking. Be sure to test the bread by inserting a toothpick into the center of the loaf – when you remove it you should see just a few moist crumbs
Recipe Variations
Feel free to add your own touches to this recipe.
Mix-ins – It's great with shredded coconut, orange zest, chopped nuts, raisins or cranberries, and I can say with confidence that chocolate chip zucchini bread is pretty amazing, too!
Banana Bread – Add a banana to the batter for some delicious zucchini banana bread.
Muffins – You can make muffins instead by filling 24 greased muffin cups and baking for about 25 minutes. Cooking time will vary so be sure to test for doneness.
Tips For Success
How to choose the best zucchini – When shopping, choose zucchini that are darker in color, and don't reach for the largest you can find.
Room Temperature Ingredients – Make sure to take the eggs out of the fridge 30 minutes before you start mixing.
Cool completely. Quick breads can take an hour or two to cool completely. Let them! Slicing into the bread too soon can result in tearing or crumbling of that beautiful loaf. And for super easy slicing, use a serrated knife.
Only slice what you plan to eat. Cutting into servings for storing is not only unnecessary but can result in your bread drying out more quickly.
Careful not to overmix – If you mix too much you can wind up with a too dense bread that isn't as delicious. Mix just until the flour is no longer visible.
For easy removal – Cut a piece of parchment paper to fit inside the pans with the sides hanging over. Then use them as handles to pull the bread out once it's done.
Storage
How to store: Store fresh zucchini bread in a resealable plastic bag for up to 5 days.
How to freeze zucchini bread: Quick breads are perfect for freezing! Wrap cooled loaves in plastic wrap or parchment paper and place into freezer bags. Store bread in the freezer for up to 6 months.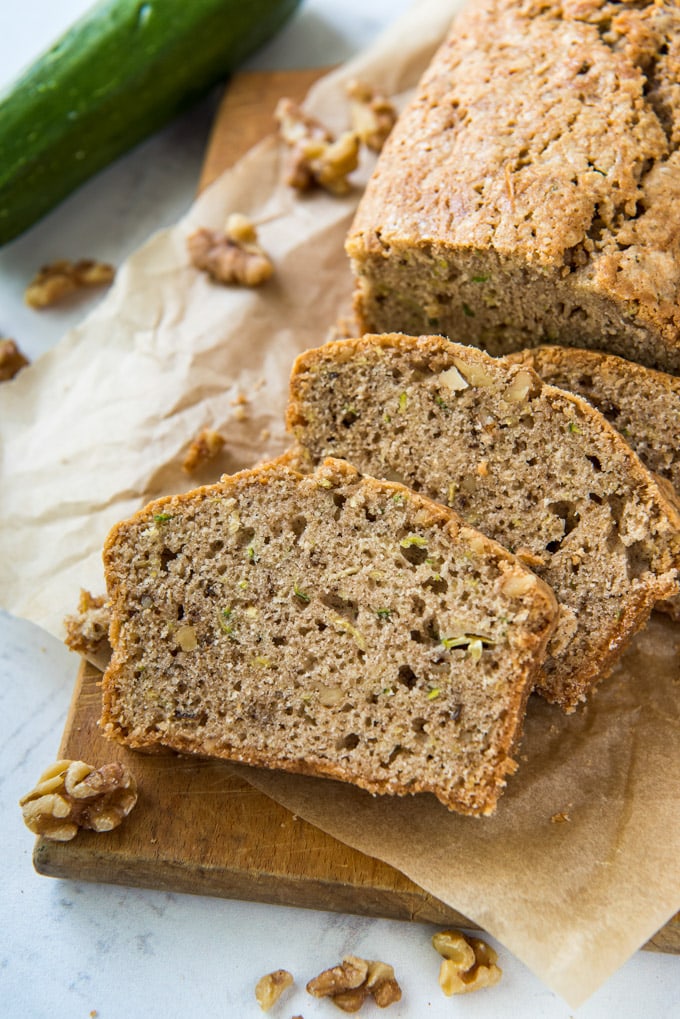 More Zucchini Recipes
Zucchini is without a doubt my favorite vegetable so I use it in lots of recipes. Here are some of my favorites:
Recipe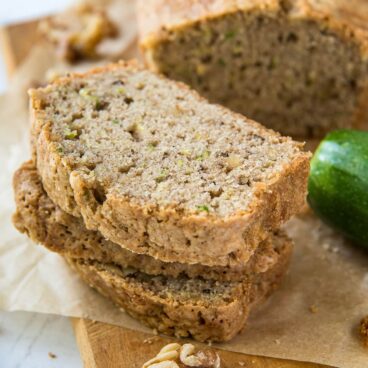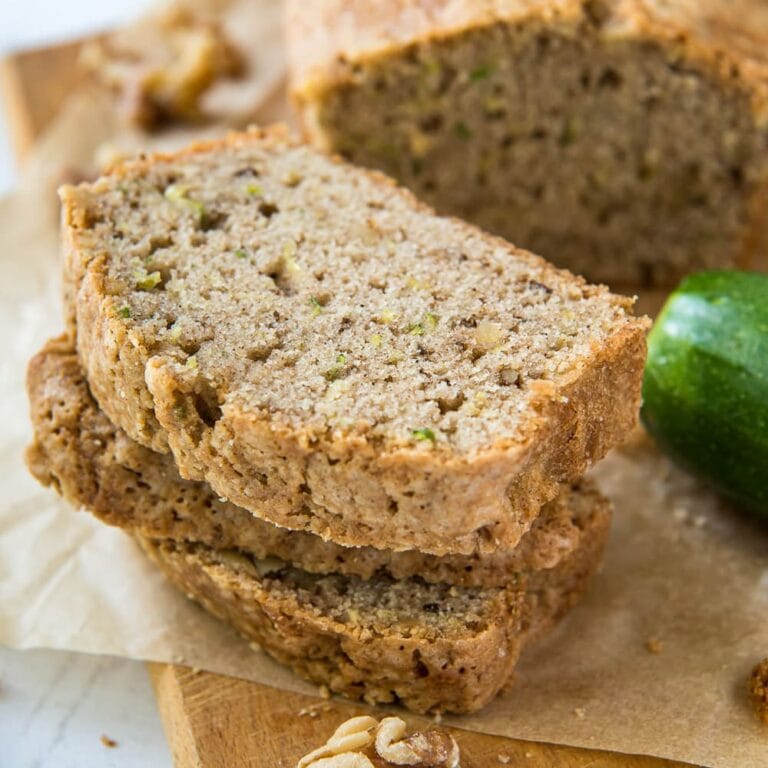 The BEST Zucchini Bread EVER
This Zucchini bread recipe is perfect for using up summer's favorite vegetable. It's sweet, and moist and will become a family favorite!
Total Time
2

hours
15

minutes
Ingredients
3

large eggs

3/4

cup

vegetable or canola oil

2

cups

granulated sugar

1

tablespoon

vanilla extract

2

cups

grated zucchini

3

cups

all-purpose flour

1

teaspoon

baking soda

1

teaspoon

salt

1

tablespoon

cinnamon

1/4

teaspoon

baking powder

1

cup

chopped walnuts (optional)
Instructions
Preheat oven to 350 degrees F. Spray 2 9-inch loaf pans with nonstick cooking spray. Line with parchment paper if you have it, for easy removal.

In a large bowl with a hand mixer, or of a stand mixer with the paddle attachment, combine oil, sugar, eggs and vanilla at medium speed; about 30 seconds. Stir in zucchini. (If you don't have a mixer, use a large mixing bowl and a wooden spoon).

In a separate medium sized bowl, sift together flour, baking soda, baking powder, salt and cinnamon. Stir into the wet mixture, just until combined. Stir in walnuts in desired.

Pour into prepared loaf pans and smooth the tops evenly.

Bake for 1 hour. Test for doneness at 50 minutes as oven temperatures can vary. Let cool 15 minutes in the pans, then cool completely on wire racks.
Notes
Nutritional information is approximate and does not include optional ingredients. It is calculated per loaf because the serving size will depend on how thick you slice it.
Each loaf should yield 10 slices, but that can vary depending on the thickness of each slice.
Walnuts are optional. Pecans or chocolate chips could also be used.
Nutrition
Carbohydrates:
352
g
Protein:
29
g
Fat:
90
g
Saturated Fat:
69
g
Cholesterol:
246
mg
Sodium:
1821
mg
Potassium:
666
mg
Fiber:
8
g
Sugar:
204
g
Vitamin A:
604
IU
Vitamin C:
22
mg
Calcium:
147
mg
Iron:
11
mg
This Zucchini bread recipe is perfect for using up a summer's favorite vegetable. It's sweet, and moist and will become a family favorite!