My homemade spaghetti sauce is an easy recipe that will dominate pasta night! Make a double or even triple batch to freeze for the time time that craving hits.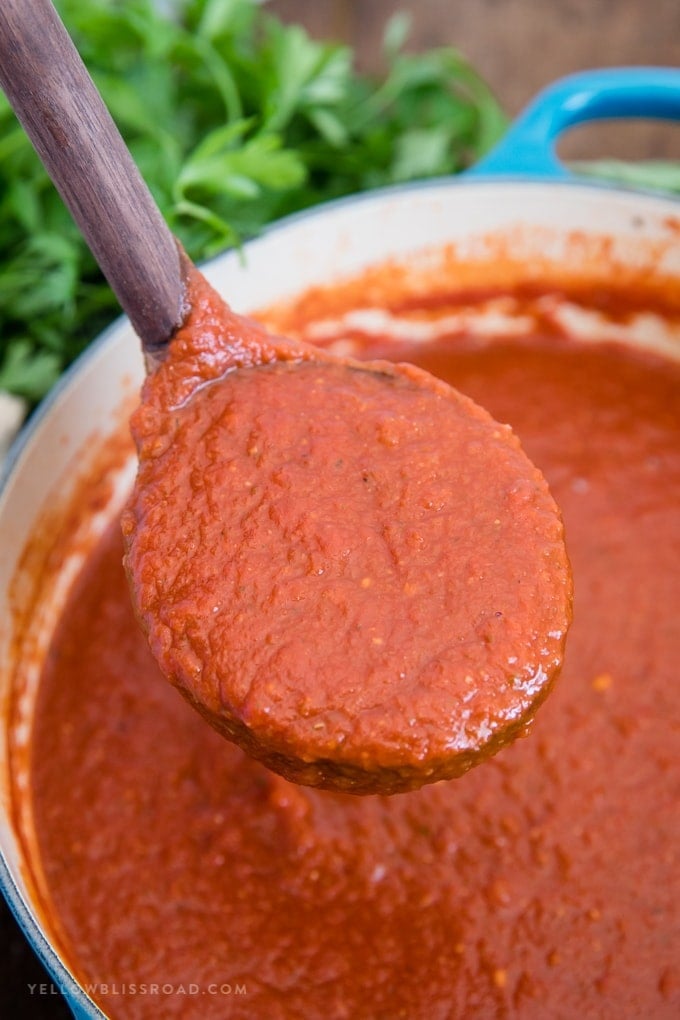 Spaghetti Sauce isn't something that is difficult to make, but sometimes it's just so much easier to buy a jar – not anymore!
I have been making this homemade spaghetti sauce recipe for as long as I can remember. We have spaghetti and meatballs at least once a week, so I always make a huge batch to portion and freeze and save myself some time. This recipe is a simplified version of the spaghetti sauce my sister makes. She lets her sauce simmer for 3 hours, but mine can be ready in about 30 minutes.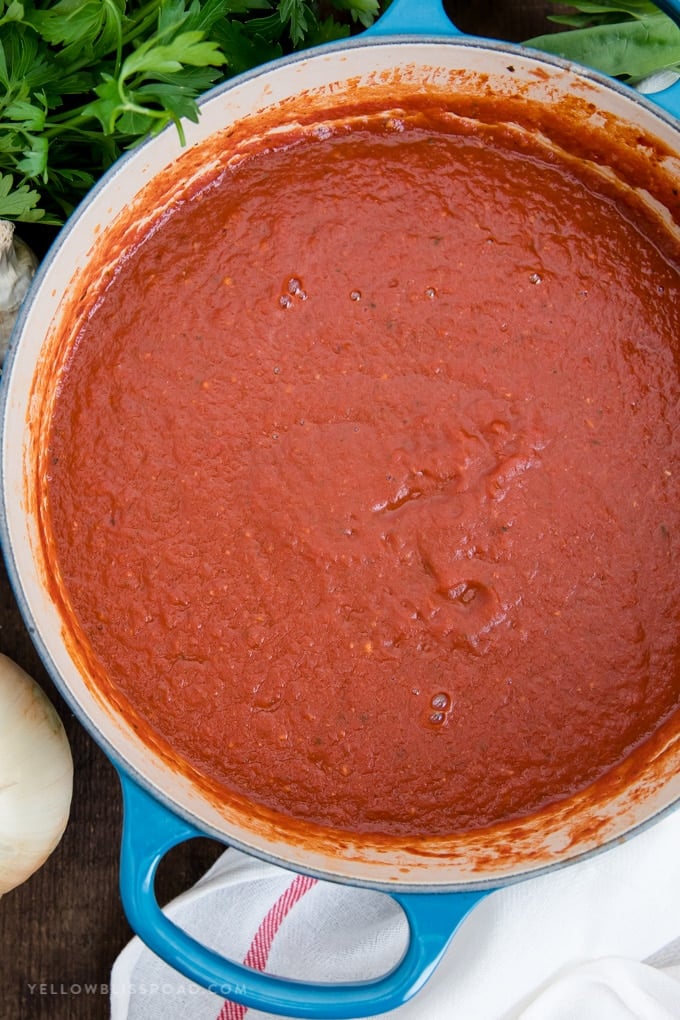 How to Make Homemade Spaghetti Sauce
Like I mentioned, making a spaghetti sauce from scratch is pretty easy. You need some pantry ingredients, spices and herbs, onion and garlic. These ingredients are combined and simmered until you are ready to eat! My recipe calls for simmering the sauce for 30 minutes to an hour. However, the longer your spaghetti sauce simmers, the more intense and rich the flavor.
A whole onion is sauteed in a little olive oil until nice and soft. If you are making a meat sauce, this would be the point to add your protein and fully cook it. Otherwise, add the basil (if using dried), oregano, bay leaves, garlic and red pepper flakes to the pan and toast them for about a minute, then add crushed tomatoes, tomato sauce, tomato paste and stir it all around to combine.
Once the tomatoes are combined and the sauce is starting to take shape, add the remaining ingredients – chicken broth, balsamic vinegar, sugar (to cut the acid in the tomatoes), salt and pepper. Tomatoes need a nice healthy dose of salt, but don't go overboard on the first round. Let the sauce simmer for a bit, taste it, then add salt as needed. This works the same for the sugar. If you're using fresh basil, this is the point to add it.
Bring the sauce to a boil, then simmer for at least 30 minutes. You can totally toss some pasta with the spaghetti sauce at that point and call it good. But if you've got the time, keep it simmering for an hour or us to 4 hours to develop a richer, deeper flavor.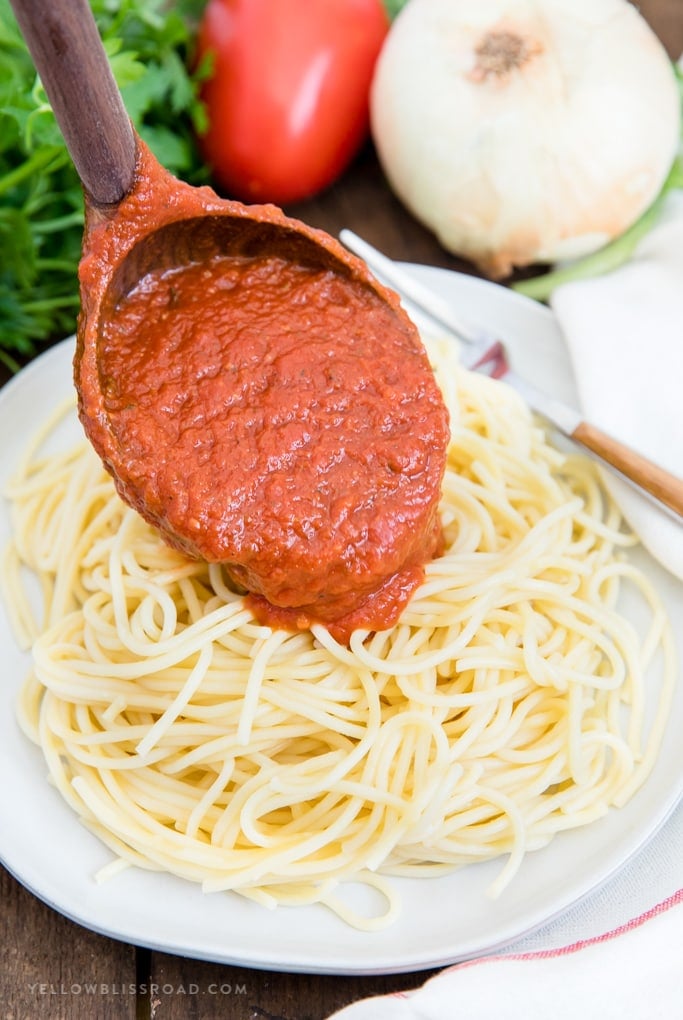 What kind of tomatoes are best for spaghetti sauce?
When using canned tomatoes, I always choose San Marzano. They are a favorite for their sweet flavor and low acidity. This variety of plum tomatoes are grown in the rich volcanic soil at the base of Mount Vesuvius, The flesh is firm and not too juicy, they are deep red color with an easy to remove skin and low seed count. San Marzano canned tomatoes (aff) are considered a premium type, and there are several brands that carry them.
What kinds of spice are used in spaghetti sauce?
There are several spices and herbs that you will find in different spaghetti sauce recipes. I like to keep it fairly simple with some dried oregano, basil and red pepper flakes for heat. I will sometimes add parsley, fennel or thyme. If you have access to them, fresh herbs are almost always recommended.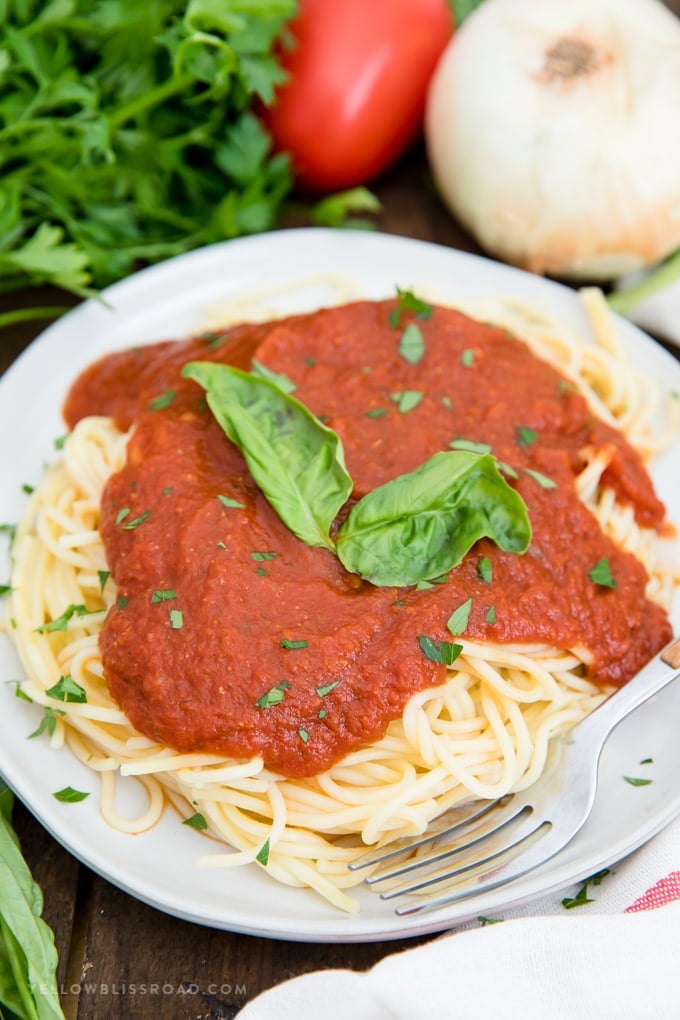 PRO TIP: If you're family is anything like mine, they refuse to eat spaghetti sauce with chunks of tomato. Do yourself a favor and pick up an Immersion Blender. (aff) It will puree your sauce in minutes – no more chunks left at the bottom of the spaghetti bowl!
I like to serve this spaghetti sauce with pasta and Easy Homemade Meatballs and my famous Cheesy Garlic Bread. Toss up a Copycat Olive Garden Salad and you've got a complete meal!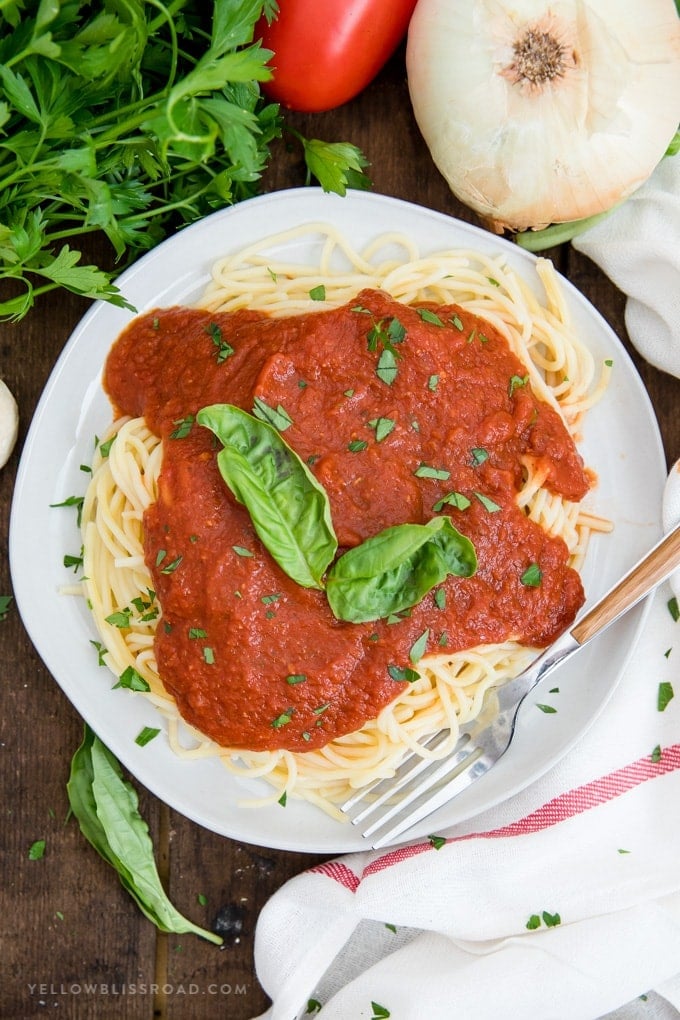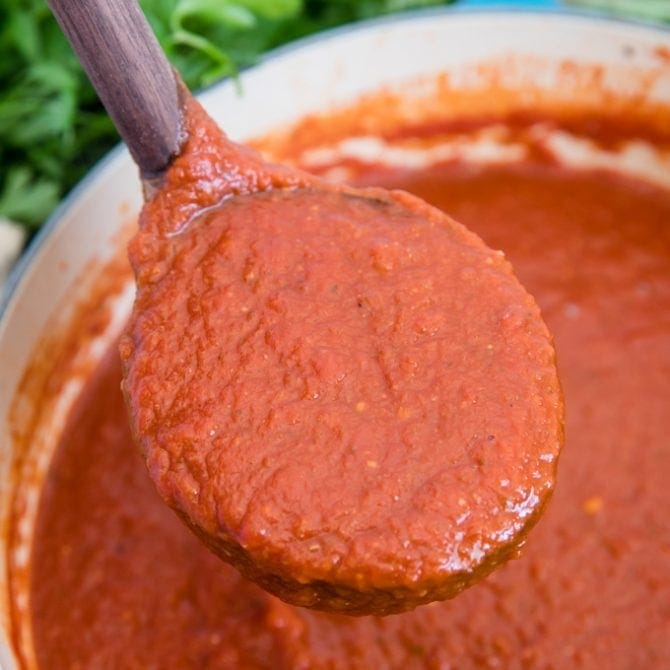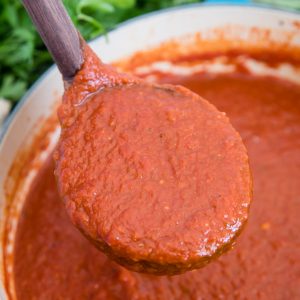 Homemade Spaghetti Sauce
My homemade spaghetti sauce is an easy recipe that will dominate pasta night! Make a double or even triple batch to freeze for the time time that craving hits.
Ingredients
1 tablespoon olive oil
1 medium white onion chopped
4 cloves garlic minced
1 tablespoon dried oregano
pinch of red pepper flakes
2  bay leaves
28- ounce can San Marzano crushed tomatoes
1 15- ounce can tomato sauce
2 tablespoons tomato paste
1/4 cup chicken broth
1 tablespoon balsamic vinegar
1-2 tablespoons granulated sugar to taste
¼ cup fresh chopped basil or 2 teaspoons dried - add with the spices above
¾ teaspoon salt
½ teaspoon black pepper
fresh basil leaves for garnish
Instructions
Heat olive oil in a 5-quart Dutch oven or soup pot. Add onion and sauté until translucent and soft; about 4 minutes.

Add minced garlic, oregano, red pepper flakes and bay leaves. Stir and cook for 1 minute.

Stir in crushed tomatoes, tomato sauce, tomato paste, chicken broth, sugar, vinegar and fresh chopped basil. Bring to a boil, cover, and reduce heat to low. Simmer for at least 30 minutes to an hour, stirring occasionally.

Meanwhile, cook spaghetti (or your favorite pasta) according to package directions. Drain (do not rinse) and toss with homemade spaghetti sauce. Garnish with fresh basil leaves if desired.
Notes
For meat sauce, add 1 pound of ground beef or Italian sausage after the onion is soft and translucent. Cook until no longer pink, then drain grease from the pot, then continue with step 2.
Regular spaghetti sauce will make about 4-5 1-cup servings. Meat sauce will make 6-7 1-cup servings.
Nutrition
Serving: 1cup