Easy Homemade Spaghetti sauce is a simple recipe made with pantry ingredients! Make a double or even triple batch for freezing or canning so you always have some fresh sauce ready to go.
You can use this homemade spaghetti sauce ladled over pasta, or in recipes like my One Pot Spaghetti with Chicken or Million Dollar Spaghetti Casserole.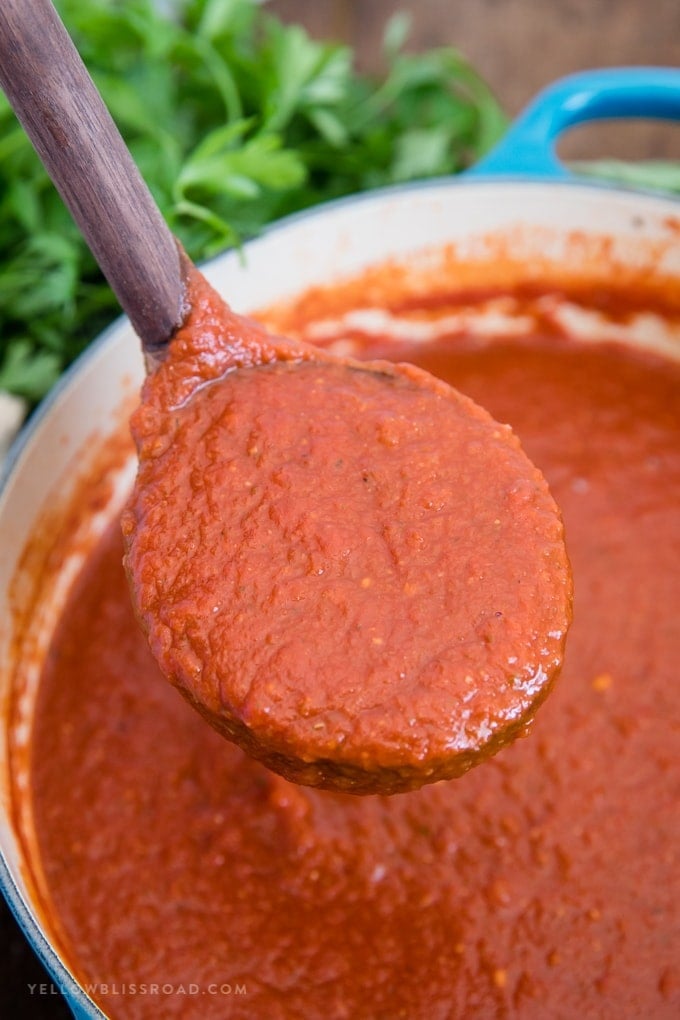 I like to serve this spaghetti sauce with pasta and Easy Homemade Meatballs and my famous Cheesy Garlic Bread. Toss up a Copycat Olive Garden Salad and you've got a complete meal!
Pin this recipe for later!
Easy Homemade Spaghetti Sauce
My easy homemade Spaghetti Sauce and meatballs are on our menu at least once a month, so I always make a huge batch to portion and freeze and save myself some time. Most recipes want you to simmer the sauce for hours, but my simplified spaghetti sauce recipe can be ready in about 30 minutes.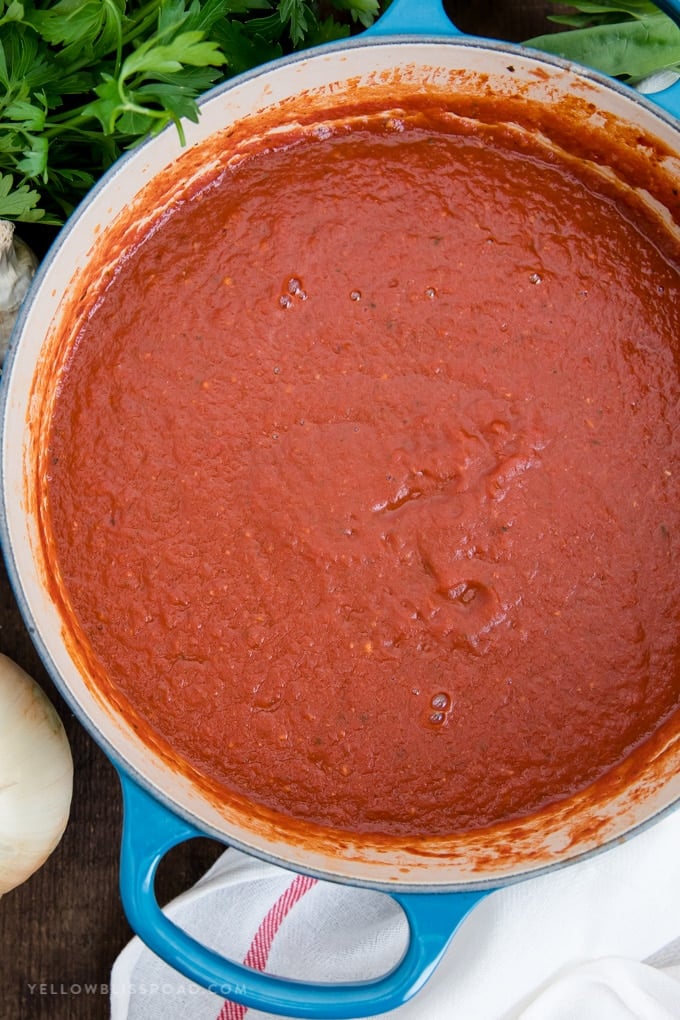 How To Make Spaghetti Sauce
Start with quality ingredients. One of the most crucial parts of your sauce is good quality tomatoes. I use San Marzano canned tomatoes – they are high quality and taste fresh because they are canned immediately after being picked. Trust me, this is worth a little splurge.
Saute onion and spices. Heat some olive oil in a large dutch oven over medium heat and cook some diced onion, fresh minced garlic and whatever herbs you're using.
Add tomatoes. Pour in crushed tomatoes, tomato sauce and tomato paste. I like to add all three to get a rich tomato flavor.
Bring the sauce together. Once the tomatoes are combined and the sauce is starting to take shape, add the remaining ingredients – chicken broth (or water), balsamic vinegar, sugar, salt and pepper.
Simmer. Bring the sauce to a boil, then simmer for at least 30 minutes. You can totally toss some pasta with the sauce at that point and call it good, and it will taste good. But if you've got the time, keep it simmering for an hour or 2 to develop a richer, deeper flavor.
Garnish and serve. After dividing into serving bowls, you can sprinkle on some fresh or dried herbs like fresh basil, or some grated parmesan cheese.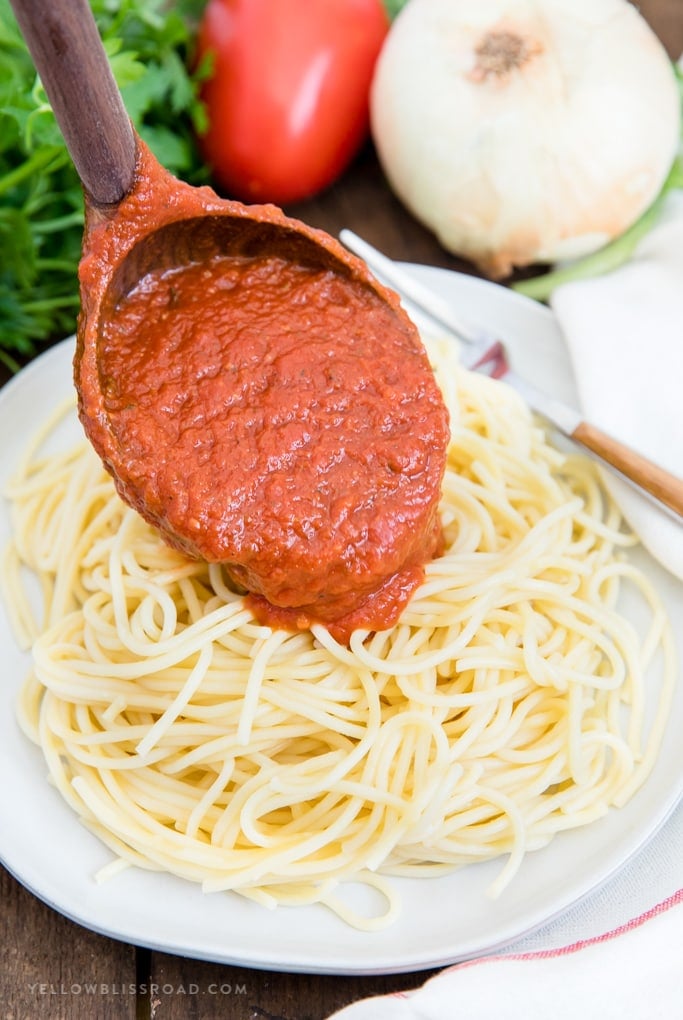 What is the difference between Spaghetti Sauce, Marinara, and Pizza Sauce?
Spaghetti sauce and marinara sauce are only slightly different. Both are tomato based sauces and simmered for great flavor. Marinara is a more simple tomato sauce, made with tomatoes, garlic, salt, and pepper. Sometimes herbs like basil and oregano are added.
Spaghetti sauce is more hearty, and often has a few ingredients added for richness and balance, like balsamic vinegar and sugar. Sometimes ground beef or Italian sausage is cooked with the sauce.
Pizza sauce can be any type of sauce you put on a pizza, but traditionally is similar to marinara, but it's uncooked.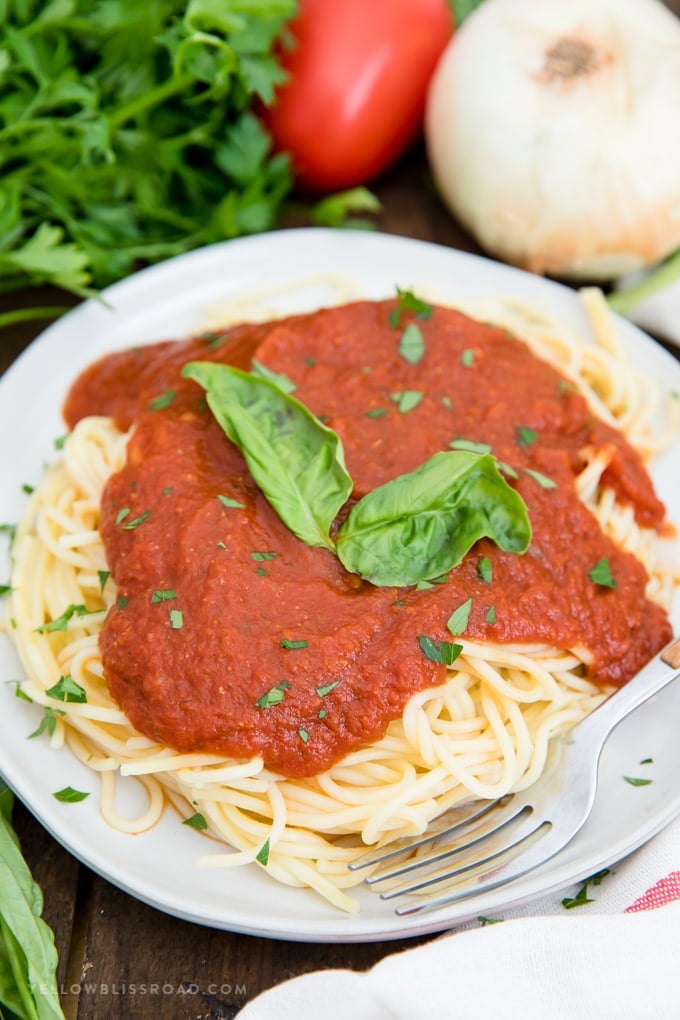 FAQs
What kind of tomatoes are best for spaghetti sauce?
When using canned tomatoes, I always choose San Marzano. They are a favorite for their sweet flavor and low acidity.

This variety of plum tomatoes are grown in the rich volcanic soil at the base of Mount Vesuvius. The flesh is firm and not too juicy; they are deep red in color with an easy to remove skin and low seed count. San Marzano canned tomatoes are considered a premium type, and there are several brands that carry them.
What kinds of spices are used in spaghetti sauce?
I like to keep it fairly simple with some dried oregano, basil, and red pepper flakes for heat. I will sometimes add parsley, fennel, or thyme. If you have access to them, fresh herbs are almost always recommended.
Expert Tips
If your family is anything like mine, they refuse to eat my sauce with chunks of tomato. Do yourself a favor and pick up an Immersion Blender. (aff) It will puree your sauce in minutes – no more chunks left at the bottom of the spaghetti bowl!
Feel free to customize the sauce – saute some bell pepper with the onion or add mushrooms. More red pepper flakes will intensify the heat level, or you can leave them out completely.
Adding meat to your sauce: This is a personal preference! You can cook ground beef with the onions, cook some Turkey Meatballs, or Italian Sausage (link or ground).
Make Ahead, Storage, and Freezing Tips
One of the great things about this recipe is that it's so easy to make a double or triple batch. You'll have plenty of leftovers to store in the fridge or freezer, which can easily pinch-hit when you have no idea what to make for dinner that night. All you have to make is the noodles and a salad!
How long does the sauce last in the fridge?
Allow the sauce to cool completely, then place leftovers in an airtight container in the refrigerator for up to 4-5 days. It's best to store sauce and pasta separately, as the noodles can soak up the liquid when reheated.
Reheat in the microwave or in a small pot on the stovetop.
How To Freeze The Sauce
Let the spaghetti sauce cool completely, then store it in a freezer-safe container or resealable plastic bag.
Hot Tip – Pour leftover sauce into a gallon-sized freezer bag, lay flat on a tray or piece of cardboard and pop it into the freezer. It will not only freeze quicker, but it will stack for storage and won't take as long to defrost. Freeze for 4-6 months.
Can you make the sauce ahead of time?
You can make your sauce up to a few days in advance and store it in the fridge for up to 3-4 days. Keep in mind that if you have leftovers, you will want to freeze them right away.
Can this spaghetti sauce be canned?
Canning Instructions: Sterilize 6 pint-size mason jars and add a tablespoon of lemon juice to each jar. Fill the jars with the prepared sauce, screw on the lids and bands tightly, then process in a water bath for 35 minutes.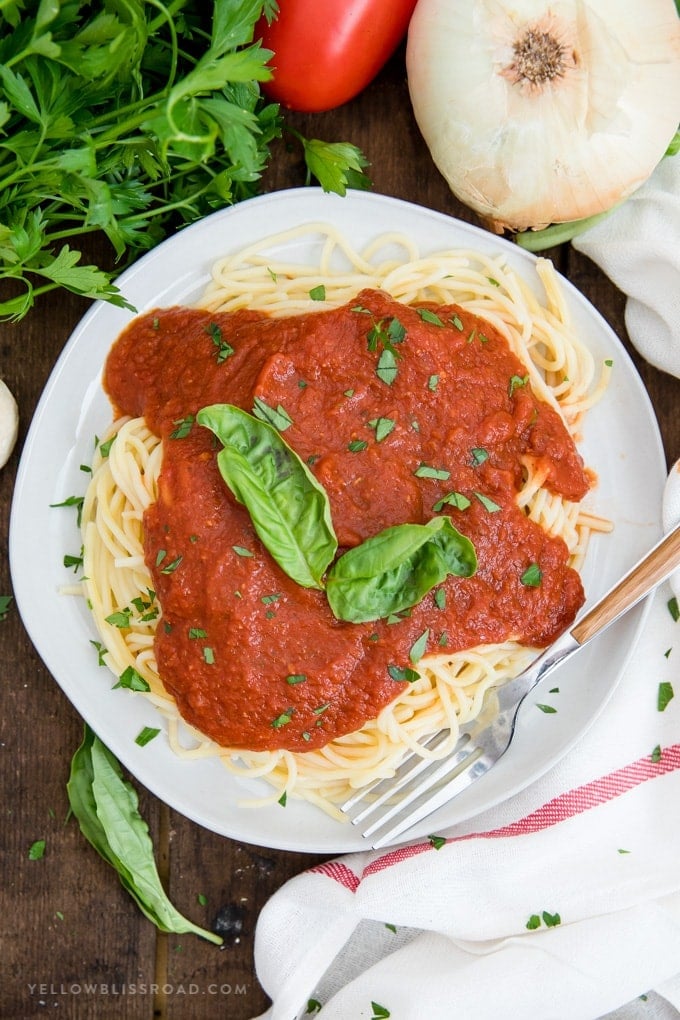 More Italian-Inspired Recipes
Recipe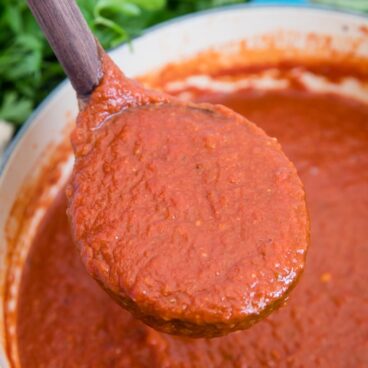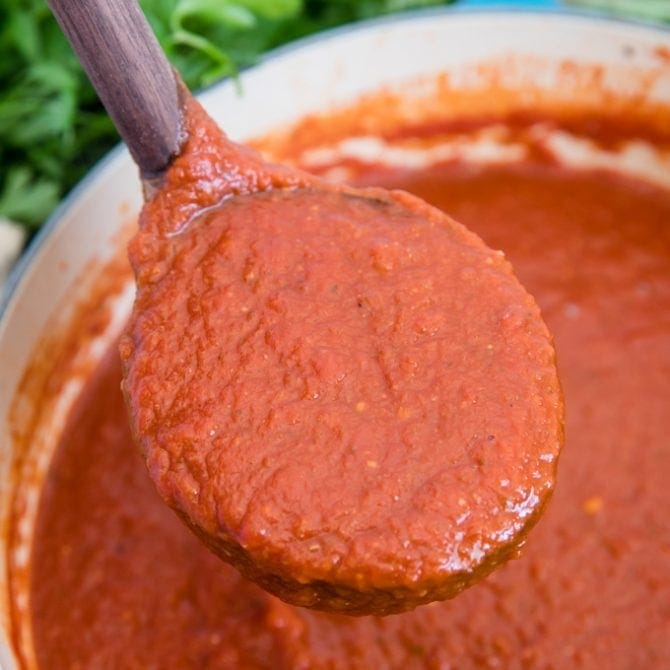 Homemade Spaghetti Sauce
My homemade spaghetti sauce is an easy recipe that will dominate pasta night! Make a double or even triple batch to freeze for the time time that craving hits.
Total Time
1

hour
10

minutes
Ingredients
1

tablespoon

olive oil

1

medium white onion

chopped

4

cloves

garlic

minced

1

tablespoon

dried oregano

pinch

of red pepper flakes

2

bay leaves

28-

ounce

can San Marzano crushed tomatoes

1 15-

ounce

can tomato sauce

2

tablespoons

tomato paste

1/4

cup

chicken broth

1

tablespoon

balsamic vinegar

1-2

tablespoons

granulated sugar

to taste

¼

cup

fresh chopped basil

or 2 teaspoons dried – add with the spices above

¾

teaspoon

salt

½

teaspoon

black pepper

fresh basil leaves for garnish
Instructions
Heat olive oil in a 5-quart Dutch oven or soup pot. Add onion and sauté until translucent and soft; about 4 minutes.

Add minced garlic, oregano, red pepper flakes and bay leaves. Stir and cook for 1 minute.

Stir in crushed tomatoes, tomato sauce, tomato paste, chicken broth, sugar, vinegar and fresh chopped basil. Bring to a boil, cover, and reduce heat to low. Simmer for at least 30 minutes to an hour, stirring occasionally.

Meanwhile, cook spaghetti (or your favorite pasta) according to package directions. Drain (do not rinse) and toss with homemade spaghetti sauce. Garnish with fresh basil leaves if desired.
Notes
For meat sauce, add 1 pound of ground beef or Italian sausage after the onion is soft and translucent. Cook until no longer pink, then drain grease from the pot, then continue with step 2.
Regular spaghetti sauce will make about 4-5 1-cup servings. Meat sauce will make 6-7 1-cup servings.
Nutrition
Serving:
1
cup
Calories:
164
kcal
Carbohydrates:
30
g
Protein:
6
g
Fat:
5
g
Saturated Fat:
1
g
Polyunsaturated Fat:
1
g
Monounsaturated Fat:
3
g
Cholesterol:
1
mg
Sodium:
1356
mg
Potassium:
1083
mg
Fiber:
7
g
Sugar:
19
g
Vitamin A:
1146
IU
Vitamin C:
31
mg
Calcium:
124
mg
Iron:
5
mg