Pizza lasagna has all the flavor of your favorite pizza toppings in a yummy, layered casserole.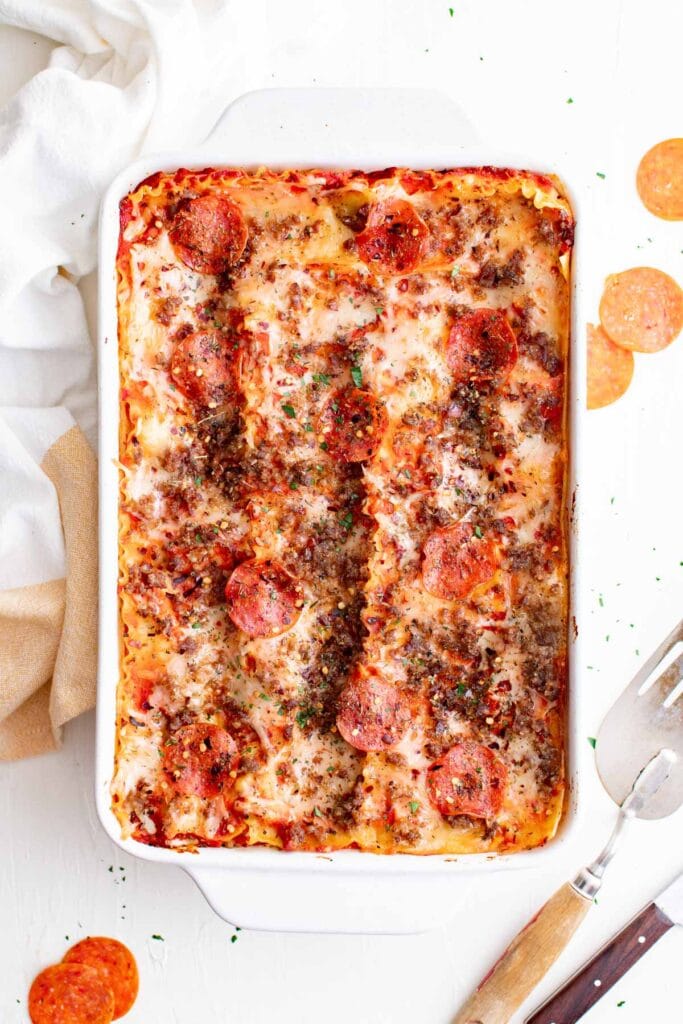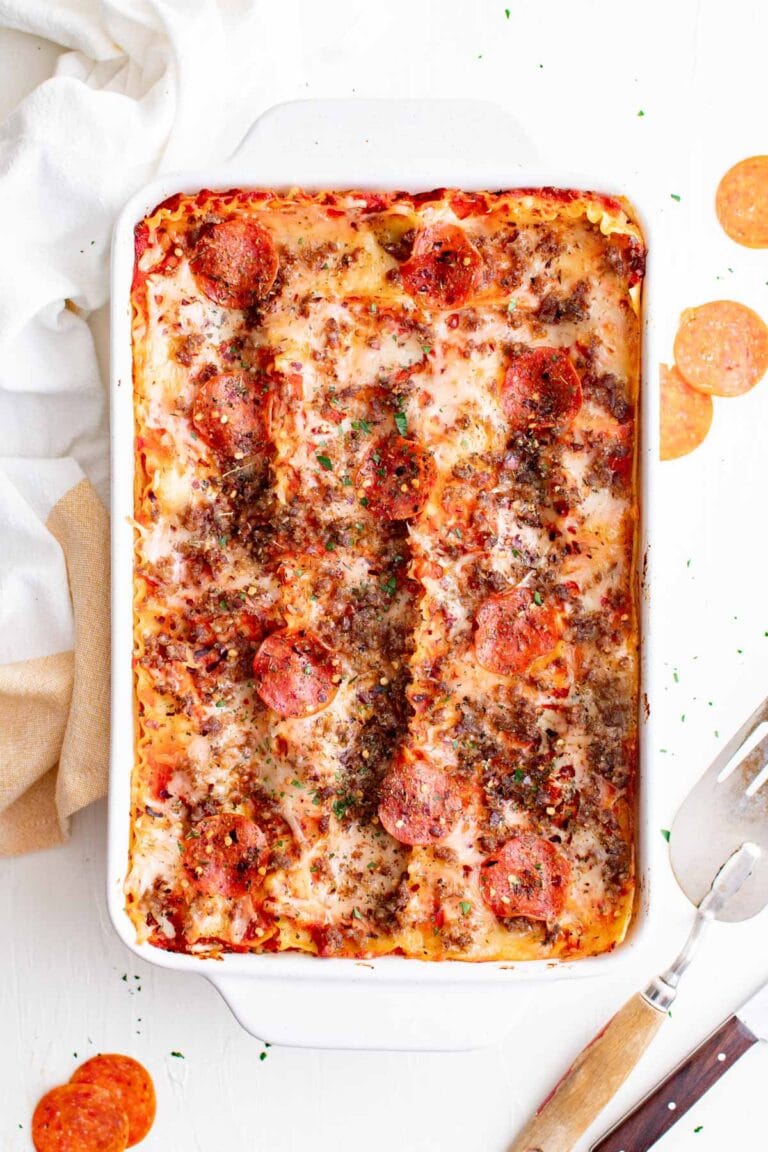 Pick your favorite pizza toppings and layer them between lasagna noodles with tomato sauce and lots of cheese. Add some Italian seasoning and you've got a show-stopping, kid-pleasing dinner winner!
Pizza Lasagna combines the best of both worlds for an Italian feast featuring all your favorite pizza toppings. For more pizza-inspired favorites, try my Pizza Casserole and One Pot Pizza Pasta.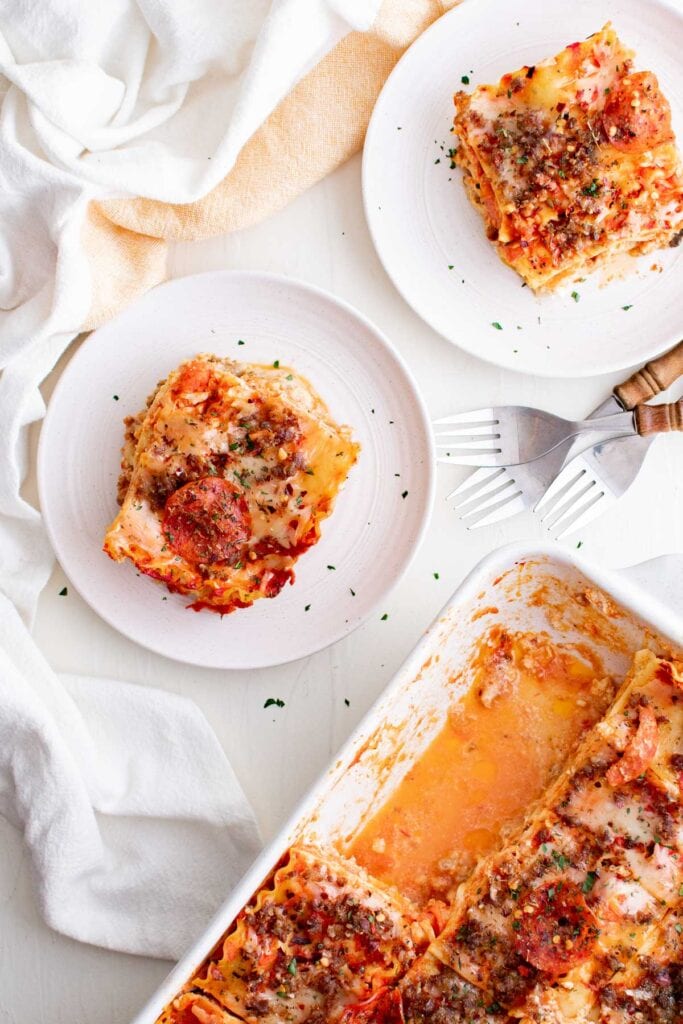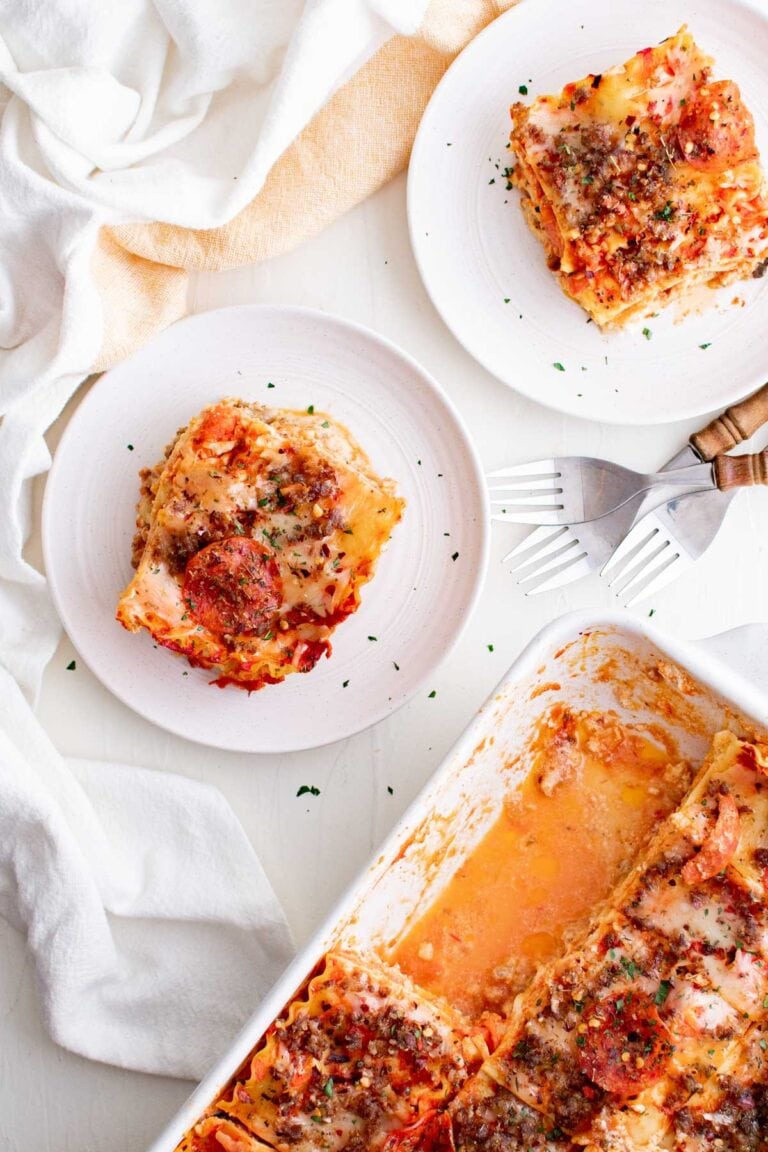 Ingredients for Pizza Lasagna
Sauce – Use your favorite sauce in a jar, or try my homemade Marinara Sauce or Spaghetti Sauce.
Lasagna Noodles – You just need regular, uncooked lasagna noodles. Par-boil them and let them dry a little. They will cook all the way through as the pizza lasagna bakes.
Ricotta Cheese – This is a creamy Italian cheese that similar to the texture of cottage cheese. It's traditionally used in lasagna as a creamy filling, mixed with egg, Parmesan cheese and seasonings.
Mozzarella – A beautiful melty cheese, and absolutely necessary to get that perfect cheese pull.
Pizza Toppings – Finally, the pizza toppings! The pizza lasagna recipe below calls for Italian sausage, onion, mushrooms and pepperoni. You can use any toppings you love. Peppers would be great (just make sure to cook them until they're nice and soft), sliced olives, or ham.
Seasonings – Italian seasoning, fresh minced garlic, fresh basil, and red pepper flakes.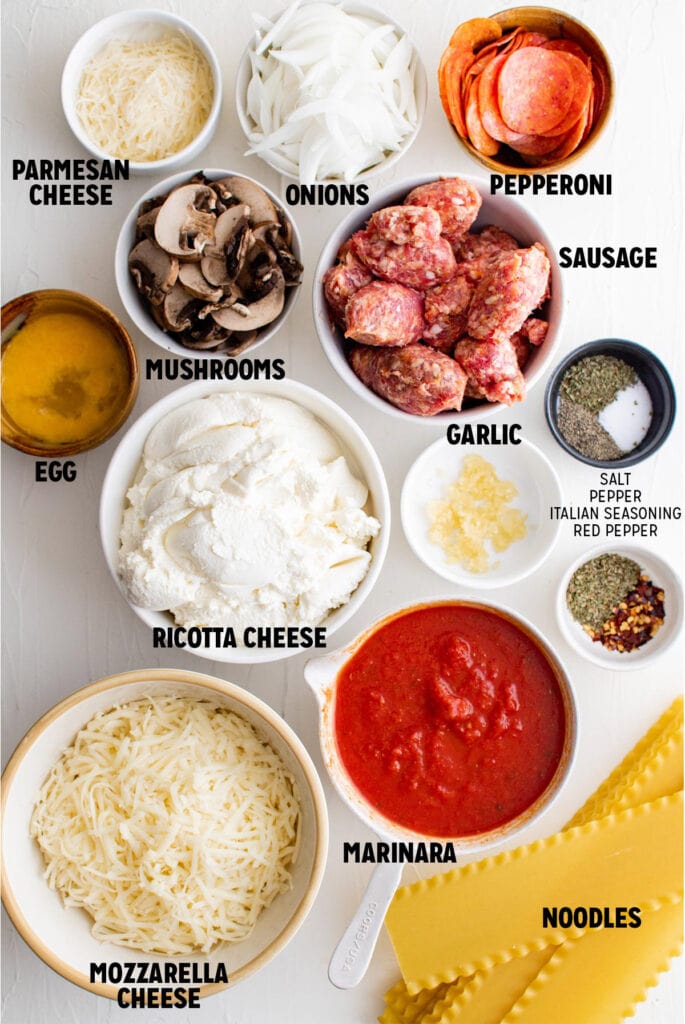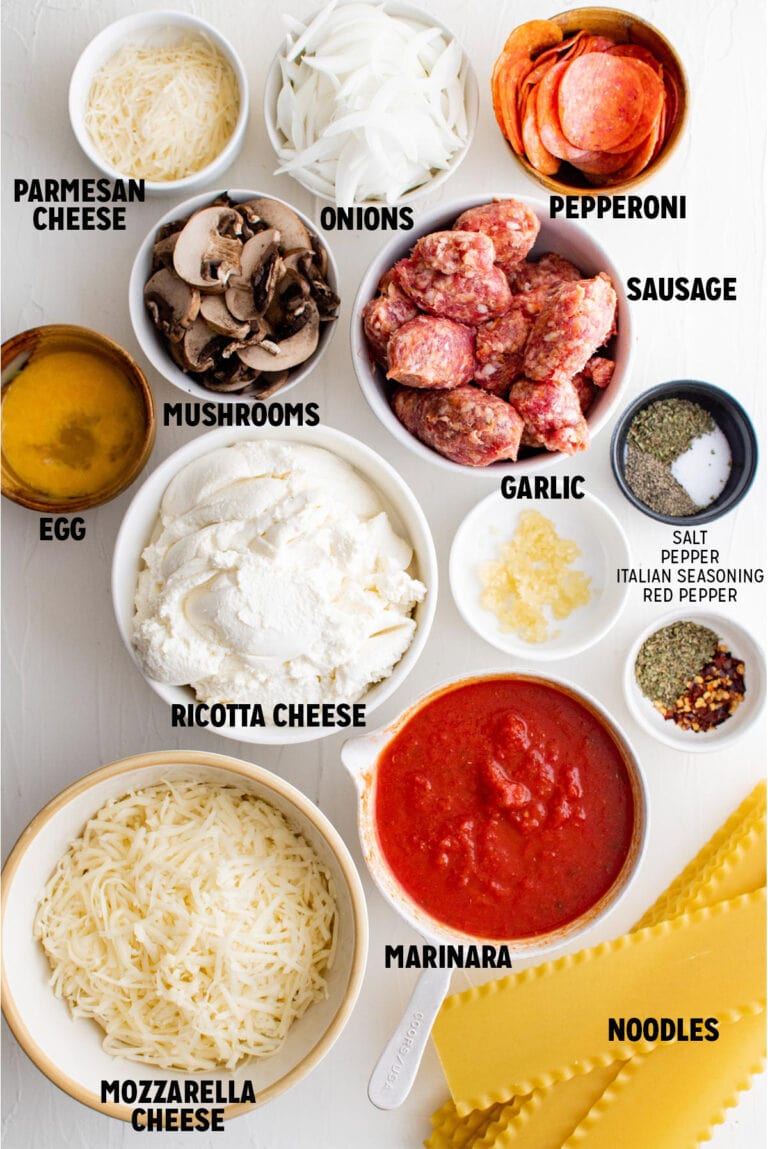 Step by Step Instructions
There are a few more steps than the typical easy weeknight dinners I share, but they are so worth it.
Cook the noodles. Boil some water in a shallow pot and cook the noodles for about 8 minutes (a few minutes shy of the box instructions). They will be soft, but not completely pliable. Spray a cookie sheet with nonstick cooking spray to keep them from sticking and lay the noodles out to dry.
Ricotta mixture. Combine the Ricotta cheese, egg, Parmesan cheese, some Italian seasoning, and salt and pepper. Set aside until you're ready to assemble. Use fresh grated Parm if you can, but the green can grated stuff will work in a pinch.
Cook the sausage. Cook the Italian sausage in a large skillet, breaking it up with a spatula as you go. Transfer it to a plate and keep some set aside for the topping.
Cook veggies. Don't bother cleaning the skillet – use that grease from the sausage to add flavor to the onions and mushrooms. Add some garlic just at the end so it doesn't burn.
Assemble. Time to bring it all together! Layer sauce, noodles, ricotta, sausage, veggies, and Mozzarella. Add more sauce, then noodles, Ricotta, pepperoni, more cheese, and sauce. The final layer is more of the same but ends with a heaping layer of cheese, some pepperoni, and a few sausage crumbles. Finish it off with some Italian seasoning and red pepper flakes.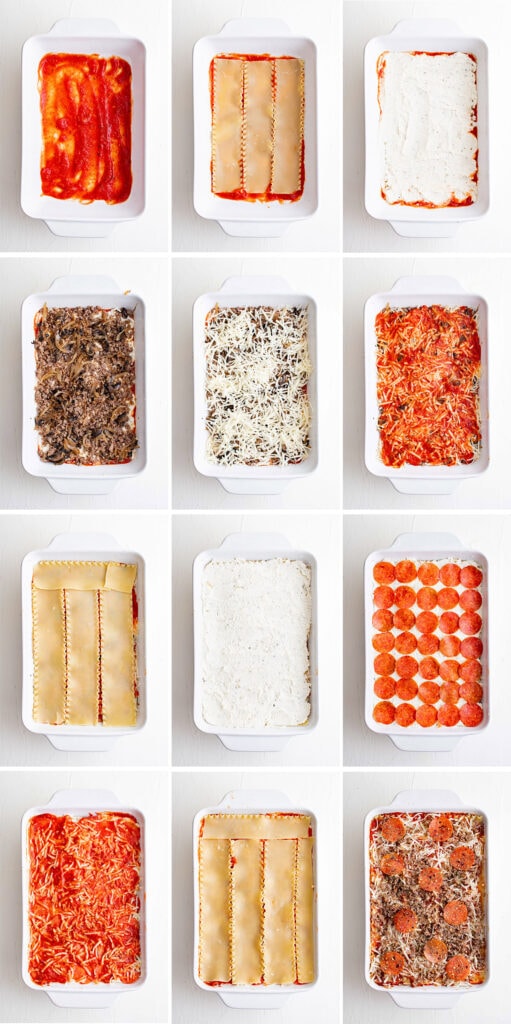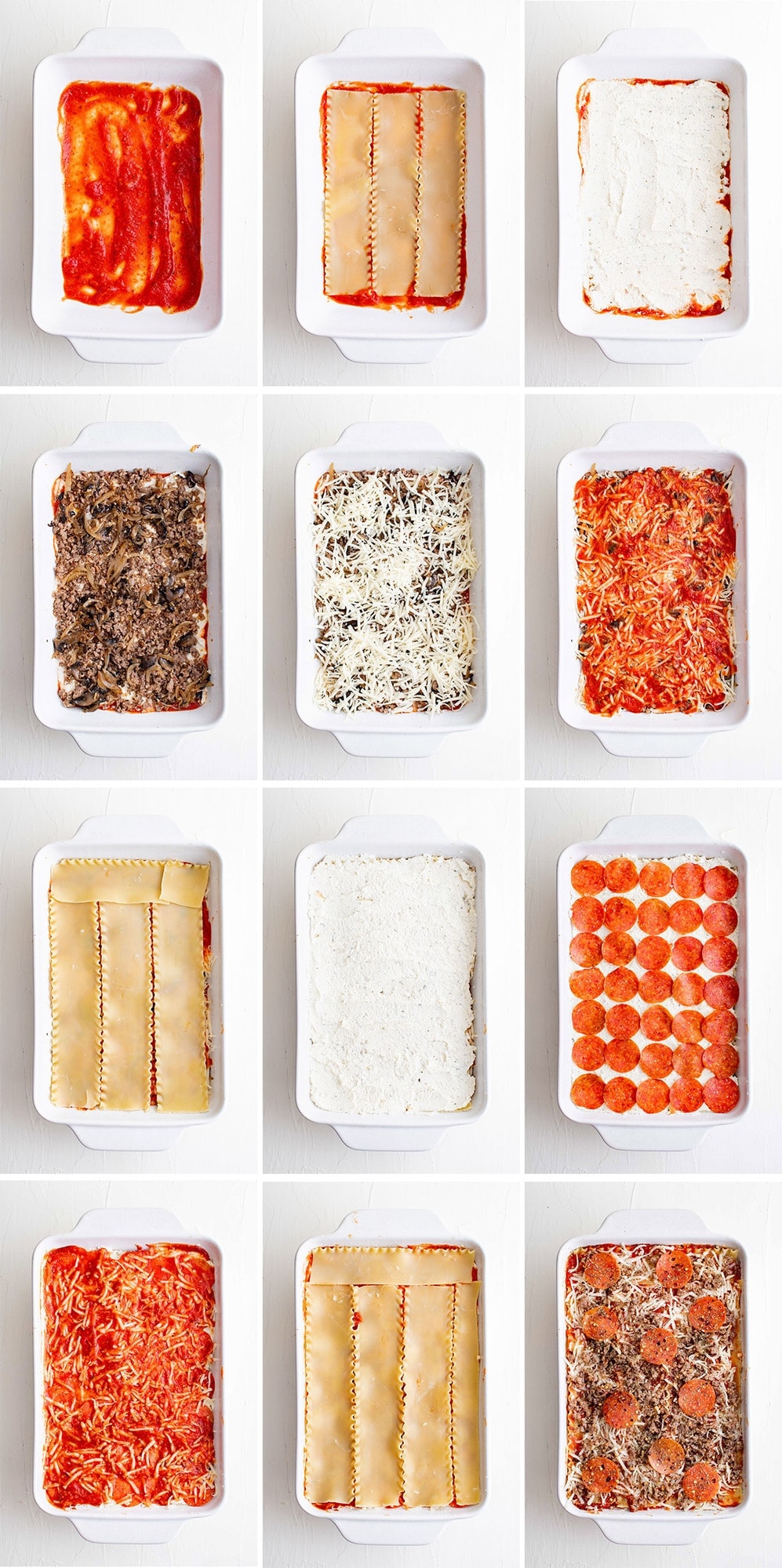 Bake the lasagna. Cover the baking dish loosely with foil and place on a baking sheet to save any bubbled over sauce from dripping onto the bottom of your oven. Bake covered for 30 minutes, then uncover and bake for another 15-20 minutes or until it's a beautiful golden brown and bubbling around the edges.
Expert Tips and FAQs
Feel free to customize and pick toppings that your family likes. Make it meatless, add spinach, omit the mushrooms – it's totally your call.
Make sure the onions and mushrooms are fully cooked and soft before adding them to the lasagna.
Be sure to save some of the toppings to add to the top of your lasagna to really make it look like a pizza.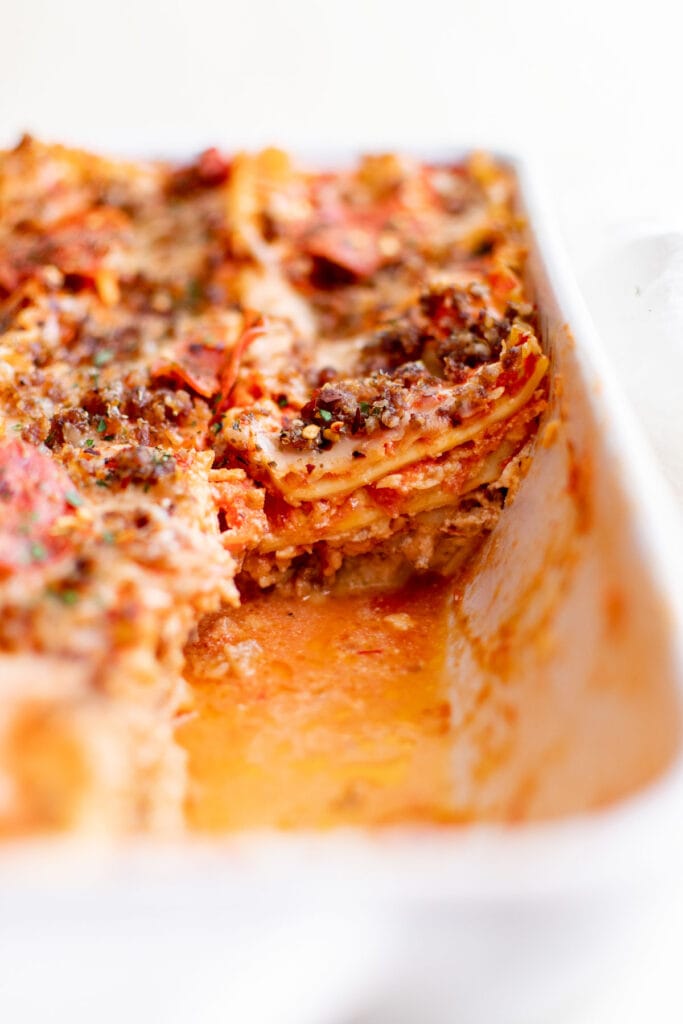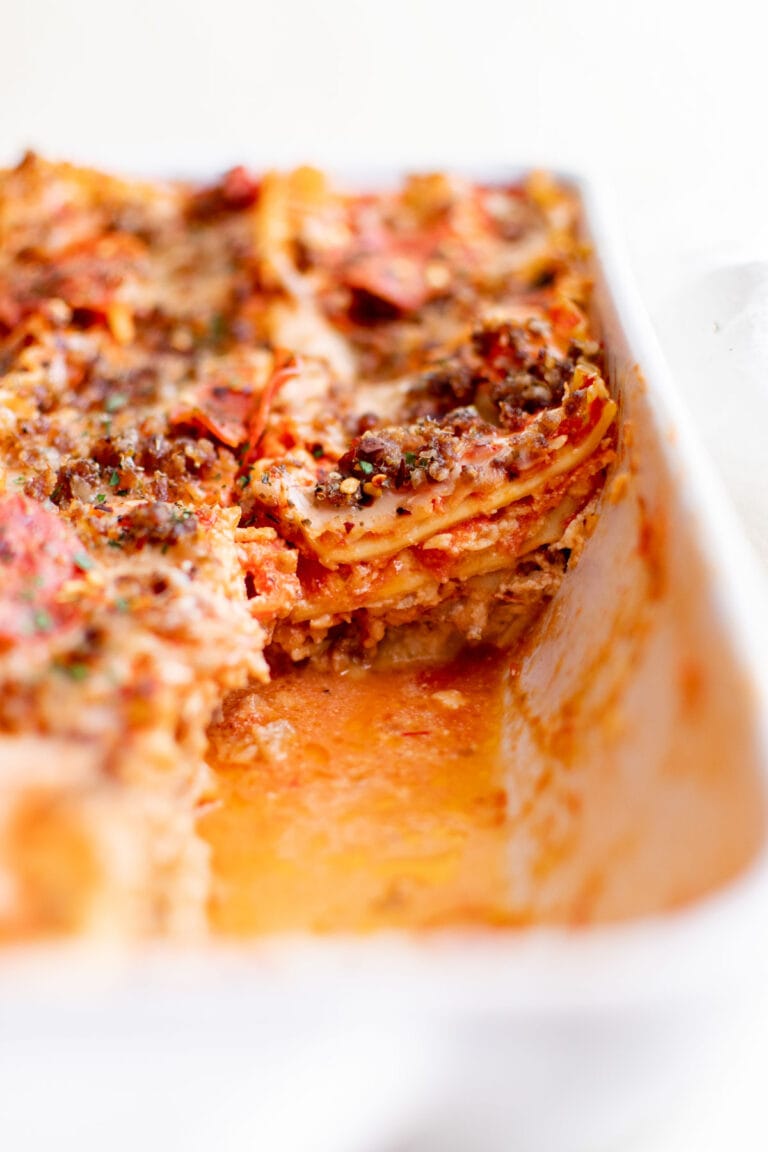 Do you have to boil the noodles for lasagna?
The debate around lasagna noodles: to boil or not to boil. You can use the oven ready, no-boil noodles if you want, or try not boiling at all and just layer the noodles uncooked.

The difference will be the texture. Par-boiled noodles will be softer and easy to cut through, while uncooked noodles could end up unevenly cooked.
Do you have to put sauce on the bottom of lasagna?
Spread a layer of sauce on the bottom of the dish to help the lasagna noodles fully cook and keep them from sticking to the bottom of the pan.
What is the best way to layer lasagna?
Start with sauce on the bottom layer, then noodles for the base. Add some filling, then more noodles and sauce, then continue until you can top with lots of cheese. The layers provide stability for the lasagna so you can easily cut and serve it.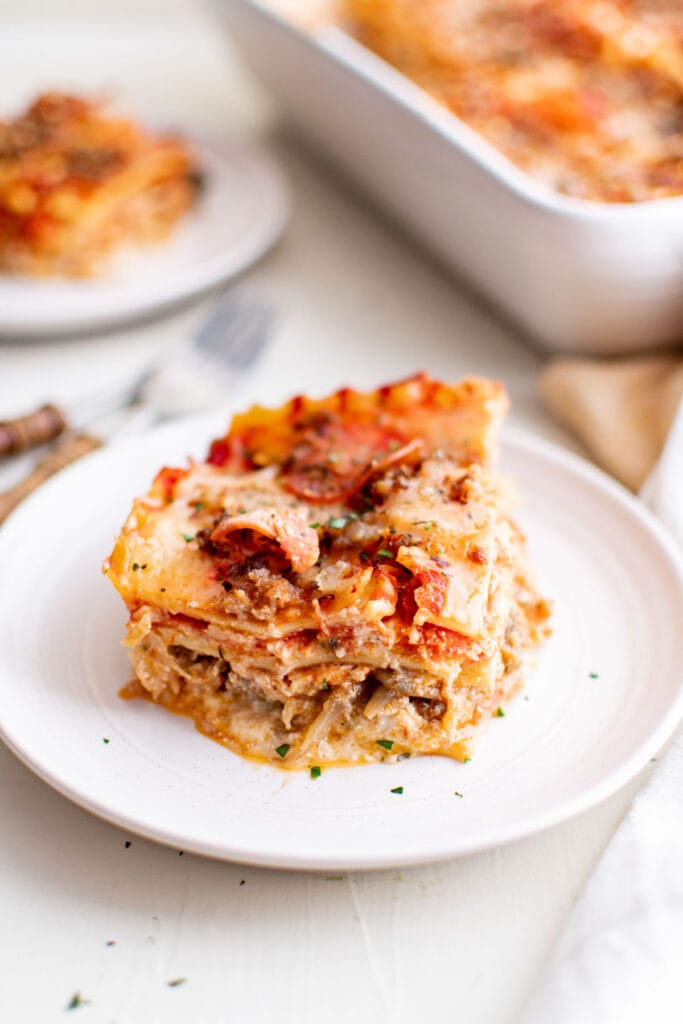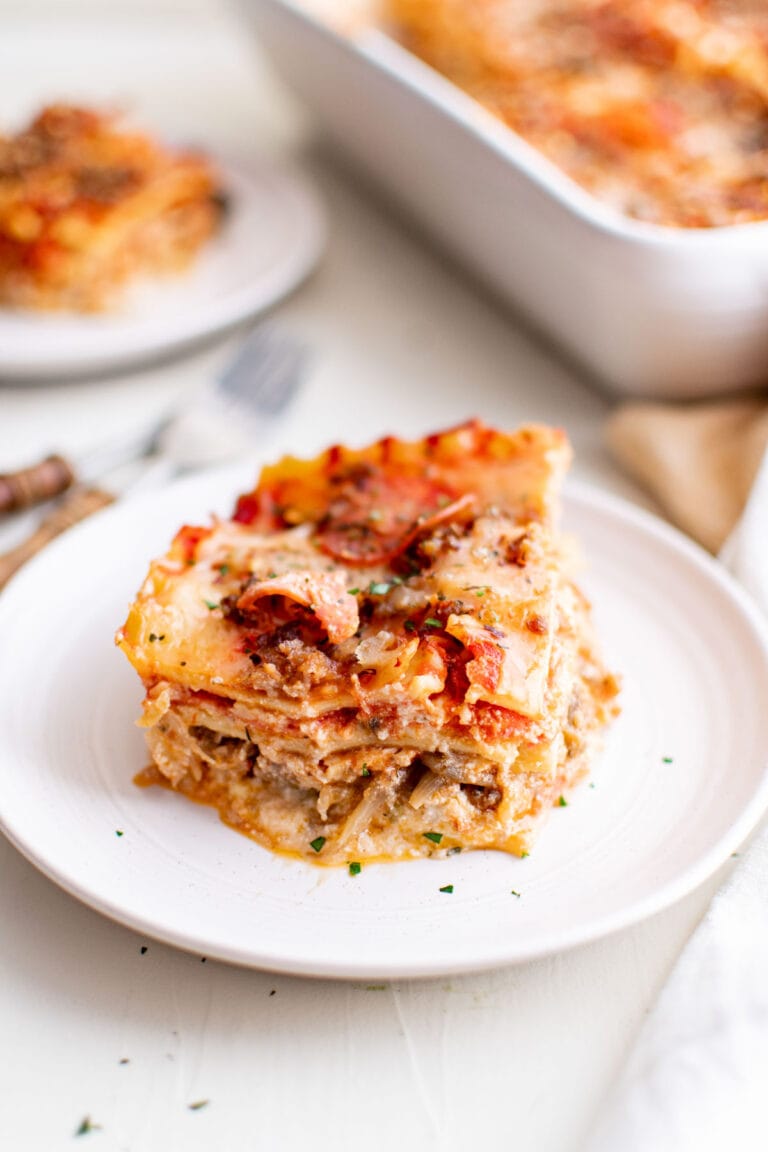 Storage and Reheating
Storing leftovers: Transfer leftovers to an airtight container and keep in the fridge for up to 3-4 days. Reheat in the microwave.
Freezer storage: Let the dish cool completely, then carefully transfer the lasagna to a freezer-safe dish, cover and freeze for up to 6 months. To reheat, thaw in the fridge overnight, and microwave smaller portions or heat larger portions in the oven.
Make ahead: This casserole is great for prepping ahead of time! Assemble all of the layers, then cover tightly with foil and store in the refrigerator for 1-2 days. Let it sit on the counter while your oven preheats, then bake as directed. This work from frozen as well.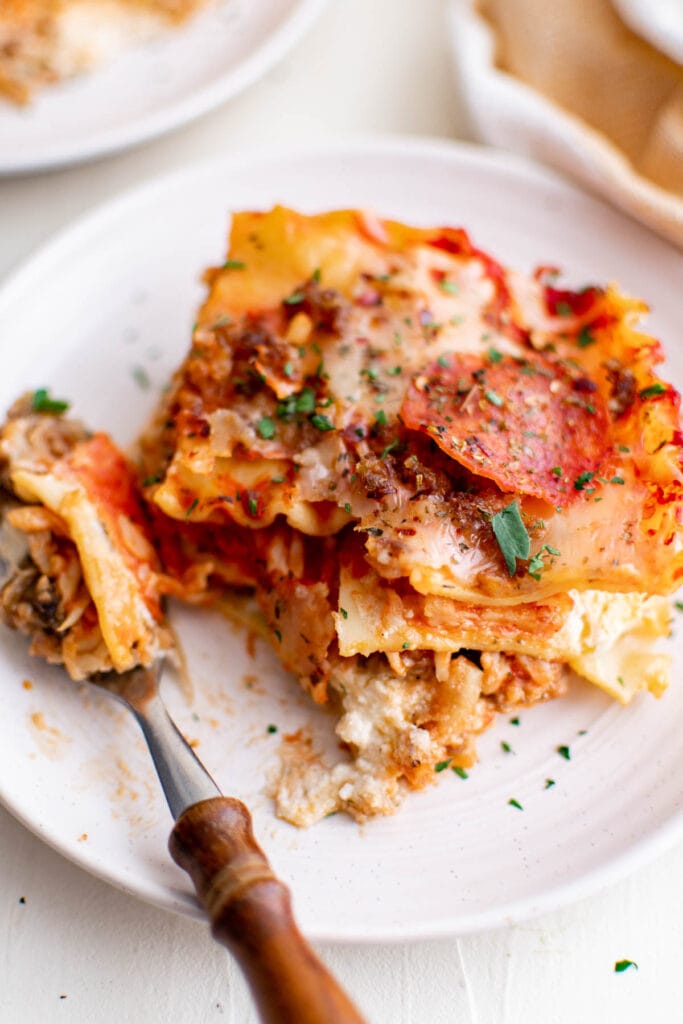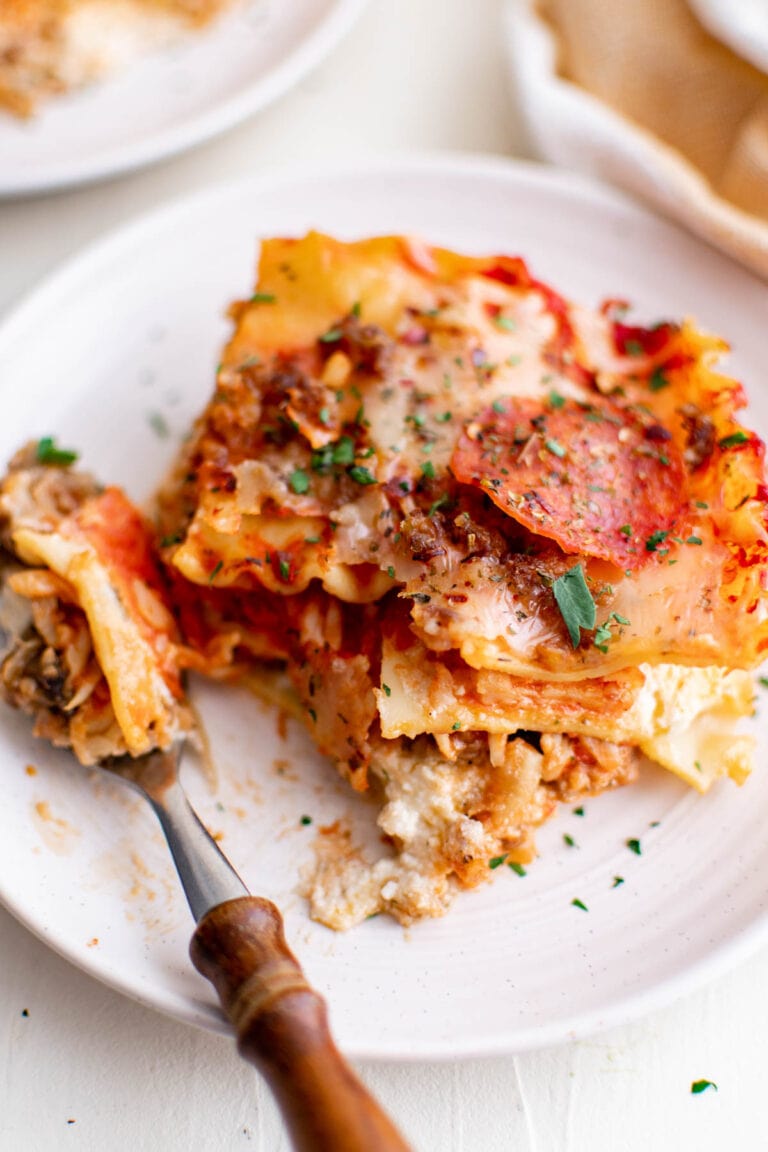 More Italian Casseroles You'll Love
Recipe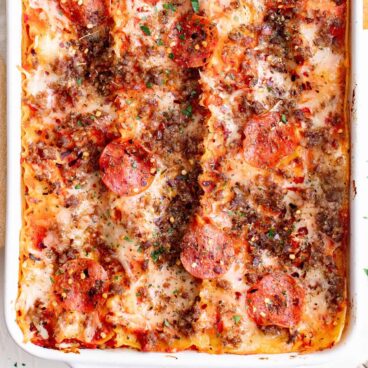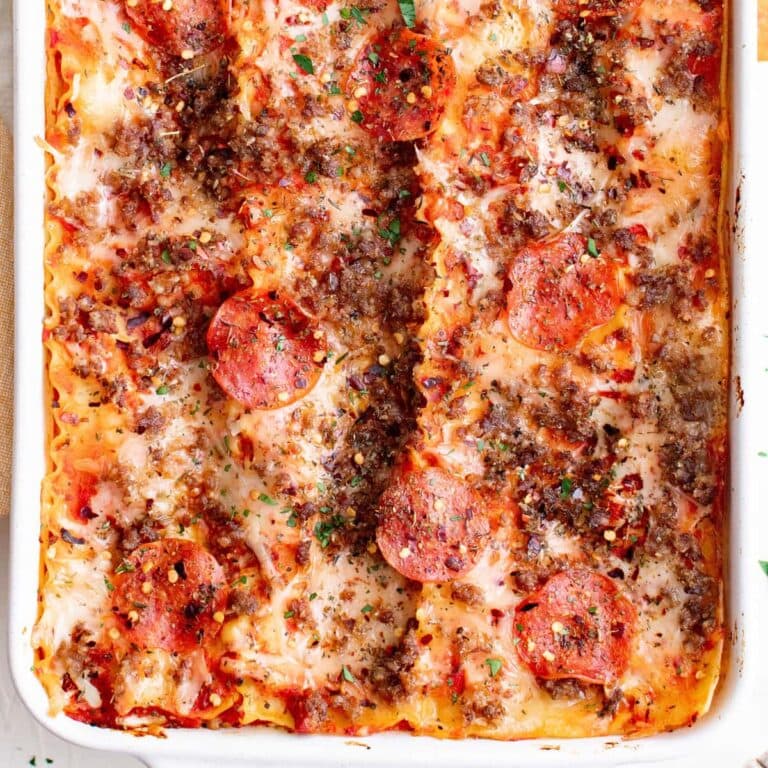 Pizza Lasagna
Pizza Lasagna has all the flavor of your favorite pizza toppings in a yummy, layered casserole that's a kid pleasing dinner winner!
Total Time
1

hour
20

minutes
Ingredients
30

ounces

Ricotta cheese

1

egg

slightly beaten

¼

cup

grated Parmesan cheese

2

teaspoons

Italian seasoning

divided

Salt and pepper

1

pound

Italian sausage

1

small onion

thinly sliced

1

cup

sliced mushrooms

3

garlic cloves

minced

24

ounces

marinara sauce

3 cups

12

lasagna noodles

not oven ready

3

cups

freshly shredded Mozzarella cheese

3

ounces

pepperoni slices

½

teaspoon

red pepper flakes

Fresh parsley or basil for garnish
Instructions
Preheat the oven to 350 degrees.

Boil a large pot of salted water and par-cook lasagna noodles for 8 minutes. Lay out on a greased cookie sheet to dry.

In a medium size bowl, combine the ricotta cheese, egg, Parmesan cheese, 1 teaspoon Italian seasoning and salt and pepper. Set aside.

Heat a large skillet over medium-high heat and add Italian sausage. Cook until no longer pink, crumbling as you go with a spatula. Transfer to a plate or large bowl and set aside. Reserve about ½ cup of sausage for sprinkling on top.

Add onions and mushrooms to the skillet and cook over medium heat until tender; about 6-8 minutes. Add garlic and cook for another 1-2 minutes.

Spread a thin layer of marinara (about ½ of a cup) on the bottom of a 9×13-inch baking dish with high sides. Top with 4 lasagna noodles. Spread about ½ of the ricotta mixture evenly over the noodles, then the sausage and veggies. Sprinkle on about 1 cup of Mozzarella. Spoon ⅓ of the remaining sauce evenly over the cheese.

Layer on 4 more noodles, then the remaining ricotta mixture. Arrange a layer of the pepperoni (reserve some for the topping), then 1 cup of mozzarella and half of the remaining sauce.

For the final layer, top with the remaining ingredients: noodles, sauce, cheese, sausage and pepperoni. Sprinkle 1 teaspoon Italian seasoning and red pepper flakes on top.

Cover the baking dish loosely with foil. Place the baking dish on a sheet pan and bake for 30 minutes. Uncover and bake an additional 15-20 minutes or until lasagna is bubbling and browning around the edges.

Let rest for 10 minutes before serving.
Nutrition
Calories:
771
kcal
Carbohydrates:
43
g
Protein:
41
g
Fat:
48
g
Saturated Fat:
23
g
Polyunsaturated Fat:
4
g
Monounsaturated Fat:
17
g
Trans Fat:
1
g
Cholesterol:
165
mg
Sodium:
1462
mg
Potassium:
776
mg
Fiber:
3
g
Sugar:
6
g
Vitamin A:
1228
IU
Vitamin C:
9
mg
Calcium:
516
mg
Iron:
3
mg