Homemade Marinara Sauce is so easy to make and tastes delicious. Needing just 4 basic pantry ingredients and a few simple steps, this homemade sauce crushes the jarred competition.
Pour it over pasta, dip your breadsticks in it or use in place of jarred in your favorite recipes like my Tortellini Soup, Spaghetti with Chicken or Meatball Marinara Poppers.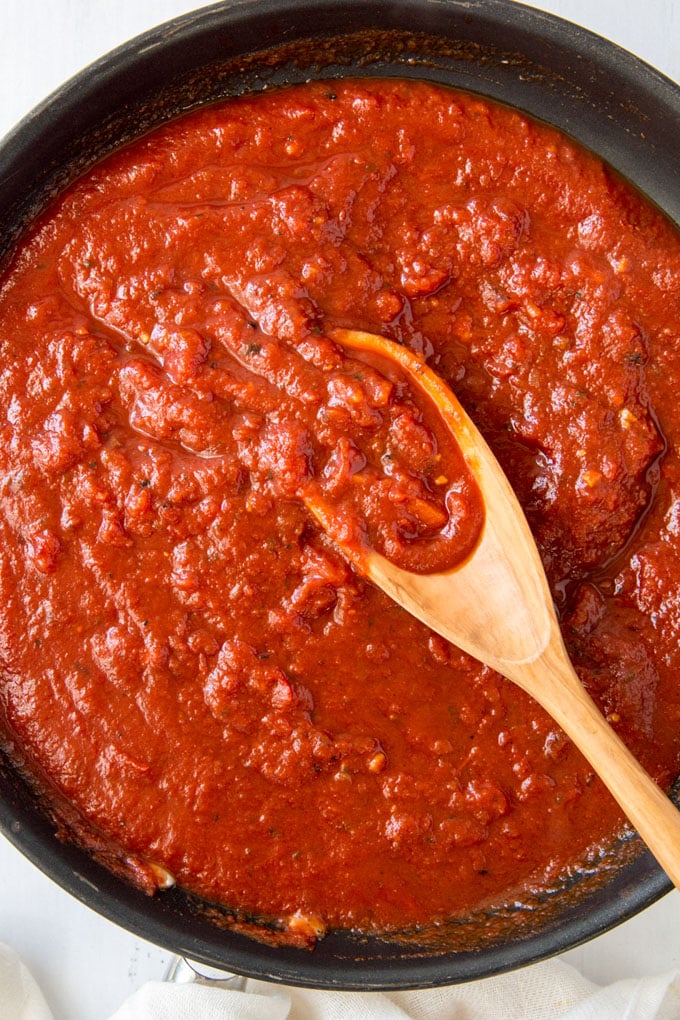 WHAT IS MARINARA SAUCE?
Marinara is a simple tomato sauce made with tomatoes, garlic and herbs. It's used for coating pasta, as a bread dip or as a replacement for jarred sauces in any of your recipes. We use crushed tomatoes but fresh could also be used.
Marinara sauce is usually chunky, but if you aren't a fan of tomato chunks in your sauce you can use an immersion blender right in the pan to make it smooth. If you don't have one, the immersion blender is a fabulous and inexpensive investment. We use it for blending smoothies, soups, dips and sauces.
What is the difference between Marinara and Spaghetti Sauce?
The difference between the two is the ingredients used. Marinara is simply tomatoes with aromatics and herbs, while spaghetti sauce may contain other things like meat or vegetables.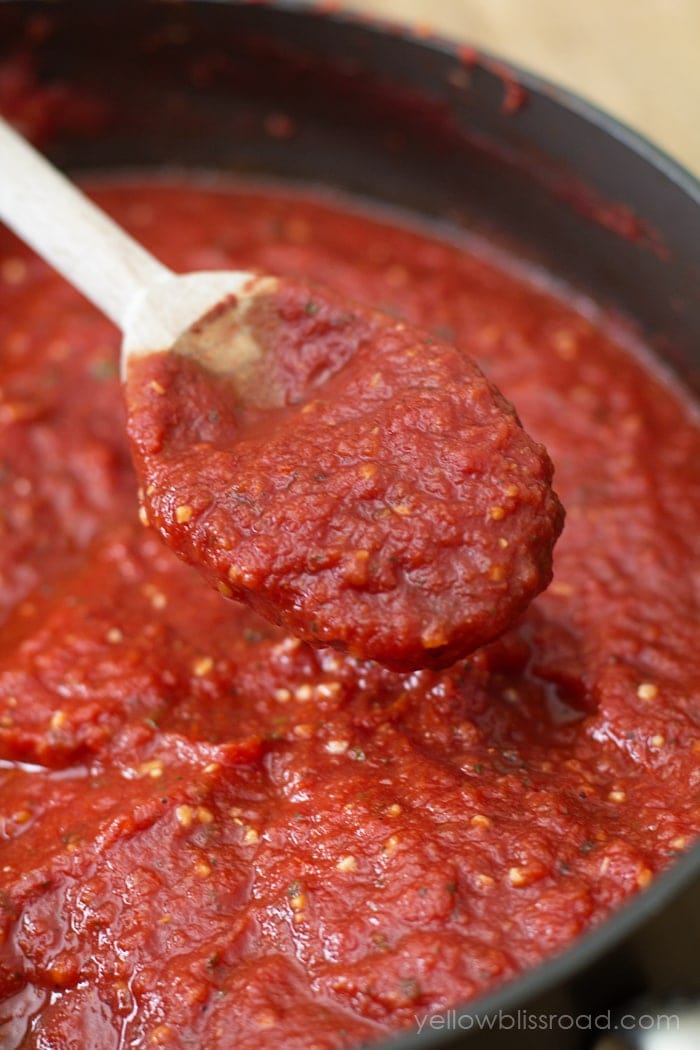 HOW TO MAKE HOMEMADE MARINARA
It's incredibly easy to make a rich and delicious homemade sauce for topping your favorite pasta or dipping your garlic bread into. Just 5 ingredients and 3 basic steps! You don't have to be a famous chef to create a flavorful homemade marinara.
WHAT'S IN IT?
You only need 4 basic pantry ingredients to make this delicious homemade sauce!
Crushed tomatoes (whole tomatoes will work too, just squish them in the pan). I find that San Marzano crushed tomatoes have the best flavor.
Dried basil – You can also use fresh, but you may not always have that on hand. Dried works just as well.
Garlic – Garlic is a must for pretty much any Italian food and gives an incredibly flavor to the sauce.
Olive oil – Used for sauteing the garlic, this additional helps to create a rich sauce.
Some marinara recipes call for chopped onion, but I chose to leave it out. If you want to include onion, add about a half cup diced to the olive oil and cook for several minutes to soften before adding the garlic.
Other optional ingredients: Crushed red pepper flakes (for heat) and granulated sugar (to balance the acid).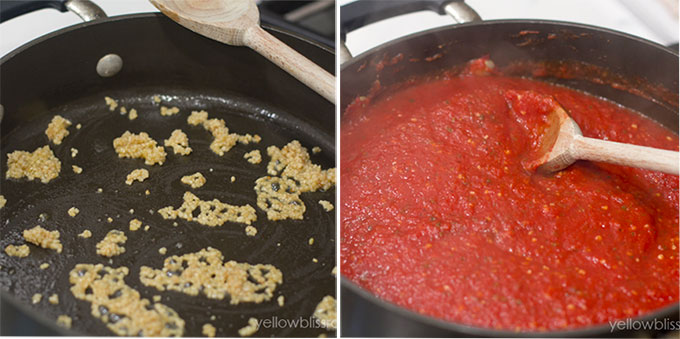 LET'S MAKE IT!
Simple to make and so delicious, this homemade marinara sauce requires just a few easy steps and is ready is about 30 minutes.
Heat olive oil and add garlic and dried basil. If adding red pepper flakes, you'll add them here as well. Cook until fragrant but not long (just about a minute) and stir constantly to avoid burning.
Add the tomatoes to the garlic and herbs and bring the sauce to a simmer. You'll do this at a medium-high heat, then as soon as it's fully bubbling turn it down to low and cover. Simmer for about 30 minutes, or longer (up to an hour) if you have the time.
Tasting is as important in cooking as the ingredients. Taste the sauce and add salt and pepper. If the sauce seems to acidic, add some sugar, just a pinch at a time for balance.
HOW TO STORE HOMEMADE PASTA SAUCE
This recipe makes enough to serve with pasta for about 6 people. But you can very easily double or triple the recipe to have enough to freeze for later. I always make a big batch and save family sized portions in the freezer for those nights when I don't have time to cook (or I just don't want to!).
Whether you plan to store in the fridge or freezer, do so within two hours of cooking for safety and quality.
Refrigerator storage: Homemade marinara sauce and other tomato based pasta sauces can be refrigerated for up to 3-4 days, stored in an airtight container. Reheat on the stovetop or in the microwave.
Freezer storage: Store homemade sauce in airtight freezer containers or freezer bags. I usually double bag in ziploc bags to keep freezer burn away. Stored this way your sauce will remain fresh for 4-6 months.
Once thawed, homemade marinara sauce should be reheated and eaten immediately.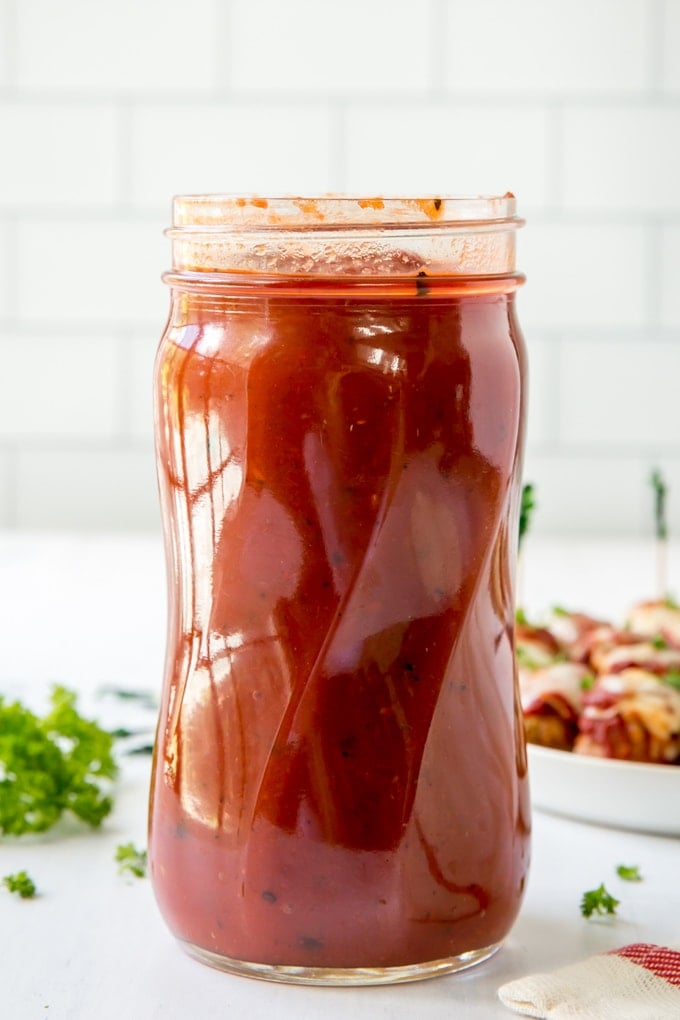 SERVING SUGGESTIONS
You can use this homemade marinara sauce in any recipe that calls for jarred pasta sauce! We've got a few favorites that you might like to try.
Recipe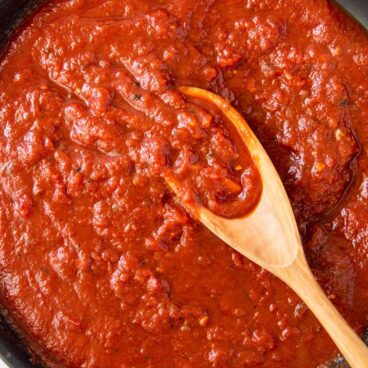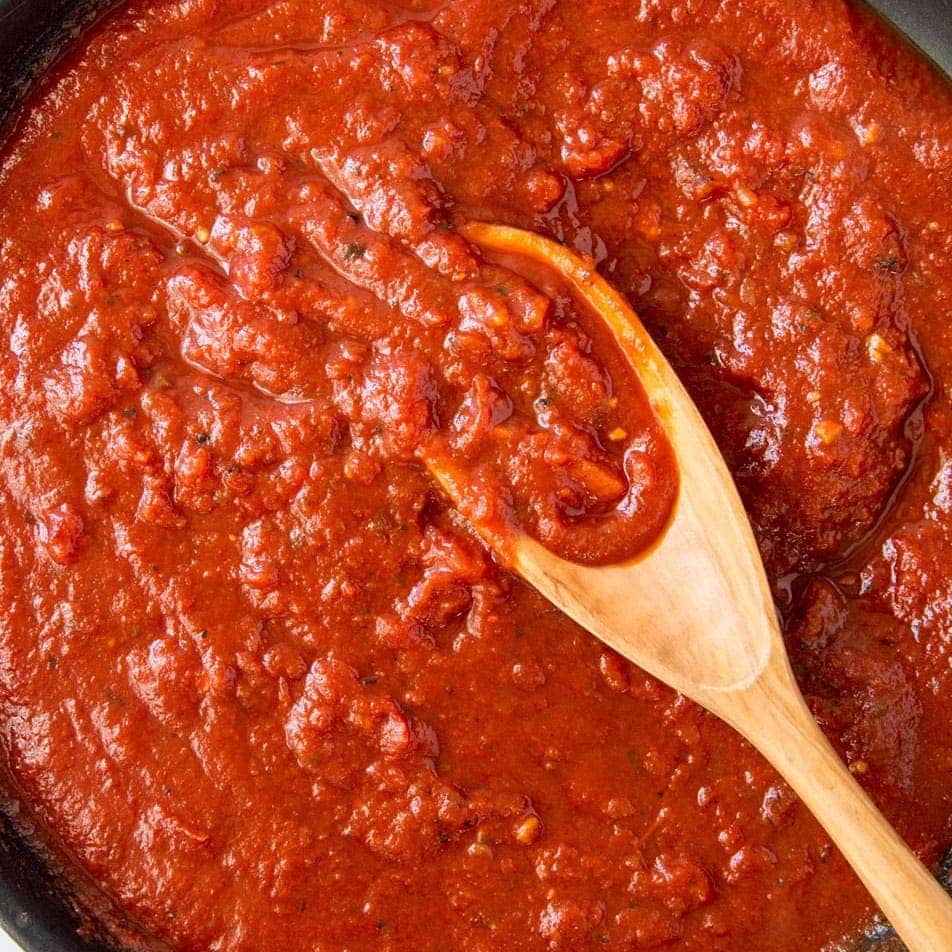 Homemade Marinara Sauce
Homemade Marinara Sauce is so easy! Needing just 4 basic pantry ingredients and a few simple steps, this homemade sauce crushes the jarred competition.
Ingredients
2

tablespoons

olive oil

1

tablespoon

minced garlic

3-4 cloves

1

teaspoon

dried basil

or 2 teaspoons fresh

1/4

teaspoon

crushed red pepper flakes

optional

28

ounces

canned crushed tomatoes

salt and pepper

to taste

granulated sugar

optional, to taste
Instructions
Heat olive oil in a 3 quart saute pan or saucepan over medium heat. Add garlic, dried basil and crushed red pepper and stir for 30 seconds to a minute.

Stir in crushed tomatoes and bring to a simmer. Turn heat down to low, cover and let simmer for at least 20 minutes and up to an hour, stirring occasionally.

Taste and add salt and pepper as desired. If the sauce it too acidic, add a pinch of sugar. Serve immediately or use an immersion blender to puree smooth.

Serving: Serve with your favorite pasta sauce, as a dip for breadsticks or pour over meatball sandwiches.
Notes
For a smoother sauce, use an immersion blender.
If you'd like to add onions, chop up about half a cup and saute until soft before adding the garlic.
Nutrition
Calories:
66
kcal
Carbohydrates:
10
g
Protein:
2
g
Fat:
3
g
Saturated Fat:
1
g
Sodium:
176
mg
Potassium:
388
mg
Fiber:
3
g
Sugar:
6
g
Vitamin A:
309
IU
Vitamin C:
13
mg
Calcium:
51
mg
Iron:
2
mg