This is a sponsored post written by me on behalf of Farm Rich. All opinions are 100% mine.
If you love meatballs, you'll love this easy Meatball Marinara Poppers Appetizer. Frozen meatballs are topped with a delicious homemade marinara sauce that is simple to make and full of flavor. It's a great appetizer for the holidays!
Having easy appetizers on hand and ready to go is essential during the holiday season. Meatballs are traditionally a favorite at parties, but if you make them yourself it can be a little time consuming. My kids love them, so I always make sure to have a package of frozen meatballs on hand, like the Gluten Free Farm Rich Turkey Meatballs I recently picked up at Walmart. I love that Farm Rich products are perfect for when you need wholesome, quality, convenient food for your family, but you're in a hurry!
Semi-homemade is almost always the way to go for me. I like to keep it simple in the kitchen. Take for example, these Meatball Poppers. I love a homemade marinara sauce (and mine is incredibly easy to make) but I make it easy on myself by using frozen meatballs along with fresh grated Mozzarella cheese. Just a few easy steps is all it takes! This appetizer takes only 20 minutes from start to delicious finish. First you'll need to cook the meatballs. You can pop them in the microwave or do like I do and heat them in the oven. Following the package instructions it took about 20 minutes to bake them.
Next it's time to make the marinara. Start by sauteing some garlic, then adding a large can of crushed tomatoes, some basil, salt and pepper. See I told you it was simple!
Let that delicious sauce simmer, covered, for a good 15 minutes. If you want to kick up the heat, add a little crushed red pepper (about 1/2 teaspoon). At this point, if you're just making marinara sauce and not the appetizer, you can pour it all into a jar to save.
While the sauce is cooking, grate the Mozzarella. The sauce and meatballs should be finished at about the same time. Just spoon some sauce over each meatball and sprinkle with shredded cheese.
Place the pan under the broiler until the cheese is melted and bubbly, about ten minutes.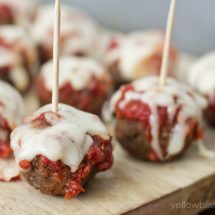 Ingredients
1 package Farm Rich Frozen Meatballs about 40
1-28 can crushed tomatoes
1 tablespoon olive oil
1 tablespoon minced garlic
2 teaspoon dried basil
1 teaspoon salt
1/2 teaspoon pepper
1 cup freshly grated Mozzarella Cheese
Instructions
Line a baking sheet with foil. Place frozen meatballs on the tray and bake according to package instructions.

Meanwhile, heat olive oil over medium heat in a large saute pan. Add garlic and cook, stirring, for about 30 seconds, careful not to let it burn.

Add crushed tomatoes and seasonings and stir. Bring the mixture to a boil, cover and simmer for 15 minutes.

Remove meatballs from the oven and switch the oven to broil. Top meatballs with a spoonful of sauce and about a teaspoon or so of shredded Mozzarella. Place the pan under the broiler for about ten minutes, or until cheese is melted and bubbly.

Serve with toothpicks immediately.
Obviously you could use a jarred sauce for the Meatball Poppers if you want to simplify even more, but I prefer the taste of homemade (and it's so easy, so why not?!). Be sure to keep some Farm Rich Snacks on hand this holiday season. You can find where to purchase them with the handy Farm Rich Product Finder and use the coupon to get $1.50 off 2 Farm Rich snacks to try their new Loaded Potato Skins and the Pepperoni Pizzeria Bites. You can also find Farm Rich Product on Twitter, Facebook and Instagram.
What do you keep on hand for a quick snack or appetizer during the holidays?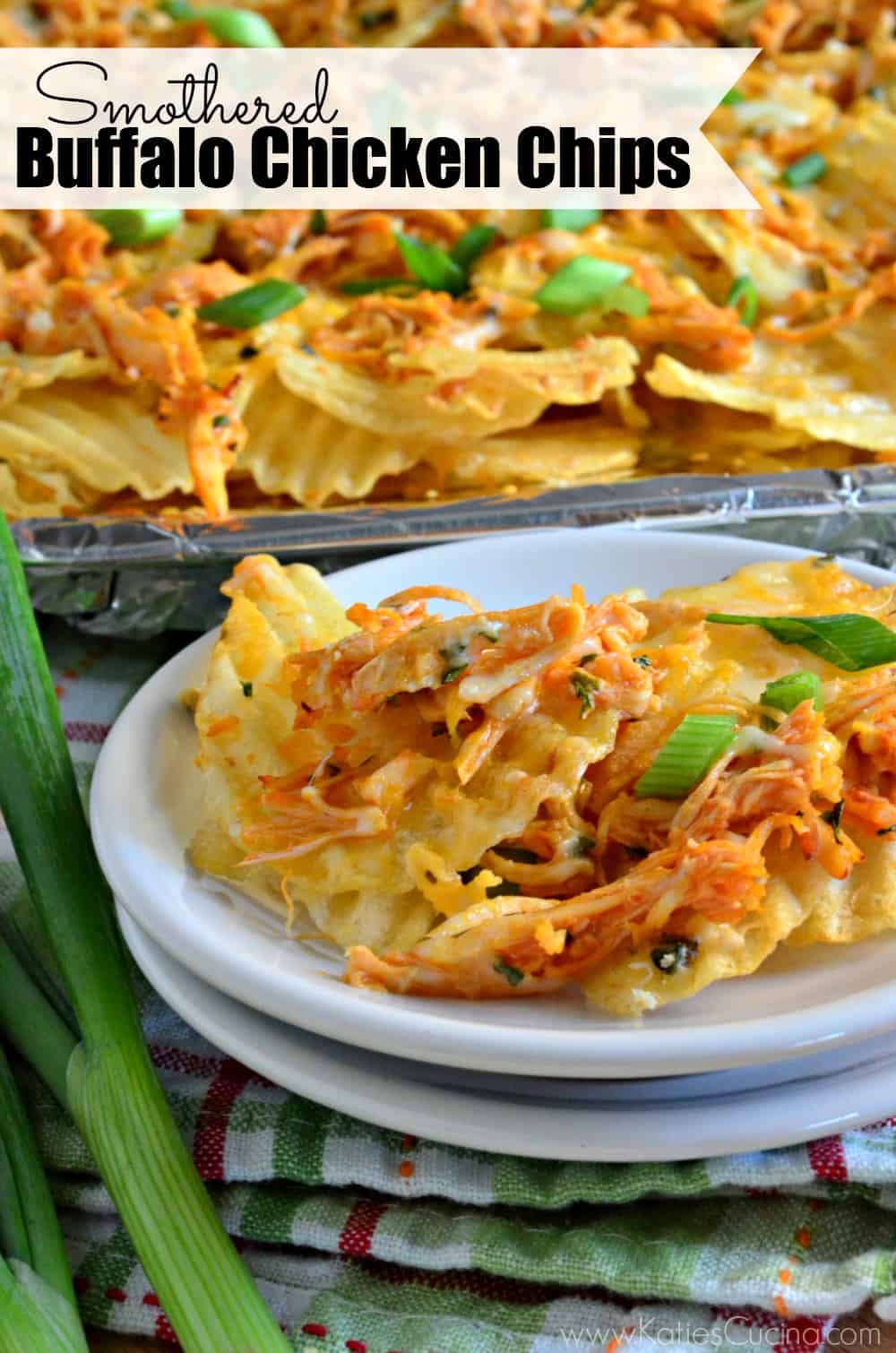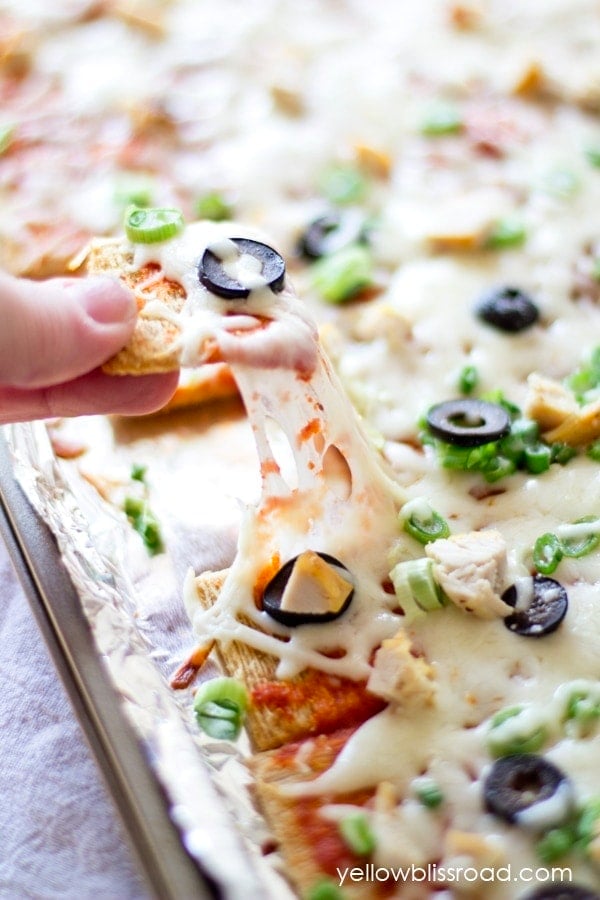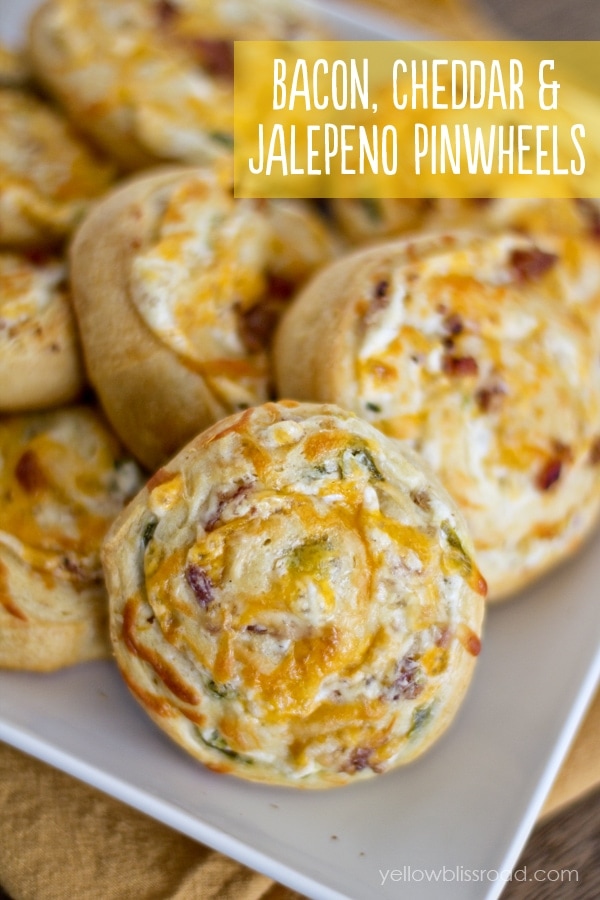 Bacon, Cheddar and Jalapeno Pinwheels
For more Appetizers, go HERE.
For a complete list of recipes on the site, go HERE.
Hi! I'm Kristin, the creative mind behind Yellow Bliss Road where you will be inspired by tons of easy to follow recipes, lots of free printables, and a little sprinkling of life thrown in for good measure.