These Ground Turkey Meatballs are tender and moist and a great way to eat a little healthier without sacrificing flavor!
These meatballs are so easy to make and freeze for later so you always have some on hand for dipping in some spaghetti sauce, meatball subs or soup!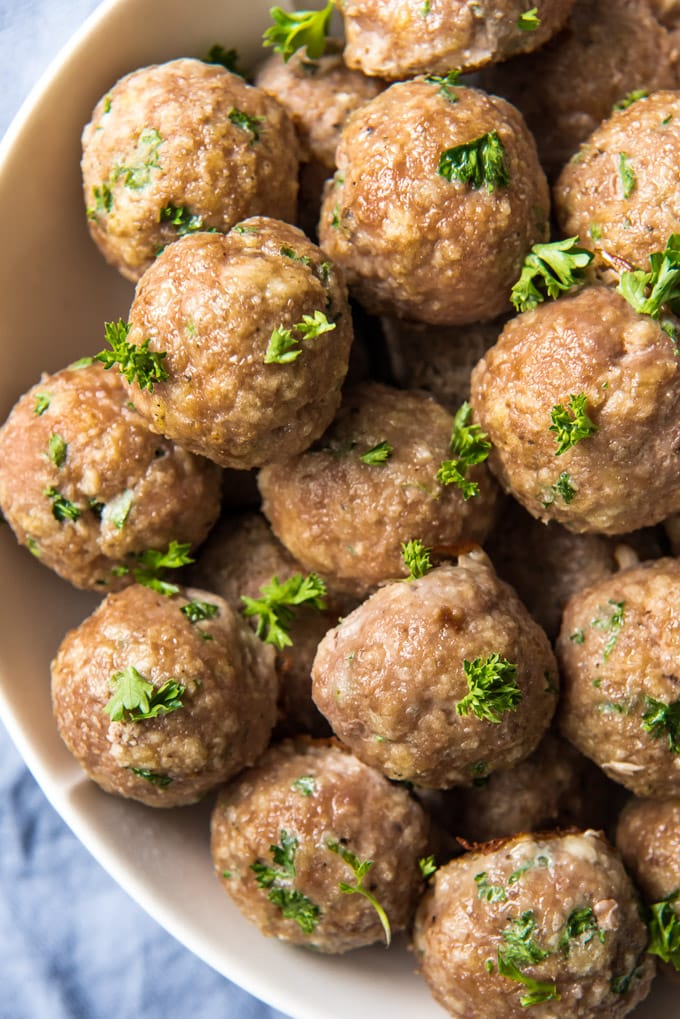 Turkey Meatballs Recipe
I have quite the love affair with meatballs. Ok that sounds a little embarrassing but it's true! To the point where I made sure that meatballs were on the menu at our wedding last year. I love them that much.
I mean, who doesn't love little bite sized balls of meat that can be dipped a variety of sauces? Ok that got weird again. Let's just get into the recipe, shall we?
How to Make Turkey Meatballs
Turkey meatballs recipe is quite similar to my beef meatballs recipe with a few tweaks.
To start, preheat the oven to 400 degrees and gather your ingredients. You'll need 2 pounds of ground turkey, 2 eggs, panko breadcrumbs, garlic powder, onion powder, fresh parsley, salt and pepper.
Add the ingredients to a large bowl and mix gently with your hands. It's important not to overmix, so you just want to combine until everything is incorporated into the mixture.
Scoop the meatballs into ball shapes. You could really make these any size you like. Larger meatballs will take longer to cook than smaller ones.
Line 2 baking sheets with foil or parchment paper and place the meatballs at least 1-inch apart on the sheet. They need space for the heat to circulate so they can cook evenly.
Bake for 14-15 minutes. they will begin to brown and the juices will be clear. As you remove them from the pan there may be some residual fat on the bottom which you can easily scrape off with a spoon.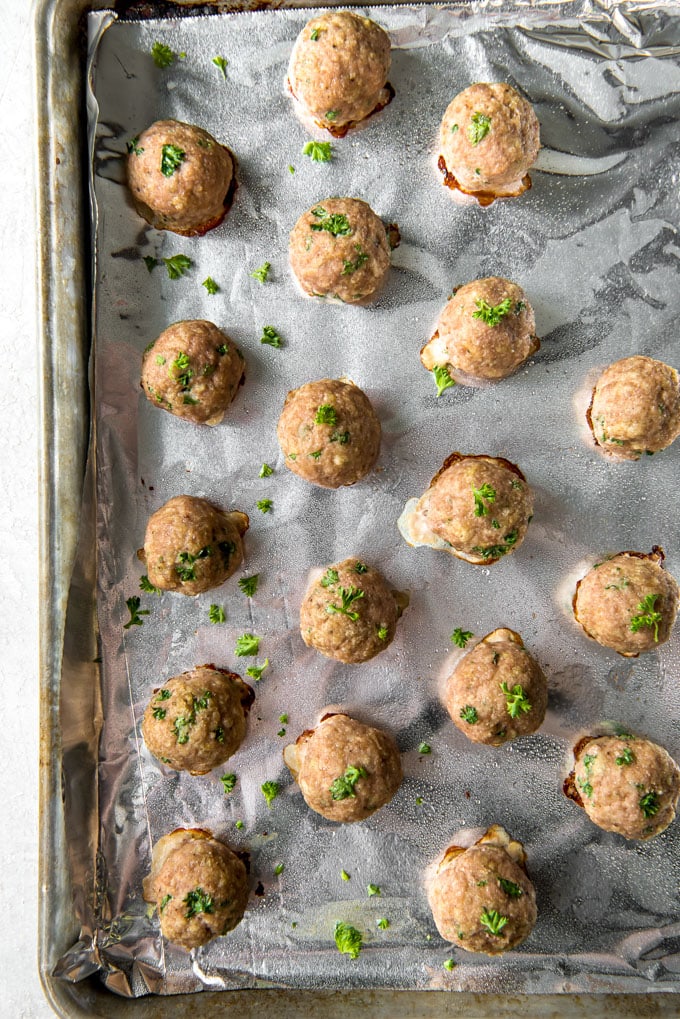 Meatball Making tips
Why are my meatballs tough? It is really important to only mix the ingredients until they're just combined. When packed together too tightly, meatballs can become tough and chewy which is not delicious. If you are rolling the meatballs, consider spraying your hands with nonstick cooking spray to keep the meat from sticking to them.
I use a medium cookie scoop for making turkey meatballs and highly recommend using one to get a uniform size for even baking. They have different sizes if you want larger or smaller, but this is the size I typically use. Perfectly two-bite meatballs every time! Use a small size like this one for soups.
Feel to customize this recipe based on what you're making them for. If you're making an Italian recipe, you could also add some Italian seasoning and Parmesan cheese to the mix. Or add some red chile flakes for a spicy meatball.
Make a double or even triple batch and freeze what you won't immediately use so you can have meatballs any time you want!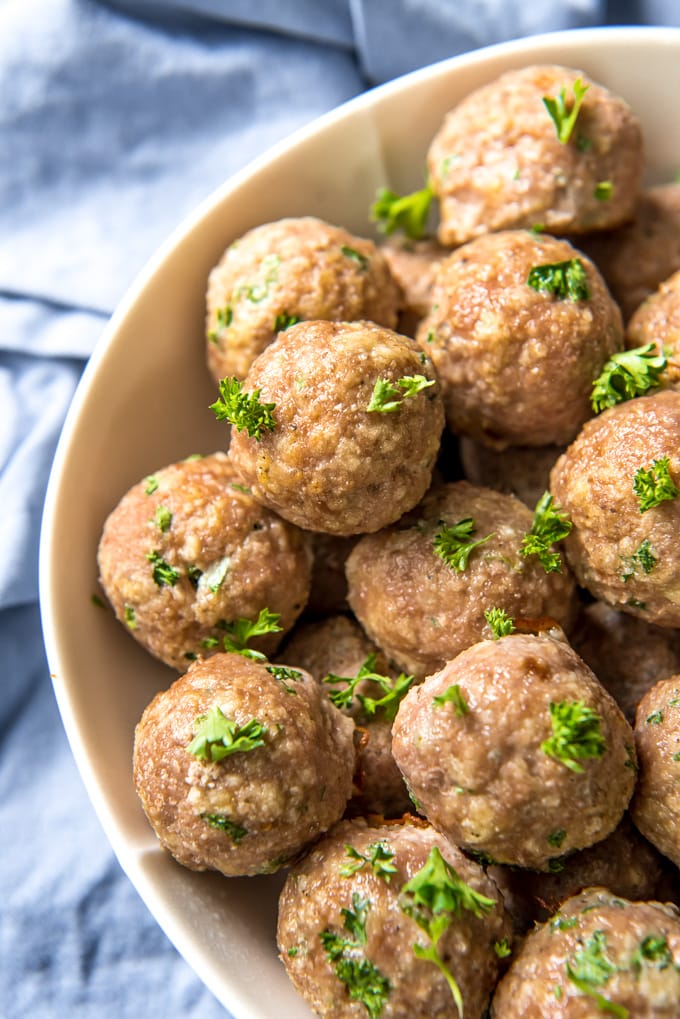 How to serve turkey meatballs
Turkey is a healthier substitute for beef and these turkey meatballs have about half the calories of their ground beef counterparts. They are so tender and juicy that you could easily serve them on their own. We put them in a variety of dishes, but here are some of our favorite ideas:
Chicken Soup – swap out the chicken for mini meatballs.
Meatball Subs
Meatballs appetizers
Spaghetti
How to freeze meatballs
Allow the turkey meatballs to cool completely, then arrange them an inch or so apart on a large baking sheet. Freeze meatballs on the sheet, then transfer to freezer bags or an airtight container. Frozen meatballs will maintain best quality for 3-4 months, but will still be safe to eat beyond that.
In the refrigerator, Turkey Meatballs will last 3-4 days if properly stored in an airtight container.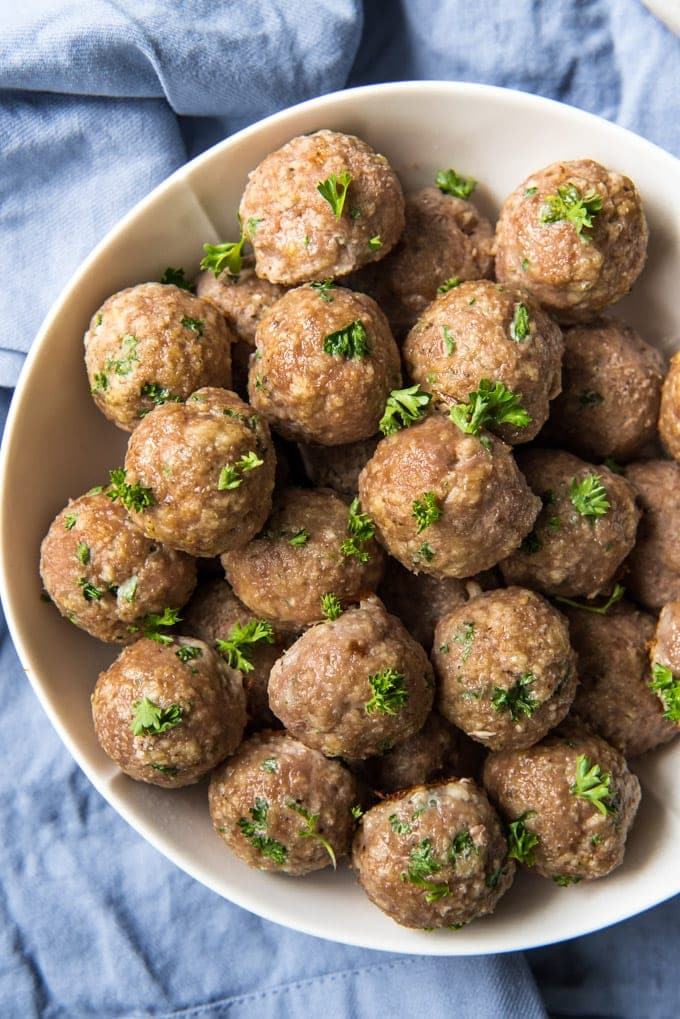 More delicious ground turkey recipes you'll love:
Recipe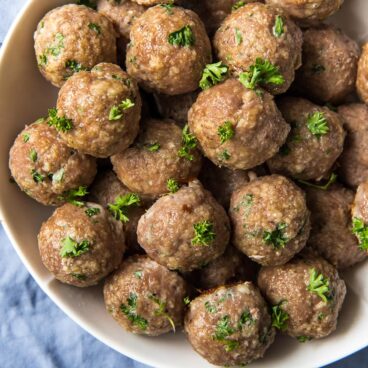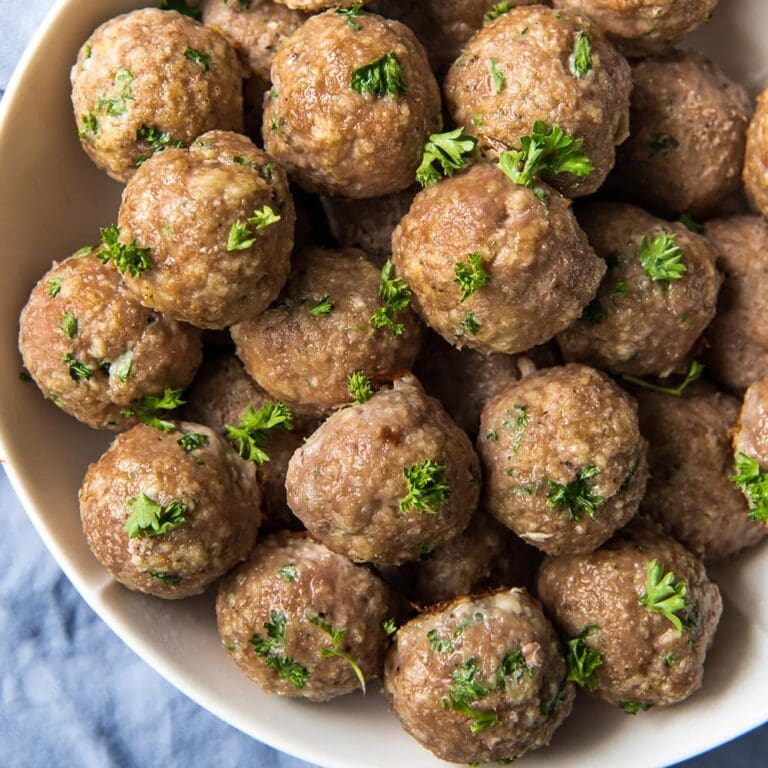 Turkey Meatballs
These Ground Turkey Meatballs are tender and moist and a great way to eat a little healthier without sacrificing flavor!
Ingredients
2

pounds

lean ground turkey

2

large eggs

1

cup

panko breadcrumbs

1

teaspoon

garlic powder

1

teaspoon

onion powder

½

teaspoon

kosher salt

½

cup

fresh minced parsley

½

teaspoon

black pepper
Instructions
Preheat oven to 400 degrees. Line a large, rimmed baking sheet with foil or parchment paper.

In a large bowl, mix ingredients together gently with clean hands. (Note – you can also use a wooden spoon, just be cautious not to over-mix).

Scoop the meat mixture into 1-2" balls and roll them into shape. Place meatballs on the prepared baking sheet. I recommend using a medium cookie scoop for uniform sizing.

Bake the turkey meatballs for 14-15 minutes, or until meat is fully cooked and just beginning to brown and juices run clear. Depending on the size of the meatballs, you may need a little more time.

Scrape any residual fat from the base of the meatballs. Serve with your favorite sauce or in soups or sandwiches.
Nutrition
Calories:
29
kcal
Carbohydrates:
1
g
Protein:
4
g
Cholesterol:
17
mg
Sodium:
46
mg
Potassium:
64
mg
Vitamin A:
65
IU
Vitamin C:
0.8
mg
Calcium:
5
mg
Iron:
0.3
mg