This easy Spicy Ground Turkey Meatloaf recipe needs just a few common ingredients. It's naturally low carb and gluten-free, and the whole family will love it!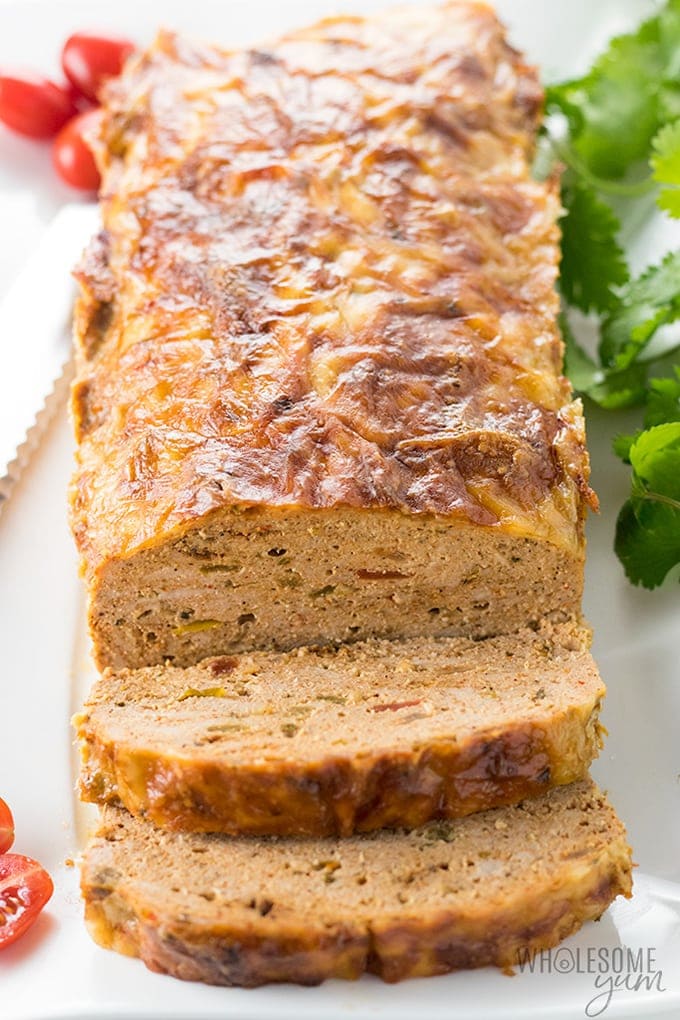 I'm really enjoying the warm May weather! And since it's Cinco de Mayo month, there just might be no better time to share easy Mexican recipes.
Summer will be here before we know it. Before it gets too hot to use my oven, I'm still getting plenty of use out of it while I can. Since keto low carb meatloaf is one of my go-to recipes, I figured that this is the perfect month to create a different version.
Say "hola" to my Spicy Ground Turkey Meatloaf!
The best part about this easy ground turkey meatloaf recipe is that the prep time is about five minutes. FIVE MINUTES!! All you have to do is mix all the ingredients together and dump them into a loaf pan. There is no chopping or pre-cooking involved.
Besides, you probably have most of the ingredients for turkey meatloaf at home right now. They are all common staples for the pantry or fridge. You'll need ground turkey, grated Parmesan cheese, canned green chiles, your favorite salsa, taco seasoning, eggs, and sliced pepper jack cheese.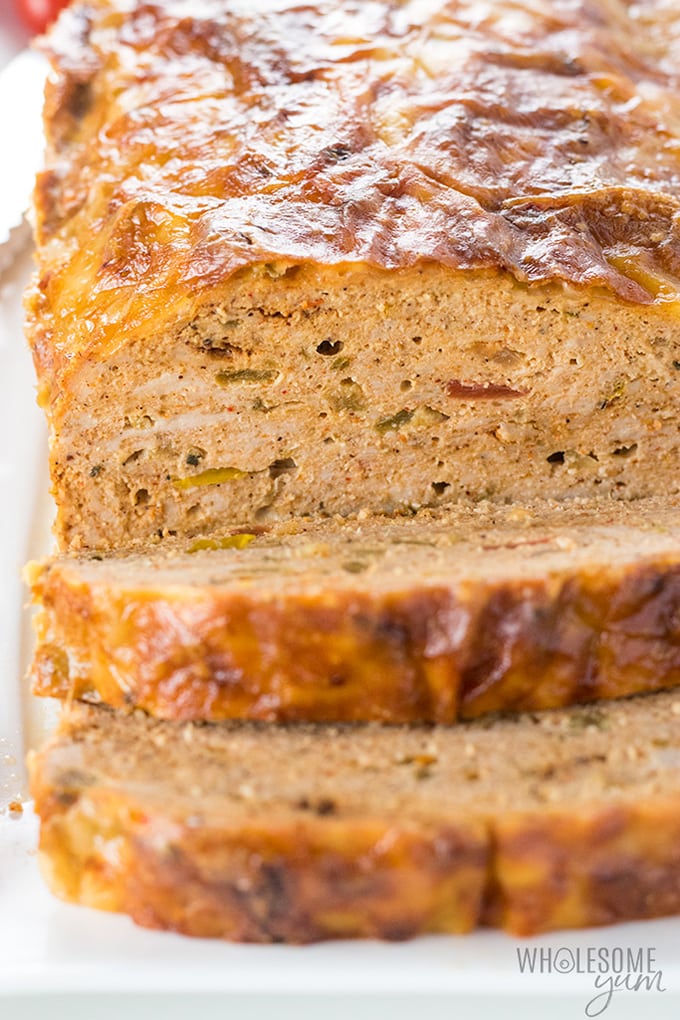 Here are some tips for making my Spicy Ground Turkey Meatloaf!
Use homemade taco seasoning. You can use store bought if you want to, but make sure it's salted. Otherwise, if yours doesn't have salt, simply add 1 1/2 teaspoons of salt. That will maintain the right level of saltiness for this turkey meatloaf. Since taco seasoning is pretty much my favorite type of seasoning ever, I was excited to incorporate it into this turkey meatloaf recipe. It pairs perfectly with the Mexican flavors in salsa, green chiles, and pepper jack cheese.
Parmesan as a low carb option. I used it to keep the recipe low carb but still use a common ingredient that most people have. If that isn't important to you, you can easily swap in breadcrumbs. Another low carb option would be almond flour.
Spice it up with salsa! I used a regular tomato salsa, but you could get creative. Kristin's fresh salsa with corn and black beans would be delicious, too!
If you're like me, you'll be making a big batch of taco seasoning to use in this Mexican turkey meatloaf. So, you'll probably be looking for more ways to use it! The Mexican recipe I'll be making all summer long is healthy taco salad with ground beef. You can easily make it with ground turkey instead, if you're buying a big batch to use in the turkey meatloaf.
I'm getting ahead of myself here! While it's not too steamy to make turkey meatloaf, I'll make it every chance I get. For a serving idea, try it with taco fixings like guacamole, fresh salsa or some delicious Coconut Tortillas!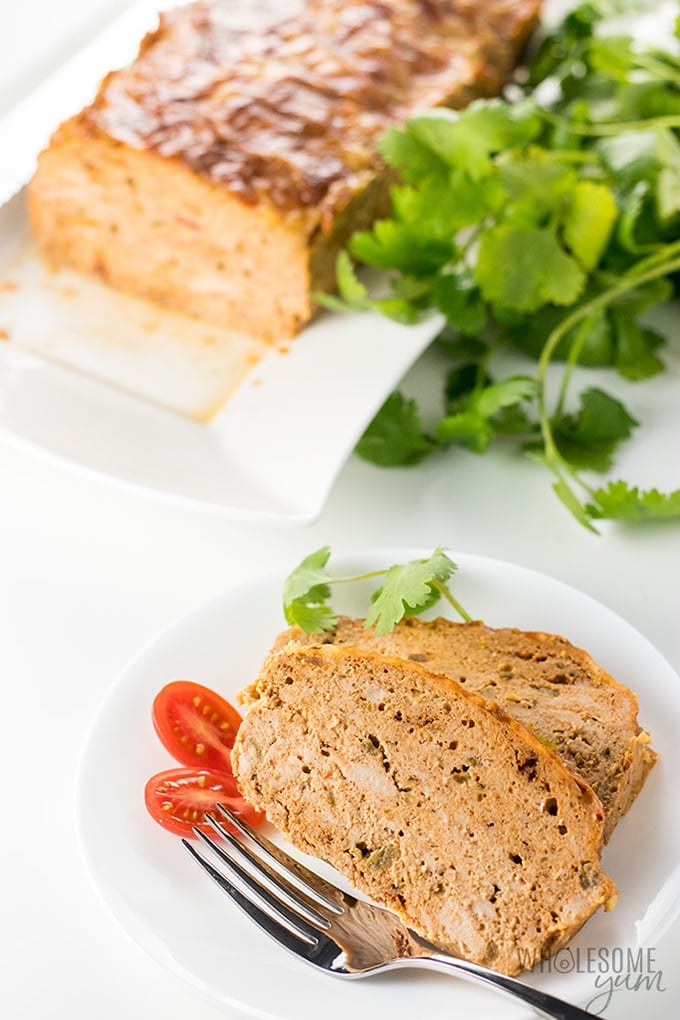 Maya blogs at Wholesome Yum, a keto and low carb website bringing you easy recipes with 10 ingredients or less. She loves showing readers that healthy eating can be both simple and delicious. Follow her on Pinterest and Facebook for more quick low carb recipes.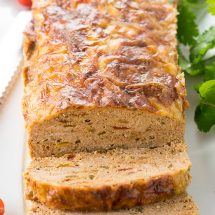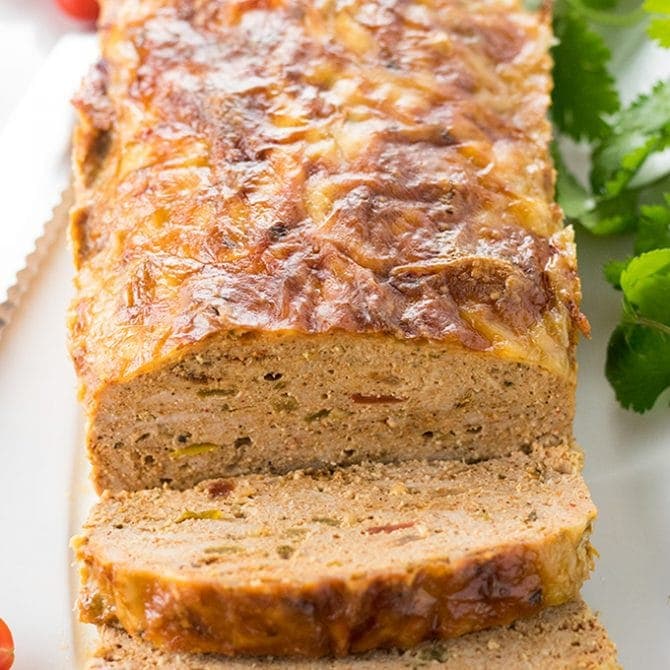 Spicy Ground Turkey Meatloaf Recipe
This easy Mexican Ground Turkey Meatloaf recipe needs just a few common ingredients. It's naturally low carb and gluten-free, and the whole family will love it!
Print
Pin
Rate
Prep Time: 10 minutes
Cook Time: 1 hour 5 minutes
Total Time: 1 hour 25 minutes
Servings: 8 slices
Calories: 199kcal
Ingredients
2 pounds Ground turkey
3/4 cup Grated Parmesan cheese
1 4- ounce can Green chiles drained
3/4 cup of your favorite salsa Salsa
3 tablespoons taco seasoning
2 eggs
3 slices Pepper jack cheese
Instructions
Preheat the oven to 350 degrees F. Line a 9x5-inch loaf pan with foil.

Mix all the ingredients in a bowl, except the pepperjack. Do not overmix. (*use your hands for optimal mixing).

Transfer the mixture to the lined pan and round the top.

Bake for 45 minutes.

Top the meatloaf with pepperjack cheese slices.

Increase the oven temperature to 400 degrees F. Bake for 20 more minutes, or until internal temperature reaches 155 degrees F.

Tent the meatloaf with foil and rest on the counter for 10 minutes before slicing. (The internal temperature will continue to rise from residual heat.)
Nutrition
Serving: 1, 1-inch slice | Calories: 199kcal
Hi! I'm Kristin, the creative mind behind Yellow Bliss Road where you will be inspired by tons of easy to follow recipes, lots of free printables, and a little sprinkling of life thrown in for good measure.