Strawberry Pretzel Salad is a classic summer dessert that's a must make for all your parties and backyard barbecues!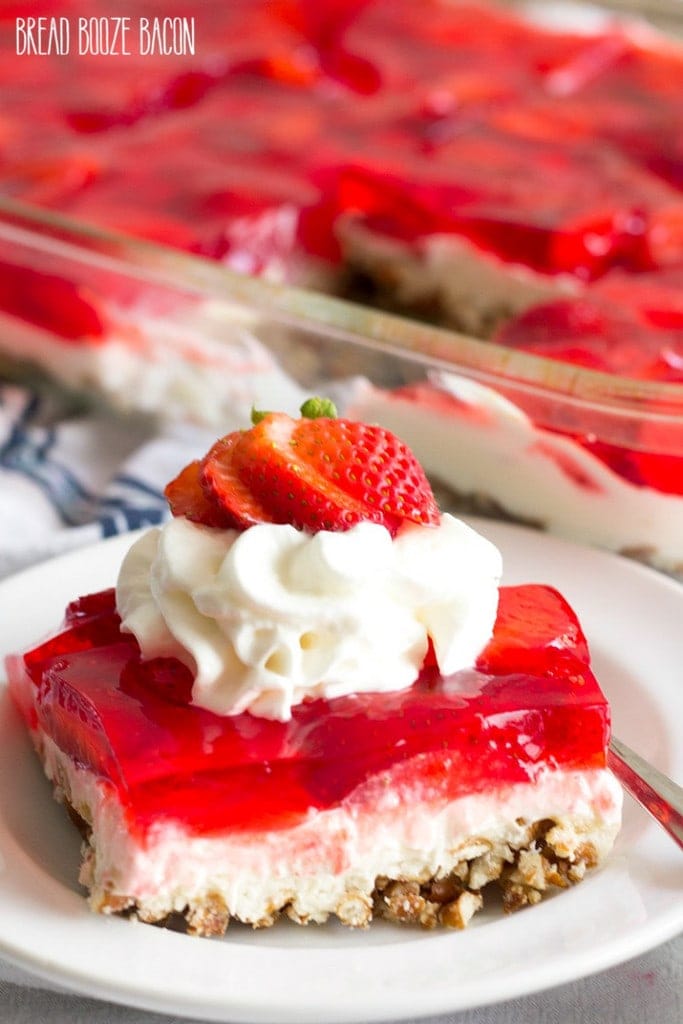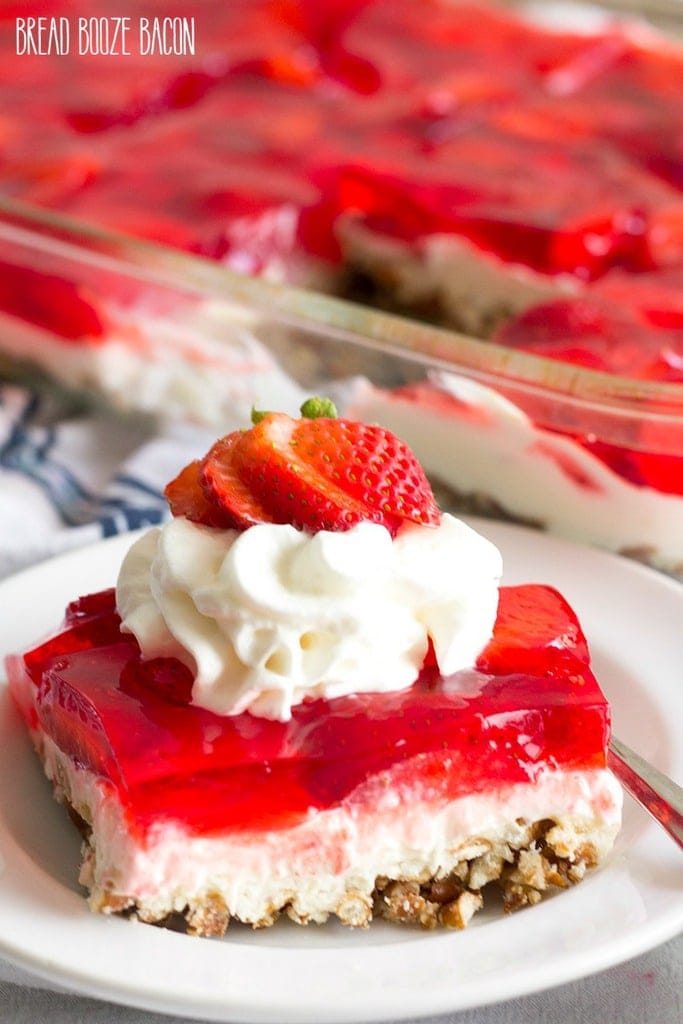 Summer potlucks are a regular happening with my family. Everyone brings a little something and the food spread is always fantastic! I usually get appointed to bring appetizers and desserts since my sister and mom host the get-togethers and make the main course. This Strawberry Pretzel Salad is one of my favorite desserts to make for summer parties. It takes a little forethought, but the result tastes as good as it looks!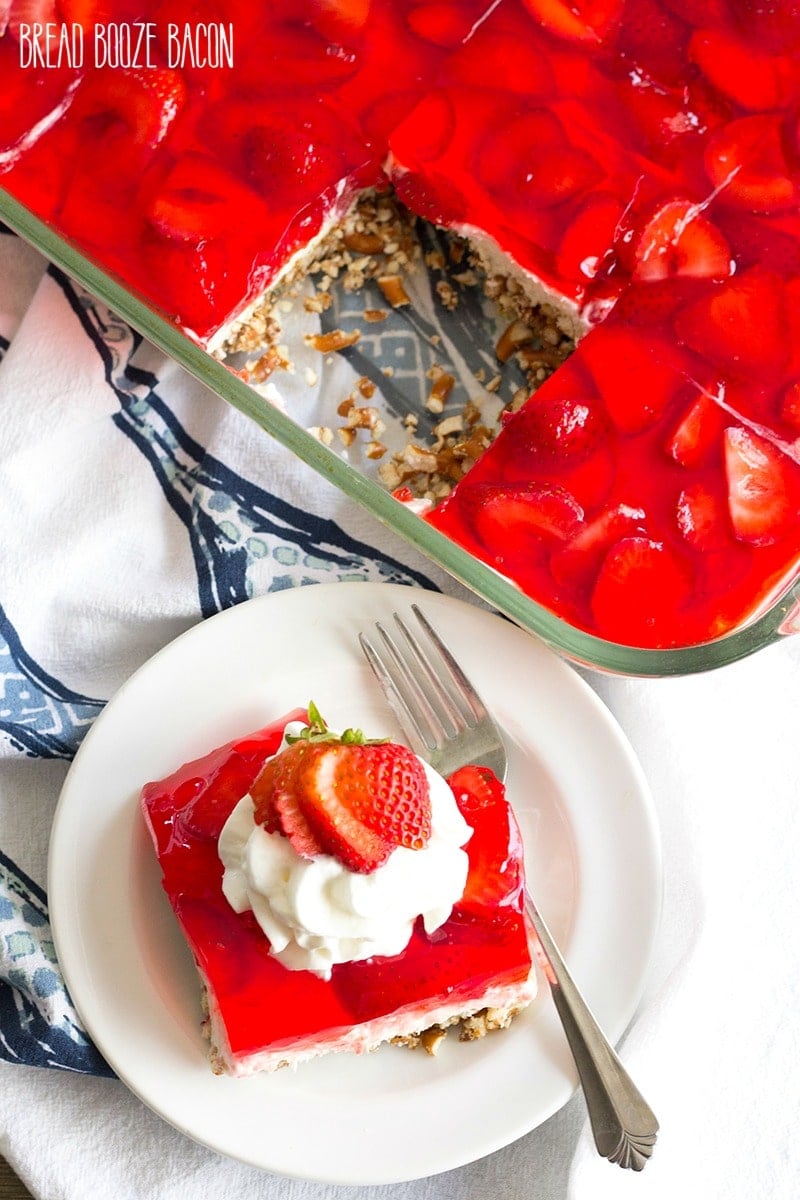 While this is called a "salad" is obviously not your average mix of greens. It's a throwback to vintage jello salads. The layers come together in the most fabulous bite! This no bake cheesecake with strawberries and buttered pretzels…and jello. OMG so good!! This recipe does take a little time to put together since the layers need to chill, But it's worth the wait and you can even make it the day before!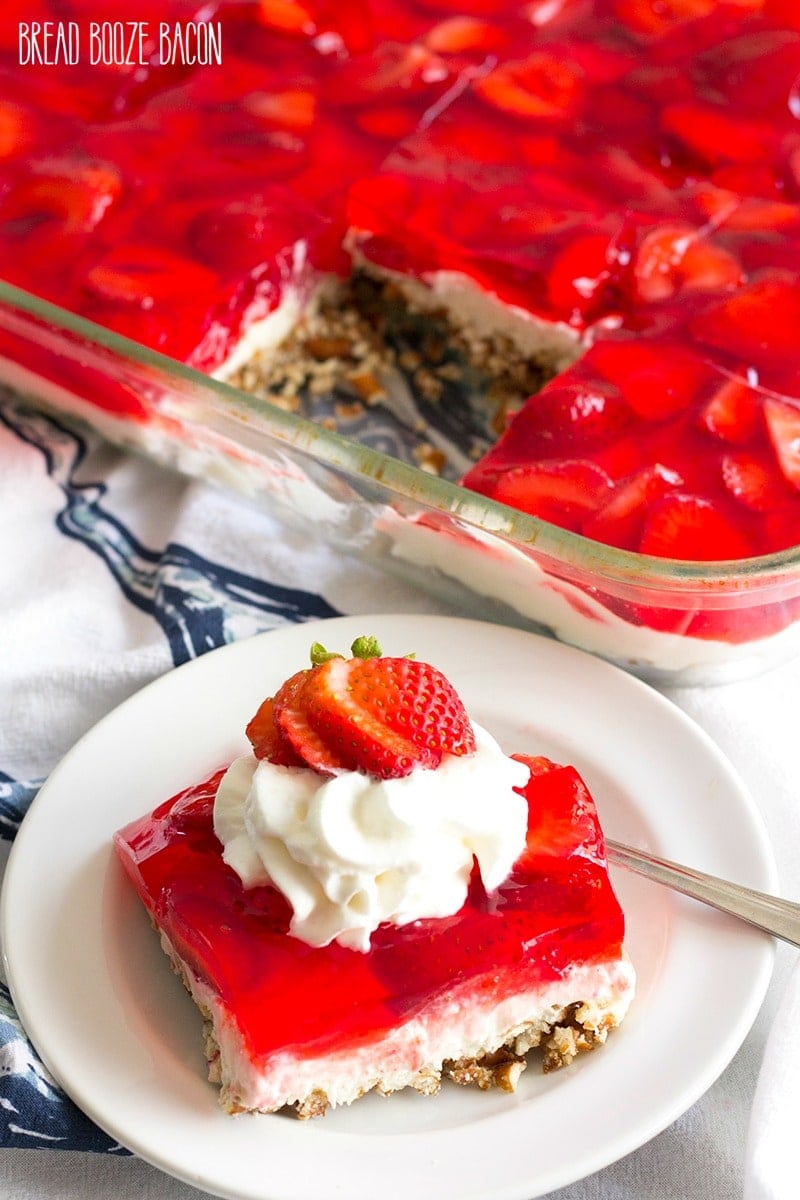 Hungry for More?

No Bake Strawberry Lemonade Pie | Strawberry Fluff Pie | Strawberry Caprese Salad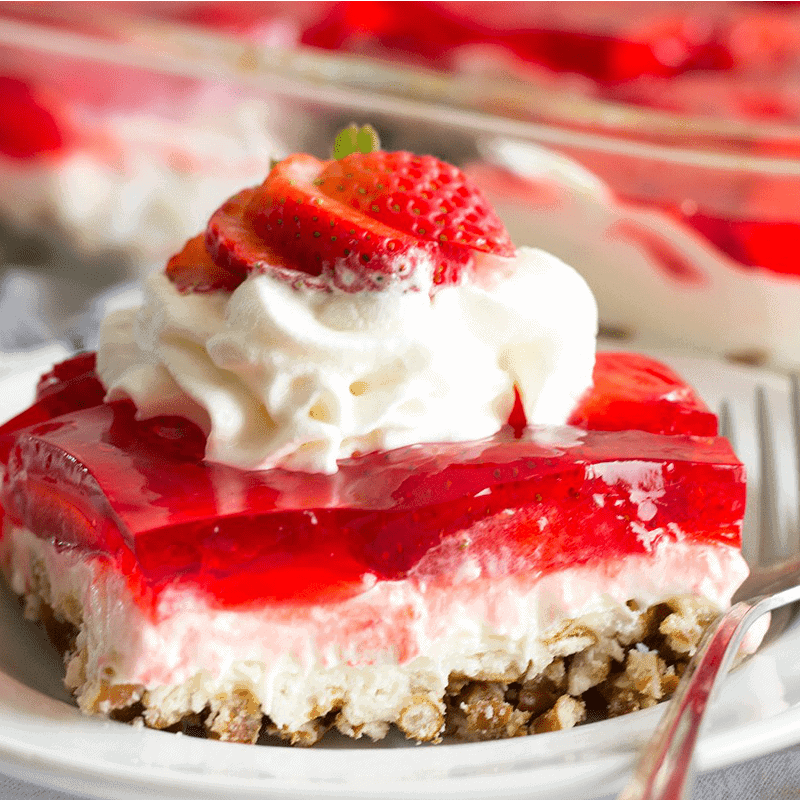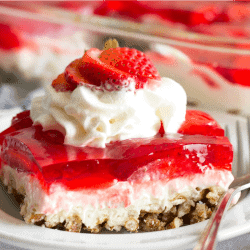 Strawberry Pretzel Salad
Strawberry Pretzel Salad is a classic summer dessert that's a must make for all your parties and backyard barbecues!
Ingredients
Crust
3 cups mini twist pretzels
3 tablespoons sugar
6 tablespoons unsalted butter melted
Cream Layer
8 ounces cream cheese softened
3/4 cup sugar
3 cups whipped topping
1 teaspoons vanilla
Strawberry Layer
1 pound fresh strawberries greens removed & sliced
Two 3-ounce packets strawberry jello mix
Instructions
Crust
Preheat your oven to 350 degrees F.

Place the pretzels in a large ziploc bag and seal the bag. Use a rolling pin to crush the pretzels - not to a fine crumb, you want there to be some bigger pieces too.

Transfer the pretzels to a mixing bowl. Add sugar and butter. Mix until evenly combined.

Pour the pretzels into a 9-inch x 13-inch baking dish. Spread into an even layer covering the bottom of the dish.

Bake for 10 minutes. Remove from the oven and allow to cool completely.
Cream Layer
Add the cream cheese and sugar to a mixing bowl. Beat together until combined and fluffy.

Add the whipped topping and fold into the cream cheese until smooth and evenly combined.

Add the vanilla and mix to combine.

Spread the cream cheese mixture over the pretzels and spread into an even layer.

Refrigerate 1 hour to set.
Strawberry Layer
While the cream layer sets, place the jello powder into a mixing bowl. Whisk in 2 cups hot water until the gelatin has melted.

Whisk in 2 cups cold water. Let the jello cool for 1 hour.

Remove the baking dish from the fridge. Top the cream layer with sliced strawberries, spreading them all over the top.

Carefully pour the cooled jello over the strawberries. 

Transfer the dish back to the fridge and chill until set, 4-5 hours.

Keep cool until ready to serve. Cut the salad into 12 or 15 bars. If desired, top with a dollop of whipped cream and fresh strawberries.
For more strawberry treats, try there:
Lemon Pancakes with Fresh Strawberry Syrup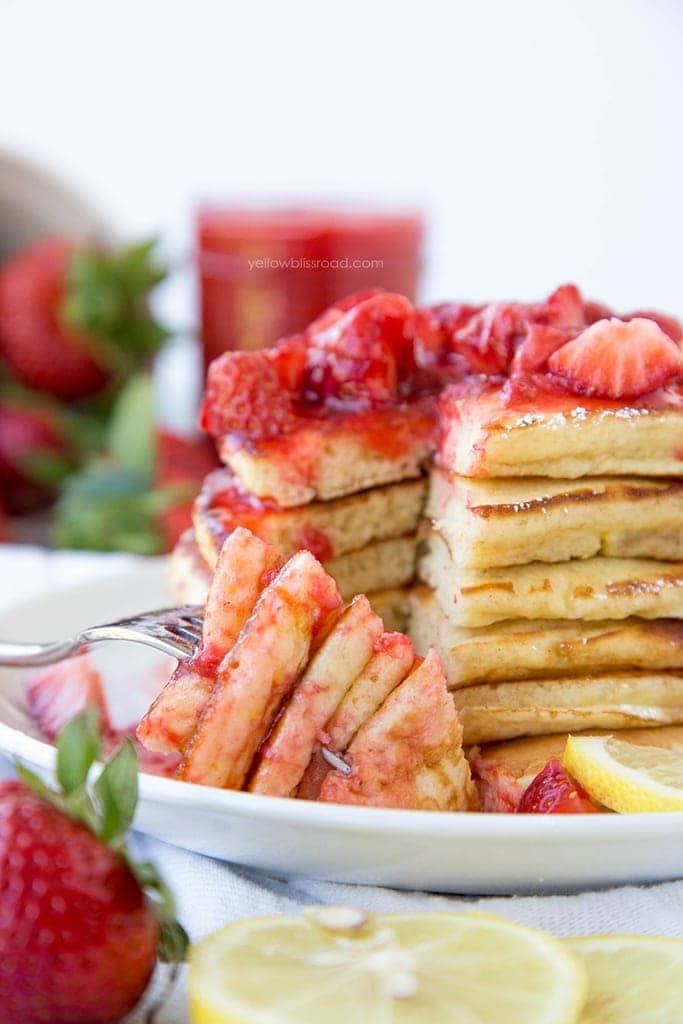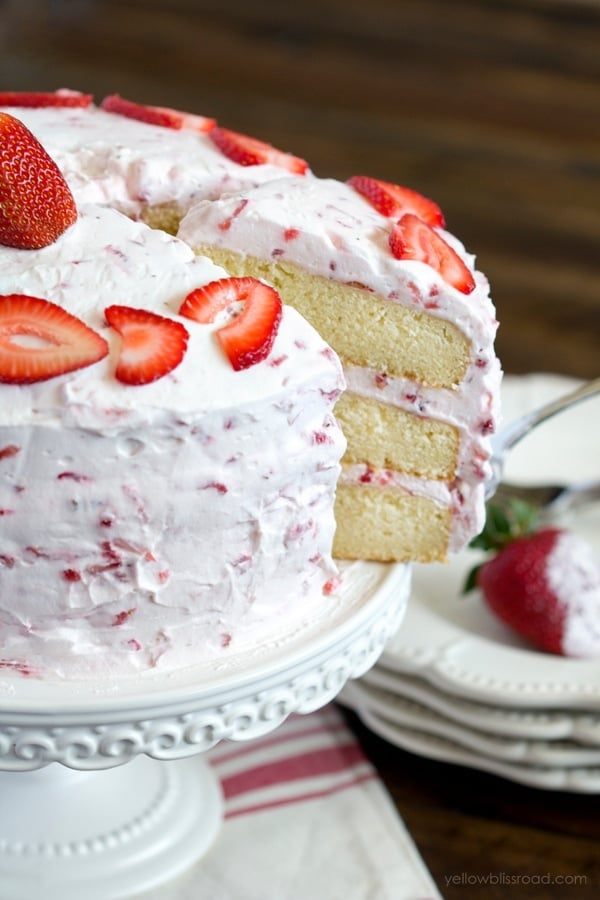 For more delicious no bake treats, try these: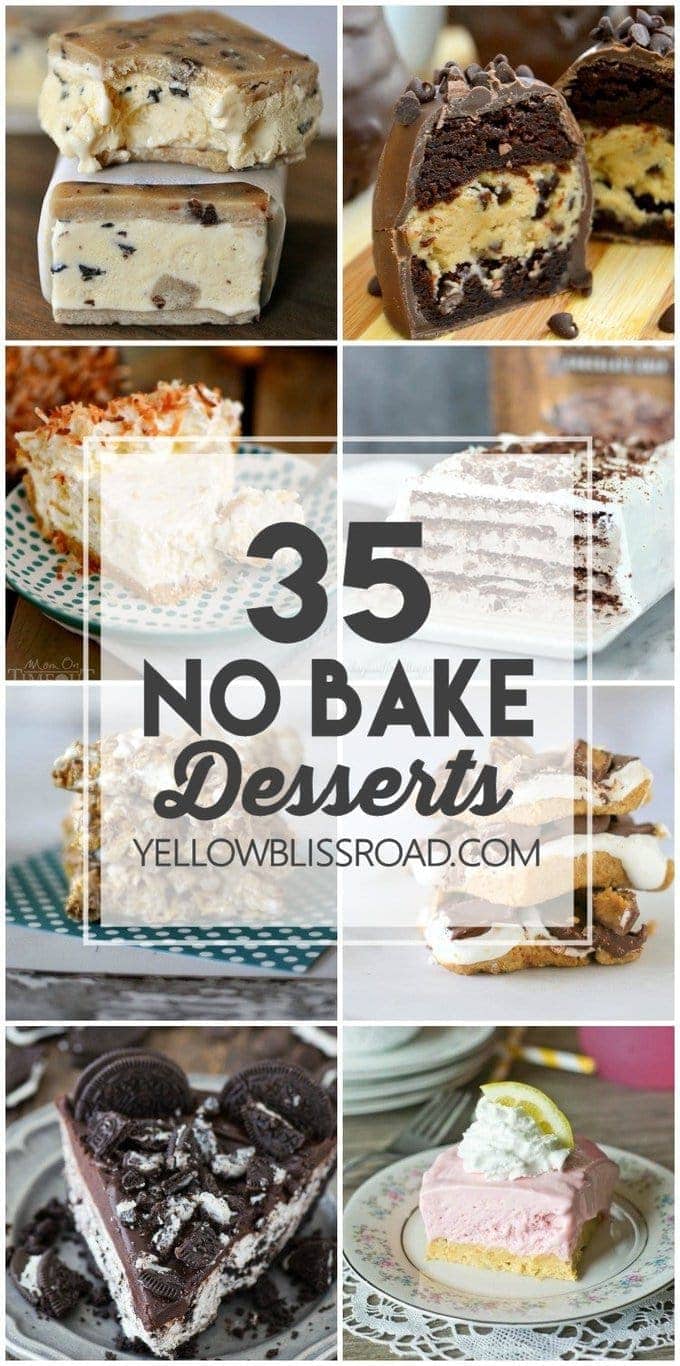 For all desserts go HERE and for the recipe index go HERE.