Jello Salad is a vintage recipe that's part side dish & part dessert. This Green Jello Salad is deliciously creamy and perfect for sharing with friends!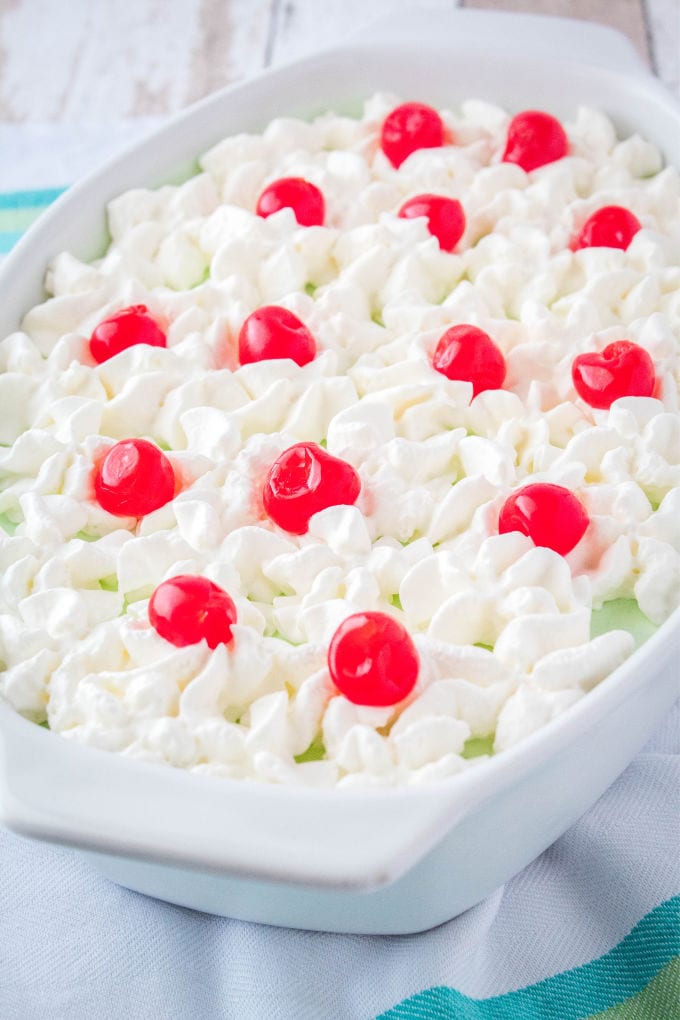 Jello Salad with fruit
When it comes to Jello Salad recipes, Lime Jello Salad is one of the most popular. It's all over the vintage Jello cookbooks stuffed with lettuce, olives, and hard-boiled eggs or mixed with cottage cheese and topped with seafood salad.
Luckily this is not one of those recipes.
This Jello Salad is basically dessert, but we're calling it a side dish so you don't have to wait until after the meal to enjoy it!
It's creamy, dreamy, and studded with fruit. Think lime cheesecake mousse with pineapple and pears. Yummy!!
How to Make Jello Salad
Mix. Whisk together some lime jello gelatin mix and boiling water in a large mixing bowl until the jello dissolves. Then add in a block of room temperature cream cheese. The regular stuff, NOT whipped cream cheese. Use your hand mixer to beat the cream cheese into the hot jello, carefully because the mixture will be very hot. Because of the bubbles that form on top it can be tricky to see if everything is mixed in. After about a minute of mixing you should be good.
Chill. Pop the mixing bowl into your fridge for about an hour so the hot jello won't melt the whipped topping. Use a whisk to stir and make sure that everything is incorporated. Add a whole 8-ounce tub of whipped topping to the bowl and whisk it into the jello mixture. Whisking works much easier than folding for this step.
Add the fruit. But speaking of folding, you want to fold the crushed pineapple you drained and diced pears into the jello. Pour the jello salad into a 2-quart casserole dish. The fruit will want to sink to the bottom of the bowl and plop into the middle of the casserole dish. Use a spoon or rubber spatula to spread the fruit into your salad.
Chill again. Put the casserole dish into the fridge for about 3 hours until the salad is set. At this point, you can cover the dish with plastic wrap and store until you're ready to serve.
Serve. Take the jello salad out of the fridge and serve it up just like it is, or top it with dollops of whipped topping and a few cherries. The cherries must be rinsed and dried well before placing them, otherwise the cherry juice will bleed all over your pretty salad.
Jello Salad Variations
There are SO many possibilities with jello salad!
Pineapple goes really great with the lime jello I used for this recipe. But if pineapple isn't your thing, add more pears or substitute 2 cans of fruit cocktail. Make sure that the fruit is really well drained so it doesn't add additional liquid to the jello.
Chopped pecans or walnuts add some great crunch.
Feel free to mix it up with the flavors. Strawberry, cherry or any other favorite flavor can be used.
Helpful Tips
You can use whipped cream instead of whipped topping for the garnish on top if you want, however the whipped cream breaks down pretty quickly because of the gelatin and I don't recommend it.
Make sure to give your jello salad the proper time to chill so it will set properly.
Make this jello salad up to 24 hours in advance for family gatherings and potlucks.
Store in the fridge in a covered dish or covered with plastic wrap.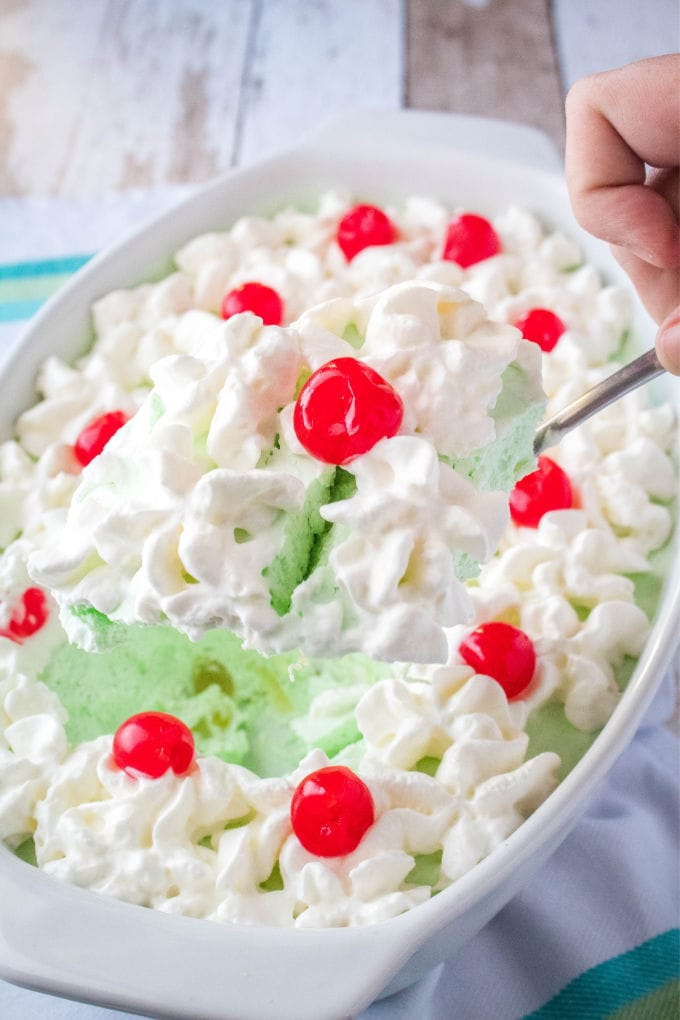 More potluck favorites
Jello Salad is perfect for potlucks because it feeds a lot of people and it's really easy to make and serve. It's a classic recipe that please all ages and has withstood the test of time! Kind of like our family favorites Sour Cream Salad and Pistachio Fluff Salad! One of those made an appearance at pretty much every family event when I was growing up.
Like our other no bake desserts, this jello salad comes together in minutes and is absolutely delicious!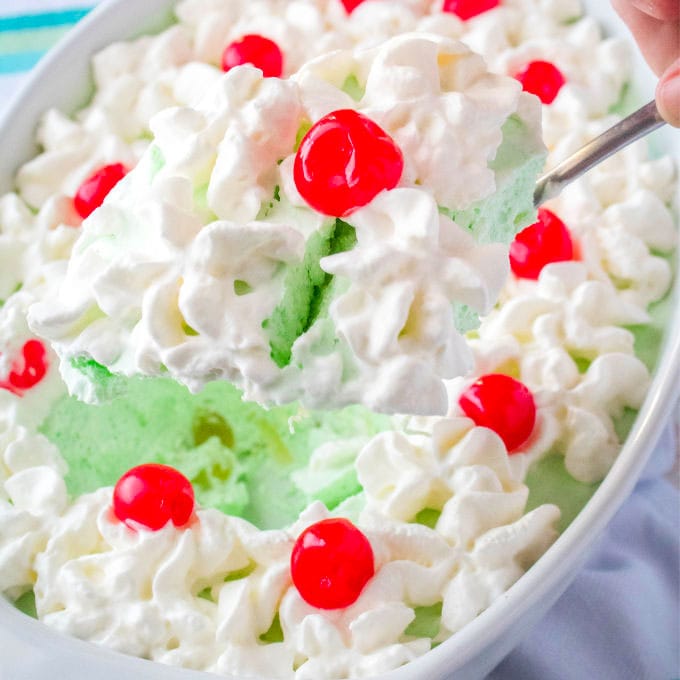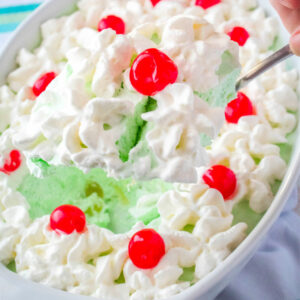 Green Jello Salad
Jello Salad is a vintage recipe that's part side dish & part dessert. This Green Jello Salad is deliciously creamy and perfect for sharing with friends!
Ingredients
10 ounces crushed pineapple drained
15 ounces pear halves drained
6 ounces lime gelatin mix
2 cups boiling water
8 ounces cream cheese softened
8 ounces whipped topping thawed
Whipped topping for garnish
Maraschino cherries rinsed & dried, for garnish
Instructions
Drain pineapple making sure to remove as much moisture as possible. Set aside. Drain pears and cut into small pieces. Set aside.

In a large mixing bowl, whisk together gelatin and boiling water until the gelatin mix dissolves.

Add cream cheese to the bowl, and use a hand mixer to blend the jello and cream cheese together until completely combined. Be careful! The jello is HOT. There will be lots of bubbles on top, that's okay.

Place mixing bowl in the fridge for 1 hour.

After jello has cooled, remove the bowl from the fridge. If the jello has started to set around the edges, use a whisk to mix everything up.

Add whipped topping to the jello and whisk until combined and smooth.

Fold the pineapple and pears into the jello mixture.

Pour the jello salad into a 2-quart casserole dish. Transfer to the fridge and chill for 3 hours, or until set.

Remove salad from the fridge and serve as is or top with dollops of whipped topping and cherries.
Notes
You can also use whipped cream to garnish your salad, but it will start to breakdown quickly due to the gelatin.
Nutrition
Calories: 166kcalCarbohydrates: 26gProtein: 3gFat: 7gSaturated Fat: 4gCholesterol: 24mgSodium: 146mgPotassium: 76mgFiber: 1gSugar: 23gVitamin A: 299IUVitamin C: 2mgCalcium: 44mgIron: 1mg