Green Jello Salad is a vintage recipe that's made with lime gelatin, softened cream cheese, and topped with dollops of whipped cream and maraschino cherries. It's a deliciously creamy and vibrant Jello Salad recipe perfect for everything from summer parties to holiday gatherings.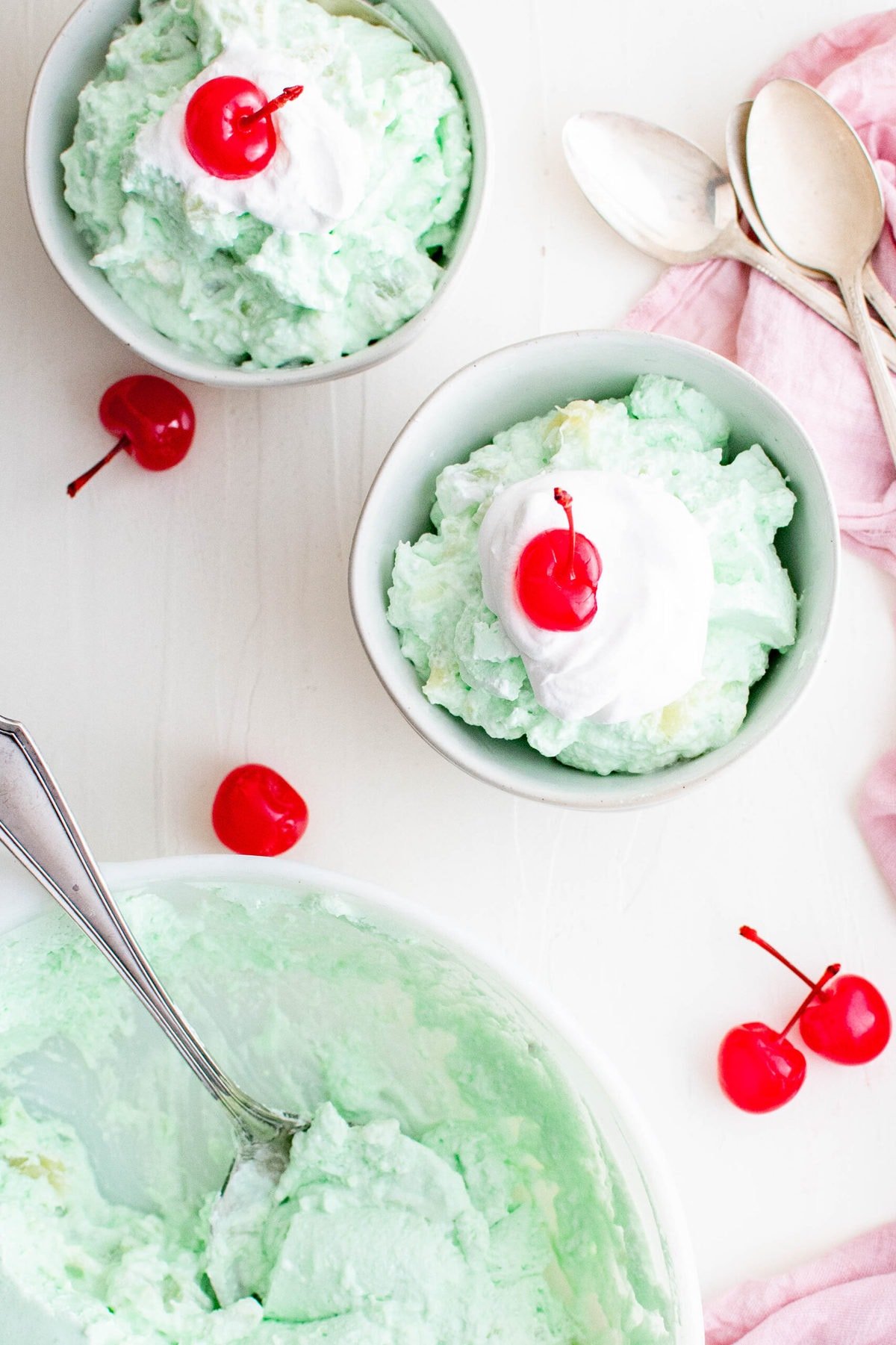 Pin this recipe for later!
Why I Love This Recipe
A total nostalgic favorite, this green jello salad is the perfect sweet addition to your party or holiday spread. It's part side dish, and part dessert! Try some of our other sweet retro classic recipes like Pistachio Salad, Slushy Frozen Fruit Cups, Pineapple Upside Down Cake.
Green Jello Salad is a refreshing summer recipe that can be prepared ahead of time in just 10 minutes. Pop it in the fridge to chill for a few hours and it's ready to serve!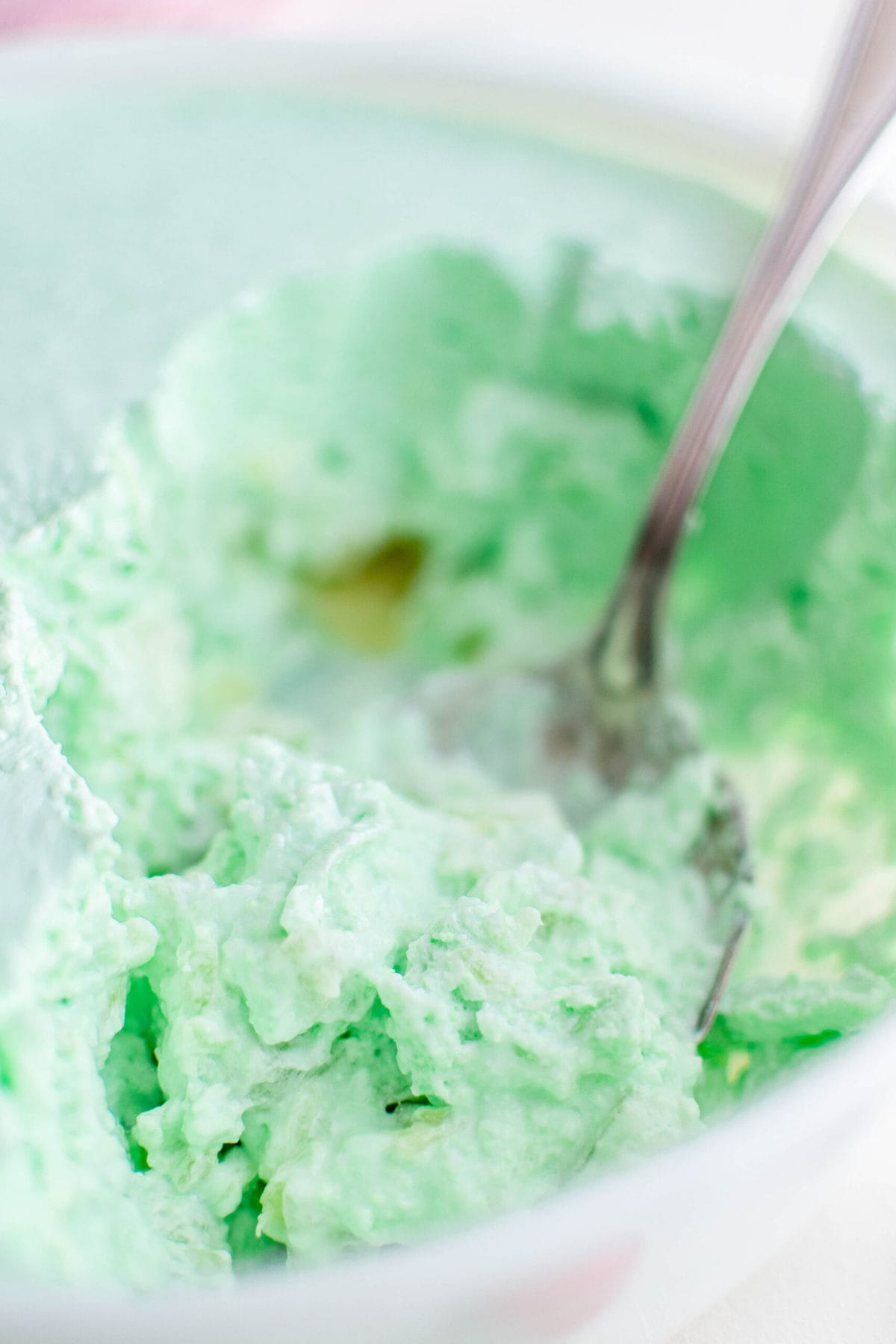 Jello-O is actually a brand of gelatin, commonly produced here in the United States. But because it's so common, the name became synonymous with the for any gelatin product.
Ingredients and Swaps
Crushed pineapple – drained really well. For both canned fruits, I recommend letting the fruit sit in a colander over a bowl for 10-15 minutes to drain as much liquid as possible.
Canned pear halves – drained really well. See below for lots of other fruit options.
Lime gelatin mix – I like Jell-O brand.
Boiling water – to mix with the gelatin.
Softened cream cheese – the full fat brick style.
Whipped topping – like Cool Whip or Tru Whip. You could also make your own whipped cream and fold that in if you prefer.
Maraschino cherries – these are for garnish and are totally optional.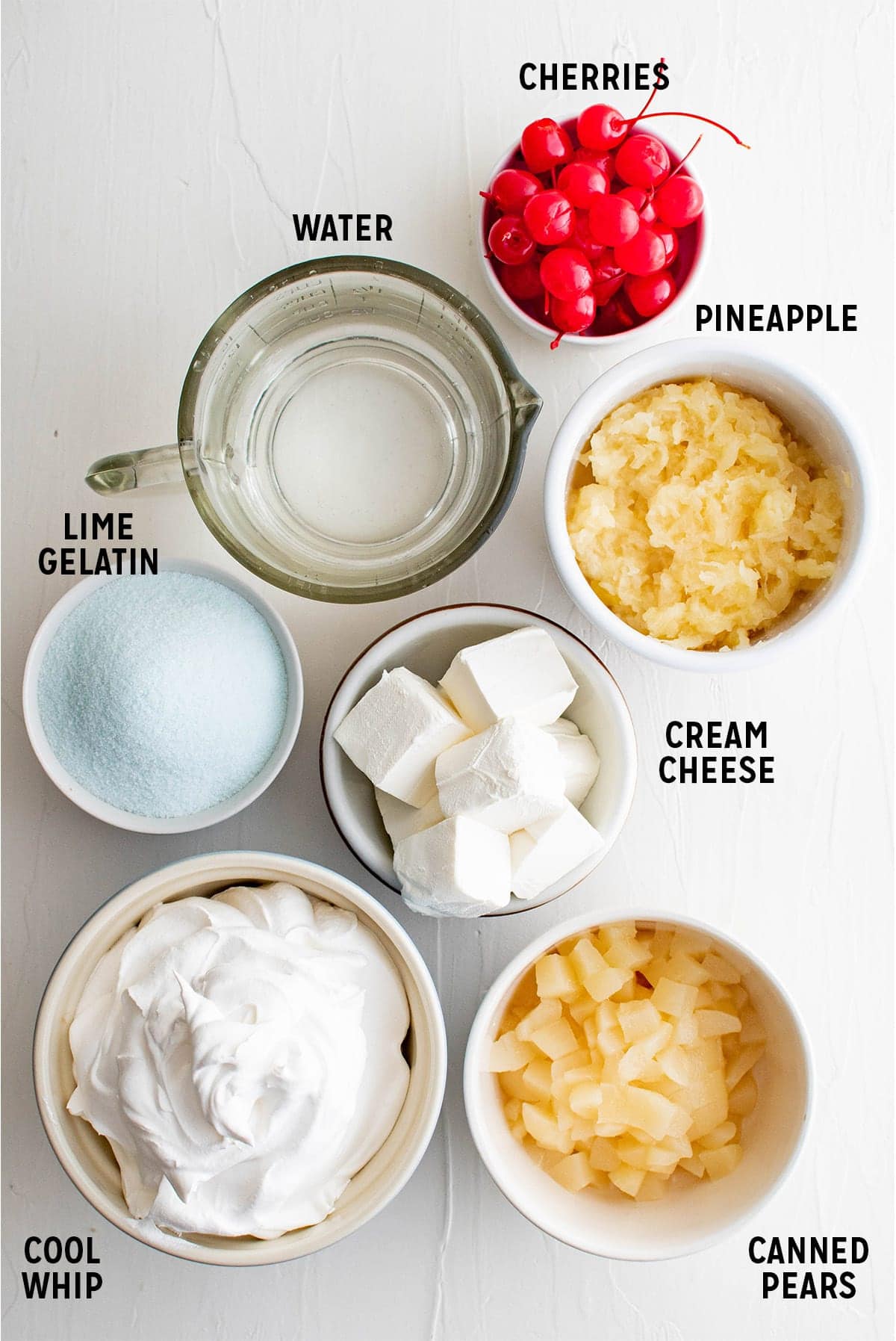 How to Make Jello Salad
See recipe card below for ingredient quantities and full instructions.
Mix. Whisk together some lime jello gelatin mix and boiling water in a large mixing bowl until the jello dissolves. Add in a block of room temperature cream cheese. The regular full fat brick, NOT whipped or reduced fat. Use your hand mixer to beat the cream cheese into the hot jello carefully because the mixture will be very hot. Because of the bubbles that form on top, it can be tricky to see if everything is mixed in. After about a minute of mixing, you should be good.
Chill. Pop the mixing bowl into your fridge for about an hour to cool. Use a whisk to stir and make sure that everything is incorporated, then add an 8-ounce container of whipped topping to the bowl and whisk it into the jello mixture. Whisking works much easier than folding for this step.
Add the fruit. Grab a spatula and gently fold the drained fruit into the jello. Pour the jello salad into a 2-quart casserole dish or Jell-O mold. The fruit will want to sink to the bottom so you'll need to use a spoon or rubber spatula to spread the fruit into your salad.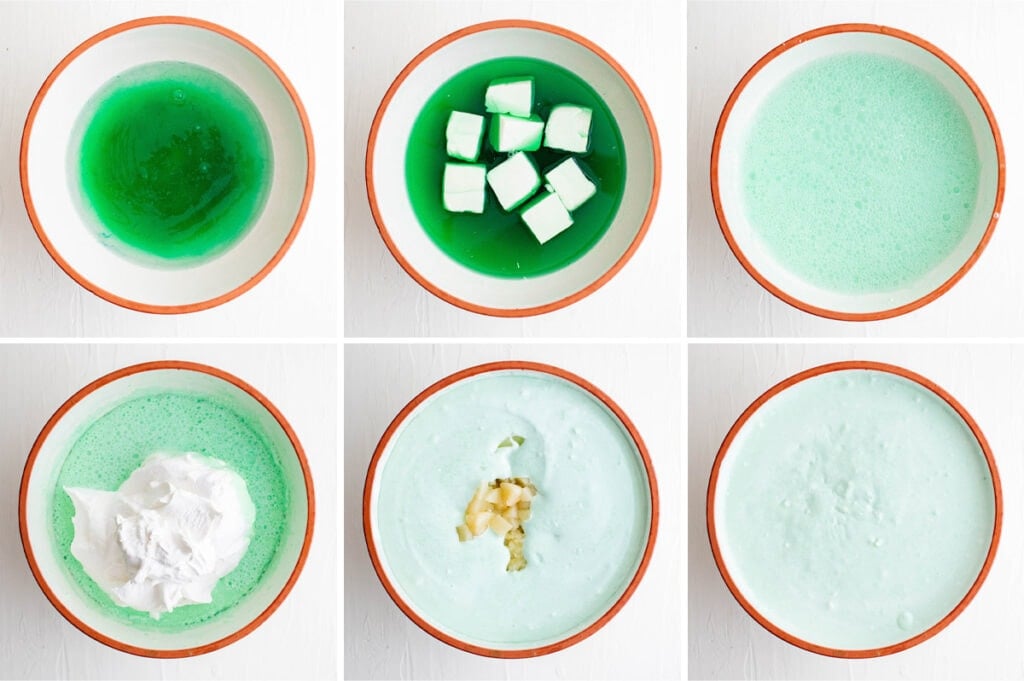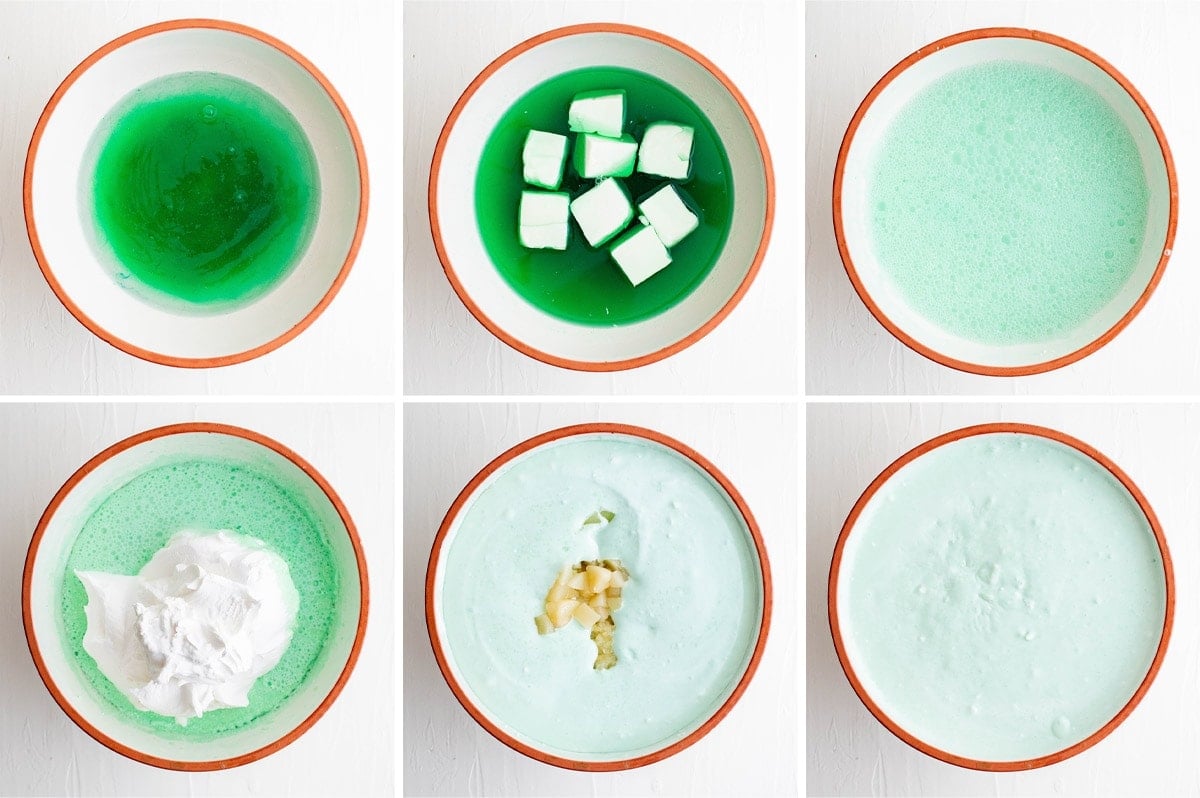 Chill again. Put the casserole dish into the fridge for about 3 hours until the salad is set. At this point, you can cover the dish with plastic wrap and store it until you're ready to serve.
Serve. Take the jello salad out of the fridge and serve it up just like it is, or top it with dollops of whipped topping and a few cherries. The cherries must be rinsed and dried well before placing them. Otherwise, the cherry juice will bleed all over your pretty salad.
Recipe Variations
There are so many possibilities with jello salad. Various jello flavors, different fruits to be added, toppings.
Fruits: pears, pineapple, mangos, kiwi, cherries, strawberries, fruit cocktails, and many, many more. One of the best, and most common, combinations for lime jello salad is the pineapple and pears.
Jello: there are different flavors of jello that don't just look colorful, but they taste delicious. One of the most popular is the lime jello, but other flavors like cherry, blueberry, strawberry, raspberry, mango, margarita, orange can also be used.
Toppings: chopped pecans or walnuts add some great crunch. They are optional, so you can add those inside the salad or, even better, sprinkle on top of the whipped cream.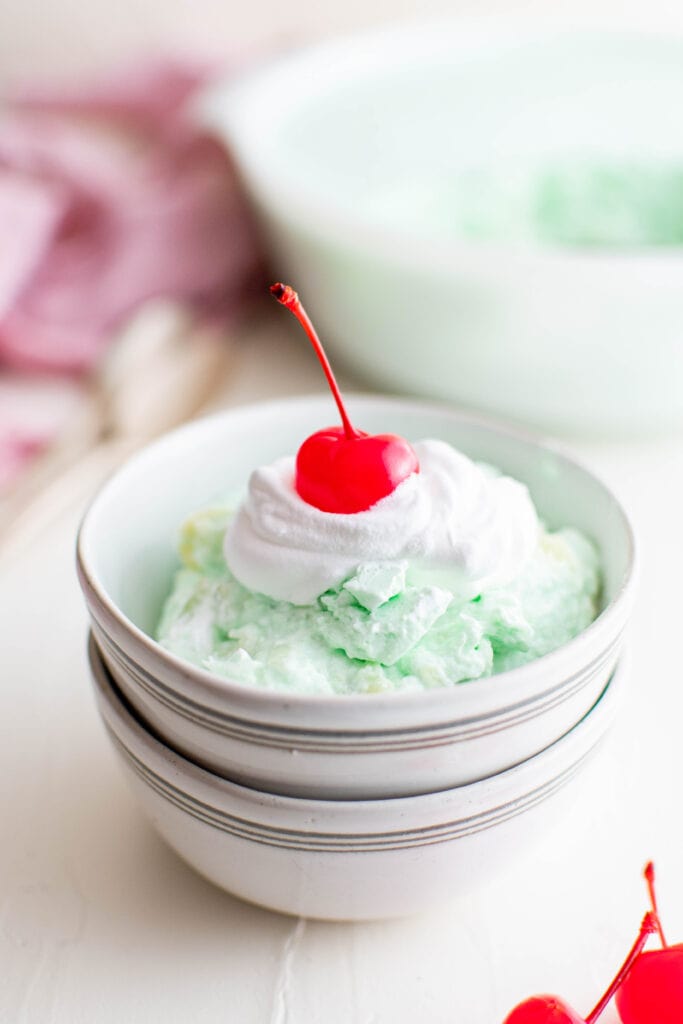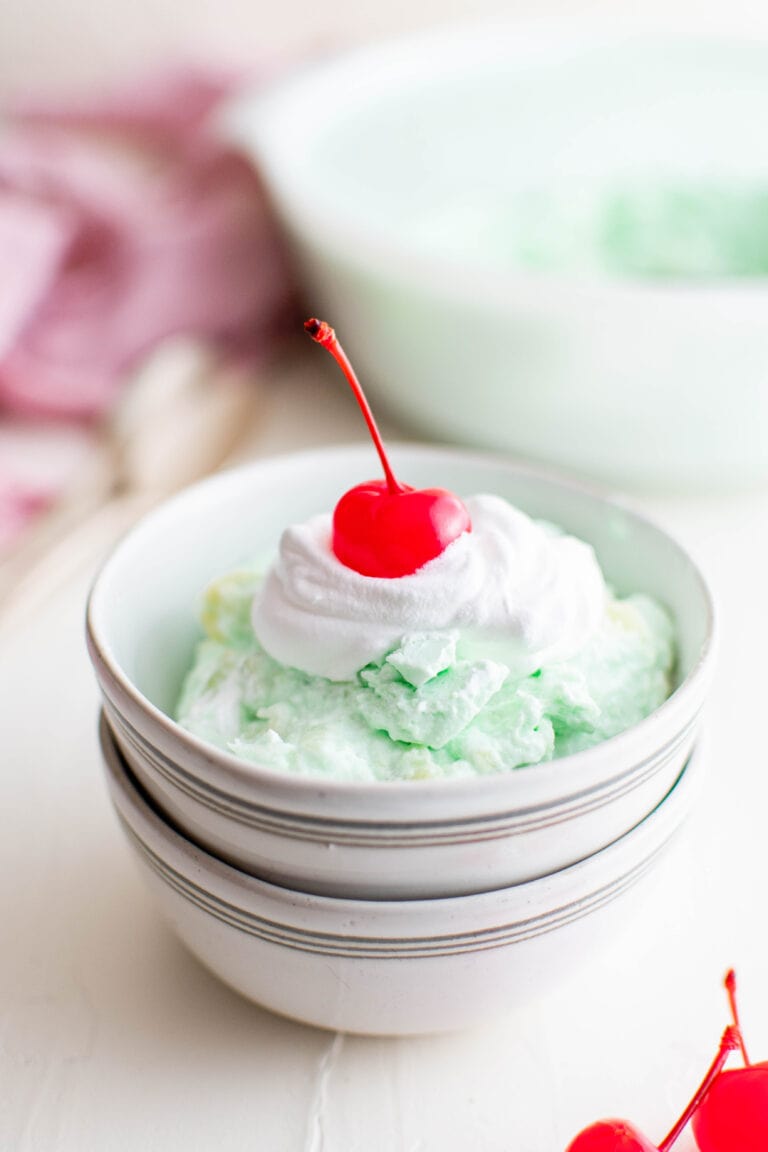 FAQs
What are the best fruits to add to Jello Salad?
Canned fruits are best for jello salad because they are already soft and easy to bite into and chew. Just make sure that the fruit is really well drained before adding it to the salad, otherwise you could end up with too much liquid.
What is Green Jello Salad?
Jello Salad became popular back in the 1960s and today is considered "vintage" or "retro." It's a salad made with gelatin, fruit, and occasionally vegetables like grated carrots. It often includes a creamy element, like cottage cheese, cream cheese or Cool Whip.

Some jello salads, like my recipe for Strawberry Pretzel Salad, have crunchy elements like nuts or pretzels, too. Lime jello, which is the green in our green jello salad, is one of the most popular flavors.
Expert Tips
The gelatin needs some time to set up, so give it at least 3 hours in the refrigerator before serving and adding any toppings.

Green Jello salad can be made up to 24 hours ahead of time for family gatherings and potlucks.

Store in the fridge in a covered dish or covered with plastic wrap.

I recommend using it up within a 2-3 of days for optimal freshness.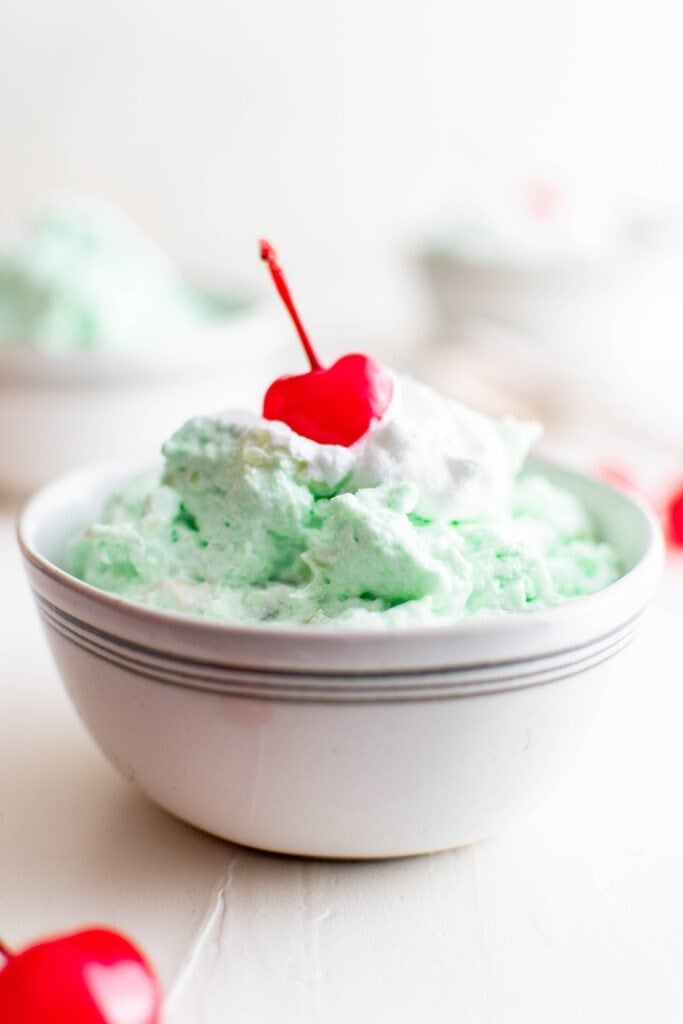 More Potluck Salad Favorites
Recipe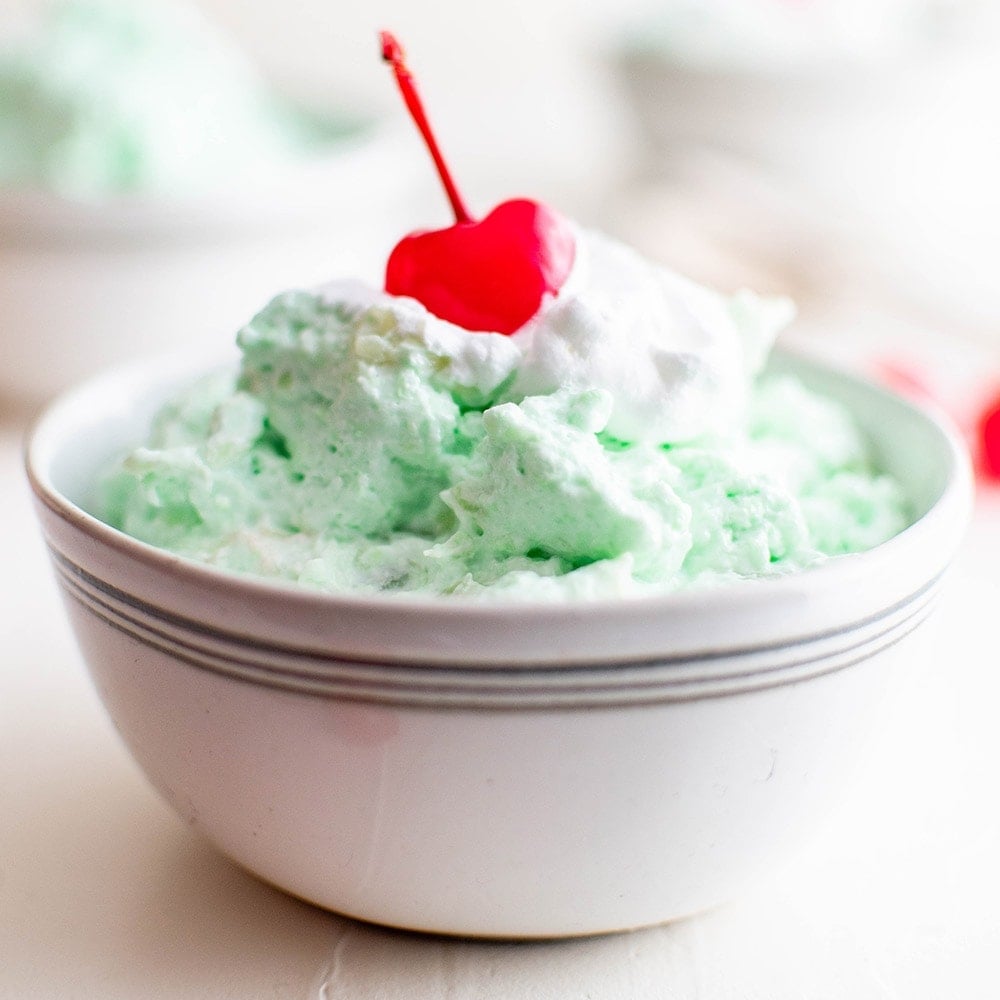 Green Jello Salad
Jello Salad is a vintage recipe that's part side dish & part dessert. This Green Jello Salad is deliciously creamy and perfect for sharing with friends!
Total Time
4

hours
10

minutes
Ingredients
10

ounces

crushed pineapple

drained

15

ounces

pear halves

drained

6

ounces

lime gelatin mix

2

cups

boiling water

8

ounces

cream cheese

softened

8

ounces

whipped topping

thawed

Whipped topping

for garnish

Maraschino cherries

rinsed & dried, for garnish
Instructions
Drain pineapple making sure to remove as much moisture as possible. Set aside. Drain pears and cut into small pieces. Set aside.

In a large mixing bowl, whisk together gelatin and boiling water until the gelatin mix dissolves.

Add cream cheese to the bowl, and use a hand mixer to blend the jello and cream cheese together until completely combined. Be careful! The jello is HOT. There will be lots of bubbles on top, that's okay.

Place mixing bowl in the fridge for 1 hour.

After jello has cooled, remove the bowl from the fridge. If the jello has started to set around the edges, use a whisk to mix everything up.

Add whipped topping to the jello and whisk until combined and smooth.

Fold the pineapple and pears into the jello mixture.

Pour the jello salad into a 2-quart casserole dish. Transfer to the fridge and chill for 3 hours, or until set.

Remove salad from the fridge and serve as is or top with dollops of whipped topping and cherries.
Notes
You can also use whipped cream to garnish your salad, but it will start to breakdown quickly due to the gelatin.
Nutrition
Calories:
166
kcal
Carbohydrates:
26
g
Protein:
3
g
Fat:
7
g
Saturated Fat:
4
g
Cholesterol:
24
mg
Sodium:
146
mg
Potassium:
76
mg
Fiber:
1
g
Sugar:
23
g
Vitamin A:
299
IU
Vitamin C:
2
mg
Calcium:
44
mg
Iron:
1
mg