This Creamy Grape Salad with walnuts is is creamy and sweet and the perfect side dish or dessert for picnics, potlucks and parties.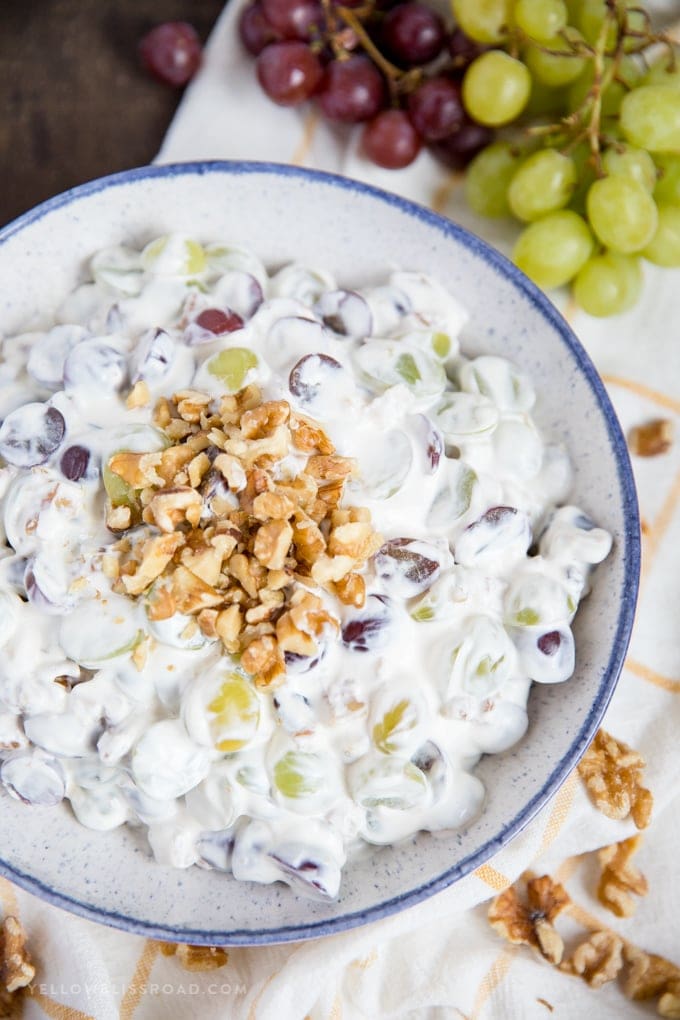 I don't know who originally created the grape salad, but I am so glad they did. It feels like a Midwestern Lutheran basement potluck kind of dish, total comfort food, that sits right between the tater tot hotdish and the jello salad.
I love finding new ways to get my kids to eat fruit, and coating these crisp, juicy grapes in a creamy sweet dressing and tossing in some crunchy walnuts is just heavenly. Now, we could get into the whole "salad versus dessert" debate as people often do when talking about salads such as this (like the big Twix Salad debate of 2016), but let's not. Let's just say a salad is a salad whether it's sweet or sour or savory. Vegetables or fruit…does it really matter? I don't think so.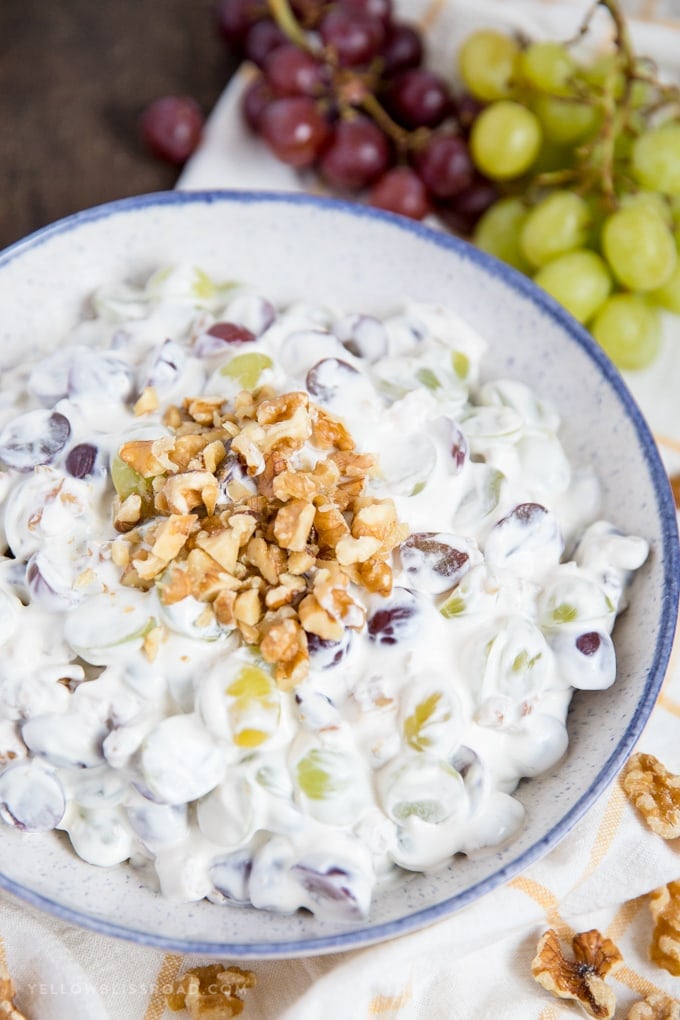 How to Make Creamy Grape Salad with Walnuts
This sweet salad side dish couldn't be simpler. Softened cream cheese is combined with Greek Yogurt (or sour cream or another flavored yogurt) and some brow sugar for sweetness. I added a pinch of salt (just a little pinch) to help balance the sweetness, and added my favorite walnuts for crunch.
I've seen a lot of grape salad recipes in my research and most call for pecans and A LOT of brown sugar. Like, twice a whole cup of brown sugar between the dressing and the topping. I cut that down to less than half and it's still sweet and delicious. I mean, grapes are nature's candy right? So they are plenty sweet on their own.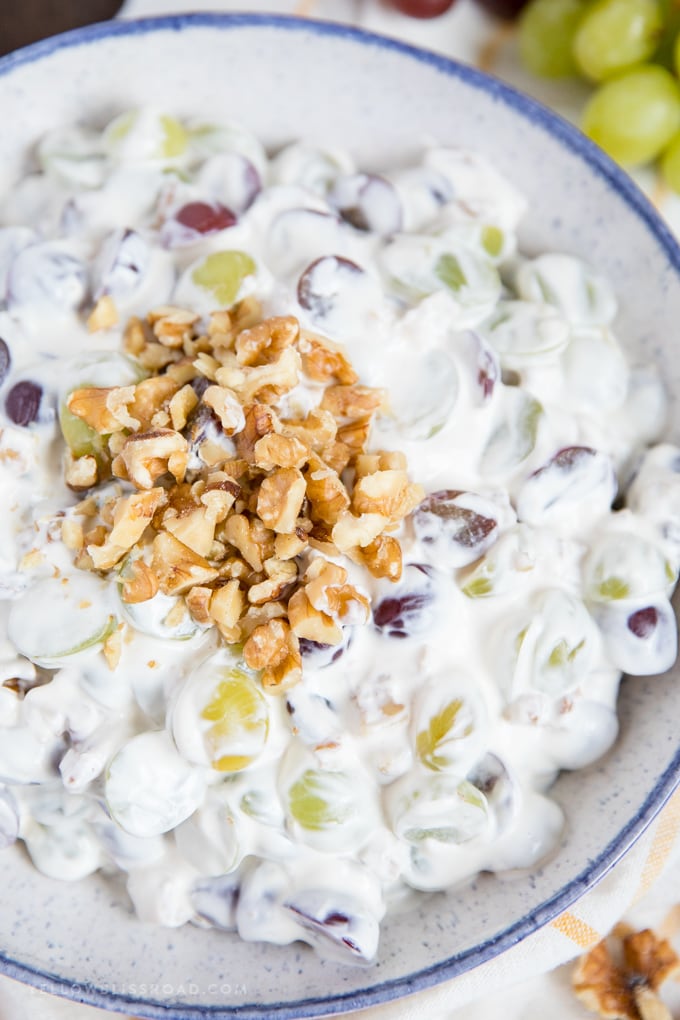 This creamy grape salad is best chilled, and if you can chill it over night, then all the better. It's cool and refreshing, so it's perfect for those warm spring and summer months when pool parties and backyard barbecues are in full swing.
Try it alongside my Spice Rubbed Grilled Tri-Tip and my Easy Vegetable Pasta Salad.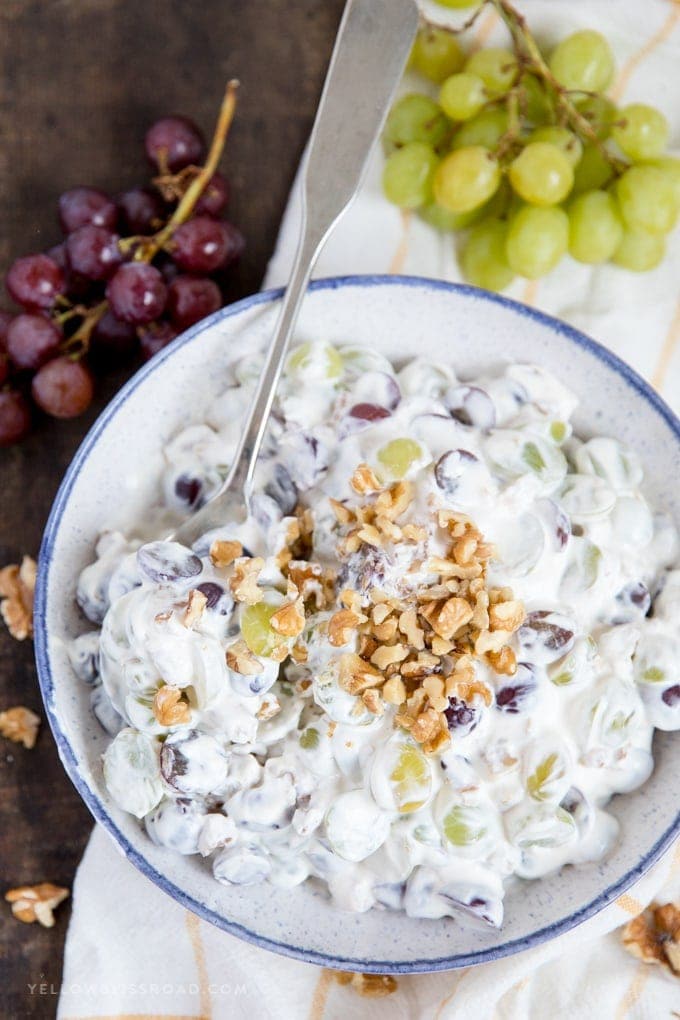 For more easy and refreshing side dishes, try these:
And for more recipes with walnuts, check these out:
Creamy Grape Salad Recipe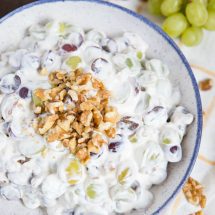 Creamy Grape Salad
This Creamy Grape Salad with walnuts is is creamy and sweet and the perfect side dish or dessert for picnics, potlucks and parties.
Print
Pin
Rate
Prep Time: 15 minutes
Total Time: 45 minutes
Servings: 10
Calories: 246kcal
Ingredients
5 cups grapes red and green, sliced in half
8- ounces cream cheese softened
1 cup plain Greek yogurt or sour cream
1/3 cup brown sugar or more to taste
1 teaspoon vanilla extract
pinch of salt
1 cup walnuts chopped, plus a handful for garnish
Instructions
In a large bowl, beat cream cheese until smooth.

Add sour cream, brown sugar, vanilla and a pinch of salt. Beat until well combined and smooth.

Gently fold in grapes and walnuts and stir to coat completely.

Top with additional chopped walnuts for garnish, if desired.

Chill for at least 30 minutes, or up to overnight. Store in a tightly sealed container in the refrigerator for up to 3 days.
Nutrition
Serving: 0.5cup | Calories: 246kcal | Carbohydrates: 24g | Protein: 5g | Fat: 15g | Saturated Fat: 5g | Cholesterol: 25mg | Sodium: 83mg | Potassium: 265mg | Fiber: 1g | Sugar: 20g | Vitamin A: 355IU | Vitamin C: 2.6mg | Calcium: 69mg | Iron: 0.8mg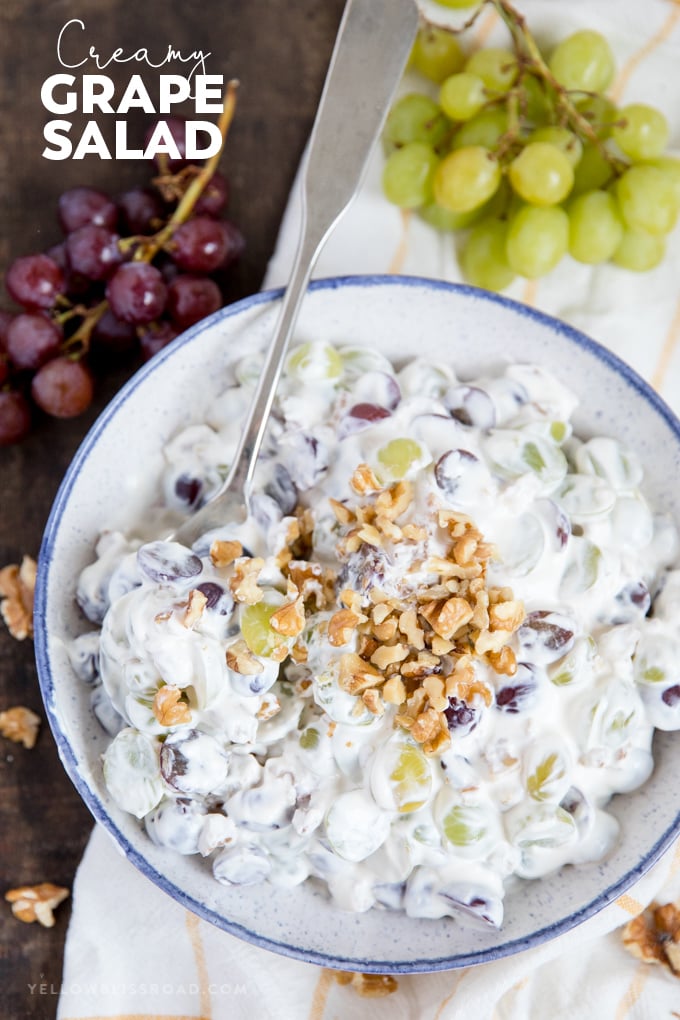 Hi! I'm Kristin, the creative mind behind Yellow Bliss Road where you will be inspired by tons of easy to follow recipes, lots of free printables, and a little sprinkling of life thrown in for good measure.