These Churros Walnuts taste just like your favorite fried dessert! They are perfect for on the go snacking this summer! (Thanks to California Walnuts for sponsoring this post).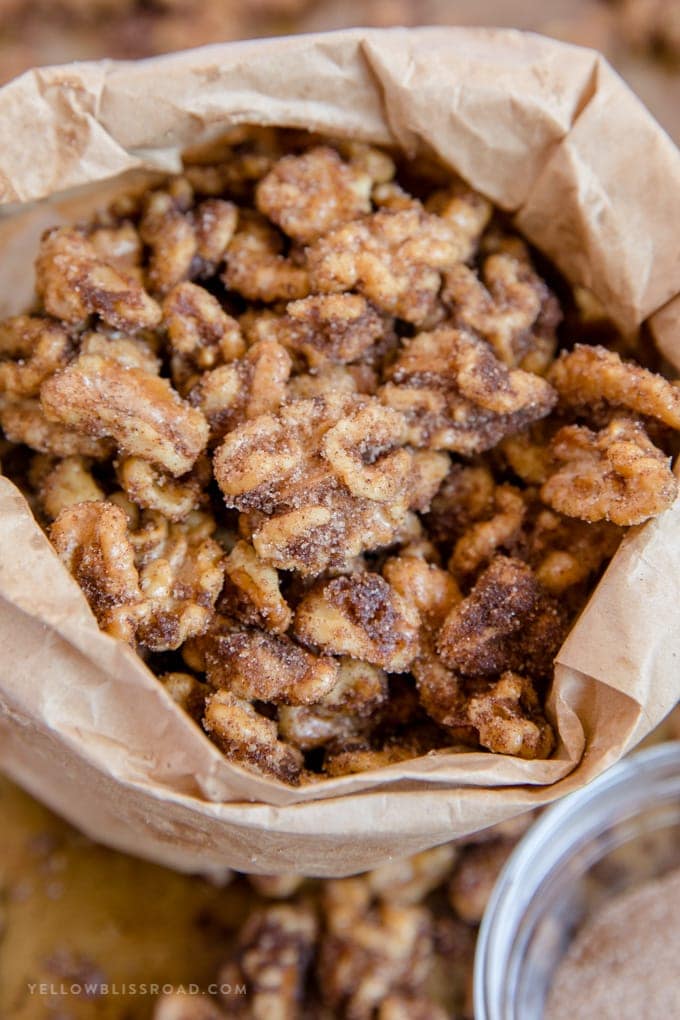 Cinnamon + Sugar is a warm, sweet and totally addictive concoction and whoever came up with it is a pure genius. I mean Snickerdoodles, toast, fried dough (aka Churros), you name it!
I remember as a kid we always had this little jar of cinnamon and sugar mixed together. I absolutely loved sprinkling it on my toast with butter or just licking my finger and sprinkling it on. Don't judge. My daughter is exactly the same way so when I made these Churros Walnuts baked in a buttery cinnamon sugar coating she was all over it!
My kids typically only get Churros at Disneyland, but we still crave that flavor pretty much on a daily basis. I was trying to come up with a yummy snack that we could take with us on road trips this summer and these Churros Walnuts were born.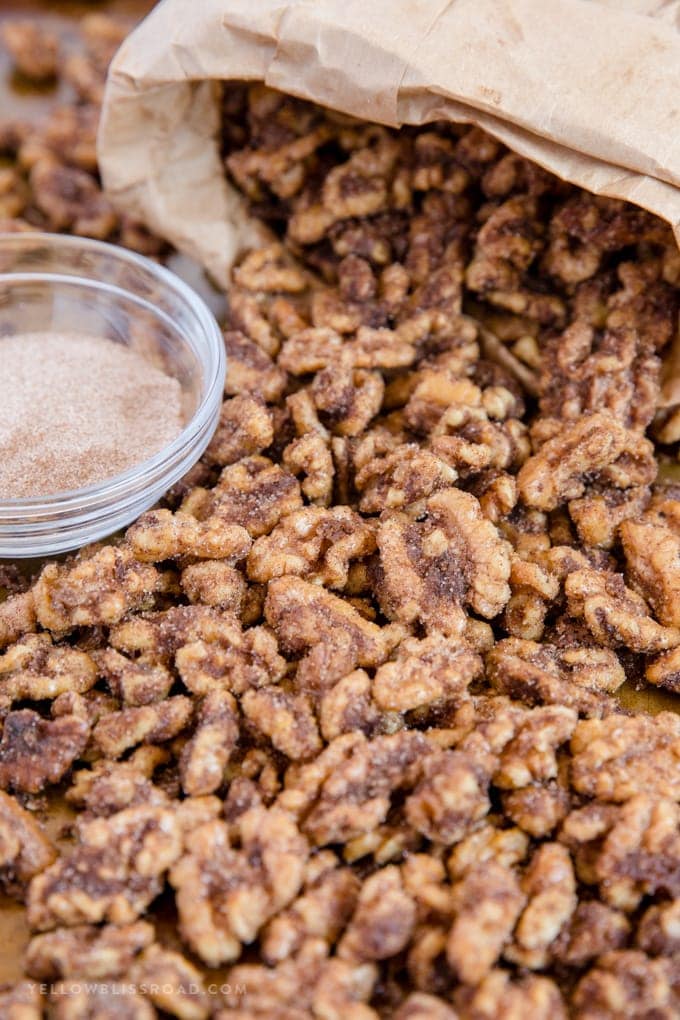 How to Make Churros Walnuts
Well of course you'll want to start with some delicious California Walnuts. Try to pick out the biggest pieces in the bag and avoid the really broken ones, although they will work just fine.
Put the walnuts in a large bowl and coat them with some butter. This is going to help the cinnamon sugar stick to the nuts. Then grab that jar of cinnamon sugar (or make your own right now) and sprinkle it over those walnuts. Stir with a silicone spatula so the sugar and butter sticks to the walnuts and not the spoon.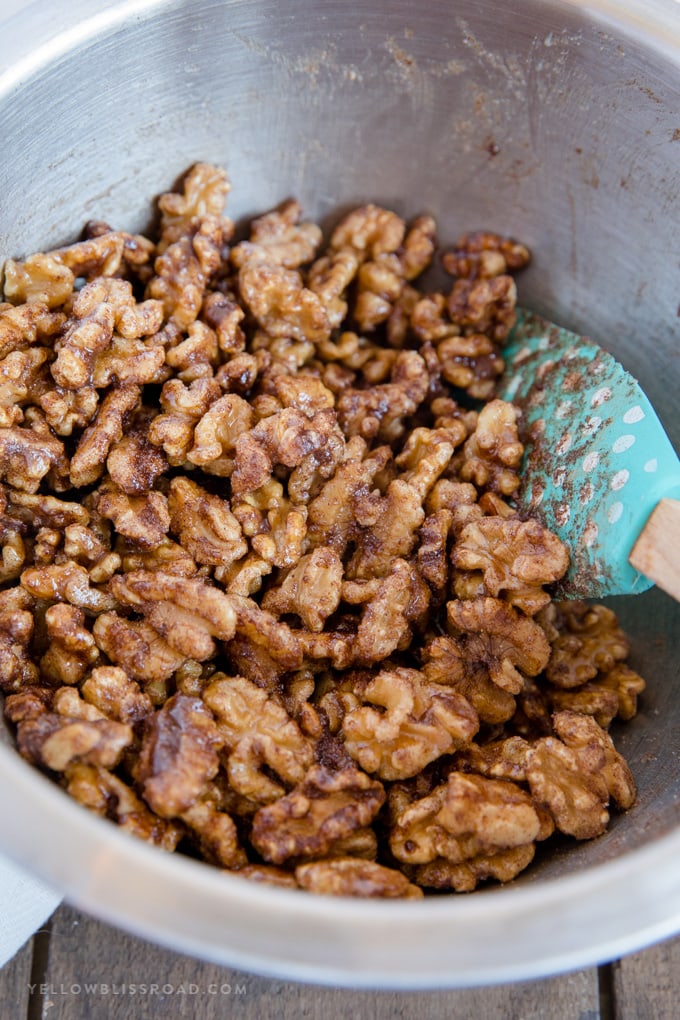 Spread the Churros Walnuts evenly onto a silicone baking mat (aff) covered baking sheet. Why silicone? It's going to ensure that the nuts don't stick and make it really easy to stir them up during baking. As the walnuts bake, the sugar will crystallize and form a delicious Churros like coating.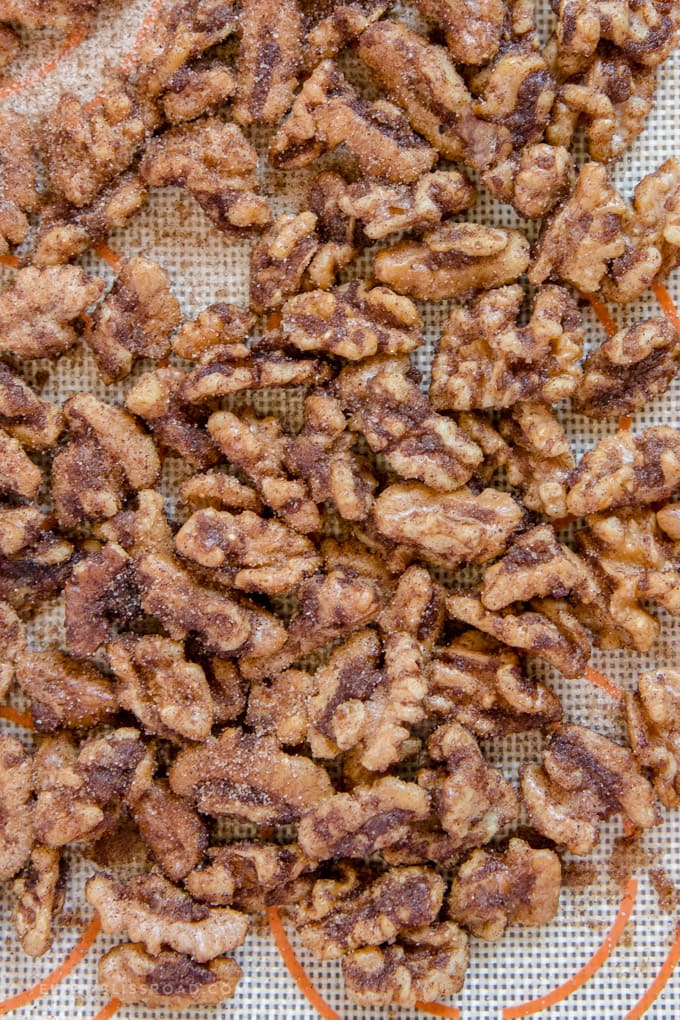 You can see why these Churros Walnuts are a perfect grab and go snack! Walnuts have a high fat content, but it's the good fat that your body needs – the unsaturated fats – which makes walnuts an excellent choice for snacking! And of course the cinnamon sugar coating makes them even tastier!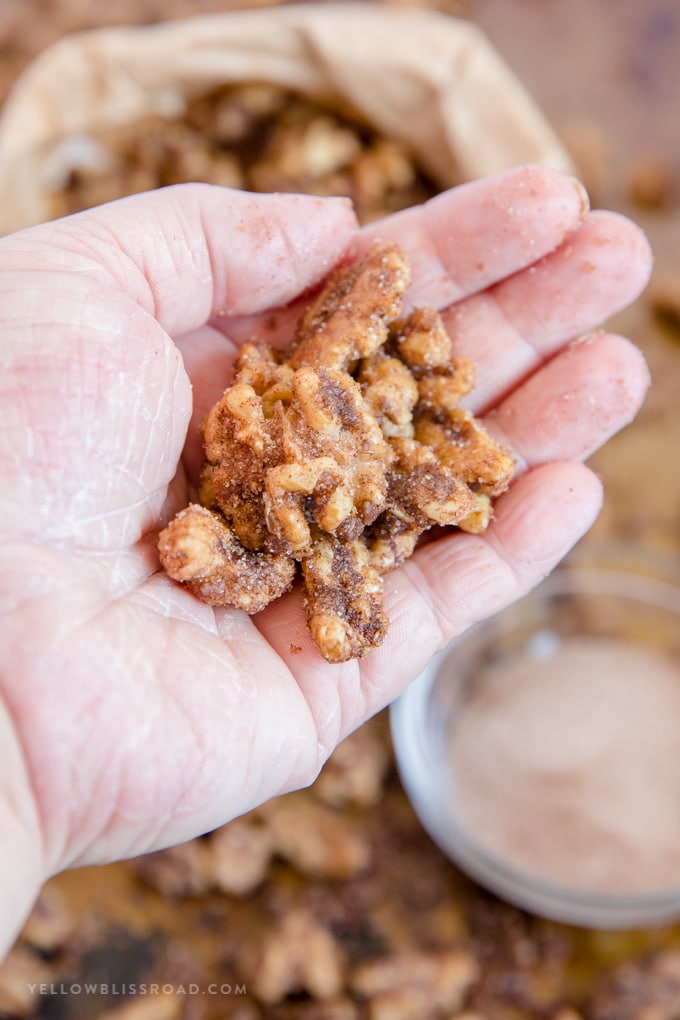 For more walnut recipes, try these:
Walnut Basil Pesto Recipe
Recipe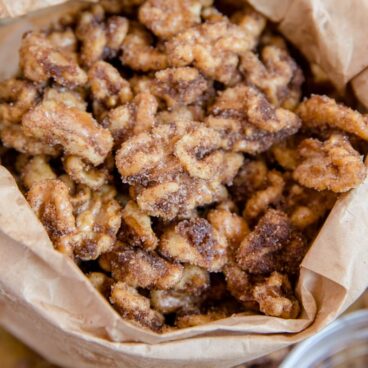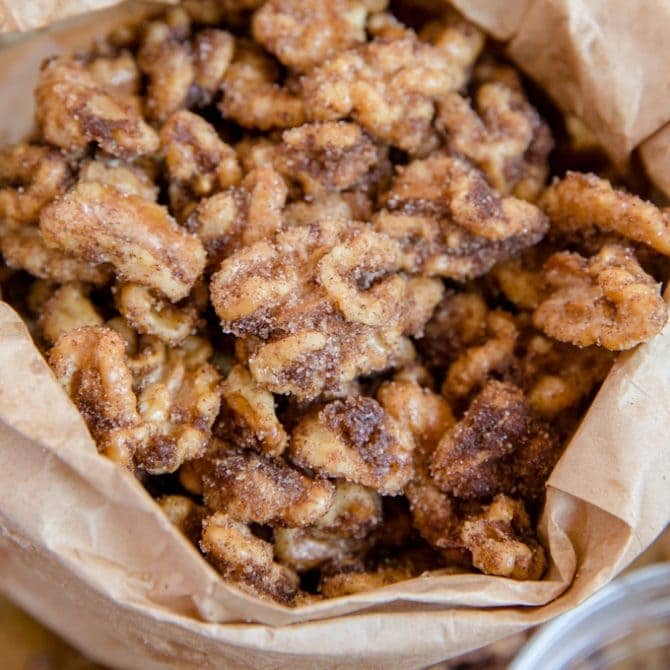 Churros Walnuts
These Churros Walnuts taste just like your favorite fried dessert! They are perfect for on the go snacking this summer!
Ingredients
4

cups

walnut pieces

mostly halves is preferable

4

tablespoon

melted butter

2

tablespoon

granulated sugar

2

teaspoon

ground cinnamon

Pinch

of kosher salt
Instructions
Preheat oven to 300 degrees F. Line a large baking sheet with foil, parchment paper or a silicone baking mat.

Pour walnuts into a large bowl, then toss with the melted butter to coat.

In a small bowl, whisk together cinnamon, sugar and a pinch of salt then sprinkle half over the walnuts and toss to coat. Repeat with the remaining cinnamon sugar mixture.

Spread walnuts in an even layer on the prepared baking sheet.

Bake in the preheated 300 degree oven for 20 minutes, stirring once about halfway through. Keep an eye on them, especially during the last 5 minutes so they don't burn.

Cool completely and enjoy!

Once cooled, store in an airtight container for up to 1 week; 2 weeks in the refrigerator.
Notes
Make sure and use a silicone baking mat so you can easily remove the finished walnuts from the pan.
Nutrition
Serving:
0.25
cup
Calories:
165
kcal