Bake the best Snickerdoodles at home! Follow our simple and delicious Snickerdoodle cookie recipe for the classic sweet, cinnamon-sugar treat.
Tender, soft and chewy with cinnamon inside and a crispy cinnamon sugar coating – this will be your new go-to recipe!
Give me a fresh from the oven Peanut Blossom or Chocolate Crinkle Cookie and I'm in heaven, but there's just something about a Snickerdoodle that hits different.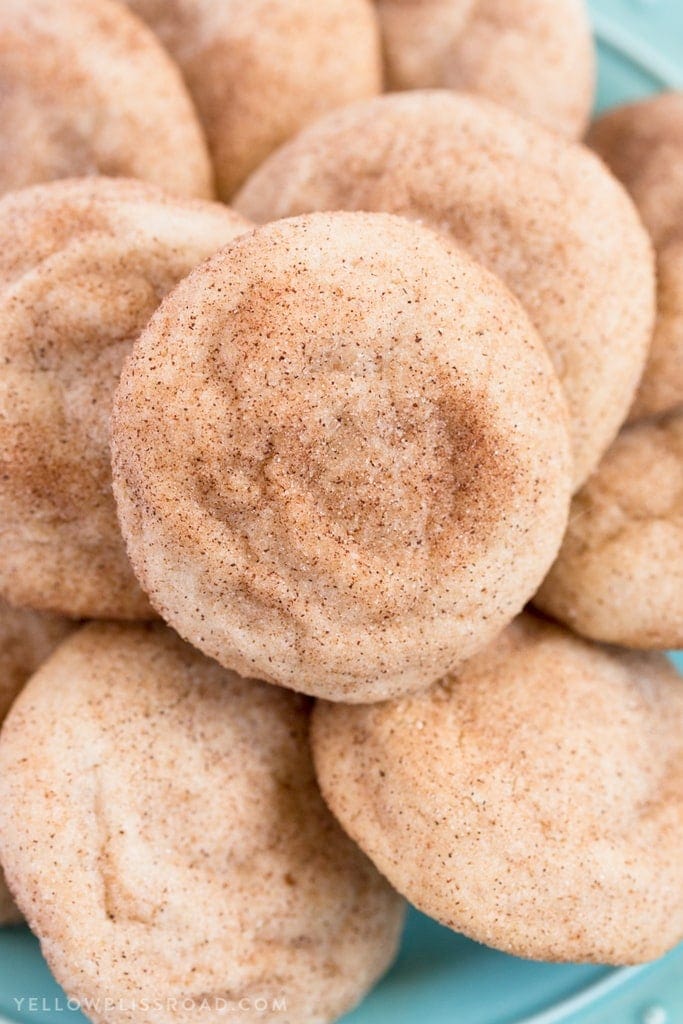 Pin this recipe for later!
Why You'll Love These Snickerdoodle Cookies
The beloved, classic Snickerdoodle cookie recipe is a warm, inviting treat that's not just for holidays but a comfort all year round.
Signature crackled surface – As they bake, the sugared coating melts a little into the cookie, forming a crackled exterior.
Cream of tartar – Snickerdoodles have a unique ingredient that sets them apart: cream of tartar. This ingredient not only imparts a distinctive tangy flavor but also contributes to the cookie's soft, chewy texture.
Cinnamon sugar coating – Then there's that delicious contrast of the sugary, cinnamon-spiced exterior for a cookie that's a standout in taste and texture.
How to Make The Best Snickerdoodles
In one bowl: Cream together butter and sugar then add eggs and vanilla.
In another bowl: Whisk together flour, salt, cream of tartar, baking soda, and cinnamon.
Make the dough: Mix the wet and dry ingredients together into a soft dough.
Roll dough: Use a cookie scoop and form balls of dough about 2 tablespoons in size. Roll the balls in cinnamon sugar.
Bake: Preheat your oven to 375℉ and bake the cookies for 10-12 minutes.
Cream of Tartar Substitute
Cream of tartar is crucial for the signature tanginess, but in a pinch, you can substitute it with lemon juice or white vinegar.
If you don't have the cream of tartar on hand, you can replace bother the cream of tartar and baking soda with 2 teaspoons of baking powder.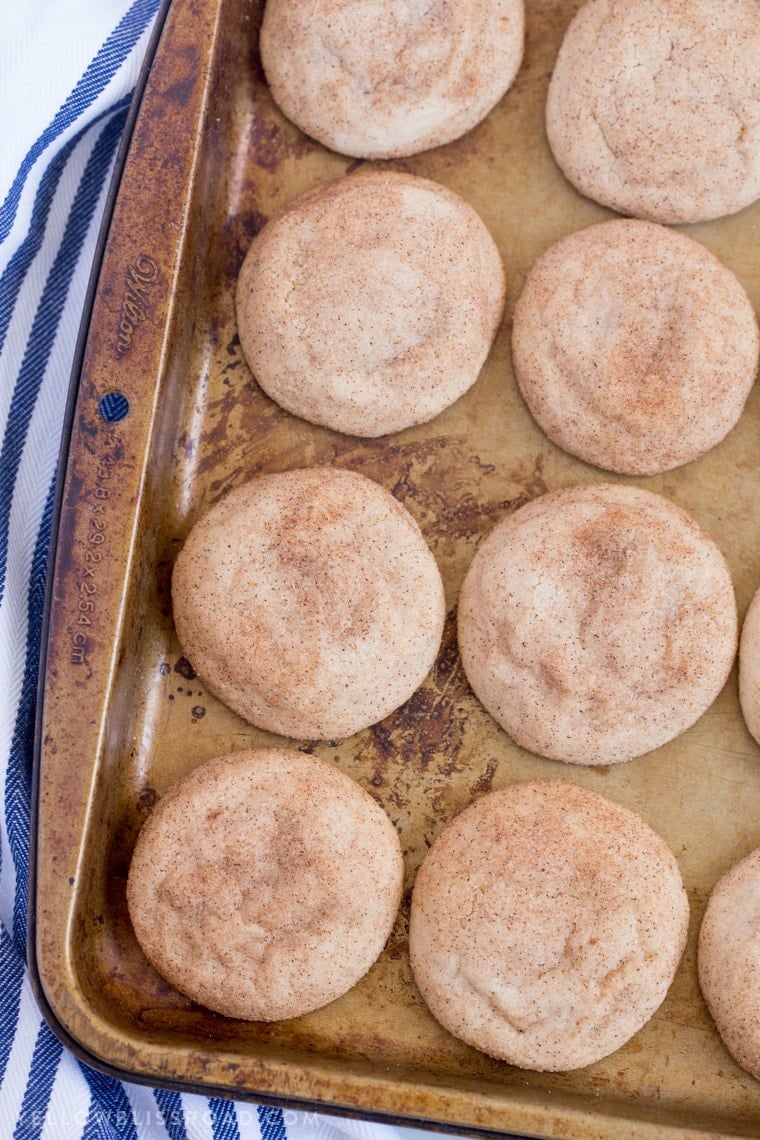 FAQs
How does the Snickerdoodle cookie recipe differ from other cookie recipes?
Snickerdoodle cookies typically use cream of tartar, which gives them their unique, slightly tangy flavor and chewy texture.
How do I store the cookies to keep them fresh?
Store Snickerdoodles in an airtight container at room temperature. They should stay fresh for about a week.
Can I freeze the dough for later use?
Yes, you can freeze the dough. Make sure to wrap it tightly in plastic wrap and seal it in a freezer bag.
Why aren't my cookies soft?
This issue is usually due to overbaking. Since ovens can vary, you may have to play around with the timing. Start with underbaking a little, then let the cookies sit on the baking sheet for a few minutes before transferring to a cooling rack.
How do I know when the cookies are done?
Perfectly cooked Snickerdoodles will be golden around the edges and soft and chewy in the center.
Expert Tips
Cream together the butter and sugar for 4-5 minutes. You want to make sure that the mixture is light, fluffy and airy.
Use room temperature ingredients. When the eggs are the same temperature as everything else, they blend better and tend to have a better rise.
Chill the dough. If your cookies are too flat or spreading when they bake, the dough may be too warm. Chill the dough before baking to prevent the cookies from spreading too much.
Don't transfer right away. Let the cookies cool on the baking sheet for a few minutes before moving them to a cooling rack.
Leave space between cookies. Make sure to evenly space the cookies on the baking sheet to allow for even baking.
Use a cookie scoop to ensure all your cookies are the same size and bake evenly.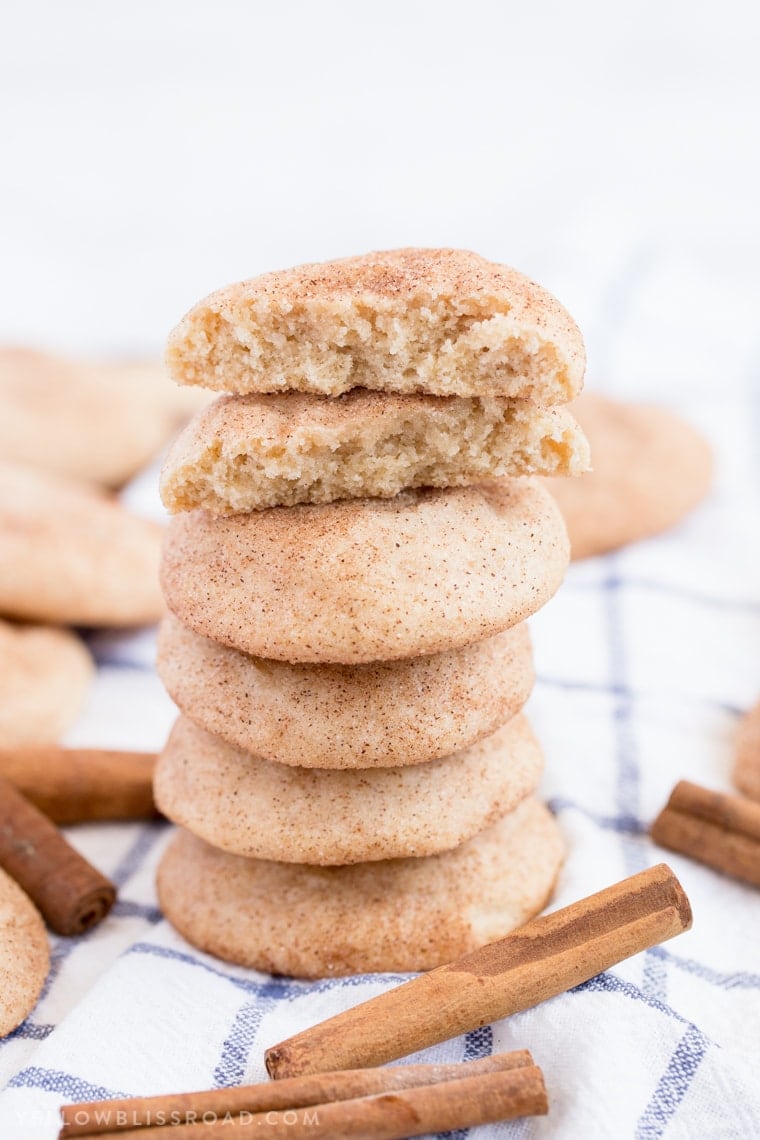 More Cookie Recipes
Recipe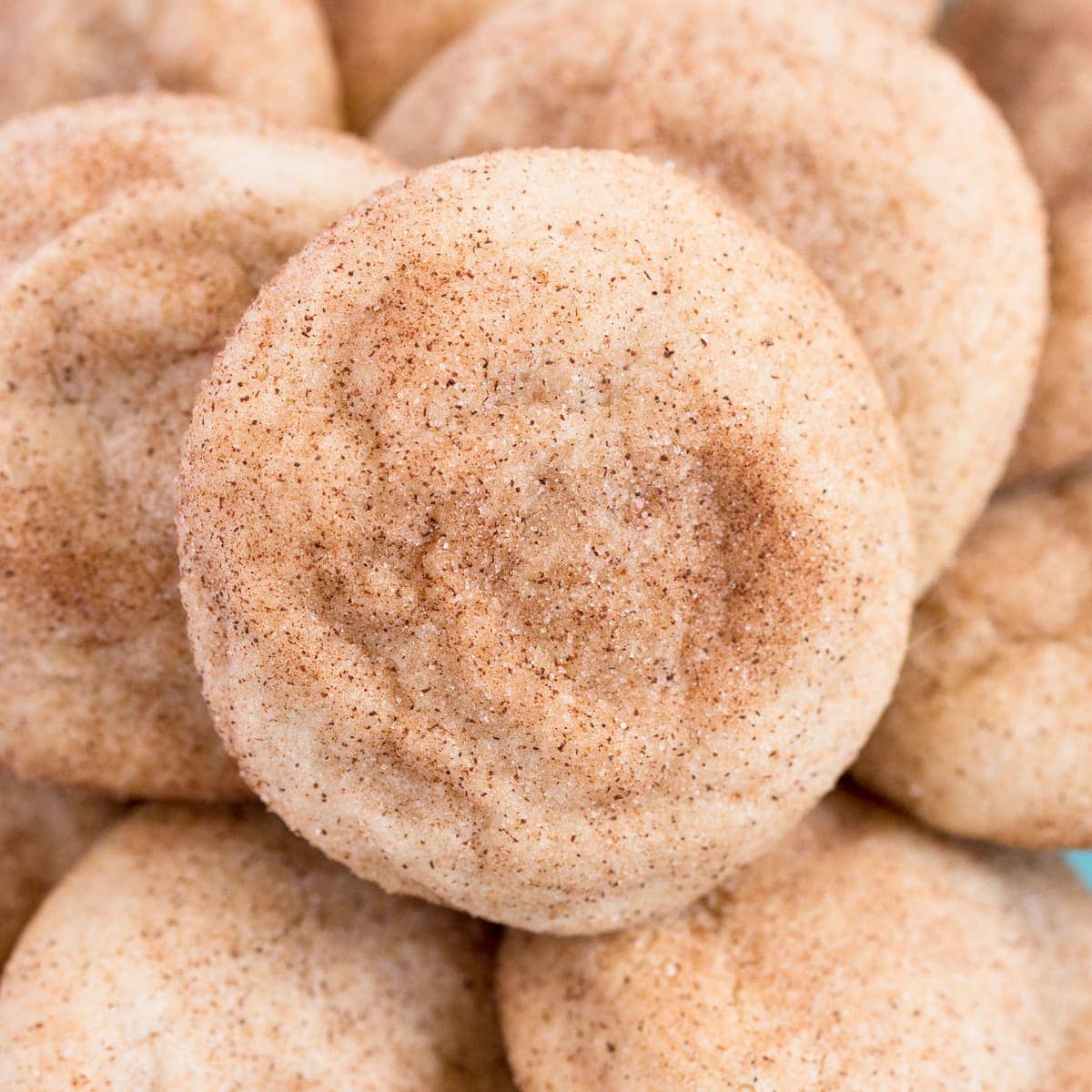 Best Ever Snickerdoodle Cookies
The best Snickerdoodles baked at home! Follow our simple and delicious Snickerdoodle cookie recipe for the classic sweet, cinnamon treat.
Ingredients
Cookies
1/2

cup

butter

1 stick, softened

1

cup

granulated sugar

1

egg

1

teaspoon

vanilla

1 3/4

cup

flour

1/4

teaspoon

salt

1

teaspoon

cream of tartar

1/2

teaspoon

baking soda

1 1/2

teaspoons

cinnamon
For Rolling:
1/4

cup

granulated sugar

1

tablespoon

cinnamon
Instructions
Preheat the oven to 375 degrees F.

In a large bowl cream together the butter and 1 cup of sugar. Add egg and vanilla and beat until blended.

In a separate bowl, sift together the flour, salt, cream of tartar, baking soda, and cinnamon. Add to the wet ingredients and mix well until a nice dough forms.

Mix ¼ cup sugar and 1 tablespoon cinnamon together in a shallow dish (like a pie plate) and set aside.

Divide dough and roll into balls about 1.5-2 tablespoons in size. (Using a medium cookie scoop is very helpful for this). Roll into a ball and then roll in the cinnamon sugar mixture to coat. Place on an ungreased cookie sheet about 2 inches apart.

Bake for 10-12 minutes. Cool on cookie sheets for a few minutes, then transfer to a cooling rack to cook completely.

Store cooled cookies in a tightly sealed container for up to one week.
Notes
These cookies freeze beautifully. Let cool completely on a wire rack before storing in a bag or airtight container.
Yes, this recipe has been updated slightly to a more traditional one. Instead of baking powder, it now uses baking soda and that signature ingredient, cream of tartar. I know that many of you loved the cookies as they were, and you can still make them that way. Simply omit the cream of tartar and use ½ teaspoon baking powder in place of the soda.
Nutrition
Calories:
111
kcal
Carbohydrates:
18
g
Protein:
1
g
Fat:
4
g
Saturated Fat:
3
g
Polyunsaturated Fat:
1
g
Monounsaturated Fat:
1
g
Trans Fat:
1
g
Cholesterol:
17
mg
Sodium:
66
mg
Potassium:
16
mg
Fiber:
1
g
Sugar:
10
g
Vitamin A:
129
IU
Vitamin C:
1
mg
Calcium:
13
mg
Iron:
1
mg