The Best Oatmeal Raisin Cookies just can't be beat! My Oatmeal Raisin Cookie recipe is just like grandma used to make, and so soft and chewy, you'll be begging for more.
We are big fans of cookies around our house, always have some of my Oatmeal Peanut Butter Cookies, Cheesecake Cookies or these Oatmeal Raisin Cookies on hand. The grab and go quality is perfect for when that sweet tooth strikes.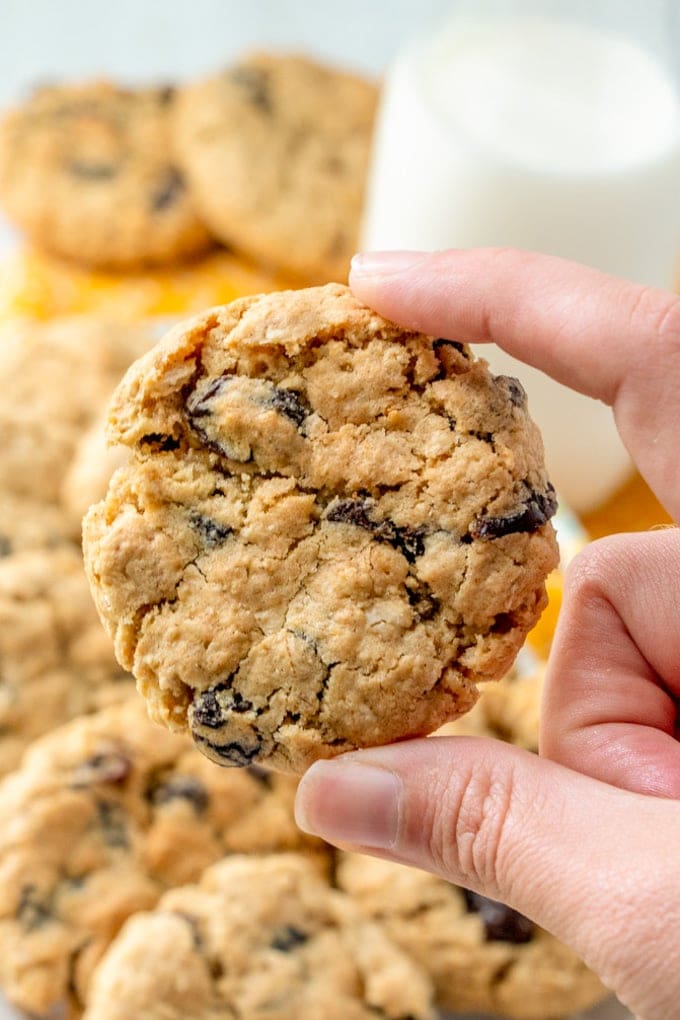 OATMEAL RAISIN COOKIE RECIPE
When I was growing up, my mom never made chocolate chip cookies. It's true. I was deprived. But she did make oatmeal raisin cookies–with half the sugar. So I was still deprived. When you eat THESE Oatmeal Raisin Cookies, you will not feel deprived at all. You will feel like you just went to your grandma's house and got the good cookies that your mom wouldn't let you have.
I love how soft and chewy these cookies are. Don't you just love to slowly bend a cookie and watch it break apart, crumb by crumb? You can do that all day long with these Oatmeal Raisin Cookies.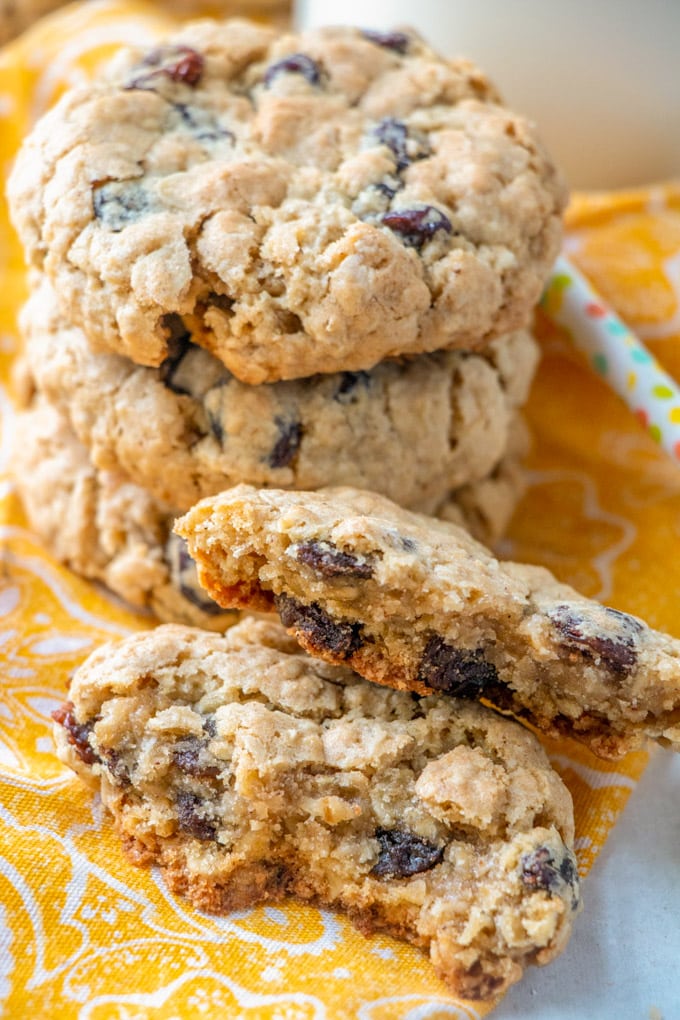 WHAT MAKES A COOKIE CHEWY?
A high moisture content give a cookie that intensely chewy texture. The recipe, baking time and temperature will affect the moisture content and evaporation so they may need to be adjusted. Butter and brown sugar have a higher water content and therefore can aid in the soft and chewy texture you want. More flour will help to keep the dough stiffer and not as spreadable. Using larger dollops of dough can also make a difference.
Most importantly, do not over bake your Oatmeal Raisin Cookies. They should be golden brown around the outer edges, with at least 1/3 of the center still pale, appearing almost under-baked. Once cooled the edges will be just slightly crisp and the center will be soft and chewy.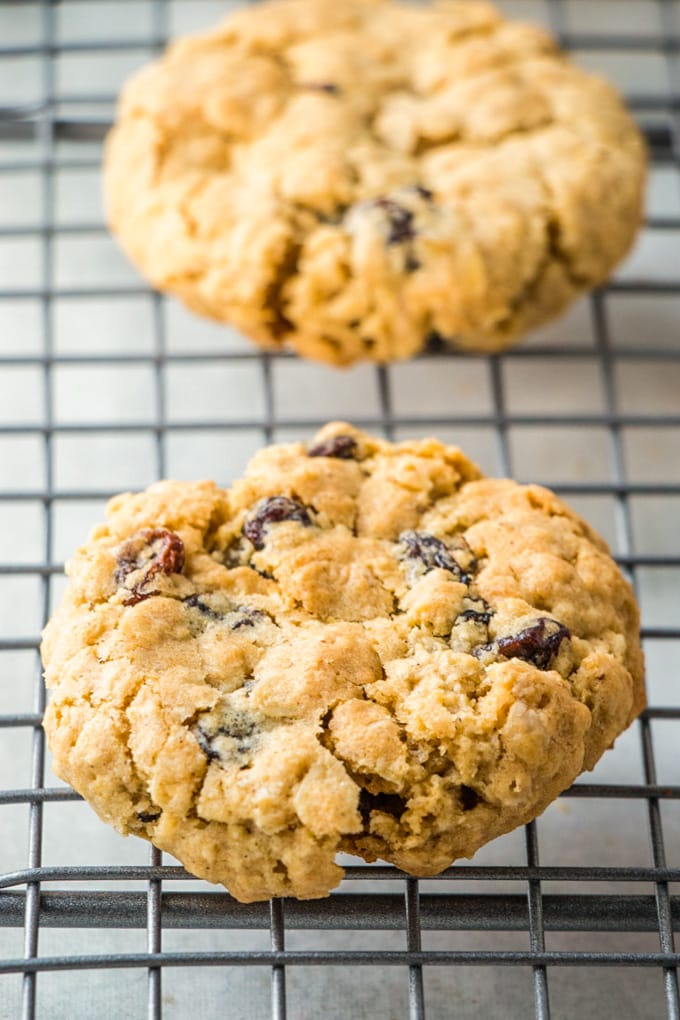 HOW TO MAKE THE BEST OATMEAL RAISIN COOKIES
To make this easy Oatmeal Raisin Cookie recipe, you will need your standard cookie ingredients. There's no need to go get anything special here because I'm sure you already have everything you need in your kitchen.
First, beat the butter by itself until it gets a little fluffy. This will take about two minutes. (Use a hand beater or stand mixer, unless you need the exercise in one of your arms).
Then add granulated sugar and brown sugar and beat some more until everything is light and fluffy.
Add two eggs and 1 teaspoon of vanilla and beat again. (There is a lot of beating going on here to make these Oatmeal Raisin Cookies!)
Now here, most recipes say to mix the dry ingredients in a separate bowl and then add them to the wet ingredients. I never do this. Why? Is it because I'm lazy? Well, yes. But it's also because there's another method that works equally well and doesn't dirty another bowl. All you do is add 1/3 to 1/2 of the total flour in the recipe to the butter/sugar mixture, and then dump all the other dry ingredients on top of it (like the salt and baking soda). Mix this all in, and then add the remaining flour and mix. This method has never failed me.
Stir in your oats and raisins, and you are ready to bake!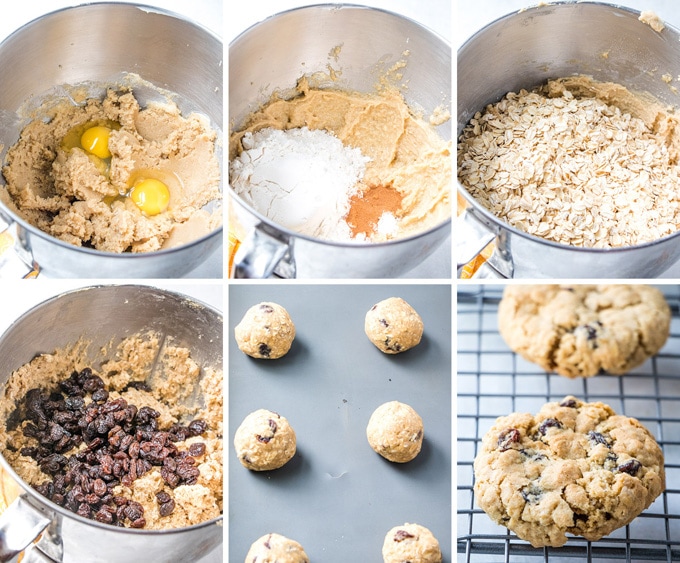 OATMEAL RAISIN COOKIE RECIPE TIPS
I like to use a large cookie scoop so I can get cookies of uniform size.
I also highly recommend silicone baking mats for these (and all) cookies. I also really like to use baking stones. However, keep in mind that baking time will be longer with stoneware, and the cookies may look different. Sometimes with this Oatmeal Raisin Cookie recipe, I will make a batch on both silicone mats on a cookie sheet, and another batch on stoneware, and see which I like better.
Once all your cookies are scooped and placed, it's time to bake in a 350 degree oven for about 12 minutes. Just watch for the edges to barely get brown, and then remove the cookies. The centers will not look baked, but that's okay. We want the cookies to be chewy, and under baking the centers gives us that lovely texture that we adore in cookies. Plus, once removed from the oven, you let them sit on the pan for about another 10 minutes before transferring them to a wire rack to cool. This gives them a little bit of extra time to firm up.
As a final note, if you don't happen to like raisins, you can use chocolate chips or cranberries instead. I promise won't tell anyone!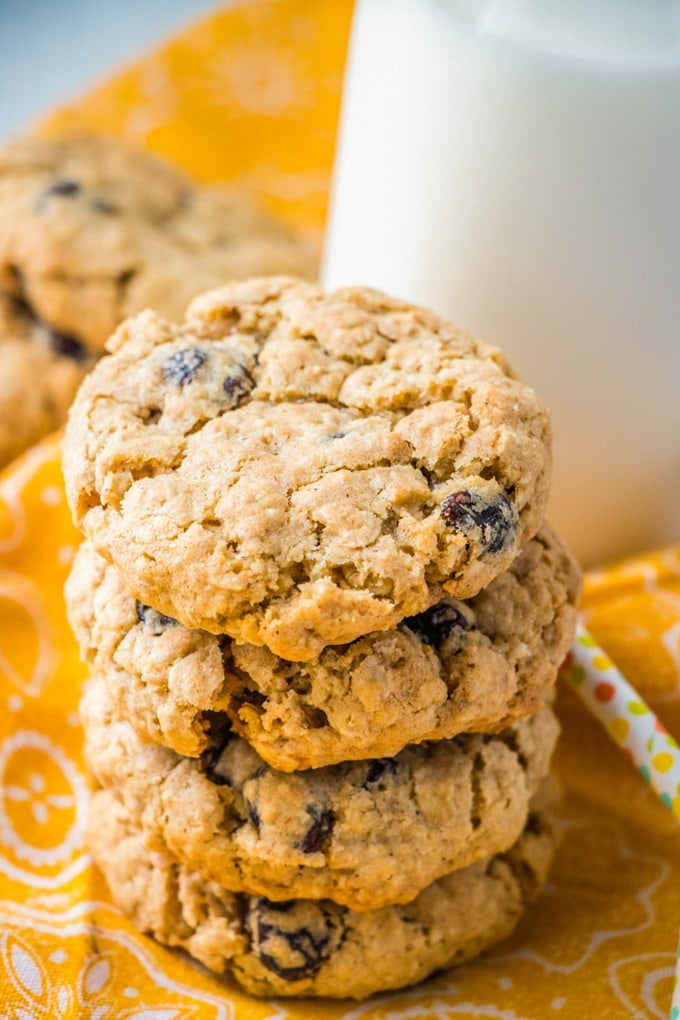 What kind of oats do you use for cookies?
For these oatmeal raisin cookies, I use old-fashioned rolled oats. In recipes that call for oats, rolled oats provide a chewy, nutty texture and flavor, while quick-cooking oats supply a softer, moister finished product. This is why we use rolled oats in cookies, and quick-cooking oats in bars like our Pumpkin Oatmeal Chocolate Chip Bars.
How to store Oatmeal Raisin Cookies
In order to keep their moist and chewy texture, cookies should be stored in an airtight container and at room temperature. Do not refrigerate as that could cause condensation to form and make your cookies soggy.
For more delicious cookie recipes, try these: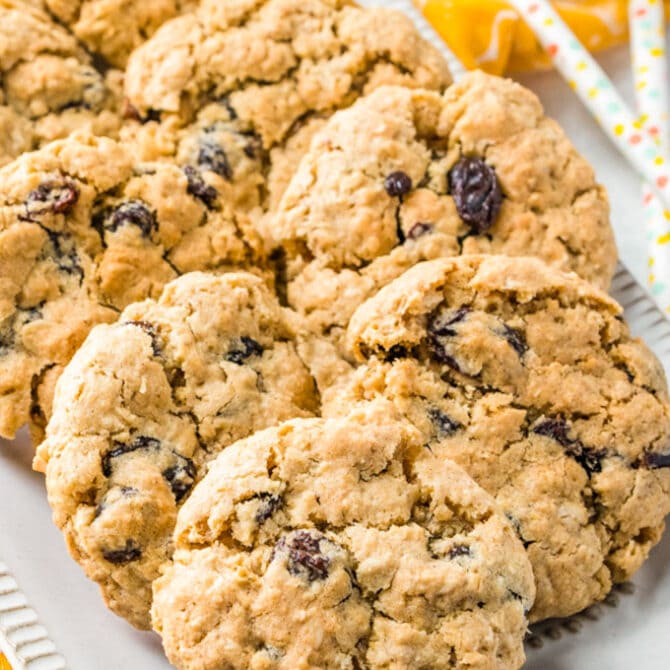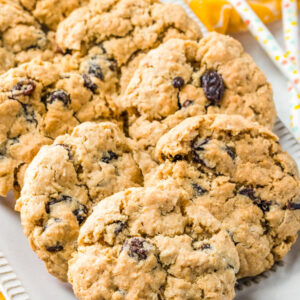 Oatmeal Raisin Cookies
The Best Oatmeal Raisin Cookies just can't be beat. My Oatmeal Raisin Cookie recipe is just like grandma used to make, and so soft and chewy!
Ingredients
3/4 cup butter softened
1/2 cup granulated sugar
1 cup brown sugar
2 large eggs
1 teaspoon pure vanilla extract
2 cups flour
1 teaspoon baking soda
1/2 teaspoon salt
1/2 teaspoon cinnamon
3 cups old fashioned rolled oats
1 1/2 cups raisins
Instructions
Preheat oven to 350 degrees.

In a large bowl or stand mixer, beat the butter until soft and creamy (about two minutes).

Add the sugars and continue beating until the mixture is light and fluffy. (May take several minutes).

Add the eggs and vanilla and beat until smooth.

Add 1 cup of the flour, along with 1 tsp. baking soda, 1/2 teaspoon. salt, and 1/2 teaspoon cinnamon. Mix together until everything is incorporated.

Add the other cup of flour and mix until well incorporated.

Add the oats and stir well.

Add the raisins and stir well.

Using a large cookie scoop, place cookies about 2 inches apart on a large baking sheet that has been lined with a silicone baking mat.

Bake cookies for about 12 minutes, until edges just barely start to brown.

Remove from oven and let rest on pans for about 10 minutes. Then transfer to wire racks to cool.

Makes about 24 cookies
Nutrition
Serving: 1cookieCalories: 210kcalCarbohydrates: 35gProtein: 3gFat: 6gSaturated Fat: 3gCholesterol: 28mgSodium: 155mgPotassium: 141mgFiber: 1gSugar: 13gVitamin A: 195IUVitamin C: 0.5mgCalcium: 21mgIron: 1.3mg